Americas / Global
Americas
Briefing
The US embraces pedal power, New York takes to its rivers; plus a cultural haven in Colombia.
Job centre
City: Dallas-Fort Worth, Texas
This is the fastest growing place in the US. Over 160,000 people moved here between 2006 and 2007 snapping up jobs in a part of the country where unemployment fell to 3.8 per cent, compared to 5 per cent nationwide.
As US metropolises struggle with traffic congestion, an increasing numbers of US mayors are giving their cities a bike-friendly makeover. In Las Vegas public transport has been adapted so that cyclists can put their bikes on a bus. Washington launched the first and only US bike-sharing programme in May. In Chicago a €2m commuter bike station has been built, with indoor parking, lockers and showers. And last September, Boston appointed former Olympic cyclist Nicole Freedman to be its bike tsar. "Boston has a long way to go," says Freedman, who has a degree in urban planning. "But it has the potential to be a really world-class biking city." The last biking frontier is the US heartland, says Andy Clarke, of the League of American Bicyclists. "Bicycle programmes have been absent from places such as Columbus, Ohio and Des Moines, Iowa. But something is awakening there; those cities are next."
Top five US cycling cities: percentage of workers who commute by bicycle
1. Portland, Oregon 4.2
2. Minneapolis, Minnesota 2.5
3. San Francisco, California 2.3
4. Seattle, Washington 2.3
5. Tucson, Arizona 1.6
Source: US Census Bureau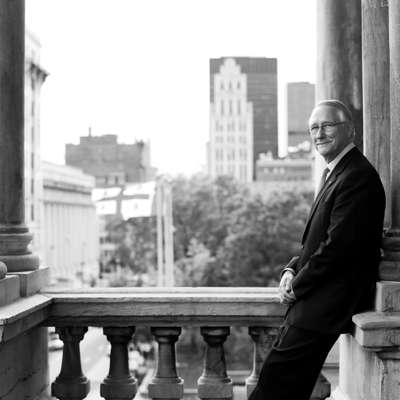 Q&A - Gérald Tremblay
Mayor of Montréal
Canada
Which city has mastered the concept of quality of life?
An amalgamation of cities such as Munich, Paris, Copenhagen – all are making major strides to improve quality of life for citizens. Montréal is one of those cities.
If you could move to any city, where would you go and why?
I'm going to stay in Montréal. I'm very proud to be mayor of the city.
Are there design/planning elements that all cities should embrace?
Transport is fundamental, as are environmental concerns and protecting our heritage and the buildings that we have.
Is there a region that's leading the way? Europe? North America?
Cities are leading the way from Seattle (recruiting cities to implement the Kyoto protocol) to Curitiba (working on biological diversity) to Hiroshima, which is leading the way on peace.
Should cities ease up? Are we being over-governed?
No, we should not ease up. As leaders, we have responsibility for change. However, we are over-governed in Montréal with federal, Québec and city government. We must realign roles and responsibilities and allocate financial resources accordingly.
Medellín was once the home of one of Colombia's most notorious drug cartels. It is hardly known as a seat of learning. But if Giancarlo Mazzanti – one of the country's most successful architects – has his way, all that is going to change. He has attached three "rocks of knowledge" to the mountain face in what has been until now one of the city's worst no-go areas. The black stone structures, which house an arts and culture centre and auditorium, have transformed the struggling district of Santo Domingo into a bustling cultural centre. The library has become a focal point for the community, and shops and cafés have been sprouting up to serve the 1,600 daily visitors.
Off-limits for decades because of pollution, New York's rivers are again becoming a vital part of city life.
Five new ways people are using the river system:
A throwback to the floating baths on the perimeter of Manhattan 100 years ago, floating pools have been set up this year in the East River in South Bronx and in the Hudson River in Beacon, about 80km north of the city.
Tomatoes, lettuce, cucumbers, and peppers are grown every summer in a greenhouse on the Science Barge docked off Manhattan's West Side. The barge runs on solar, wind, and biofuel and crops are irrigated with rainwater.
Hundreds of hardy competitors brave the Hudson's currents each July in the New York City Triathlon. The athletes enter the water at 98th Street and swim 1,500m before climbing out on the banks near 79th Street.
Olafur Eliasson, the Danish-Icelandic artist, is erecting freestanding, 30m-tall waterfalls in the East River from July to October. The €10m project is powered by renewable energy.
A new €760,000 ferry terminal centre is opening this summer near the first high-end condo development to be built on the Williamsburg waterfront, Schaefer Landing. It's a five-minute ride across the East River to Wall Street.