Folk tale / Elsinore
Expo 15: Happy union
Lo-skolen was established in the tradition of Denmark's folk schools, set up to provide courses for workers without access to university education. The school's architects Jarl Heger and Karen & Ebbe Clemmensen designed everything from its white brick and red-tile buildings to the modernist chairs, desks and lamps. With sympathetic updates by Fogh & Følner, the 1960s design remains to this day.
Just outside Elsinore overlooking the blue waters of Øresund is Lo-skolen, a folk high school and conference centre. Its vast art collection, iconic architecture and the way the white-brick, red-tile buildings melt into the grassy cliffs have given it a certain fame among the world's admirers of Danish design. Along with Arne Jacobsen's Bellavista white city, Poul Kjærholm's home and Jørn Utzon's Kingohusene terraced housing, Lo-skolen is part of the "architour" that design students from around the world take when they visit Denmark.
Lo-skolen was built between 1967 and 1969 by LO, the Danish Confederation of Trade Unions, as a high school for its membership of carpenters, blacksmiths, typographers and bricklayers. Back then, most craftsmen left school at the age of 12, after just seven years of schooling. Many union members wanted the opportunity of further education: a need filled by Lo-skolen.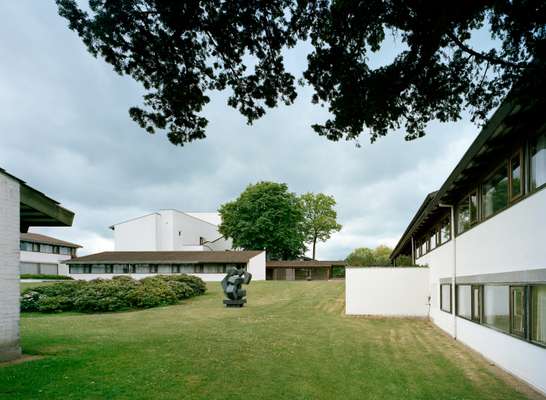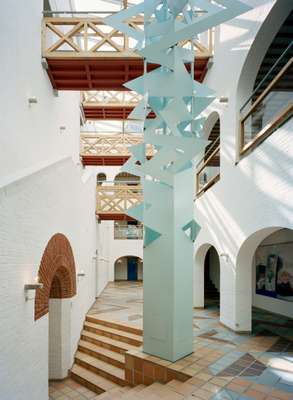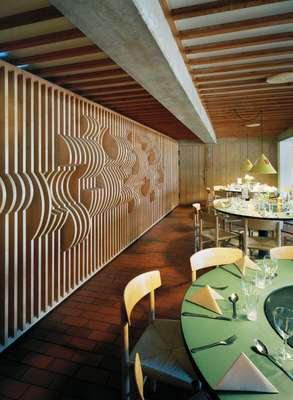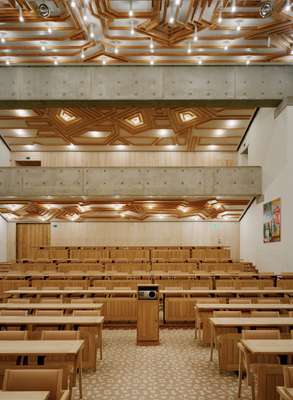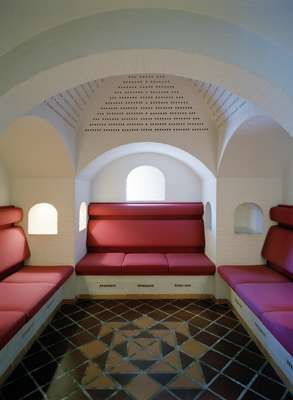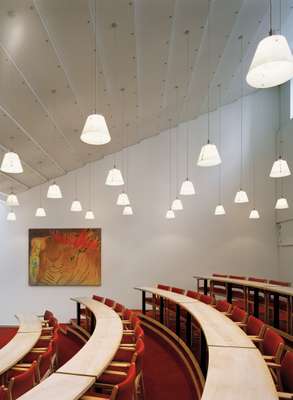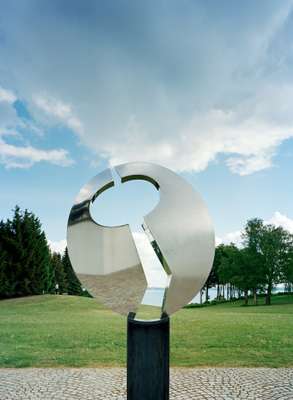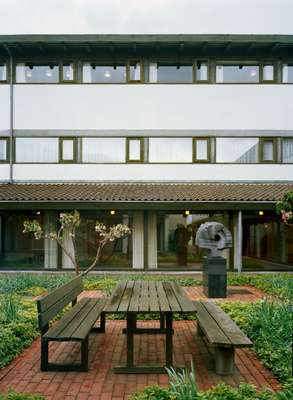 "In Denmark, the folk high school concept usually involves 20-week-long stays. At Lo-skolen we offer shorter courses designed especially for our members. We keep the spirit of the folk high school, though. Our ambition is to broaden our members' horizons with courses in our open and inspiring setting and also to encourage them to meet people from other trades," says Frode Møller Nicolaisen, the principal of Lo-skolen since 1988.
The idea of building the school was first considered in the late 1950s, the golden age of Danish architecture. In 1958, hotshot Jørn Utzon won the competition to design the school by suggesting a 16-storey building that has echoes of his most famous creation: the Sydney Opera House. But, like most of his projects, it never materialised – this time because Utzon abandoned the scheme in May 1962 and moved to Australia with his family to work on the Sydney Opera.
"I doubt a 16-storey building would have been erected anyway, knowing how we Danes are notoriously afraid of tall buildings. Skyscrapers are still a contentious topic in the public debate today, even in Copenhagen," says Nicolaisen. Instead, second-prize winners, Jarl Heger and Karen & Ebbe Clemmensen, began their unique marriage between Scandinavian functionalism and a south European medieval village. They started building around three old oak trees on the site and then made small streets, pools and fountains that lead you from one low building to another. The auditorium rises to the sky like a church and is the natural centre of Lo-skolen. All communal activities take place in the middle of this "village", while 213 simple study bedrooms – with nothing more than a bed, a chair and a desk – are located around the edges.
Even though many extensions have taken place since – in later years done by Lo-skolen's current architects Fogh & Følner – Lo-skolen is still coherent. But the concept within the walls has changed dramatically, says Nicolaisen. "The great union days are over. In the mid-1980s approximately 70 per cent of the annual turnover was education of union members and 30 per cent hiring out the centre for strictly commercial purposes. Today, the figure's reversed and our courses are more specialised and interdisciplinary."
This is probably why, on a tour around Lo-skolen, we meet both participants in a stress management course and guests from an 80-year-old's birthday party being held in the canteen. Lo-skolen is also home to an impressive modern art collection. There are more than 1,000 pieces, mainly by Danish painters and sculptors such as Carl Henning Pedersen, Wilhelm Freddie, Kurt Trampedach and Arne Haugen Sørensen. In the great auditorium a huge painting by Asger Jorn, a member of the avant-garde COBRA movement, hangs opposite a rare tapestry by the same artist.
It is a setting that might seem at odds with the clichéd dart-throwing, beer-swilling trade unionist, but perhaps this shows that Denmark has traditionally valued its workers and unpatronisingly encouraged more from them. You can play darts in the bar, incidentally, alongside the more cultural activities on offer. And now, in one of the new guest suites, architourists can stay here, too.