Fashion: Activewear / Global
Performance bonus
The sportswear market is a crowded field so finding clothes that offer something new is no walk in the park. Meet three brands that are bona fide game-changers.
Ace up the sleeve
Palmes, Denmark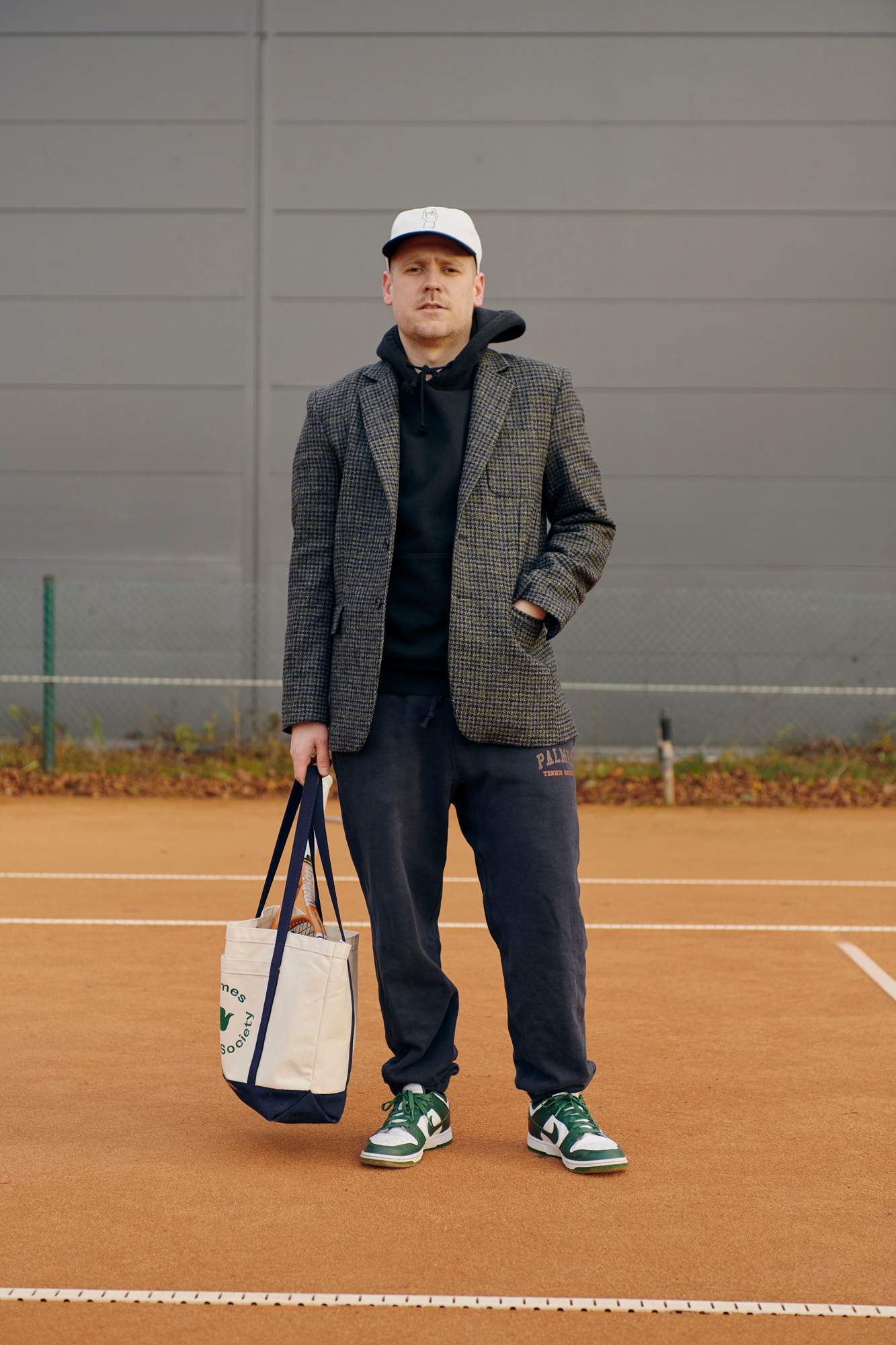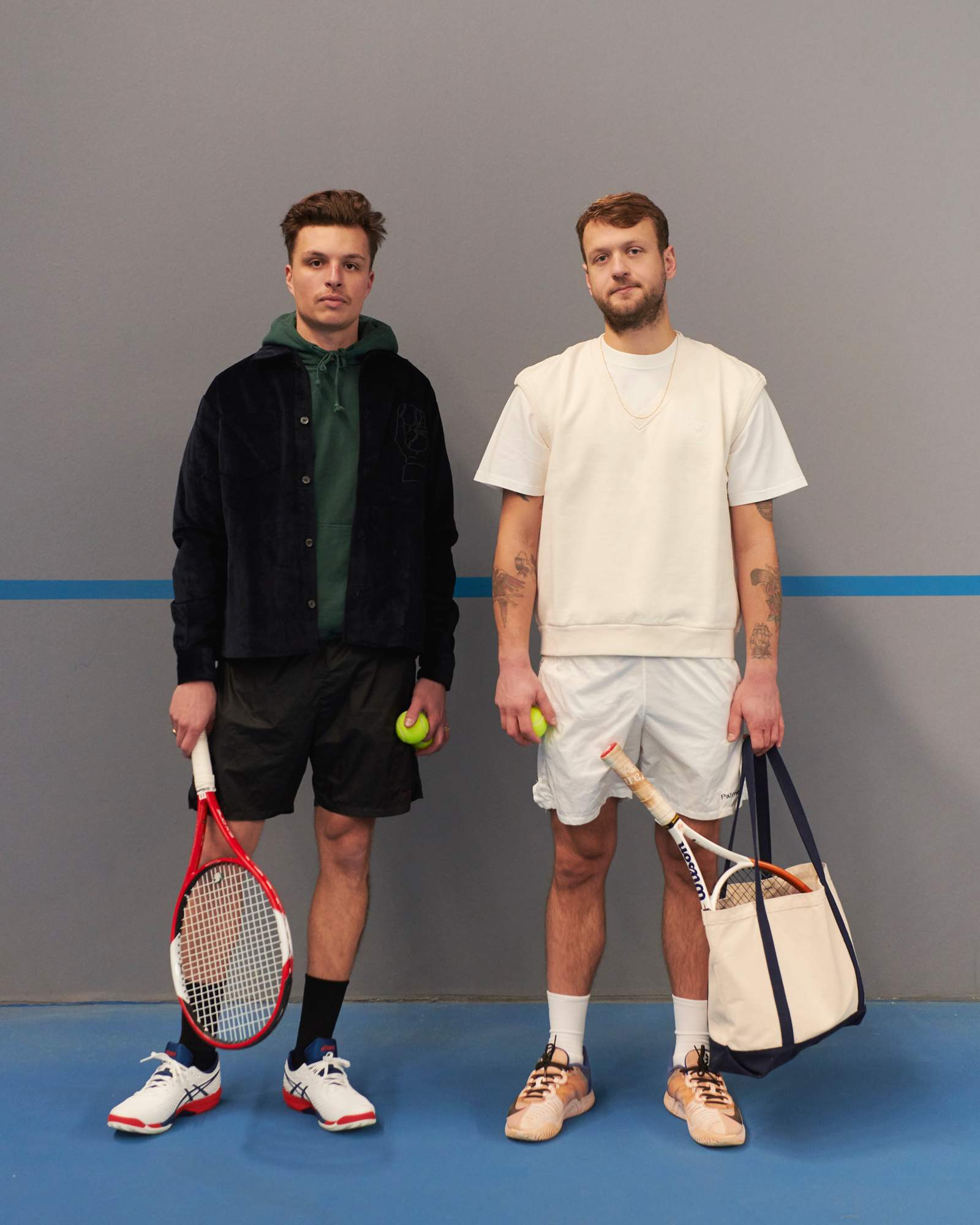 Danish menswear brand Palmes aims to fill wardrobes with sharp, sporty clothes and democratise tennis. As a teenager, founder Nikolaj Hansson was a skateboarder who found the middle-class world of tennis, with its Wimbledon whites and country-club image, unapproachable. "I never felt that tennis could be for me," says Hansson, who worked in various creative roles at top Danish design and fashion brands before launching his label last year. "I had this preconceived notion of tennis being elitist and exclusive but then I started playing and fell in love with it," he says. "I wanted to pass this feeling on to more people. Tennis can and should be for everyone." As well as being a vehicle for meaningful exercise, the sport was a great way for Hansson to socialise. This combination fuelled his desire to create a menswear brand that reflected both sport and urban living.
"I had this notion of tennis being elitist and exclusive but then I started playing and fell in love with it. I wanted to pass this feeling on to more people"
Palmes now offers a refreshing alternative to the heritage tennis brands with their clubhouse logos and popped collars. Its clothes are designed to work both on and off the court. Its shorts, for example, have pockets that are big enough to hold three tennis balls or a mobile phone and a bunch of keys for an after-match bar hop. Prints and logos are more egalitarian- collegiate than public school too. "We came up with the name Palmes Tennis Society, which appears on sweats and T-shirts, to deliberately avoid using the word 'club'," he says. "A club requires membership, whereas 'society' evokes a sense of belonging."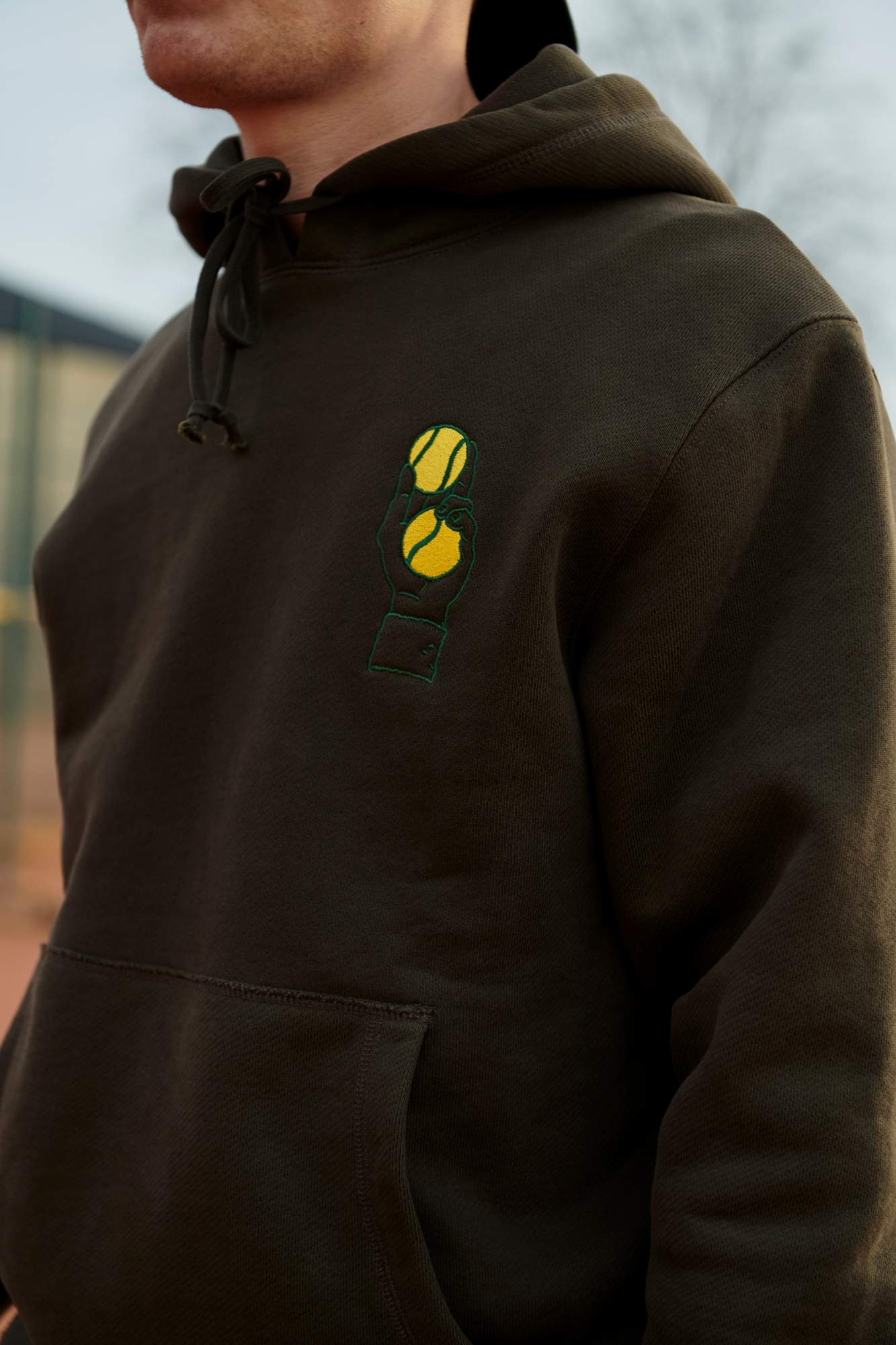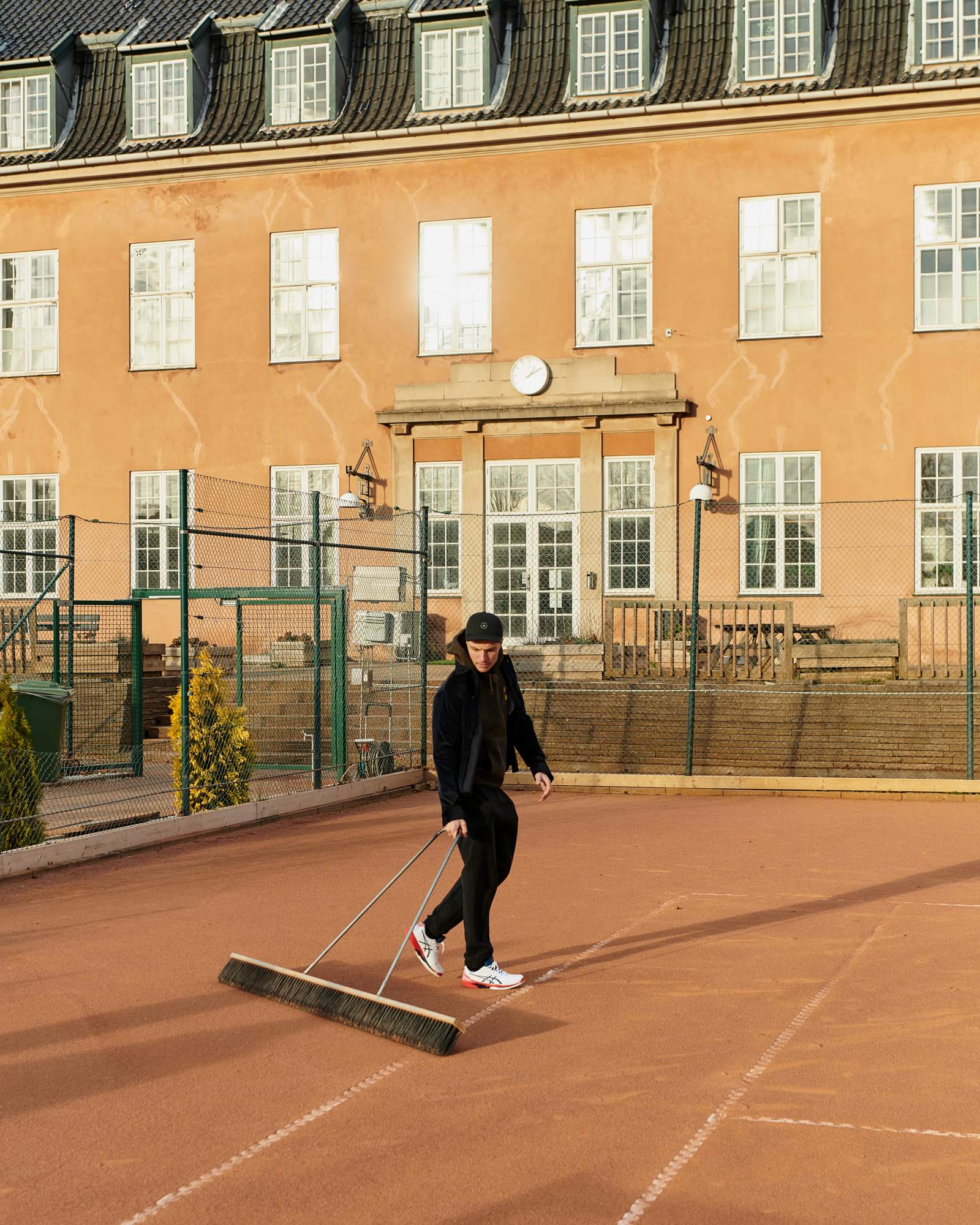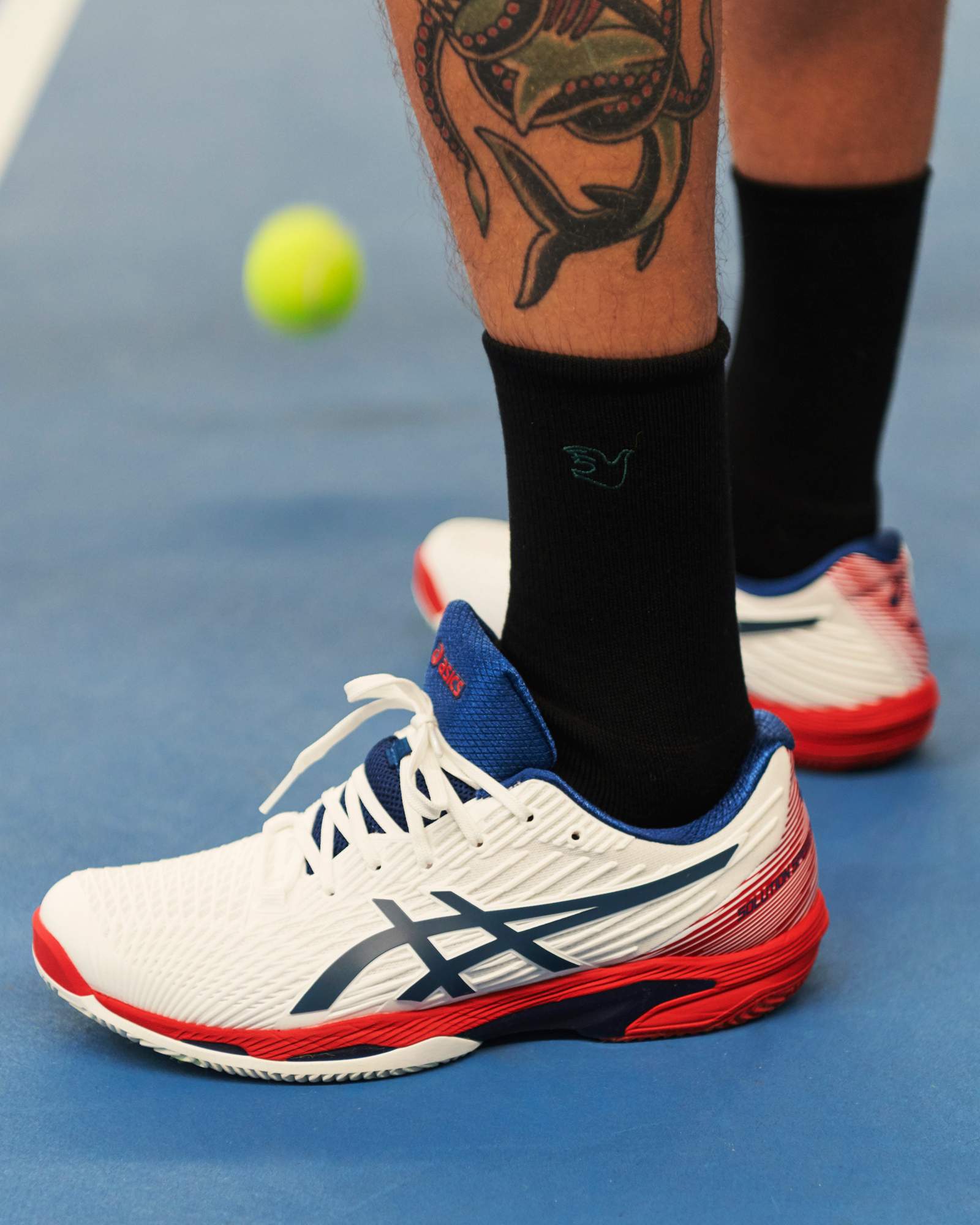 The same determination to bring a streetwise attitude to the sport is found in the label's marketing strategy. Hansson eschews the usual model of sponsorship of professional players. "We admire them to the skies and love watching their matches," he says. "But Palmes is about making tennis for everyone."
The brand's offerings now go beyond tennis wear and include pieces such as a chequered British-wool sports coat and a hooped rugby shirt inspired by the one donned by Kirsten Dunst in the film Wimbledon. Hansson wants to see these clothes being worn by creatives. "It might be people who excel within the fields of art, design, architecture or food; people who genuinely have fun playing the game of tennis," he says. And though it remains to be seen whether we will see tennis lawns replacing basketball courts on downtown street corners, success has been immediate for Palmes. A year in, its global stockists include Browns in London, Kasina in Seoul and Kapok in Hong Kong. 
palmes.co
Five steps to success
Global
Making it in the world of sportswear and performance clothing isn't easy but these tips from players at the top of their game should help rookie brands to get off on the right foot.
1.
Collaborate correctly
In 2019 a small UK-based sportswear brand called Castore did the seemingly impossible for a relatively new business: its offering caught the eye of top tennis player Andy Murray, who became a brand ambassador. Not only did Murray wear Castore on the court but he also became a shareholder, helping to accelerate the company's growth.
2.
Form a community
Rapha Performance Roadwear is known as much for its cycling gear as it is for the worldwide community it has fostered. The Rapha tribe came together thanks to the brand's Rapha Cycling Club app that helps like-minded cyclists collectively organise events, rides and clubs.
3.
Celebrate your heritage
Founded as a small family business in the Austrian town of Kitzbühel, Frauenschuh is today a global skiwear and fashion company that continues to reflect its Alpine roots in its marketing, production and company spirit.
4.
Practise what you preach
Specialising in outdoor performance clothing, Patagonia has become a benchmark for brands across the fashion industry because of its sustainability policies and social awareness. Importantly, 87 per cent of the company's clothing lines use recycled materials.
5.
Invest in smart storytelling
Australian-based cycling brand Attaquer ("attack" in French) has worked hard to shake up how sports firms advertise their products. By featuring inspiring stories on its website about its brand ambassadors – such US para-cyclist Hannah Raymond – Attaquer appeals to a diverse range of customers.
Worth its weight
Omorpho, USA
Brought to market by former executives of Nike and ad agency tbwa, Omorpho is challenging the notion that it takes lighter sportswear to boost physical training. Co-founder Stefan Olander and his team of 17 launched the Portland-based brand in late 2021, merging scientific research and design innovation. Omorpho's sportswear incorporates strategically distributed spherical weights across the garments to make training a touch tougher.
"Though weighted sportswear had been in circulation, no one had figured out how to do it elegantly without placing too much load in one area of the body," says Olander. He adds that products such as weighted vests had been used to help athletes boost their vertical leap or improve their acceleration but the options were ugly and had many limitations. Omorpho's offering, which binds much better to the body, has the appearance of activewear but is laden with bubble-like weights that distribute the load evenly and maximise a user's range of motion.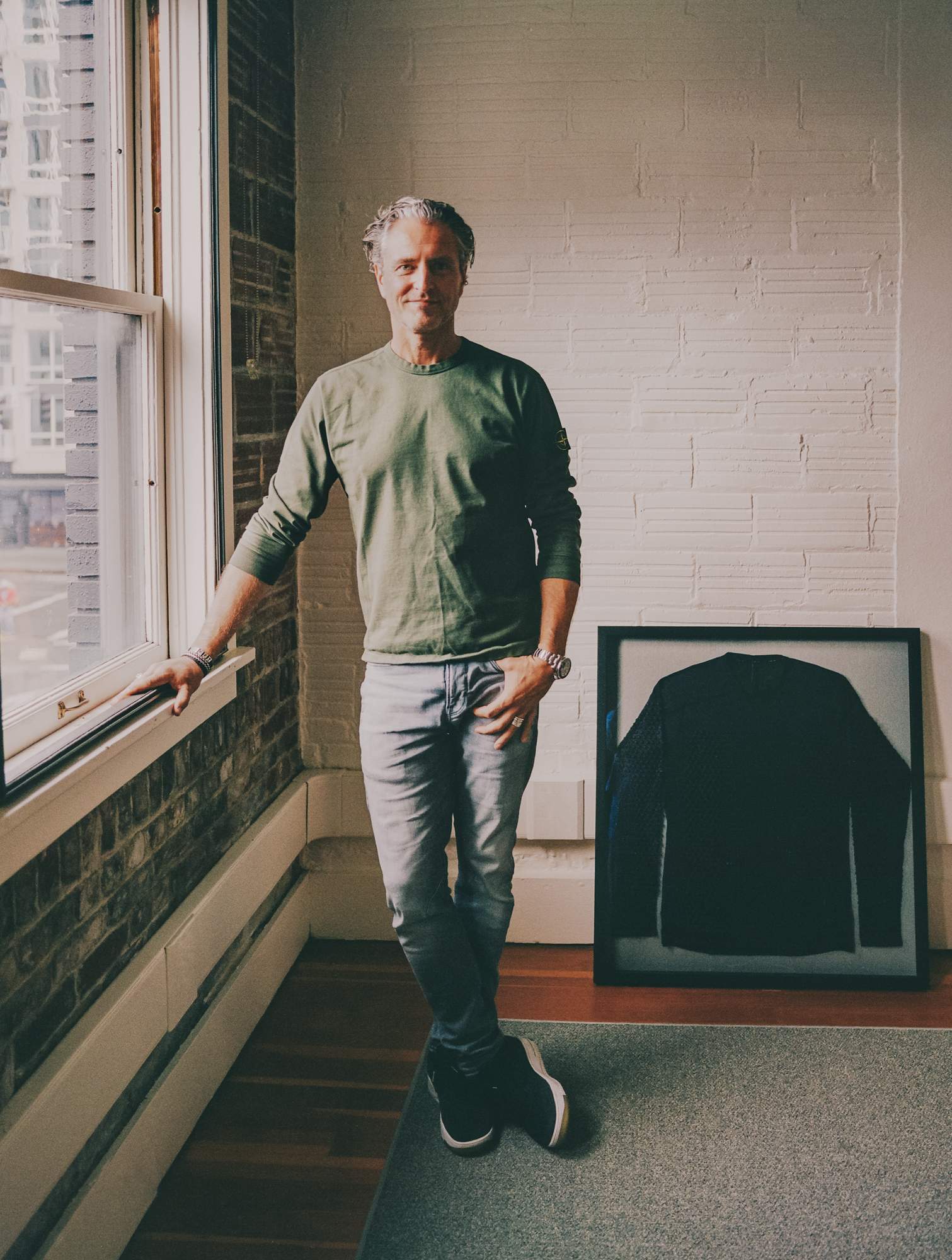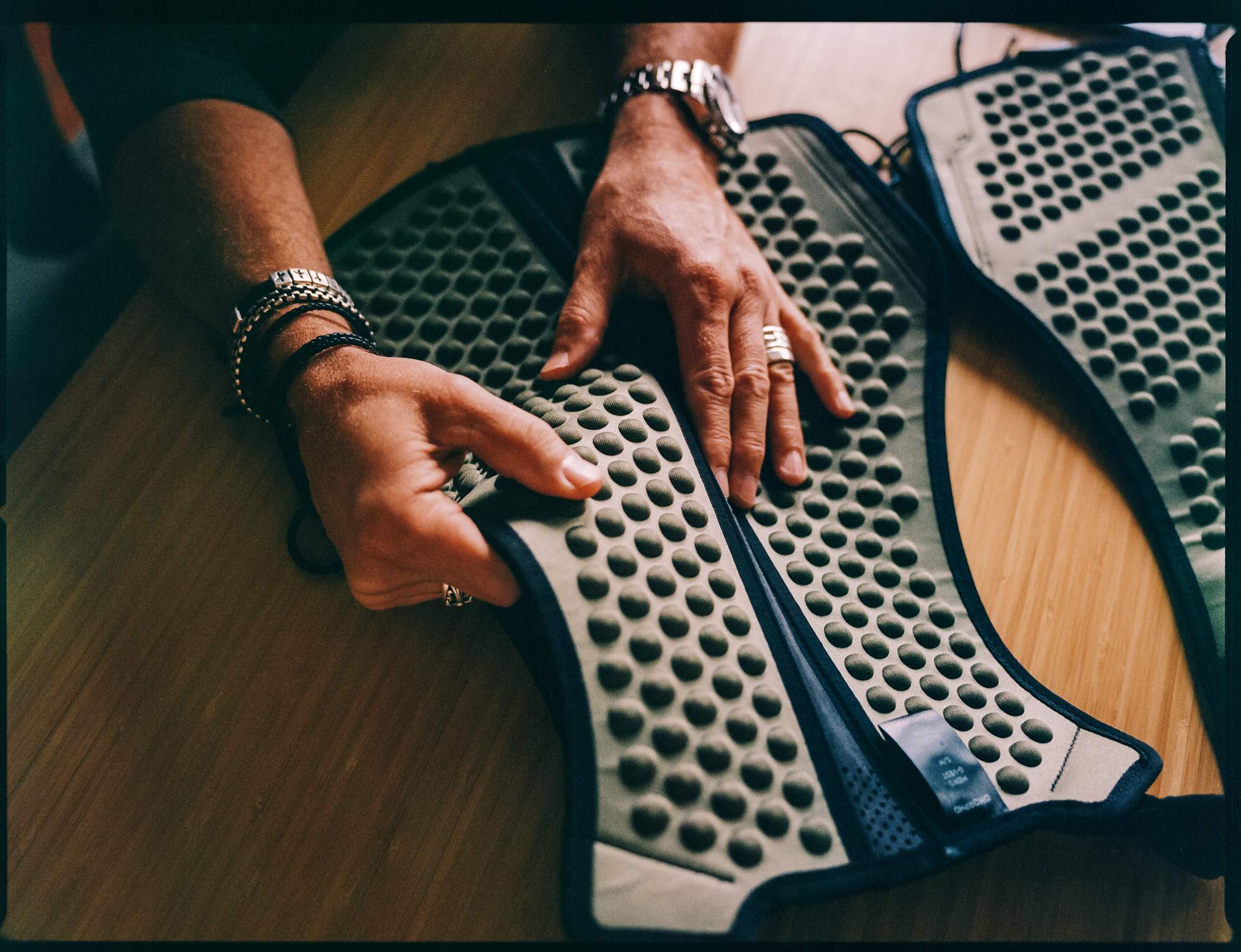 To create clothing that offers this flexibility, with a sporty sense of style to boot, Olander and business partner Ben Williams enlisted designer Natalie Candrian. "Designing a product on paper is one thing but to actually create it requires entirely different skills," says Candrian, whose CV includes working alongside tennis star Maria Sharapova to develop Nike clothing. "When Stefan asked me to make a functional but beautiful prototype, I told him we could do it but we would create 10 ugly ones first."
Candrian and scientist Erin Feser undertook a production process involving meticulous testing and athletic research. The resulting clothing will clearly benefit athletes but it was also created with more ordinary consumers in mind. The items are constructed with premium performance fabrics that provide comfort and elasticity while allowing for maximum range of motion. "The way that I approach designing sportswear is that form always follows function," says Candrian, showing monocle the brand's 12 products, which include a pair of sleek undershorts adding 500g of weight and a 900g long-sleeved top that is suitable for tennis players, boxers and yogis alike. "The garment has to move in harmony with the body while in motion."
One of the key lessons in developing Omorpho's products was that wearers didn't need to add a huge amount of weight to enhance their performance. "Weighted sportswear is usually heavy and bulky but we discovered that you can get significant benefits by adding just 1 to 5 per cent of body weight," says Feser, who helped the team coin and patent the term Microload, the concept behind the clothing. "Microload is a way of doing resistance training differently. We ensured that the body would carry the weights correctly and we dispersed them in specific patterns to follow large muscle groups," she says.
Olander adds that his team's combined years of industry experience mean that Omorpho has avoided many of the hurdles that nascent sportswear brands face. "We're not just a start-up that had a wild idea and tried to figure it out," he says. After finalising a $5m (€4.4m) round of early funding, Olander used the capital to build inventory, create a digital sales platform and add staff. "That we were able to raise a large amount in our seed round is a testament to the fact that this is a powerful idea," he says. 
omorpho.fit
---
Affirmative action
Hanken, Portugal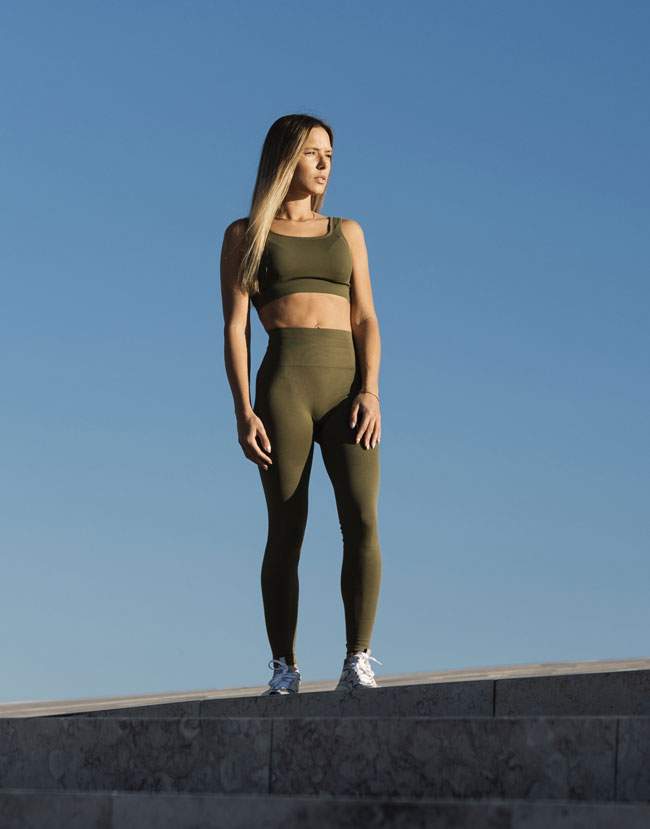 The past two years have been something of a whirlwind for Maria Hansen and Pedro Stürken. The couple met in Australia in 2019 and moved back to their home country of Portugal when the pandemic struck. They spent the lockdown in a coastal town near Lisbon and used the time to think up ways to combine their shared love of sports and an enthusiasm for sustainability in a business venture. In 2021 the pair welcomed not only their first child but also their new activewear brand, Hanken.
"We had both been living in Bondi Beach, where we were doing a lot of surfing and pilates," says Hansen. "So we were constantly in activewear. It's much more common there to wear gym clothes outside the studio." The couple were so impressed by the wealth of stylish and sustainable brands available in Australia that they began to wonder why Europe didn't have the same. "We started to think about what we can do better," says Stürken. "We wanted to deliver high-quality designs that were made in Portugal."
When it came to finding manufacturers on home soil, Hansen's background in fashion and product development proved more than useful. "I already had contacts at several factories so it wasn't hard to find what we needed," she says. "And there is no better place to manufacture than Portugal, which has an amazing craft heritage and really good materials." Combining quality production with sustainable fabrics is the core mission of the brand, as evidenced in its Seamless collection. The womenswear line is made from a breathable and lightweight upcycled polyamide, a textile that takes an overused performance material that does not biodegrade and gives it a second life.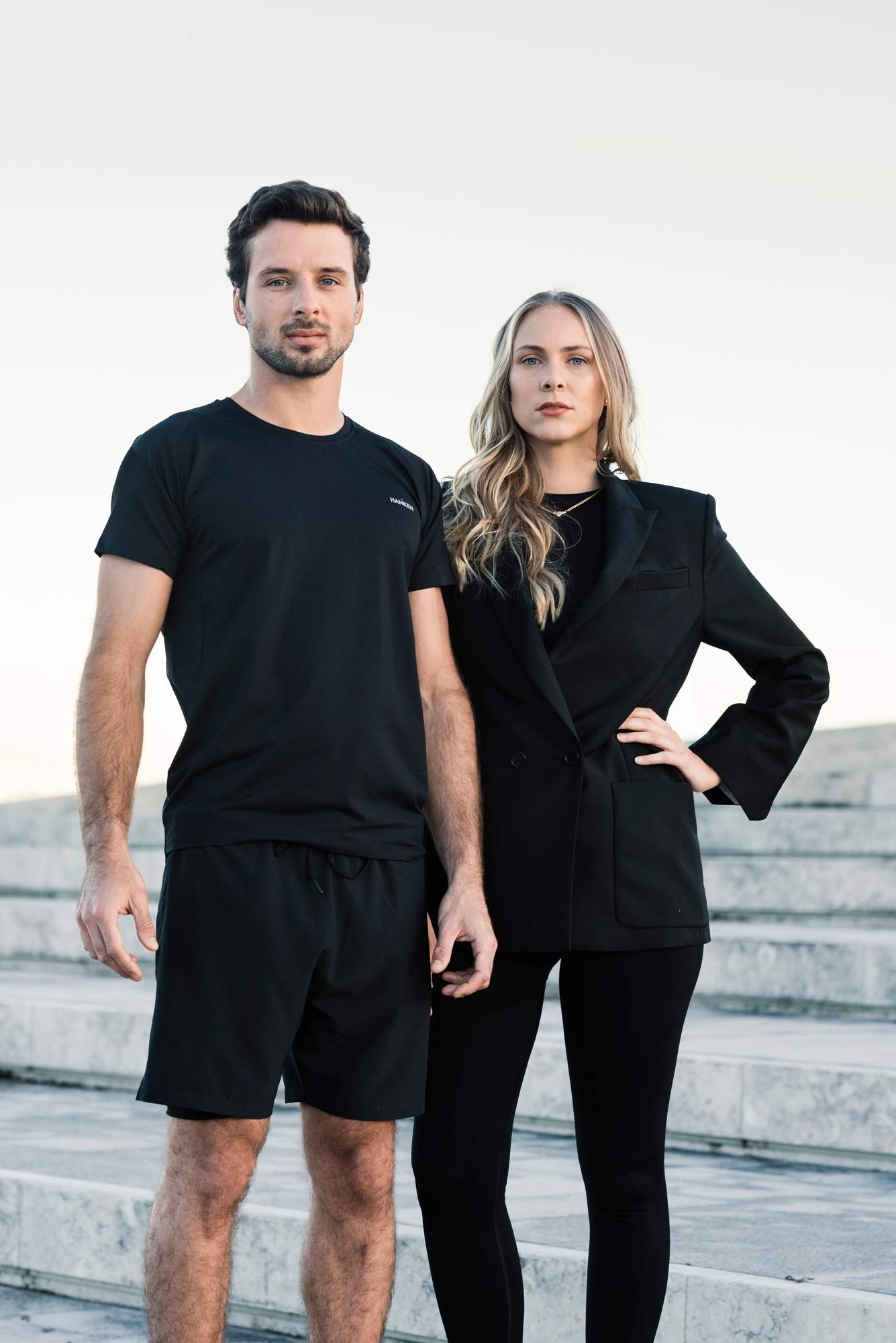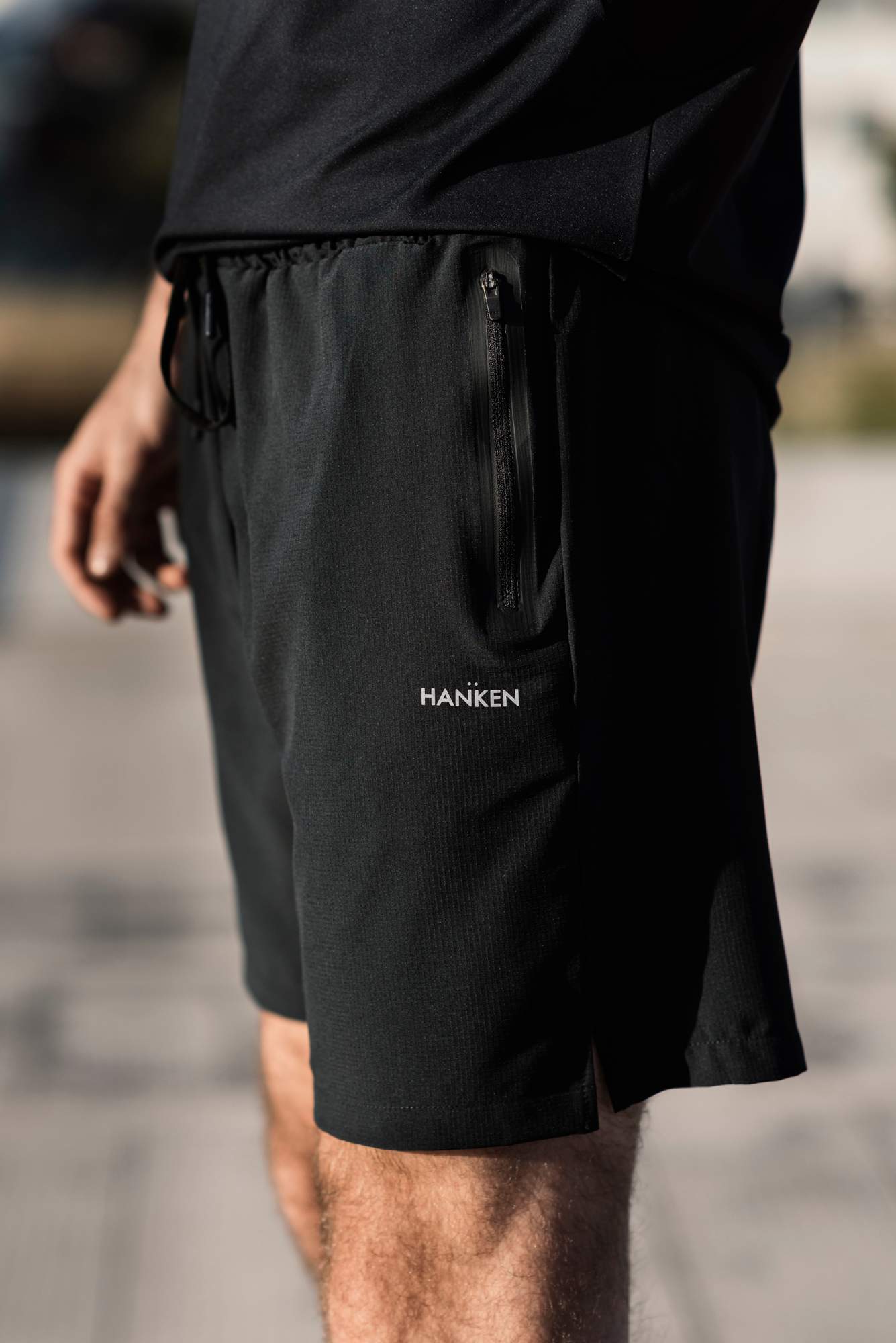 The only snag for Hanken in creating products such as this has been sourcing the right textiles. "There's so much demand for sustainable materials and everyone is using the same suppliers," says Hansen. The couple are sticking to their guns, however, and are unwilling to compromise their sustainable credentials for the sake of a quick turnaround. "We take our time and make sure that we're as sustainable as possible without forgoing the quality of our products." 
In terms of quality control, Hansen and Stürken, with a close network of sporty friends, rigorously test every new model. Pieces then go into full-scale production, using as much sustainable fabric as possible, and are sold globally through the brand's e-commerce platform. They add that their Portuguese-made leggings, shorts, T-shirts and crop tops are designed for customers to wear beyond the gym. "We want people to understand that wearing active gear from studio to street is practical and comfortable – and can be quite cool," says Hansen. 
hankenactive.com
---
Fit for purpose
Veilance, Canada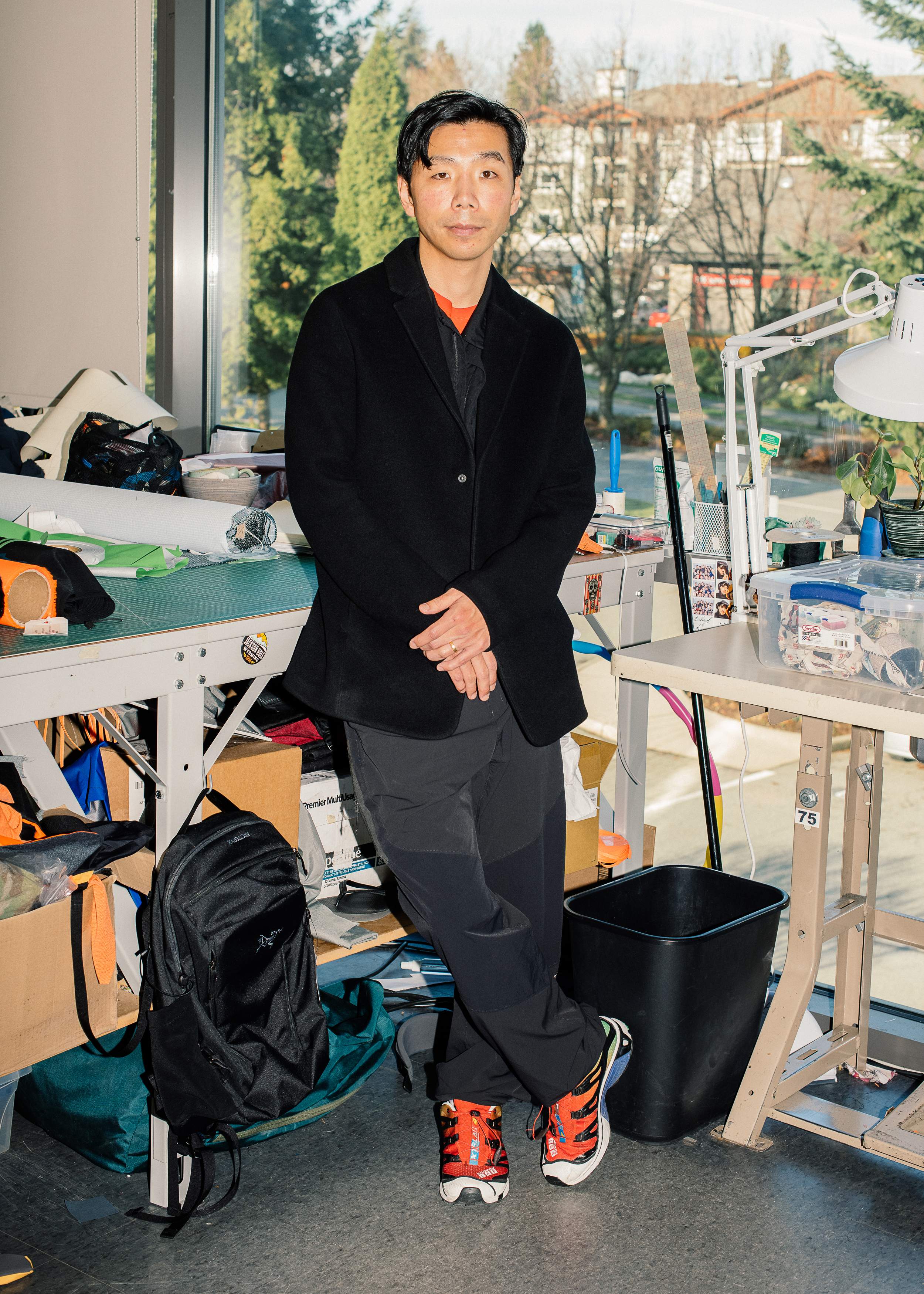 For almost seven years, Taka Kasuga has helmed Veilance, a brand that was spun off from Arc'teryx. Making use of the same cutting-edge materials as the Canadian sportswear giant's skiing gear, alongside materials specific to Veilance, Kasuga designs clothing to be worn off the slopes in urban settings. His pieces include clean-looking monochrome parkas and impeccably tailored suits made from ultra-light, weather-resistant fabric. For an indication of the brand's style credentials, it's useful to know that the senior design director cut his teeth at revered fashion label Comme des Garçons. From his base in Vancouver, the Japanese-born designer talked to monocle about his work fusing high fashion with high performance.
How would you describe the difference between Arc'teryx and Veilance?
We work on the same design floor and share a lot in terms of material technology. But Arc'teryx makes clothes for mountain sports, while Veilance takes these technologies and applies them to urban life. In the mountains clothes can be purely about performance but in a city you have to factor in the cultural context and everyday situations. When we're choosing a technical fabric, we think just as much about how it looks and feels.
How does your approach differ from that of a typical fashion brand?
For the women's line we started by drawing with pen on paper and draping fabrics on a dress form. Clothes should always be beautiful. But very quickly we start thinking about ergonomics, freedom of movement and protection from the elements. I think of Veilance clothes almost like cars: you have to test and experience them. After a few days, you realise that you're no longer afraid of rain or snow, of getting cold or wet, and you start doing things that you wouldn't have done before.
"People want to be more active. In your closet there might be outdoor clothes, workout clothes and everyday clothes, but what if one product can do all three?"
What technical innovations are you most excited about?
Things are getting lighter while maintaining durability so people can go faster and further. This has been a trend in outdoor clothes and sports equipment for a long time and that philosophy can be applied to fashion as well, which is definitely interesting for me.
Is Veilance more of a performance-wear brand or a fashion label?
It makes no sense to draw a line between the two. People want to get outside more and be more active in their daily lives. In your closet there might be outdoor clothes, workout clothes and everyday clothes, but what if one product can do all three? If it looks good and works well, that's all you need.
veilance.com
photographers:  Benjamin Lund, Rodrigo Cardoso, Talia Green, Alana Paterson