The Agenda / Global
Urbanism
Bold and effective developments in architecture and train events ahead.
the urbanist ––– houston
Ex post facto
When the Barbara Jordan Post Office at the edge of Houston's downtown came up for sale, prospective buyers might have been tempted to tear down the sprawling three-storey structure to make room for a collection of more profitable, densely packed buildings. It is, after all, a prime parcel of land, the size of 10 football pitches, which sits on the city's Buffalo Bayou waterway. But when developer Lovett Commercial bought the site in 2014, it decided to shirk convention and, working with architecture firm oma, chose to keep the 1960s building, which has been renamed Post.
"Others thought, 'This is prime land near downtown and a good space for a tabula rasa where we can build some towers,'" says lead architect, oma partner Jason Long. "But existing structures offer potential that you wouldn't have conceived otherwise. The sheer scale of the post office offered us and Lovett the chance to do something really different that you would never normally have developed on the site."
That "different" look involved transforming the existing building, which was little more than an enormous, windowless shed that had been used as a sorting centre by the postal service, into a mixed-use structure housing a theatre, offices, food hall and cultural institutions. Opened to the public in November 2021, the complex is now flooded with light thanks to the careful insertion of three atriums with floor-to-ceiling staircases connecting the ground floor with a public rooftop park. From there, visitors can enjoy views over downtown and, Long hopes, see the role that the building will play in the gradual transformation of Houston.
"Like many American metropolises, downtown Houston has historically been used primarily for office space, without the full 24/7 activation that we hope for in successful cities," says Long. "Post will be a dynamic attraction and, together with other residential developments, hopefully it will be a catalyst for bringing more activity to the area."
At the very least, it's a reminder that cities don't need to rase their existing building stock to enjoy exciting new additions to the cityscape. That's building back better.
---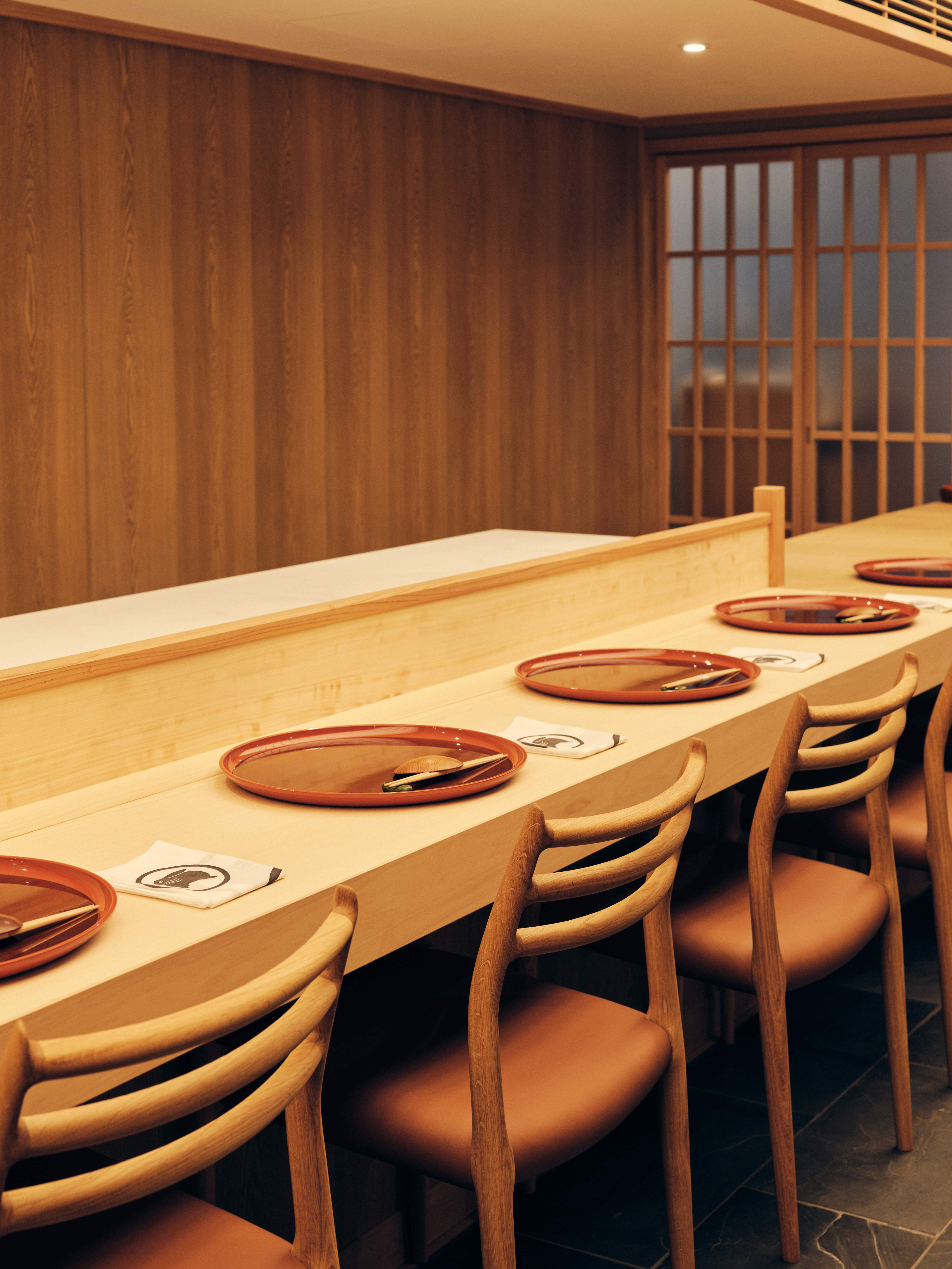 F&B ––– london
Taste of Japan
For the interiors of newly opened Roketsu restaurant in the London neighbourhood of Marylebone, head chef and owner Daisuke Hayashi looked to the craft traditions of Japan. Hayashi, who trained under multiple Michelin starred chef  Yoshihiro Murata at Kikunoi restaurant in Kyoto, commissioned celebrated architecture firm Nakamura Sotoji Komuten, which hails from the same Japanese city.
The entranceway is enlivened with blue and green iridescent floor tiles from Kyoto and an engraved decorative stone basin. Inside, every aspect of the interior evokes traditional Kyoto architecture, with the texture of the panelled walls finished using a Japanese hand-trowelling technique. The real showstopper, however, is the massive timber dining counter made from a single plank of hinoki (Japanese cypress) wood, which had been preserved for more than 100 years before finding its new home here.
roketsu.co.uk
---
architecture ––– denmark
Open learning
When Martin Krogh was tasked with designing a new building for the Aarhus School of Architecture, he knew that what the students needed was open space for collaboration. That's because years before becoming a partner at Copenhagen firm Adept, Krogh had studied there himself. "The old school was spread across 10 different addresses in the city," says Krogh. "There was not much synergy because it would have been almost wrong to enter another faculty than your own."
Every one of the 600 students still has their own dedicated desk and there's now ample space to socialise in vast atriums, modular meeting rooms and across stepped outdoor terraces. Non-architects are welcome too; there is a public library constructed entirely from timber. Visitors are greeted by the sight of students tinkering with models in glass-walled studios and in summer, the building's façade can be raised to let the workshop space spill out onto the pavement. Adept's design has a pared-back, almost unfinished feel. "The building only feels complete when it's in use," says Krogh. "It's like a huge factory for architecture.
---
On Design
nolan giles on...
Great trains
From Japan to Amsterdam, the world of long-distance rail journeys is becoming an increasingly exciting market, with services tailored for tourists and business travellers. At the top end is JR East's exclusive Train Suite Shikishima, conceived by former Ferrari designer Ken Okuyama, a creative respected for his work shaping elite super cars. The sleek train service, which accommodates discerning guests in its 15 cosy sleeping quarters, will return from its pandemic-enforced hibernation to Japanese tracks in July. Offering two or four-day trips to scenic rural locations across Japan, travellers can enjoy blissfully minimalist and spacious interiors alongside incredible views and service. 
On the continent, a more modestly priced Dutch-Belgian project dubbed the European Sleeper will soon hit the rails, offering overnight journeys from Brussels to Prague via Amsterdam and Berlin. Another sleeper hit comes courtesy of Austrian Federal Railways, known as öbb, which will substantially increase its night services in 2022.
Beyond the fact that this mode of transport is more carbon-light than flying, what's exciting to me is the potential of this renewed interest in the sleeper to inspire more design-led offerings. A rail ride, even in the most humble carriage, can be an inspirational way to travel long distances and the best route to beat the queues, security and border interrogations at airports. Wide windows frame constantly changing views, while modern technology allows for cabins to become mobile offices. Within the small footprint of a train, sleeping space can be a touch on the tiny side and admittedly a little bumpy. But even for a lanky lad like me, the squeeze is a small price to pay for the feeling and sheer convenience of shutting your eyes in the centre of one city and opening them somewhere entirely different.
With the business of rail travel in a healthy place, the opportunity now exists for designers to get creative in reimagining how we will travel by train. At present, the industry itself is driving the momentum but a few star turns from architects and designers in the rail business might emphasise its allure (in a manner similar to the way Marc Newson glamourised aircraft-cabin design). It need not all be luxury. A smartly crafted experience for all those creatives bouncing between meetings in Copenhagen, Berlin and Amsterdam would be widely welcomed, something on which the entrepreneurs behind the European Sleeper should capitalise. And it's not as though those pioneers looking to shape the future of rail travel need to start from scratch. Simply surveying the glory days of rail travel – when the Orient Express offered long-haul luxury from London to Istanbul and travellers sipped champagne in the grand 19th-century carriages of Austria's Semmeringbahn – would be a smart start. 
Photographer: Shin Miura. Images: Leonid Furmansky, Rasmus Hjortshøj