My Cabinet: Embassy of Denmark / London
Great Danes
Skill and style combine to show off the best of Danish values at the country's mission in London.
The Danish mission on Sloane Street in central London – a combined embassy and official residence that opened in 1977 and was designed by Danish master architect Arne Jacobsen – is one of the more prominent diplomatic outposts in the British capital.
"The structure attracts a lot of attention," says ambassador Lars Thuesen, of the bold and boxy late-modernist design. "When I tell people where I work, they say, 'Oh, the very modern building.' Everybody knows it, which is remarkable. It's a showpiece for Denmark."
And it's the perfect setting for the work that Thuesen, the Danish government's only official representative in the UK, and his team do. Their objective is to champion the values of Denmark and those shared with the mission's host country.
Defence is among the priorities. With attaché major general Jan Kazimierz Toft, Jacobsen meets ministers and government departments to develop bilateral military strategies. 
"For generations, we have had very, very close co-operation with the UK when it comes to foreign and security policy," says Thuesen.
Trade, industry and business interests are near the top of the list too, with Thuesen supporting his entrepreneurial compatriots through a network that he runs with the 25 largest Danish companies in the UK. "I meet with them every second month and arrange a guest of honour – usually a British minister," he says. "It is extremely helpful as they can't get these kinds of meetings on their own."
These are some of the 3,000 people welcomed through the official residence's doors each year. And much like he relies on Toft for military advice, Thuesen turns to a host of people – from his chef to his counsellor of commercial affairs – to run such events successfully.
It's a reminder that to build bilateral relations effectively, a nation needs more than just a skilled diplomat and a smart building. A team of staff with an in-depth knowledge of soft and hard power is key too.
"These people build the foundation for my work," says Thuesen. "I couldn't do anything without them."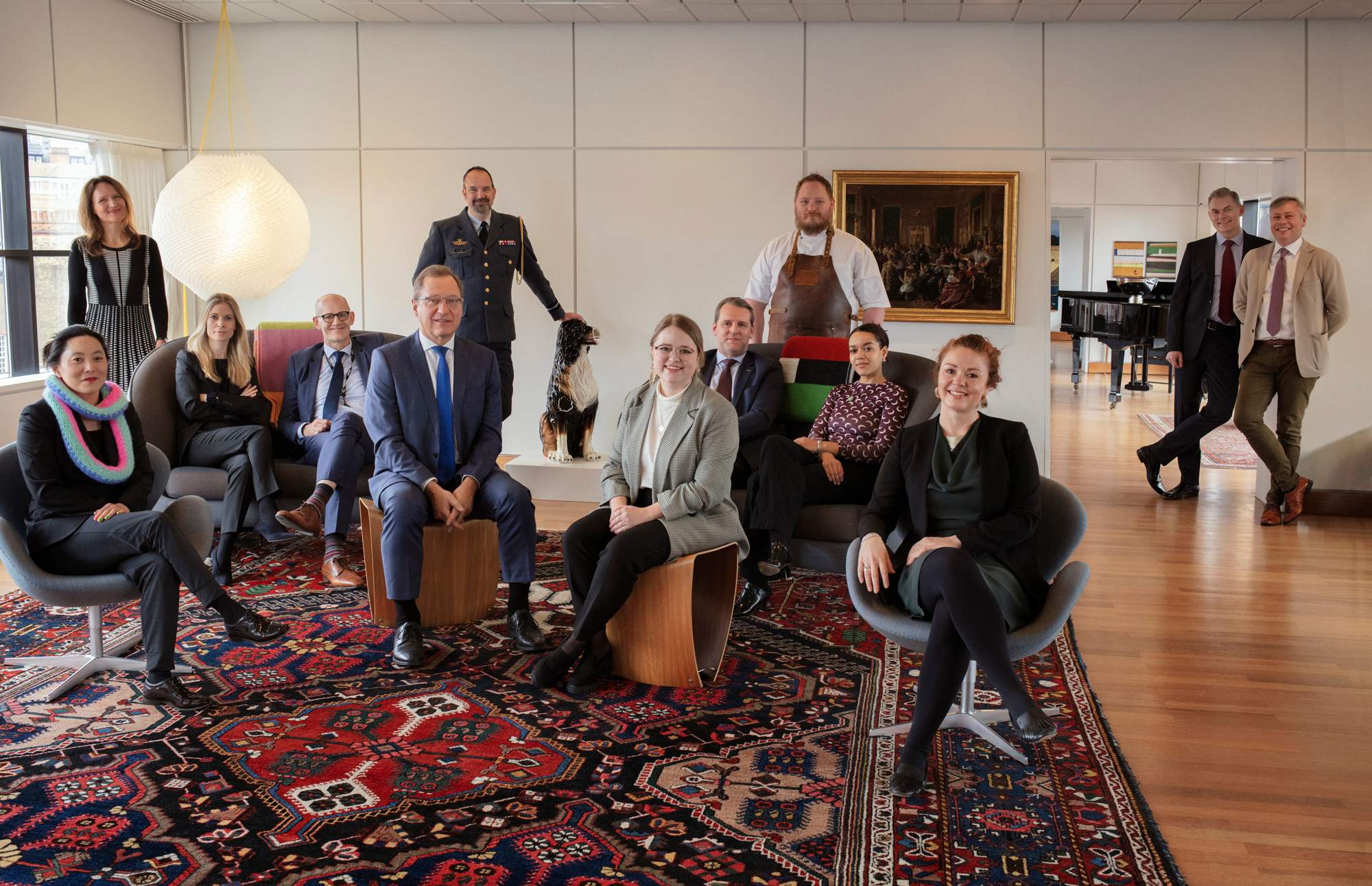 The Cabinet (From left to right)
Nete Svane Flying visa officer "Assists all missions with visas."
Lone Britt Christensen Cultural attaché "Works for the Danish arts."
Anne Dorothea Bruun Aubry Deputy head of mission "Second in command."
Esben Egede Rasmussen Minister counsellor for agriculture, food and fisheries "Supports the Danish food and primary sectors."
Jan Kazimierz Toft Defence attaché "Handles military affairs."
Lars Thuesen
A career diplomat, Thuesen has previously served as ambassador to Spain and Andorra and as state secretary at the ministry of foreign affairs in Denmark. He took the chance of heading the London mission in 2017. As for a highlight in that time? "Our prime minister couldn't make the celebrations in Portsmouth for the 75th anniversary of D-Day. I stepped in and had lunch with Macron, May, Merkel, Trump and Trudeau."
Charlotte Owen Principal energy policy adviser "Shares Danish expertise on green transitions."
Dennis Blicher Consul "Works with visas and passports, and offers consular assistance."
Rasmus á Rógvi Rasmussen Residence chef "Crucial to all of our dinners and receptions."
Fafaya Katrine Dewornu Mogensen Intern, public diplomacy and culture "Interns play a key part in the embassy."
Rikke Huque-Iversen Executive assistant to the ambassador "Takes care of managing the ambassadorial calendar."
Jakob Holm Press attaché "Shares important stories about Denmark with the British population."
Morten Viktor Ranieri-Svendsen Counsellor, commercial affairs "Assists Danish businesses in the UK."