Design: Residence / São Paulo
Remaking a masterpiece
A modernist home in subtropical São Paulo has been carefully restored by one of the city's best architects. We take an exclusive tour of this Brazilian beauty.
Brazilian architect Felipe Hess was certainly pleased upon completing the renovation of the 1957 São Paulo residence he and his family today call home. But he didn't grasp how special the project was until he heard from the building's original designer. "The grandson of Rodolpho Ortenblad [the architect] is around my age and also an architect, so throughout the renovation process I would send him pictures," says Hess, whose eponymous 15-staff firm is one of São Paulo's most respected. "When Rodolpho, who is almost 100 and unable to visit, saw the photos of the completed house, he wrote me a thank you letter. Receiving it was an amazing experience." 
Ortenblad's residence in the central, but still leafy, Jardim Paulistano neighbourhood of the Brazilian metropolis is remarkable in many ways – the first being that it remains standing today. As an architect operating at the top-end of the market, Hess knows too well the fate of many of the fine mid-century buildings that sprung up when development boomed here after the Second World War. "Before we bought the building in 2018, I would walk my dog past it nearly every day and I would think, 'One day I'm going to live there'," he says. "I knew that if someone else bought this place, they would simply tear it down and build a box: something that looks like every other contemporary house." Thankfully, the day that Hess's wife spotted a "for sale" sign in front of the low-slung home's gates, Hess was ready to make an offer and the residence was quickly snapped up.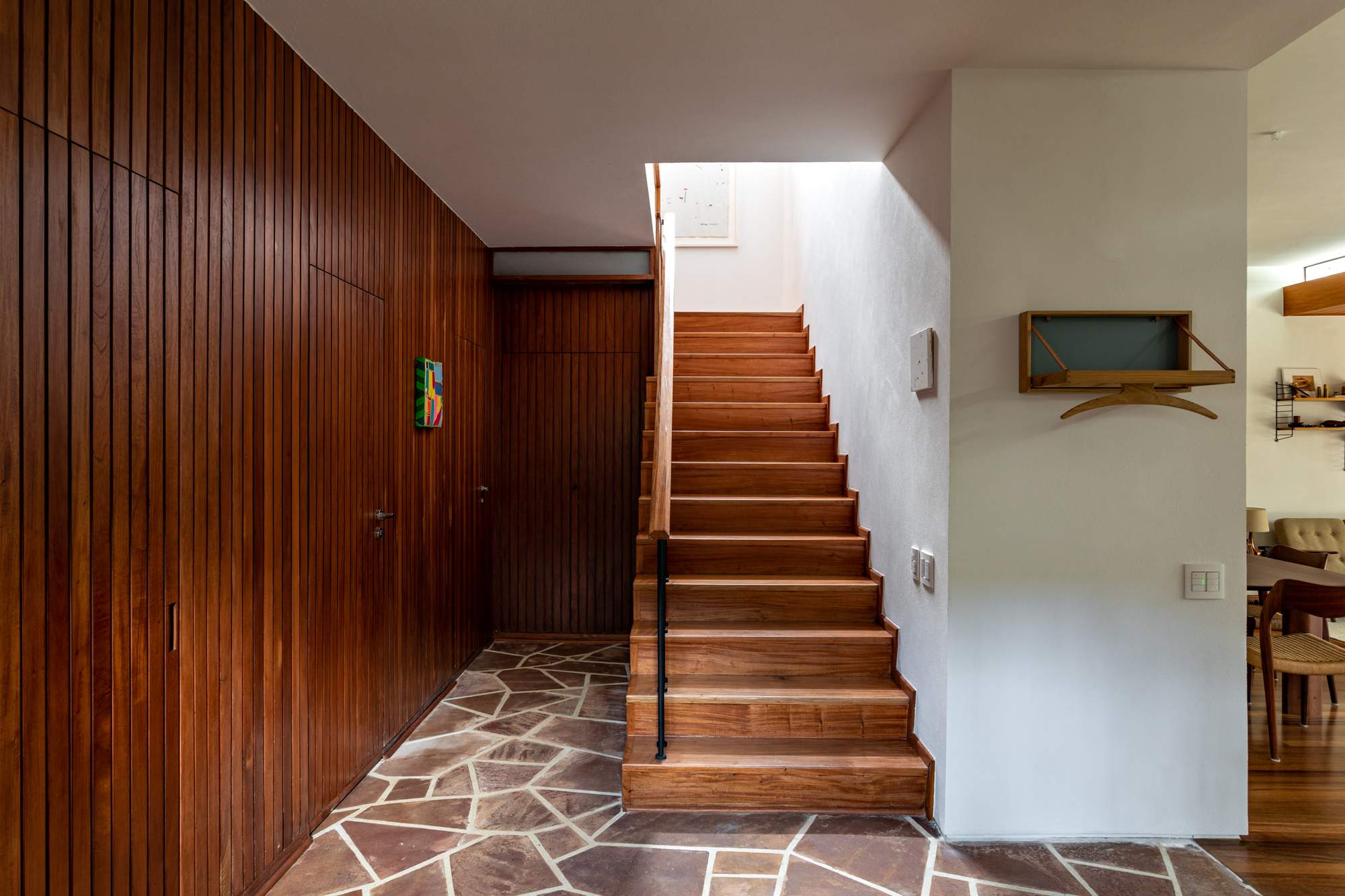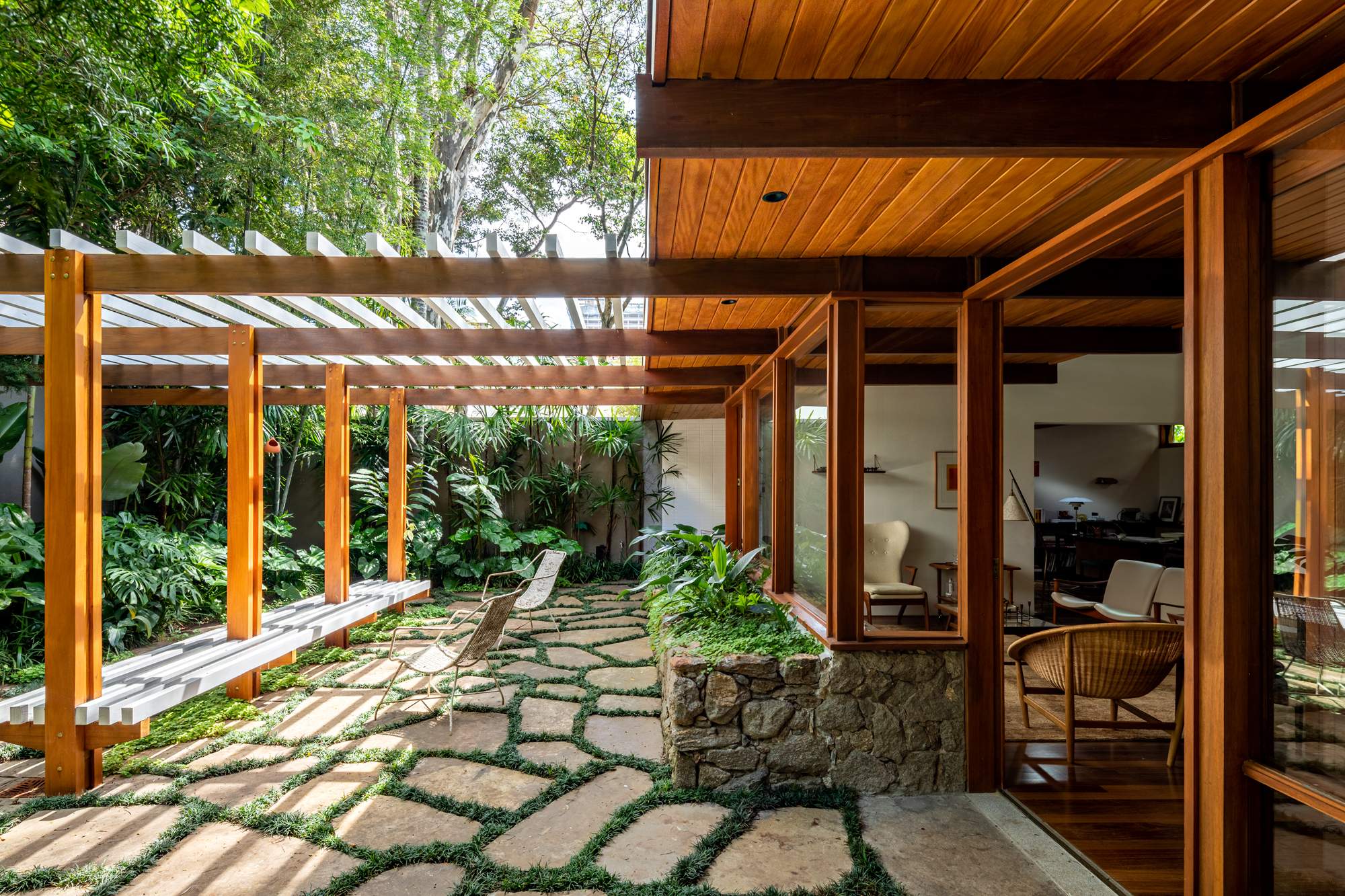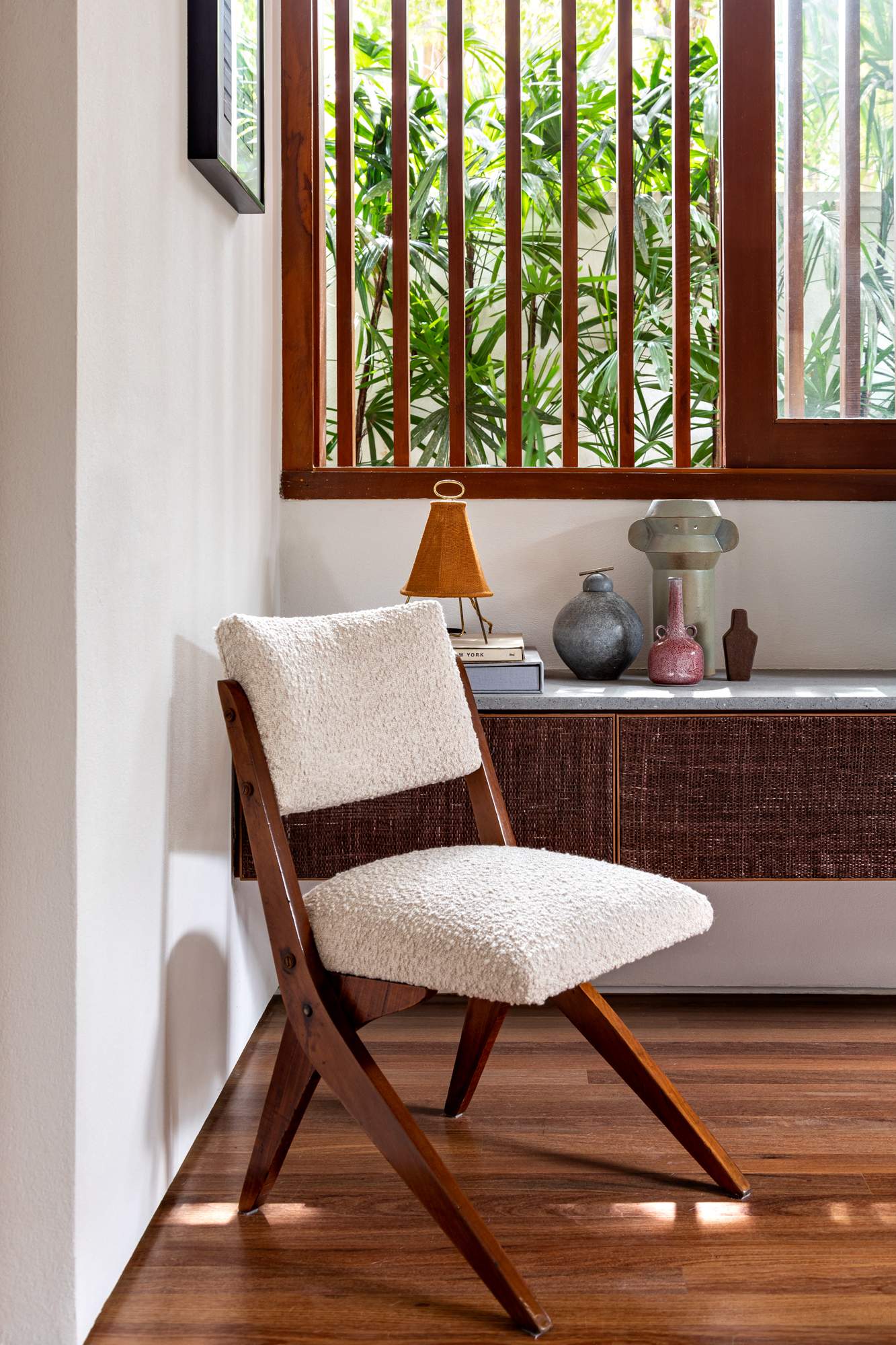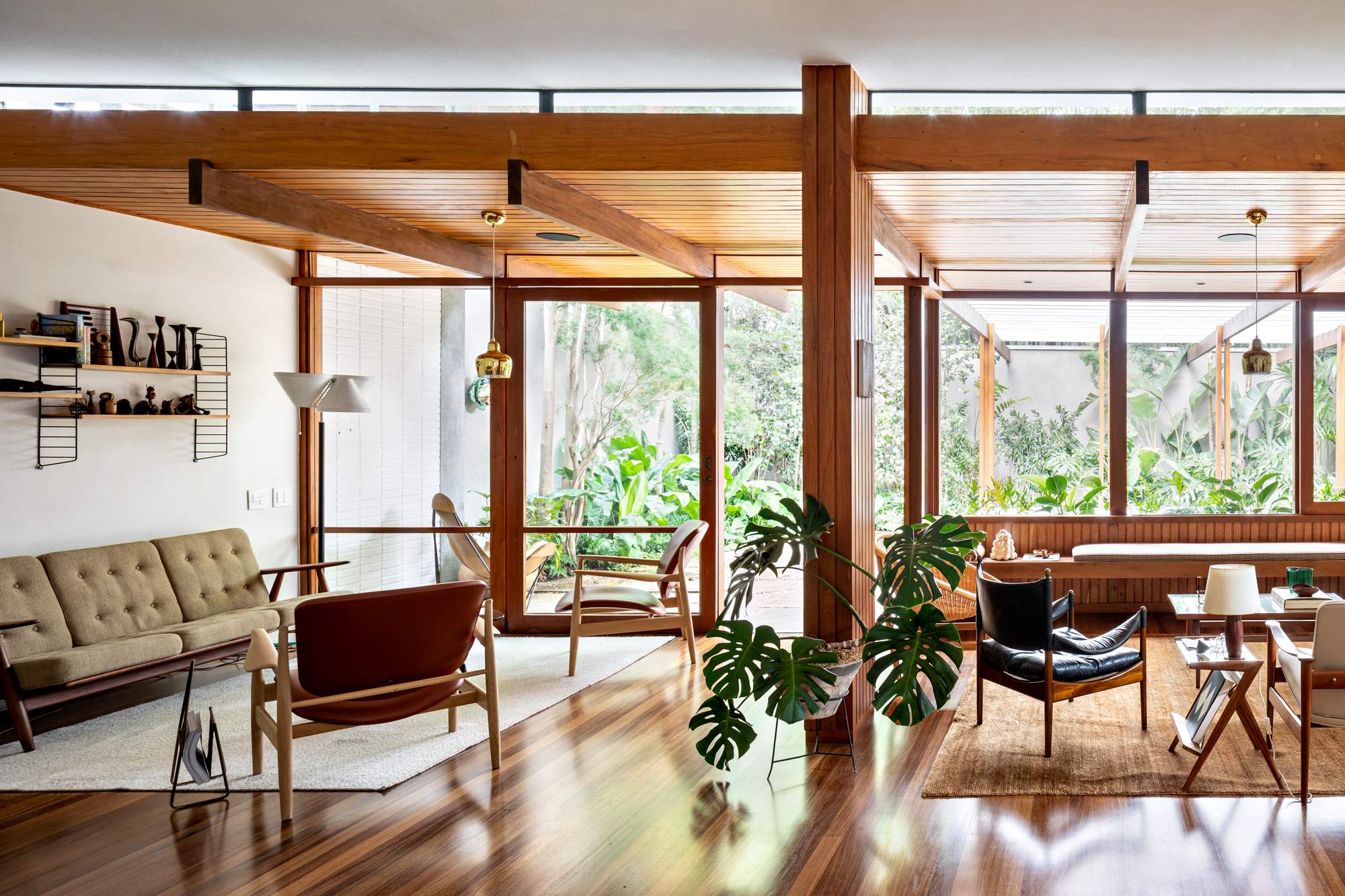 What the couple bought was not quite the homage to Brazil's golden mid-century era of design that exists in this plot today. Yet, despite dodgy past renovations (and a shocking decision from prior residents to paint the home's many timber elements white), a lot of Ortenblad's original architecture stood the test of time. "It comes from a period of architecture that I love, where the materials and proportions came together to create a very relaxed house," says Hess. 
"If I created something new I'd probably get tired of it. I really appreciate Ortenblad's architecture; I just put my own touch on it and I feel like it works."
"It also has lots of elements that reference the American mid-century movement and architects like Richard Neutra," he says, pointing to a handsome, and classically modernist, timber pergola outside. It's an addition he commissioned but one that matches an original element he discovered in old photographs and which had been long removed from the house. 
The architect's approach to working with the original building has focused on revitalising its best aspects as well as getting rid of all that white paint from the timber (a task that left one Brazilian builder looking like a snowman). One of the highlights of the restoration is a beautifully finished built-in bench that burrows into a windowed alcove. A honey-coloured timber structure frames the bench, clambering up to the ceiling. "This is one of my favourite elements because the structure leaves space just below the ceiling to allow sunlight to filter into the house in such a beautiful way," says Hess.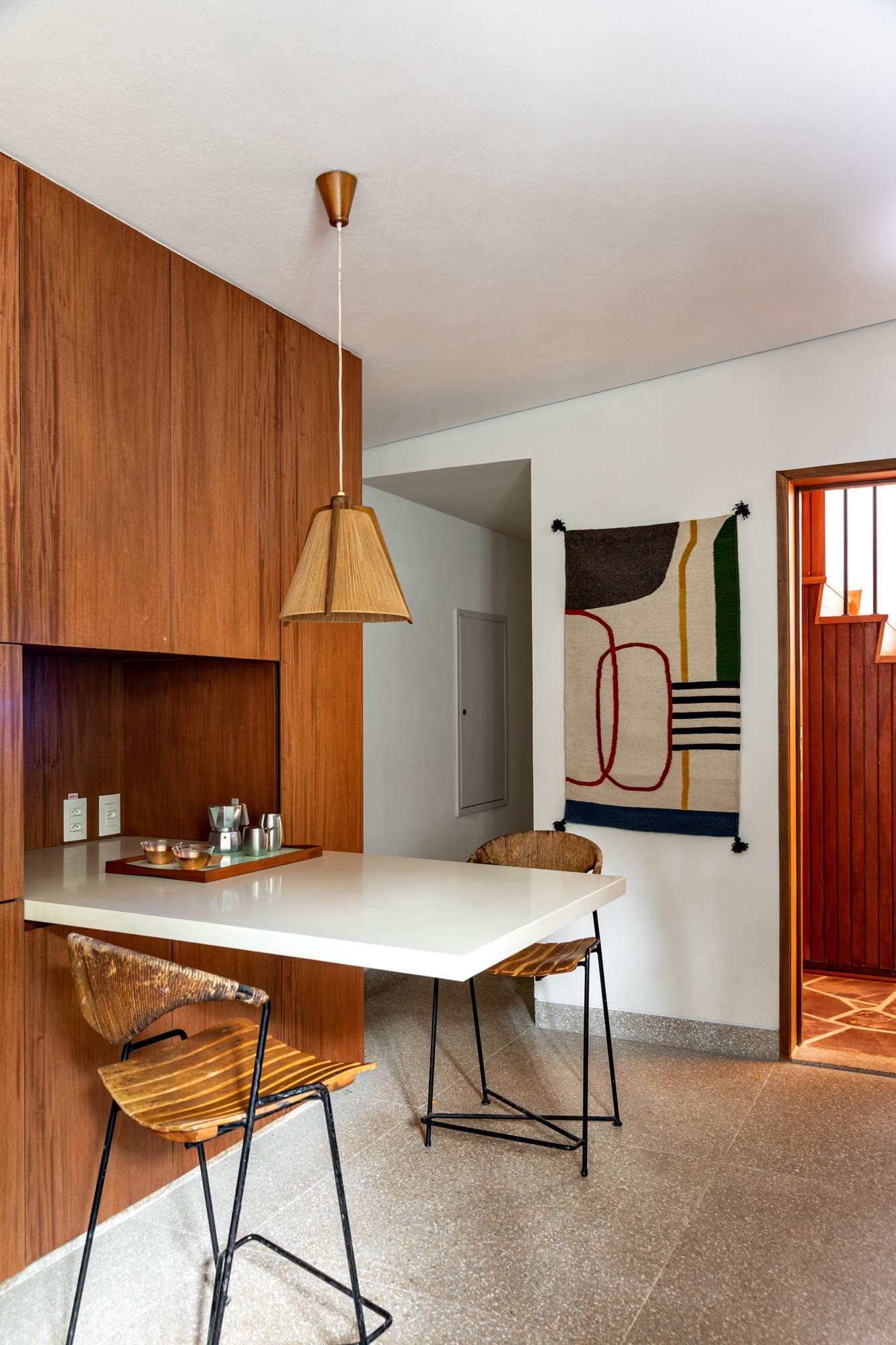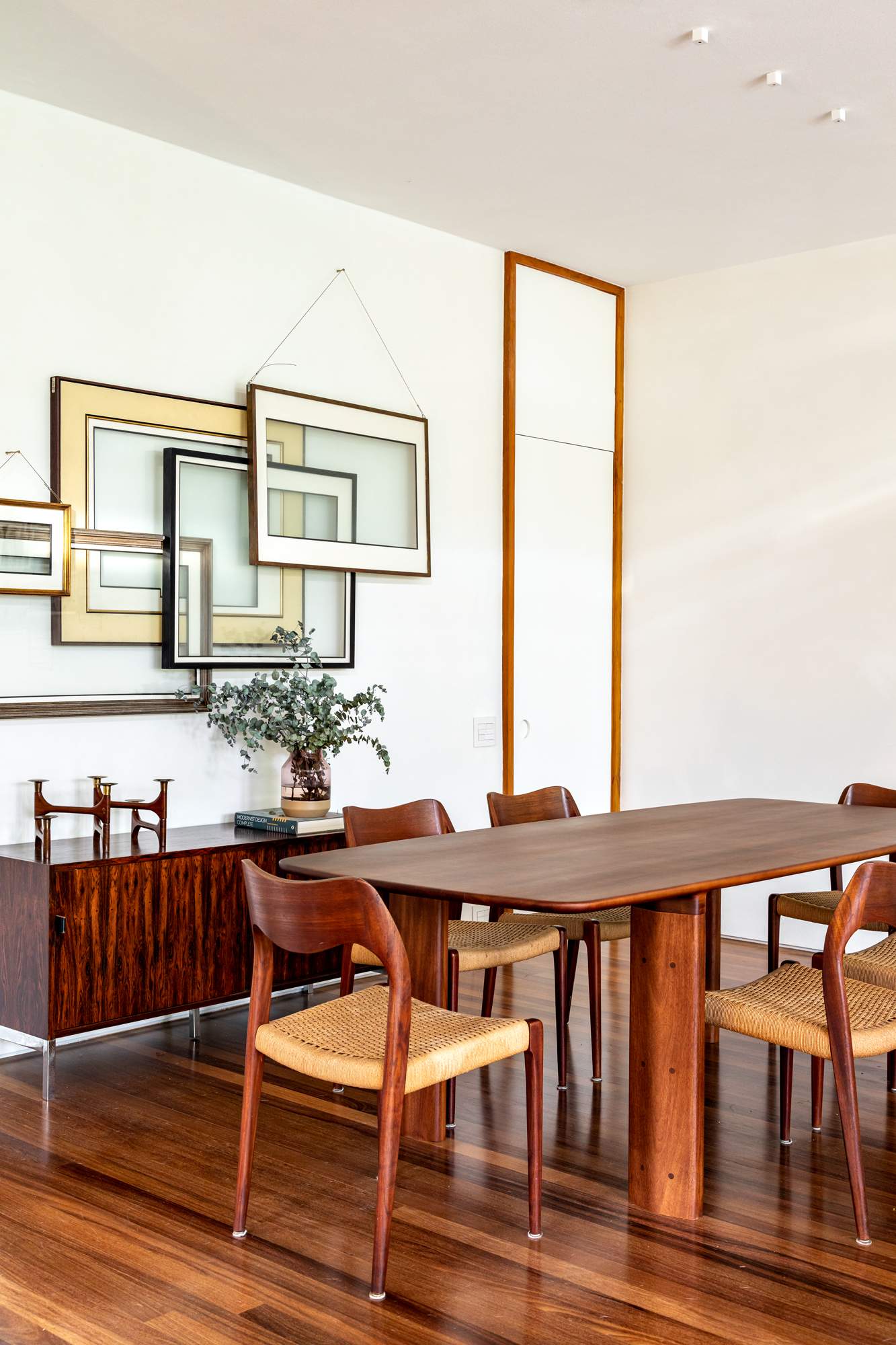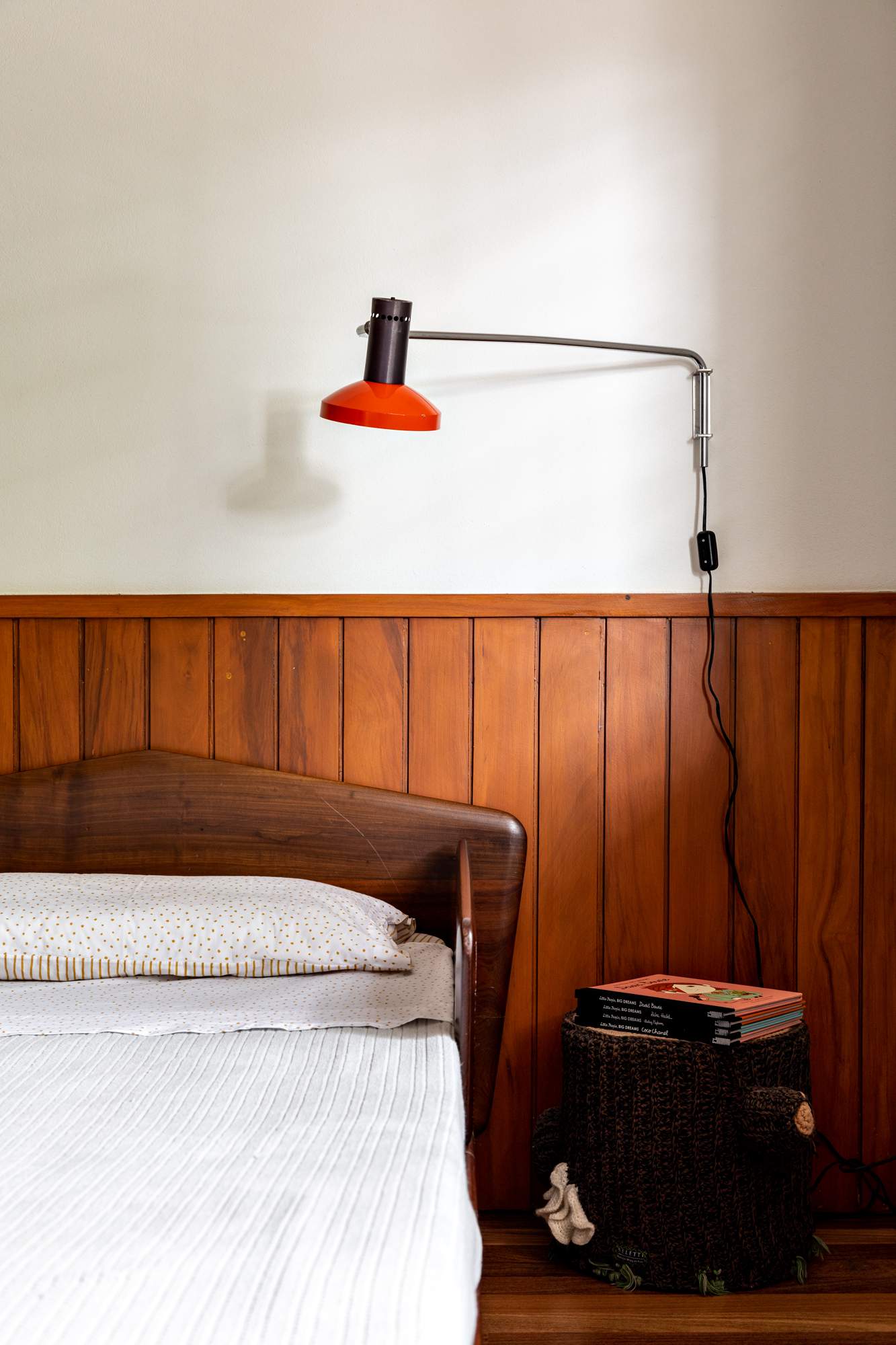 For new additions, Hess took inspiration from the Louisiana Museum near Copenhagen: a masterpiece designed in 1958 by architects Vilhelm Wohlert and Jørgen Bo. "When we started the renovation we'd just come back from a holiday in Denmark where we'd visited the museum, which was one of the most beautiful things I'd ever seen," says Hess. "Being built around the same time in the modernist style, our house actually has a lot of details that are similar to those in the museum."
Hess added further built references to the museum, such as latticed white-brick feature walls and the tile-surrounded fireplace. To complete the look, an enviable collection of Scandinavian furniture, much of which is vintage, adorns the home. There is a Louis Poulsen lamp, a Børge Mogensen credenza, a Danish wall-mounted coat hanger and a classic comfy couch designed by Fredrik Kayser. The pared-back stylings of the wares live harmoniously with Latin American art pieces and antique furniture from Brazil. Alongside tropical pot-planting, it all feels perfectly at home here in the timber-heavy setting, benefitting from the bright Brazilian sunlight and cooling afternoon breeze that pours in from the home's large windows.
Reflecting on the life that he, his wife and young son enjoy at home, Hess notes that he's glad to have reinforced another architect's ideas about good living through the project, rather than expound his own. "I could never design a house for myself from scratch," he laughs. "I have lots of references and things that I like but my tastes change. So if I created something new, I'd probably get tired of it pretty quickly." 
In modernising Ortenblad's modernist masterpiece, Hess has managed to avoid this problem, while bolstering the legacy of an architect little known outside Brazil. "I really appreciate his architecture; I just put my own touch on it and I feel like it works."
Rodolpho Ortenblad
On completing his architecture studies in 1950, Brazilian-born Rodolpho Ortenblad ventured to the US to learn about the modernism movement, which was popular at the time. Beyond the many homes he designed in São Paulo that referenced the lessons he learnt from the great mid-century American architects, he also served as director of the locally loved Acrópole architecture journal.