New opening: Lodi / New York
Upper crust
In the shadow of the iconic Rockefeller Center, a new restaurant and bakery is combining Manhattan's sophistication with the welcoming bustle of Milan's aperitivo culture. We break bread with Ignacio Mattos, Lodi's celebrated chef-owner.
Midtown Manhattan is always buzzing with people but ask them to recommend a place to eat there and plenty will be stumped. "Many New Yorkers find themselves navigating this part of town and not having a place to go," says Uruguayan chef Ignacio Mattos. His latest restaurant, Lodi on Rockefeller Plaza, will surely change that.
Inspired by Milan's aperitivo bars and cafés, Lodi isn't the only new resident in the fêted plaza, which is expanding its dining options – notably, the selection will soon include a sister restaurant of Korean favourite Atoboy. But who better to attract New Yorkers back to Midtown than Mattos, chef and owner of hit Manhattan restaurants Estela and Altro Paradiso? Far from simply offering fans of his food another venue in which to enjoy it, he hopes that Lodi will help him to win new customers. "There are so many New Yorks," he says. "I have been in the city for 15 years so it's nice to discover different areas."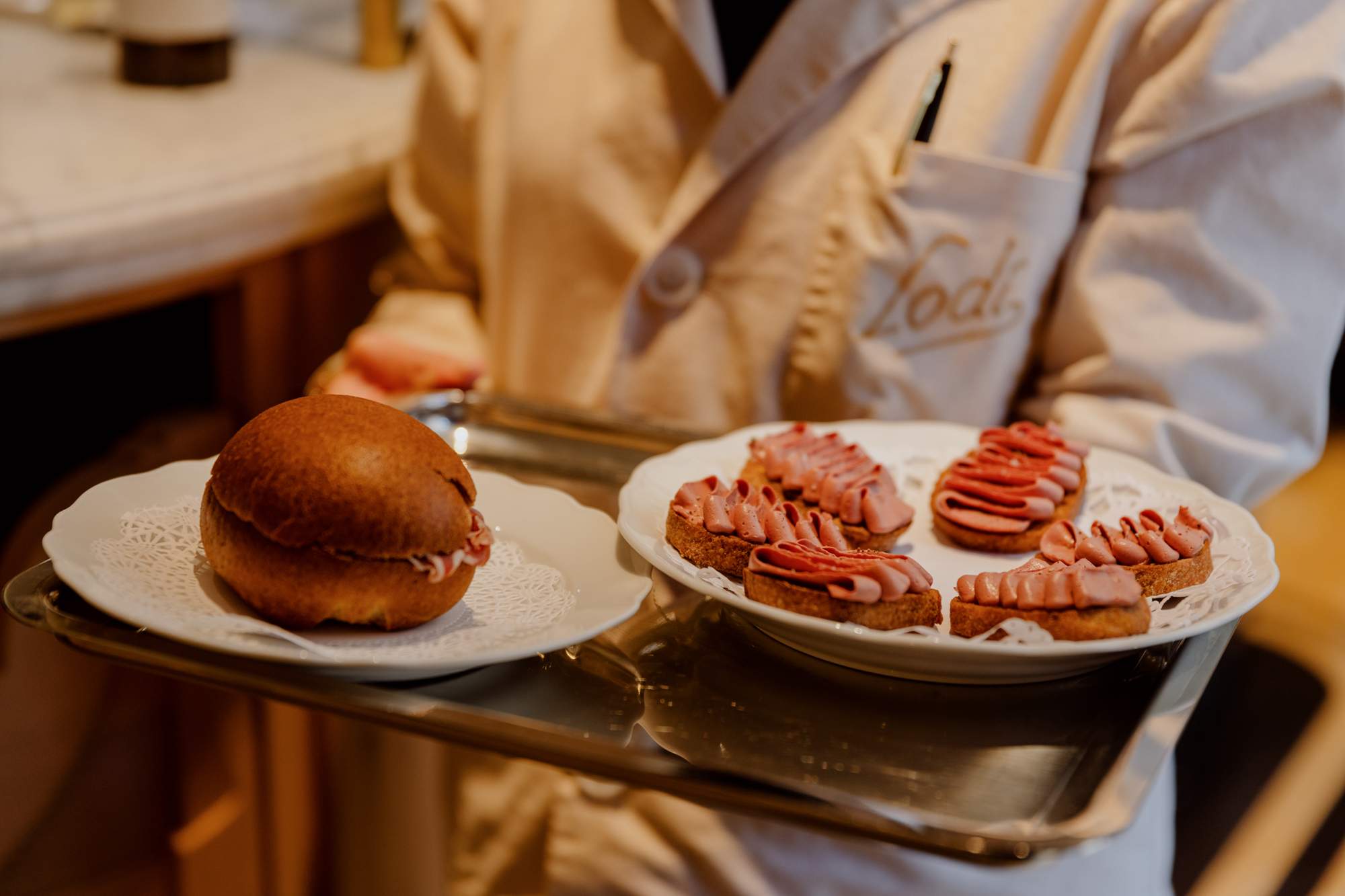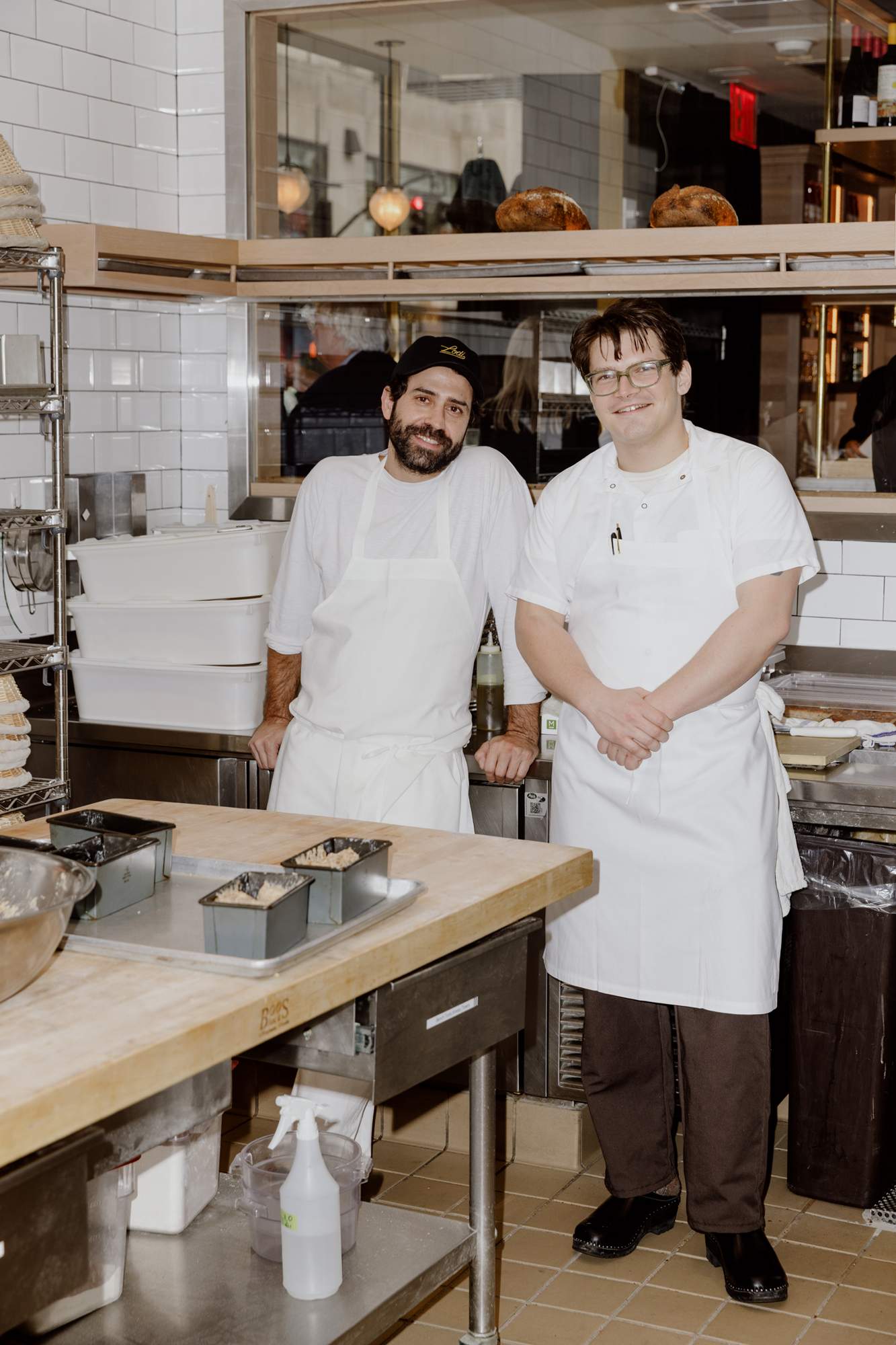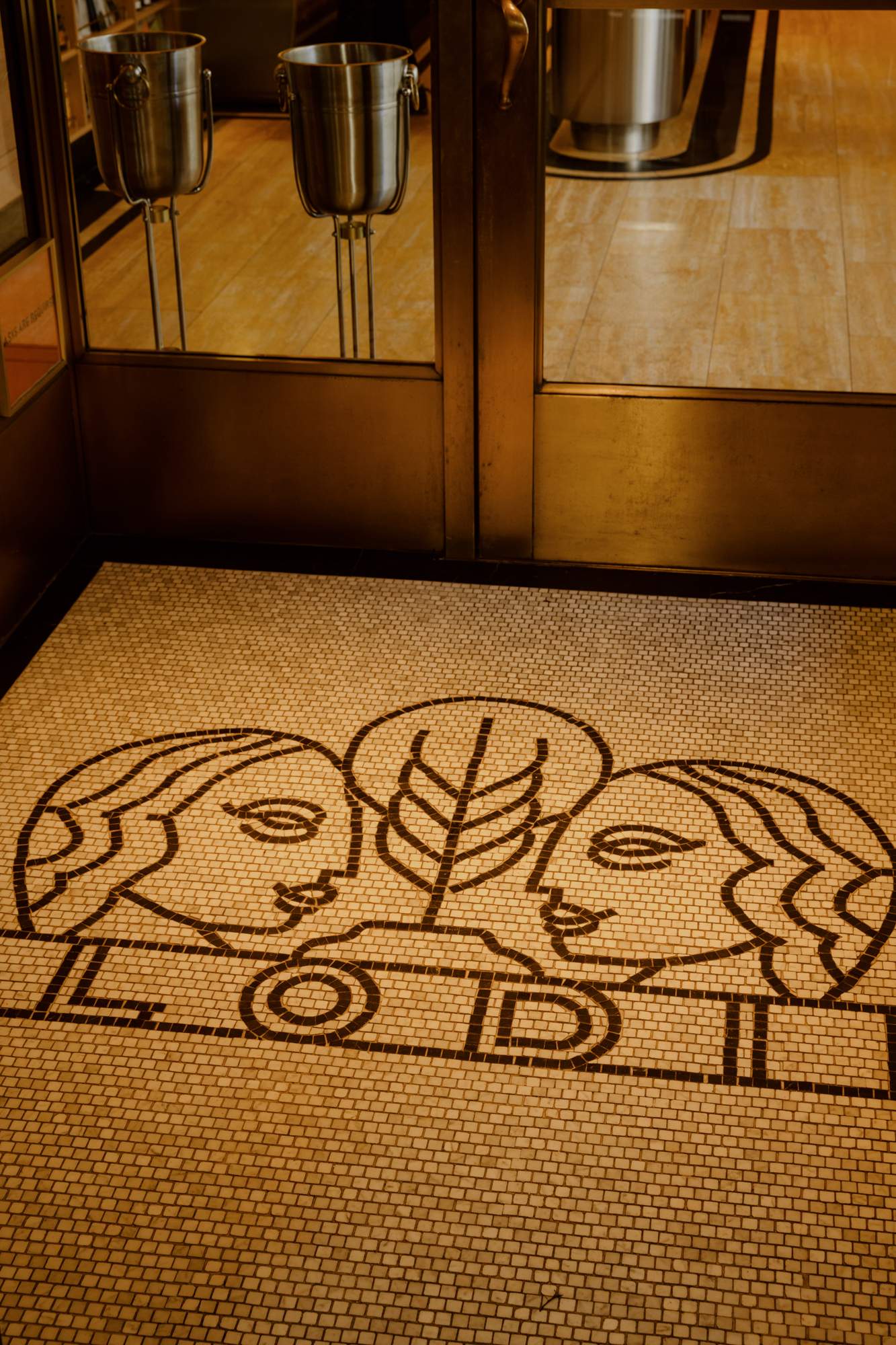 If Lodi can't tempt the bougie Brooklyn crowd back to Manhattan, then nothing will. The gilded interior is lined with marble counters, leather stools and cabinets displaying a decadent assortment of pastries and cakes. The only time you'll remember that you're in New York and not Lombardy is when the odd tourist wanders in wearing an "I love NY" cap to ask for directions – or when you catch a glimpse of the Rockefeller Center from a counter seat.
The design team, led by Richard H Lewis, Zachary Lewis and Ian McPheely of Paisley Design NYC (who also worked on New York institutions Balthazar and Pastis), took cues from the building, adding elements such as textured walls and a cut-glass chandelier. "Milan was a reference point but we wanted to make it fit in with the Rockefeller Center buildings and create our own language within that style," says Mattos.
Unlike at his other restaurants, Lodi's menu places bread and pastries front and centre. "It was meaningful to me to create a bakery, a place where people can gather," he says amid the clatter of cutlery. "There's nothing more noble than bread."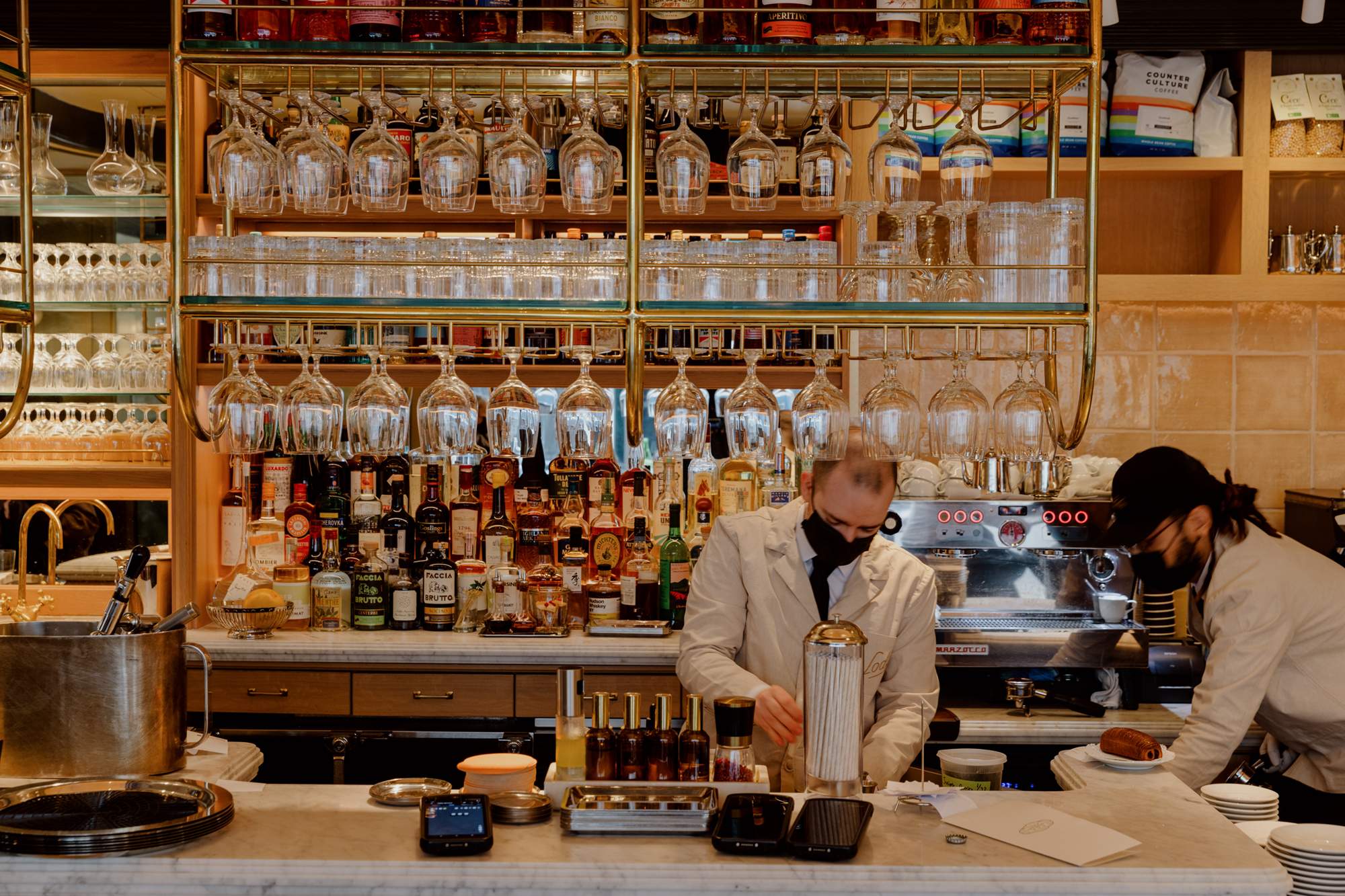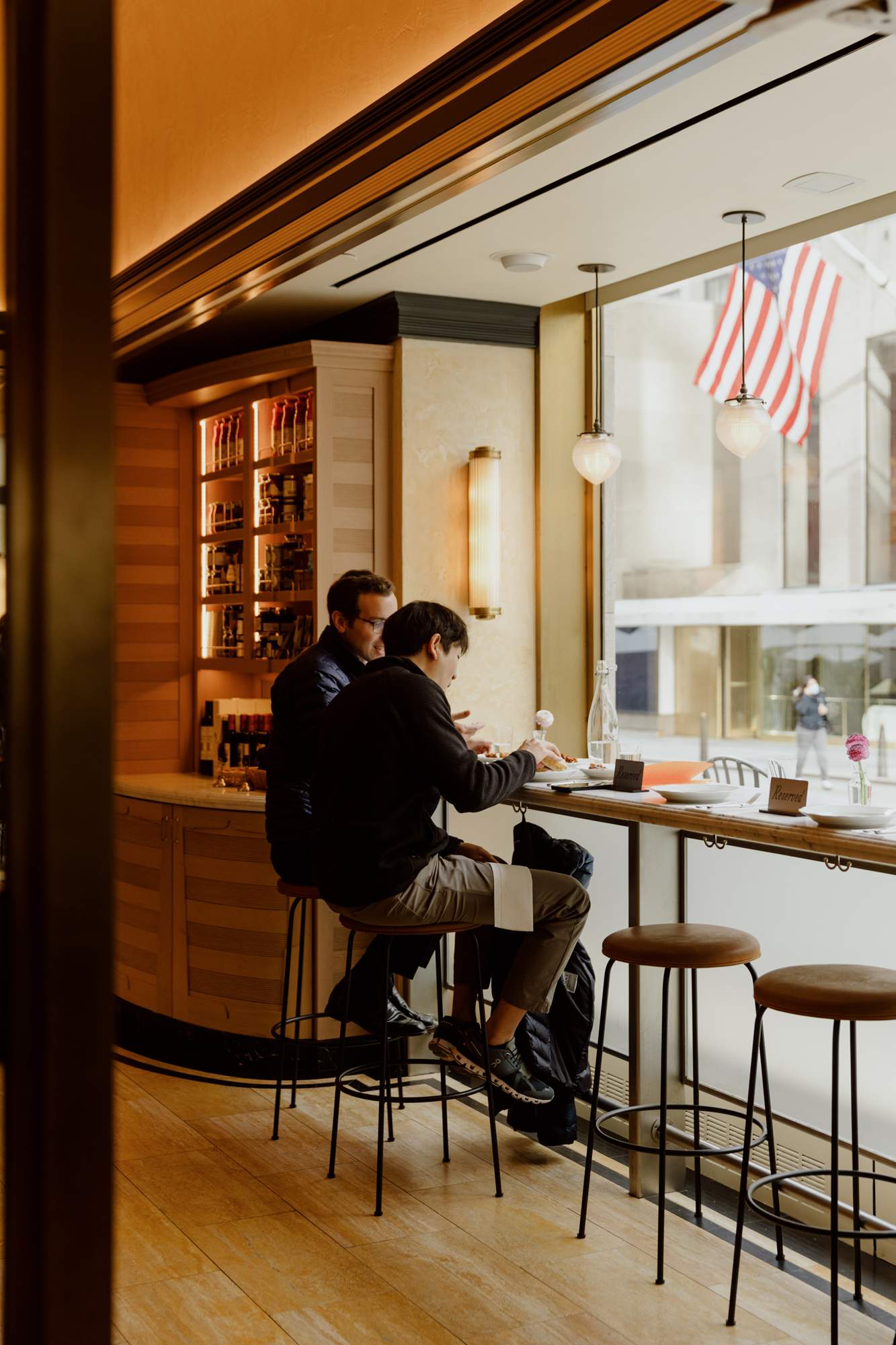 Lodi celebrates the craft of baking and mills grain on site. Head baker and pastry chef Louis Volle, formerly of Blue Hill at Stone Barns and Tartine, has created the most decadent selection of pasticcini, pear crostatas, croissants and glistening chocolate-and-praline cakes.
On the main menu you will find Italian staples, such as panini with prosciutto, vitello tonnato (veal and tuna) and caponata (marinated aubergine). "The most exciting places are the ones that are reliable, somewhere you can walk into and find something," says Mattos. "You don't want to be overwhelmed by a prix-fixe menu." Whatever you do, make sure you save room for dessert.
"There are so many New Yorks. I've been in this city for 15 years so it's nice to discover different areas"
1
Recipe
Cicoria alla romana
For Lodi's variation on the classic puntarelle alla romana, you'll need a pestle and
mortar. Alternatively, use a food processor or chop the anchovies and garlic with a knife into a paste-like consistency. The chicory mix can be supplemented with lettuce in spring or summer; use a zester for the lemon.
Serves 2
Ingredients
For the salad:
2 heads red chicory
2 heads white chicory
1 head radicchio 
200g dandelion greens (or spring greens)
For the dressing:
1 clove of garlic, peeled
90g oil-packed anchovies
15ml red wine vinegar
100ml olive oil
To season:
1 tsp kosher salt
1 tsp flaky sea salt
1 lemon, zest and juice
2 tsps red wine vinegar
Method
1.
Cut off the root end of the chicory and radicchio, then remove leaves and remaining core. Wash all of the greens and spin-dry in a salad mixer.
2.
For the dressing, grind the garlic to a paste using the pestle and mortar, add the anchovies, then repeat. Pour the paste into a bowl. Add the vinegar and oil and mix.
3.
Place the salad vegetables in a bowl. Zest half a lemon on top; season with kosher salt and sea salt, then toss. Add 2 tablespoons of anchovy dressing and toss again.
4.
Season with extra lemon juice or red wine vinegar to taste, then serve.
---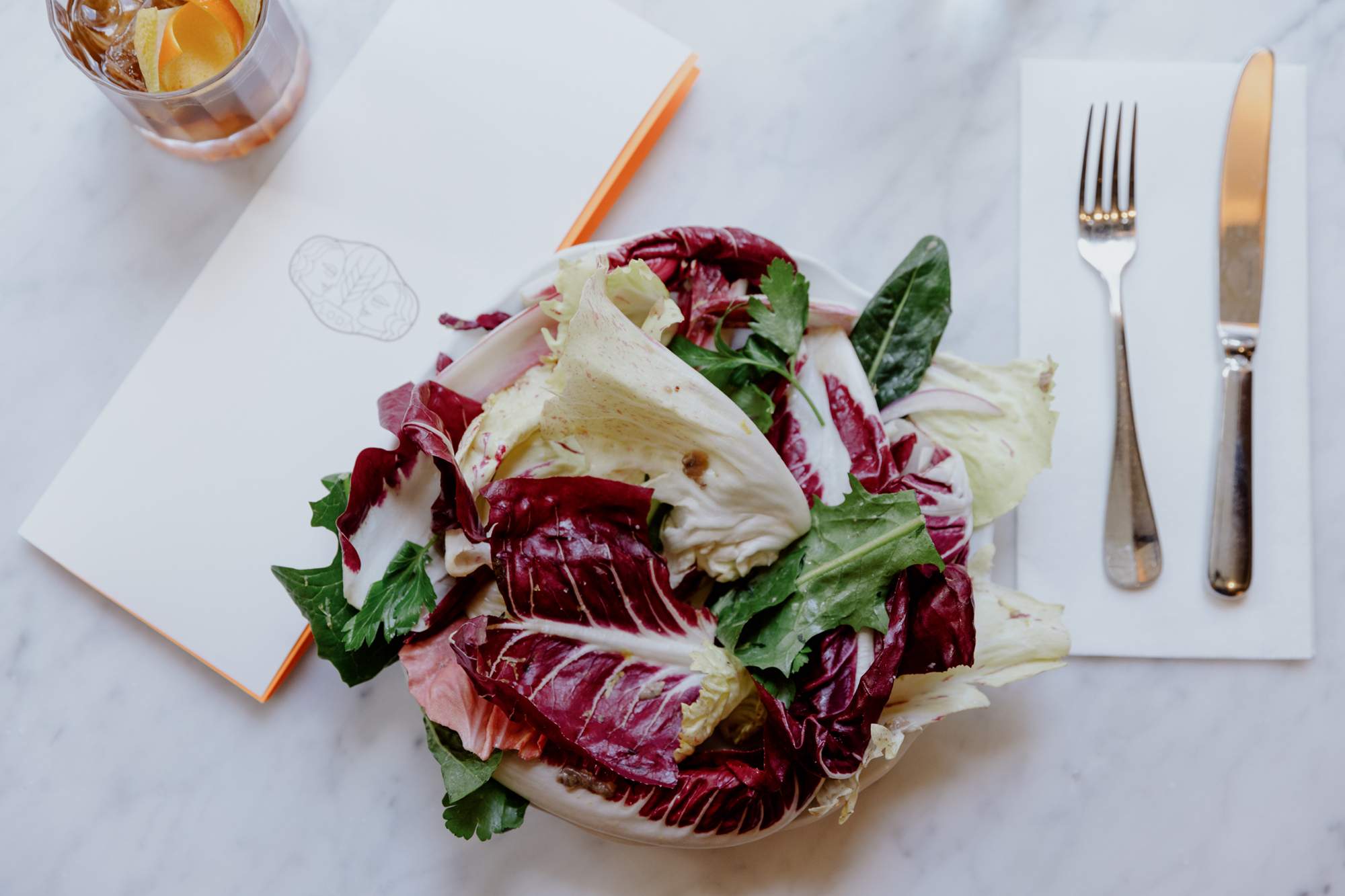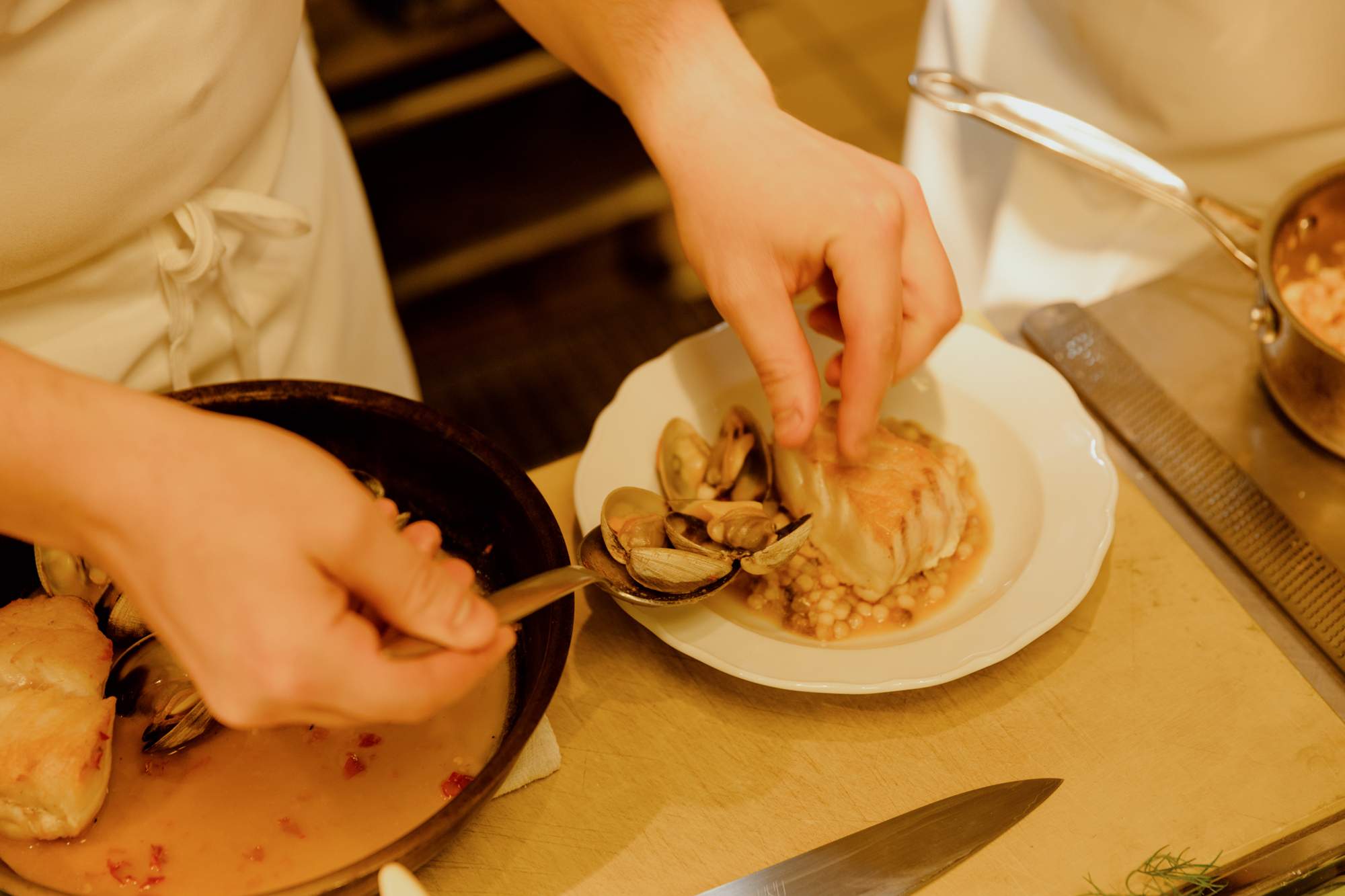 ---
2
Recipe
Spicy fregola with cod and carabineros 
Fregola is a Sardinian pasta variety made from toasted semolina dough. 
Serves 4
Ingredients
500g littleneck clams 
450g kosher salt
450g cod, cut into 4 portions
80ml olive oil
500g onion, diced
500g fennel, diced
400g tomato paste 
1 tsp chilli flakes
500g fregola
2.7 litres fish stock
Method
1.
First cover the clams with 3 litres of water in a large bowl. Add the kosher salt and mix. Allow the clams to sit in the brine refrigerated for about 3 hours to purge them of sand. Give them another rinse before cooking.
2.
Season the cod 30 minutes before cooking.
3.
Heat a large, wide pot with the olive oil, then add the onion and fennel. Cook until translucent and the onion starts to caramelise; this should take about 5 minutes.
4.
Add the tomato paste and cook until it deepens in colour. Add the chilli flakes.
5.
Add the fregola and sauté for 1 minute until most of the oil has been soaked up and has combined with the tomato paste.
6.
Add the fish stock and bring to a boil, stirring constantly. Allow to boil for 10 minutes, or until the fregola is al dente.
7.
Add the fish and clams and cover. Allow to sit for 15 minutes. Check that the fish is cooked through.
8.
Cover and leave off the heat for 10 minutes. Season to taste and serve.