Business: Transport / France
All aboard
As France's rail network opens up to new competition, Ouigo is gearing up for the challenge.
Ouigo knows about competition. In 2013, when the subsidiary of French national rail carrier sncf was launched, carpooling and buses were leading to a dip in high-speed tgv travel. Something needed to be done. "Oui was the first to say to itself, rather than having competitors that steal customers, let's try to come up with an offer that is less expensive," says ceo Stéphane Rapebach from a room off a long corridor running above Paris's Gare de Lyon. 
Ouigo's national tgv service is unashamedly modelled on low-cost airlines. Ticket sales open up to nine months in advance and are exclusively online; baggage, seat selection and wi-fi are paid extras; and First Class doesn't exist. With its pink and sky-blue colour scheme extending from the train body to seats, it's also clearly aimed at youth, with Rapebach saying that 40 per cent of customers are under the age of 30. As part of the sncf's two-tier offer, a separate Inoui-branded tgv picks up the premium customers who don't want the cheap seats, offering them seasonal food menus and a Business Premièrecoach.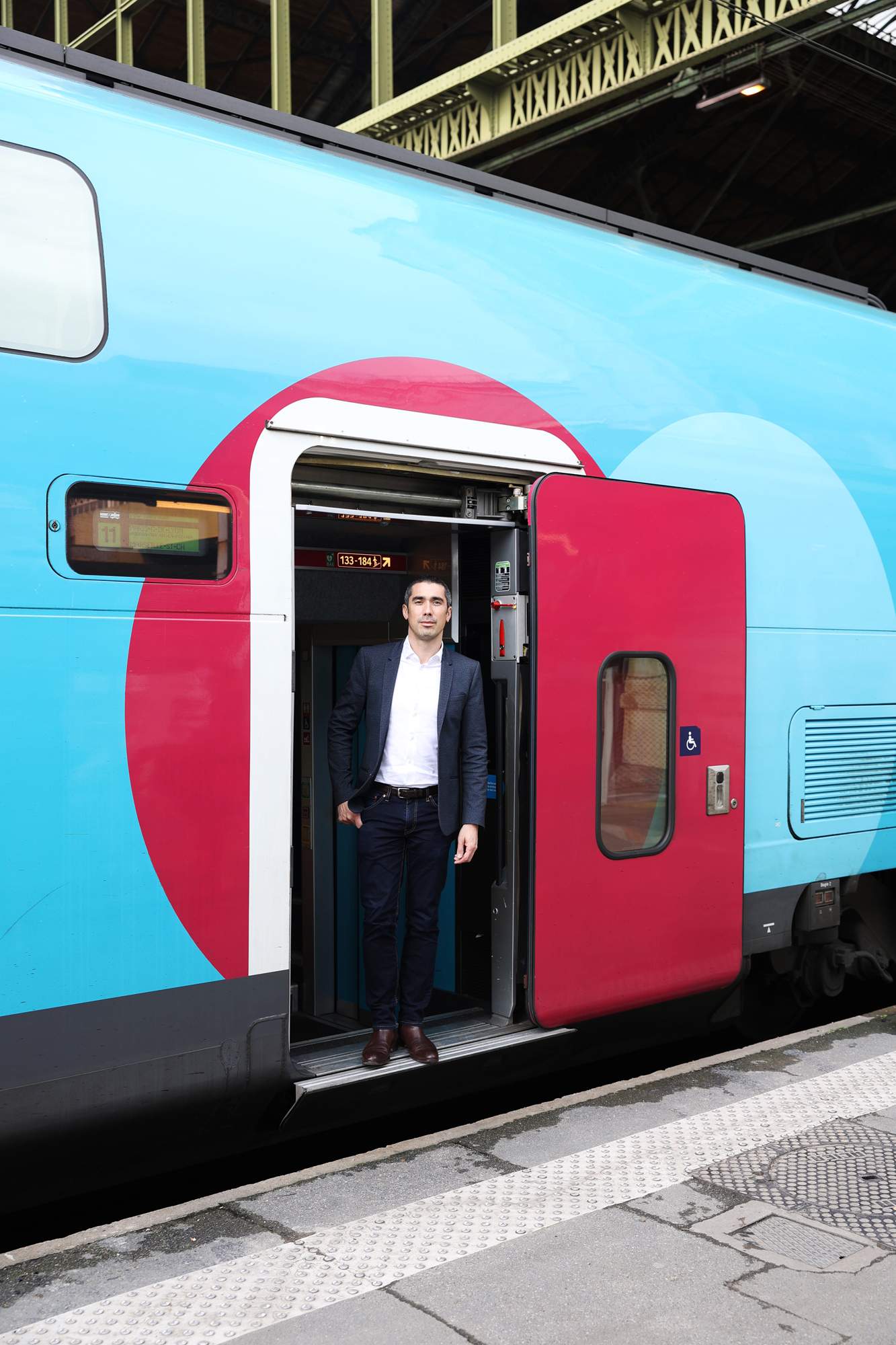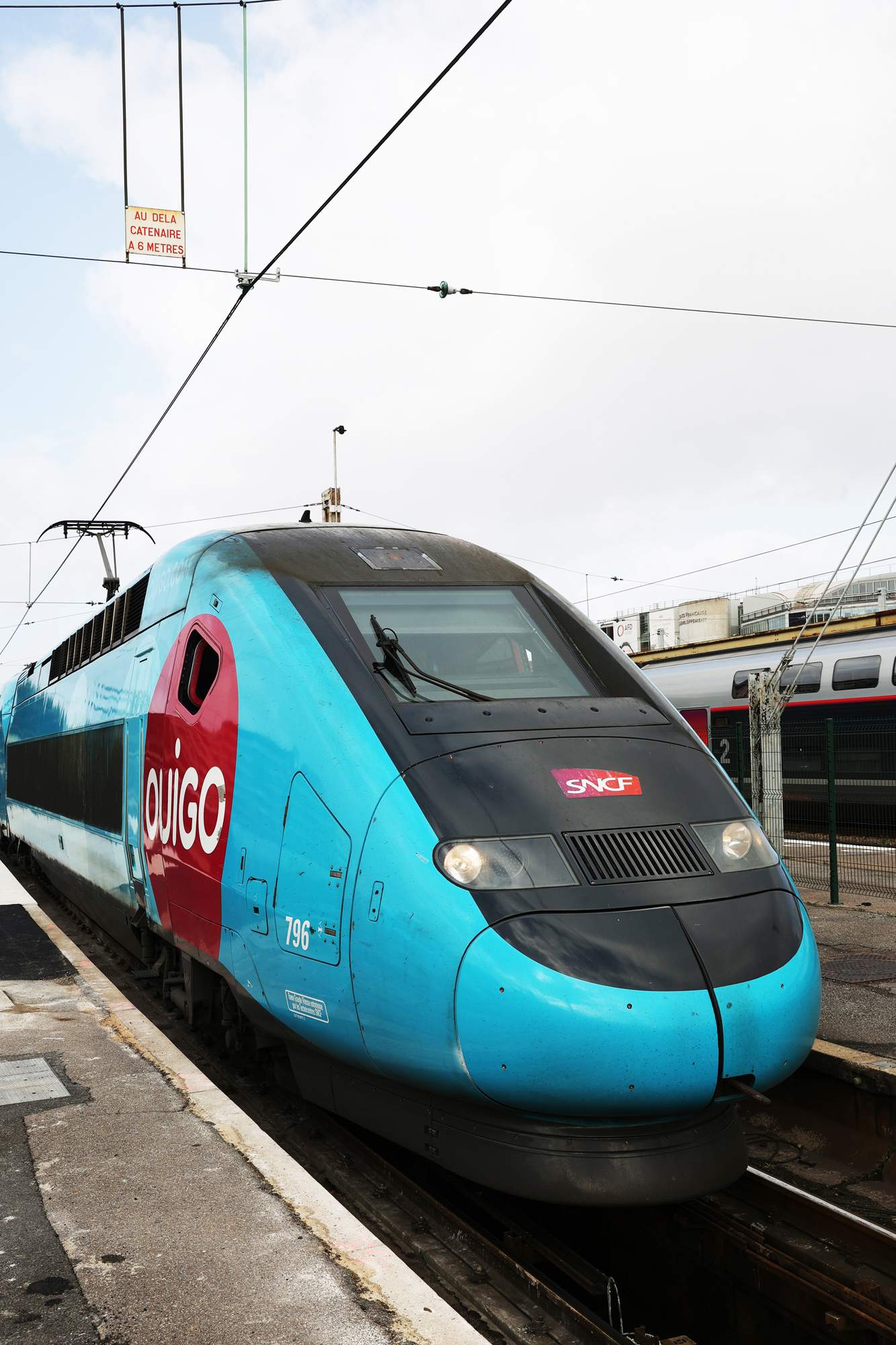 Rapebach, 42, knows that budget travel gets a bad rap. "Some people say 'I don't want low cost'," he says. "But the reality is that today the trains are full. After the [economic] crisis, low-cost resisted better than other forms of mobility." He says that although there was an obvious revenue hit during the pandemic, traffic has increased fivefold since 2013 and Ouigo predicts carrying 24 million passengers this year.
"Ouigo is interesting because it's competing with itself and recognising it caters to different markets," says British train historian Christian Wolmar, who will take his first Ouigo from Paris to Lyon in April. "It shows some nous."
While the state-owned operator's business model arguably brings a more democratic approach to high-speed travel, sncf also finds itself facing one of the most challenging moments in its history. Winds of change are blowing through France as the holy cow of France's public sector finds itself confronted by private and foreign competitors for the first time since its inception. A longstanding EU directive ordering member states to open up their rail networks to competition has been adopted at different paces within the bloc. And though France has been a late adopter (neighbouring Italy has had private carrier Italo since 2012), the decree is now starting to bite. 
On France's grandes lignes, open-access rules mean anyone with a business plan and funds can potentially run a rail company. And with everything from Midnight Trains, a sleeper hotel train featuring new rolling stock, to private high-speed competitor Le Train potentially on their way, sncf and Ouigo will need plenty of the nous that Wolmar is referring to. In December, Trenitalia also launched a high-speed service from Milan to Paris via Lyon. And although the current service of two trains a day is dwarfed by the sncf's 24 tgvs on the French leg of the route, Trenitalia has already said that it wants to up its number to five in the second quarter. sncf's monopoly is also being challenged on regional routes. In the coming years, regions will be able to decide which company – sncf or a competitor – they want to run their train services for set periods.
Alongside Trenitalia, Germany's Flixtrain and Spain's Renfe are also thought to be interested in France's network. But there are also plenty of nascent French companies who want in on the train game. One of them is Railcoop, hailing from the southwest of the country. It has already started a freight service and is due to commence a decidedly non-high-speed, stopping passenger service between Bordeaux and Lyon before the end of the year. 
Railcoop is a member-owned business – for profit but with 60 per cent of those profits put back into a "mission" to extend railways across France – and company ceo Nicolas Debaisieux tells monocle that it was born from a need to get people out of cars and meet markets "not addressed by sncf". Even if trains are forced to run on diesel as the track isn't electrified, Debaisieux argues that there is still a sizeable cut to emissions.
New competition is also making Ouigo consider life beyond fast trains. In April, Ouigo will launch what Rapebach calls "a classic train in low-cost mode", which will initially be two stopping services: Paris to Lyon and Paris to Nantes. The aim, according to the Ouigo boss, is to "find people the closest possible to where they live".
Nor has Ouigo just looked within its national borders. Rapebach argues that if foreign competitors can come to France and take market share, they should be able to do the same elsewhere. In May 2021, Ouigo headed to Spain, launching a low-cost, high-speed service between Madrid and Barcelona. There are plans to add a route to Valencia this year and, later, Seville. "It's a sprint," says Rapebach. "You have to be the first to show up and the first to deploy."