Design: Architecture / Zürich
Banking on it
As Pictet opens its new Zürich office, we meet the team behind the historic building's overhaul.
Fresh isn't a term typically used to describe the interiors of a bank, particularly one occupying a building from 1916. Yet this is the best word to illustrate the updated interiors of Pictet's new Zürich office. Located on the city's historic Bahnhofstrasse, the Swiss private bank occupies a sizeable chunk of the former Leu Bank building, refurbished in partnership with Zürich-based architect Tilla Theus.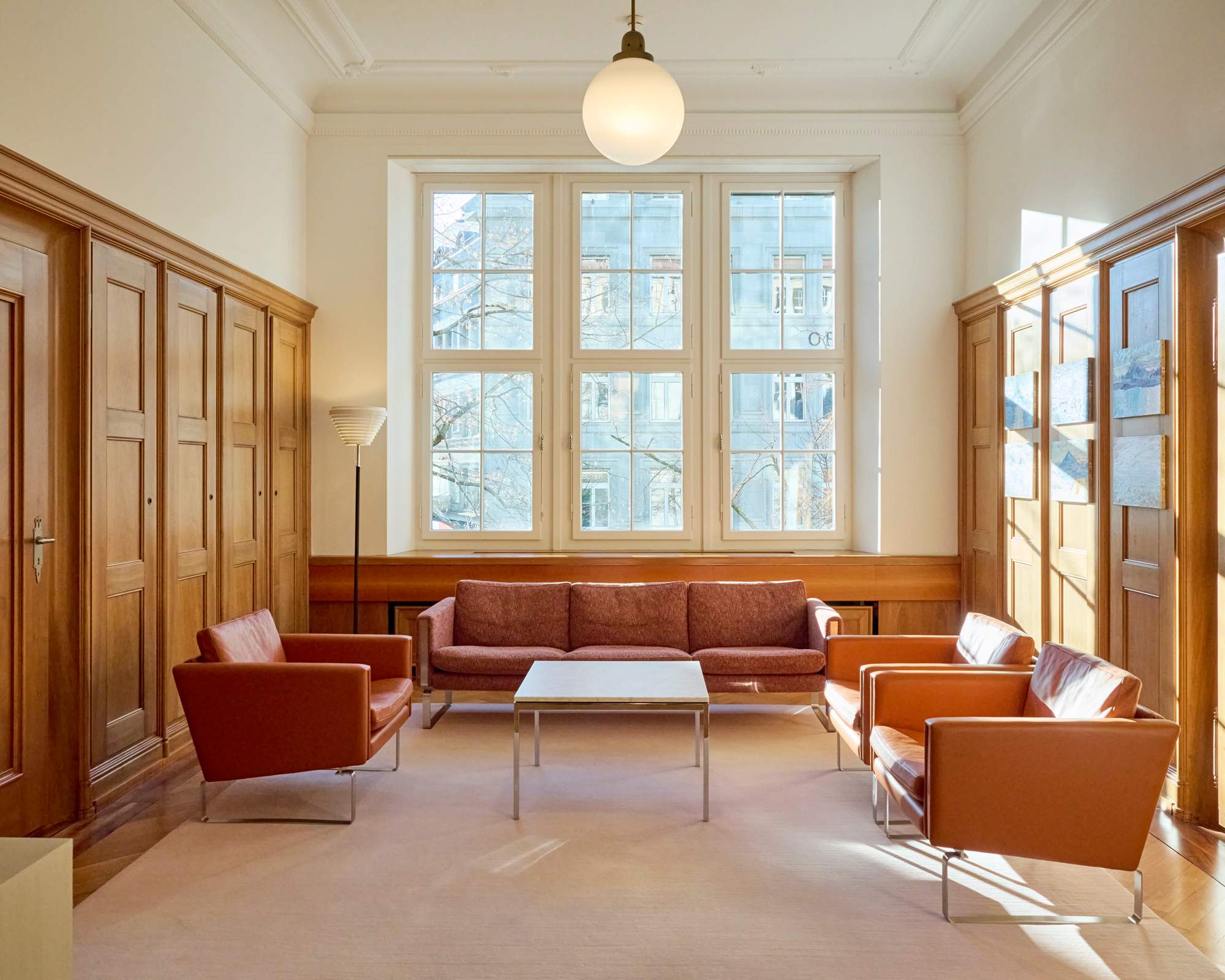 Pictet's head of arts and chief curator Loa Haagen Pictet, who was handed the keys amid pandemic lockdowns, was responsible for bringing the interiors of what she lovingly calls her "confinement baby" to life. "The building was beautiful and full of symbols but it could also weigh you down a bit," she says as she takes monocle on a tour. "If you weren't careful with how you adapted it, it might feel imposing. The whole aim was to bring in lightness and freshness while conveying the timelessness of this incredible building."
The original architecture, designed by brothers Otto and Werner Pfister, aided this mission, blessing the site with wide windows, unusual in buildings from this era. "It was actually one of Zürich's first reinforced-concrete buildings," Haagen Pictet says of the material innovation that allowed for the larger openings. Theus's sensitive renovation showcases the best of the Pfisters' classic design, which features beautiful marble tiling, parquet floors and fine marquetry. But for the all-important "freshness" that Pictet needed, it called upon Turkish-British architect Sevil Peach and Berlin's Atheorem.
A key challenge for the team was to elevate client and banker interactions by rethinking the meeting rooms. The aim was to take what potentially could be drab environments and transform them into areas for productive and enjoyable conversations and negotiations, no matter how lengthy they might be. "The ambition, particularly in meeting rooms without a view, was to make the people working in them feel valued and supported," says Peach. She adds that to create constantly inspiring areas, for both clients and staff, a colour-coding scheme keeps things interesting. "It means that people are not forever going into the same old rooms that all look the same," she says.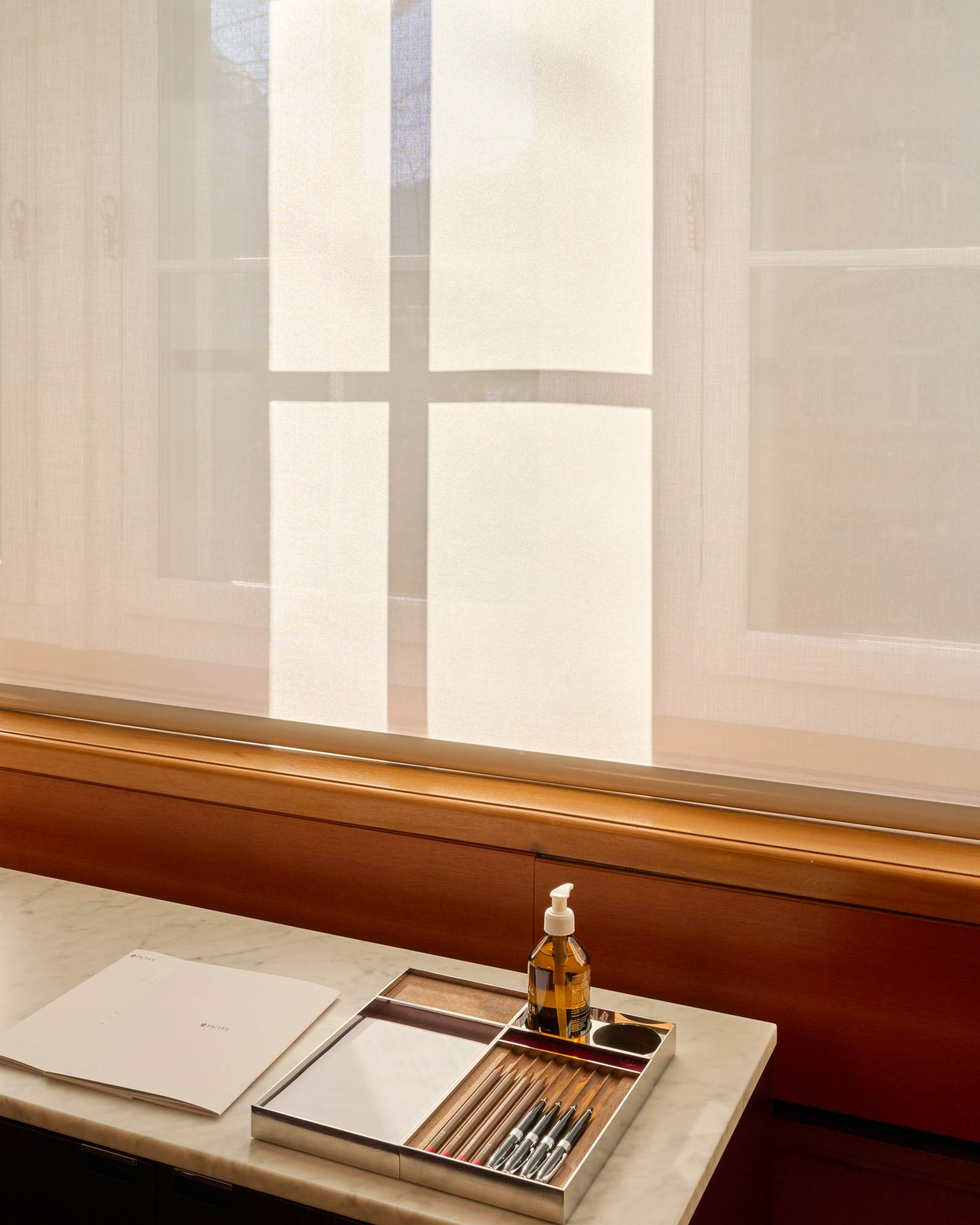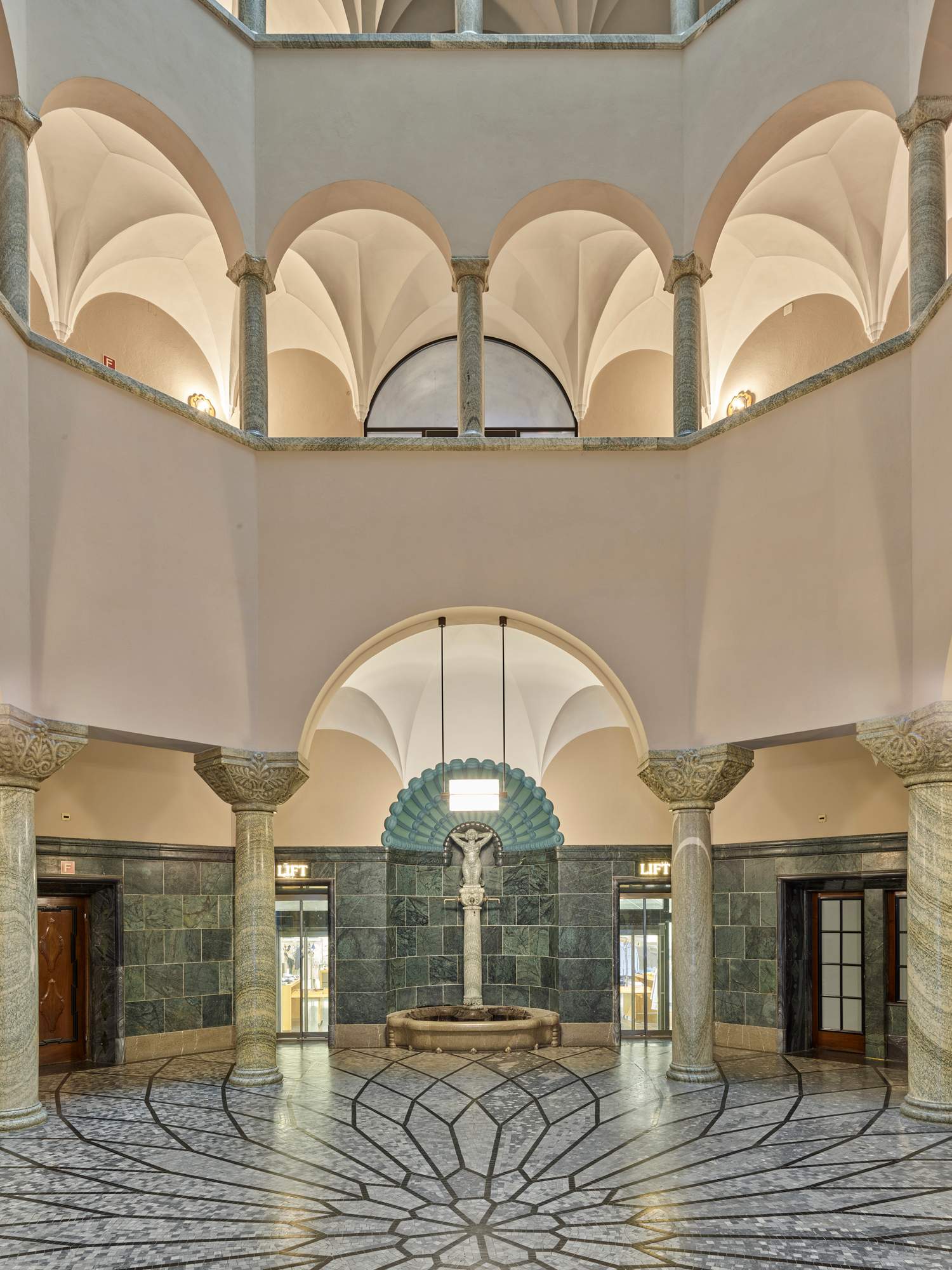 The team took care to reflect each room's original purpose. A former stately boardroom, for example, was left feeling opulent, which makes it a perfect setting for major, multi-company negotiations. But a sunny space adjoining it – formerly a secretary's room – received minimalist touches, its sheer white walls and relaxed set-up creating the ideal break-out spot for clients after long talks.
In terms of the bank's furnishings, the brief was to strive for quality pieces that would work harmoniously within the unique setting. That was met with Danish mid-century designs from the likes of Louis Poulsen and Carl Hansen & Søn. This had "nothing to do with the fact that the curator is Danish", says Peach, with a smile. She does note, however, that Haagen Pictet's background did help her to see how designs from the likes of Arne Jacobsen and Hans J Wegner – some 70 years old and still looking incredibly modern – could add a sense of warmth and well-placed refinement to what could have become too grand a setting.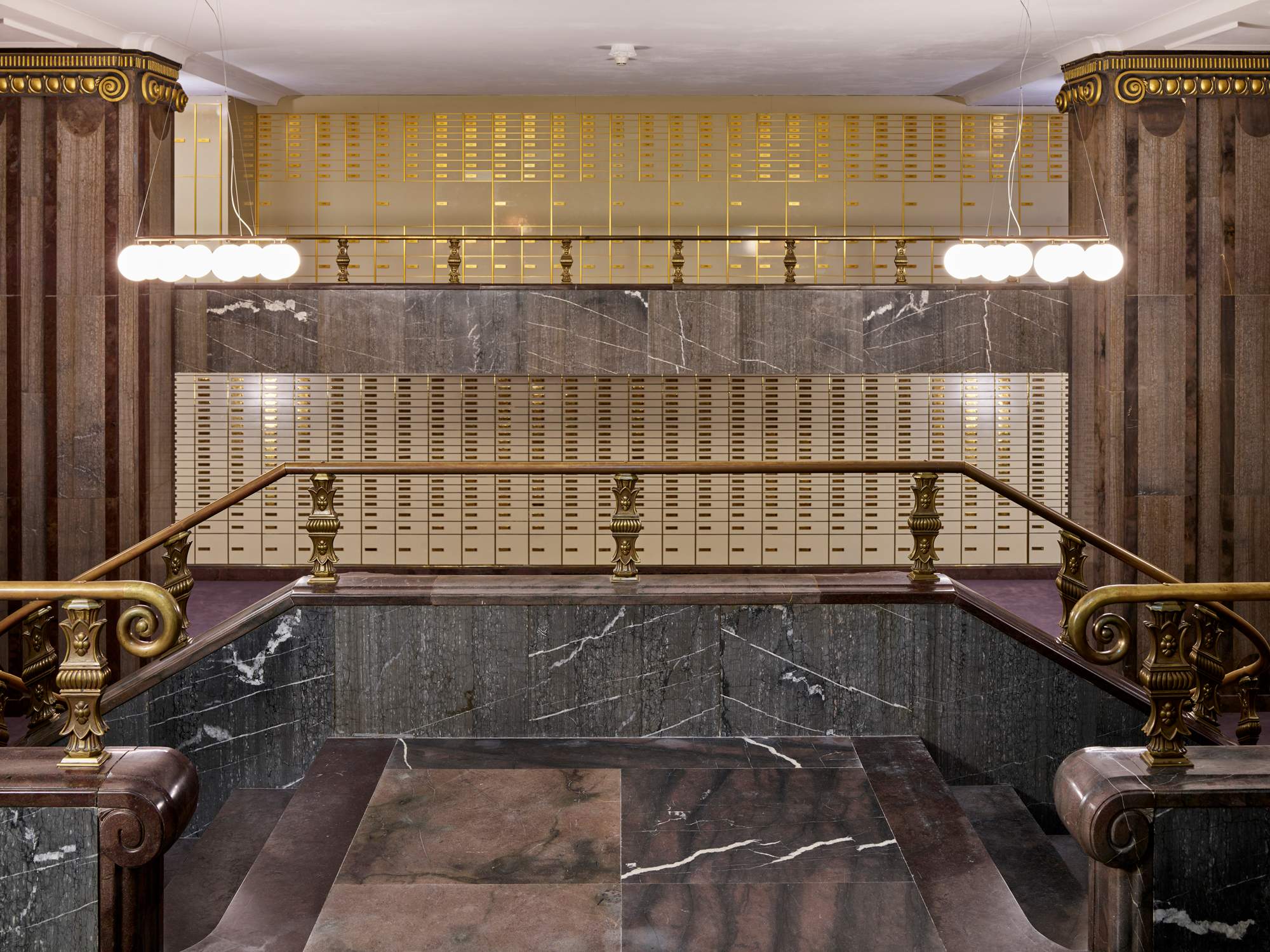 Swiss-made custom furniture played a part too, with Peach and Atheorem co-founder Carla Loewenberg working with art foundry St Gallen Kunstgiesserei on handsome new elements. One major commission was the addition of a floating stainless-steel counter for the regal entrance area. It provides a touch of lightness in an otherwise grandiose, marble-floored space. "It would have been easy for the furniture interventions to get lost in the strong presence of the historic building," says Loewenberg, noting how the sleek counter offsets the heaviness of a neighbouring marble statute of Hercules. "But we worked hard to create a three-part harmonious equilibrium, where you have this historic fabric, the added furniture and Pictet's wonderful art collection."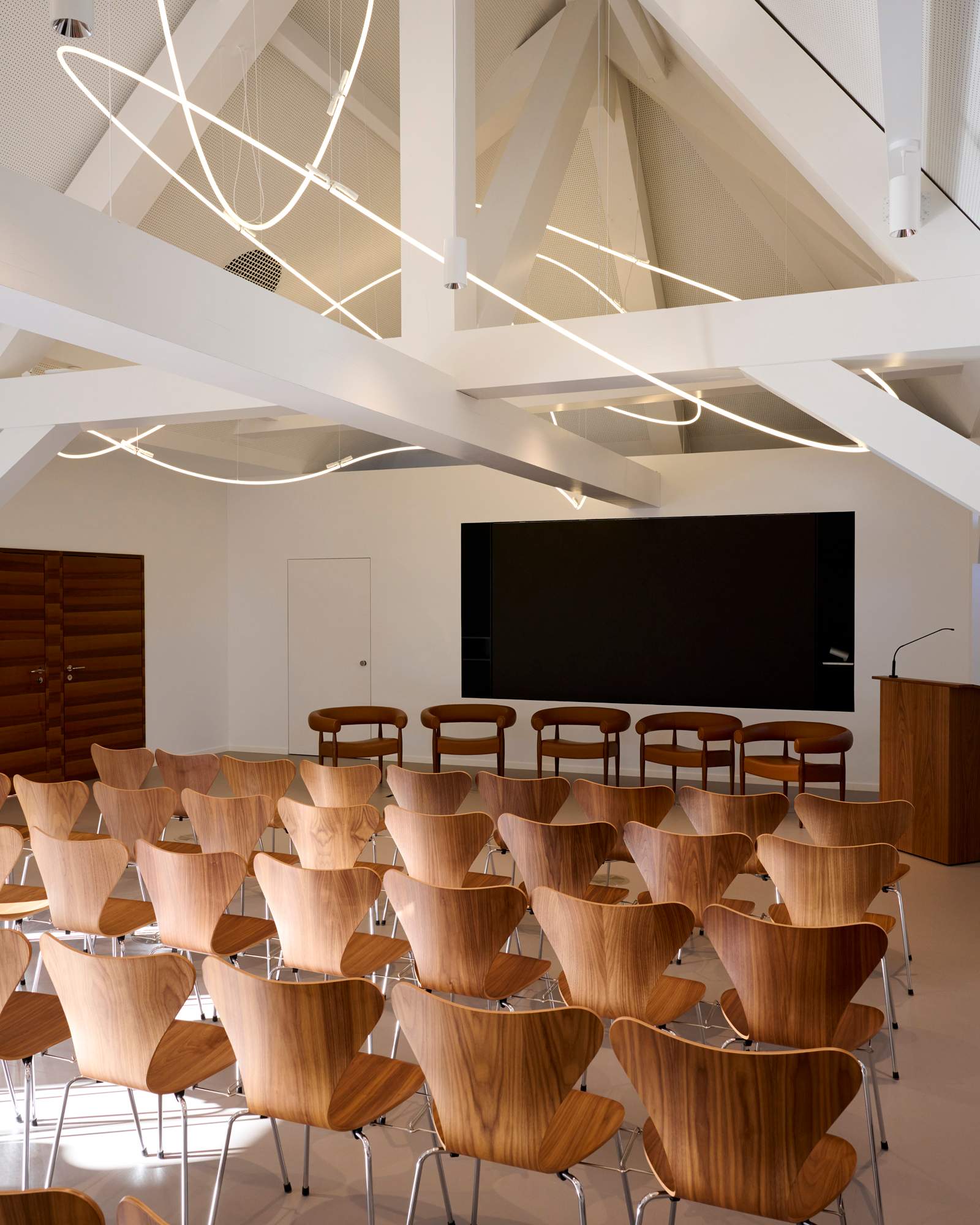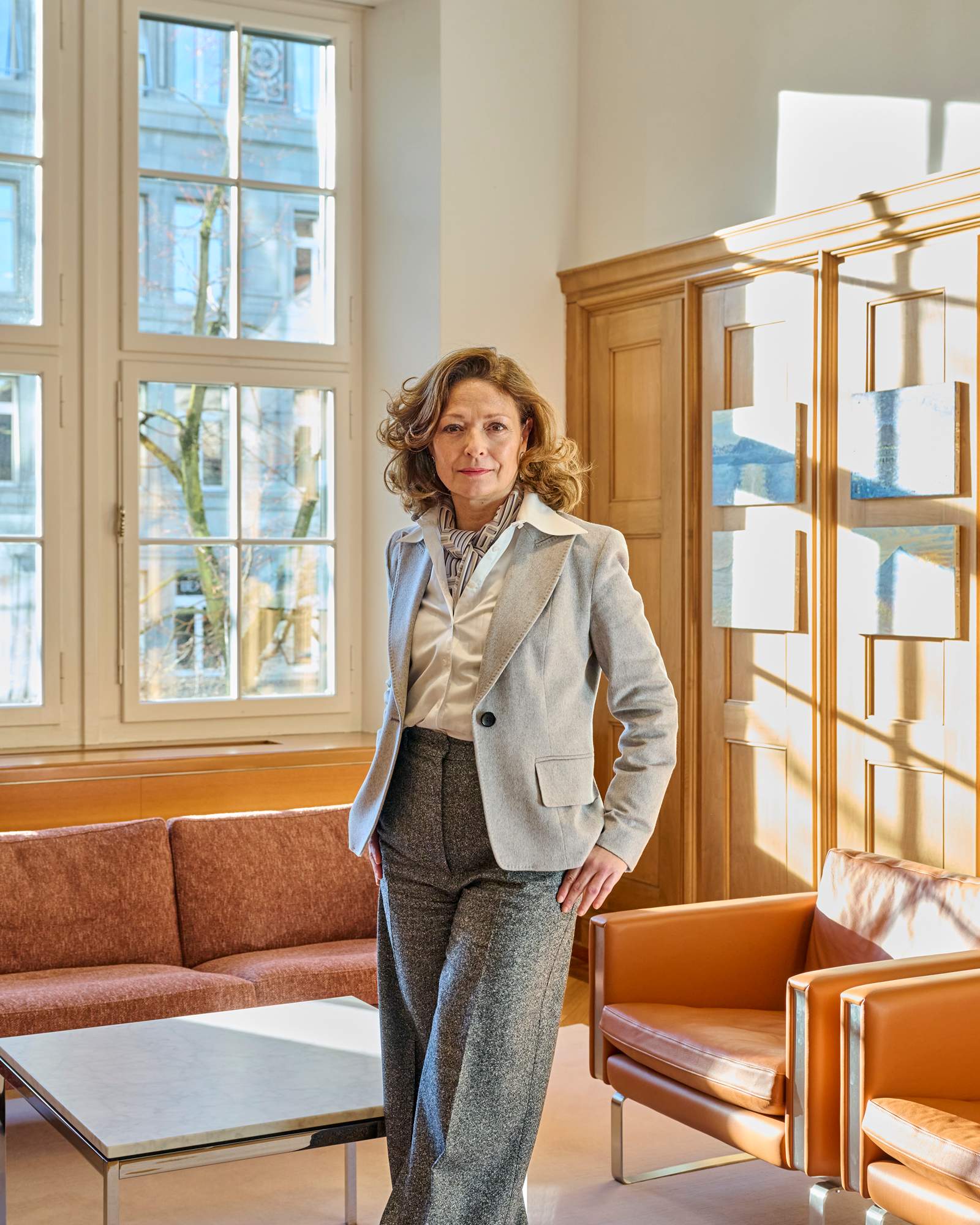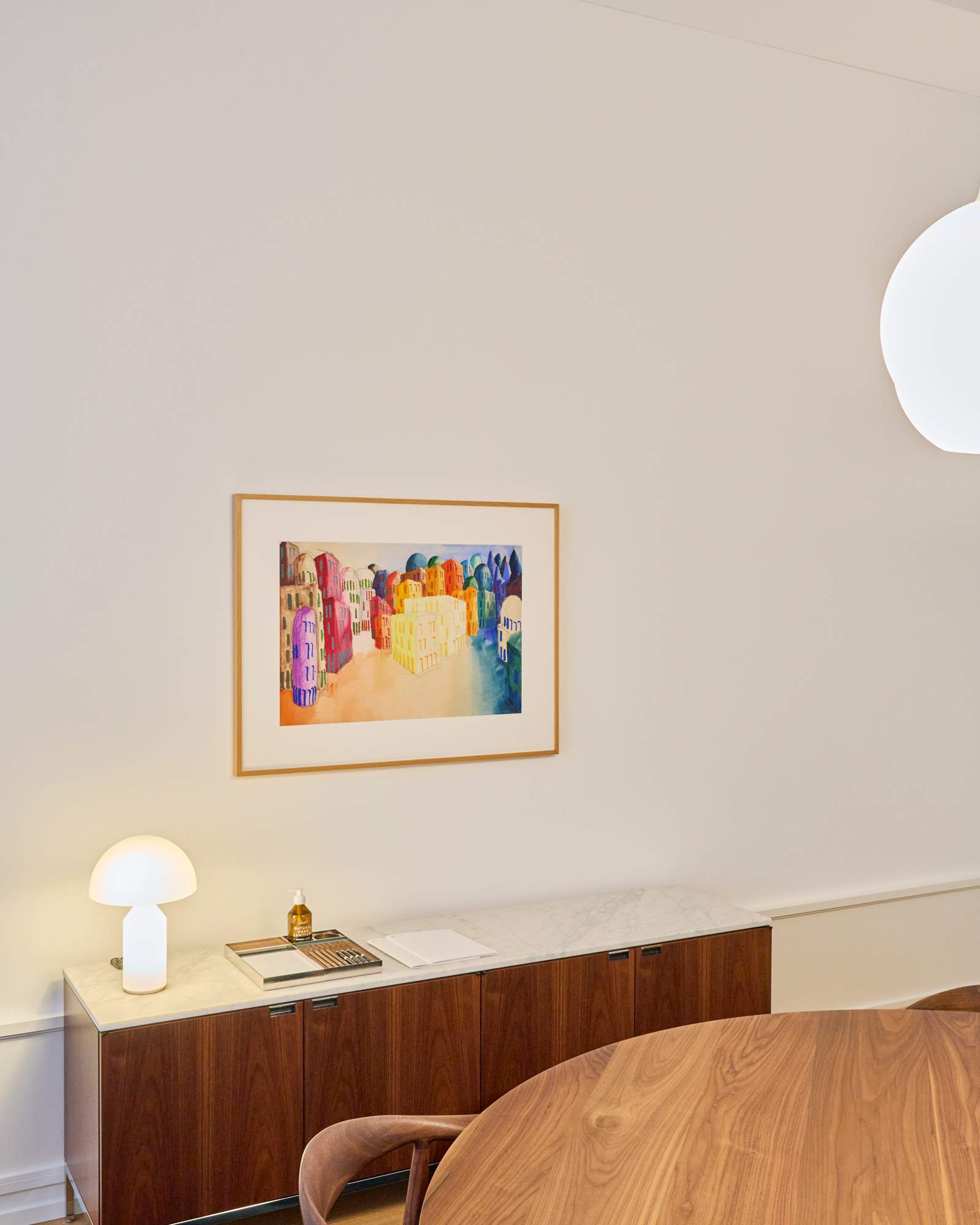 Installed to harmonise with the various interior schemes is a fascinating collection of Swiss modern art, which is overseen by curator Haagen Pictet. "We've mainly included paintings and works from the time when the building was built up until today," she says of the collection. All of the client meeting rooms are paired with one specific artist from the collection, whose work is placed in dialogue with the colours of the design. For example, the calm, contemplative nature of the printed ink clouds on late Bern artist Markus Raetz's Ohne Title, which hangs in one of the client meeting rooms, is complemented by a dusty-pink colour scheme. 
Other works, such as metal paint and fibreglass mushrooms by Geneva's Sylvie Fleury, scattered playfully across one of the building's public spaces, have more direct interactions with the architecture. "We do have challenging work," says Haagen Pictet, noting that the shiny fungi were a reference to society's consumerism. "It's important that we push people a bit with what we're doing here."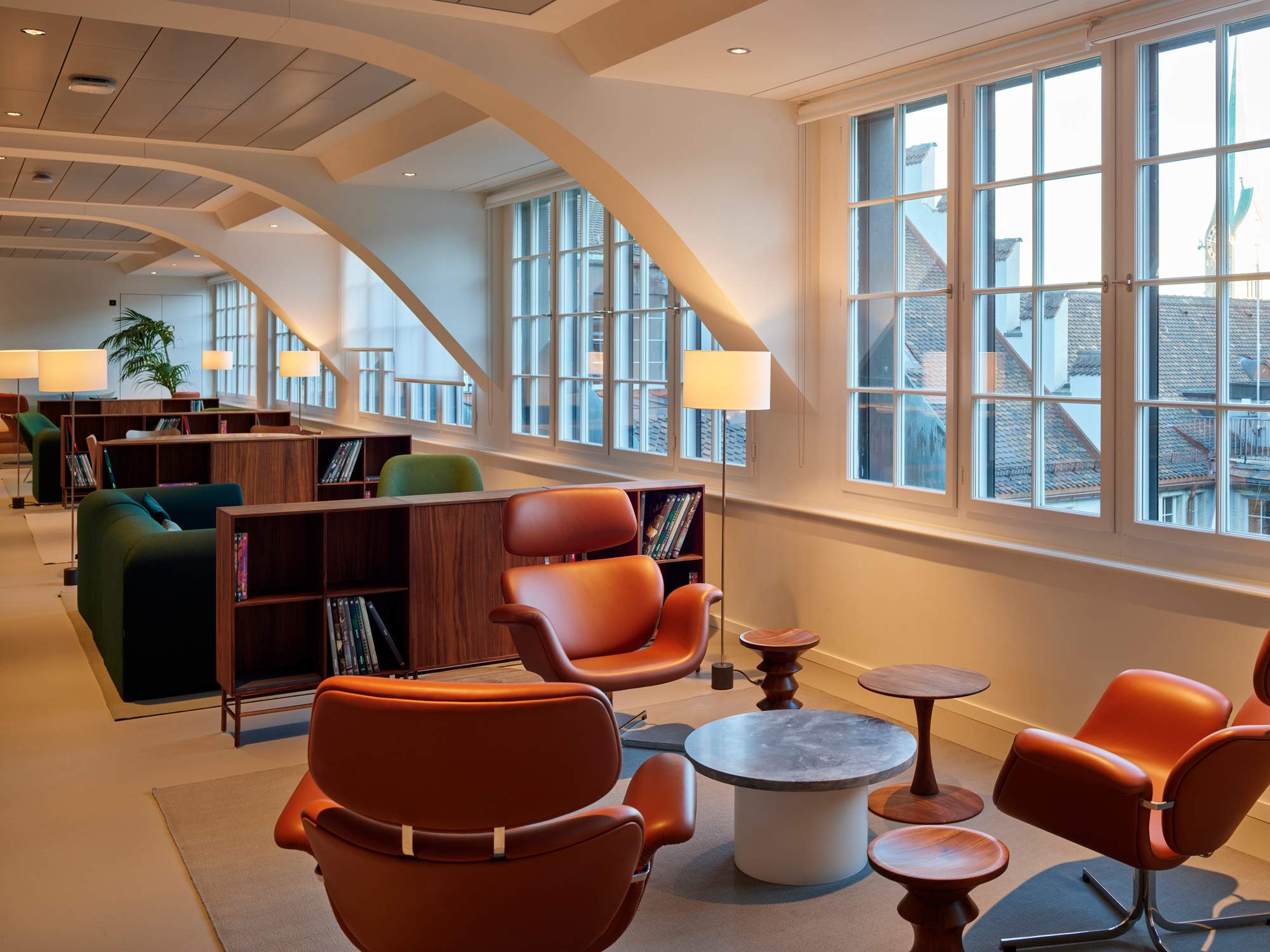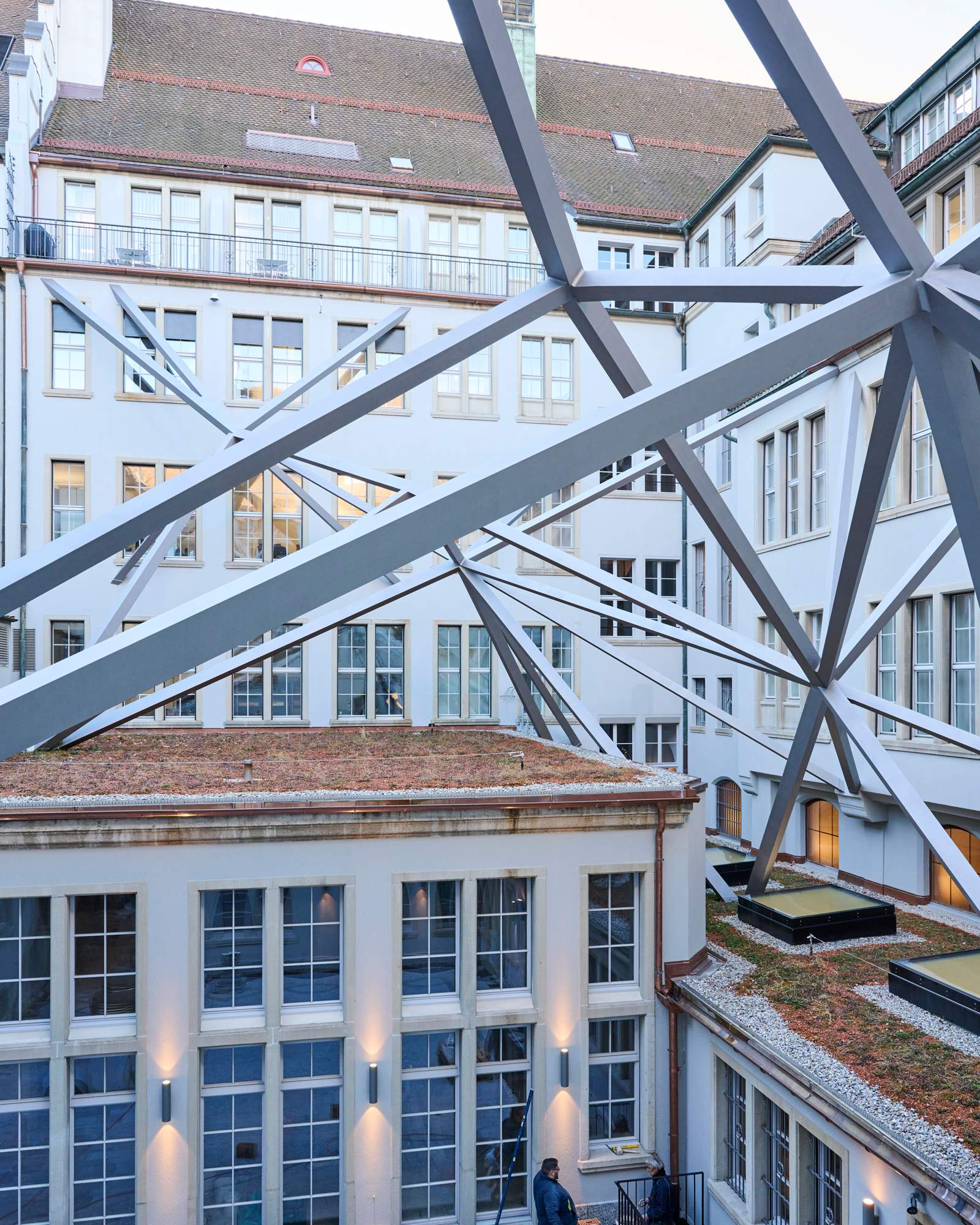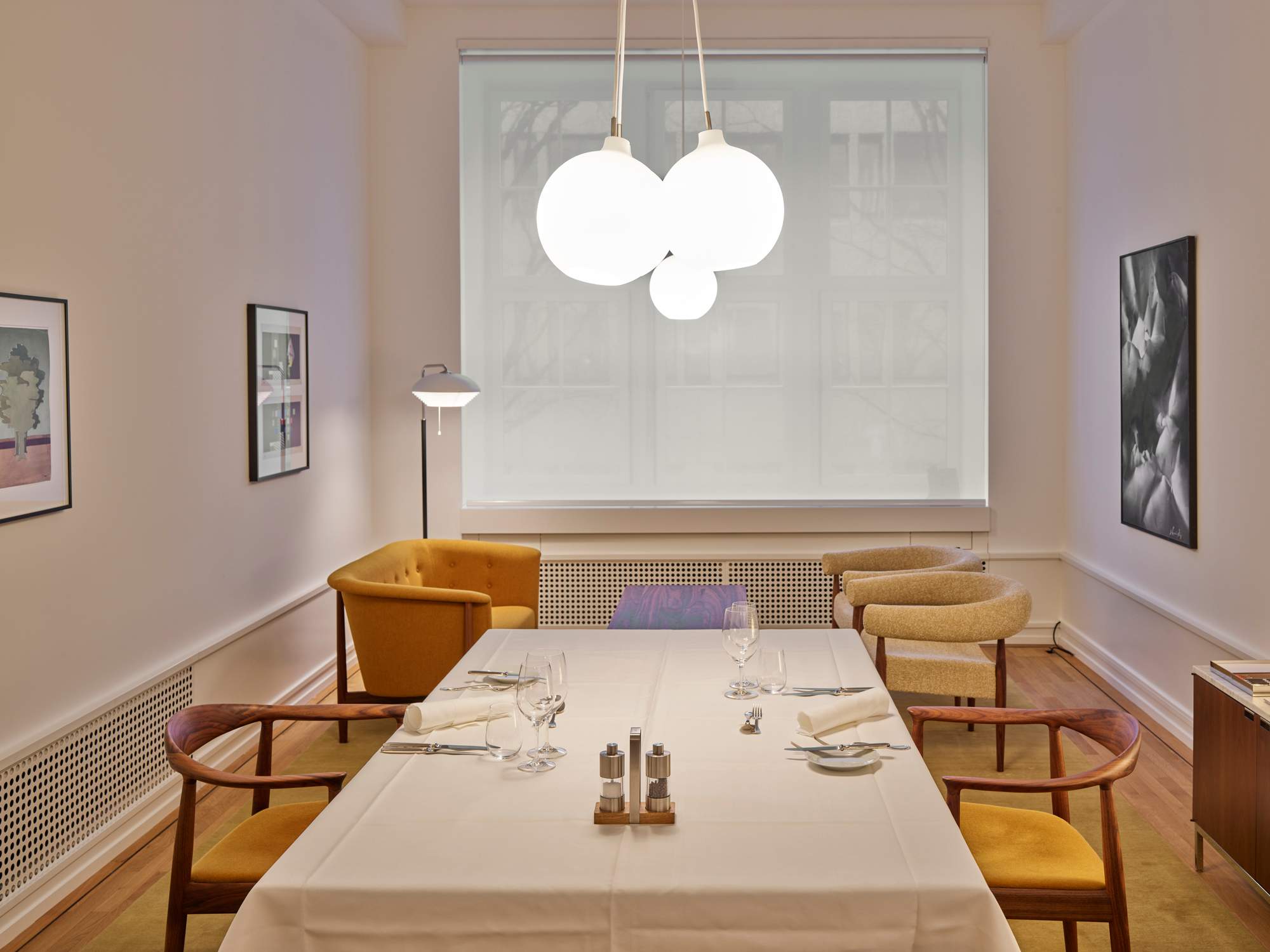 The most striking artworks are found along the length of two corridors. Here, site-specific pieces by Gerda Steiner & Jörg Lenzlinger are seen exploding with vibrant colours: one shows a collage of cactus flowers woven onto a jet-black backdrop. "It's more than just nice pictures on the wall here," says Haagen Pictet. And she's right. With daring commissions such as these, alongside displaying Swiss works that chime with the sophisticated interior, Pictet's brand values have been artfully brought to the fore.
"It's more than just nice pictures on the wall here... through colour and materiality we're aiming to provide a sense of belonging"
Nothing is simply for show, with every element – from design to art – serving a purpose, which is largely to inspire clients while simultaneously putting them at ease. "Through colour and materiality we're aiming to provide a sense of belonging," says Haagen Pictet. "We wanted to create something that works with the architecture, which can be spectacular at times," she adds, peering out of a window into the building's inner courtyard dominated by the criss-crossing steel of a massive spiderweb-like artwork by Theus (also doubling as support for the building in case of an earthquake). 
On the top floor, Haagen Pictet leads monocle into a handsome converted loft that offers views of the city, Lake Zürich and the snow-capped Alps beyond. Inside there's a sun-filled conference room and a lounge-like workspace for staff, the design of which puts most co-working spaces to shame. 
"The first thing I do is head to this room, throw my bag down and sit down to work," says Haagen Pictet. The curator describes the convivial environment here as a combination of "rootedness and elegance", which have been deftly deployed by the creatives behind the building's rebirth. And for those fortunate enough to spend time here, it's a design that – like the building and the Swiss bank occupying it – is here for the long haul. "This is the result we were aiming for: a site crossing classic and contemporary, all enhanced by the artwork," says Haagen Pictet.
The Pfister brothers 
Practising architecture from their family firm in Zürich, brothers Otto and Werner's work spans various movements of the first half of the 20th century. Beginning with a romantic take on art nouveau, they moved into the more rational style of modernism in the 1930s. The siblings are responsible for some of Zürich's best-known architecture, including the Enge train station, as well as infrastructure further afield, such as the Ryburg-Schwörstadt Rhine power plant near Basel, which still operates today.
The vault
One element of the building that didn't need too much of a touch-up was the majestic vault, which sits in the basement. The two-storey room features brass, marble and gold trimmings, with 3,500 individual safes for Pictet clients to stow away their most precious possessions.