Business: Firefighting / Global
Blazing a trail
The towns around Bozeman, Montana, are flying to the rescue of wildfire-hit communities in the US.
Jamie Heiam flies planes over wildfires for a living and insists that she is never scared. "But there was one fire I flew over, the Snake River Complex," she says, referring to a blaze that raged across Idaho, Washington and Oregon last year. "The assets [planes and helicopters] weren't where we needed them to be. There was a lot of lightning, a lot of fire. Then the visibility became really bad. The sky was orange, with scorched earth underneath. I looked down and thought, 'This is the apocalypse.'"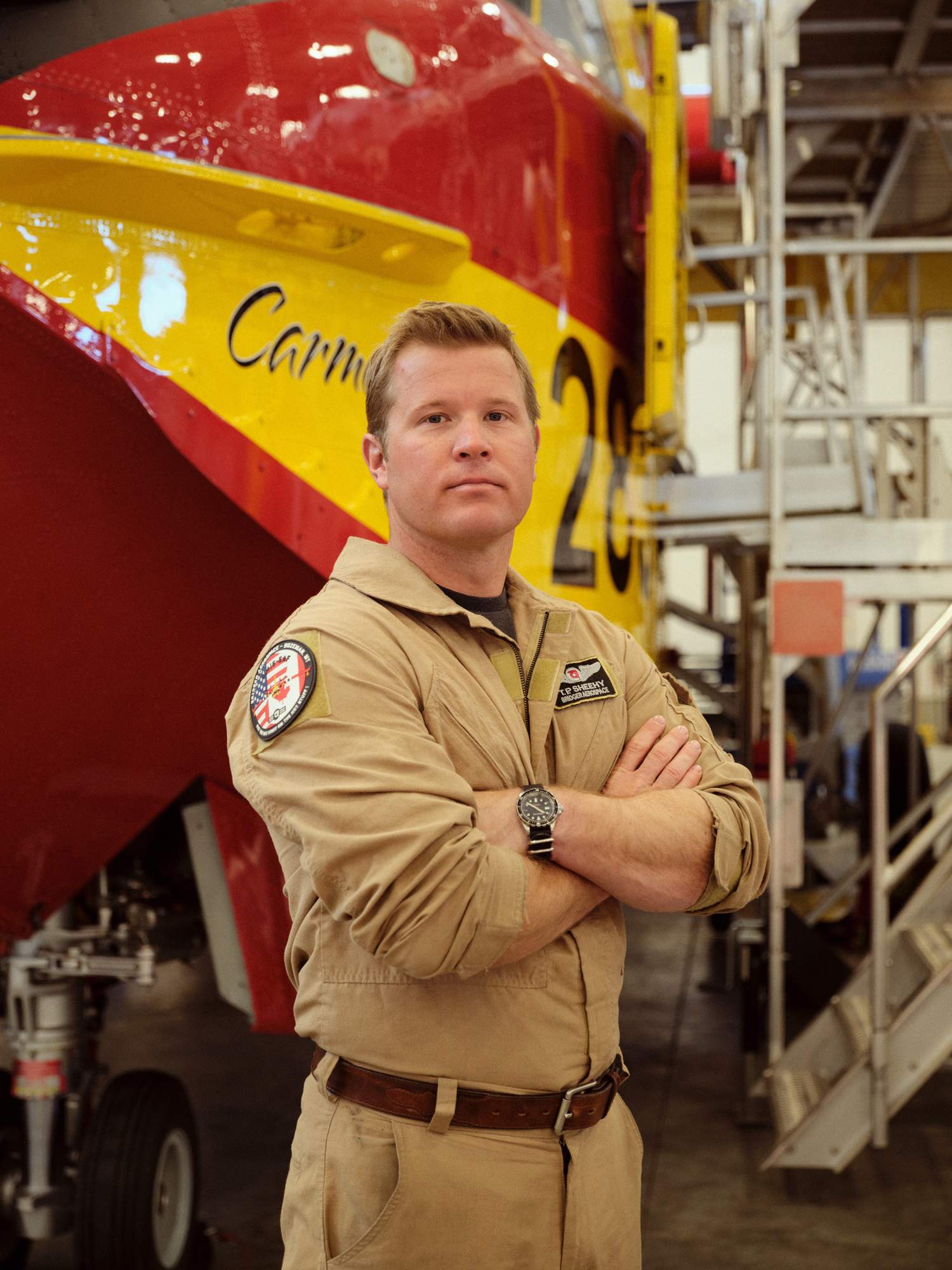 Aerial firefighting isn't for rookies. These pilots, many of them ex-military, have typically notched up about 10,000 hours in the air; they say that if you're scared, you're out of your depth. In the next breath, however, most add that there's no work like it. It's lucrative and attracts self-proclaimed nomads such as Heiam, who spends as many as eight hours in the cockpit at a time during fire season, sometimes for weeks on end, then spends the rest of the year sailing across the Atlantic or roaming the US in a converted school bus. "I always tell people that I have the dream job," she says.
And it's very much a growth industry, however worrying that might be. As fire seasons in the US grow longer and blazes become more intense, the old methods of tackling the problem using crews with shovels – "ground pounders" in pilot parlance – are proving less effective. Even in the air the risks are enormous, not least for the "smoke jumpers", a daredevil bunch of firefighters who parachute into otherwise inaccessible parts of the inferno.
Montana's aerial firefighting firms are scaling up to meet the challenge. They're signing agreements with state authorities and securing prized federal contracts with the US Department of Agriculture's Forest Service to bolster regional capacity; they're making use of $30m (€27m) Canadian-built "Super Scooper" planes, which suck up and dump lake water onto fires, and retrofitted passenger jets that drop powdered retardant.
The industry's Wild West spirit is perhaps a factor in why it has taken root in Montana. In keeping with the freewheeling lifestyle of the pilots whom it employs, investment and growth are always a gamble on there being bigger fires to chase year after year. But the state is also geographically ideal for sending crews, planes and helicopters to some of the most reliable fire hot spots in the western US. 
"We have more aerial firefighting aircraft in our state than any other in the US," says Tim Sheehy, who co-founded Bridger Aerospace in Belgrade, just outside Bozeman, Montana, in 2014 and has Jamie Heiam on his pilot roster. "Bridger now has 24 aircraft but I honestly think that we'll be coming up to 40 in a few years, the way our contracts are going."
Sheehy is an ex-Navy Seal who began to plan his second life after being wounded in action in Afghanistan. He started his business with a single plane and a $200 (€180) contract to track the movements of cattle; this first cheque is now framed in the lobby. Bridger developed its own sensors and software for surveying ranches and found that the technology could be modified to map wildfires. "There are a lot more downs than ups when you're building a business from scratch," he says. "But in about 2018 it became clear that our enterprise was on to something."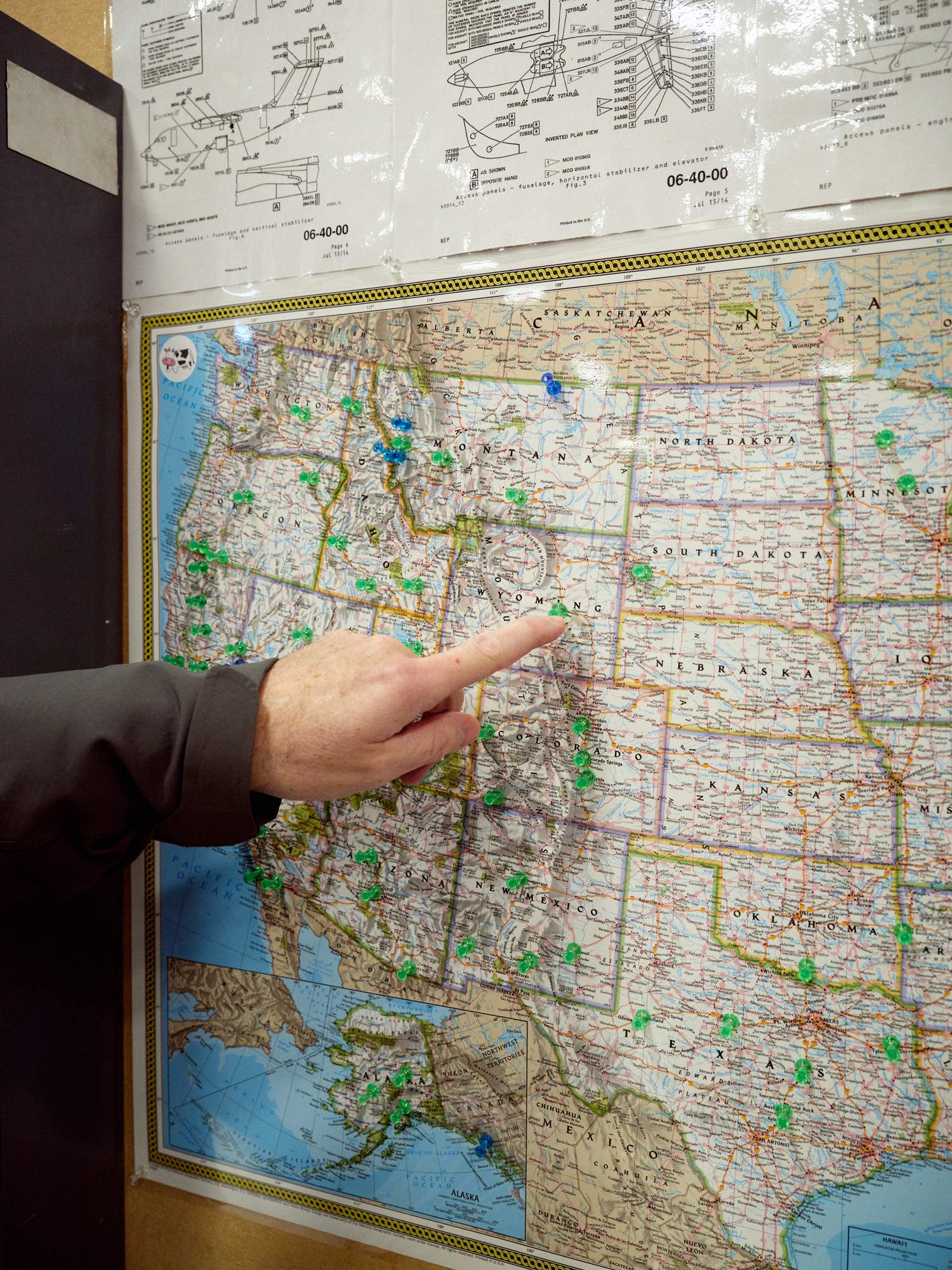 The surveillance and imaging-systems business grew in tandem with Bridger's fleet of firefighting aircraft so Sheehy spun off the sensor technology into its own company, Ascent Vision Technologies, which defence giant caci International bought for about $350m (€313m) in 2020. The US navy now uses its systems in the Middle East to counter drone strikes. Off the back of the sale, Sheehy significantly expanded Bridger's fleet, adding capacity to an already burgeoning market; a third hangar is currently under construction.
There is something all-American about this industry. In one of Bridger's vast hangars, members of maintenance crews, many of them ex-military, work under a huge Old Glory flag that's pinned to the wall, with the chug of heartland rock in the background. It is currently off-season and frigid air blows in as teams tinker with "air-attack" fixed-wing planes that will, typically by May, be buzzing over wildfires to co-ordinate the ground crews and Super Scoopers responding to where the flames are moving. According to Lucas Wenzinger, who will manage air-attack deployments this summer, if every plane in the fleet is flying, Bridger can be fighting as many as eight fires across the US at any one time, from Oregon to Kansas.
"I was looking for something with more purpose and meaning, and to serve the community," says avionics technician Coryn Porter, who used to work on private jets and now maintains Bridger's avionic systems.
This will be her first wildfire season and field-maintenance crews will work through the night during a blaze to prepare planes so that they can be back in the air by dawn. "I've been told that I need to be able to go anywhere at any time," says Porter. "I'm ready for that. There'll be a lot of adrenaline but there's a real family atmosphere here too."
Bridger has added as many as 40 staff over the past eight months and now employs 148 people. In a departure from the seasonal work of old, the company can now keep its pilots on the books all year, even when there are no fires to fight. Sheehy is looking to add more planes to his fleet of four Super Scoopers and has been scouting in the southern US for a potential second operating base.
Montana's firefighting firms are also securing work beyond the US. Neptune Aviation Services in Missoula, a few hours' drive from Bridger's base in Belgrade, signed a call-when-needed contract last year with the National Aerial Firefighting Centre in Australia and has already been helping with emergency response in Chile.
Neptune converts bae 146 passenger planes into tankers that drop retardant and typically charges $30,000 (€26,750) a day, plus $10,000 (€8,900) for every hour that each of its nine planes are in use. The firm already has exclusivity agreements with a number of US states, not least California, where its pilots have been called in to fight some of the country's fiercest wildfires. "It's becoming less of a fire season and more of a fire year in the US," says Nic Lynn, Neptune's director of operations. "It's not uncommon for our planes to be flying well into November and then be back out again as early as February."
As well as the bigger players, Montana is home to several established firefighting firms, each with a handful of utility aircraft. Central Copters in Belgrade has used choppers to fight fires since the early 1960s and now runs missions across the country. Meanwhile, at Bozeman Yellowstone International Airport is Northern Wings Aviation; founder Jim Ortman calls it "the mom-and-pop shop of aerial firefighting". Northern Wings has four air-attack planes that are contracted out for detection jobs, travelling with the fire season as it drifts eastwards from Alaska and the southwest toward the northern Rocky Mountains, seeking the telltale smoke above the treetops. "Fire season is getting longer," says Ortman, who first came to Montana for 40 years and set up shop in 2014. He makes no bones about the effect of climate change, which he has observed first-hand, especially after Montana's wildfires in recent years. "I don't ever remember smoky summers here," he says.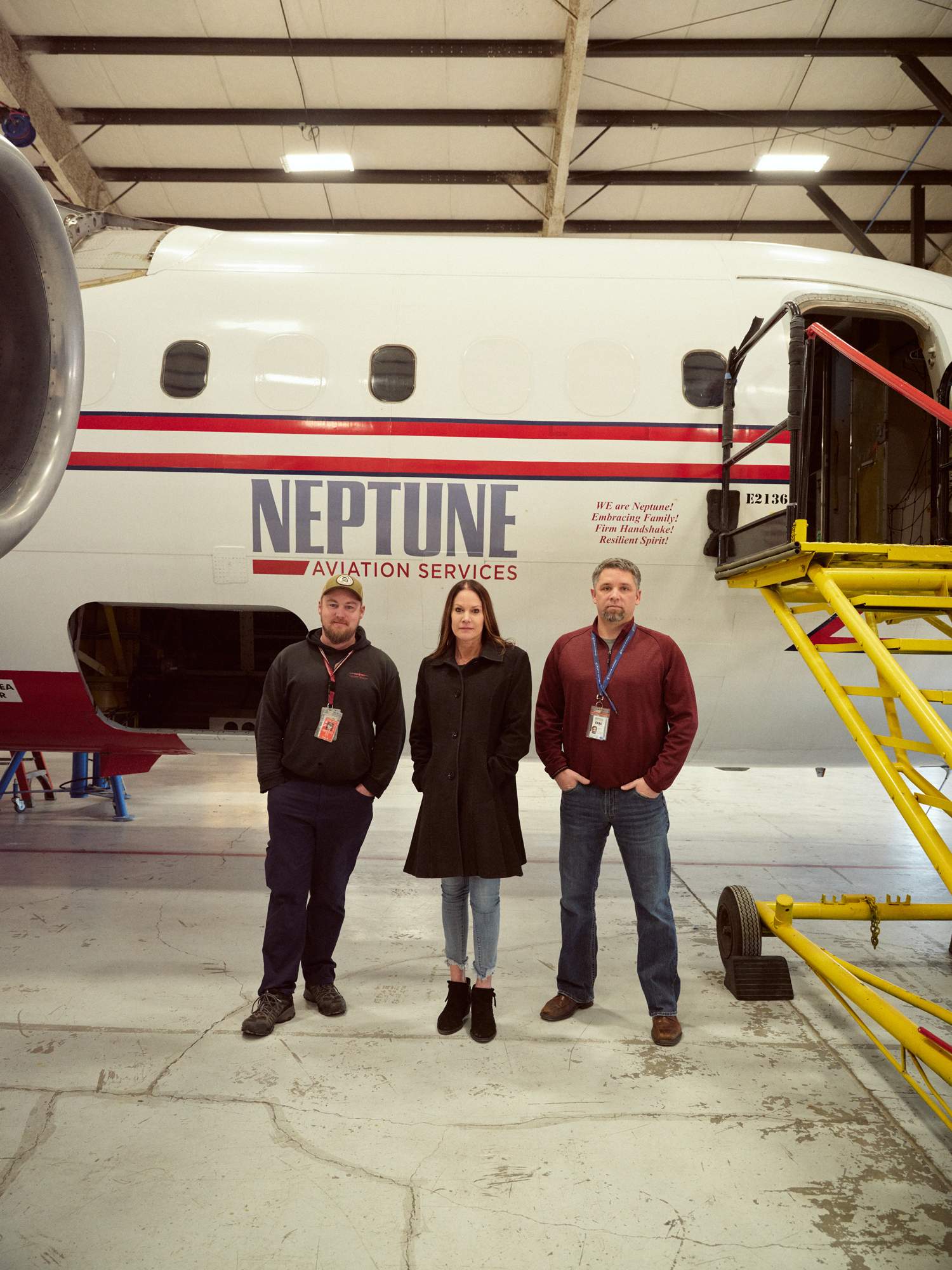 Smaller firms can make plenty of money from limited assets, says Ortman. "You could easily earn over a million bucks in a big fire year with a Rockwell Commander 690," he says. "But it's a balancing act. You never know what's going to break and these are not cheap to repair." He concedes that larger players with more planes and bigger crews are crowding out smaller operations as the industry grows. "There is simply an economy of scale that they can realise," he says. "The Forest Service is looking for big outfits with deep pockets."
Drew Alexander, who flies for Northern Wings Aviation after a long service with US forces in the Middle East, says that the best pilots learn to "read" the fire, just as sailors do with the ocean. It's an intuition, he says, for predicting what will happen next. Ortman seconds that. "It's very much a squadron feel out there," he says, meaning his airborne crew. "A bunch of guys with a common purpose." 
Frontier spirit
An expanding row of private jet hangars at Bozeman Yellowstone International Airport indicates how Bozeman is changing. The city's proximity to the Yellowstone Club, one of the world's few private mountain ski resorts, has made it a crossroads for celebrities and ceos in search of fresher climes, some of whom occasionally venture downtown to decorate their new chalets. Last year, Bozeman was among America's fastest-growing small cities, driven by relocations from the coast which earned it the nickname "Boz Angeles". Almost two million passengers passed through its airport, which has open fireplaces in the departure lounge.
"There's so much wealth from the ski resorts that's trickling into the city and a lot of high-end apartments being built downtown," says former professional skier and entrepreneur Kina Pickett, who moved to Bozeman in 2007, seeking a bucolic lifestyle.
Innovation Campus, a mixed-use technology park, is opening next to Montana State University, with firms such as Snowflake relocating from California. "You just have company after company looking at this market," says Dan Zelson, a developer investing in the new hub. "The property market is on fire."