The Agenda / Global
Comment
In São Paulo's apartment complexes, we speak to doormen whose jobs are under threat.
hospitality ––– sÃo paulo
Holding the fort
Sam Cowie on why São Paulo's celebrated doormen are being, well, shown the door.
---
Edgar dos Anjos Rosa is having a hectic Friday morning. As he welcomes me into his office on the ground floor of the Copan building in downtown São Paulo, he takes phone calls and handles requests from visiting workmen, all the while maintaining an eye on footage from dozens of security cameras. "Here is like a city within a city," he says.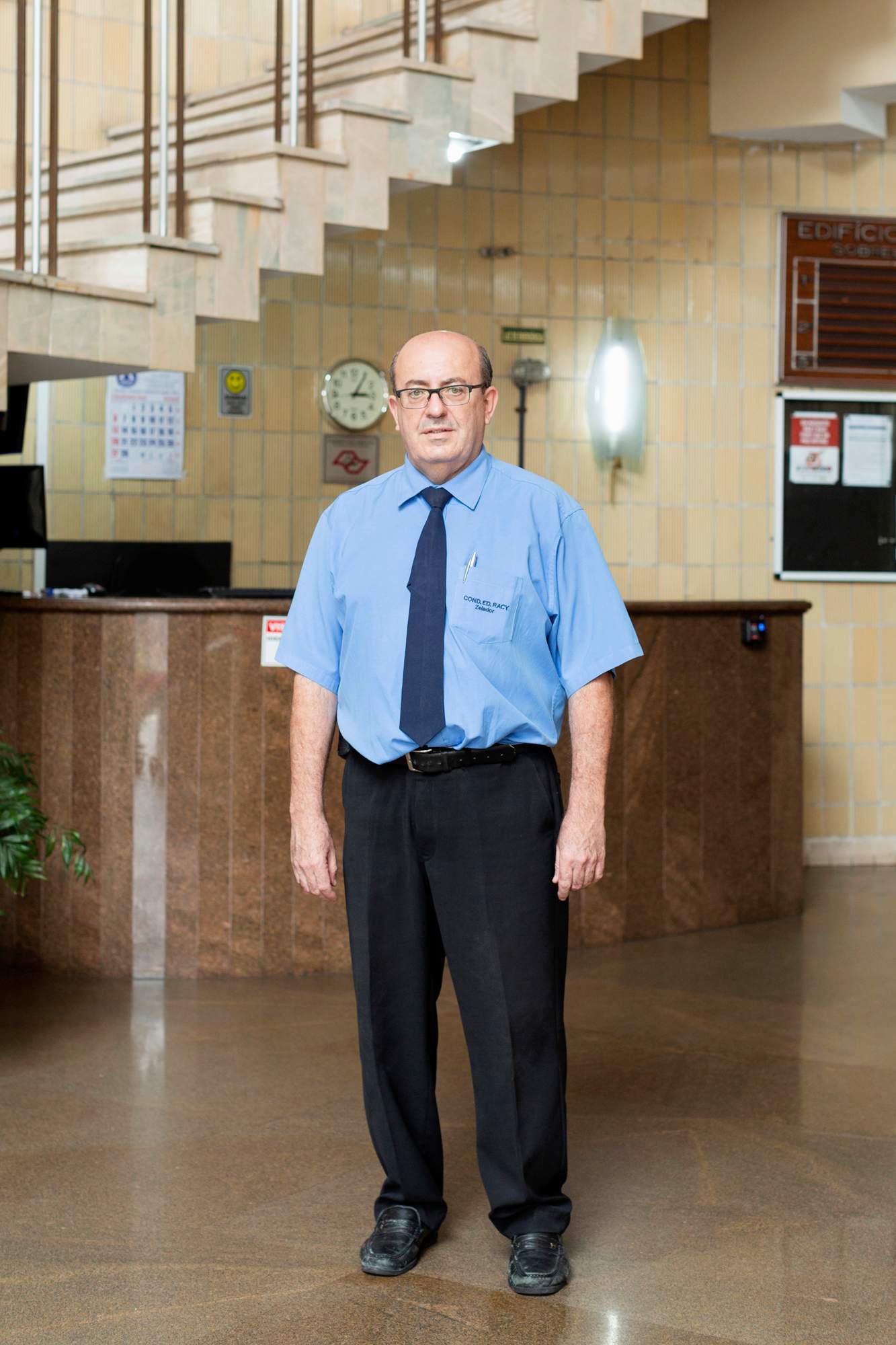 Doormen have been a common fixture of São Paulo since the 1930s when the city – South America's largest by population and gdp – began to go vertical. Today, however, their ascendancy is reversing as apartment buildings in the city cut costs by adopting technology over doormen. A 2021 survey of 957 São Paulo building managers found that 15.4 per cent had fired their doormen and replaced them with a remote electronic system to open the front door. Anjos Rosa considers this not just disappointing but dangerous. "The chances of a serious problem happening are reduced with a physical doorman present," he says.
"Scores of people – residents, Airbnb guests, customers of the building's ground-level shops and cafés – wander in and out of the Copan's wide, open entrance"
Sat behind a desk, Anjos Rosa, an affable 41-year-old speaks proudly of his 18 years of service in São Paulo's most famous apartment complex, designed by Oscar Niemeyer. He is one of the chief porteiros, or doormen, of the Copan, a building with 1,160 apartments and some 5,000 residents. He started out as a cleaner; today alongside his doorman duties, he is studying for a degree in civil engineering. "It never gets tiring, with the number of people…
One day is never the same as the next," he says. As he speaks, scores of people – residents, Airbnb guests, customers of the building's ground-level shops and cafés – wander in and out of the Copan's wide, open entrance. Outside, homeless people beg for change or lie sleeping under blankets. Anjos Rosa's job, along with the other doormen, is to monitor and control this flow of people and deliveries. He speaks of the "multiple" times he has prevented street robberies – characteristic of this city that is replete with iconic architecture and vibrant nightlife but also high rates of poverty and crime.
Reinaldo Garcia is head doorman and caretaker at the Racy apartment complex, which is a 15-minute walk from the Copan. "It's short-sighted in my opinion," he says of the savings made by cutting back on door staff. As an elderly woman walks past with her dog, Garcia, who has worked at Racy for 24 years, asks whether she is feeling better after her recent chest pains. "This is a key point for us," he says of his relationships with the residents.
For José Nilton Mendonça Cardoso, a doorman of the Planalto building with many elderly residents, the job combines aspects of being a care worker. Gilson Antonio de Macena, meanwhile, has worked the Santa Elisa building for the past 25 years and is now head caretaker and doorman, having started out as a cleaner. He migrated from a small town in Brazil's northeastern state of Paraíba in search of work. "I love what I do," he says.
"It's really bad," he says when asked about substituting doormen with technology. "First for the unemployment and secondly for the security, it's not the same. I know of buildings that don't have doormen and they have suffered robberies." The hope is that the city's building administrators recognise that these lobby-dwelling heroes' roles are multitudinous and irreplaceable.
---
PHOTOGRAPHY: Gabo Morales