My Cabinet: Copacabana Palace / Rio de Janeiro
Life's a beach
The 450-strong team of the Copacabana Palace make the hotel a sunny outpost of grand hospitality.
Copacabana in Rio de Janeiro was once a quiet fishing village. But that changed at the start of the 20th century, when it was connected to the city by tram and residents started flocking to its beach. "We were one of the first here," says the Copacabana Palace's general manager Ulisses Marreiros, of the fêted hotel that opened in 1923 and quickly became popular with the city's well-heeled residents.
Almost all cariocas, young and old, have a story to tell about the grand art deco building. Why? With its two poolside Michelin-starred restaurants, spa, theatre and live music events, it's also an important cultural institution. "We have international and Brazilian musicians perform," says Marreiros. "Oscar-nominated actress and Rio-native Fernanda Montenegro got her start here in our theatre."
Keeping the Copacabana Palace running smoothly is Marreiros's 450-strong team. Every morning, the hotel's chefs, engineers, florists, cleaners and pool guards ensure that every aspect of the building meets the high expectations of its visitors; every night, a different team does the same. "It feels like a mini neighbourhood," says the general manager. "We need everyone to make it work."
Marreiros, who was born in Portugal's sunny Algarve, is a fan of nautical metaphors. From the poolside, he tells monocle that overseeing the hotel often feels like steering a boat. And while being able to weather storms comes with the territory, the past two years have been especially challenging. "Ships are supposed to move," he says. Despite the ups and downs, it's clear that the team at the Copacabana Hotel aren't afraid of changing tack.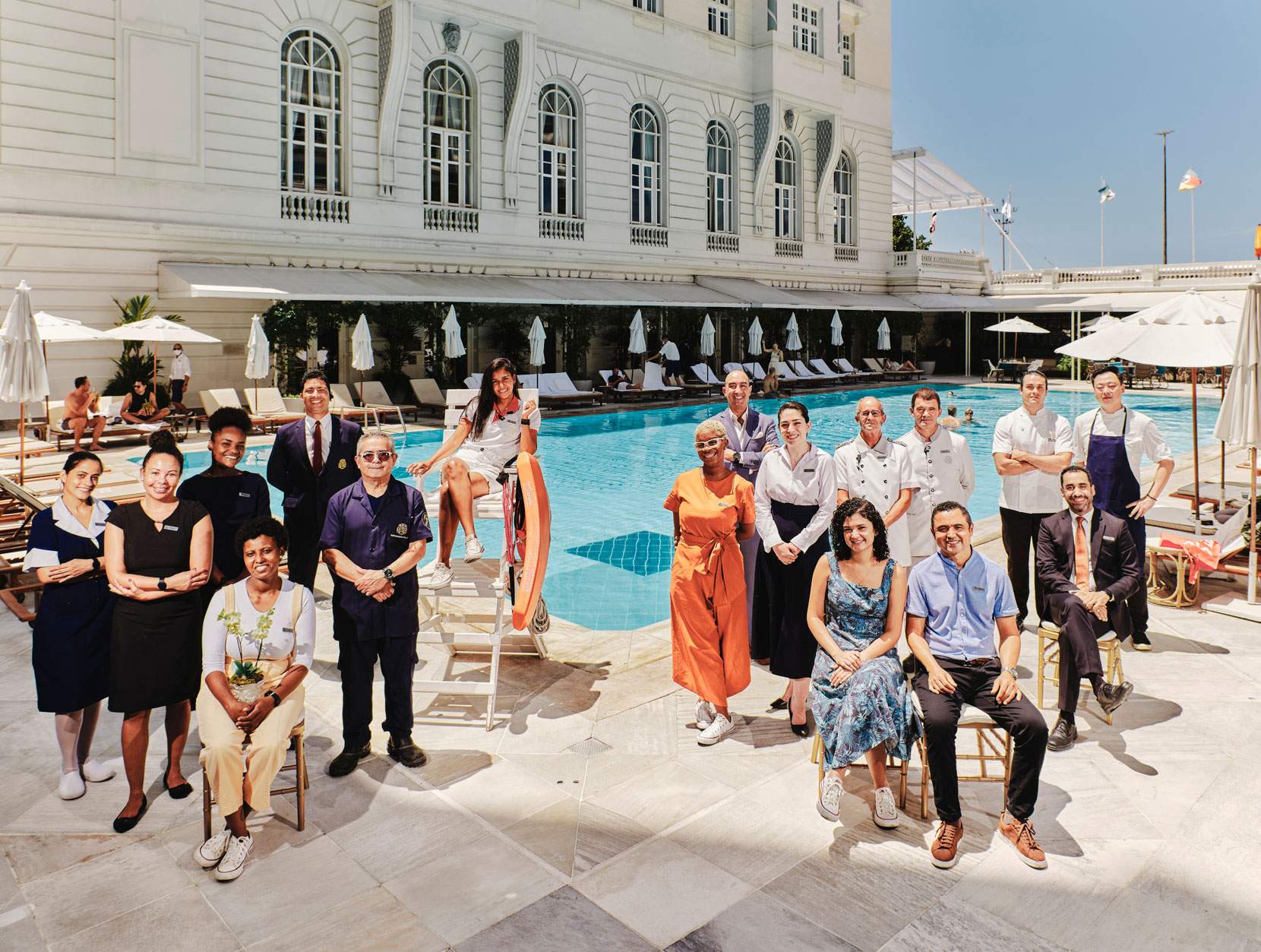 ---
The Cabinet (From left to right)
1. Ana Paula de Oliveira Cleaner "Makes sure everything is clean and tidy."
2. Daniela Lima Floor supervisor "Maintains standards."
3. Thalita Pimenta Butler "Creates a personalised experience in the bar."
4. Luciana Gonçalves Florist "Makes our beautiful flower arrangements."
5. Diego Barcelos Security Guard "Ensures everyone's safety."
6. Regino Alves de Araújo Theatre technician "Looks after the theatre."
7. Jéssica Rodrigues Lifeguard "Keeps an eye on the two most famous pools in Rio."
Ulisses Marreiros
Marreiros got his start in tourism with a summer job at Portuguese airline Tap. After stints in a number of renowned hotels, he moved to the Copacabana Palace in 2021. Though he has years of experience of hotel bars, restaurants and front desks, he believes that as general manager the most important thing he can do is listen to his younger co-workers. "It's always helpful to hear from people who have different stories," he says.
8. Vitoria Greice Spa guest relations manager "A real relaxation expert."
9. Amanda Martins Chief concierge "Knows the city's secrets."
10. Letícia Lavor Hostess "Will help you find a table."
11. Jorge 'Cafú' Freitas Head doorman "Has welcomed people here for more than 50 years."
12. João Herdy Porter "Knows the value of our guests' belongings."
13. Antônio Santos Manager's assistant "Takes care of the pool and restaurant areas."
14. Nello Cassese Head chef, Cipriani "Manages our Michelin-starred restaurant."
15. Filipe Eloy Guest relations "Anticipates guests' needs."
16. Cassio Hara Head chef, Mee "Curates an omakase-style dining experience."