The Agenda / Global
Urbanism
Disney-branded towns and a posthumous Mies van der Rohe construction.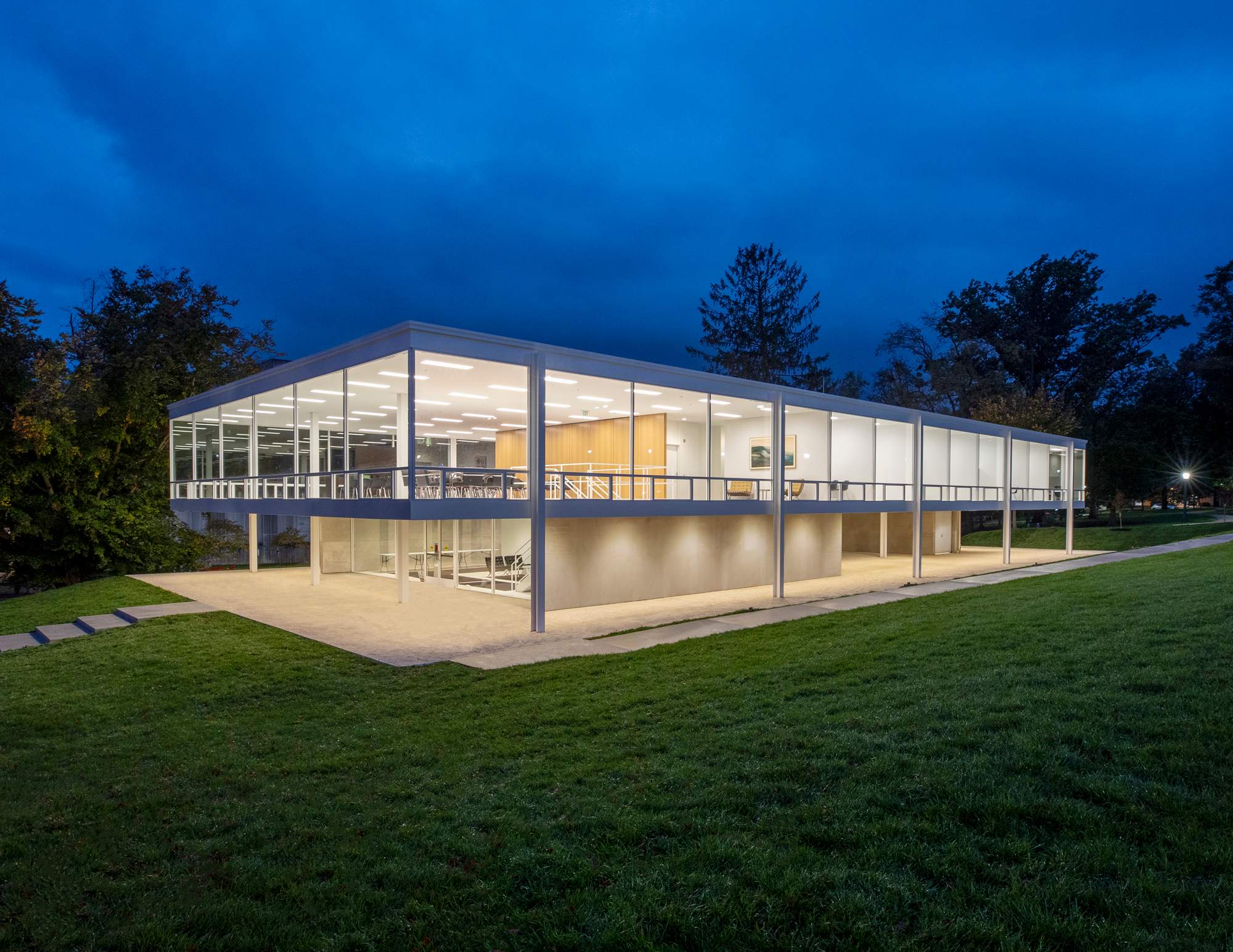 architecture ––– usa
Vision for the future
Despite his fame, architect Ludwig Mies van der Rohe was not known for his prolificacy. Which makes the addition of a new building to his portfolio, more than 50 years after his death, all the more exciting.
The recently completed Eskenazi School of Art, Architecture and Design at Indiana University was designed by the German modernist master in 1952, though financial constraints meant that construction never started. Now, with the help of New York-based architects Thomas Phifer and Partners, Mies van der Rohe's vision has finally achieved form. "To rediscover his drawings and then see them realised seems like nothing short of a miracle," says founding director Thomas Phifer.
Initially designed as a fraternity house, Phifer repurposed and modernised the structure with as little aesthetic disturbance as possible; many Mies van der Rohe hallmarks, including his customary thin steel pillars and vast panes of glass, have been maintained.
Considering that it will house students eager to learn the exact craft Mies van der Rohe practised, pupils might struggle to imagine a more useful backdrop. "You literally see the relationship between what you're studying and the world all around," says Phifer. 
---
On Design

nolan giles on...
Disney toying with urbanism
I was almost a quarter of the way through Disney's promotional video for its headline-grabbing Storyliving brand extension before I learned what the offer was. "All new Disney-branded, master-planned residential communities, designed to be the perfect setting for Disney fans to write the next exciting chapter of their lives," is the Storyliving vision of Josh D'Amaro, chairman for Disney's parks, experiences and products. This idea, he says, will come to fruition across a series of towns in the US, kicking off with a planned community set, amazingly, around an artificial lagoon on the outskirts of Palm Springs.
It's a shame that I had to sit through so much brand hyperbole about the wonders of the Walt Disney's multi-billion-dollar empire of parks and "experiences" before getting to the concept because it actually offers some good ideas. While I'm certainly not within the demographic for Cotino, the first of Storyliving's communities (the audience appears to be young American families and the elderly), I was interested to learn that the development will be "drawing inspiration from the local landscape, the history and the culture". Palm Springs is a haven of Californian modernism and early Cotino renderings certainly show a nod to this optimistic style of architecture.
The sense of idealism extracted from the area where mid-century modernism was – in part – pioneered, marries well with Disney's ambitious plans here. Cotino will be a place where, supposedly, families will engage in wholesome lakeside activities together (away from their screens), markets will brim with the creative offerings of Californian designers – and everything is delivered with the guaranteed stamp of Disney quality. It will come at a cost, of course, but it will also provide a safe, well-managed way of life for those who can afford it.
While the whole concept could all go very wrong (I'm envisioning a The Lego Movie-like, capitalist-minded failed utopia descending into chaos), at least it prompts the American public to consider questions about how they want to live. "Why is good master-planning important? Why should I want to live around design that pays tribute to history? How does one integrate a creative community into a city and why is this important?" At the same time, it's also offered up plenty of fodder for the media to get stuck into: "What is environmentally considerate property development? How can luxury housing better blend with social housing?"
It's extremely rare for residential development to receive this much airtime. So while the jury is definitely still out on whether this will work, I'm personally glad that Disney has sprinkled some of its fairy dust on this topic to truly elevate the debate around it.