Affairs: Defence / Norway
On the cold front
In the rugged terrain of northern Norway, Nato is conducting one of the largest military drills in its history – and its first since Russia invaded Ukraine. As some 30,000 troops rehearse for war, we ask: what lies ahead for the defensive alliance?
Three curious reindeer gawk at the two dozen members of the German alpine infantry who are skiing down a mountain in Målselv, northern Norway. Were it not for the Heckler & Koch g36 assault rifles on their shoulders and the Swedish-made Hägglunds bv206 all-terrain carriers that they move with, the reindeer could be forgiven for mistaking these Teutons for winter-sports devotees. It's training day for these troops, who are normally stationed in Bischofswiesen, Germany, but there is tension in the air.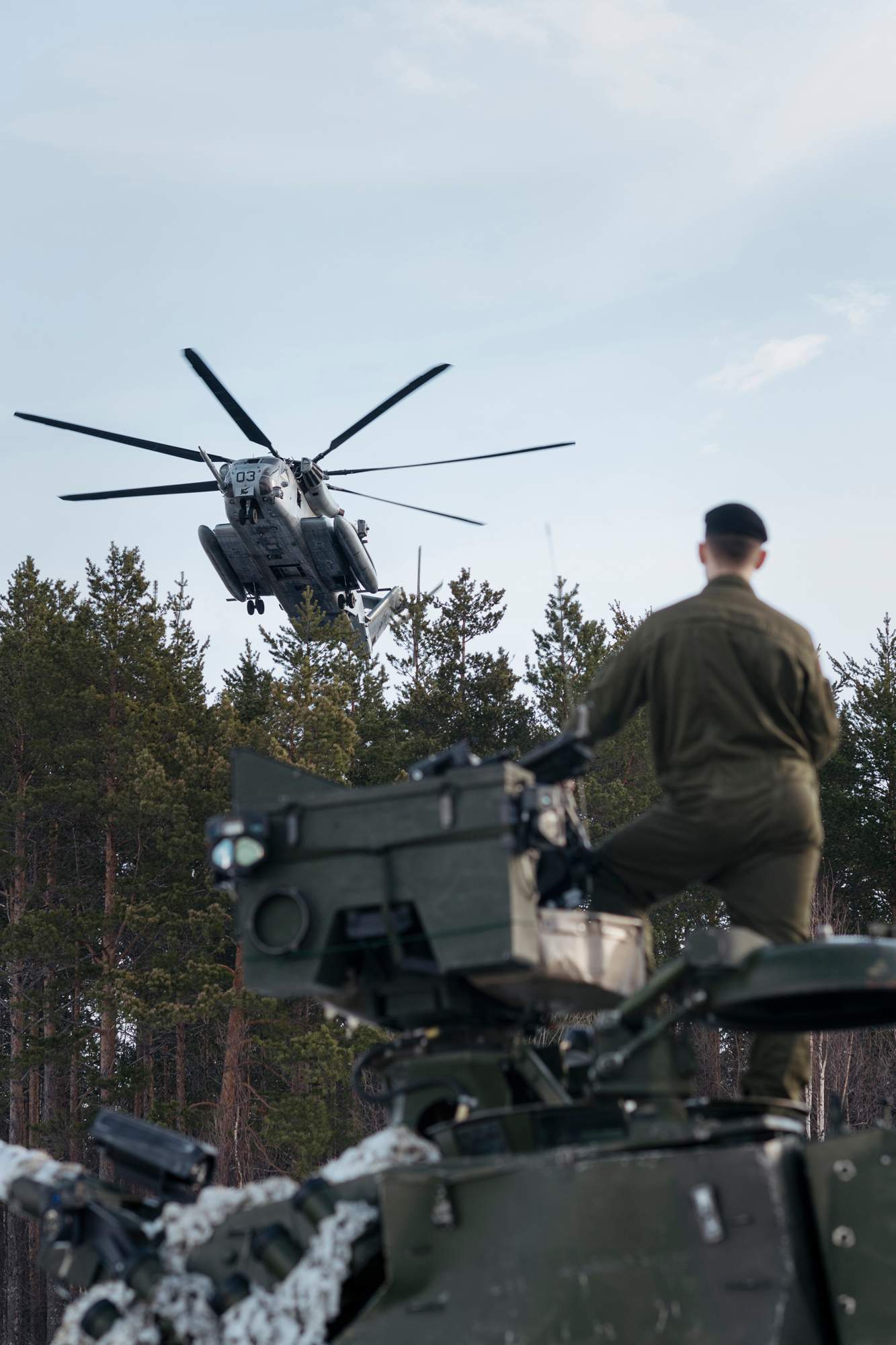 They are among some 30,000 soldiers, from 27 countries, who are in Norway for the aptly named Cold Response exercise. It is Nato's first large-scale military exercise since Russia invaded Ukraine on 24 February and one of the largest military drills in the alliance's history. Though Cold Response, taking place from mid-March to early April, is conducted every other year, the war in Ukraine has brought a heightened sense of urgency. The exercises offer Nato a chance to flex its muscles in the form of a huge military display of its fighting forces across land, sea and air – and, crucially, practise collective defence at a time when the likelihood of it being required is higher than it has been for decades.
Both the military significance of the exercise and its symbolism are on the minds of those taking part. "In times like these, citizens look to soldiers for safety," says Lieutenant-Colonel Sebastian Becker, the affable, softly spoken commander leading the German Gebirgs­jägerbataillon 232. "The Ukraine war has changed our security environment and reminded our troops of their purpose. My soldiers now want to go the extra mile in practice." It's a significant shift in attitude for the alliance, created in 1949 in response to the threat posed by the Soviet Union; until recent months, some thought that it had become an irrelevance as the bipolar world order gave way to US hegemony in the 1990s, then later a growing US-China rivalry.
At Norway's largest military base in Setermoen, more than 240km north of the Arctic Circle, Captain Alexander Granberg, a sprightly 31-year-old Norwegian who speaks American English, orders his soldiers to attention. To the young conscripts in this armoured battalion – Norway has compulsory military service for both men and women – this is a big moment. The whir of rotors fills the air as two Sikorsky ch-53e Super Stallion helicopters piloted by the United States Marine Corps approach. This mission-specific helicopter training is the closest that these young conscripts have ever been to battle-hardened soldiers who have served tours in Iraq and Afghanistan.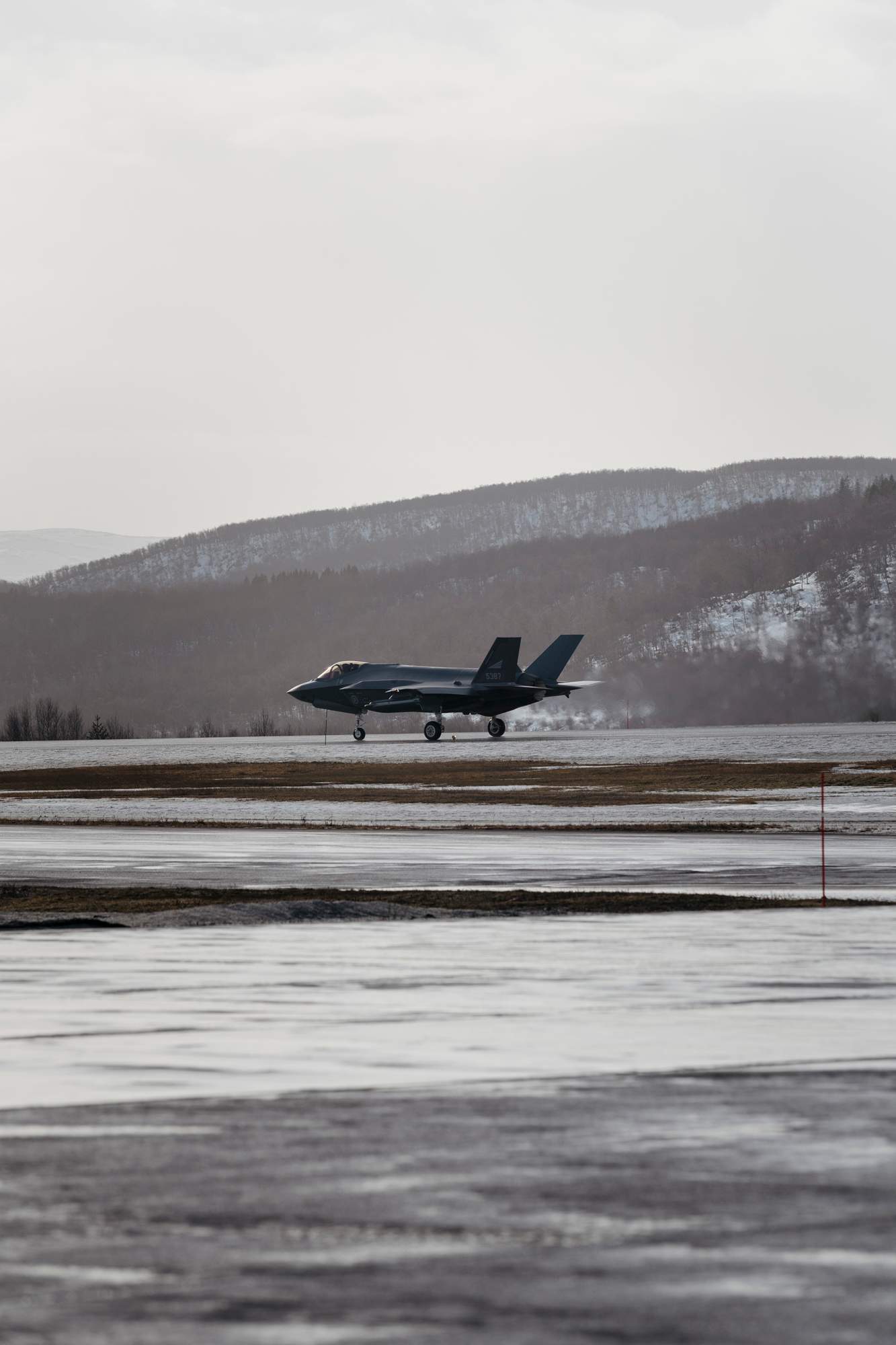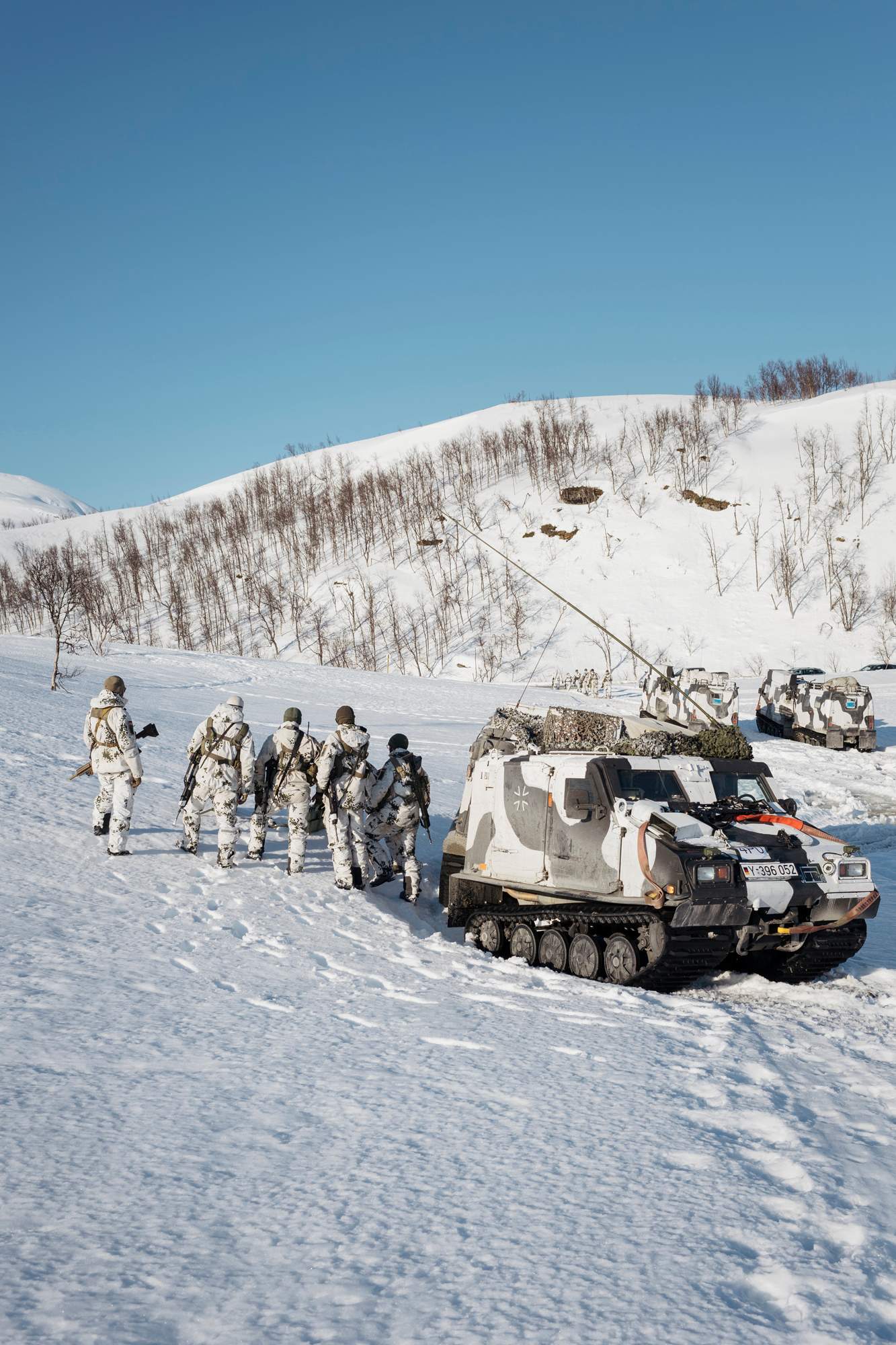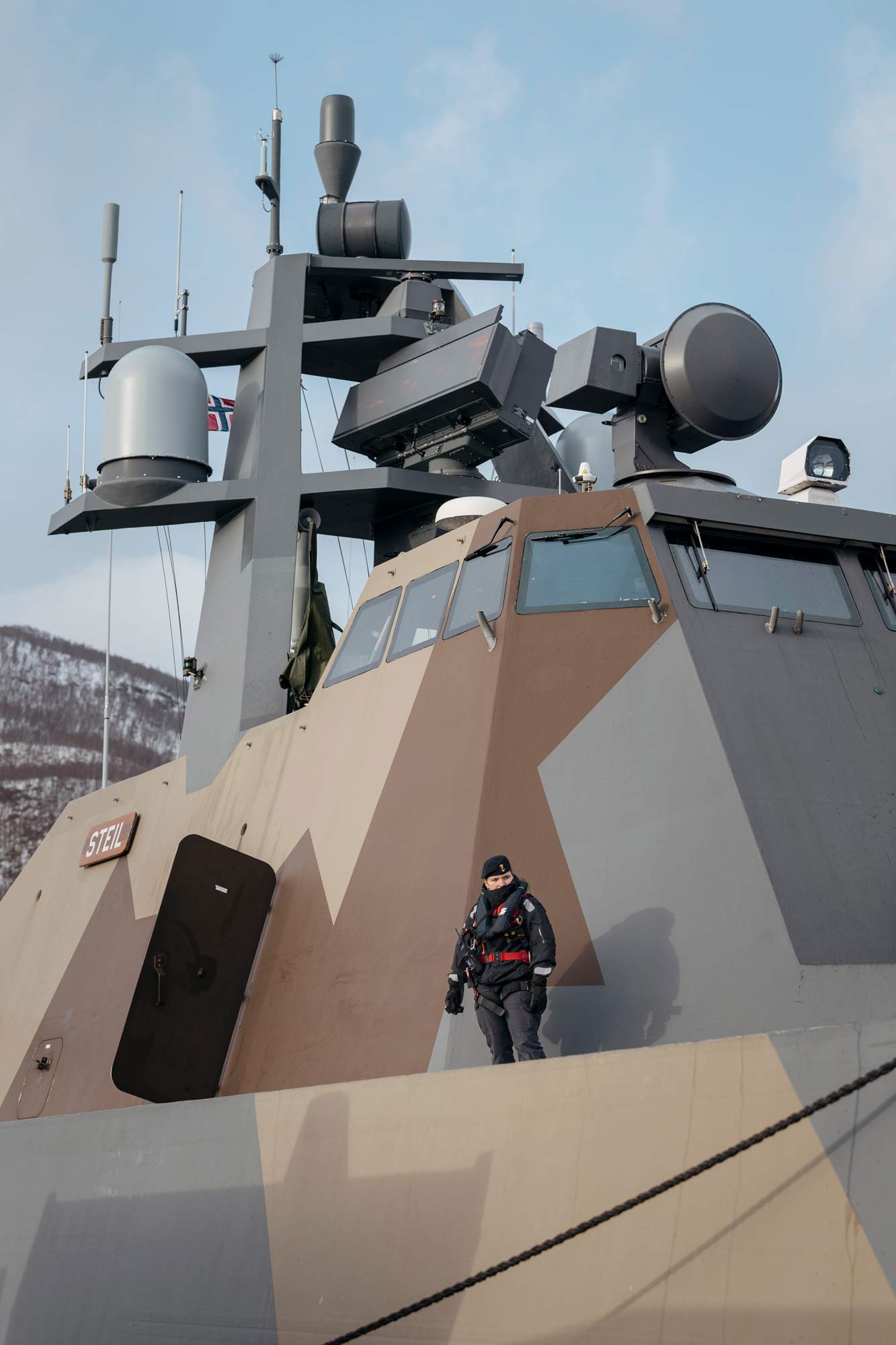 The Norwegians stand in formation on the icy landing field, gazing in awe at some of the world's largest battle helicopters. The US soldiers approach and Granberg, who is accustomed to working with the marines, orders his soldiers into a semicircle to greet them. Hands are shaken, then the Norwegians dash towards the choppers, buckle up and take off, only to touch down and disembark moments later. These helicopter drills are important to get right: the airflow from the rotor blades could easily knock you down and cause chaos if done wrongly.
Training with the Americans is a cornerstone of Norway and Nato's integrated defence strategy in the Arctic. "The US marines would very likely be the first allied boots on the ground if Norway was attacked," says Granberg. And given Europe's fractious security situation, in which both Nato and Russia see each other's actions as threatening, and growing geopolitical competition in the Arctic, the idea is no longer unimaginable. "Due to Russia's nuclear bases in the Kola Peninsula [which are about 100km from the Norwegian border] and the strategic importance of the Arctic for access to and control of the North Atlantic, the High North is a key area for Norway and Nato's defence," says Janne Haaland Matláry, a professor of international politics at the University of Oslo. 
"The war in Ukraine has changed our security environment and reminded our troops of their purpose. My soldiers now want to go the extra mile"
This context underscores why this is the most important Cold Response exercise in years – and perhaps ever. The troops here know it. "[The war in Ukraine] is Nato's September 11 moment, a dramatic shift in our security environment," says Major-General Lars Lervik, chief of the Norwegian army. "The role of this exercise is to show that Nato is ready to defend itself and to display how united we are." Lervik, a towering 50-year-old with a square jaw, cuts an imposing figure as he welcomes monocle into the wooden headquarters inside the Bardufoss air station in Målselv. Unlike most high-ranking military officials with whom we speak, Lervik doesn't mince his words. He is convinced that Nato's 30,000-person show of force, which includes at least 50 vessels and 200 aircraft, is intended as a deterrent to Russia. His willingness to call a spade a spade stands out at a time when most officials are keen to argue that, officially, Cold Response has nothing to do with Russia.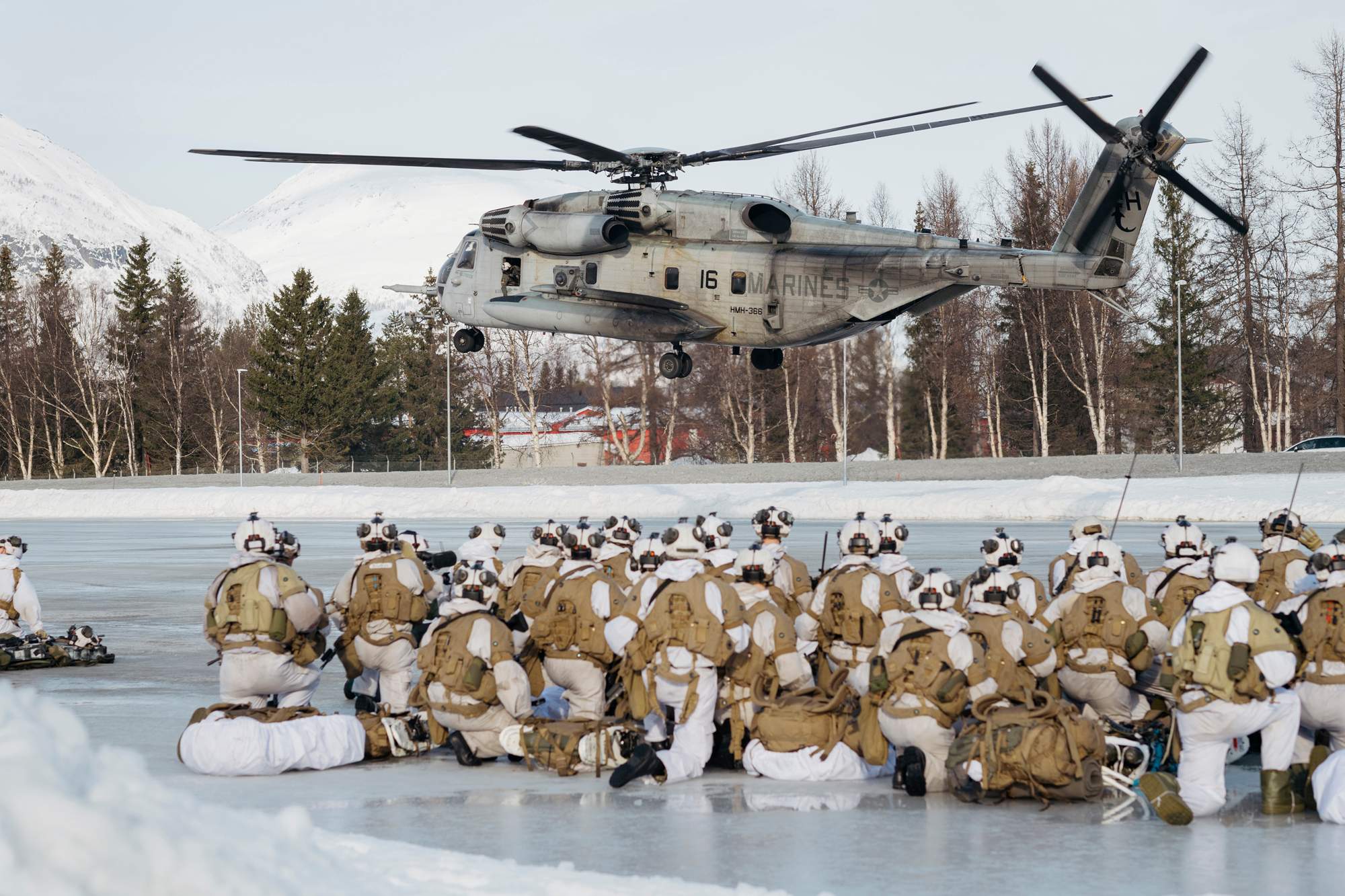 Nevertheless, Norway has been conspicuously open about the exercise's remit and intentions. It invited all 57 members of the Organization for Security and Co-operation in Europe, including Russian observers, to attend the exercises. Some lament that Russia declined but few are surprised. "In recent years we have seen an increase in Russian military activity in the Arctic," says Lervik. "They have introduced new weapons systems, such as long-range precision-guided missiles and new submarines, and they are also testing these." In an arms race, an amicable visit to your enemy's show of military strength can too easily be misinterpreted.
Though Nato is now projecting outward strength, two of its militarily strongest members, the US and the UK, have for years been criticising their allies for not investing enough in defence. "For a long time, Nato focused on developing its crisis-management capacity, as opposed to focusing on its core task, which is collective defence," says Charly Salonius-Pasternak, a senior researcher at the Finnish Institute of International Affairs. "It didn't have a defence plan for its eastern flank."
Nato has never fought a land war on its territory, the scenario that it is training for in Cold Response. The relative lack of conflicts in Europe for decades shows that Nato's deterrent was working, says Salonius-Pasternak. "But much of that was the result of US military might, which does not necessarily equal good collective security in Europe."
Suddenly, Europe's defence ministries are realising that fixes to funding and preparedness are urgently needed. A major shift is under way in Germany, which for decades failed to meet Nato's requirement of spending at least 2 per cent of its gdp on defence. Days after Russia attacked Ukraine, Germany's chancellor, Olaf Scholz, announced a €100bn increase in the country's military budget. "We will have to invest more in the security of our country to protect our freedom and democracy," he said at the time.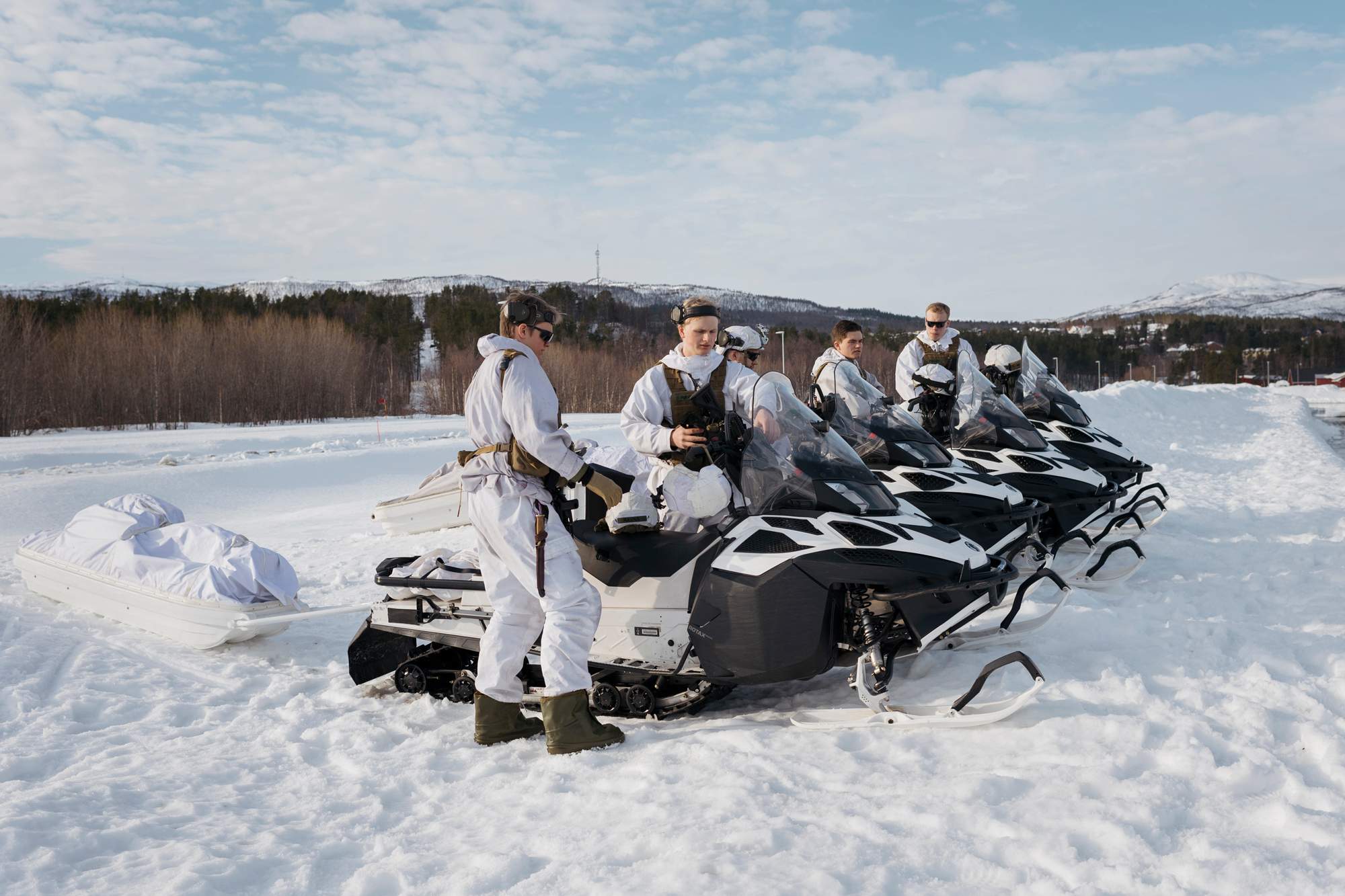 Military preparations aside, there are thorny questions that Nato is grappling with. Russia has felt provoked when new countries on its borders have joined the alliance. Many analysts argue that Nato erred by promising Ukraine and Georgia eventual membership at the 2008 Bucharest summit without backing this up with any security guarantees. Ukraine's membership is now effectively off the table but the prospect of Finland and Sweden joining Nato could be the next flashpoint. These issues are not lost to the military forces that are taking part in Cold Response. "With Nato's current strength, it would without a doubt be able to suppress a potential Russian invasion on its eastern flank," says Salonius-Pasternak.
"Nato's deterrent was working but much of it was the result of US military might, which doesn't necessarily equal good collective defence in Europe"
monocle sees Cold Response's air defences during a visit to Evenes Air Base, about an hour's drive south of Bardufoss. We join Per Jørgen Tiller, commander of the 333 Squadron, up the stairs of a shiny-grey Boeing p-8a Poseidon maritime surveillance aircraft, which arrived at Evenes just a week before our visit. This 40-metre, 62-tonne aircraft is a crucial part of Norway and Nato's surveillance and intelligence activity in the Arctic. Norway has ordered five of these planes. We briefly see the cabin of the $200m (€182m) aircraft that features a bank of computer screens and electronics used for aerial reconnaissance. Tiller says that the war in Ukraine has pushed the crew to make the aircraft operational sooner than initially planned, which has required round-the-clock engineering work and pilot training. Today they can fly daily missions for Nato in the High North. For the country's military officials, Norway is Nato's "eyes and ears in the north". Along with the p-8a, the Evenes Air Base hosts Norway's Lockheed Martin f-35 stealth fighter jets, two of which are on permanent 15-minute standby. We get an example of what this looks like during our visit. The f-35s have just left the base for an "alpha scramble": a real-world event, rather than training. Two Russian aircraft had flown close to the Norwegian airspace where Cold Response is taking place. "Air policing" is a key military function of the f-35s in the Arctic, says Colonel Eirik Guldvog, the commanding officer of the base, from his corner office overlooking the runways. "Russian military aircraft regularly fly along the Norwegian coast and don't file a flight plan or have identification codes," he says.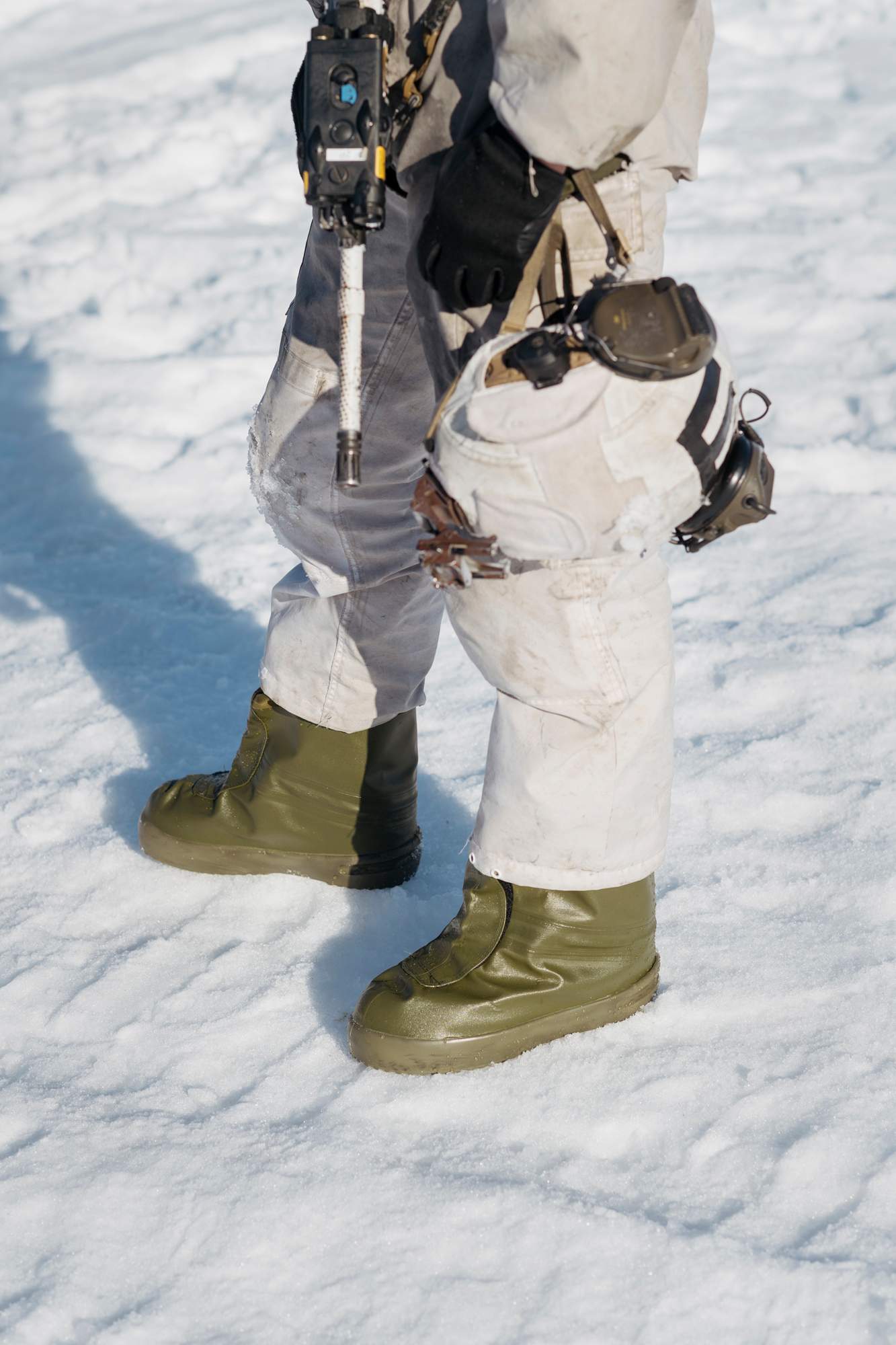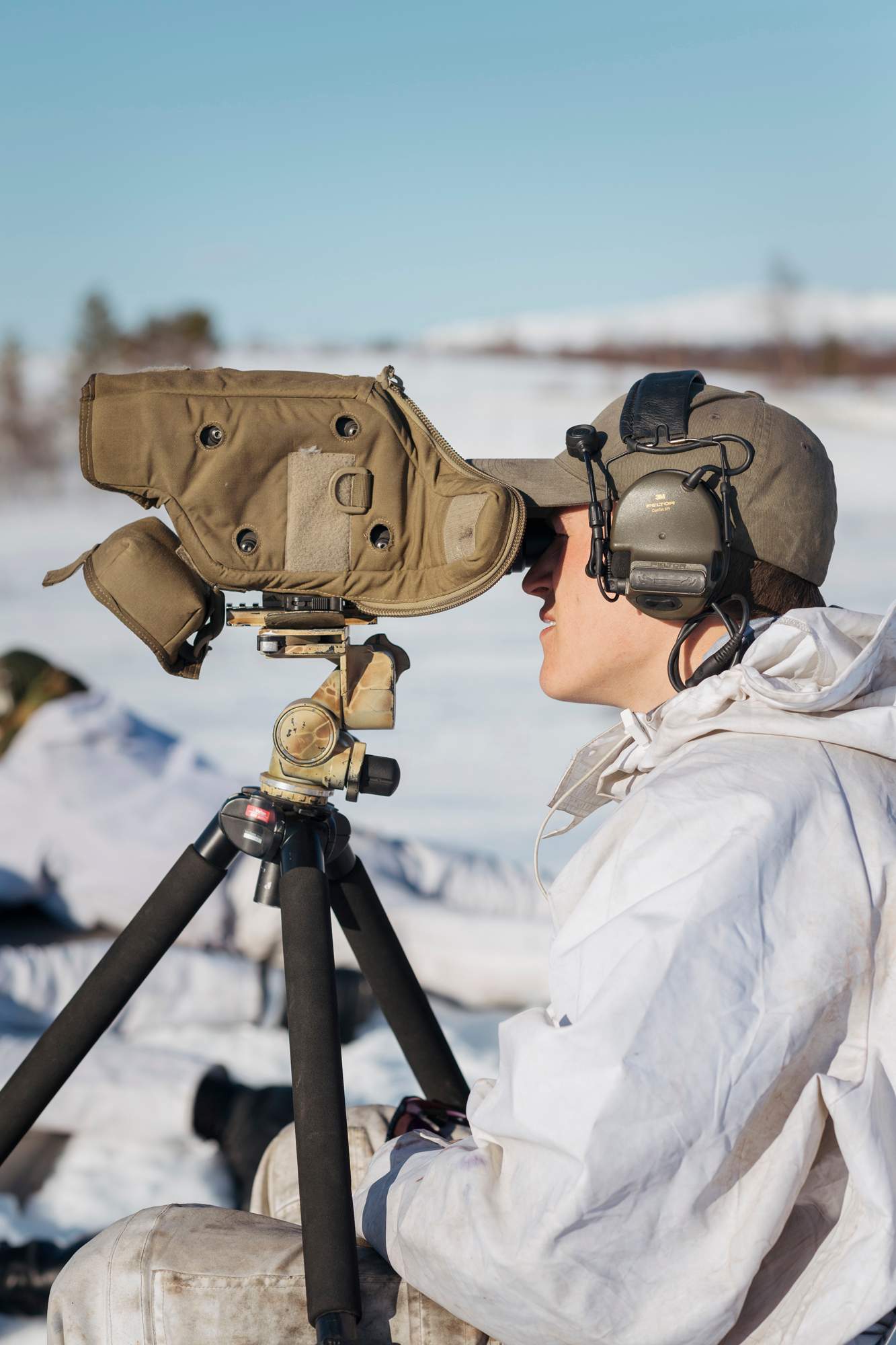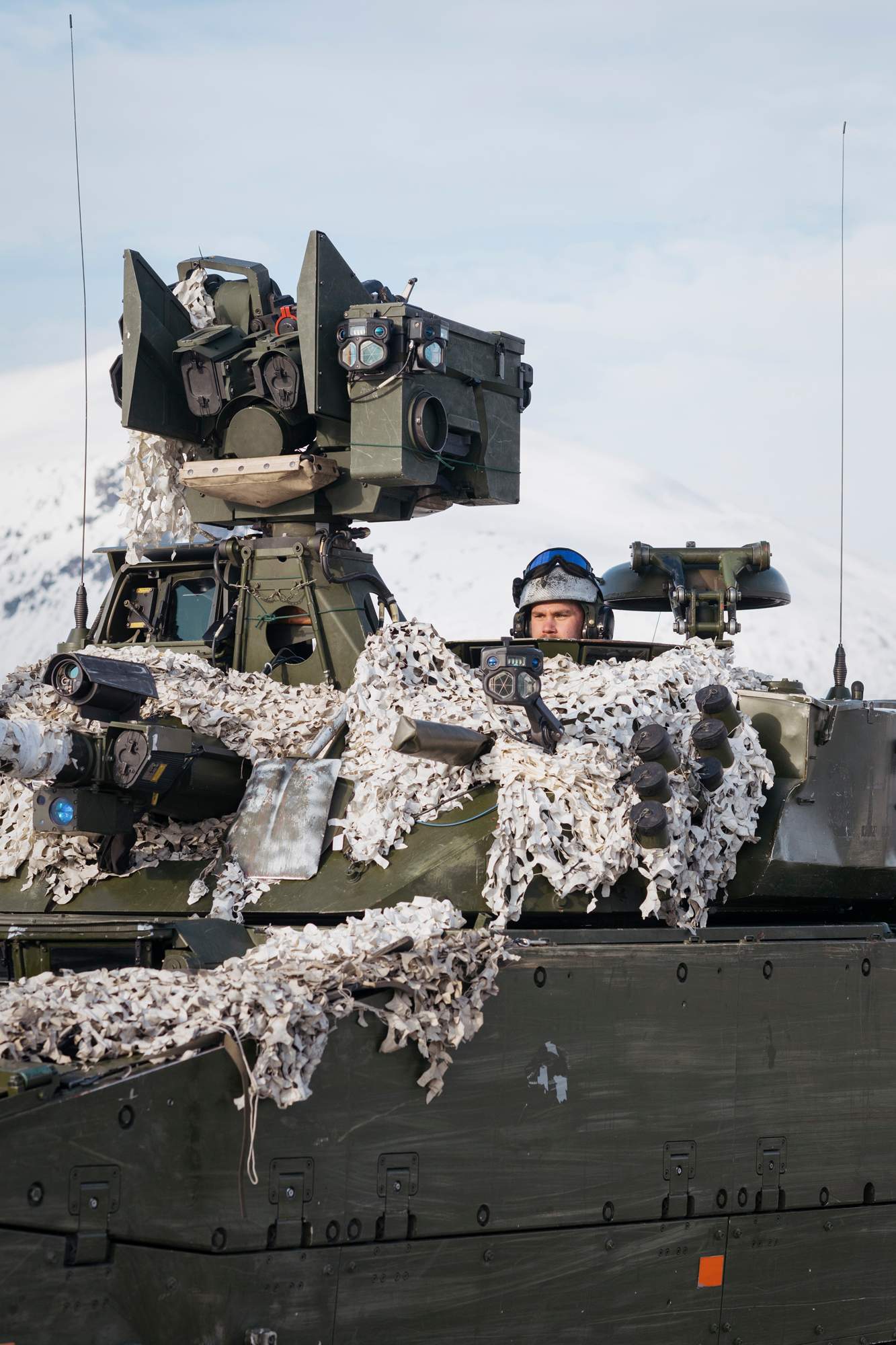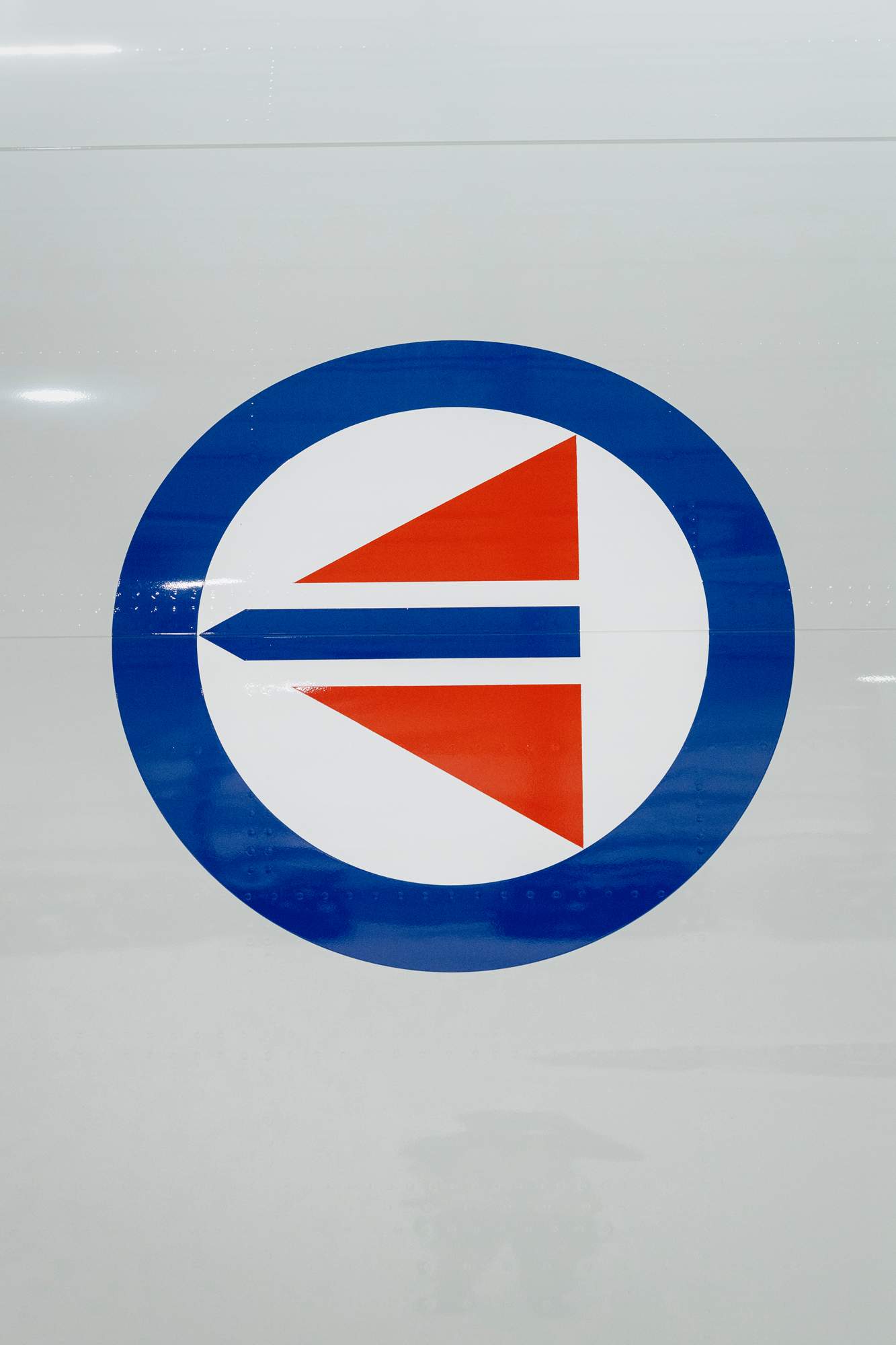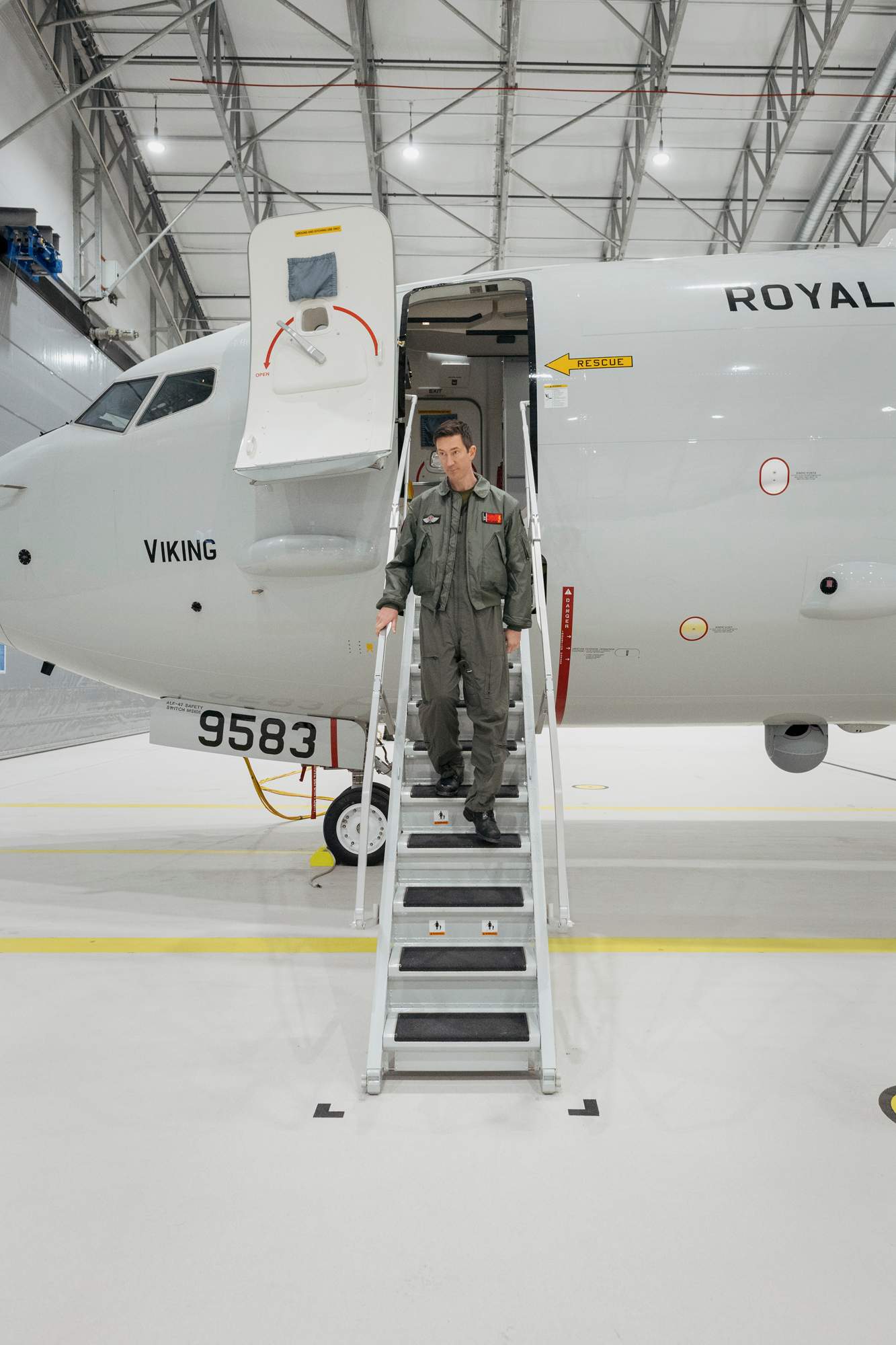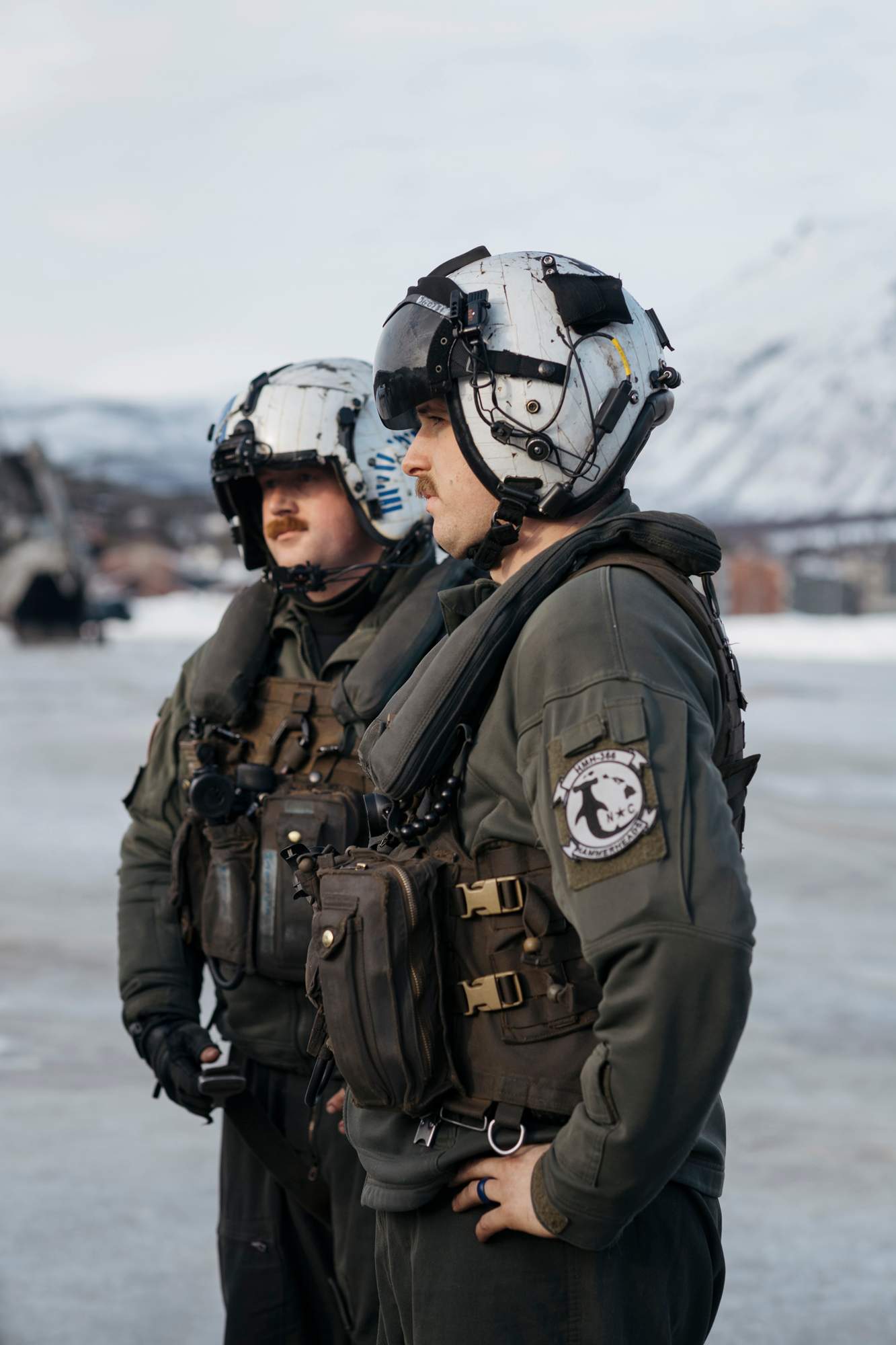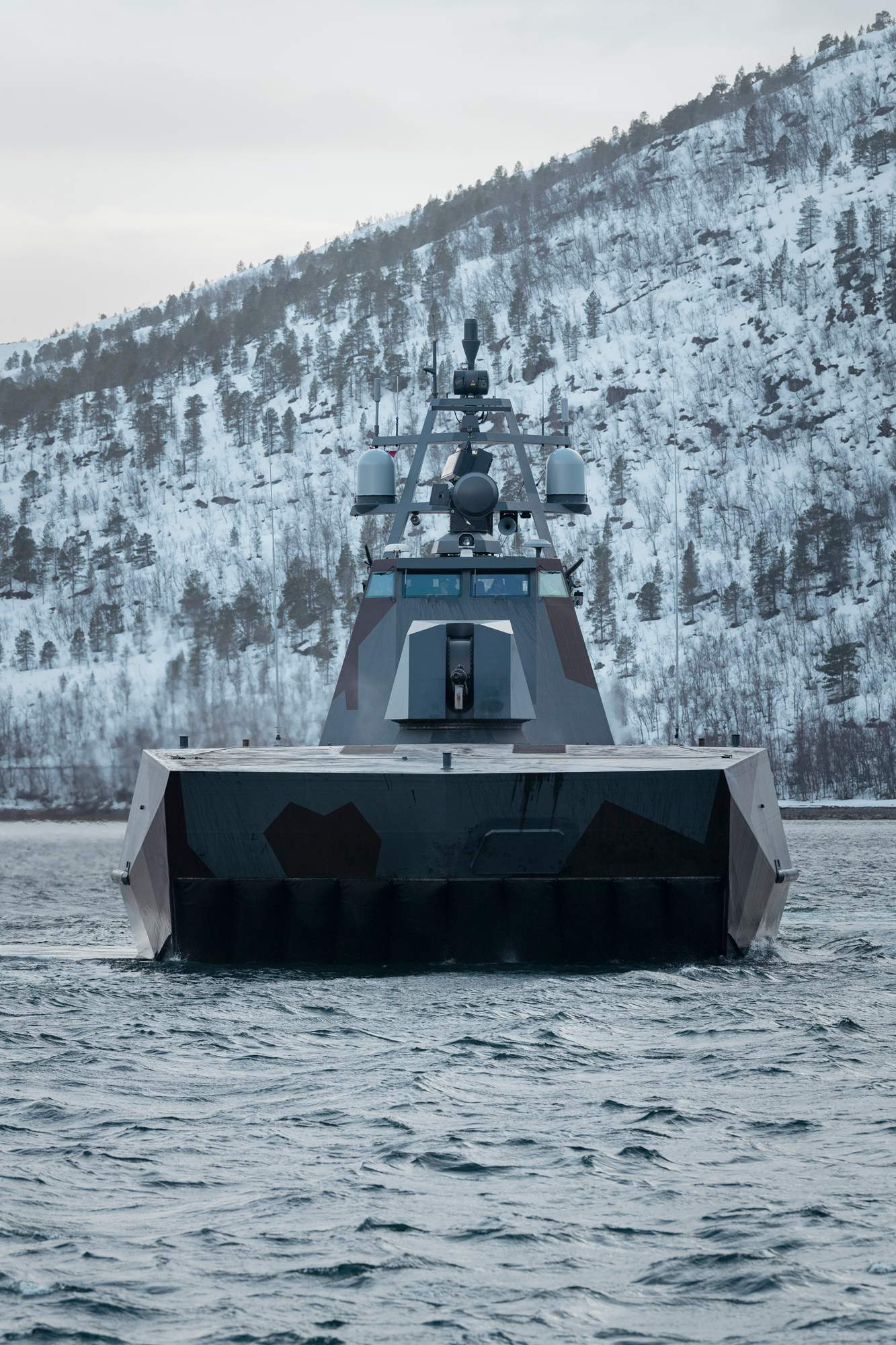 Guldvog argues that this kind of Russian bullishness demands a firm response. "Nato is showing its strength and showing that we are able and willing to defend our territory," he says. Flying up and establishing visual contact with the approaching Russian aircraft in a matter of minutes seems to be a part of this, though it also inevitably carries the risk of miscalculation and conflict.
As in past years, non-Nato members Finland and Sweden have been invited to take part in the Cold Response exercises. Sweden has sent more than 1,500 soldiers alongside Saab jas 39 Gripen fighter jets (see issue 146), while Finland has dispatched 680 troops and Leopard 2a4 battle tanks. The two Nordic neighbours have formed a joint brigade this year under the command of the Norwegian army. "While there are security-policy differences, it is important to practise together because, in reality, the northern regions of Finland, Sweden and Norway are one operational area," says Salonius-Pasternak. "In any regional war the three countries would have to co-ordinate, co-operate and likely defend themselves together."
Russia's attack on Ukraine has not only galvanised Nato members but led to a major shift of public opinion in Sweden and Finland over future membership. Cold Response comes at a time when a majority of the public in both countries have said in polling that they favour joining the alliance. Nato is keen to oblige but the two countries differ in their approaches. Sweden has said that it is not seeking to join the alliance immediately, whereas most analysts believe that Finland will act faster. "The stated goal is that, within a few months, Finland will have completed a national public debate to make one of the most momentous foreign-policy decisions that the country has ever made," says Salonius-Pasternak.
Every nation taking part in the exercises here has its own agenda and mindset but there is a unity of purpose among the troops we meet. "Allied cohesion has been Nato's most significant response to the events in Ukraine," says Lervik, from outside the army headquarters in Bardufoss. Behind him, US and Norwegian soldiers chat amicably as they make their way to the mess hall, a modern glass-and-wood building standing at the foot of a snowcapped mountain. 
Exercises such as Cold Response are needed, Lervik believes, to make sure that soldiers from dozens of countries, all with their unique procedures and cultures, can fight as one. "To fight together, you need to be able to trust each other," says Lieutenant Luca Bartolucci, a jovial 26-year-old Sicilian from Italy's 3rd Alpini Regiment. "Your life is literally in their hands."
Some 9,000 naval personnel are participating in Cold Response this year. In Ramsund Naval Base, which is about a 20-minute drive from Evenes Airport, a hnoms Steil stealth corvette is being prepared to head out to sea. Its angular shape and catamaran hull make it harder for radars to spot and its camouflage deceives the naked eye, blending in with the sea and the High North mountains. The ship's captain, Eivind Vedlog, a bearded, dark-haired Norwegian, is going through today's planned mission with a young female second-lieutenant. Cold Response is her final major test before she can become one of the first female navigators of Norway's fleet of six third-generation corvettes.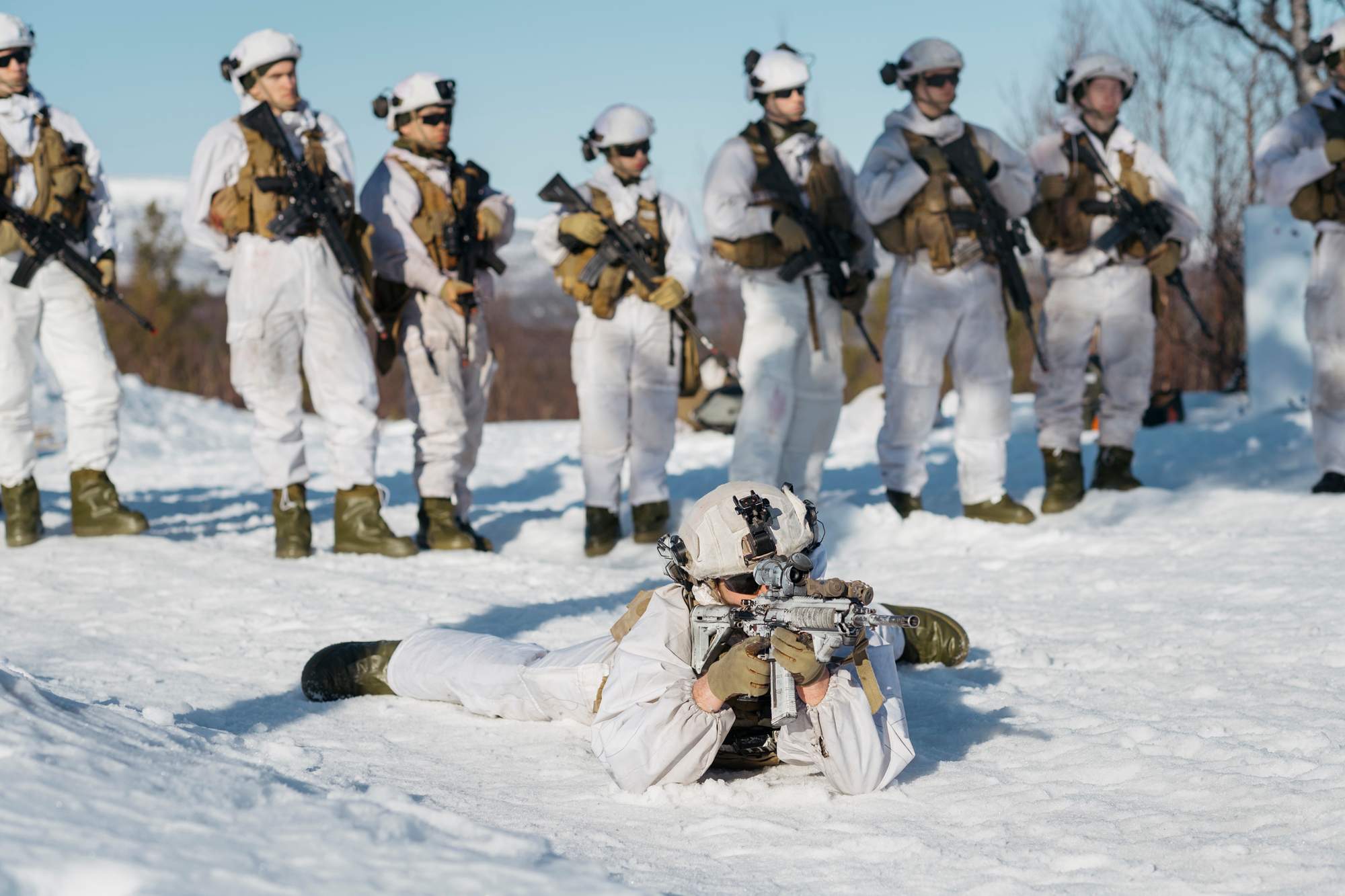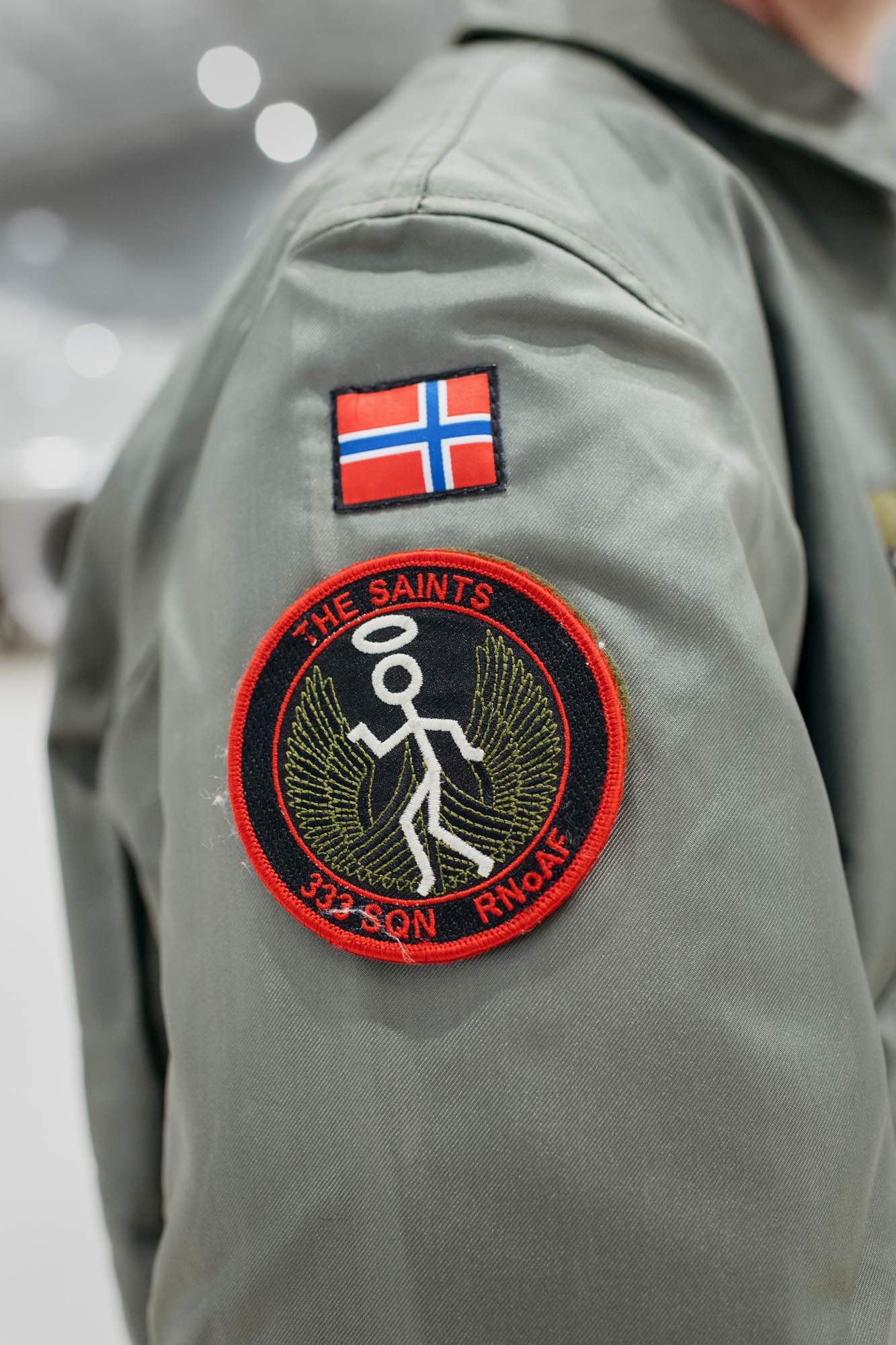 Reaching speeds of up to 60 knots (111km/h), the knm Steil is equipped with naval strike missiles. Its 25-person Norwegian crew is proud to show off the ship's speed, capacity and weaponry. Right now its training for offensive operations while handling Cold Response's operational security, which includes responding to accidents and foreign interference. Its usual role is to patrol Norway's Arctic waters.
As conflict rages in Eastern Europe, military preparations, even those in the cold High North, feel increasingly crucial. And Cold Response, as military top brass and defence analysts repeatedly tell us, is the most crucial among them. "It is the only full-spectrum Nato exercise in which aircraft can drop bombs, the navy can access land from the sea and the army can train for winter war," says Matláry. Whether this training is put to use on the battlefield soon is the question on everyone's mind.
"This is the only full-spectrum Nato exercise in which aircraft can drop bombs, the navy can access land from the sea and the army can train for winter war"
Taking the long view
In June, Nato's leaders will address its long-term future at a summit in Madrid. Here's what should be on the agenda, writes Daniel S Hamilton.
1.
Nato's eastern flank is defended by a small number of "tripwire" forces that would require help from larger detachments in the case of conflict. Russia's destruction of Ukraine makes such a posture no longer credible: the alliance needs to move towards a more robust and permanent deployment of troops.
2.
Europe must take more responsibility for its defence. It should be able to provide half of the forces and capabilities required for deterrence and collective security. It also needs the capacity to conduct crisis-management operations without heavy reliance on the US.
3.
No nation will be resilient if its neighbours are weak. Allies must defend their interconnectedness: that is why European efforts to end dependence on Russian energy are so important. Nato must also project resilience going forward, beyond allied territory, to help vulnerable partners.
4.
Nato's mantra has long been "out of area, or out of business". Its forces have ventured beyond allied territory into Afghanistan, Iraq and the Balkans. Nato must go back to basics and focus on defending its allies. Its new mantra should be "in area, or in trouble".
Hamilton is a senior non-resident fellow at the Brookings Institution, a faculty member at Johns Hopkins SAIS and a former US deputy assistant secretary of state for European affairs.