Design: Residence / Aveiro
Blue-sky thinking
A compact modernist home in Portugal gets a new lease of life thanks to a smart renovation that honours its architectural heritage and coastal surroundings.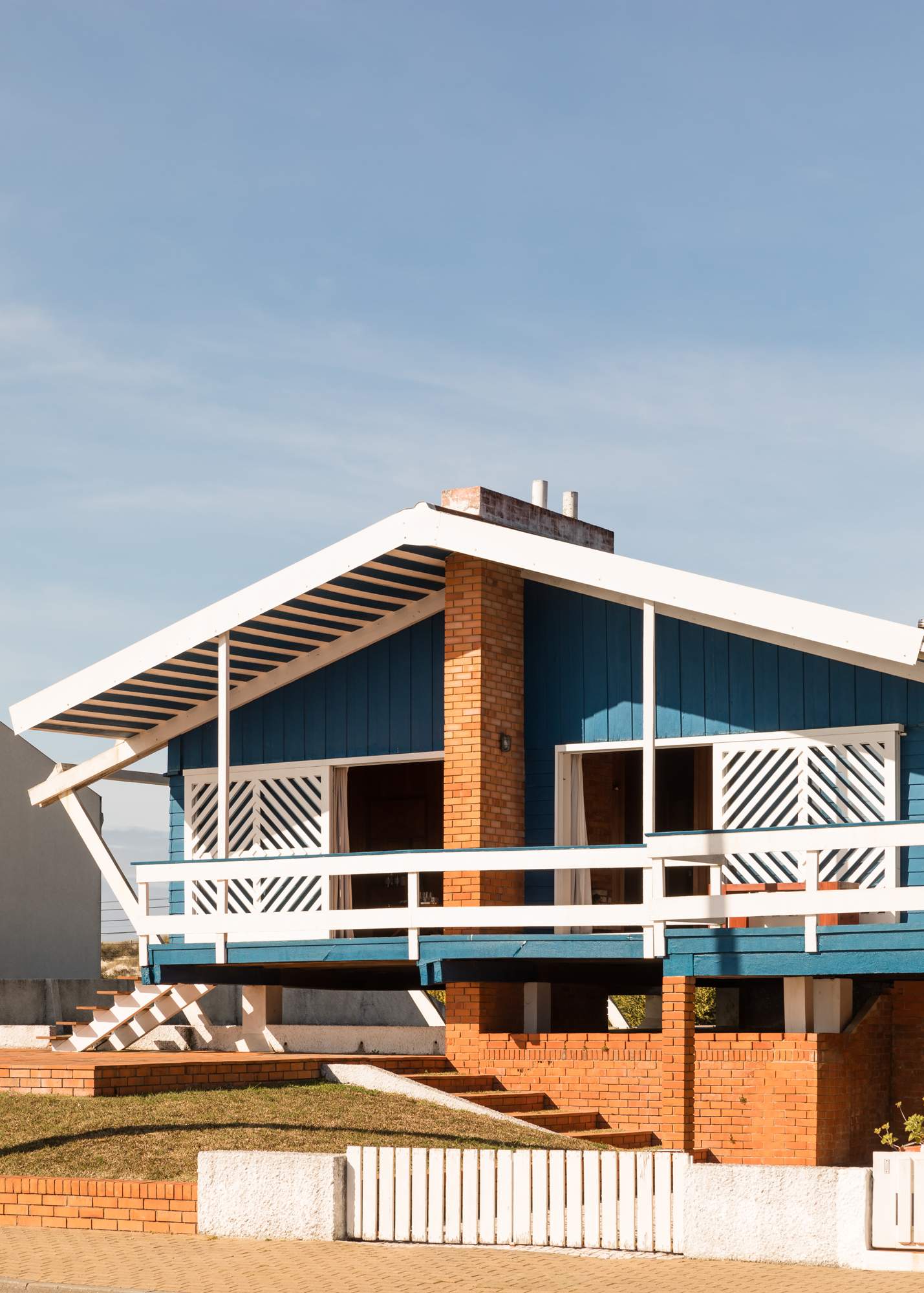 The coastal part of Aveiro is known as Portugal's Venice thanks to its canals and lagoon. Here gondolas, called moliceiros, have hand-painted prows, and the seaside palheiros, fishermen's houses used to store nets, sport two-tone striped façades. Casa Azul, a modernist residence from the 1960s, blends into this landscape with its blue-and-white exterior that pays tribute to this unique vernacular.
Designed by architect Pedro Bernardes from nearby Ílhavo, the small home has now been renovated by Lisbon architects João Carmo Simões and Daniela Sá. The pair have maintained its original character while rejigging the interior to maximise its use as a holiday home. Set on Costa Nova, a narrow split of land between the Atlantic and Aveiro, the house had two rooms on its east side divided by a wall that Simões and Sá decided to remove. This helped to accentuate the central brick column, home to a handsome chimney, that juts out of the pitched roof and sinks beneath the floor into the ground. "We brought natural light deeper into the house," says Simões. "What was once a bedroom became the living room and permitted the entire family to take advantage of the veranda that faces the street." Keeping the original white wooden shutters, they enlarged the window openings by inserting a single sliding glass door on either side of the brick pillar. The kitchen was brought forward into the dining room and slimmed down; it's now set against the wall with a backsplash and counter in brass, a material seen in custom-designed light fixtures and nightstands in the house. "We wanted to make a clear distinction between social and private areas," Sá says. "We added brass as it gives off a certain warmth and it pairs well with the wood." The architects restored the walls made from tola, an African wood with a yellowish-brown hue, and put in Brazilian hardwood flooring.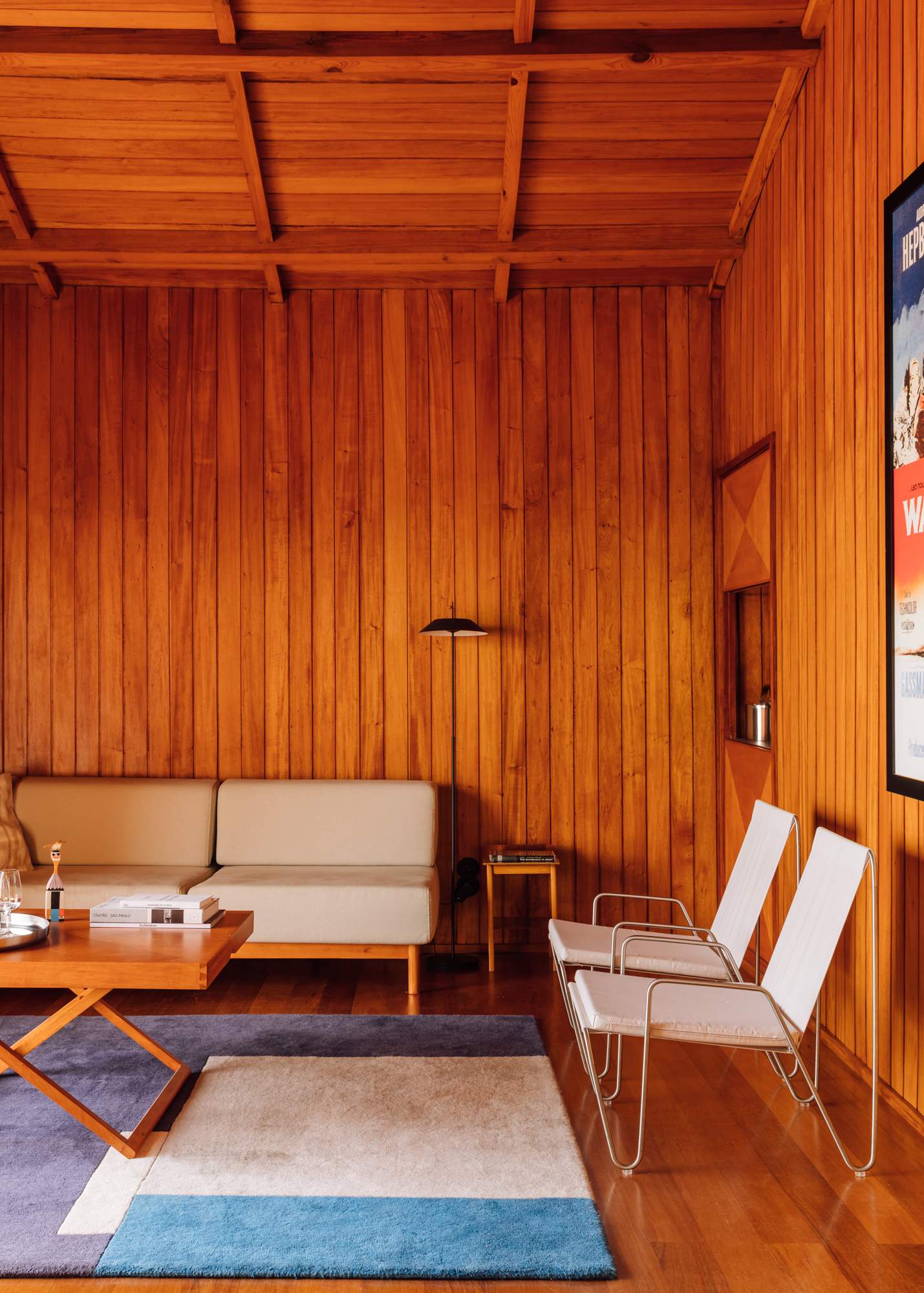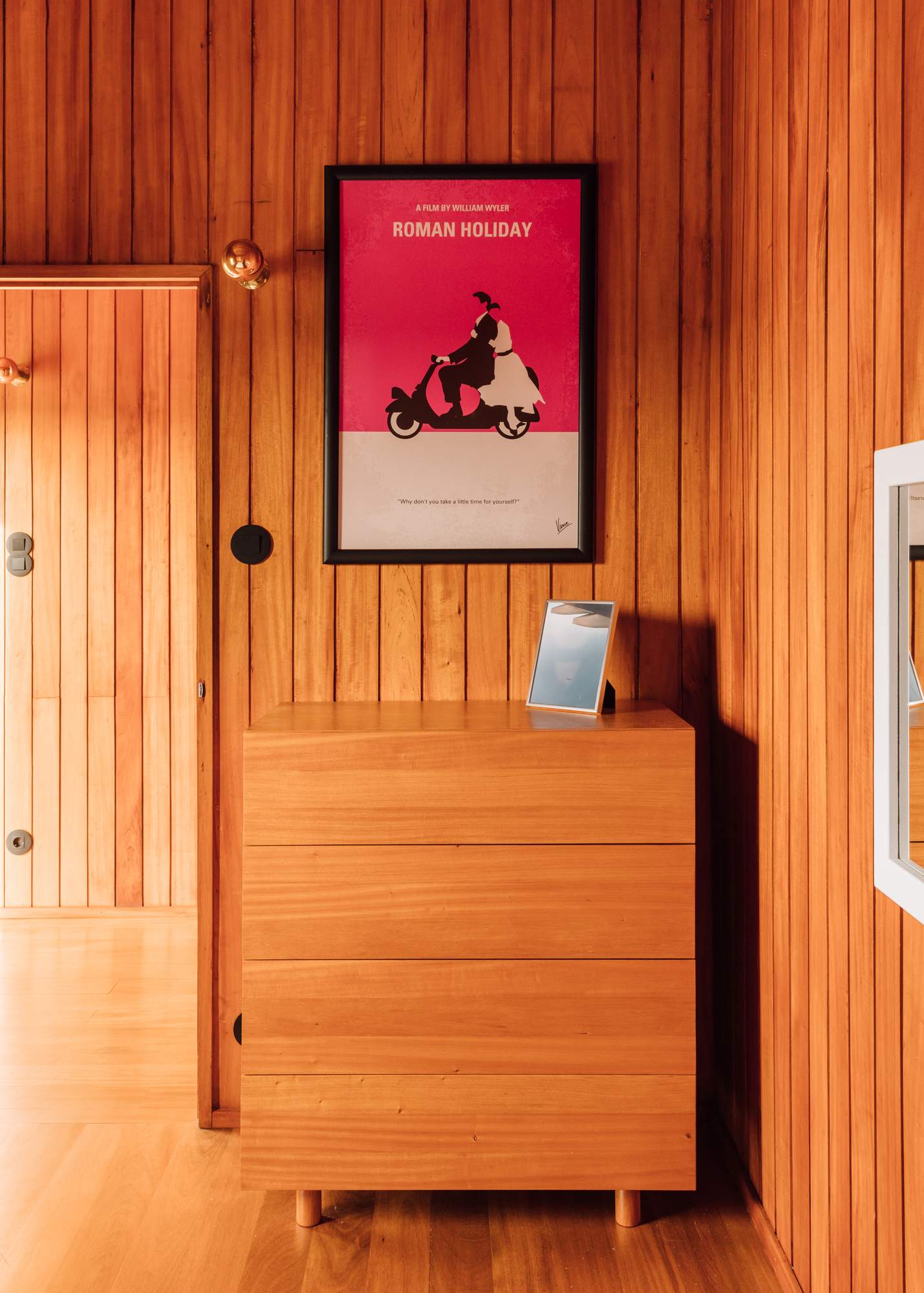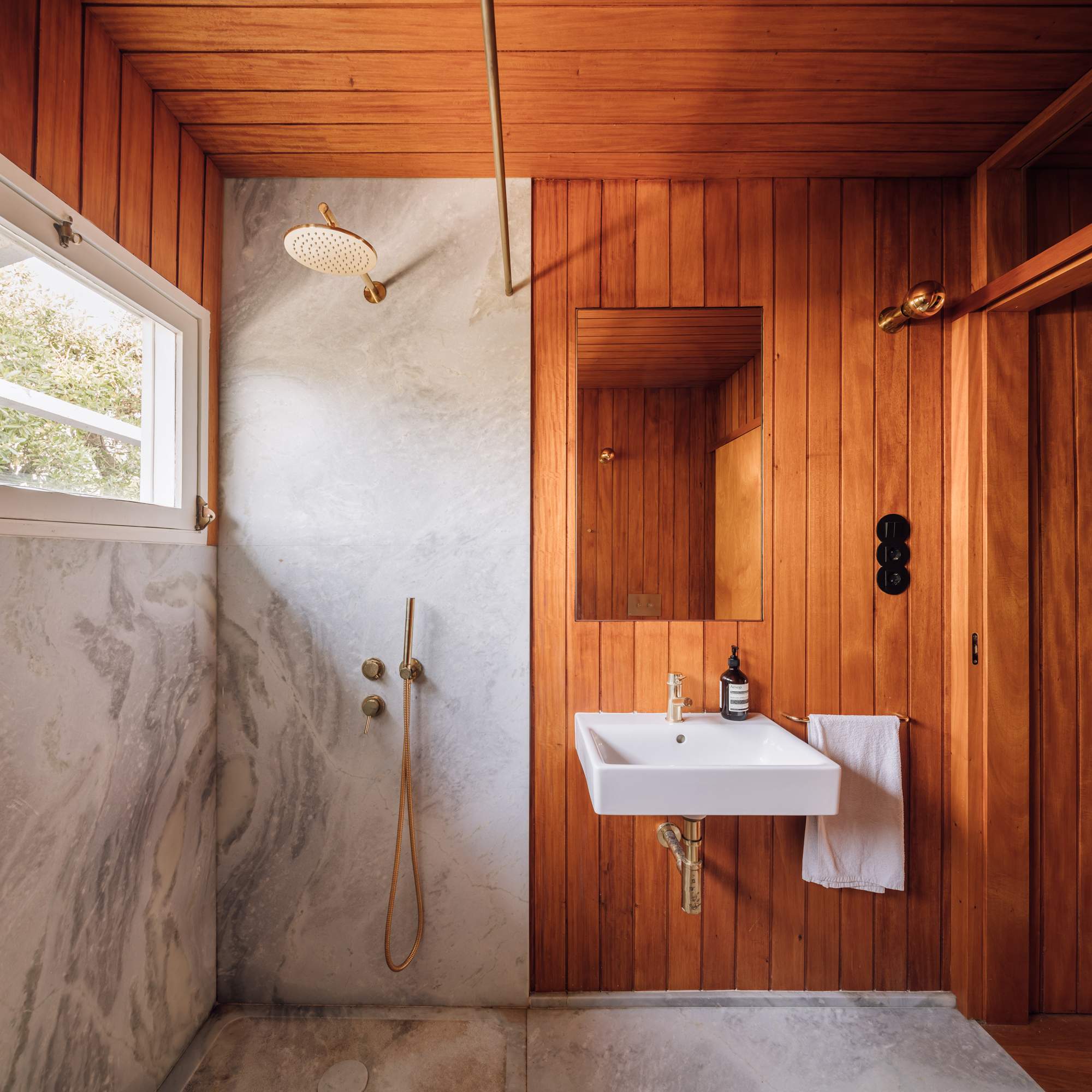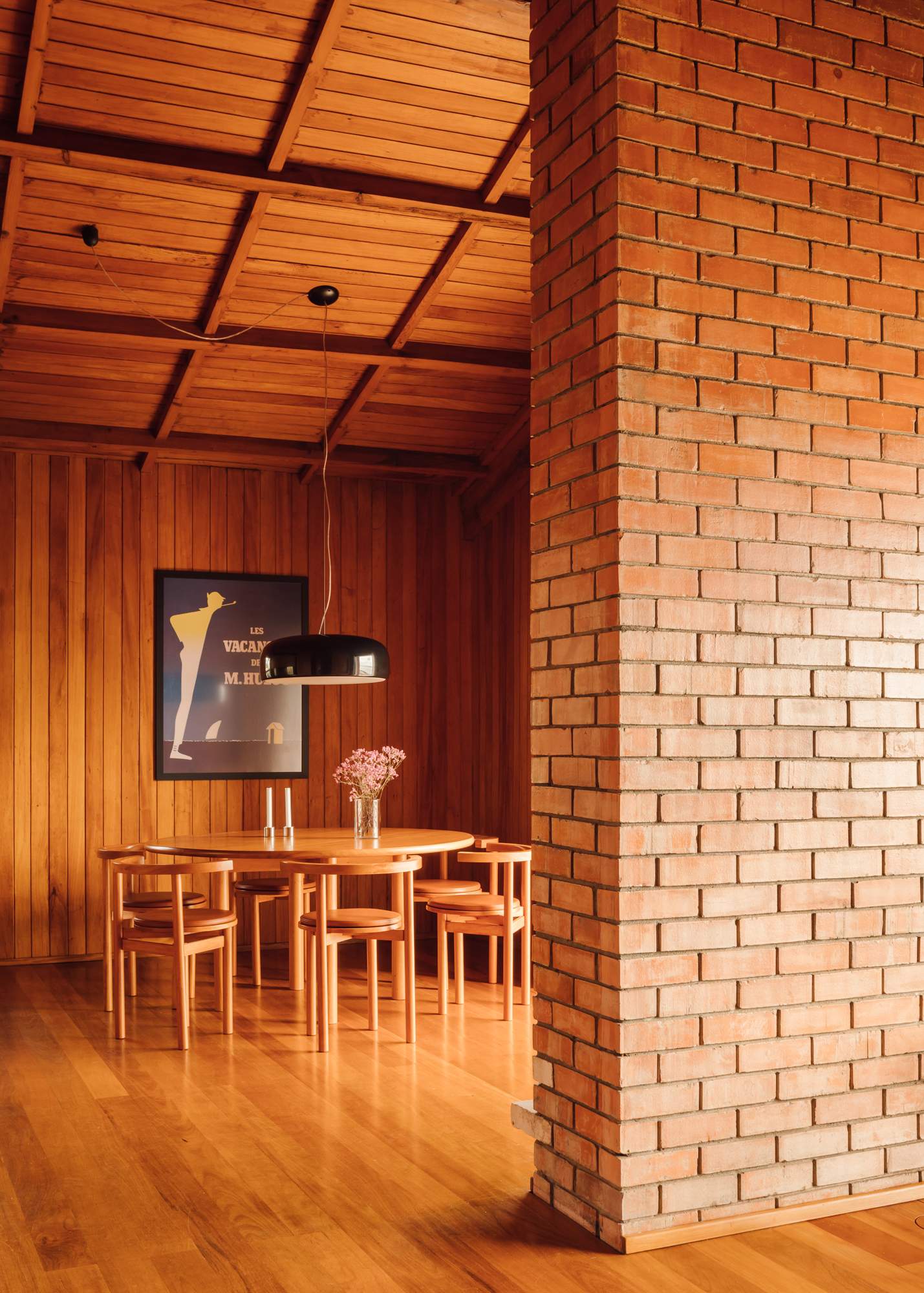 For furnishings, the pair used a mix of bespoke and showroom-bought pieces. The living room has a custom L-shaped sofa upholstered in beige fabric that pairs well with a Hans Wegner ch25 lounger from Carl Hansen & Son. They also designed a dining table and chairs with semi-circle armrests lit by a Jasper Morrison Smithfield suspension lamp from Flos. "The aim was to ensure that the revamped interior didn't look forced or out of place with the home's original 1960s feel," says Simões, pointing to the corner minibar that sits behind panelling and sports a triangular motif that was inspired by the homeowner's existing furniture.
A shower occupying what was once the kitchen is the most significant change. Laden with Brazilian marble featuring traces of blue-green colour, it cleverly references the crashing surf. "We wanted to reconnect the house to the landscape – the dunes, waves and lagoon – as it's a place suited for outdoor living," says Simões. "The house is from a simpler era and we wanted to respect that."
joaocarmosimoes.com