Fashion: Footwear / Adelaide
Booting up
Shoe-maker RM Williams is a big Australian exporter. Now it wants to bring its production back home.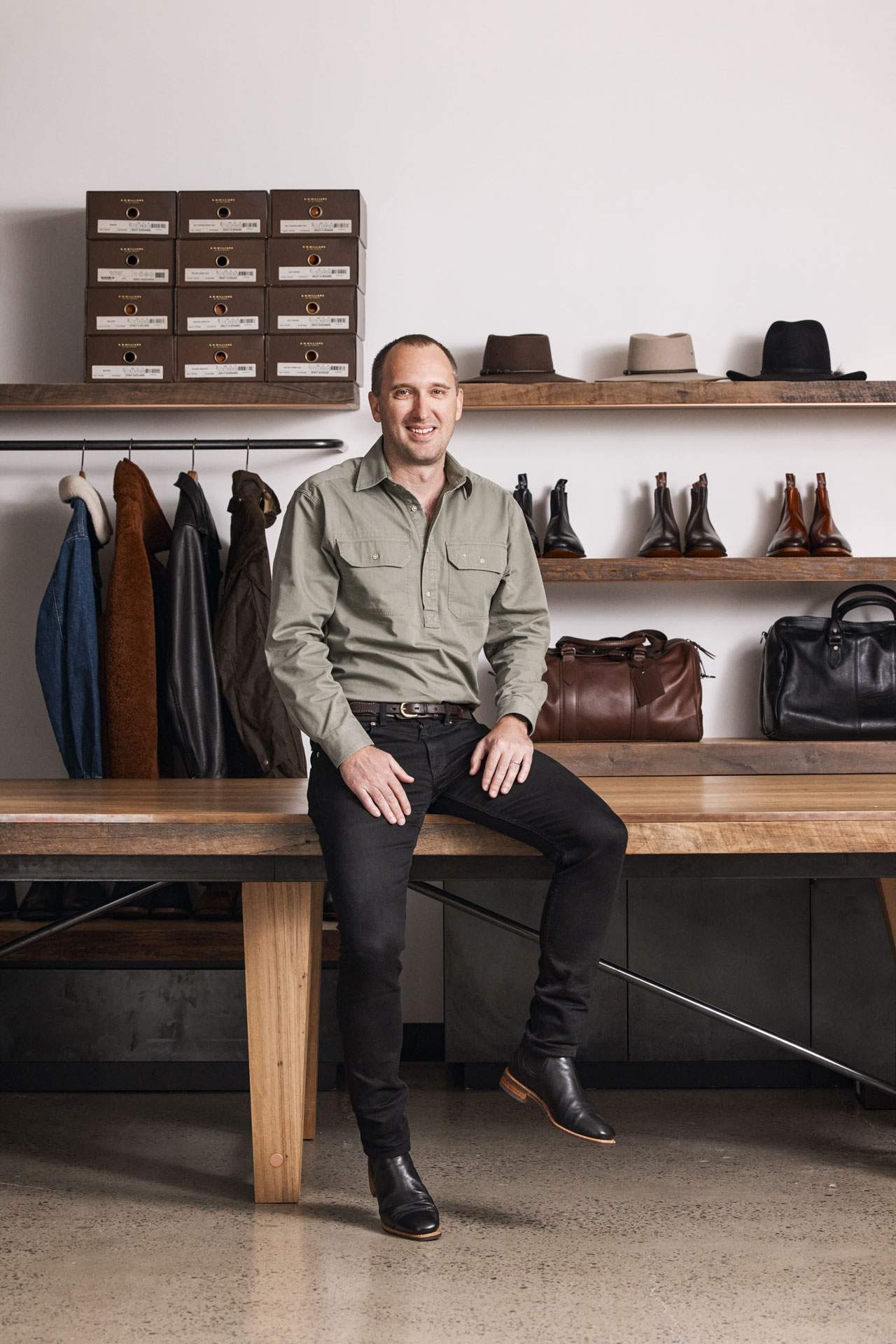 The story goes that in 1932, a 24-year-old Aussie, Reginald Murray "RM" Williams, learned the craft of leather-working from a stockman (the Australian term for a cowboy) named "Dollar Mick" Smith. Soon after, Williams formed a business selling handmade saddlery and leather accessories to Australian cattle stations. But it was Williams' stockman riding boots that became his namesake brand's star product. Featuring a Cuban heel and pointed toe, they were the exact shape that stockmen needed so that they wouldn't slide around in stirrups. 
Ninety years later, the company has grown into an Australian fashion stalwart, its boots garnering global appeal. You'll spot sunbeaten and well-worn versions on most Australian farmers, while celebrities such as Lady Gaga order themselves custom pairs (her preference is pink).
Today the company is 100 per cent Aussie-owned, after some ups and downs following Williams' sale of the brand in 1988. Since then it has seen a brief period in receivership in 1993 and had everyone from luxury group lvmh to actor Hugh Jackman acquiring various chunks of the business. Two years ago, RM Williams was bought for a reported au$190m by Tattarang, one of the country's largest private holding companies. Its current owners are as Aussie as they come: mining magnate and philanthropist Andrew "Twiggy" Forrest – who grew up as a jackaroo, a trainee stockman, in Western Australia's Pilbara – and wife Nicola Forrest, who serves on the board of RM Williams and was a driving force behind the purchase.
Under Tatterang, the Adelaide-based company is transforming itself with a long-term view towards local production. It will be challenging given the decline in the nation's manufacturing over the past 20 years. While RM Williams' signature boots are made in Australia, some of its other products are made in China and Southeast Asia. RM Williams ceo, Paul Grosmann, who took the job in November after five years as an executive at Nike in China, knows that the task ahead is tough. "First we need to get an understanding of our own capabilities in the Australian market," he says. "You can't just rip it all onshore and get the same level of quality. This means developing our own manufacturing and investing money in machinery, specifically for technical apparel."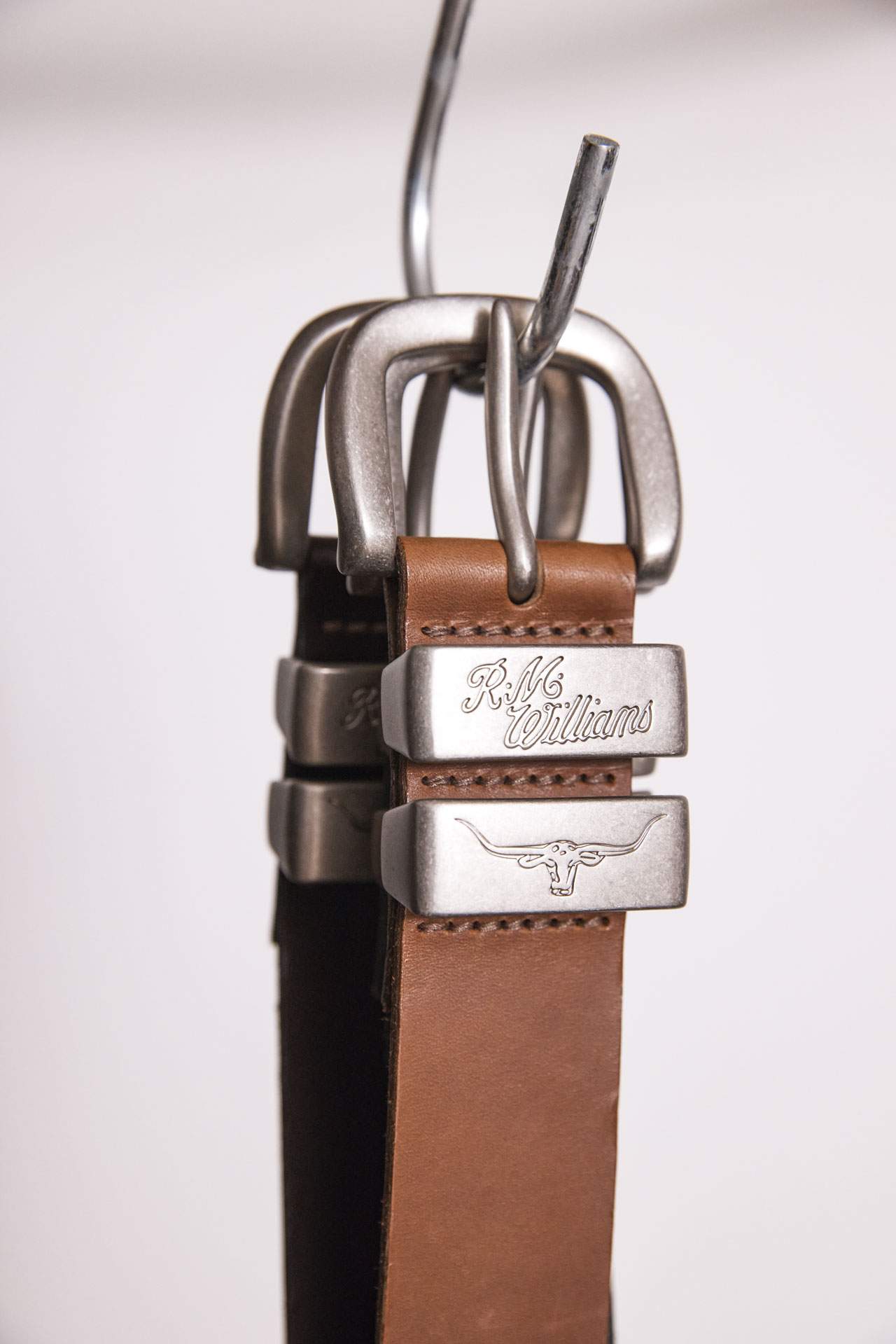 Currently there are supply-and-demand issues when it comes to the company's Australian-made boots. While 90 employees were added to the Adelaide workshop in 2019, bringing the total number of makers to 400, product simply can't be made fast enough. In the 2021 financial year, an all-time high of 252,000 pairs of boots were sold – up from 195,000 the year before. RM Williams now has about 570 wholesale stockists, from remote country towns to luxury boutiques, plus six of its own shops across the UK (the first shop opened in London in 1989), the US and New Zealand.
Through its five-year plan to more than double footwear manufacturing capacity in Australia the brand is working closely with the state government of South Australia, where the company is headquartered. Employees are eligible for a traineeship that will earn them accreditation in leather production.
"The purpose is to upskill our teams and attract and retain talent," says Grosmann. "Most importantly, it will allow us to promote the qualification as a trade of specialised craftspeople within Australia. There are staff that have been in the workshop for more than 40 years. We need to ensure that the next generation coming through can have a purpose or skillset that they can feel proud of."
"It's important that we stay close to the people of the bush. It's the Aussie spirit"
Grosmann's strategy also sees renewed focus on clothing, a category that's lagging in sales. As much as style and cut, there will be an emphasis on using quality materials, especially moleskin and waxed cottons. The design challenge will be engaging with the city slicker, while not alienating the rural demographic. After all, RM Williams boots have always been a great style leveller. These quality leather products are just as likely to be scuffed from crowded bars in metropolises around the world as they are to bear the remnants of caked mud from ranches and horse stables.
So far, RM Williams' clothing has not been able to achieve this same universal appeal. But it's a category ripe with possibilities, says David Meagher, editor of Australia's luxury lifestyle newspaper supplement Wish. 
"Having a core product that is a bestseller year after year isn't such a bad thing," he says. "I think there is great potential for RM Williams to develop its ready-to-wear into a major business if they get the design of it right. That, of course, is easier said than done." 
RM Williams' street-cred has been on the up thanks to the work of its previous owners L Catterton (an lvmh investment vehicle). For six years it laboured to introduce RM Williams to tasteful consumers globally, working with style magazines and e-commerce platforms Farfetch and Mr Porter to do so. It launched a collaboration with Aussie designer Marc Newson and introduced new lines that helped to boost international sales. However, this focus on an edgy urban market ignored many of the more traditional workwear shops that had been stocking the brand for decades.
While the company has always maintained close relationships with farming and agricultural societies across Australia, it is striving to reinforce these ties now. 
"It's important that we stay close to the people of the bush," says Terry Goodear, who has been the brand's head of heritage and heartland marketing for more than 20 years and was a personal friend of its founder RM. "It's the Aussie spirit. And those blokes [in the bush] aren't shy about coming forward with any feedback – there's no sugarcoating it out here." 
At au$1,000 (€670) for a veal-calf leather model boot, are farming folk being priced out? "Well, RM always did say that a good pair of boots should be the same as a week's wage," he says. 
This Aussie heartland customer is also one that the ceo sees as vital in aiding the brand's new direction. For Grosmann, running a company with an international reputation for quality is important, but his focus is on Australia. "The next 12 to 18 months will be about product, production and retail foundations," he says. "Only once those three elements are all in order can we properly entertain international expansion."
rmwilliams.com 
The Craftsman
The Craftsman has long been RM Williams' best-selling boot model and it's still made according to original specifications, with a chisel toe and slim upper made from a single piece of leather. Designed by RM Williams himself, it's fully lined for extra comfort and longevity. It's a style that lands somewhere between ruggedness and refinement. "It's always appealed as much to the men and women of the rural heartland as it has to the urban professional," says Grosmann. "That's what made it unique."