Affairs: Rebuilding Ukraine / Ukraine
Out of the rubble
Despite the ongoing war, Ukrainians are beginning to prepare in earnest for the national reconstruction that will follow.
Oleksandra Sydorchenko's flat in the Kyiv suburb of Irpin was destroyed when a Russian shell landed on the four-storey building. Luckily, her family had escaped to Lviv in western Ukraine and no one was hurt. "Our building is the most damaged in the block," says Sydorchenko. "The roof has fallen in, one of the external walls is missing and a fire started in there too. My husband went back to Irpin after its liberation from the Russians at the end of March. When he entered our flat, he saw that it was totally destroyed. No furniture, household appliances or clothes were left. Everything had been burned."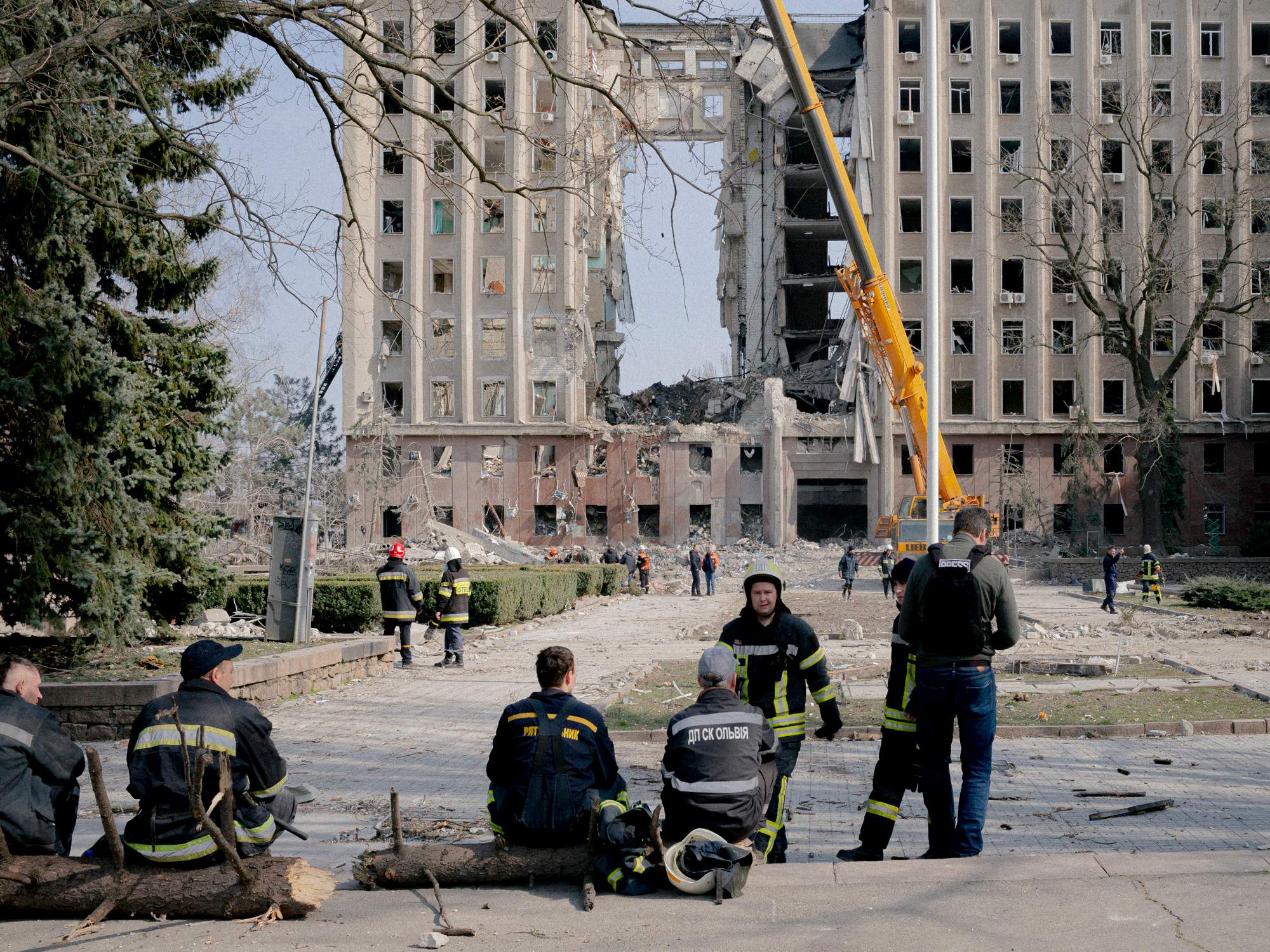 Sydorchenko won't return to Irpin any time soon. She had planned to sell her flat to furnish a new one that is under construction in another suburb southeast of Kyiv; though the area hasn't been affected by the fighting, the construction company has stopped all work on it because of the war. With no idea when or if her home will be completed, she has registered on Diia, a mobile app that Ukraine's president, Volodymyr Zelensky, launched last year as a new way to access many public services. Now the state is asking all Ukrainians who have lost their homes to register on the app to receive compensation. "I have doubts that we will receive any sort of reimbursement or that our flat will be rebuilt," says Sydorchenko. She cites a song by Ukrainian band Odyn v Kanoe, "I Have No Home", which has become something of an anthem here. "I feel like I'm in that song," she says.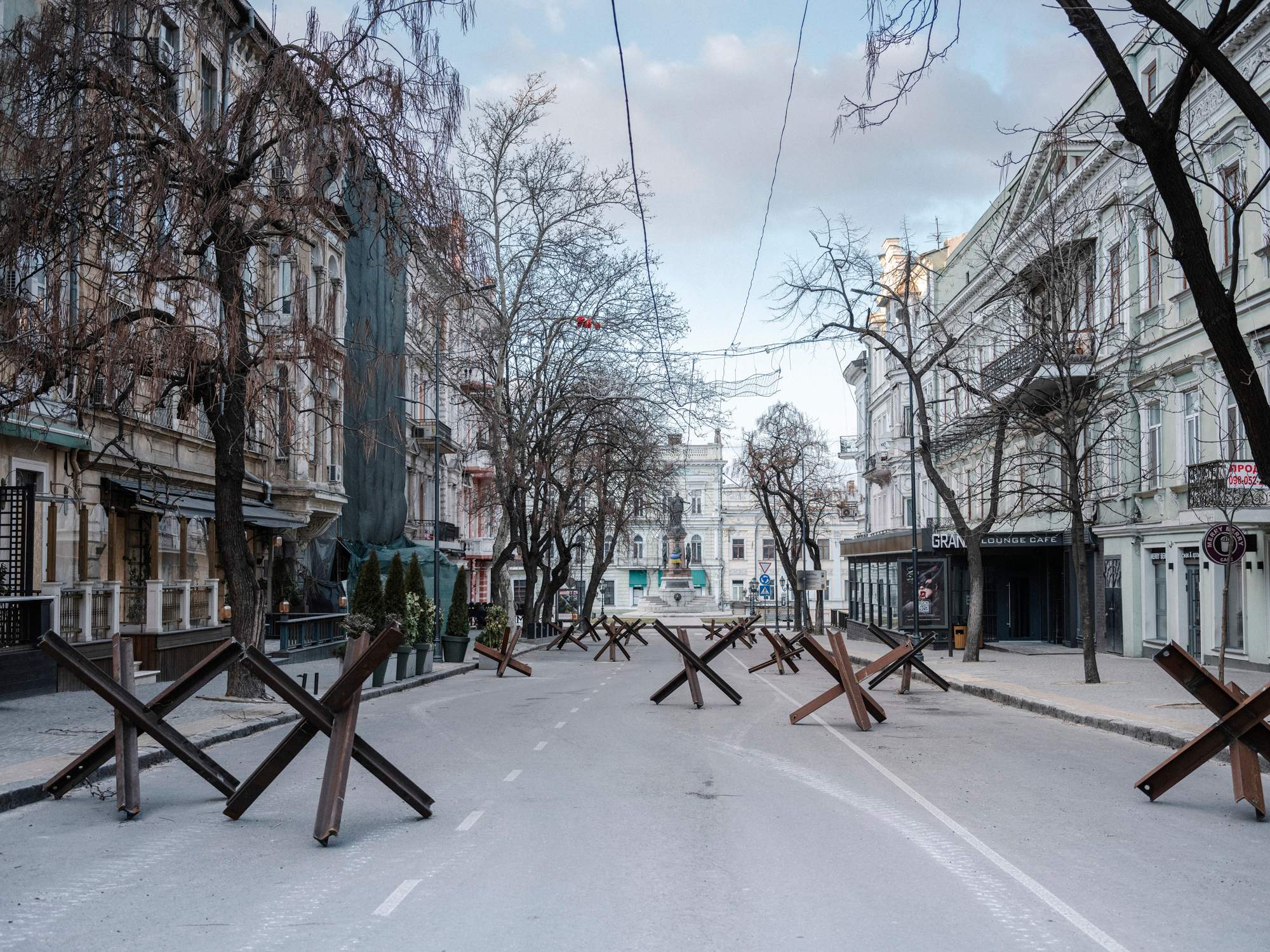 So who will rebuild Ukraine? The country's infrastructure minister, Olexandr Kubrakov, says that all Ukrainians who have lost their homes and registered with the state will receive assistance in the form of property repairs or help finding new accommodation. At least 329,000 Ukrainians have already registered with the Diia app. But Kubrakov says that the project to rebuild the country is, for obvious reasons, in its very early stages and that ahead of working on homes must come restoring damaged logistics and supply lines. "Currently our focus is on establishing connections between oblast [regional] centres," he tells monocle from Kyiv. "We need to make sure that the postal services work properly and that food can be delivered," he says. "We need to rebuild roads, railways and about 300 bridges that have been destroyed. For now, we are making temporary bridges, clearing up the debris and burnt military equipment." 
"All of the people living in these damaged cities are working every day – rebuilding, repairing and cleaning up the streets"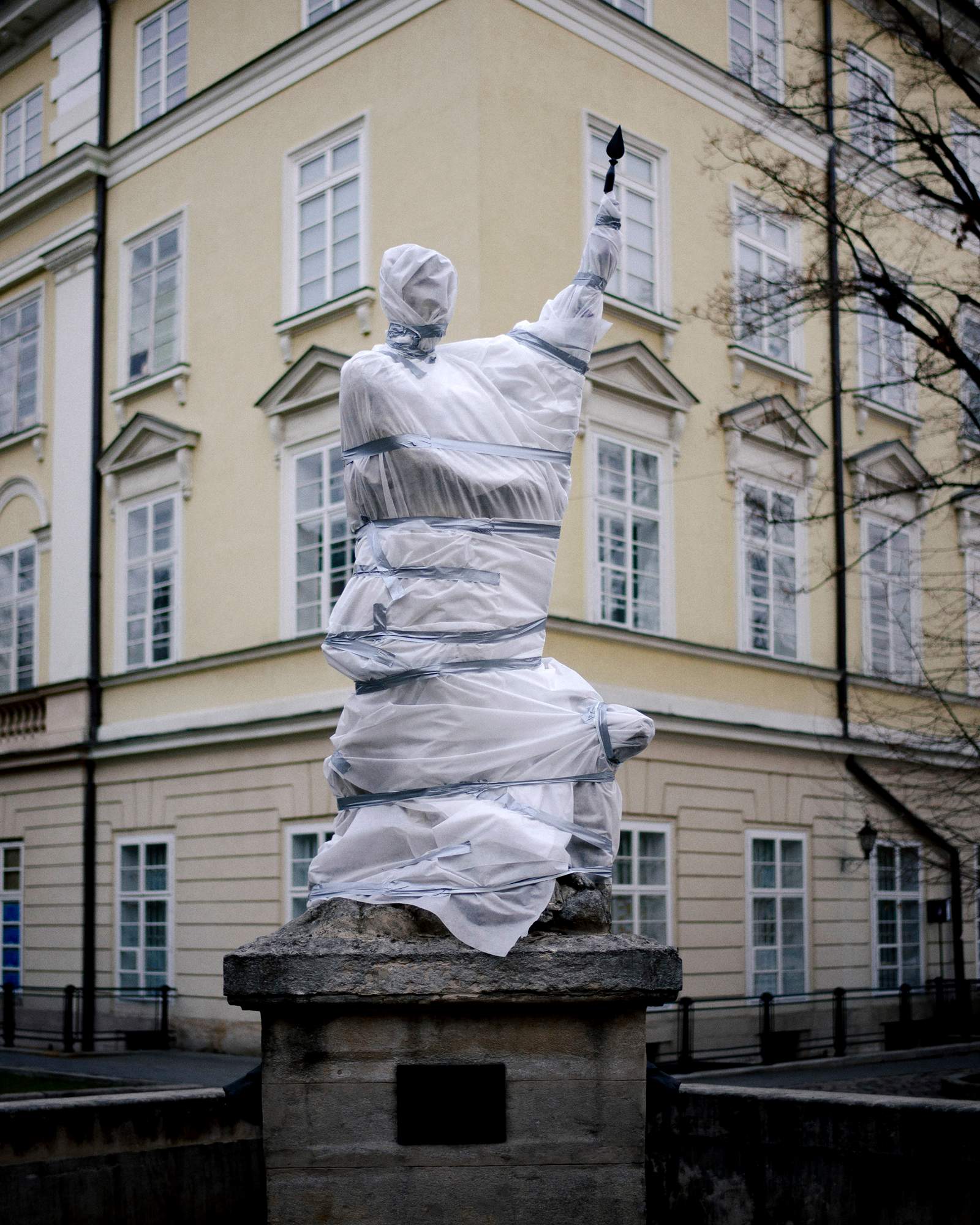 No Ukrainian port or airport has been spared by Russian bombing. Kubrakov estimates that the losses to Ukraine's transport infrastructure alone amount to about $88bn (€80bn). The next step involves rebuilding homes in northern areas that have been liberated from Russian occupiers, such as Kyiv, Chernihiv, Sumy and Zhytomyr. "We plan to build temporary housing so that people can return soon," he says. "We are in constant touch with the Ukrainian military and it will give us clearance to go ahead when it's safe. Of course, the risk of a new escalation remains. We will have to get used to it."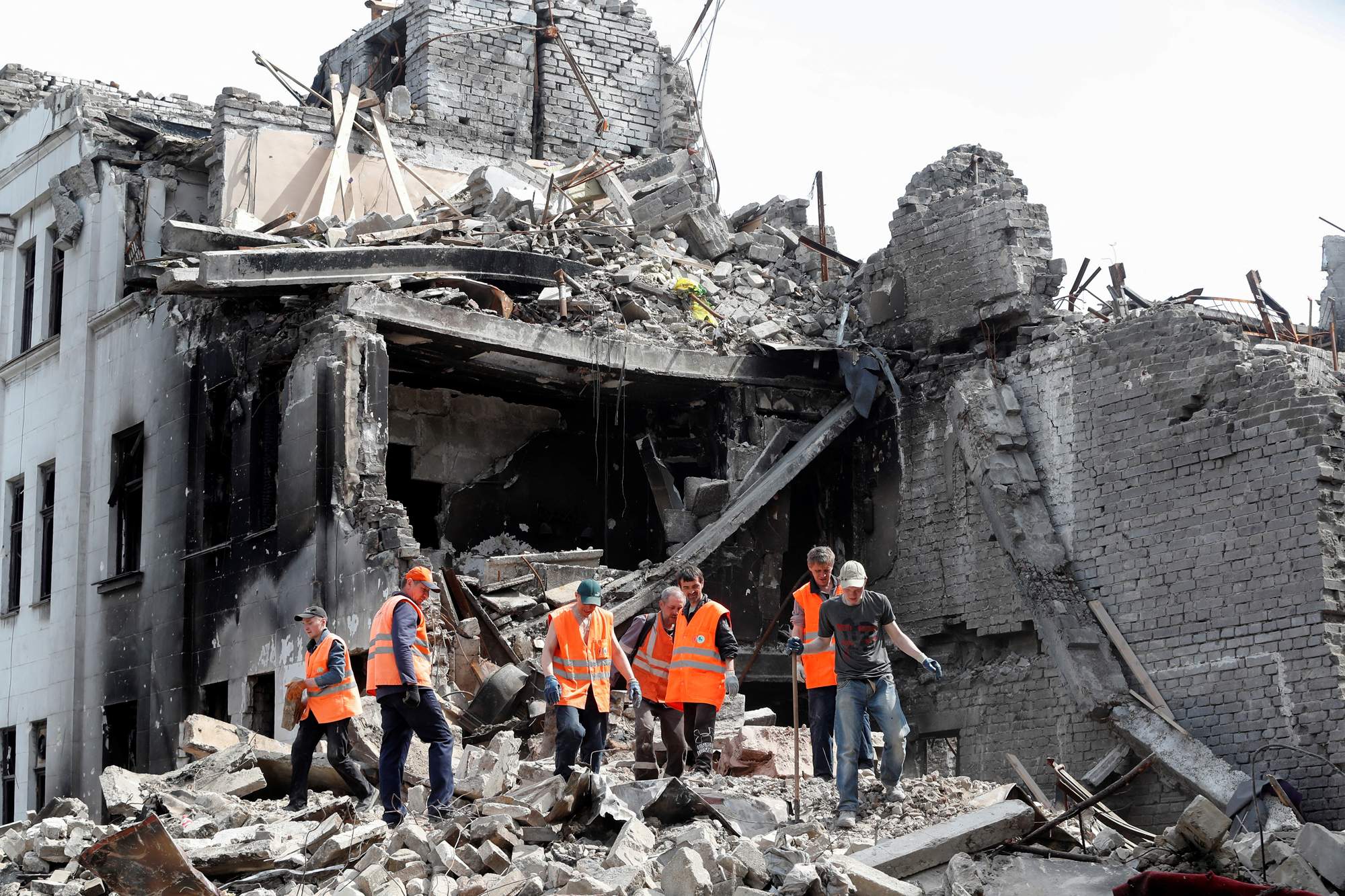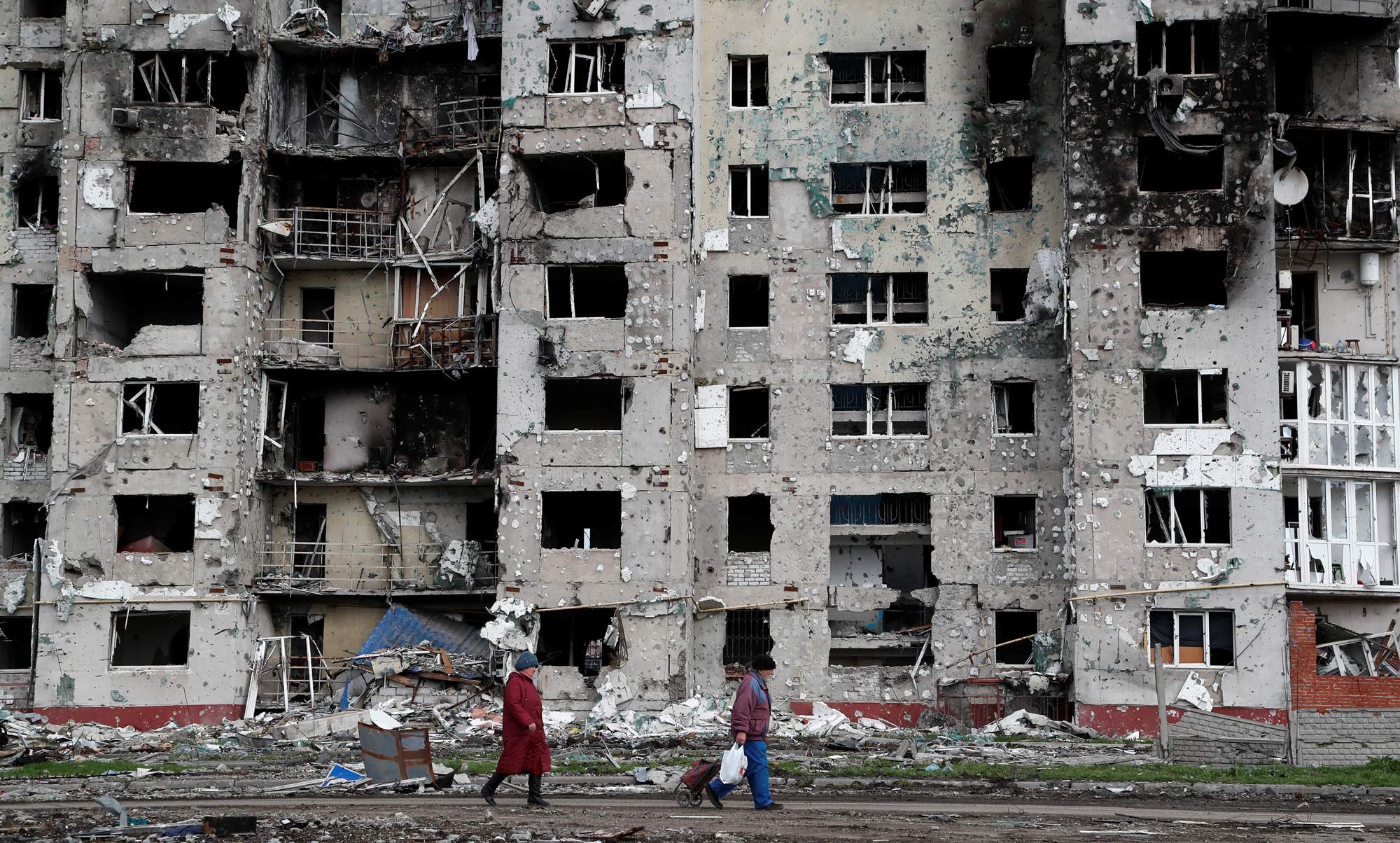 The rebuilding process will inevitably start with "temporary aesthetics", says Slava Balbek, Ukrainian architect and founder of Balbek Bureau, a design studio that employs 75 people in Kyiv. Balbek has been busy creating a platform, Re:Ukraine, of architectural designs culled from across the world for temporary but comfortable housing solutions that can be implemented in Ukraine. "I'm not thinking like an architect right now – I'm worrying about the people," he says. Balbek explains that most Ukrainians he has spoken to are not only determined to stay in the country but are seeking shelter near their shattered cities. "They want to be close to their homes and to their friends," he says. "All of the people living in these damaged cities right now, down to the butcher, are working every day. They're rebuilding, repairing and cleaning up the streets. That's the connection between Ukrainians. They're helping each other." 
Ukraine's economic output is likely to contract by 45 per cent by the end of 2022 and the sums that it will require for the country to rebuild are already staggering. In April, Zelensky told global finance ministers that his country needed about $7bn (€6.65bn) in foreign aid each month just to keep afloat, while estimates of what will ultimately be required to rebuild are in the region of $600bn (€570bn) and climbing. The figure is nearly four times that of Ukraine's annual economic output. 
Ukraine's Western partners have been quick to respond to the country's appeals, says Kubrakov. "The UK has committed to help with rebuilding Kyiv. That is very important because Kyiv and the wider region used to produce about 30 per cent of Ukraine's gdp. We need to restore normal life as soon as possible." The EU has also promised to take responsibility for the country's reconstruction; nations such as Italy and Greece have pledged to rebuild the port city of Mariupol on the north coast of the Sea of Azov, should it be recaptured or handed back by the occupying Russians. Barry Eichengreen, a US economist and former senior policy adviser to the International Monetary Fund, compares the scale of what is needed to the postwar Marshall Plan for western Europe. He recommends creating a dedicated EU-led reconstruction agency to manage the endeavour, just as the US did in the mid-20th century. It is crucial, he says, to secure global funding commitments to rebuild now, "because attention fatigue will set in sooner than we think". An annual reform conference on Ukraine, which has been running since 2017, will probably be refashioned as a Ukraine reconstruction conference when it is held in Lugano, Switzerland, in July. 
Most Ukrainian companies aren't thinking about rebuilding just yet. They are too busy helping to ensure that supplies keep flowing to support the war effort. The construction giant Kovalska, a major concrete and building materials manufacturer, has lost one of its production plants in the Kherson region to Russian occupation but another of its plants in Chernihiv could be operational again soon. Its ceo, Sergii Pylypenko, says that Kovalska has donated more than $1m (€950,000) worth of building materials that were stored in its warehouses. He also speaks proudly of Kovalska's sand being used in the bags now protecting landmark monuments in Kyiv and across Ukraine. The company has given away concrete slabs and reinforced blocks; it has lent people concrete mixers to build roadblocks to impede Russian forces. "We opened our warehouses to the Ukrainian armed forces and territorial defence units," says Pylypenko. "One week into the war we launched the production of anti-tank 'hedgehogs'.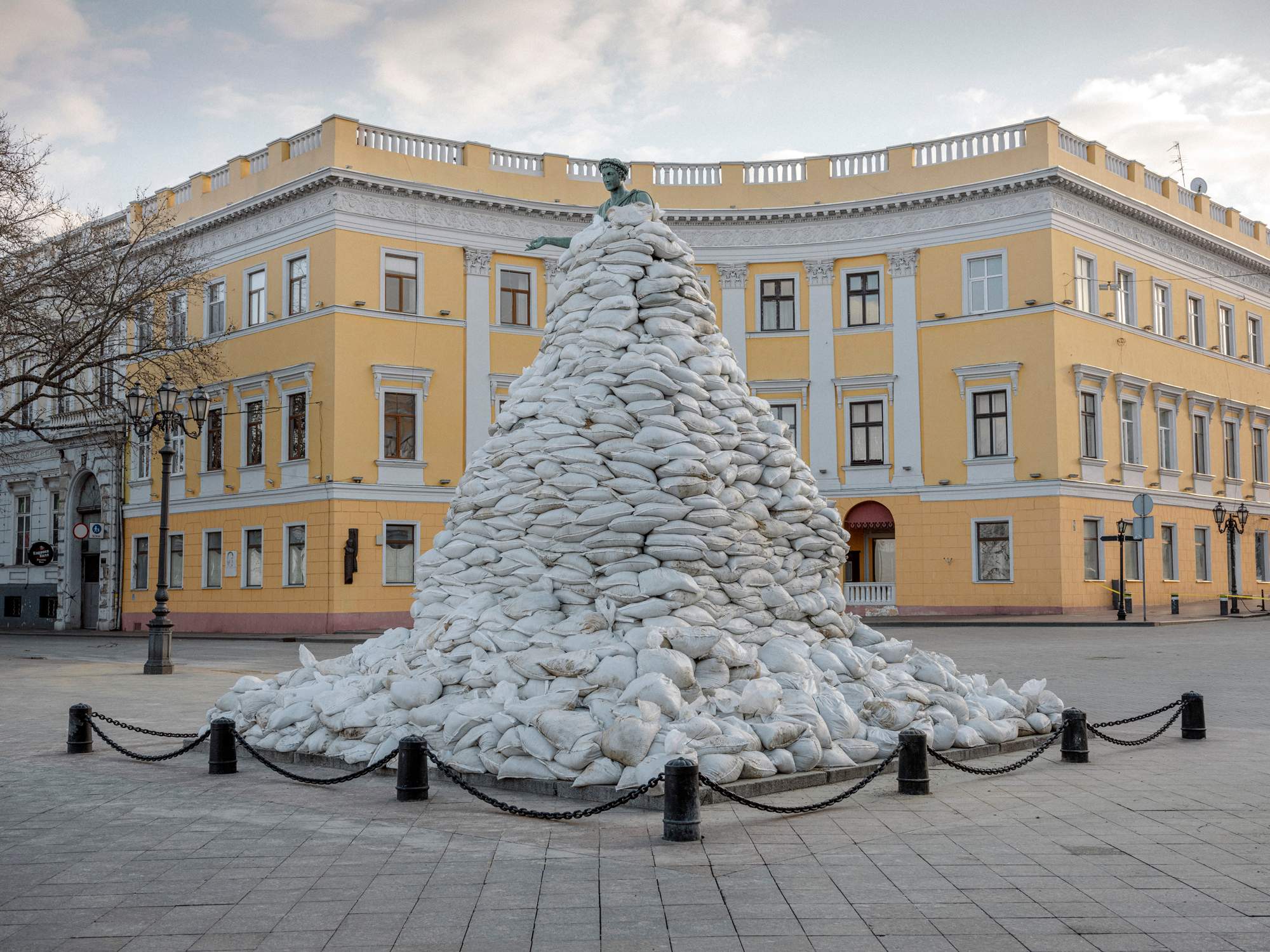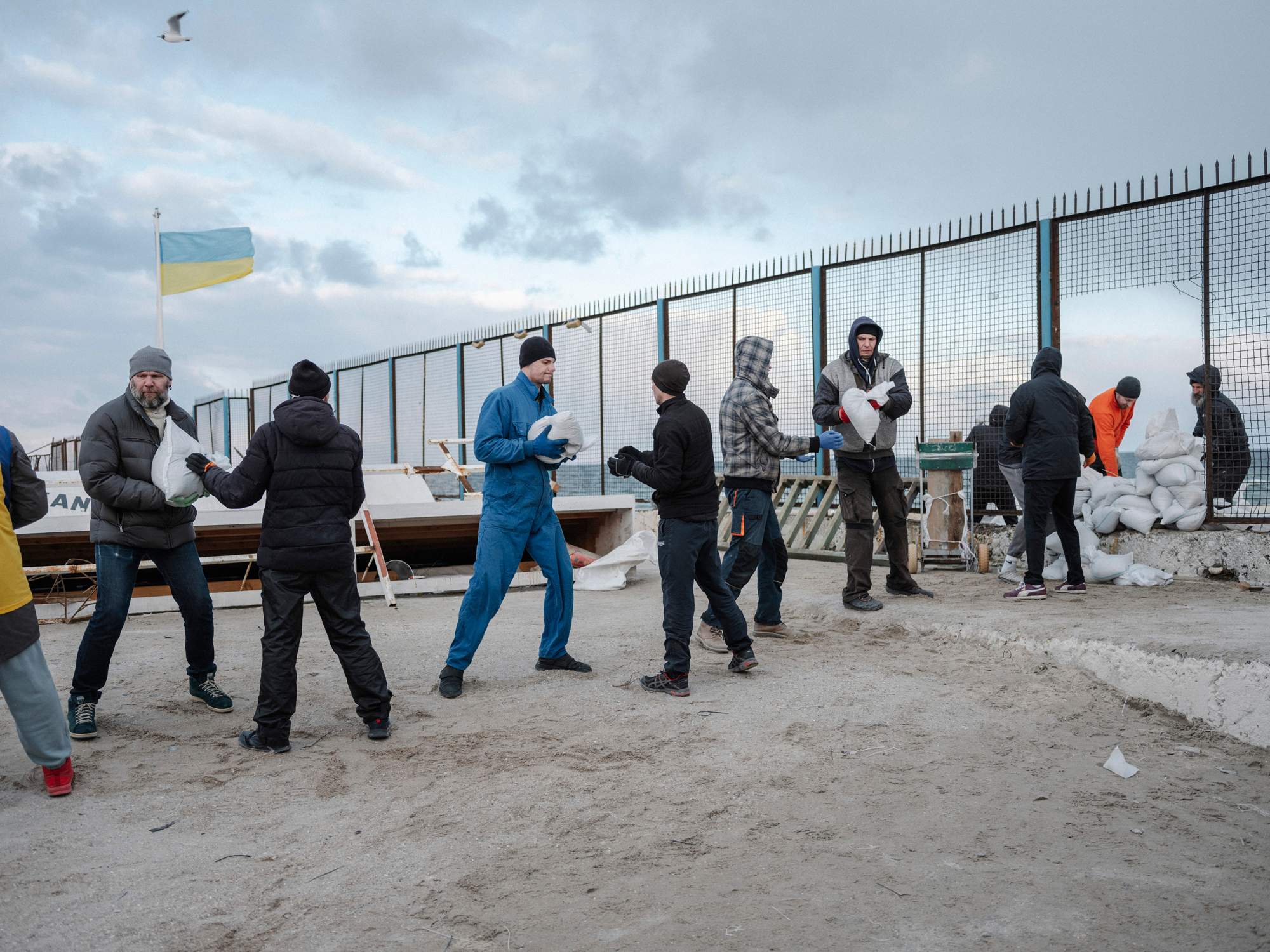 Our employees were literally living at the plants, sometimes under shelling."
With fighting still ongoing, Pylypenko says that it's too early to launch a large-scale rebuilding effort in Ukraine but he hopes to eventually be a crucial player. "Our manufacturing potential is preserved and we can restart our plants at any time," he says. "Our priority is to become a key pillar in the rebuilding of Ukraine. We can provide building materials and ready-to-implement solutions. We would like to participate in the state-led effort of housing reconstruction when the time comes. Unfortunately, it hasn't come yet." 
Domestic companies have taken the lead in delivering humanitarian and military supplies to the front lines and, with Ukraine's ports blocked, creating new land routes via Poland. They have done far more than international humanitarian organisations that were wrong-footed by renewed conflict in Europe, according to Roman Waschuk, Ukraine's business ombudsman and formerly Canada's ambassador to Kyiv. "It's mostly indigenous networks that are keeping things going," says Waschuk. "That's why they are the ones that are likely to be able to pull off parts of the next phase." Some international firms that decided to stay in the country despite the invasion – Polish or Turkish construction companies like Onur, for example – will also reap the benefits, while foreign companies parachuting in with solutions after the fact can expect to be closely watched. "What I would expect to happen in the early recovery and reconstruction phase is that there will be a change in the relationship with the state, both from the point of view of citizens and business," says Waschuk. "Obviously, engagement with the international community will be very important; we have already seen some announcements of funding commitments in different configurations and formats. But you will see a Ukrainian state, society and business community that will not want to be talked down to by internationals."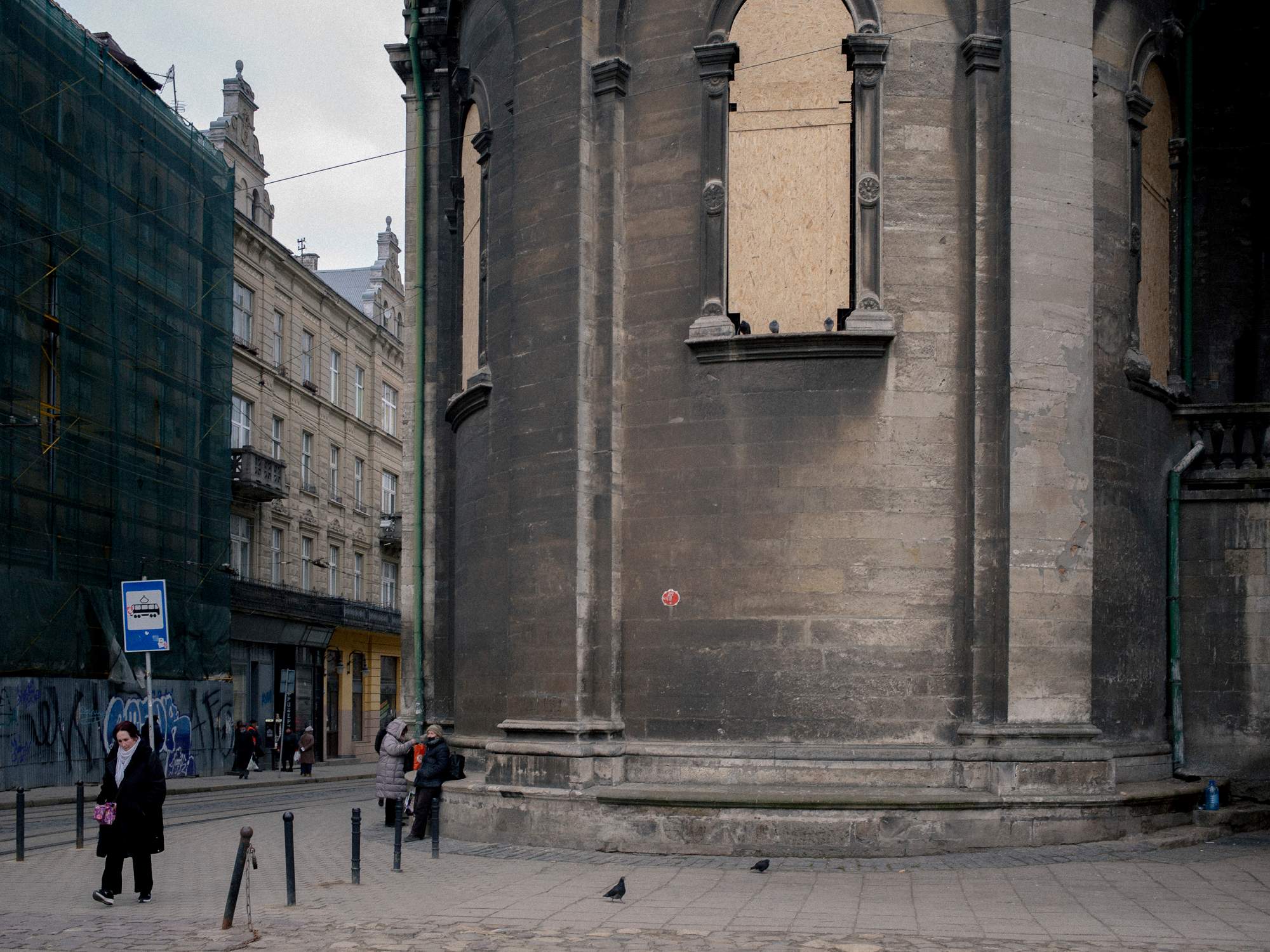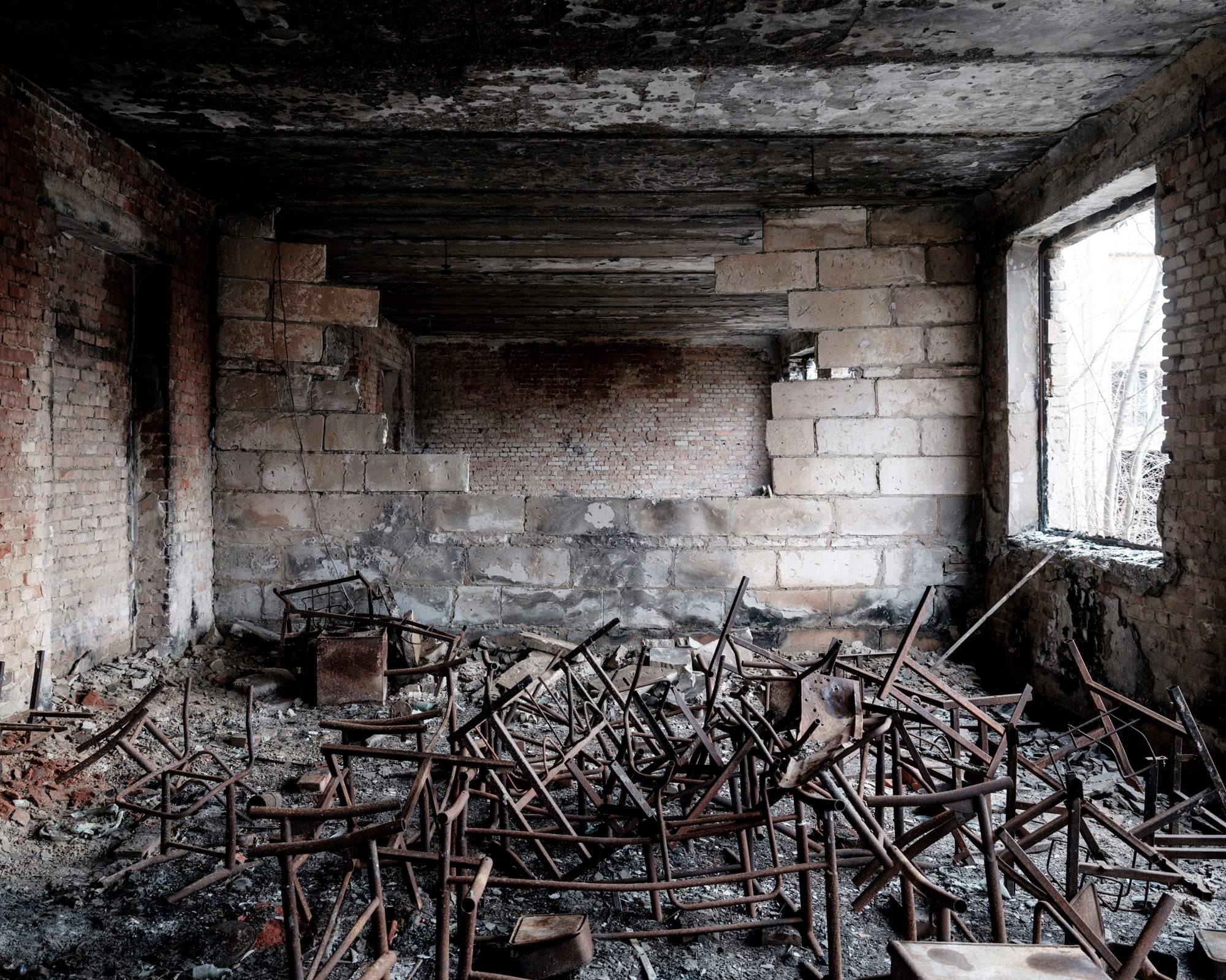 The complexity and scale of the rebuilding that lies ahead have left some in Ukraine cautious about gestures from foreign design and construction firms. And it's not just a matter of who manages the effort; it's about setting out a clear plan for the country's future. "We not only want to restore what has been destroyed," says Kubrakov. "We want to revamp the country, to make it modern, to make our cities comfortable and safe. These are the priorities. We will need to build bomb shelters and to introduce additional safety provisions on public transport and in civilian infrastructure but it should be a complex endeavour. We cannot rebuild part of the city and leave other parts unchanged." 
Beyond the practical steps, it's also about delivering on a vision that suits the country and its future. "Ukraine is still in a transition period from a post-Soviet state into something new," says Iryna Matsevko, deputy vice-chancellor of the Kharkiv School of Architecture, the country's first private institution of its kind. "We don't even want to use this word 'rebuilding'. We can't rebuild the past – that would be the wrong way."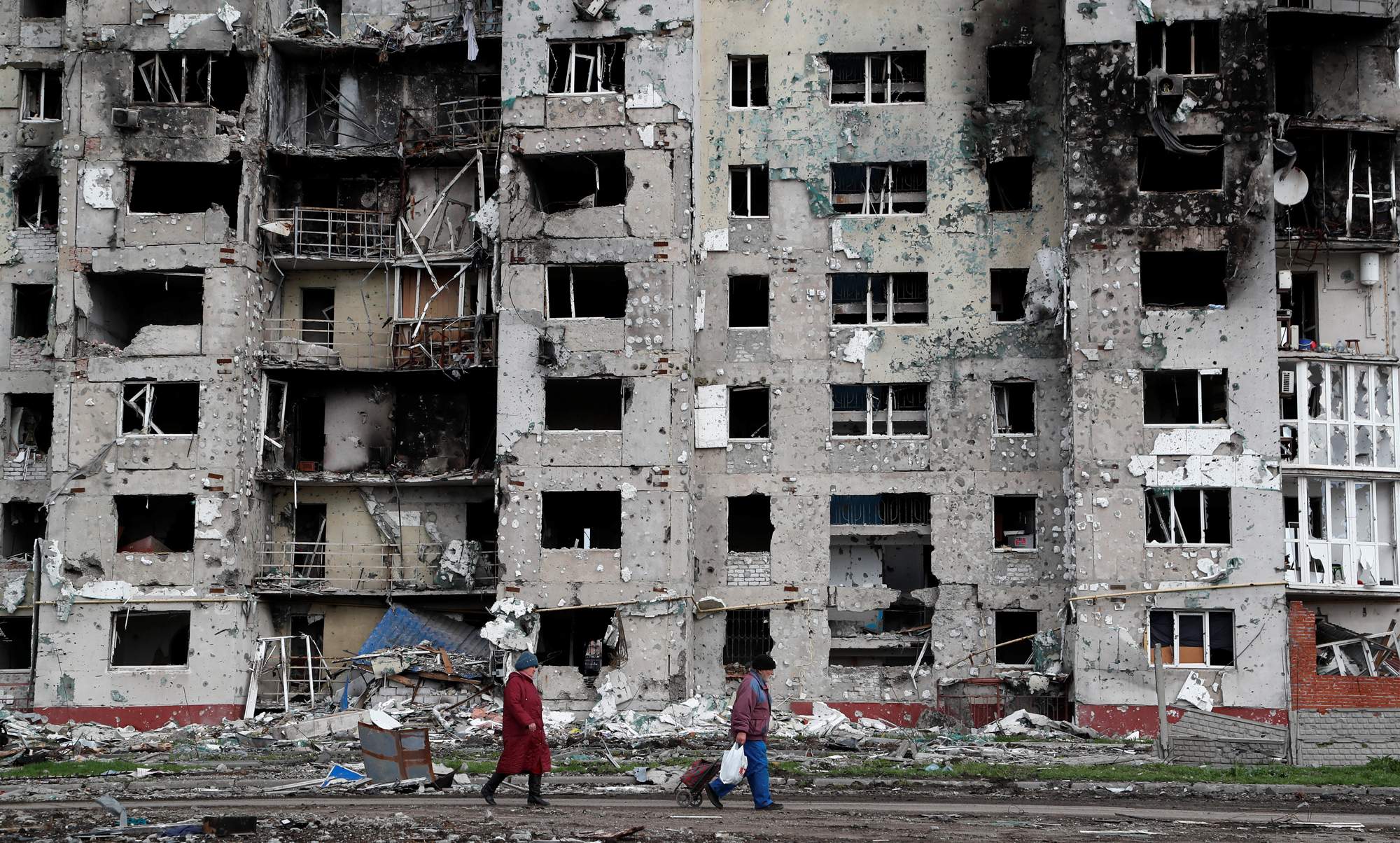 What's important, says Matsevko, is to keep intellectuals in the country. That's why the architecture school relocated to Lviv when the war began rather than going further afield, despite receiving several offers to move the campus abroad. Classes returned virtually within about a week of the invasion. Matsevko says that it's crucial that Ukraine discovers its own architectural identity. Kharkiv, once the heart of Soviet modernism, reflects both the country's architectural traditions but also what needs to be reshaped. "We are trying to get rid of one form of colonial thinking – the post-Soviet kind – but the danger is that we could just become part of another if people from abroad who don't know Ukraine come to us with solutions."
Above all, Ukraine must take its time. "It's very, very hard to instantly have a vision of our future," says Matsevko. "For me, it's important not to hurry when the war is over," she says. "We'll need to make some decisions that are urgent and temporary but this is a chance for Ukrainians to rethink ourselves: who we are, where we are, where we want to go. This is a long-term process. It's a big challenge but it's also a chance for us to build our new identity."
---
Lessons from Beirut
Don't let profit trump the people
After 15 years of fighting the Lebanese capital emerged from civil war in 1990 with urgent questions. What should be reconstructed and how? And who would do it? Several studies were conducted to address the issue and only one thing seemed certain: that the Lebanese government couldn't foot the bill. After much back and forth, then-prime minister Rafic Hariri founded a company called Solidere in 1994 to manage the reconstruction and development. It was handed the daunting task of rebuilding 191 hectares of Beirut's city centre. Solidere was conceived as a public-private partnership but many bristled at the idea of a private company taking the reins – and likely the profits – of the rebuild. Nevertheless, parliament approved a master plan in which Solidere would design and build public infrastructure, from roads and sewage systems to drainage, electricity and telecoms. The payoff? It was allowed to develop prime real estate, which could be sold for profit. 
What followed were decades of planning, excavations, restoration and construction that continue in fits and starts to this today. While the investment has rebuilt much, the company's need to generate profits has pushed real-estate prices higher and alienated many of the people who need essential services the most.
Roiling civic conflicts and dissatisfaction with politicians led to an uprising in November 2019 that took place in downtown Beirut. Vandalism and destruction made clear the animosity towards the way in which the reconstruction was being handled.
The success of the rebuild to date is dubious. Beirut today is at a standstill, plagued by a corrupt government, the collapse of the banking system and a devaluation of the Lebanese lira. The Beirut Souks, designed by Spanish architect Rafael Moneo, sit empty. The 298 restored French mandate buildings have been emptied by the political insecurity. The site of Renzo Piano's Beirut City History Museum on Martyrs' Square – where the Green Line once divided the largely Christian East Beirut and the predominantly Muslim West Beirut – is desolate and bare. 
The lack of a truth and reconciliation committee to put the city's fabric in context and let the city heal seems to be an obvious failure now, as does the futility of simply commissioning a new city from scratch without consulting communities and leaving space for spontaneity. But none of these factors needed to mark the shortcomings of the rebuilding project.
The lesson is that no plan can succeed without sound and legitimate governance and community participation. A trusted body must be in place that can collect international aid and negotiate loans. Postwar reconstruction is a long process that goes beyond the built environment into how residents feel about the place they live, the people with whom they share the city and those who run the show.
---
Lessons from Sarajevo
Remember to rebuild memories too
This April marked 30 years since the beginning of the siege in which Serbian nationalist forces held Sarajevo, the capital of Bosnia and Herzegovina, for four years – the longest siege of a European city in modern history. Residents lived under a barrage of artillery, mortar and sniper fire that caused the deaths of more than 10,000 people. If hosting the Winter Olympics in 1984 is the city's proudest achievement, then the shattered bobsleigh track on Mount Trebevic is a symbol of its continued anguish.
In some significant ways, Sarajevo's reconstruction was remarkably rapid. The siege ended on 29 February 1996. Initial assessments found that almost two thirds of the city's buildings had been damaged, as well as 80 per cent of its water and electricity infrastructure. But by the end of 1998, the city was, in effect, fully functional.
"I was surprised how quickly it happened," says Sarajevo resident and journalist Aida Cerkez, who covered the siege for the Associated Press. "I remember people crying when they came back. They saw that the city had been destroyed and there weren't even any trees. But the world somehow got together to fix it – and the Japanese brought some fantastic trees."
The international effort brought in billions of dollars in donations for reconstruction, with the World Bank, the US and the EU among those chipping in. The initial priority was glass: replacing shattered windows in government buildings and offices, before moving on to residential buildings. The lights went back on in parallel. By the end of 1998, two years after the siege ended, the electricity network was running at close to its pre-war capacity.Though this concentrated period of reconstruction restored Sarajevo as a liveable city, some of the sites that were most important to its residents remained in ruins for years. The city hall only reopened in 2014 after a 12-year restoration process and the cable car up Mount Trebevic finally started running again in 2018.
For Cerkez, that was the moment when Sarajevo truly rose from the rubble. "When the cable car reopened, it was as though our souls had been reconstructed. Something inside of us slipped back into place. It's one thing to reconstruct roads and infrastructure. But this reconstructed people's memories."
That, perhaps, is one lesson of Sarajevo: it takes more than bricks and mortar or concrete and glass to rebuild a city.
---
Photographers: Alexander Ermochenko; William Keo and Emin Özmen at Magnum Photos