The Agenda / Global
The Comment
As Sri Lankans mark the country's new year, protesters are campaigning for a fresh start.
society ––– sri lanka
New beginnings
Tanya Warnakulasuriya on how Sri Lankans are uniting in peaceful protest in the face of corruption and power cuts.
---
Suba aluth awuruddak wewa! Happy Sri Lankan new year from Colombo. Well, not exactly happy… The country is going through the worst economic crisis in its history. On New Year's Day – 14 April – the traditional over-boiling of milk (symbolising prosperity) and festive family feast are impossible. The country has run out of gas and anyway many have no rice or milk to boil with it. 
Sri Lankans have had their fair share of hardship over the past few decades: 26 years of civil war concluding in 2009, the Boxing Day tsunami in 2004 and a terrorist attack in 2019 that killed 269 people. But today's pain – of daily 13-hour power cuts, queues for fuel and severe shortages of food and medicine – comes from decades of malfeasance rather than acts of god or war. 
I write this sweating in tropical heat as a five-hour power cut brings Colombo, a city of nearly six million, to a standstill. The half-cooked chicken will have to be binned. My partner, stranded for three days in the south, is queuing for petrol to come home. This morning I went to five pharmacies searching for my mother's medication. 
In a way, the Sri Lankan people's legendary stoicism hasn't helped, as it has allowed the political elite to get away with their corruption for too long. But you can't blame people for keeping schtum. Dissenters are routinely bundled into white vans, never to be seen again. According to the United Nations Working Group on Enforced or Involuntary Disappearances, some 60,000 to 100,000 people have disappeared since the 1980s. We have been conditioned to humbly defer to the powerful. Even our flag depicts this pervasive subservience: the sword held by the lion symbolises authority. That very sword is what now threatens us.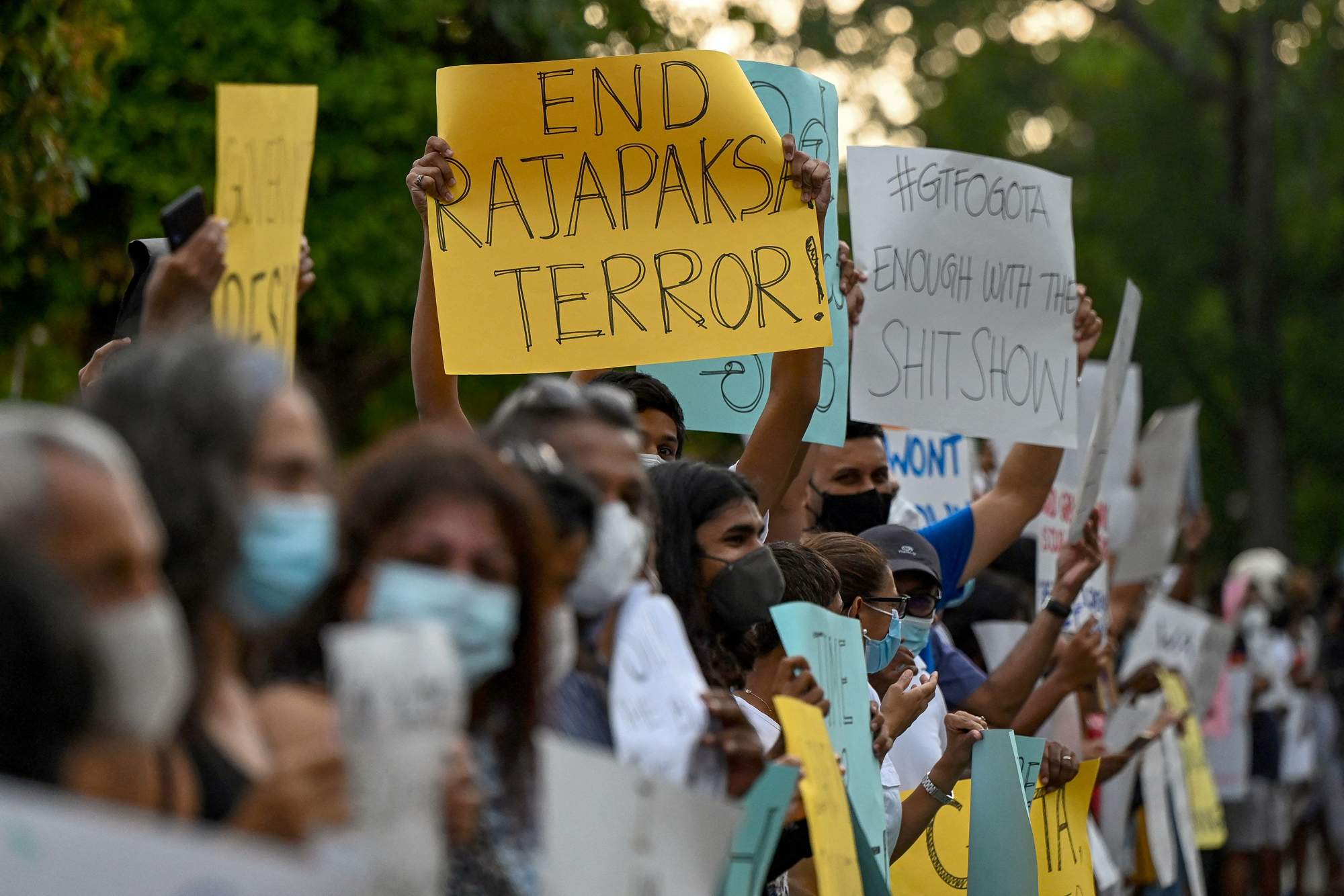 The venality of past Sri Lankan governments has been expounded by the incumbent Rajapaksa administration. Headed by president Gotabaya and his prime minister brother Mahinda, it's like a bad family-run business. When Basil Rajapaksa, another brother, was serving as finance minister – he has since been sacked – he spent the country's foreign reserves on vanity projects. Then, struggling to find money to keep the economy afloat, he decided to buy essential food, medicine and fuel imports on credit and simply print more rupees. The currency has depreciated so much that it's not worth the imported paper it's printed on. Sri Lanka defaulted on all of its foreign debt, then credit lines and importers halted supplies. When people complained about rice shortages, irrigation minister Chamal Rajapaksa (pictured, centre, with Mahinda, on left, and Gotabaya), yet another brother, did a Marie Antoinette, announcing, "If you don't have rice, eat manioc [the root vegetable cassava]; it's good for cancer." Needless to say, it's not.
Since March, "Go Home Gota" has been chanted by Sri Lankans of every age, ethnicity and religion. Descending on the capital, they march in common sufferance, demanding the president's resignation. Sri Lanka's religious and ethnic communities have always been pitted against one another for political gain. But not today. Reminiscent of Gandhi's movement of non-violent civil disobedience, Sri Lanka's new collective voice is peaceful, compassionate and brave. There is no looting, no rioting, no violence. Citizens embrace tearful police, and protesters can be spotted cleaning the streets. Commuting vehicles sound supportive horns, restaurants hand out refreshments and everyone, including the three million Sri Lankans abroad, shares and comments on social media. 
As Sri Lankans rang in the new year, religious leaders worshipped in solidarity with protesters, as the date coincides with holy days of all four national faiths (Buddhism, Christianity, Hinduism and Islam). We don't know what our political future holds. But we now know that when we unite against corruption, there is a better way. This might not be a happy new year but it could be a watershed one.
---