Affairs: Fantasy cities / Global
Cities, slicker
Neglected industrial parts of cities, from Rome to Istanbul, are in the throes of thrilling regeneration.
Eternal life
Campo Urbano, Rome
Is it possible to create a truly mixed-use urban district that provides quality housing, offices, a hotel, an energy centre and plenty of retail, all on a difficult brownfield site near the centre of one of the world's most notoriously development-averse cities? Yes, according to the architects, developers, designers and other stakeholders that have put together the Campo Urbano proposal for a scruffy industrial site around Rome's Tuscolana railway station. c40, a respected global network of mayors, seems to agree.
"Tuscolano has many of the ingredients to be a great neighbourhood"
"The Campo Urbano team were good on everything, across the board," says c40's director of urban planning and design, Hélène Chartier. So good, in fact, that in 2021 the project won c40's Reinventing Cities competition, an initiative to stimulate sustainable urban development.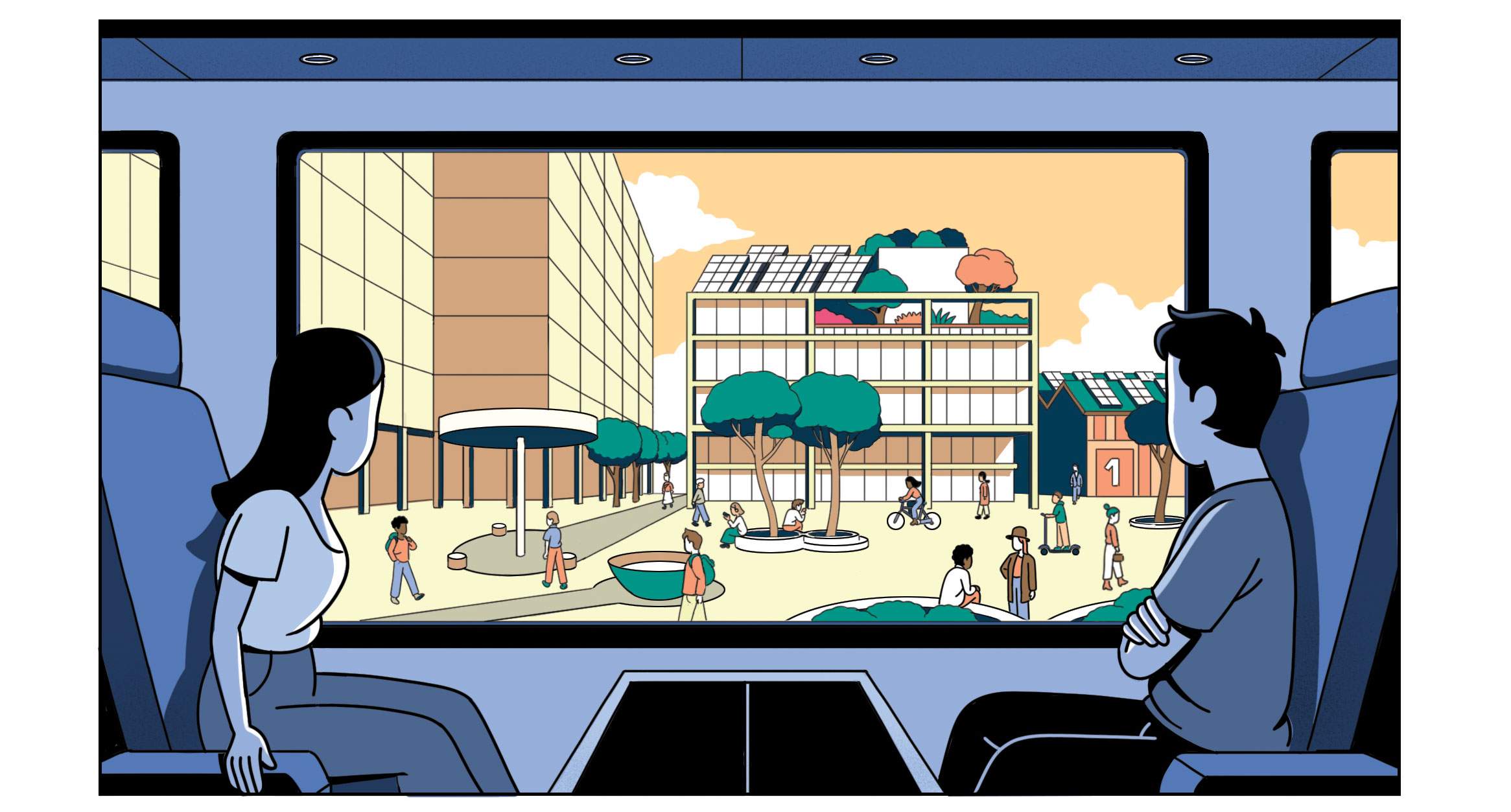 So could Rome finally be waking up to its potential? Perhaps the most fundamental aspect of the Campo Urbano project is its site. Like countless other places in Rome, Tuscolano has many of the ingredients to be a great neighbourhood. It's close to both the centre and thriving outer hotspots, such as Pigneto, and has all the pleasant trappings of urban life in Italy. Indeed most streets here still teem with small shops, pizzerias and people. It is also (unusually for Rome) well served by rail and metro links. However, as lead architect Tommaso Franzolini says, walking past graffiti and a potholed carpark in front of the station, "It just feels like a bit of a no-man's-land." Franzolini is a member of London-based architecture and interior design studio Arney Fender Katsalidis which, together with Rome-based developers Fresia RE, lead the Campo Urbano consortium. 
The problems that cause this kind of urban blight are many and solutions tend to be inherently complex, especially in Rome, where municipal mismanagement has let the city crumble for decades (see Issue 124). However, Franzolini and his impressively interdisciplinary team are aiming to bring together the public and private sectors.
Campo Urbano will be "a landmark decarbonised urban development for Rome", says Franzolini, making an undeniably credible pitch. "Most importantly it will be a catalyst to do things differently."
Embedded in c40's competition rules is the need to have the broadest possible group of stakeholders from the beginning. Franzolini and Fresia RE have gathered designers, developers and experts in the fields of sustainability, engineering and mobility, as well as future residents, to create an economic proposal that is both deliverable and desirable.
The land for the new and repurposed buildings, and parkland for recreation and biomass-energy production, will soon be purchased from Sistemi Urbani, the property arm of fsi, Italy's state-owned railway company, which possesses a vast and often unused portfolio of urban assets. This aspect of the proposal makes it particularly important on a national level. Just about every Italian city, large or small, contains masses of unused former railway land.
Urban regeneration – like London buses – can be slow to arrive. Then, as if from nowhere, it all comes along at once. With added incentive in the form of generous environmentally beneficial new construction and retrofit tax incentives, mainly funded by Next Generation EU, the bloc's pandemic recovery fund, the sector is feeling flush. "We have so many Italian projects being submitted," says Chartier at c40's offices in Paris. "Italy is going crazy for this kind of development." Indeed, of the 12 cities involved in the Reinventing Cities competition, a list that includes Montréal, Houston and São Paulo, four are in Italy – Bologna, Milan, Naples and Rome. That's more than any other country.
"This will be a new Rome landmark, and a catalyst to do things differently"
By using the tools that are part of the Reinventing Cities application process, Franzolini and the Campo Urbano team have created a proposal that certainly ticks many boxes. Moreover, unlike many regeneration projects in the Eternal City, where red tape often leads construction to stall or be cancelled, this new neighbourhood will benefit from c40's strict delivery monitoring system, meaning that a prize winner must be built as specified in the pitch.
When it opens, Campo Urbano will be one of the best-served, best-connected and greenest places (literally and metaphorically) to live and work in Italy. "Rome is ready," says Franzolini, as he looks out at a neighbourhood that is ripe for development. sweeping his arms outwards, towards the future.
Building better
With San Francisco, Rome and Istanbul all turning fantasy into reality, here are three other cities planning to make dreams come true.
Tokyo: The area around Tokyo's Shibuya station, a cultural and transport hub, is set to be transformed with several new mixed-use skyscrapers currently under construction, and a pedestrian walkway with smart shops and plenty of greenery.
Sydney: Travel to Australia's largest metropolis will be revolutionised when the long-awaited Western Sydney International Airport opens in 2026. The state government is planning on making the area around it a regional industrial hub called Aerotropolis.
Berlin: An industrial wasteland north of the city's central station is being turned into a new neighbourhood, dubbed Europacity. When complete, it will be home to thousands of homes, a new school and plenty of green spaces.
Power to the people
Gasworks, Istanbul

Last July a 19th-century Ottoman-era gasworks in the Hasanpasa neighbourhood in Istanbul's Kadikoy district was reborn as Müze Gazhane, a massive museum and community space. The city's switch to natural gas had left the plant, at one time the main supplier of electricity on the Asian side of Istanbul, sitting empty since its closure in 1993. It was set to be torn down and replaced with yet another shopping mall until a residents' group, the Gasworks Environment Volunteers, paired up with Istanbul Technical University to reclaim it. After a 20-year battle, restorations began in 2015 and today the former industrial site powers the city's imagination – if not its generators.
Sprawled across 32,000 sq m, the complex is bursting with modern Turkish delights. The circular buildings at the rear end of the compound have been adapted into stages for concerts and theatre, while another one hosts the Cartoon and Comics Museum. The former furnace tower hovers over the venue like an eagle's nest and contains an observation deck on its upper level. There are two libraries (one of which is open 24 hours a day), a study hall, bookshop and workshop, which is available to use free of charge.
"Kadikoy has a very young population and there aren't many public areas to go to," says Sinan Caglar, who runs the space on behalf of the Istanbul municipal authority. "The avenue we are based on goes straight down to Sali Pazari district, which is filled with schools. Bogazici University dormitories are right across from us. This has become a lively area where young people can socialise, learn and study."
Elsewhere, a former warehouse has been converted into an art gallery, one of six such spaces dedicated to different disciplines. Currently on display is an exhibition, curated by Marcus Graf, of 85 Turkish painters from the municipality's collection. In September it will be used as one of the main venues for the Istanbul Biennial, the first such location on the Asian side of the city.
In front of the warehouse and adjacent to the main entrance in the piazza stands artist Kemal Tufan's statue, Soaring Towards the Blue, next to a former steel wagon. The cobalt-blue sculpture is one of seven in the vicinity, all commissioned by the municipality and all made from scraps of metal and rubbish found scattered across the shipyard in Halic.
"This is a former industrial site that powers the city's imagination – if not its generators"
As well as its sizeable cultural footprint, promoting climate awareness is also an important part of Müze Gazhane's role. The former gasworks boasts Turkey's first museum dedicated to climate change, a laboratory and an energy museum where visitors can learn about energy production through various interactive machines and modules. Fittingly, most of the new materials used in its construction were either recycled or salvaged.
After Turkey ratified the Paris Agreement in October, Istanbul's mayor, Ekrem Imamoglu, presented the city's customised climate-action plan at the Gasworks Museum. The following day, demonstrations in support of Cop26 took place there. Environmental organisations such as Roots and Shoots Turkey, the Yuva Association and iksv Alt Kat are using it for their workshops, conferences and events.
"Our intention is that this space becomes a hub for those working with climate change," says Caglar. "At this stage, it is a public service to promote climate literacy. Last year's sea snot that clogged up the Marmara sea shows how Istanbul is directly affected by climate change," adds Caglar, who is interrupted by the barking of a golden-haired street dog named Bal ("honey" in Turkish). "She has been here since 2015, it is her ground first," he says good-naturedly.
He points out the location of a soon-to-be-built children's playground that will be made from upcycled city waste. "This project is the outcome of one of our workshops, where the local community identified what was missing and decided what they required from the space." It is a testament to the venue's main mission, which is to empower people by bringing them together to learn about many things: music, theatre, the environment but, perhaps most of all, one another. 
---
Elevated living
Presidio, San Francisco
Children scamper around a wild maze while their parents relax on a sturdy driftwood bench. When a chill settles in, the family retreats to a roaring campfire before meeting a park ranger to study local rocks and plants. Is this Yosemite? Or Big Sur?
This is, in fact, the heart of San Francisco, the Presidio Tunnel Tops, a new 5.7 hectare park designed by New York-based practice James Corner Field Operations (jcfo) that replaces an unloved highway. It's a model for how to turn yesterday's infrastructure into tomorrow's urban oasis.
"In a world of increasing density and not adding to sprawl, inevitably we're going to start building more parks like this one," says Michael Boland, chief park officer of the Presidio Trust, which looks after the area.
"In a world of increasing density, it's inevitable we'll build more parks like this one"
The Golden Gate Bridge opened to much fanfare in 1937. Less heralded was the 2.6km viaduct that funnelled cars to and from the bridge. Why did officials build an elevated section of an otherwise surface-level road connecting their new landmark to downtown? They were just following orders. The southern foot of the bridge sits in the Presidio area of San Francisco, then an active military base.
"The motivation was to get people through without touching the ground," says Boland. Over 150 years the army transformed the grounds from windswept dunes to a verdant base. Since opening to the public, it has transformed into a paradise of trails and beaches. But Doyle Drive, as the highway was known, lingered as an eyesore and road hazard after an earthquake damaged its structural integrity in 1989.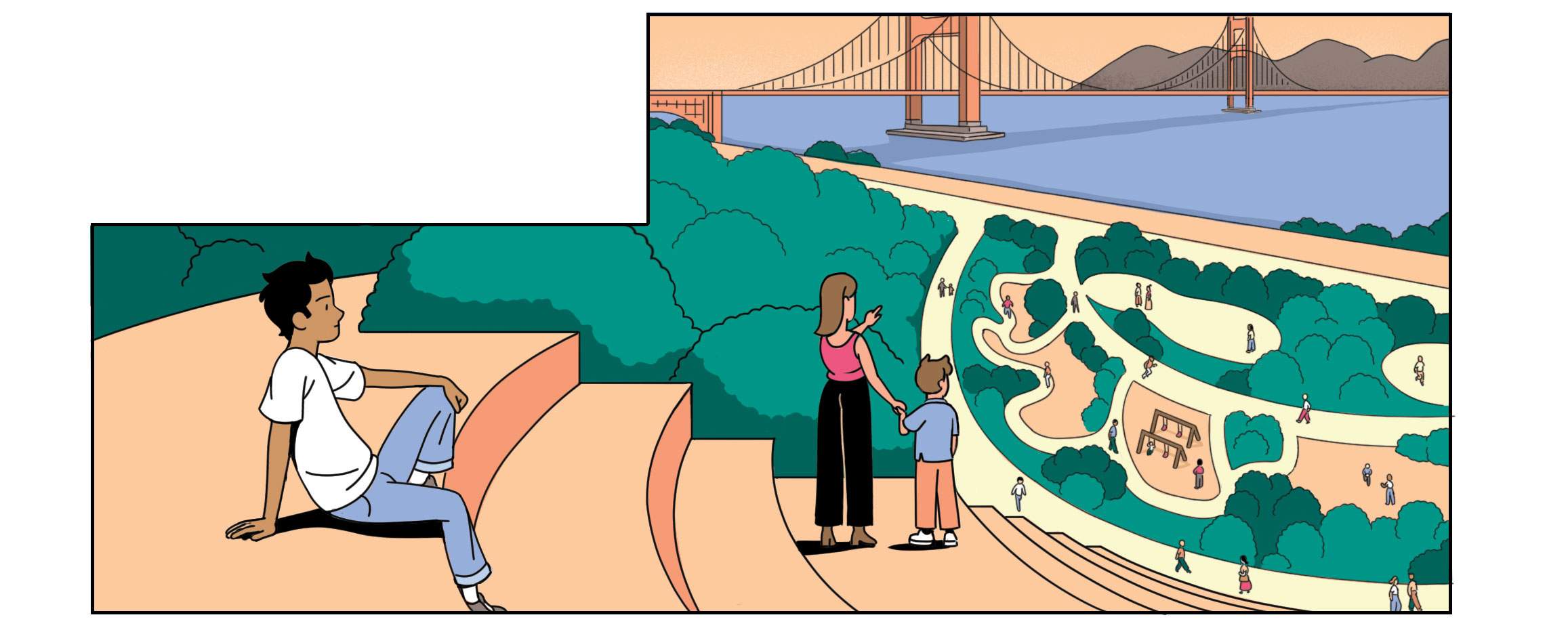 It took 20 years to tunnel a new road underneath at a cost of $1.1bn (€1bn). Doyle Drive finally came down in 2012. It took another 10 years to make something bloom in the viaduct's absence. From July, when Presidio Tunnel Tops opens, San Franciscans – and the 25 million annual visitors to the city – can enjoy the fruits of this 30-year labour. The park allows for unimpeded pedestrian access from the Presidio's stately grounds down to bayfront Crissy Field, a former army airfield restored as marshland and a grassy park in 2001. The Tunnel Tops also offers visitors panoramic views from the height of the former viaduct, more than 12  metres above the waterfront. That vista guided the firm's design philosophy.
"We were really restrained about the design so as not to detract from that view," says the project's lead landscape architect, Richard Kennedy. "We weren't looking to create big earthworks or sculptural forms that would occlude the scene."
Benches use wide planks rather than wooden slats. The pathways are made from exposed aggregate concrete in warm, sandy tan to resemble trails. A campfire circle recreates the quintessential national park experience. The new Presidio Steps connect the upper and lower sections, offering a terraced lawn and seating area before plunging into the park's most creative feature: a play area where children can climb on a series of logs and boulders. The playground, not part of the original brief, was envisioned through the project's public-engagement process and intended to make San Francisco more child-friendly.
By carving a new marquee park out of the wreckage of a derelict piece of infrastructure, San Francisco is showing that there's light at the end of the tunnels.