My cabinet: Depanneur / Copenhagen
Hit the bar
Inspired by Québec, taking Denmark by storm: this special bar and shop is a social hub that plays a unique role in its neighbourhood.
Mike Wittrup and Daniel Rørbaek met while studying advertising at Copenhagen's Danish School of Media and Journalism in 2010. "We found a good chemistry and good balance working together and decided to move to Montréal in 2013 to work as a creative team," says Rørbaek. It was here that they fell in love with the depanneur. A staple in cities across Québec, these small corner shops serve snacks, beer and coffee; their offering and owners playing an integral role in day-to-day neighbourhood life.
"In Montréal, the guy who ran the one near us was quite a character," says Rørbaek. "He was funny – a legend in the neighbourhood." Returning to Copenhagen, the duo set up their own creative studio, Barkas, but they also took inspiration from this "legend": when a vacancy at a small shop in the Nørrebro neighbourhood came up, they set up their own take on his establishment.
Called (you guessed it) Depanneur, it started as a small shop and bar serving beer and cocktails, and soon grew to include a line of products designed by Wittrup, Rørbaek and the Barkas team – beer first, then soft drinks, juice and coffee, and now a range that includes ceramics and clothing collaborations.
"At Barkas, we work with so many amazing brands from all over the world," says Wittrup. "But for us, this is a playground, where we can do things that we think are interesting as a brand, without having to ask for permission." Outgrowing its original space, Depanneur moved to a bigger location just around the corner in 2020.
"We know of eight couples that have met each other at Depanneur and now have children," says Rørbaek. "When we opened, it was a place where we, the Barkas office and our friends went. Then, all of a sudden, there was a big group made up of lots of different people – that's always been the atmosphere of Depanneur." It's an atmosphere that certainly lifts the mood on the streets in Nørrebro, offering the perfect model of a well-designed and design-minded neighbourhood shop and bar.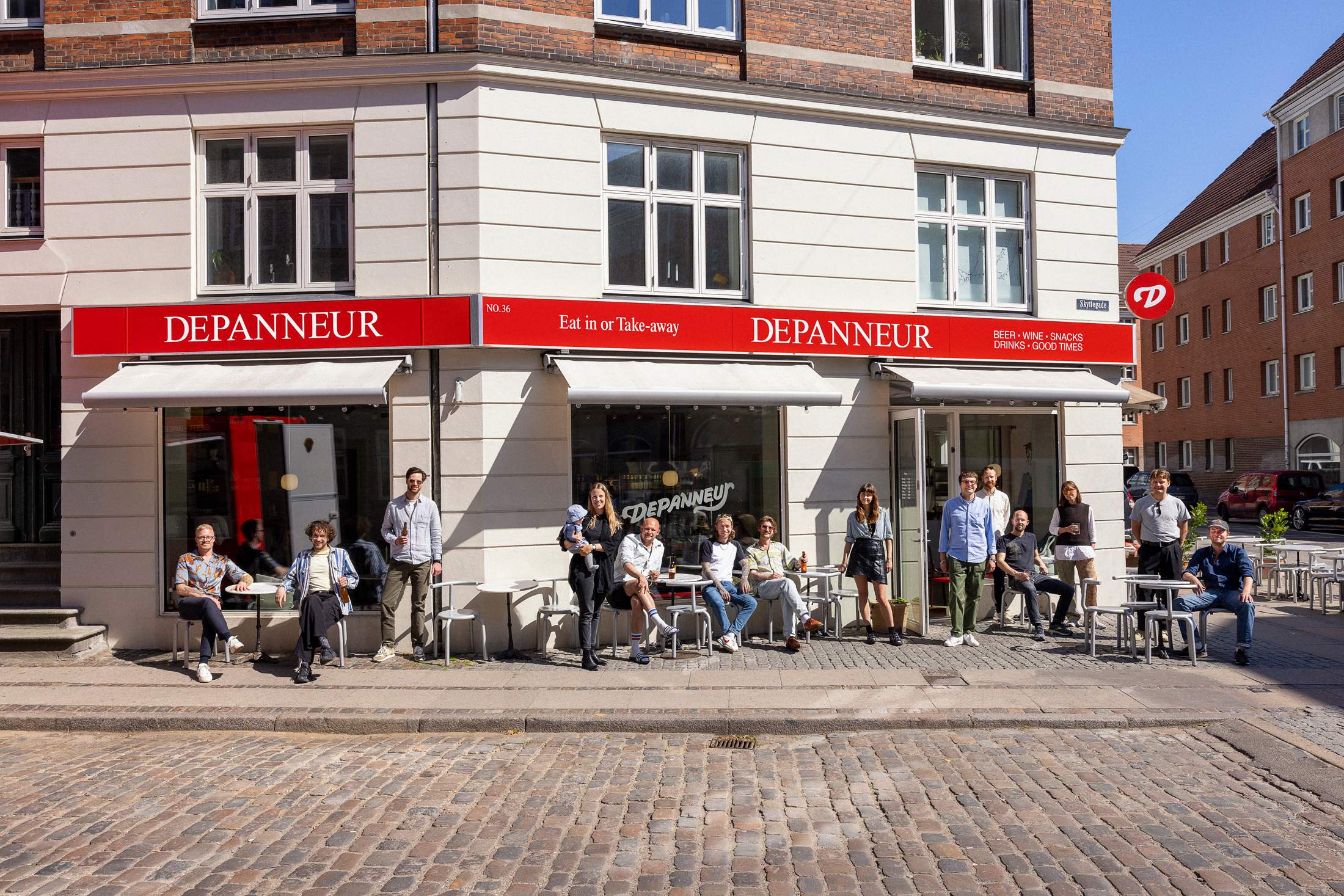 ---
The Cabinet (From left to right)
Mads Ostenfeldt Højgaard Sales manager "Goes by the name OH."
Eske Viuf Shop manager "Host with the most."
Adam Simony Managing director "The one in charge."
Mimi Rørbæk Mølholm Daniel and Kathrine's baby "Youngest member of the team."
Kathrine Mølholm Finance director "Miss Moneypenny."
Mads Henriksen Operations director "Makes sure everything runs smoothly."
Anders Bergsbo Event manager "Taking care of all external and internal parties."
Mathias Torp Logistics manager "Mr A to B."
Mike Wittrup and Daniel Rørbaek
When Mike Wittrup and Daniel Rørbaek began working together in 2014, they always knew that they wanted to start a creative studio that did more than hit targets. "With Barkas, our concept was to start our own projects," says Wittrup. Depanneur – which saw the duo joined by Mads Henriksen and Kathrine Mølholm as co-founders – is a case in point.
Laura Jones Design director "Ensures that everything looks good."
John Hunt Oberkellner "Head waiter and longest-serving employee."
Visti Poulsen Delivery driver "Always on time."
Kaiu Meiner Designer "Visualises everything from labels to menus."
Christian Kier Sales director "Knows all the kiosk owners in Copenhagen."