Design: Architecture / Palma
Keep cool
In the island sun sits an innovative new apartment block that could reshape the city's design ambitions.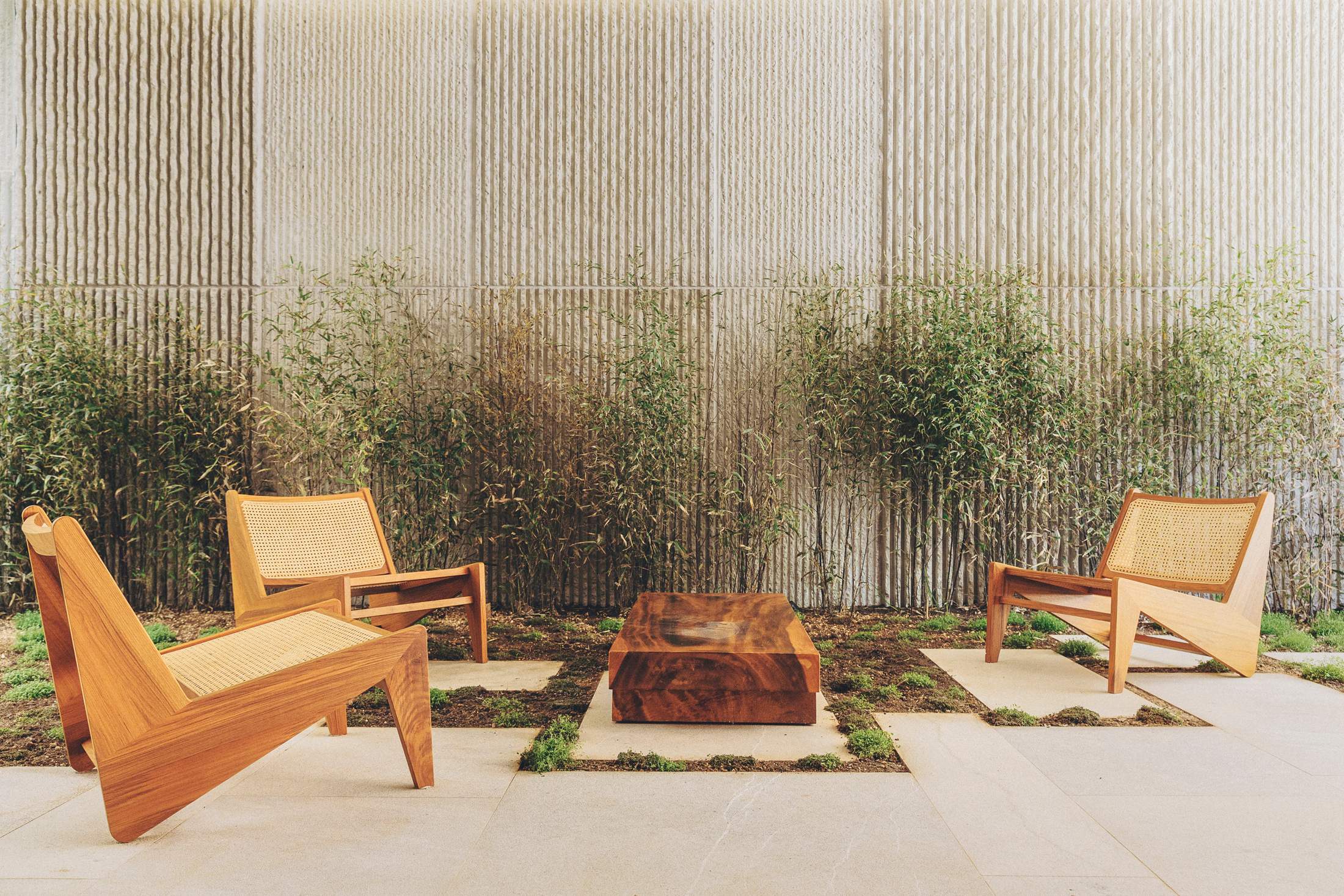 Running up from the sea, dissecting the town, is Paseo Mallorca, the smartest avenue in Palma, Mallorca's capital, where wealthy residents have rambling old-school apartments. There was once an ancient wall here but when most of it was removed on this flank of the then- bursting-at-the-seams city in the late 19th century, it made space for new, desirable housing.
Today the paseo has a water course running down its centre, a rather busy road on the western side of this stream, a more pedestrian and al fresco dining vibe on the other. With the bridges that skip across the water, it's picturesque, if a little architecturally strait-laced.
But now a new 10-apartment block – Paseo Mallorca 15 – has been completed here by local architects Ohlab and it has the potential to shake things up; be a cooler guest at the urban party. Ohlab, run by husband-and-wife team Jaime Oliver and Paloma Hernaiz, as made a name for itself with a series of buildings that sit at ease with their environment, limit the need for air-conditioning and heating, and use modest tactile materials and muted colour palettes in extraordinary ways. The outcomes of this considered approach have won numerous plaudits: a compact home, the MM House, that they made in 2016, when starting their practice, for a retired teacher and doctor has already been given listed status by the island's government.
Mallorca, like many parts of the Mediterranean, is taking a hit from global warming. This year the spring was oddly cold but then May brought a blast of heat of an intensity that would be more normal in August. So wise architects and clients know that not only are shade and cooler inner sanctums needed but buildings should be designed to be less energy-hungry, to do their part to fix this problem and cope with seasonal uncertainties.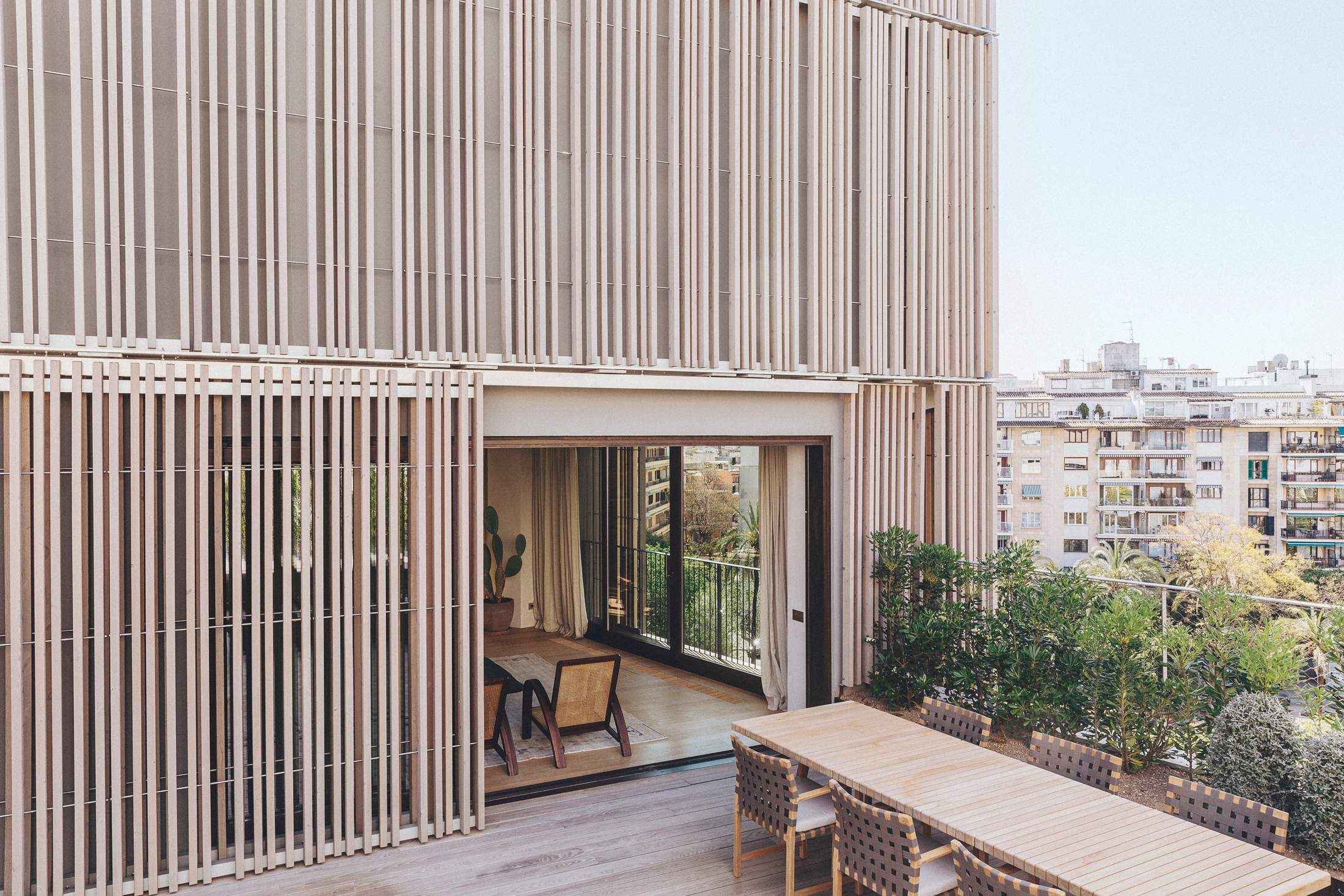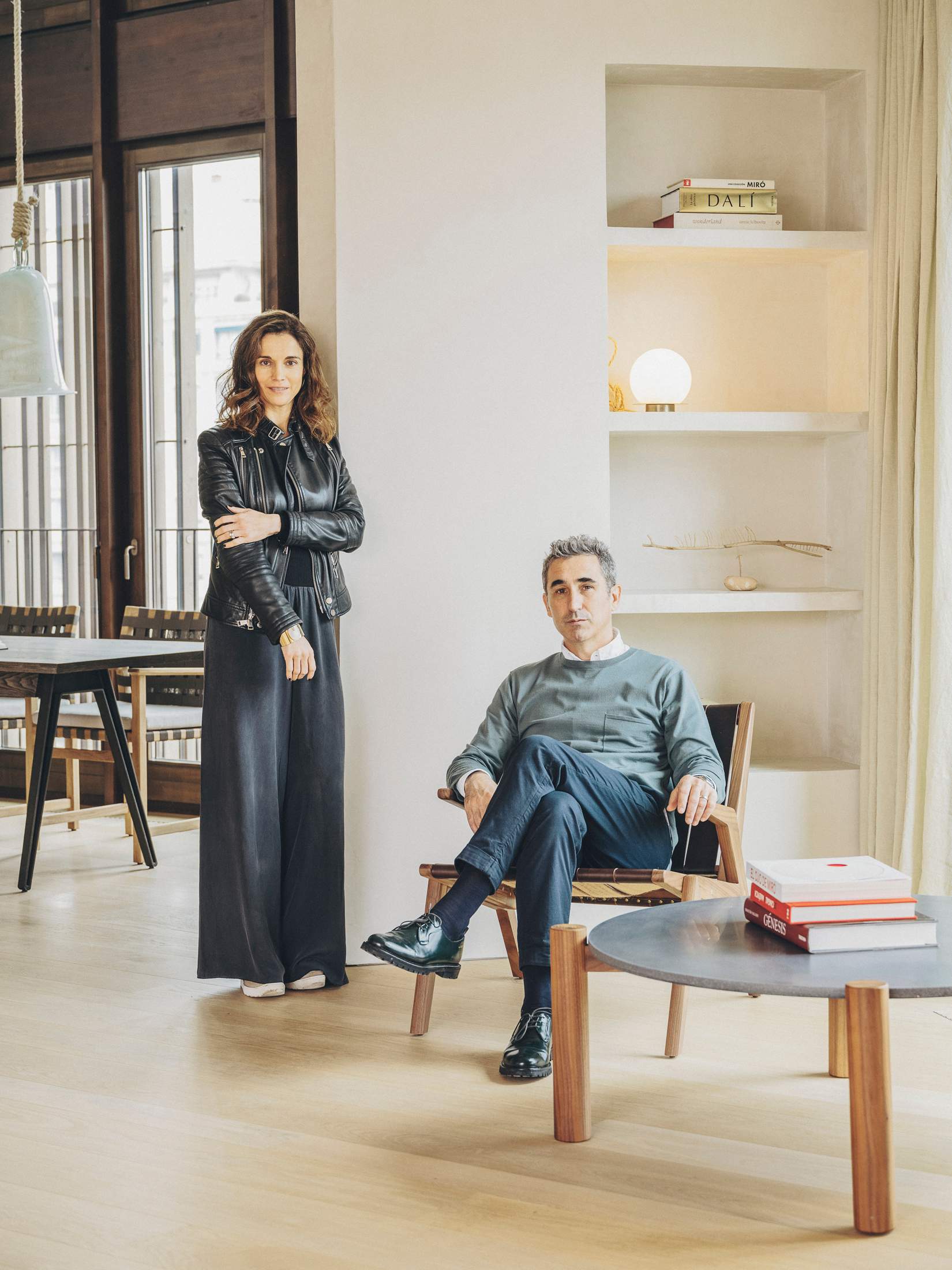 Like that small MM House, Paseo Mallorca 15 has been built to meet Passivhaus standards; a set of criteria that can lower energy consumption by up to 90 per cent. One of the ways this has been achieved here is with the addition of sliding timber-slatted panels – inspired by those seen on island homes – that help slice and soften even the harshest summer sun and give the building a striking and dynamic façade.
"We feel a responsibility to use less energy and to convince clients that this is important," says Oliver. "When you live on an island, you are even more aware of the scarcity of resources and the need to protect them."
Hernaiz stresses that being sustainable does not mean sacrificing beauty; over the past decade they have become more radical in their choices of materials and been clearer about the benefits of using products that help cut energy consumption. "And we learn more with every project," she adds.
But let's get Jaime and Paloma to walk us through. At the entrance they ask monocle to note the detailing of the postboxes and brass-buttoned intercom buzzers, before opening the door and guiding us into a small lobby within. There's a trick of the eye at play here because the modest lobby garden extends to a shaggier outdoors one – and you barely notice the glass wall that divides the two spaces. The grounds are the work of the British landscape gardener Jonathan Bell (known for his collaborations with John Pawson) and provide shade to mediate the heat. We linger a moment while Oliver looks at every branch and stem to make sure all the foliage is in fine fettle. Hernaiz points out the central void that runs throughout the building, giving the apartments more
filtered light, and explains how the greenery also descends – alongside a cooling, cascading water feature. At the base of the void is a gym and stone-lined swimming pool that has Peter Zumthor-levels of calming asceticism. And hidden below all of this are three subterranean levels of parking, reached by a glass car-lift at street level that's lined with a wall of cane. It's a Bond-like twist – being virtuous in your design choices doesn't mean ditching all the fun stuff.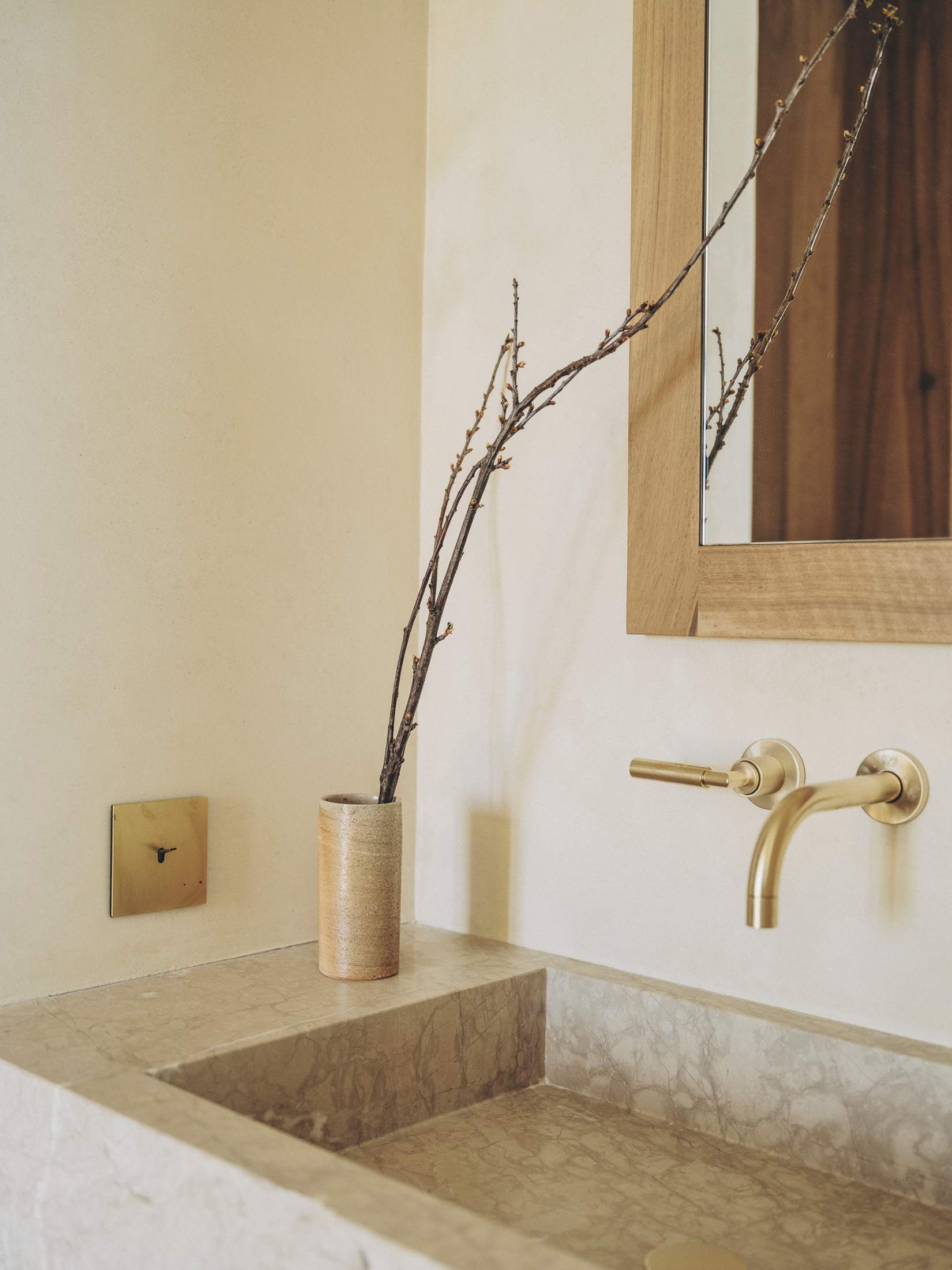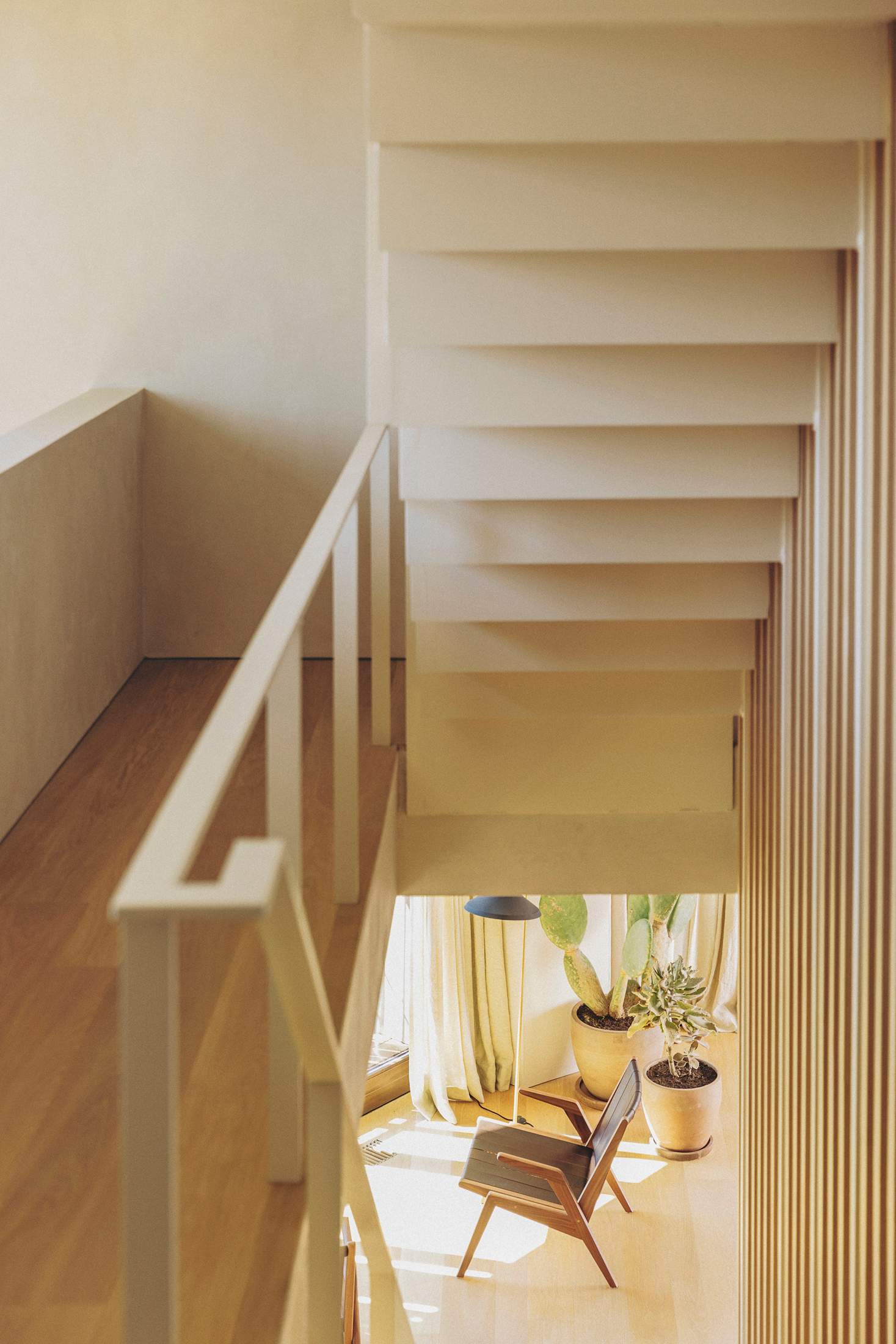 The apartments are shaped and informed by the same materials as the exterior. While on the external façades stone has been gauged and grooved to sit alongside all the soft-looking slats, inside bathrooms have stone washbasins that look as though they have been heaved directly from the mountain (there's a lot of hidden metal work preventing these heavy beasts crashing to the ground). And the use of timber internally includes impeccable cedar cabinetry, with shelves manoeuvred up and down using a series of simple grooves – all made by island carpenters.
"We want to use materials that show their age but still look great," says Hernaiz while Oliver explains how they placed lime mortar on the walls, which not only smells great but means that no toxic paint was used. "These are materials that are about timeless techniques," he says.
Ohlab had as their client on this project a passionate developer, José Miguel Ramis, who comes from a long line of builders on the island. He has been deliberately slow to market the homes, not wanting them released until they were finished to his exacting demands (he hopes that most of these residences will be occupied full-time by the same sort of people who have always settled on the paseo). "He's a great client," says Oliver. "He wanted to build something remarkable, and we entered this positive loop where we were pushing each other to do ever better things; to build to the highest standard."
"With food, people understand that you have to spend a bit more to eat healthily," says Hernaiz wisely. "We need the same attitude in architecture if people want to be part of this sustainability story."
It might just be a 10-apartment building but it's clear that this project has the potential to shake things up in a world where white walls, plate glass and dodgy art too often define the Mediterranean vernacular of grand residences. Paseo Mallorca 15 offers the city an alternative vision: a groundbreaking residential development that moves away from old tropes to focus on environmental needs, craft with restrained beauty – building that plants a flag for change.