Taking off / Dallas
Urban upswing
Dallas has sprawled in all directions but much of the action still comes from the city centre: from the Arts District and newly-built parklands to the neighbourhoods that are being brought back to life as new residents move in. Here's a guide to the historic downtown and its immediate surroundings.

There's a particular kind of southern heat that greets you as you step out of the airport in Dallas. It's a warm welcome that comes in over the wide, flat prairies that extend to the Texas horizon and – as we've discovered – the world is increasingly keen on catching that breeze.
Dallas, together with its neighbour Fort Worth, was the fastest-growing metropolitan area in the US last year. People are coming for the plentiful jobs as global companies relocate their headquarters to a city that's affordable but also has ample space to grow. With this shift has come a new cache of places to eat and art galleries to peruse that are reinvigorating overlooked neighbourhoods and kindling fresh energy in a city steeped in American history.
While many American cities have watched their downtowns wither over the past decade, Dallas is turning the tide by enticing people to live and work in its urban core. "The Big D" is again assuming its famously broad stature among Texas's metropolises, and while the place has sometimes struggled to shake off an image of being a buttoned-down trading town, we'll show you how it's ironed out a few kinks, attracted top-class chefs and built an impressive design district. There's still much to be done, of course.
Despite the association with tycoon JR Ewing, Dallas never had any oil of its own and without natural resources, you'll often hear it said, there's a special ingenuity to the Dallas character. Locals are proud that their 'hood is on the up, so don't be surprised if you hear a little yee-haw now and then.
Getting here
Dallas-Fort Worth International Airport (dfw) was the world's second-busiest airport last year, with some 62.5 million passengers passing through. As the home base for American Airlines, dfw has non-stop daily flights to Paris and the Gulf States, and is adding a number of new routes – not least to the Nordic nations. Dallas Love Field airport is a prized gateway for Southwest Airlines that regularly bags an impressive share of awards for its service – it has a new runway in the works too.
Dallas in numbers
1.3 million
City of Dallas population
(9th largest in the US)
230
Days of sunshine per year
$62,000
Median household income (Dallas County)
9
Pulitzer prizes for The Dallas Morning News
64
Number of touchdowns by the Dallas Cowboys in 2021
(1st in NFL)
---
Getting around
01 Alto is a Texas ride-hailing app, offering a service that's a cut above
02 The DART light rail gets you downtown from the international airport in 50 minutes
03 The tangle of freeways at the city's entrance is nicknamed the High Five; avoid at 17.00
---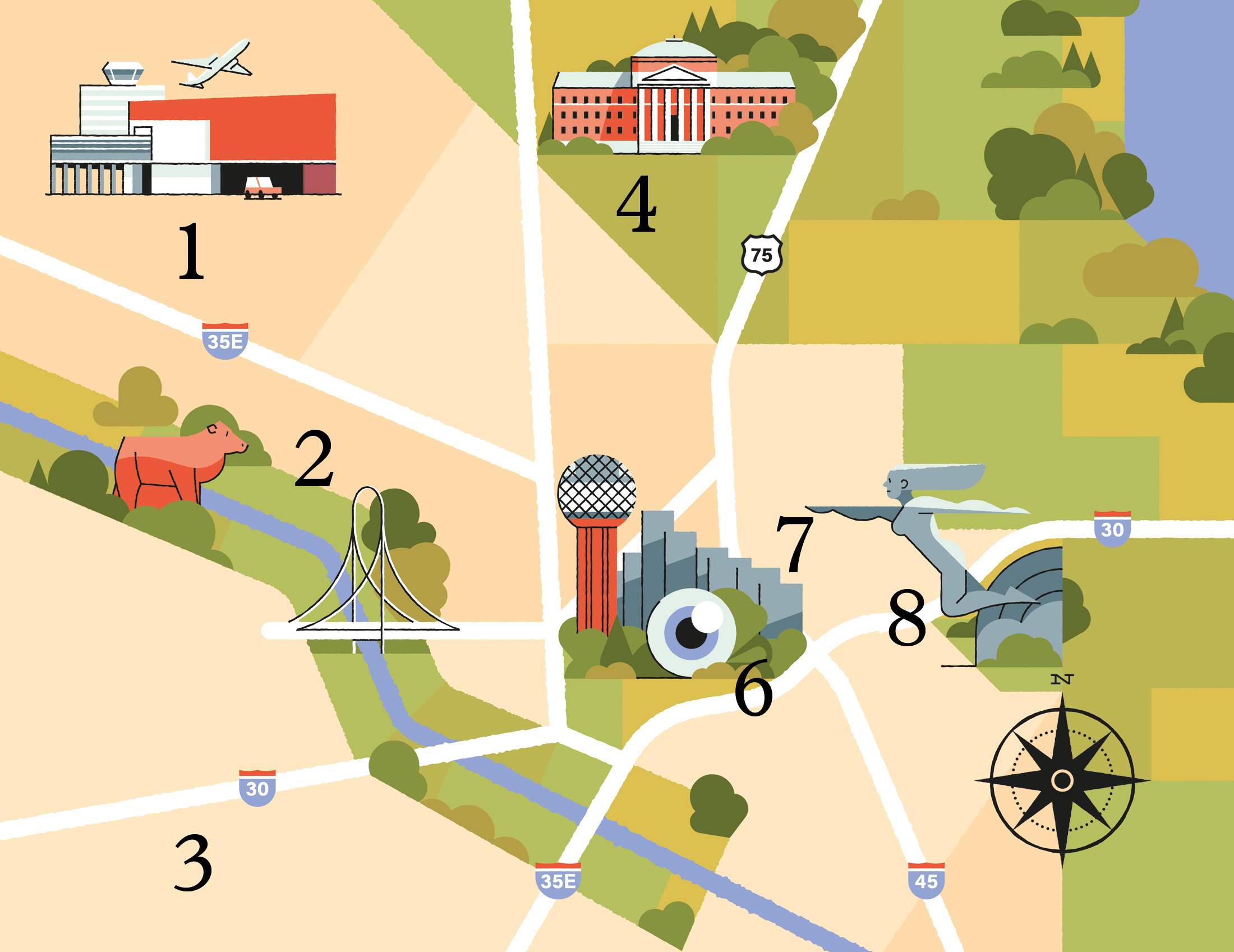 It's a 20-minute dash to this regional airport, which is perfect for connections across the US
The Trinity river weaves through this vast green belt. Keep an eye out for the marble cows.
Walkable streets of quaint bungalows with verdant garden bars and craft markets.
The grand suburbs are home to luxury retailers and the respected Southern Methodist University.
The place to start: seasoned retailers, rodeo bars and a vast arts district, which have sparked downtown's second life.
Dallas's new mixed-use neighbourhood is home to ambitious restaurants, designers and tech businesses.
The "deep" end of Elm Street has the best live-music bars in town. Club Dada is an institution.
This 1930s "Temple to Texas" is primed for a revival.