Design: Office furniture / Global
Engine rooms
Good workplace design can be decisive in winning over clients – as well as in tempting remote workers back to the office. We run down the ground rules.
It's not just what a business does that matters but where. A thoughtfully designed workplace enhances productivity, attracts (and helps to retain) talent and represents your brand positively to visitors. From ergonomic furniture to the quality of light that illuminates a desk; from the colours and textures that surround members of staff to aesthetic decisions that foster a sense of belonging – every detail of an office can and should be used to make life better for employees. With forward-thinking furniture firms vying to capture the spend of progressive business owners, there are ample smart solutions to choose from. We've rounded up a few of the best. 
---
1 Don't shy away from bold colours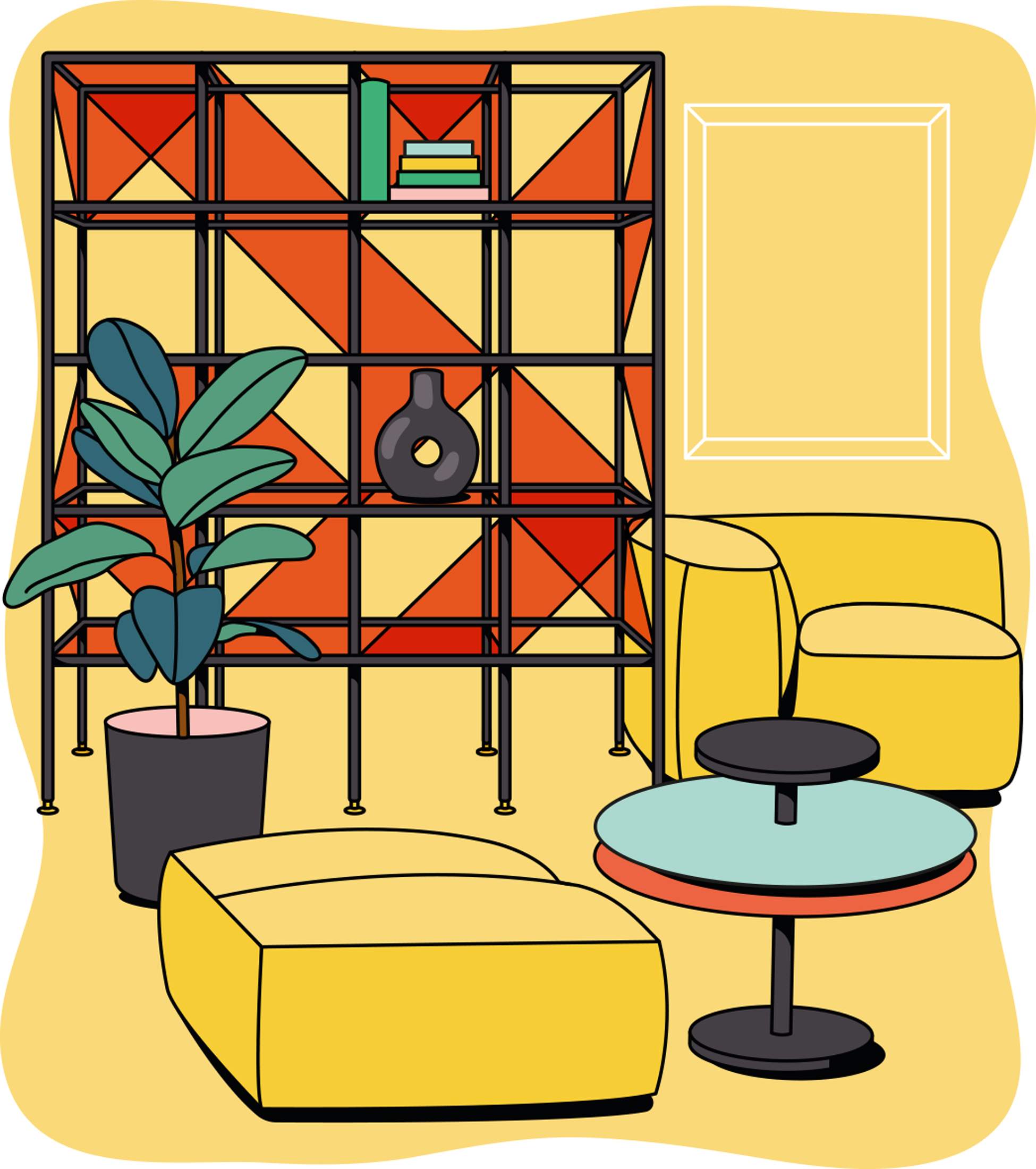 At this year's Salone del Mobile furniture fair, Italy's top brands debuted lines promising to lure those who switched to remote working at the height of the pandemic back to the office with vibrant, joyous design. A fresh pop of colour can make all the difference in a workplace, which is typically a neutral environment and can feel dispiritingly corporate. Indeed, studies show that colour can affect mood as well as levels of creativity and productivity. 
Standout pieces include the Matrice bookshelf by Milan-based design firm Dimorestudio for Fendi Casa, with its glass panels in retro colours; a bold, modular collection from Italian office-furniture specialist Unifor, which was initially designed for German publishing company Axel Springer but has now been expanded; and an eye-catching, bright-yellow edition of Tacchini's modular Le Mura sofa, originally designed by Mario Bellini in 1972. Fresh, flexible design adds playfulness without dominating or overwhelming the workplace.
fendicasa.com; tacchini.it; unifor.it
---
2 Respect the classics

Fifty years old and still looking sharp, German industrial designer Richard Sapper's Tizio task lamp, produced by Milan's Artemide, is among monocle's favourite flexible lighting options. The angled, minimalist lamp brings together the best in German design and Italian engineering. It can easily be adjusted by moving its counterbalanced arm; at the time of its release, the use of the arms to conduct electricity to the halogen bulb was a novelty seen in few other lamp designs.
Sapper once claimed that he had come up with the Tizio because he couldn't find a convenient work lamp for himself. "I wanted a small head and long arms, and I wanted to be able to move it easily," he said. "While I work or read, I like the light to fall only on the sheet of paper in front of me, leaving the rest of the room in dim light." After much methodical experimentation he got there in the end. So reward your staff by letting them work with a piece of legacy design by their side. To celebrate half a century of illumination, it's now available in the designer's favourite red.
artemide.com
---
3
Invest in innovative fixes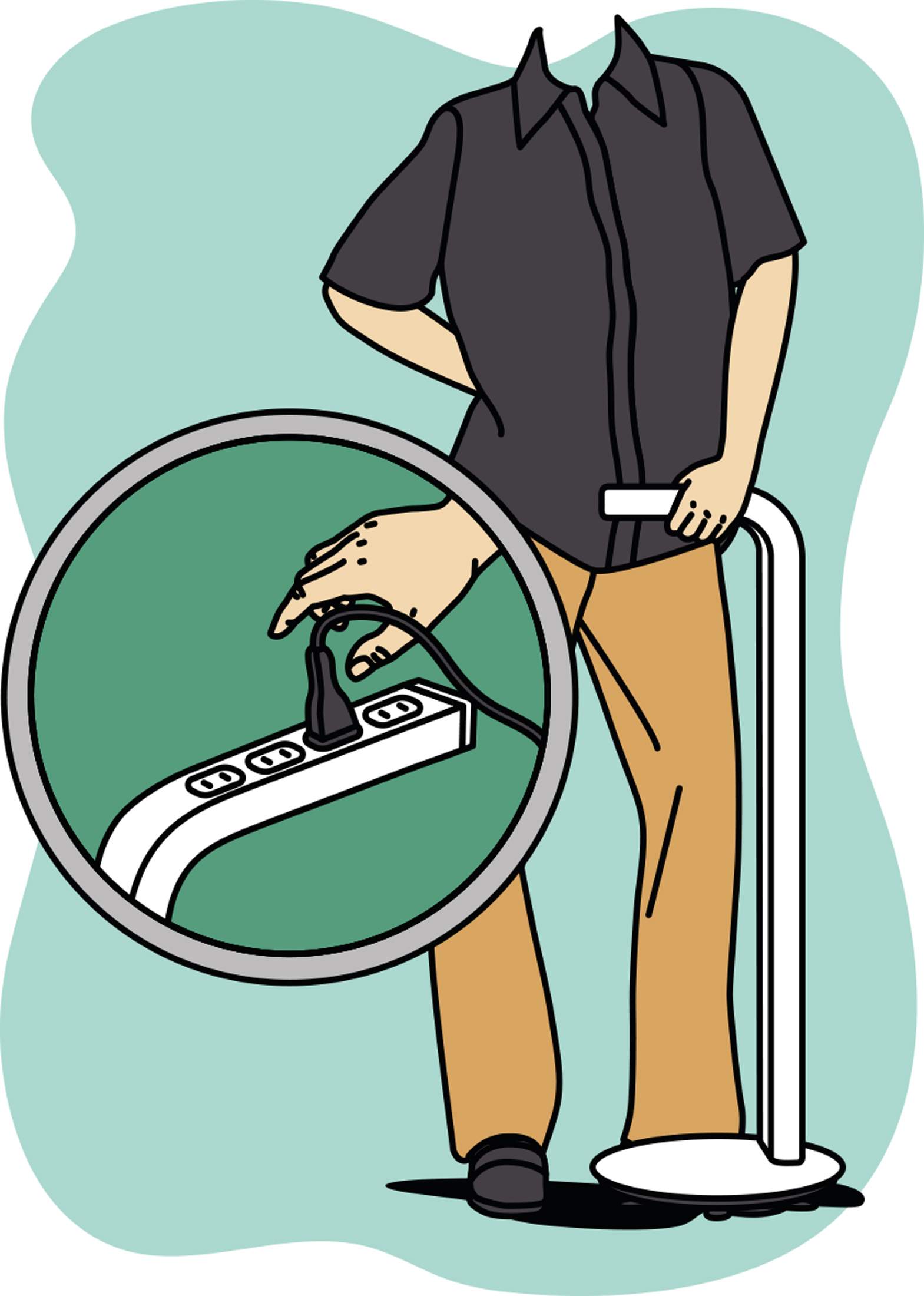 Designers continue to innovate smart solutions as our working habits change. A case in point is the elegant, easily transportable Carry Tap from Tokyo- based furniture brand Itoki: a practical (and funky) set of power sockets that will slot neatly into any modern office. Its designers say that its simple, handle-shaped form was developed to meet the flexible needs of contemporary working set-ups. The cute piece conveniently lifts access to electricity to just above desk height, eliminating the need to search the floor for an untidy tangle of extension cables (and then strain your back trying to plug in your device).
itoki-global.com
---
4 Light the office intelligently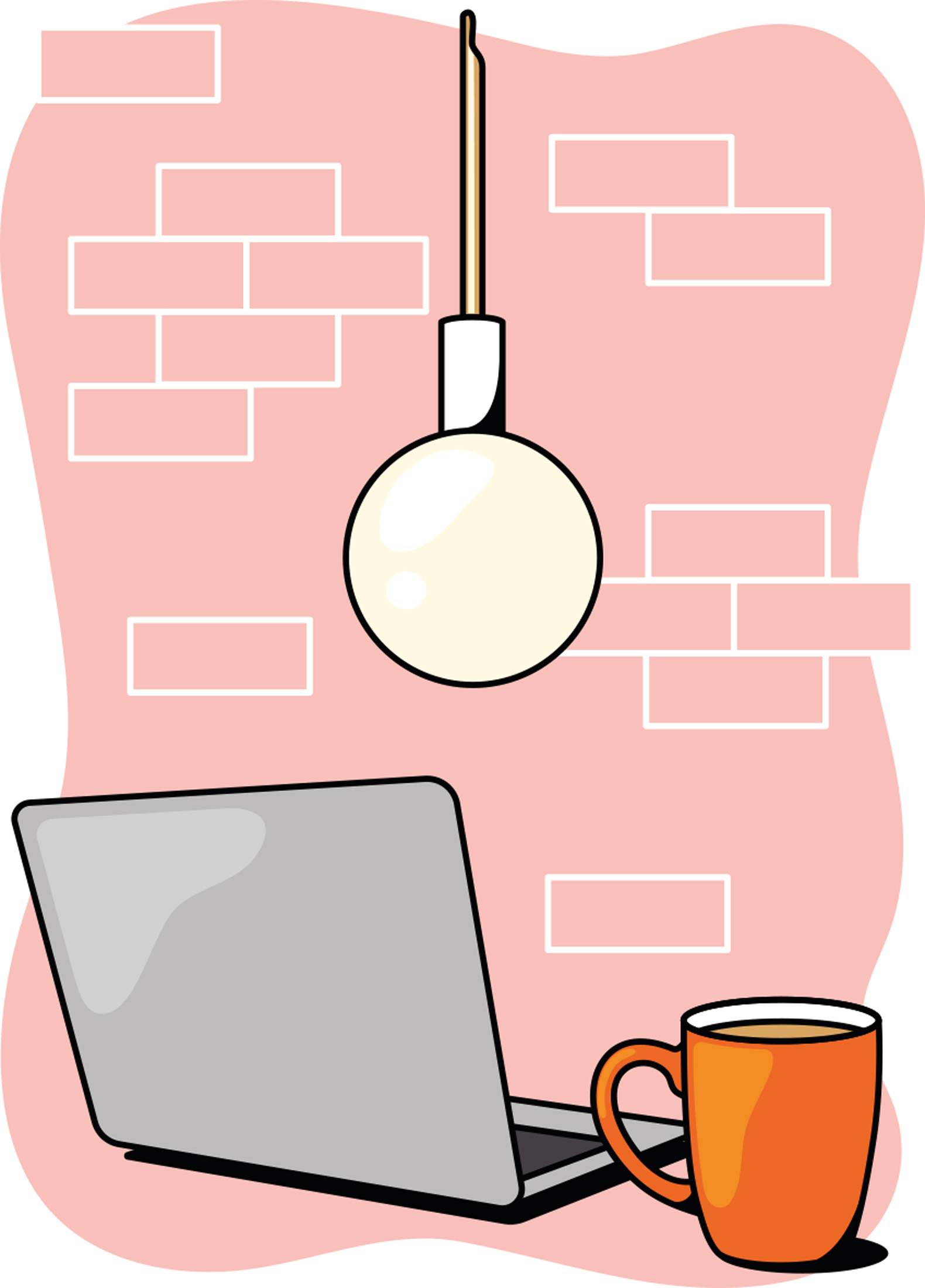 To operate a productive and healthy office, high-quality lighting that is unobtrusive yet warm is crucial. For the darker months, bulbs from UK brand Tala offer the best kind of artificial light due to their smartly engineered led designs. "The early low-energy bulbs were quite terrible, from light quality to how they looked," says Joshua Ward, co-founder of Tala. The company has an in-house r&d lab, where shapes, materials, luminosity and the capacity to be dimmed are fine-tuned by its engineers. Each bulbous bulb is mouth-blown and finished by hand, and can last for more than a decade. "At the lab we investigate how to get the most out of the electronic components," says Ward. "Efficiency can often mean a compromise on design but ultimately we try to be design-led."
tala.co.uk
---
5Find a flexible system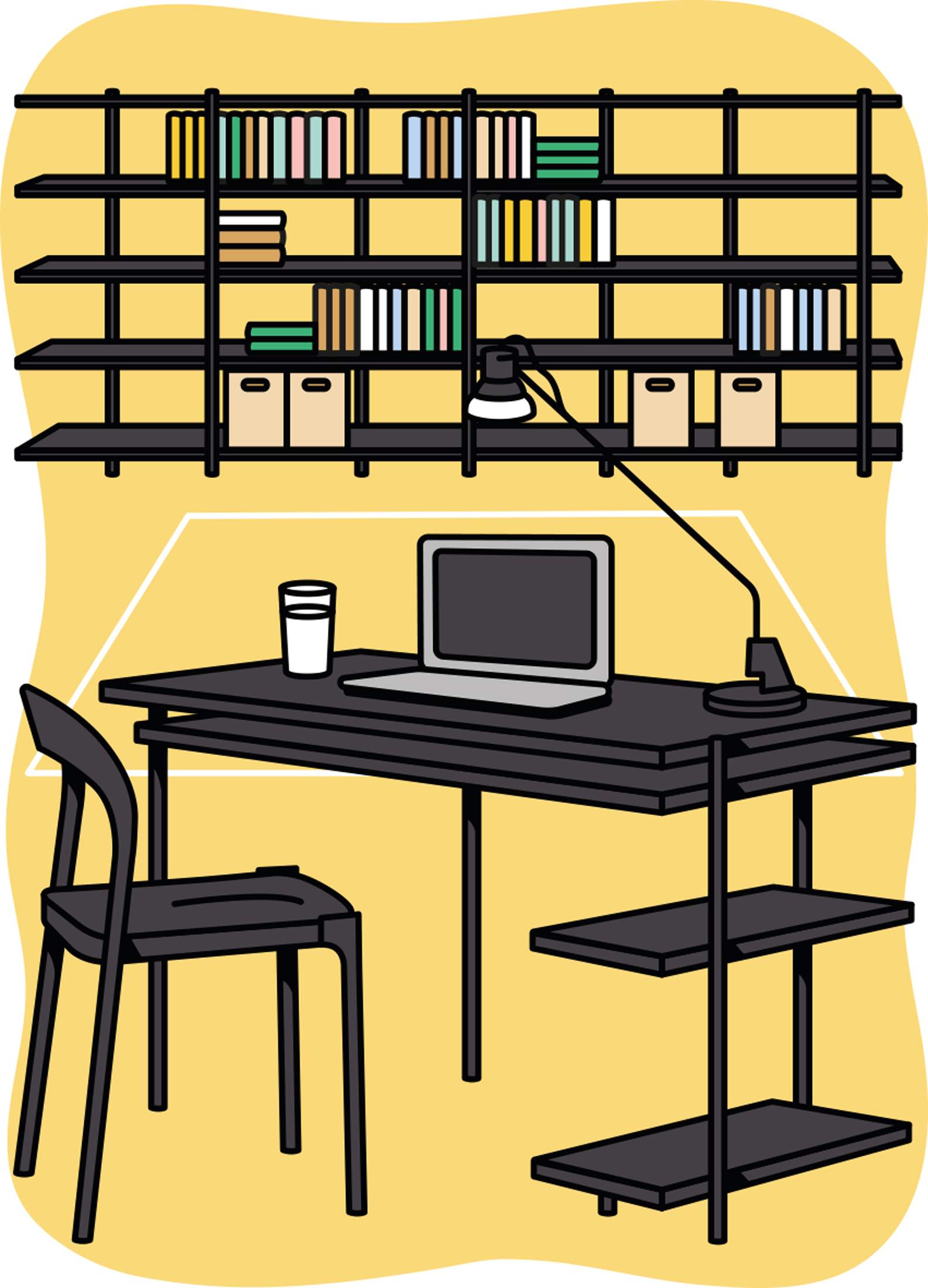 Agility, respect for materials and a light touch are some of the qualities to look out for in successful office design. Good workspaces need furniture systems that are functional without overwhelming the spaces that they serve. The Aero collection, designed by Swiss firm Shibuleru for Italian furniture brand Living Divani, has continued to evolve with grace. Items such as the new Aero D desk, which offers ample storage space on a small footprint, and the Aero shelves, which match the desk perfectly, are must-haves for any office. The shelves are the product of thoughtful aerodynamic design; they come in eight sizes and are made from strong aluminium honeycomb sheets.
livingdivani.it
---
6 Go green, inside and out

Studies have shown that greenery in the workplace can do wonders for workers' emotional and psychological wellbeing. Plants increase productivity and comfort, while reducing stress. Spanish outdoor furniture firm Kettal's most recent releases at Salone del Mobile offer a range of pieces that promise to foster a happy and healthy working environment. The Hydroponic Garden, developed by an interdisciplinary team of environmentalists, architects and engineers, can add a welcome touch of greenery with its ability to produce a wide range of vegetables indoors. Outdoors, the generously sized modular Base Kitchen, which comes in two types of stoneware and two Iroko wood finishes, provides a handsome barbecue and cooking area for summer parties and alfresco lunches.
kettal.com
---
7 Make the most of your waiting room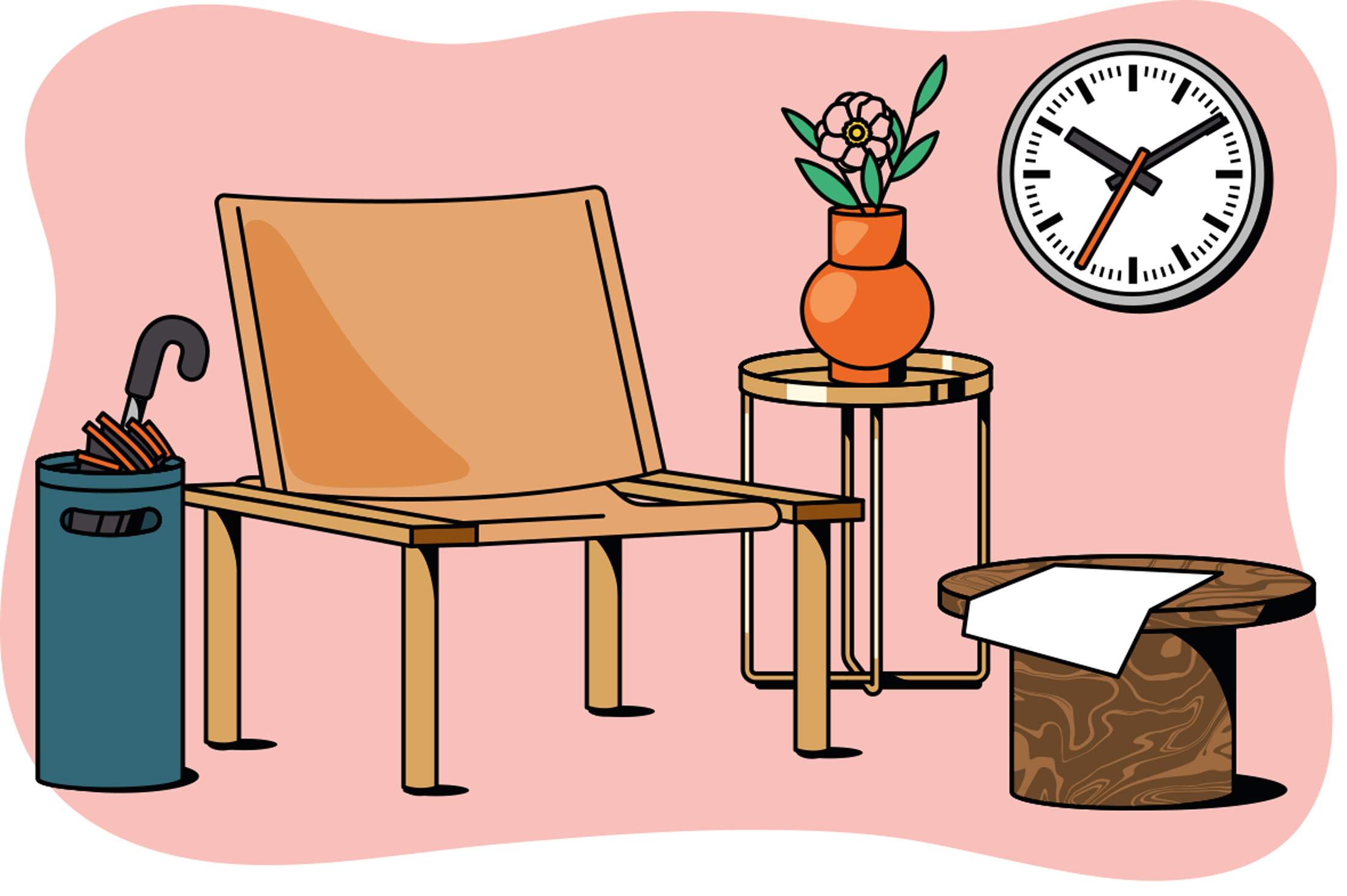 First impressions always count, so make your waiting area work for you with a sophisticated yet comfortable fit-out. Look to German furniture studio e15, which recently released the Ilma lounge chair, designed by Finnish-born Jonas Lutz. The inviting, sturdy piece – a modern interpretation of a sling chair – playfully highlights the beauty of natural materials such as oak, walnut and leather. 
"I have always been fascinated by chairs that forgo traditional foam upholstery and instead look for alternative ways to create comfort," says Lutz. The sculptural side tables by architect and e15 co-founder Philipp Mainzer, made from marble and polished steel, complement Lutz's chair perfectly.
e15.com
---
8 Turn down the volume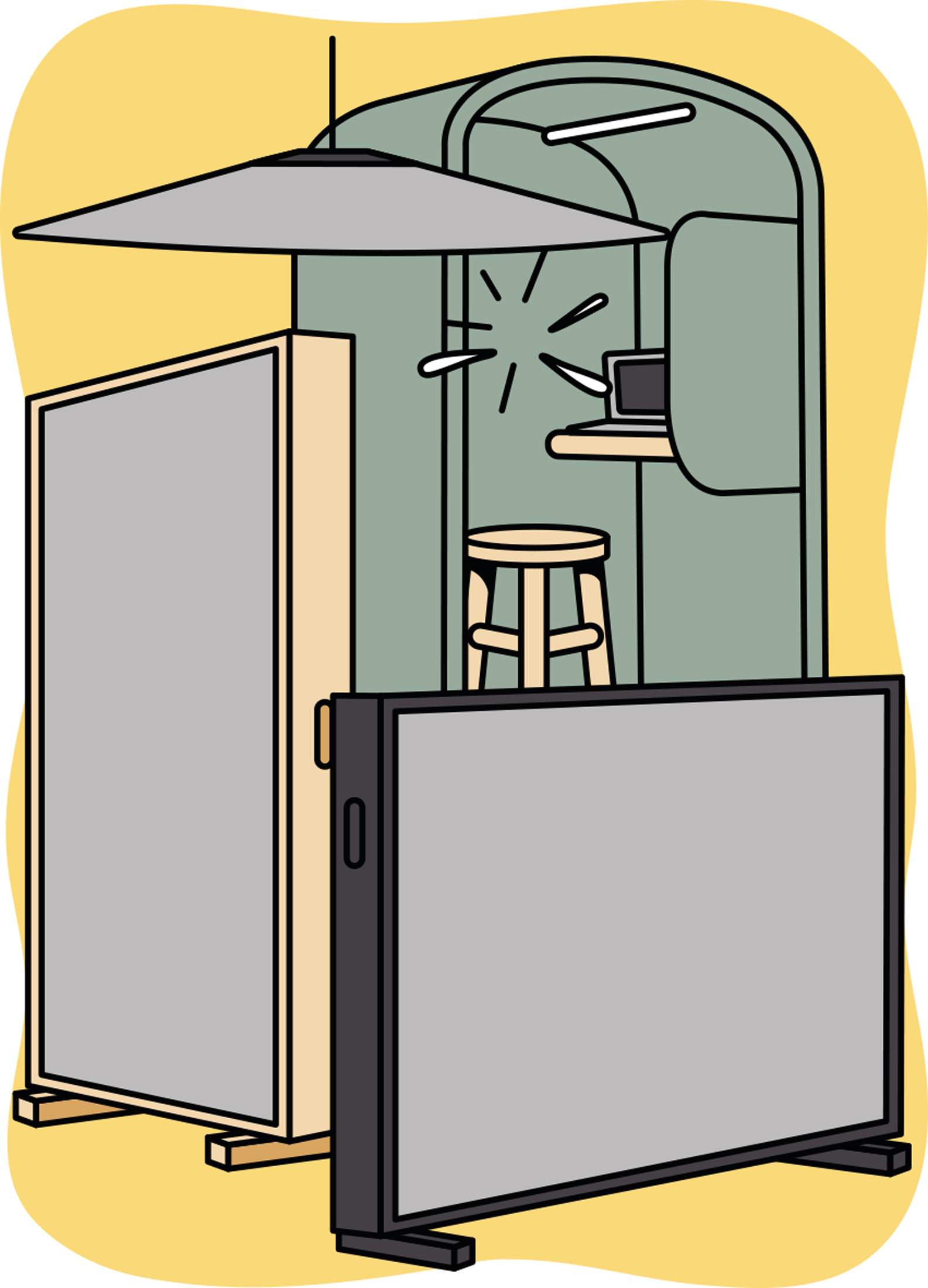 As noisy video calls and lively meetings in breakout areas have become the norm in offices, designers have had to figure out how to provide good ambient acoustics and minimise disruption. Among the most ingenious solutions are Italian lighting brand Luceplan's felt-covered Koinè lights, designed by Mandalaki to help soften noise. 
Those seeking flexibility should check out Lintex's customisable soundproof units on wheels, which can be used as space dividers and double up as whiteboards or pinboards. Finally, Japanese brand Adal's cosy Lohko phone booth is a charming option for ensuring privacy. It can be covered in various fabrics and has a desk in oak veneer. Plus, it can be fixed to the wall to make it earthquake resistant – an important factor in Japan.
luceplan.com; lintex.se; adal.co.jp
---
9 Provide comfortable chairs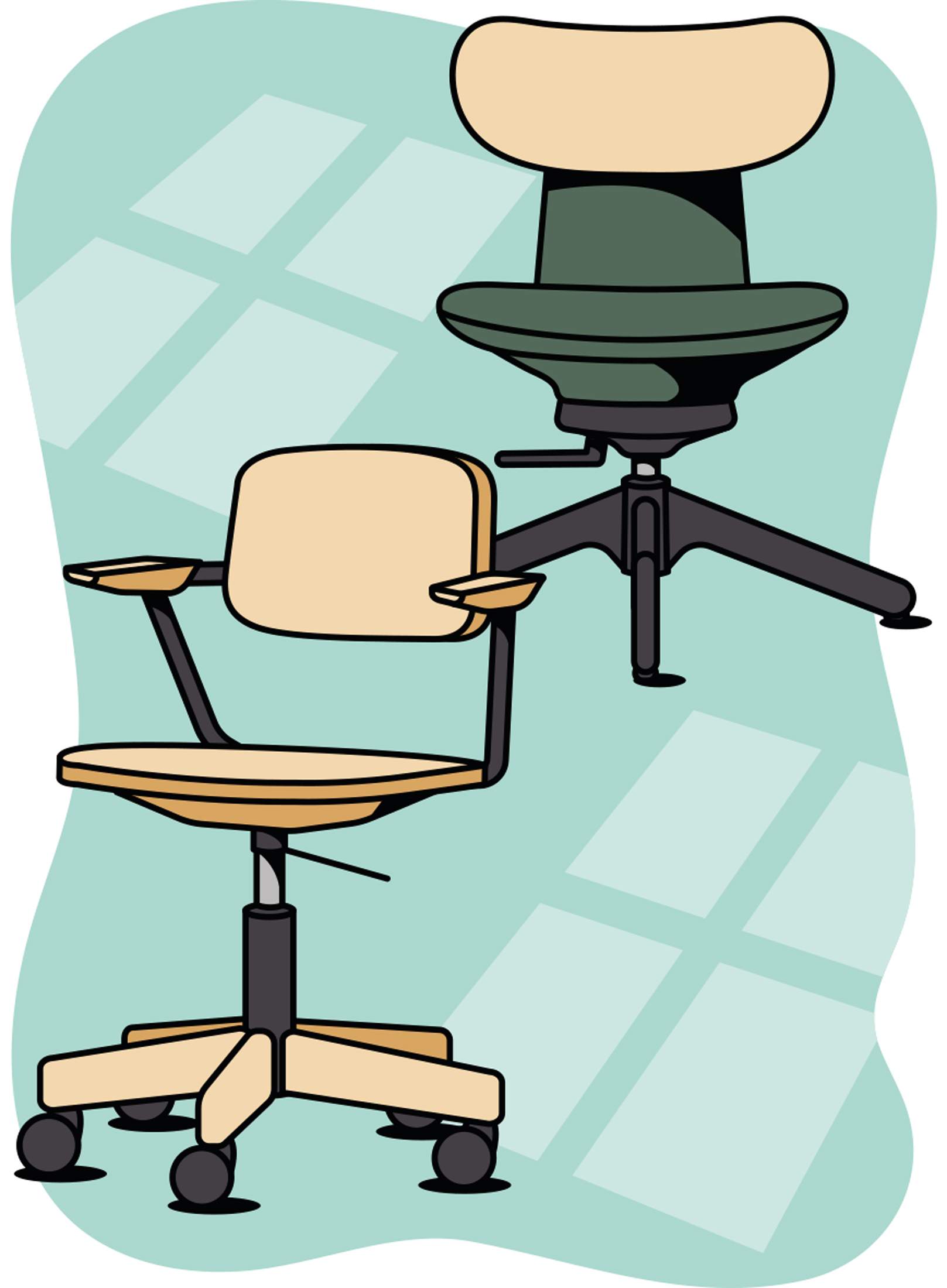 The Orgatec trade fair in Tokyo showed that Japan's commitment to office culture is alive and well. This is partly thanks to the fine work of furniture firms such as woodworking specialist Karimoku New Standard (kns) and Kokuyo, both of which have released excellent ergonomic office chairs. The Giroflex 150 chair – a three-way collaboration between Swiss seating manufacturer Giroflex, kns and Lausanne-based studio Big-Game – is a perfect example of a welcome attentiveness to how people feel when they sit at their desks. Though it is made almost entirely from oak, its flexible parts accommodate different body positions throughout the day.
karimoku-newstandard.jp; kokuyo.com
---
10 Prioritise timeless quality

While there's certainly room for more colour in office design, Nordic furniture companies continue to show that timeless, well-made pieces are still what make the best, most enduring impression. Invest in a desk from Copenhagen's Kristina Dam Studio, which has a distinctive Scandinavian and architectural style, and a modular Nobuko shelving system from Broste Copenhagen that can easily be transported and remoulded to fit any space. To finish the set-up, add an upholstered Cross Task Chair by Danish furniture company Takt, which allows for dynamic movement and comes in a pleasing range of greys and greens that are inspired by the colours of a typical Scandinavian city. 
kristinadam.dk; brostecopenhagen.com; taktcph.com