Business: Health & wellbeing / Los Angeles
Fit for purpose
Fitness tech isn't new but for key player Apple, it's not just about squats and downward dogs. There is a moral mission too: to help you live better and longer.
The 2,136 sq m building has the same clean, understated look Apple is known for, such as the company's shops and vast spaceship-like HQ in Cupertino, northern California. It's welcoming, efficient and impressive but never imposing – all important brand values for a company that's obsessive about everything staying aligned. In short, it's a building that gets out of the way.
This two-storey space was created out of the former Santa Monica Seafood Market to house Apple's subscription service, Apple Fitness1. The conversion of this one-time shrimp emporium is a key part of Apple's push to flex its muscles in the personal fitness market. But, intriguingly, the company's mission is not only about revenue or market share, it also sees its work as a moral responsibility. Company ceo Tim Cook has said that, "If you zoom out into the future and you look back and ask the question, 'What was Apple's greatest contribution to mankind?', it will be about health." It's a big statement but one that the company takes seriously.
Apple Fitness1 is a €10 a month service that offers pre-recorded fitness videos across disciplines from high-impact interval training (hiit) and strength training to dance and yoga. The videos can be viewed on an iPhone, iPad or big-screen TV. Apple doesn't make its own exercise machines but to access the workouts, you need an Apple Watch. As you sweat your way through a workout, the watch measures your heart rate from your wrist and displays it on the bigger screen, encouraging you to work harder or comparing your exertions to those of others who've done the workout before.
"Where rival fitness companies have workouts that can be punishing, Apple Fitness1 is inviting and nurturing, without being easy"
The emphasis is on everyone being able to take part. Where rival fitness companies have workouts that can be punishing, Apple Fitness1 is inviting and nurturing, without being easy. As Issy Towell, an analyst who focuses on wearables for ccs Insight, says, "Consumers are overloaded with fitness content. Fitness1 simplifies the experience with a holistic health angle that's not intimidating and is for mind and body."
The service launched in December 2020 during coronavirus lockdowns, when technology-based fitness businesses were thriving as people worked, and worked out, from home. The Apple Watch had already evolved into a so-called wellness companion, with sensors to track heart rate, count steps and measure blood oxygen. Now it even reminded you to wash your hands for 20 seconds to avoid the dreaded virus. But as normality returns, this competitive market is proving brutal: Peloton shares have fallen from about $100 a year ago, to less than $10 today. And while Apple does not reveal numbers, it will also face challenges holding on to users who are now back in the gym or down the pub. In short, only the fittest will survive.
Jeff Williams is Apple's chief operating officer and on Monocle's visit to the Santa Monica site he returns to the mission guiding the business. With the Apple Watch, he says, the company saw "not only an opportunity but maybe even a moral responsibility to help people be more active and help them with their health". This belief, that the company can help to shape better health outcomes for those who use its products, is key to understanding how Apple – the technology giant that makes your laptop and the phone in your pocket – has also become a health player. 
Jay Blahnik is Apple's vice-president of Fitness Technologies. Previously at Nike, where he helped to create the Nike Training Club app, he also has an extensive career as a trainer, so has brought a coach's point of view
to bear in the design of the Fitness1 building and app. He is also a force of nature, the person who catches your attention, whoever is in the room. The project began slowly, he says. "We started with an idea of a service and some simple key things. We wanted the content we created to be beautiful and that we wanted it to be as cinematic as a theatrical release."
Housed in the Fitness1 HQ are a rehearsal space, control room, wardrobe (to workshop your fitness looks, of course), shower rooms and, most important of all, the double-height stage where most of the workouts are recorded. An entire week's content, with workouts across multiple disciplines, becomes available every Monday. Delivering two dozen or more workouts each week raised issues of scale. "We started with 11 disciplines," says Blahnik. "Most services start with one core thing and then everything else is kind of a hobby. We wanted to treat everything equally." This led to a crucial decision: to have only one stage.
When you're watching Fitness1 workouts, you might imagine that there are multiple studios – one minute there's a garden view, the next a climbing wall. But it's all shot in the same room. "We work with great architects and engineers," says Blahnik. "That studio is an engineering feat. You have 13 robotic cameras, the largest robotic installation of cameras in the world." To film so much content every week, changeovers between recordings take as little as 15 minutes. The cameras and lights slide along curving tracks for the next session automatically.
There are now 27 trainers of different ages, ethnicities and body shapes to give everyone some hope and potential role models. There are also sessions geared to beginners, workouts for older adults and episodes focused on staying active during pregnancy – and getting back to fitness after having a baby.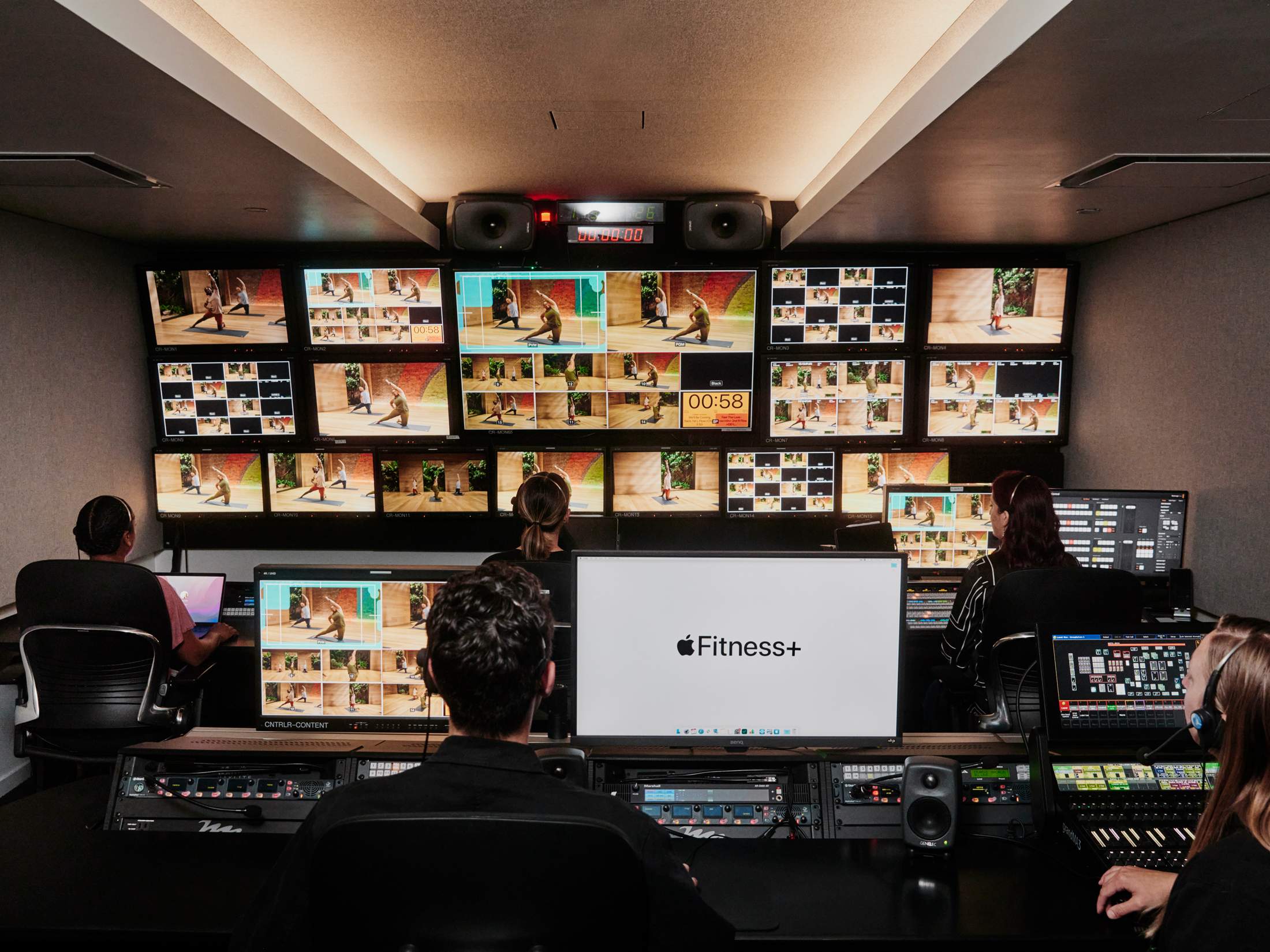 While all the trainers are remarkably fit, Blahnik says that they weren't picked for this alone. "Everyone here shared our mission to do something that no one had done before, which was really to invite everyone, to be inclusive. When they were going out there for their first videos, we would shoot this as many times as we needed to, as they were learning how to find their voice on the floor. We wanted everyone to feel comfortable." 
Kim, whose speciality is hiit, is one of several Brits who moved to LA for Apple. In the studio she is recording a segment where the trainer gives a short overview of what's coming up. She is confident and precise, reading the autocue naturally. Then, Kim is joined by two other trainers, to record a 10-minute hiit class. Most sessions are recorded in one take. In the depth of the pandemic, everyone wore masks until the moment filming began, when a nurse removed them. Now they just take up positions and the workout begins.
Jessica, who coaches yoga, suggests that the coronavirus helped, in a way. "When it hit, we became a very tight-knit group," she says. "We were each other's support network and then we took those friendships on set." Most workouts feature three trainers, with one performing simpler versions of the moves. As they record the session, the 4K Ultra HD cameras move robotically, adding a Hollywood smoothness to the finished product.
"Everyone here shared our mission to do something that no one had done before, which was really to invite everyone, to be inclusive"
The compactness of the building keeps things on schedule. The wardrobe, jammed with athletic wear in every size and colour from Nike (a long-time collaborator), the huge rehearsal space and the stage are all in close proximity. "You are never far away from what someone else is doing," says Blahnik. "And that has really grounded us. We never felt like there's the trainers and then there's the production people and the editors. Everybody is connected and that's turned out to be the single best thing."
That teamwork will be vital as the home-exercise market evolves and diversifies. Apple doesn't reveal how many people have signed up for Fitness1 but there are ways for Apple to build on its current offering, says Issy Towell. "More personalised feedback could help and perhaps advanced sessions could be a great avenue for Apple to enrich Fitness1."
Does a technology company have any business trying to influence our health? Let alone see it as part of a moral mission? Well, maybe. Its growing range of exercises, glossy presentation and slick technical integration all show that Apple, like many others, believes that there's a chance to win in the Lycra-clad battle to be the health whisperers of the future.