Design: Hospitality / Niigata
Tent revival
Outdoors firm Snow Peak is enticing reluctant campers into nature – with a Kengo Kuma-designed spa.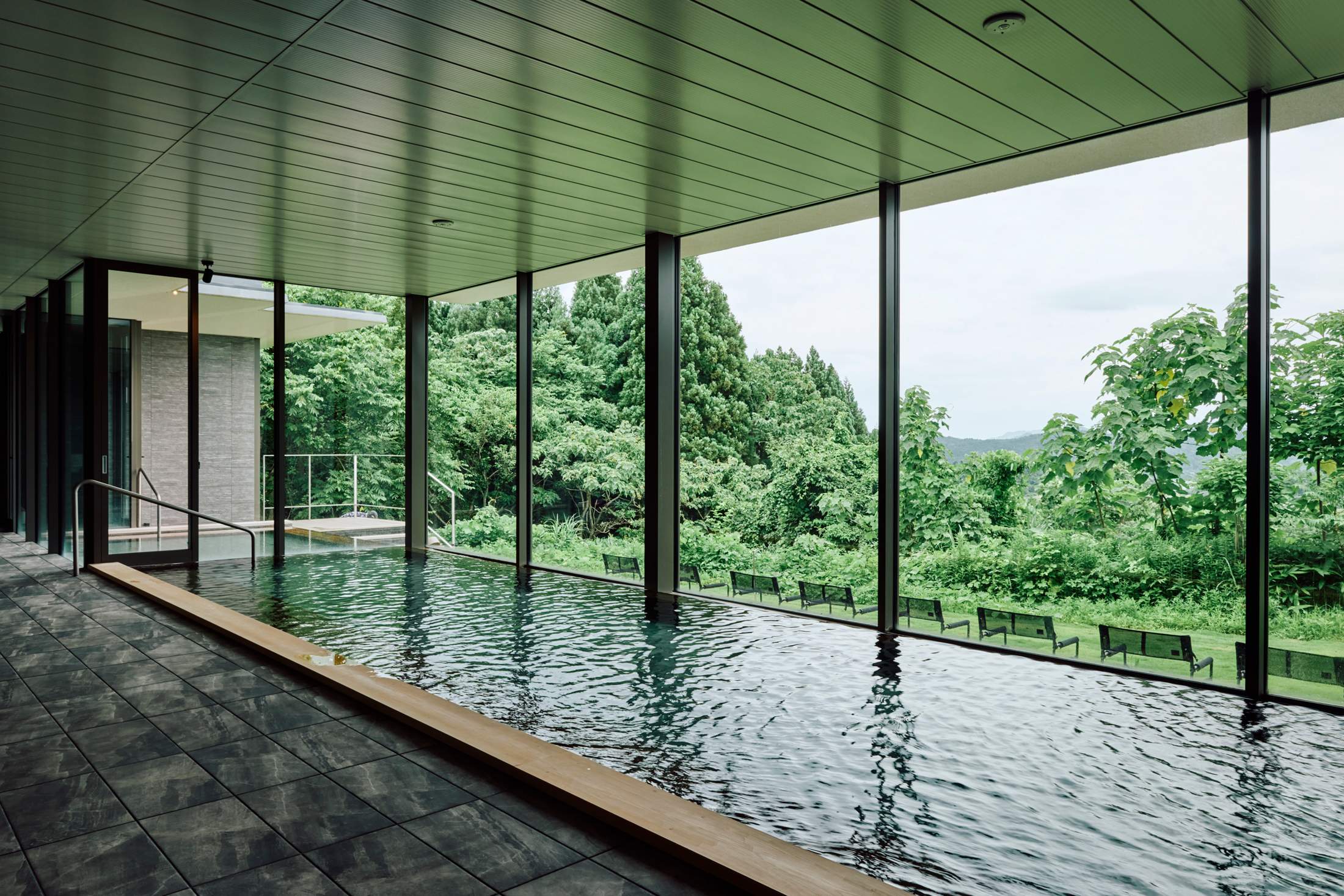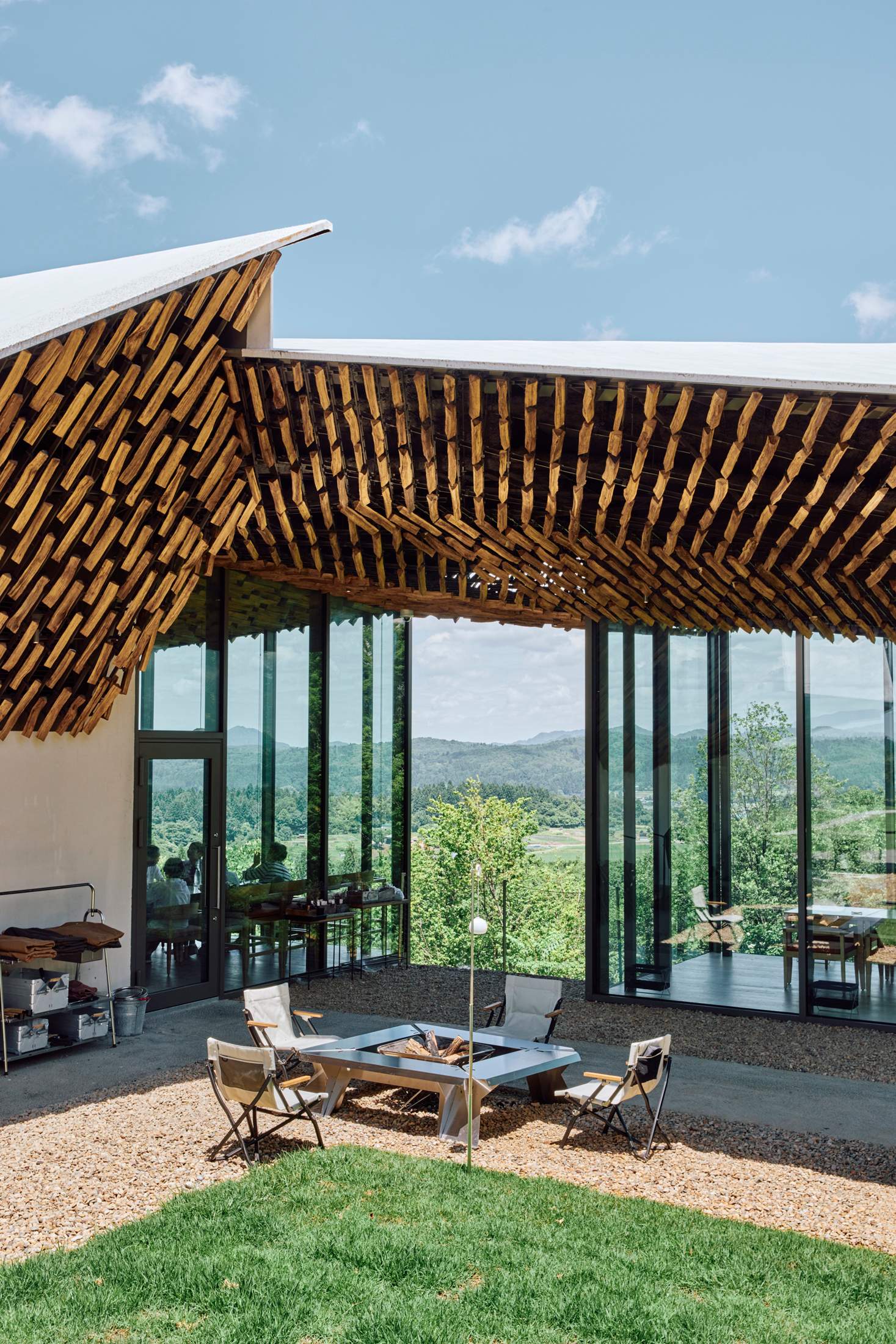 It's an idyllic summer's day and the landscape around the headquarters of Snow Peak appears to have been turned up to full technicolour. The Japanese outdoor brand, which was founded by mountaineer Yukio Yamai in 1958, left its city home to move to this quiet corner of rural Niigata more than 10 years ago. Fans – known as Snow Peakers – visit the HQ shop in droves to stock up on stylish clothes and camping gear; 30,000 of them stay in the adjacent campsite every year. And now there's a new addition: Field Suite Spa, a natural hot spring resort and hotel designed by celebrated architect Kengo Kuma. 
"Our chairman, Tohru Yamai [Yukio's son], was already thinking about opening this spa when he moved the headquarters here more than a decade ago," says Keitaro Yuda, who worked on the project. Finally it's come to fruition: two hot spring onsen baths and saunas (one set for men and another for women), two restaurants and accommodation for 14 in three villas and four wooden Snow Peak trailers, known as Jyubako (or "Living Box"), also designed by Kuma.
The Snow Peak staff are all fresh-air diehards but they are well aware that camping isn't everyone's idea of a dream holiday. For all those who yearn for the great outdoors, there are plenty of others who can do without the hassle of sleeping alfresco. "Only 7 per cent of people regularly go camping in Japan;  we're interested in speaking to the other 93 per cent", says Yuda. 
The spa is part of the company's mission to entice more people into nature. The pandemic has helped to push people outdoors – sales were up 53 per cent last year – but the business has to be built on solid foundations. "It's a boom now but we want to build eating and camping outdoors into people's everyday life," says Yuda. This is Kuma's third Snow Peak project: first came the Jyubako trailer (inspired by nomadic dwellings Kuma saw on his travels in the Sahara), then a recreation centre in Hakuba and now the spa. "We believe he really understands our philosophy and what we want to achieve," says Yuda.
There were challenges, not least having to drill down 1,600 metres to open up the spring that supplies the spa's slightly salty water, which is said to be good for smooth skin. The construction team cut down as few trees as possible and moved others, while soil from the excavation – usually discarded – was reused for Japanese sakan plaster walls. Kuma's design also included 15,000 pieces of Japanese firewood, cut to specific lengths, that had to be put in place carefully.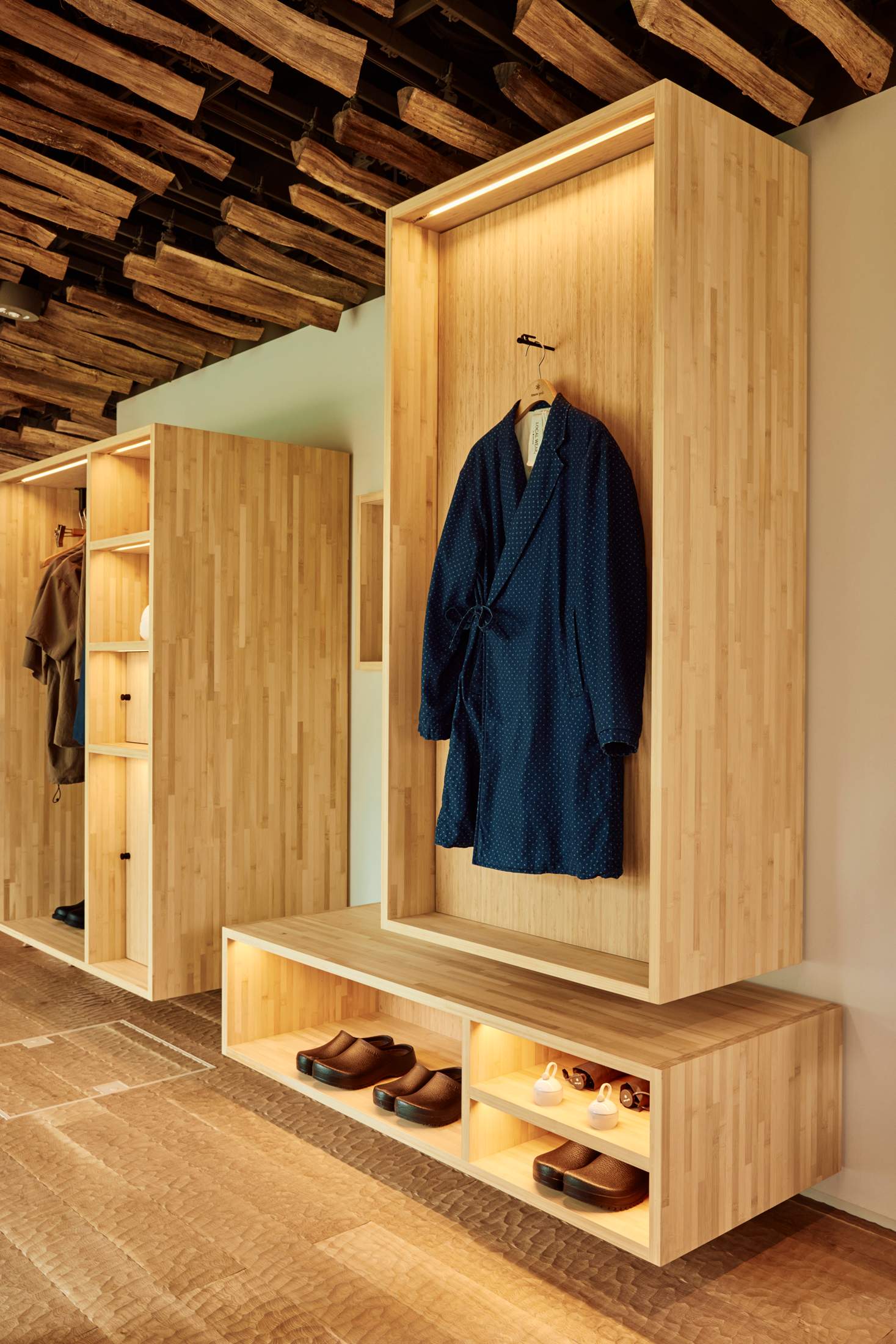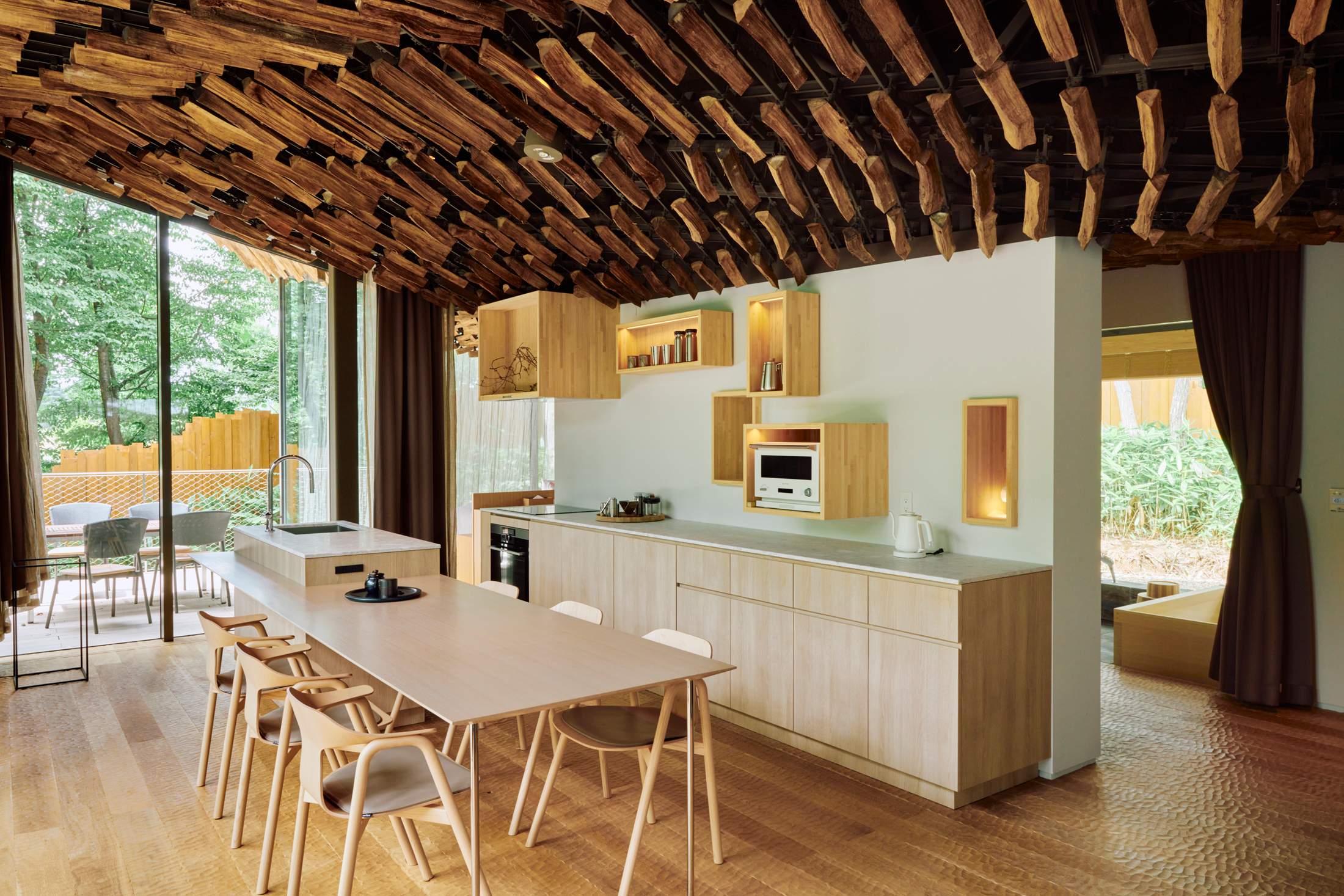 "The key materials are wood, earth and metal [a speciality of nearby Tsubame-Sanjo]," says Yuda. For the Villa Suite, the team chose furniture from Arflex in neutral tones; the bath is made from hinoki cypress; the wooden floor is traditional naguri, carved by craftsmen for texture. Even the background music is mingled with the crackle of burning wood for a soothing ambient soundtrack. 
"When it's dark you can use our portable light, when it's raining you use our umbrella, when you're making coffee you can use our cups"
There are Snow Peak products all over the rooms and restaurants (and with hundreds of items in the line-up, every base is covered). "We wanted there to be Snow Peak touchpoints for people who might be meeting the brand for the first time," says spa manager Kentaro Fujita. "When it's dark you can use our portable light, when it's raining you use our umbrella, when you're making coffee you can use our cups." There are Snow Peak wooden sandals for the terrace; the dressing gown is from the Local Wear range of traditional Japanese garments updated by small makers in northern Japan. 
Everything is for sale in the spa shop: Snow Peak clothes and camping kit, food and drink from the area and stainless-steel goods from Tsubame-Sanjo. You can even buy a fully equipped Jyubako trailer. First-time campers can hire all the equipment they need from the main shop before making any big investments. Lisa Yamai, the founder's granddaughter, has been ceo since 2020. She's responsible for Snow Peak's successful crossover into the fashion arena. Staff wear her earthy Yamai line while the new Home & Camp range is designed to work in everyday life or out in the field.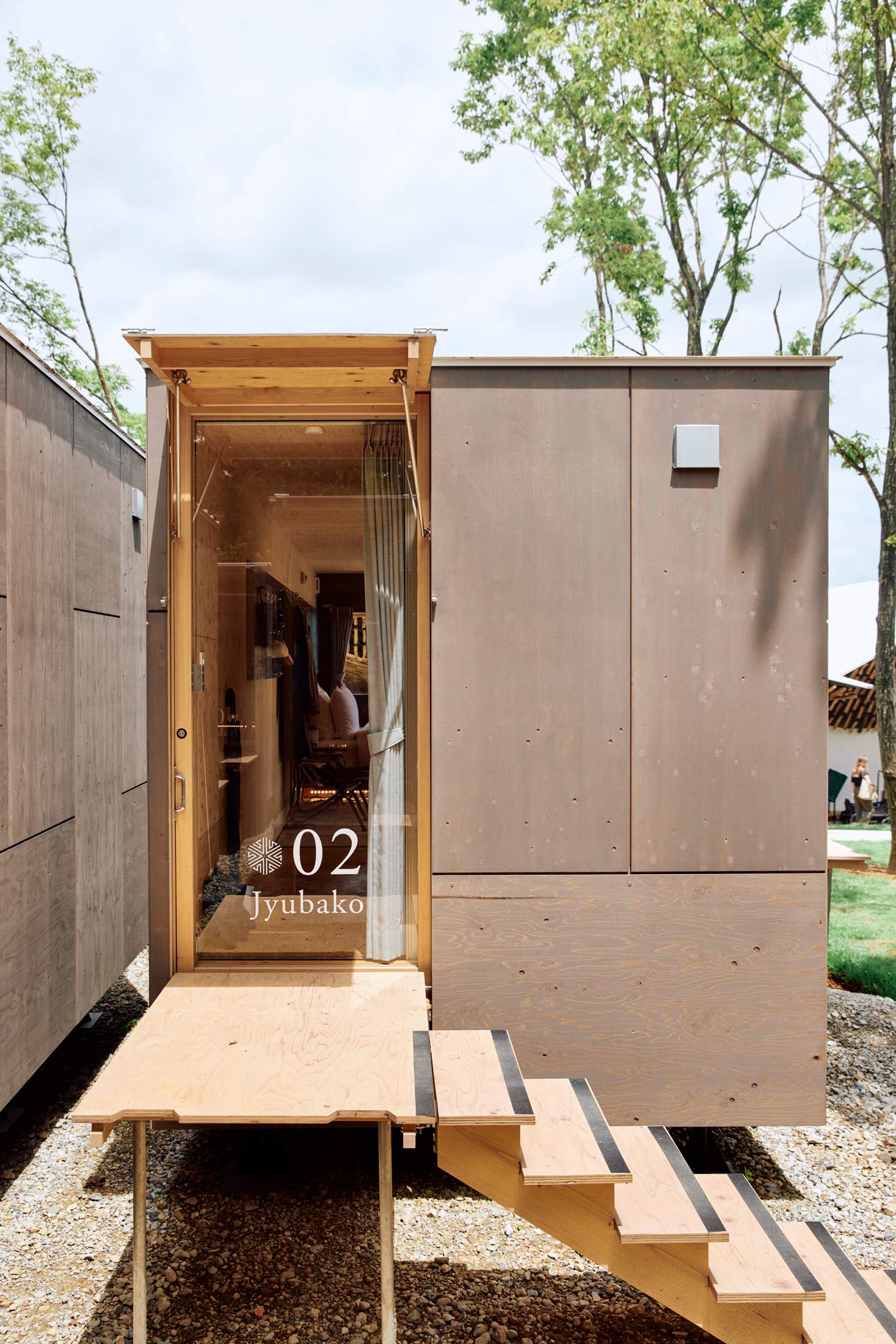 The spa's main restaurant, Seppo, designed by Tokyo studio Puddle, is on the fancier side but rooted in Japanese ingredients; Awagatake, a 1,300-metre peak, makes the perfect backdrop. The canteen-style café, Snow Peak Eat, is more casual."Normally you have to pay to enter the spa before you can eat but not here," says Yuda. "We want campers to be able to come in just to order a bowl of ramen."
Making the spa open to hotel guests, visitors and campers was important. Employees can go there too. "Everyone at the headquarters uses the spa, including the event crew," says Fujita. "It definitely improves the working environment." After a lengthy period when staff were working remotely, a dip in the onsen is another incentive for them to get back to the office.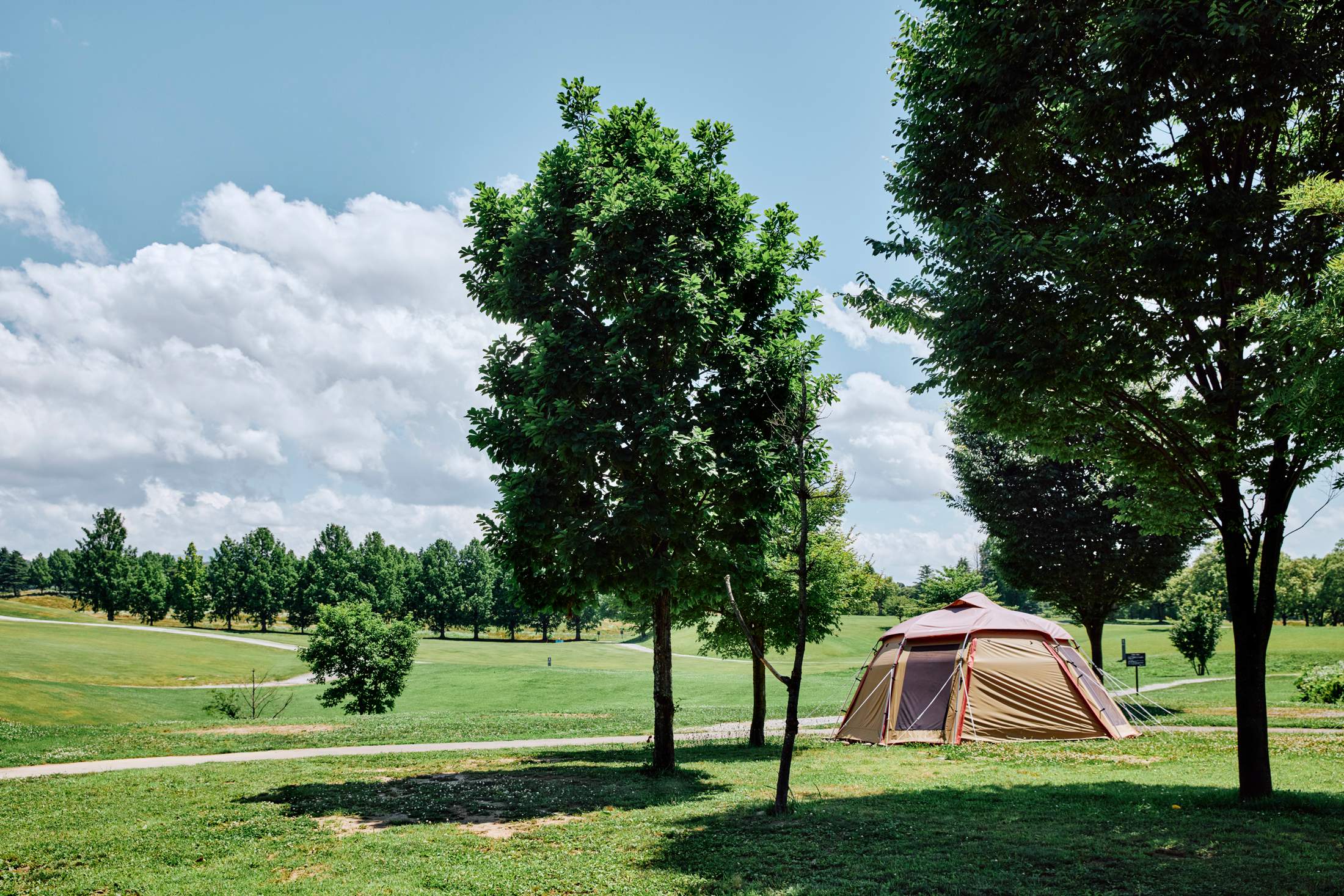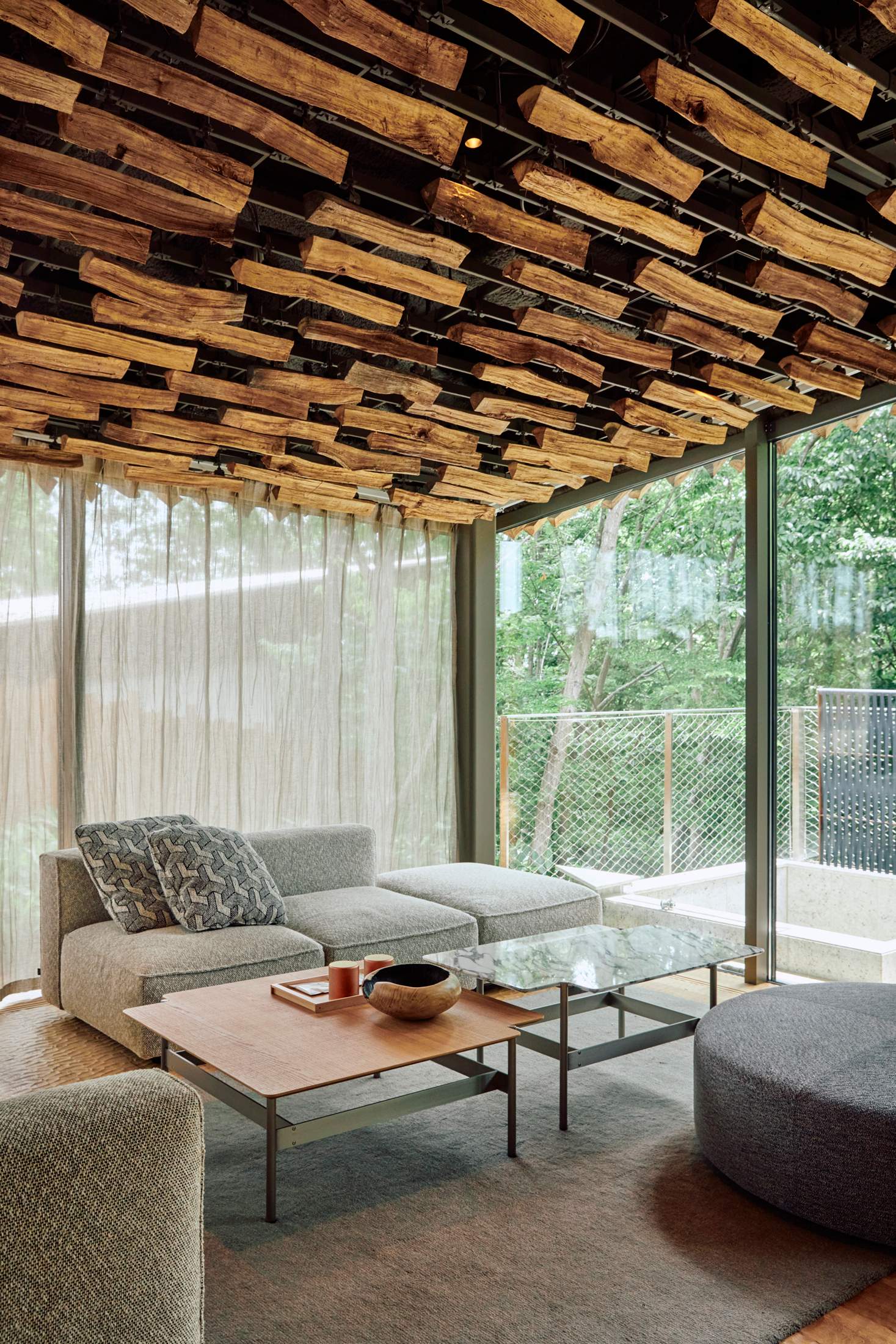 The spa might seem like a lavish investment but Yuda says that if even half the campers use it, the company will recoup its costs. "The spa enhances the camping experience but having the accommodation here also allows us to welcome people who don't know about Snow Peak and don't like camping – maybe they'll think about trying it next time," he says. "It also works as a b2b showroom for other companies and local governments who might want to do something similar." Outdoor events where staff can meet customers have always played a big part in Snow Peak too. 
Yuda says the company's ambition is straightforward. "What we want to achieve for people and the planet is very simple: do something good and make people happy," he says. "If that works as a business, even better. At the end of the day, we're people who like to camp and have fun."