The Agenda / Global
Urbanism
The park project reconnecting Bangkok's residents with their city's canals.
canals ––– THAILAND
Stretching the imagination
Pan Siripark on a new landscaped park that's bringing one of Bangkok's forgotten canals back to life. With lush greenery and spacious walkways, the Chong Nonsi Canal Park is a welcome addition to this bustling metropolis. 
---
Amid transformative growth and relentless urban sprawl, Bangkok's history as one of Asia's most prominent canal cities is often forgotten. But with growing momentum to improve a deficit of public spaces and parks, the Thai capital's waterways, for so long sidelined in favour of motorways and high-speed railways, are beginning to draw the attention of city planners, architects and urbanists.
The Chong Nonsi Canal Park offers a glimpse into what rehabilitating Bangkok's canals, known locally as klongs, might look like. Joining the project is Kotchakorn Voraakhom, one of Thailand's most successful, and hippest, contemporary architects. "Most people forget that this city was called the 'Venice of the East'," she tells monocle. "It's sad that most Bangkokians are disconnected from the idea of klongs historically being our major urban arteries." An alumnus of the Harvard School of Design, Voraakhom is ceo of the Porous City Network, a social enterprise whose aim is to strengthen urban resilience – cities' ability to deal with environmental hazards – in Southeast Asia. 
When city authorities decided to redevelop the Chong Nonsi canal, a long-ignored drainage waterway in the middle of Bangkok's business district, Kotchakorn jumped at the chance to be involved. Stretching an ambitious 4.5km through several neighbourhoods and flowing to the Chao Phraya River, Chong Nonsi will be the site of Thailand's first and longest canal park. "I'm most proud that I've seen such a high level of public and private sector co-operation," says Kotchakorn. "Many Bangkok administration agencies work independently of each other so it's great to see them work together on this project." This sense of collaboration is deeply ingrained in the park's design. The extensive walkway that connects it to the Skytrain station is a laudable effort to improve the city's endemic accessibility issues. Sloped concrete banks aim to improve rainwater capture, minimising flooding as well as integrating hidden sewage pipes that transport an estimated 140,000 cubic metres of polluted water away for treatment. Plant life is not merely another box to tick, with lotus leaves, water lilies and other aquatic flora restoring a measure of biodiversity to the canal.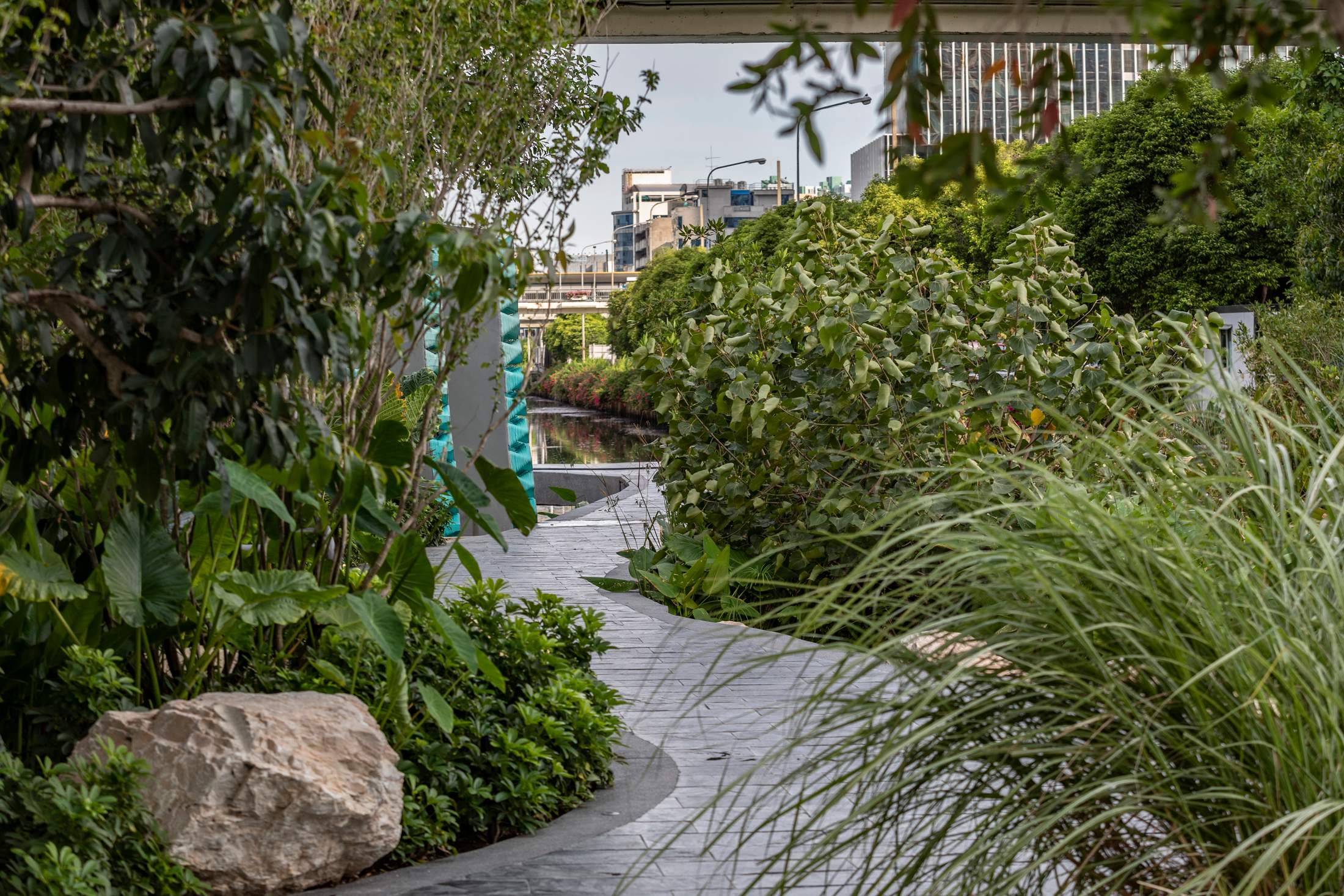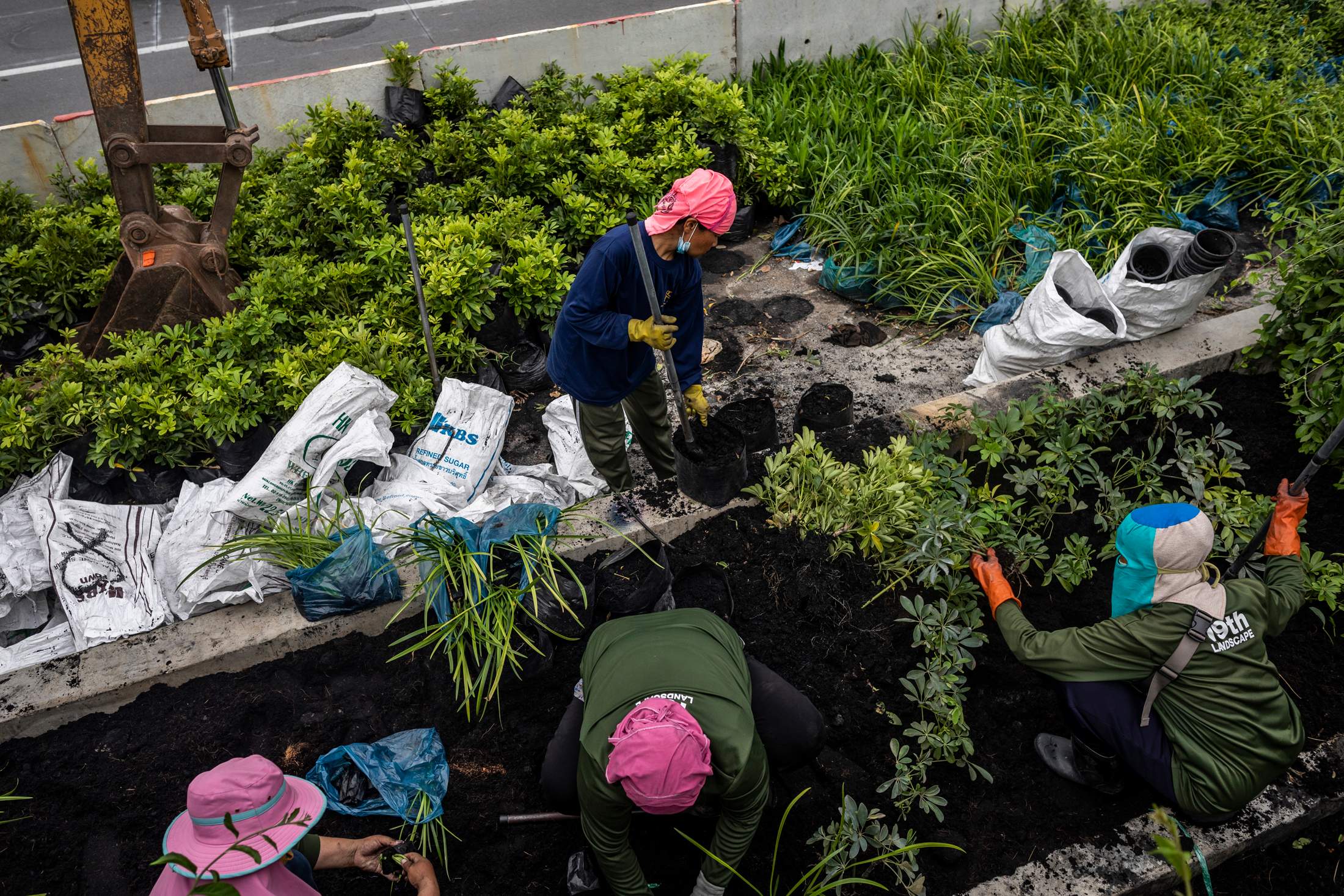 The construction of Chong Nonsi hasn't been without controversy. In the period leading up to its opening, issues ranging from the canal's location in an area low in footfall to negative reactions from residents during the pollution-heavy construction process, have threatened to jeopardise its existence. However, in a city that has only just begun to rapidly move from conventionally flat and artificial landscape parks, the vision behind utilising the canal as a way for Bangkok to improve its green spaces is a step in the right direction. And it's all the more important as the city grapples with the ecological consequences of neglecting one of its vital features: drainage waterways. In 2011, more than 800 people died in Thailand's worst flooding in 50 years. With alarm over Bangkok's vulnerability to future disasters – estimates suggest that just 4mm of rainfall has the potential to inundate the city – anything that can both mediate this and improve quality of life for residents has to be celebrated. 
---
The Comment
transport ––– usa
Driving change
Louis Harnett O'Meara on how the likes of Robert Moses divided cities with aggressive highway projects – and why the Department of Transportation is now spending $1bn to bring people together again.
---
In 1950s America, new was good and old was bad. Driving this attitude was the car. Cheaper vehicles and rising incomes led to US automobile sales of almost 58 million over the course of the decade. Cars shuttled office workers between picket-fenced homes and concrete jungles. City planners threw up multilane highways to assist their commute. Sure, obstructive neighbourhoods were razed but it was for the greater good – or so the story used to go.
A US Department of Transportation programme now admits the problems with this narrative. At the launch of Reconnecting Communities on 30 June, transportation secretary Pete Buttigieg (pictured) said that roads and railways "can connect us to jobs, services and loved ones but we've also seen countless cases around the country where a piece of infrastructure cuts off a neighbourhood or a community". The scheme intends to right such wrongs by handing out $1bn (€980m) of grants over the next five years to projects redeveloping divisive infrastructure. Walkways over busy roads and rapid-transit bus services will be part of the mix, as will environmental concerns. "This is a modest but significant turning point," says Rick Cole, executive director of the Congress for the New Urbanism, an organisation that promotes walkable cities. "It's the first piece of federal legislation that explicitly acknowledges the scars that were left."
In the 1950s and 1960s, author and activist Jane Jacobs put the spotlight on these scars in arguments levelled against New York urban planner Robert Moses. He believed in ripping up and reshaping cities for cars, overseeing the construction of 35 highways to this end. Jacobs thought that cities should be walkable, tightly interconnected spaces that served the needs of their communities. During Moses's tenure, Jacobs mobilised New Yorkers against what she called "the sacking of American cities".
This wasn't hyperbole. More than a million people were evicted for the sake of new roads in mid-century America. Most of those were from black neighbourhoods whose residents, on lower incomes, didn't typically own as many cars. Highways often cut up towns along class and racial lines, drawing boundaries between impoverished communities and good jobs. While suburbs thrived, city centres decayed. "New York was nearing bankruptcy after Moses had finished with it," says Cole.
After a decade-long campaign, Jacobs managed to halt the construction of a huge Moses-planned highway through Lower Manhattan. She prevented the displacement of 2,200 families and the destruction of Soho and Little Italy's urban character. 
Reconnecting Communities suggests that Jacobs has won the argument in the long run. With the programme, support for her community-oriented approach has reached a federal level. Though it won't address every problem that Moses and others left behind, it will be welcomed by organisations nationwide. 
"My father's home in the 1960s was in a thriving black neighbourhood before Interstate 40 was built right through it," says Harold Moses Love Jr, a state lawmaker in Nashville, Tennessee. Love is consulting residents on how the highway can be transformed into something that connects rather than divides. "We are hoping to apply for funding for a large public green space on top of the highway," he says. "We hope that it's a step towards rebuilding our world."
Photographer: Andre Malerba