My cabinet: VanMoof / Amsterdam
Virtuous cycle
Dutch biking evangelist Taco Carlier introduces the team that's electrifying bicycle-making and getting urban riders on the road in cities worldwide.
Spirits are high when monocle visits the newly completed Amsterdam headquarters of electric-bike manufacturer VanMoof on a Friday afternoon. Ice lollies are being tossed around, talk of weekend plans is flowing and, in a far-off corner of the room, a table football game kicks off. "It's the best club in the city," says Taco Carlier, the company's co-founder and ceo, laughing.
Dutch firm VanMoof was founded in 2009 by Taco and his brother, Ties, who now runs the company's Taipei r&d base operation. Its goal was to get more people out of their cars and onto bikes. "In Amsterdam about 50 per cent of all commutes are on bikes," says Taco. "I'm convinced that in the next 10 to 20 years, we'll see just as many cyclists on the streets of Paris, London, New York and San Francisco."
The brothers have created what they believe is the ultimate city bike, with inbuilt wide-beam lights, keyless locking and anti-theft technology with gps tracking. VanMoof keeps everything in-house with its own 700-strong team of engineers, designers and "brand store staff".
Teamwork and understanding are key, says Taco. "I want to create the perfect conditions for people to work together so they can get to the next level." There are challenges, of course, in cultural differences and working across time zones; VanMoof has shops in more than 50 cities throughout Europe, the US and Japan. "If you overcome those, you can create beautiful products and change the world a bit," he says. "That's what we're trying to do."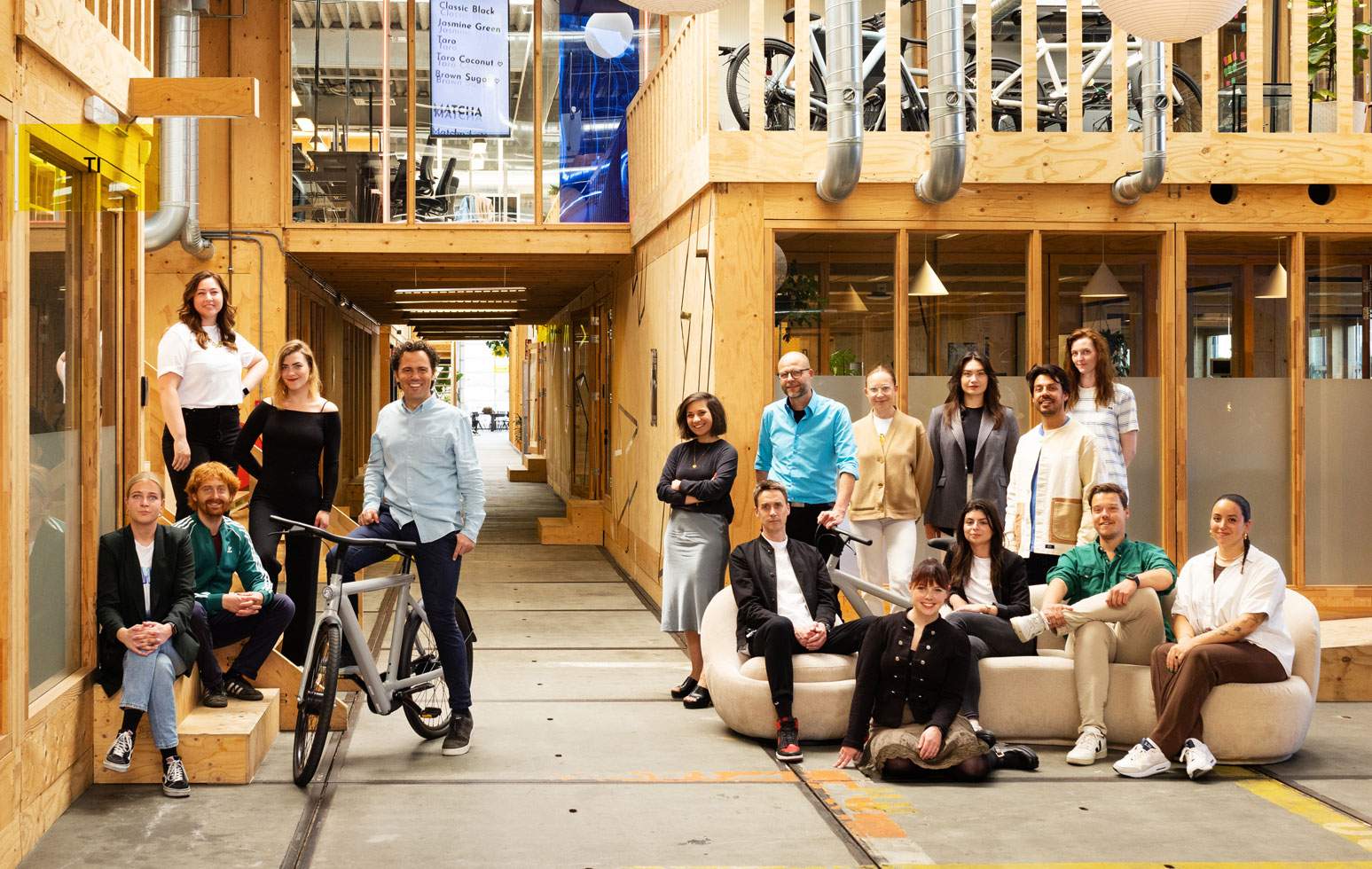 ---
The Cabinet (From left to right)
Nenah Bonarius, Brand store manager, Amsterdam,"Runs the Amsterdam shop."
Wren White, Head of operations,"Keeps everything functioning in an efficient manner."
Job Stehmann, Chief product design and technology, "Unlocks VanMoof's designers' and engineers' ideas."
Marjolein Deun, Industrial design lead,"Designs and develops everything you can see and touch."
Taco Carlier, CEO
Dutch industrial designer Taco Carlier and his brother Ties first set their sights on exporting Amsterdam's bike-friendly culture to the rest of the world in 2009 – the year they visited New York together. "You have to be in another place to see what's good about your own city," he says. At the time, he couldn't understand why more New Yorkers didn't cycle. Now the duo's bikes are sold in more than 15 countries and counting.
Anissa Jaffery, Global vip and brand partnerships manager,"Manages the ambassador programme and oversees all brand partnerships."
Jonathan Hum, Chief marketing officer,"Grows the brand and grows the business."
Jean-Paul Niellissen, Lead innovation manager, "Links separate interdisciplinary teams to develop the bike as a whole."
Heidi Powell-Biney, Retail marketing specialist,"Conceptualises the in-store experience across the globe."
Shannon E Thomas, Head of experience design,"Ensures a practical and fun experience for VanMoof's riders."
Sarah Florander, Social media and content manager,"Is in the middle of everything, whether that's writing a creative brief or getting VanMoof's next global ambassador on a bike."
Aurelia Grajdieru, Media lead, "Helps to put the brand in front of millions of people every day."
Nino Loupatty, Scrum master,"Helps teams to work together better."
Holly Minnes, Senior bike doctor,"Builds the customers' bikes, fits accessories and fixes any problems."
Florian Minco, Team lead, technical support, "Ensures that his team knows pretty much everything there is to know about every bike."
Mila de Randamie, PR manager, Benelux,"Ensures that VanMoof is seen in a good way."