My cabinet: Studio Nicholson / London
At ease
Nick Wakeman, designer of effortlessly stylish clothing, introduces Studio Nicholson's team, from its marketing director to its Soho shop manager.
"My first love was fabric not clothing," says Nick Wakeman. "I studied textiles and specialised in print, which is hilarious because I can't stand print now." It's a surprise admission from the London-based fashion designer and founder of men's and womenswear label Studio Nicholson.
Her appreciation of this irony – a trained print designer who now produces minimalist clothes in neutral colour palettes – is reflected in the playful mood when monocle meets Wakeman and her team at the brand's Soho flagship. Despite being busy preparing to shoot of its new collection (which the team is wearing today), there's laughter and ribbing. "We're very serious about what we do," she says. "But I'm an absolute joker."
Established in 2010, after Wakeman worked for Italian brand Diesel and a host of independent British labels, Studio Nicholson is renowned for crafting clothes with carefully structured silhouettes but the designer is keen to stress that wearing the label feels playful. "Our garments are sophisticated but there's always one little bit – the cut of the trouser or a small detail – that will make it fun." This approach is part of Wakeman's ambition to provide quality clothing that puts its wearer at ease. "I want the clothes to feel really effortless. There's nothing worse for me than people looking like they've tried too hard."
To do this, Studio Nicholson works closely with Japanese suppliers and mills in Italy, where the brand helps with the development of textiles. Samples are then shipped to its studio in east London, where a team of five designers and seamstresses develops toiles and maquettes, digitises patterns and creates multiple samples and pre-production fits, before entering quality control and finally production. It's a rigorous and time-intensive process but it ensures that every detail is considered. And it's paid off.
Over the course of 12 years, the brand has established a loyal customer base in Europe and the Americas, with a huge following in Japan and South Korea (where Studio Nicholson has just opened its first shop outside the UK). And, naturally, other brands have taken notice. "The funny thing is that when we started, there was no one doing what we're doing," says Wakeman. "Now there are lots of brands. But we are the original and you can't replicate that knowledge and understanding."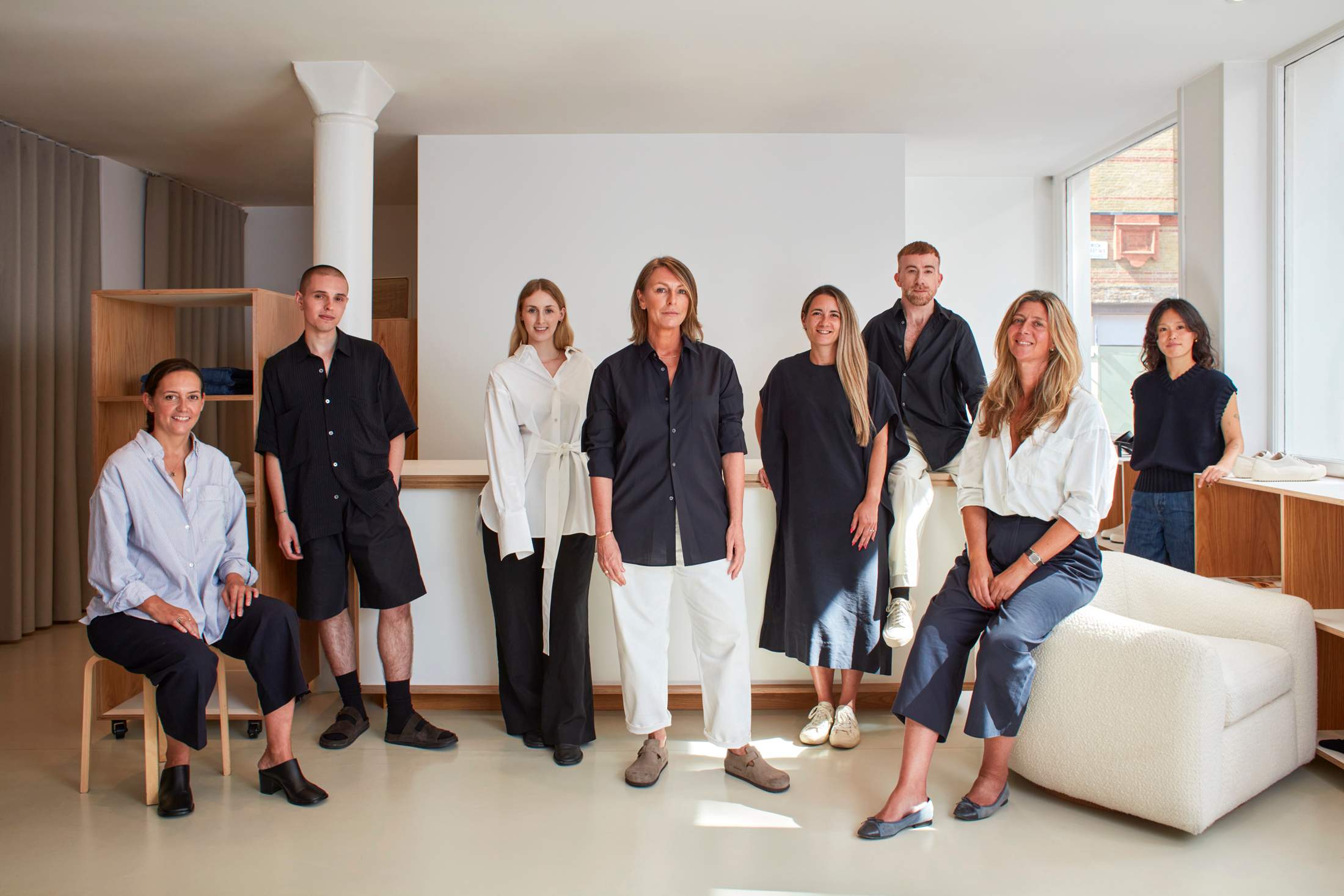 The Cabinet (From left to right)
Alison Ford Marketing director "In charge of marketing strategy across all platforms, building the brand globally."
Hugo Fonseca Assistant merchandiser "Analyses sales data in order to grow the business."
Emily Bissell Product developer, womenswear and accessories"Makes designs come to life – develops products from sketch to final sample."
Nick Wakeman
Founder and creative director
Despite a career spanning more than 20 years, Wakeman says it wasn't inevitable that she would end up running her own label. But it seems there were clues in her upbringing. "My mum made all my clothes and my father was a really successful businessman," she says. "Both of those things made me an entrepreneur."
Eva Gomes Chief operating officer "Firefighter. Keeps the business running efficiently."
Joe Richie Soho shop manager "Does what it says on the tin: runs the flagship shop."
Annie Gurney Production manager "Working with our supply chain partners to deliver beautiful products."
Jiwon Lee Sales associate "Helps customers to find a style that suits them."