The Agenda / Global
Culture
Public service broadcasting with Mexico City's Loot radio, Euroman magazine's editor in chief and the National Opera of Ukraine.
broadcasting ––– Mexico
Radio active
It's nearly noon on a sunny Saturday in Mexico City and the pavement outside Loot's HQ in Roma Norte is humming with life. Couples, friends and families filter into the building, dogs in tow. At the entrance to this multi-purpose shop and gallery, a DJ is spinning records under dangling plants. Next to her, a sign reads "On Air". At the back, a few vendors are selling records. "Today, DJs play more vinyl than digital," says Yasmin Shamir, Loot's radio programmer.
Launched a few months ago, Loot radio is the company's newest offshoot and yet another broadcaster to realise that there's no point in hiding operations behind closed doors and noise-cancelling glass. Opening proceedings to the community helps to gather a committed audience at a time when media brands need to get ever more personal to retain their listeners' attention.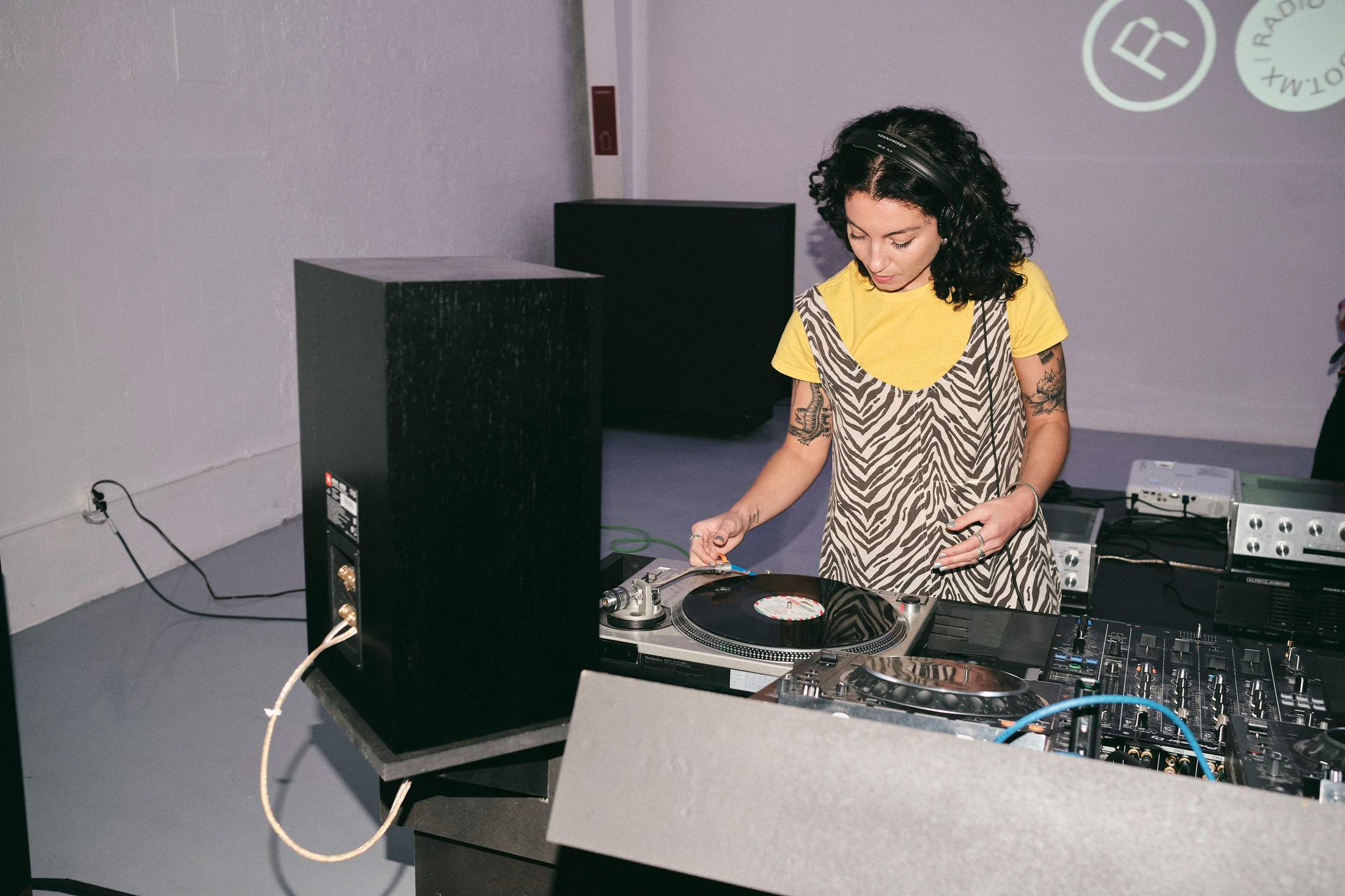 At Loot, this kind of public event has become a monthly affair: neighbourhood residents can swing by, global listeners can tune in online. "It's about being accessible," says Shamir, who was based in London before relocating here. "Everything happens on street level, so you can see the DJs, talk to them, hang out, have a coffee and be part of the programming." Over the course of the day the atmosphere shifts: DJs switch genres as the crowd evolves and grows. Coffees become cocktails and pastries become plates of ceviche and bowls of melon gazpacho ordered from the on-site restaurant. "This building is for the community," says Shamir. "When you're listening online, you still get that energy. It's not just someone in an echo chamber playing whatever; it shows the rhythm of the day."
Since launching in 2013 the brand, founded by entrepreneurs Tara Medina and Andrés Saavedra in the coastal town of Zihuatanejo, has expanded from making surf-related products to designing items, hosting art exhibitions and now radio. "The idea with Loot has always been to make it open," says Medina. The hope is to ramp up the schedule to turn these occasions into weekly appointments, as well as to launch podcasts. The HQ in Mexico City is already equipped with a recording room. "That's the beautiful thing about this space: it's so versatile," adds Shamir, who frequently welcomes people who make their way to this building. "It's about harnessing conversations and sharing them with the world."
loot.mx
---
Kristoffer Dahy Ernst
Editor in chief, 'Euroman' magazine 
In circulation for 30 years, Denmark's only men's magazine has evolved alongside ideas of masculinity while staying true to its commitment to serve "modern and quality-conscious men". Editor in chief Kristoffer Dahy Ernst tells us more.
What is 'Euroman' to you?
I've been a reader since I was 15 and always thought of the magazine as your best friend's big brother who knows everything about where to go, what to eat, what to wear and who you should know about. 
What has changed since you took over?
There's a strong emphasis on visuals that goes along with our outstanding journalism. We don't redesign the entire magazine each time but almost. We stay relevant by giving readers what they want but also what they didn't expect. Euroman is seen as a modern men's magazine that has been here forever, which is a blessing and a curse. Of course it's nice to have a well-established title that everyone knows – we never get a "no" if we ask someone to be on the cover. 
What's on the horizon? 
We have a special edition that's all about enjoying the home. Winters are dark and long here and the Danes know the remedy: well-designed interiors, cooking good food and having people over. We want to be part of that conversation. 
euroman.dk
---
opera ––– ukraine
Siren song
Built in 1867, the National Opera of Ukraine stands proudly in the centre of Kyiv. Before the war its company performed six days a week to a capacity crowd of 1,300. Today it only allows in 300, the number of people that can fit safely in the basement during an air raid. The Opera is not the only Ukrainian cultural institution on high alert. On 1 March, Kharkiv's concert hall was hit by rockets and, two weeks later, Russian planes bombed the Donetsk Regional Academic Drama Theatre in Mariupol, killing approximately 600 people, most of them women and children. This shocking attack not only discredited Moscow's claim to be avoiding civilian targets but also gave further credence to the belief that the war is an assault on Ukraine's cultural identity. 
But that identity has been galvanised in defiance. When the National Opera reopened its doors in May, after three months of being closed, it was to stage Natalka Poltavka by Mykola Lysenko. The opera is a romantic drama sung in Ukrainian folk songs. "It brings us all great joy to help the theatre come back to life," says chief stage director Anatoliy Solovianenko. According to him, Natalka Poltavka has particular significance. "Ukrainians have been brought up on this music and we must ensure that younger generations can experience it too," he says.
Backstage, the operatic mezzo-soprano and leading soloist Anzhelina Shvachka applies make-up in her dressing room ahead of a matinée performance. She has been with the company for 30 years but had to flee to the west of Ukraine when the war began. As soon as she had the opportunity to come back, she did. "People need to hear Ukrainian music and share Ukrainian stories," she says. "It's a reminder of what's at risk and what we're fighting for."
---
Images: Lover Lover for Loot