Business: Interview / Geneva
Person of interest
With a CV boasting leadership positions at leading luxury brands, Chabi Nouri has made a big leap to take on a new role as a private equity partner with Mirabaud. She explains why there's money to be made from sustainability.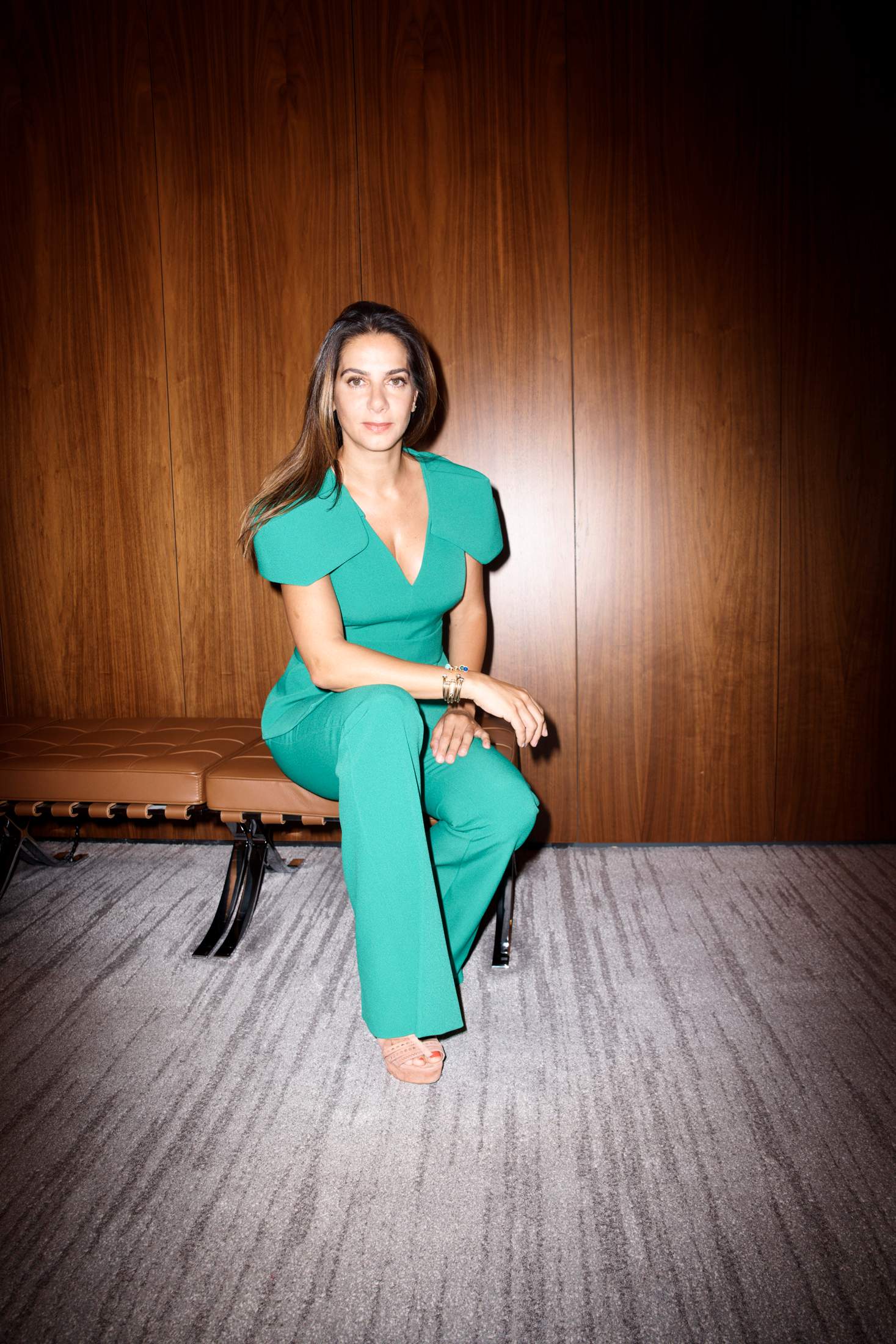 It's a suffocatingly hot July day in Geneva when monocle arrives at the immaculately kept headquarters of the Mirabaud Group private bank. The few people outside who haven't escaped for the summer are in beachwear, but five floors up, in an expensive-looking (and mercifully air-conditioned) conference room that points towards the lake, Chabi Nouri is a picture of composure in an emerald jumpsuit.
Her CV is just as eye-catching. Nouri spent 24 years working for heavyweight luxury brands and most of that time with the Richemont Group, one of the world's largest luxury companies, originally with Cartier and later as ceo of watch and jewellery brand Piaget. It raised eyebrows, then, when Mirabaud announced in May this year that Nouri was switching to a new position as a private equity partner with Mirabaud Asset Management's Lifestyle Impact & Innovation fund. Nouri. Alongside manager and Chanel heir David Wertheimer, Nouri is steering the fund, which raised close to €100m in its first full funding round, according to data company Pitchbook. 
The venture's scope is global – about 40 per cent of its investments are in Europe, with 30 per cent in the US and the remainder in Asia – and its creation was an attempt by Mirabaud, which is managing assets of about €40bn, to secure its piece of the gold rush in fashion and luxury. The industry has faced criticism for its environmental records. Meanwhile, private bankers are funnelling an avalanche of money into impact funds
aimed at taking on environmental, social, and corporate governance issues (known as esg). Pitchbook says that impact funds have raised €345bn in the past 10 years.
Mirabaud has hired Nouri to lead industry change. It's not her first time as a modernising force: in 2017, she was made ceo at Piaget at a time of broader change at Richemont. In the same year, nine new appointees were made to the company's board, with male members including a duke and a lord making way. She's used to treading carefully, though. Nouri spent six years at British American Tobacco and has long been a rare woman ceo in a male-dominated industry. On both facts she coolly concedes that non-esg companies "still have a lot to do" and that there is "room for improvement" on executive gender parity when she sits down with monocle.
Why did you decide to make the jump to an investment fund?
It's interesting after 20 years in the corporate world to go to the other side and look at how an investor will see things. You can influence many businesses while understanding how they work and creating an ecosystem that allows them to advance. You need to have an entrepreneurial spirit and this was a way for me to see how consumers are evolving. I've understood most aspects of luxury companies from the consumer, product and distribution points of view – and now I can from the investor's vantage point.
Is variety something you've sought out in your career?
I've always been driven by learning and discovering more. I've done it in six or seven-year jobs and within Cartier I did different jobs. I'm interested in understanding broader aspects of the business and I've realised how important that is for the job I have now.
How does the new job compare with previous roles?
There is a tension between traditions and innovation. Today's traditions keep know-how alive but they were innovations at one point. The luxury and lifestyle companies that have taken the lead are ones that have innovated throughout their history. The companies we're working with are the ones redefining the lifestyles of tomorrow. 
What does your fund look for when investing in companies? 
We try to invest in companies that have a positive impact; the sustainability aspect is quite important. We're trying to invest in companies to build an entire universe around this younger generation, in suppliers, services, products and platforms. The younger generation wants to buy into a community and they want to understand the bigger purpose of these companies – that's one of the big trends we're seeing today. We're working on launching a second strategy with the same investment criteria. In the first one, we've created clubs of investors that have an affinity to the lifestyle world and to this younger generation. We're also creating clubs of companies: the businesses we invest in talk to each other – we want to create an ecosystem for them to leverage. It's not something you find in other private equity franchises and that's exciting.
Has the pandemic changed the luxury fashion industry in any lasting ways?
There has been a huge acceleration in the trends we were seeing over the previous years: the sense of esg, the blurring of what is virtual and what is physical. Of course, the physical element will always exist. It's a matter of equilibrium between delivering the physical but also having a digital world. 
Do you see benefits in having worked with companies less aligned with ESG than others?
It has given me an outlook on how esg has moved on. A lot of firms have embraced it seriously and that's why it's also important for our franchise to have it as a core element.
Is it harder to make established luxury companies sustainable than new ones?
I don't think so. Companies have embraced a lot of new ways of distributing business. Many of them have taken big risks even when it was not aligned with their business models. With the new generation, companies' messaging needs to be super authentic, so you have to embrace these changes very quickly. I love that Mirabaud is a family-owned business. They have skin in the game; it's their personal heritage, so the investments have to be well-aligned with a long-term vision. 
---
Future first
Mirabaud's noteworthy impact investments.
1. Mycoworks: California-based firm building a full-scale plant to grow fungus-based leather used in "vegan" leather.
2. La Bouche Rouge: A refillable lipstick venture launched by a L'Oréal veteran that has since expanded into make-up.
3. Pangaia: Materials company loved by celebrities that makes textiles, clothing and packaging from plants.
4. Highsnobiety: German street-culture-focused e-commerce and news platform with its own advertising studio.
5. Intrepid: Vietnam-born and Singapore-based e-commerce and e-marketing solutions firm with a growing presence.