Business: Sportswear / Oregon
Stepping up
From his new office at Nike's HQ, the design chief of the world's leading sports brand reveals its plans for the future of products that bear the famous swoosh.
A large part of Nike's success is that it's often in the right place at the right time. One of those moments was when Chloe Kelly, a member of the England women's football team, tore off her Three Lions top after scoring the winning goal at the European Championship this summer, revealing a little tick on her sports bra. 
The person in charge of ensuring that the swoosh has this key visibility is chief design officer John Hoke III. He meets monocle on the fourth floor of the new Serena Williams Building at Nike World Headquarters in Beaverton, near Portland, Oregon, just a day after the tennis star suggested that she is quitting the court. "I'm still working through it," says Hoke, in sleek black Nike trainers and a black T-shirt that reads "Techno" (he just likes the music, apparently). "Serena has been so prominent in this company and in my career; I've been able to watch her develop into arguably the best athlete we've ever had," he says. "I am sad, because we're losing that, but I'm also happy for my friend."
Across Hoke's 30-year tenure at the brand, he's worked closely with many of the Nike-affiliated star athletes to create clothing collections and footwear. He has also collaborated with luxury brands such as Jacquemus, the late designer Virgil Abloh and artist Tom Sachs. Williams, though, has had a huge bearing on Nike's future design thinking: she has given her name to an extensive apprenticeship programme (in which she contributes feedback on students' final projects) as well as the new building that is the size of 140 tennis courts and brings the core design team together under one roof for the first time in decades. "A thousand designers is a pretty big concentration," says Hoke.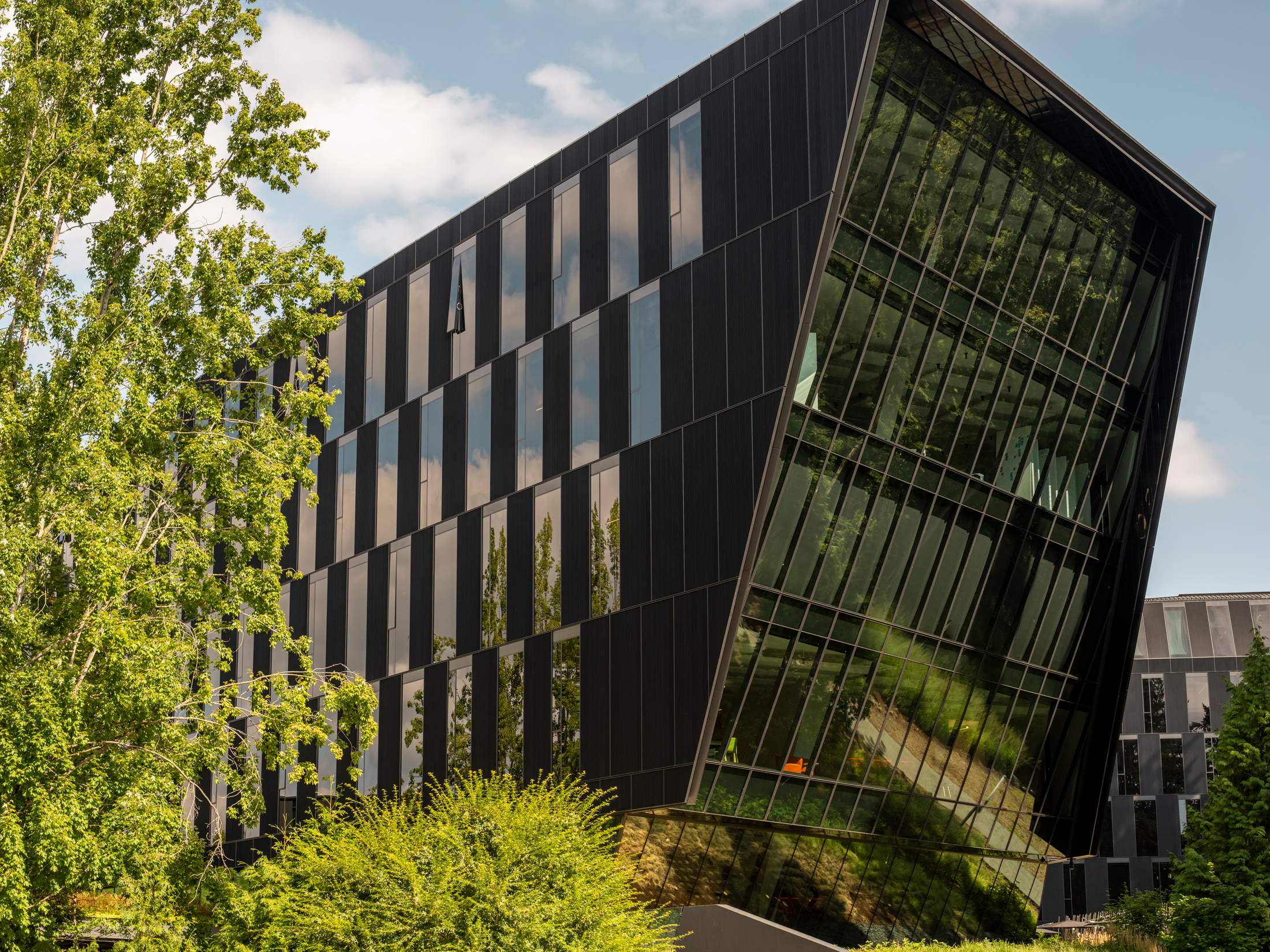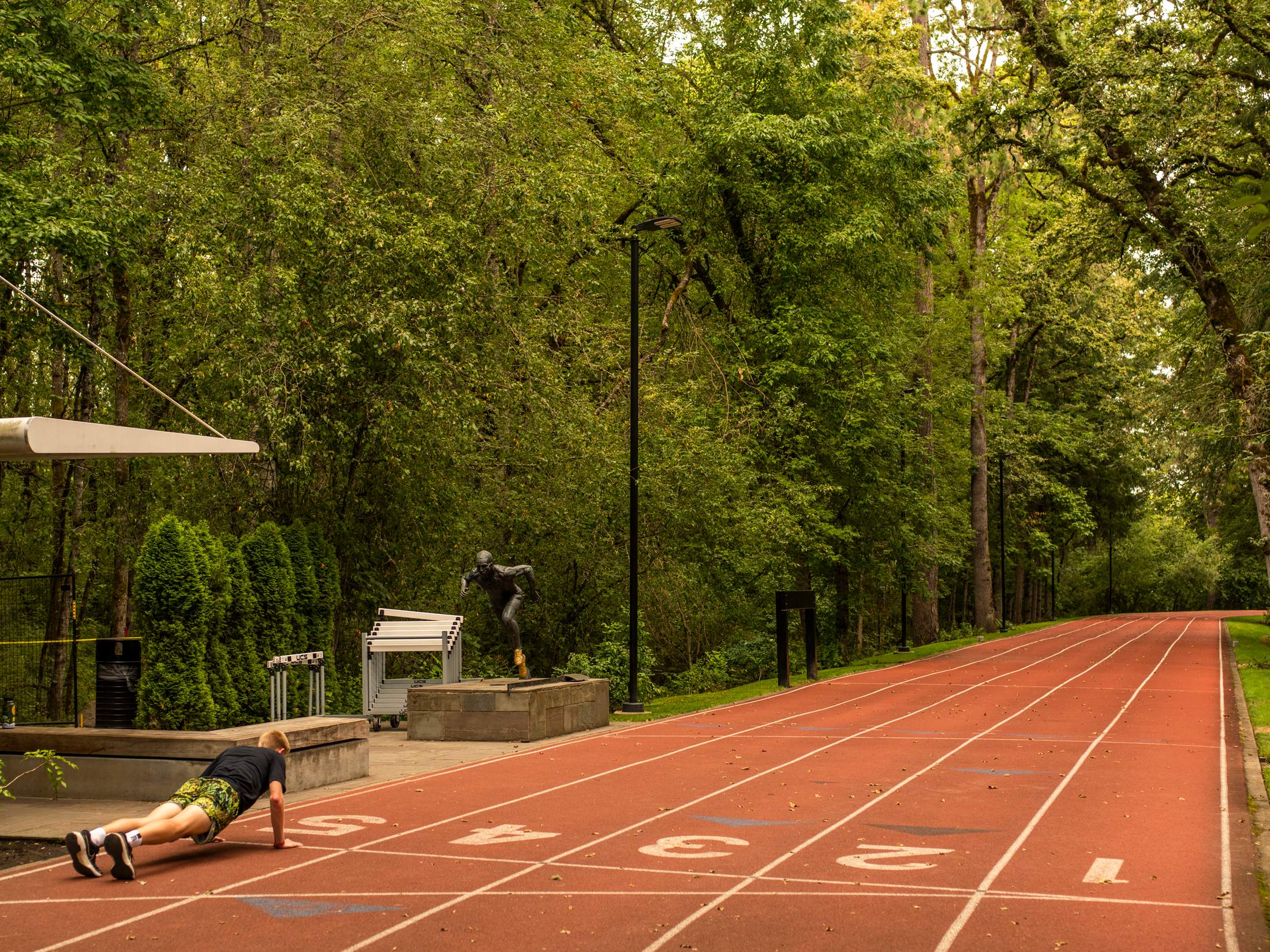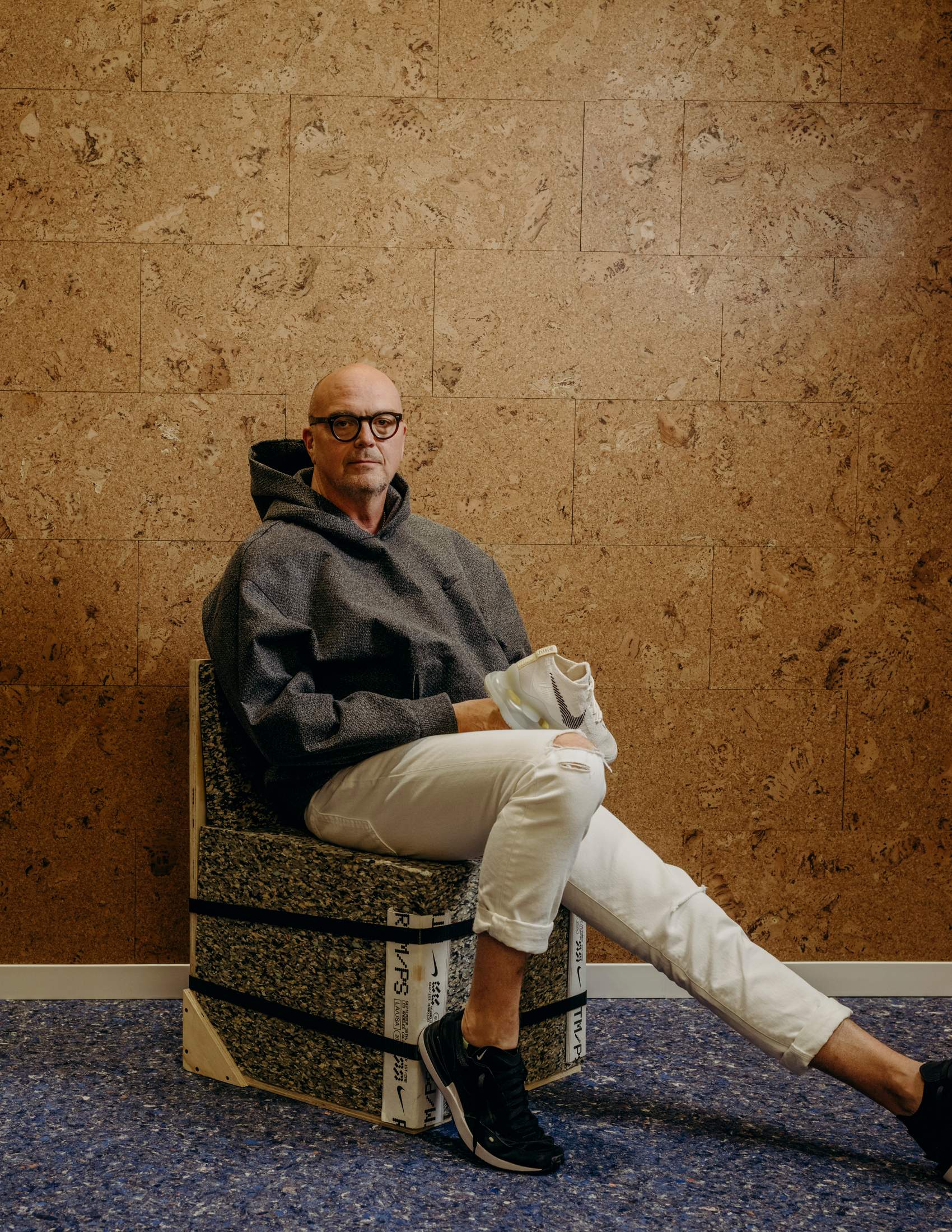 The consolidation of design talent in this one building is happening at a pivotal moment for Nike. The company is under more scrutiny than ever to make good on promises about improving sustainability in how it produces its clothes and footwear. The people who monocle meets at Nike's HQ – home to 11,000 employees – are unapologetically earnest about the organisation's high-minded intentions. However, this is still a brand that made $44.5bn (€44.5bn) last year through a core product that relies on leather and rubber and manufacturing in Asia. While Nike's business remains buoyant, its customers are increasingly savvy to the line between real change and greenwashing; between piecemeal recycling targets and a genuine revolution in how products are made and materials sourced. Nike is aware of this.
"Regeneration is going to be a huge part of design's future," says Hoke, sitting in a speckled Eames chair made from reconstituted shoes."That means not just thinking about the end state but also the constant reimagining of matter. How this shoe becomes a basketball, becomes a shirt, becomes a bag and goes back to being a shoe. We have that power, that control, as designers."
"Regeneration is going to be a huge part of design's future. How this shoe becomes a basketball, becomes a shirt, becomes a bag and goes back to being a shoe"
He admits that it is still the early innings of all this work but alludes to collaborations coming down the track, notably in bioscience, that will be about tackling this head-on. "You will see a pivot," says Hoke. "And that will be an exciting move for our industry. Think future technologies. Think innovative ways of making things." Then his press team stops him short.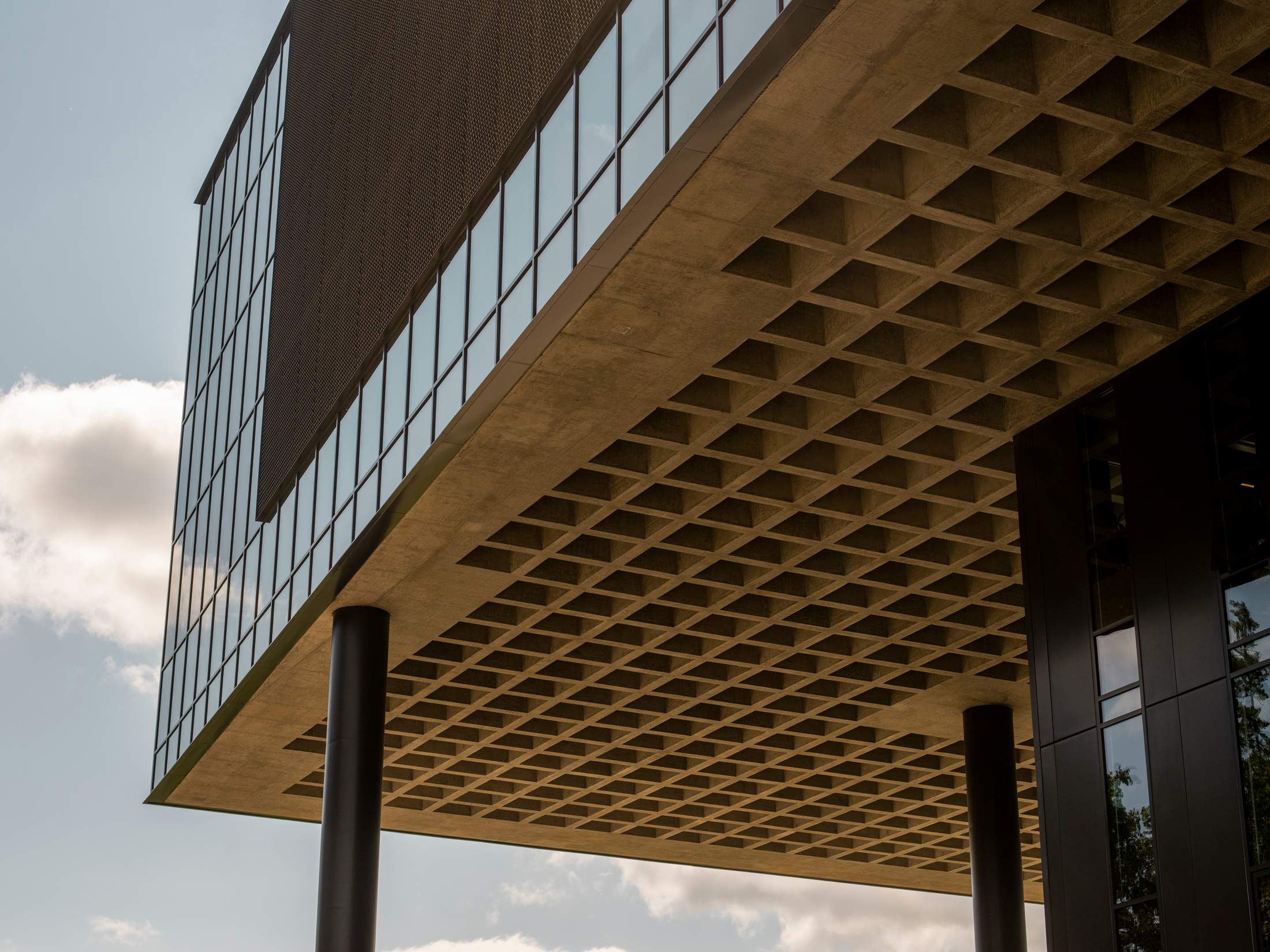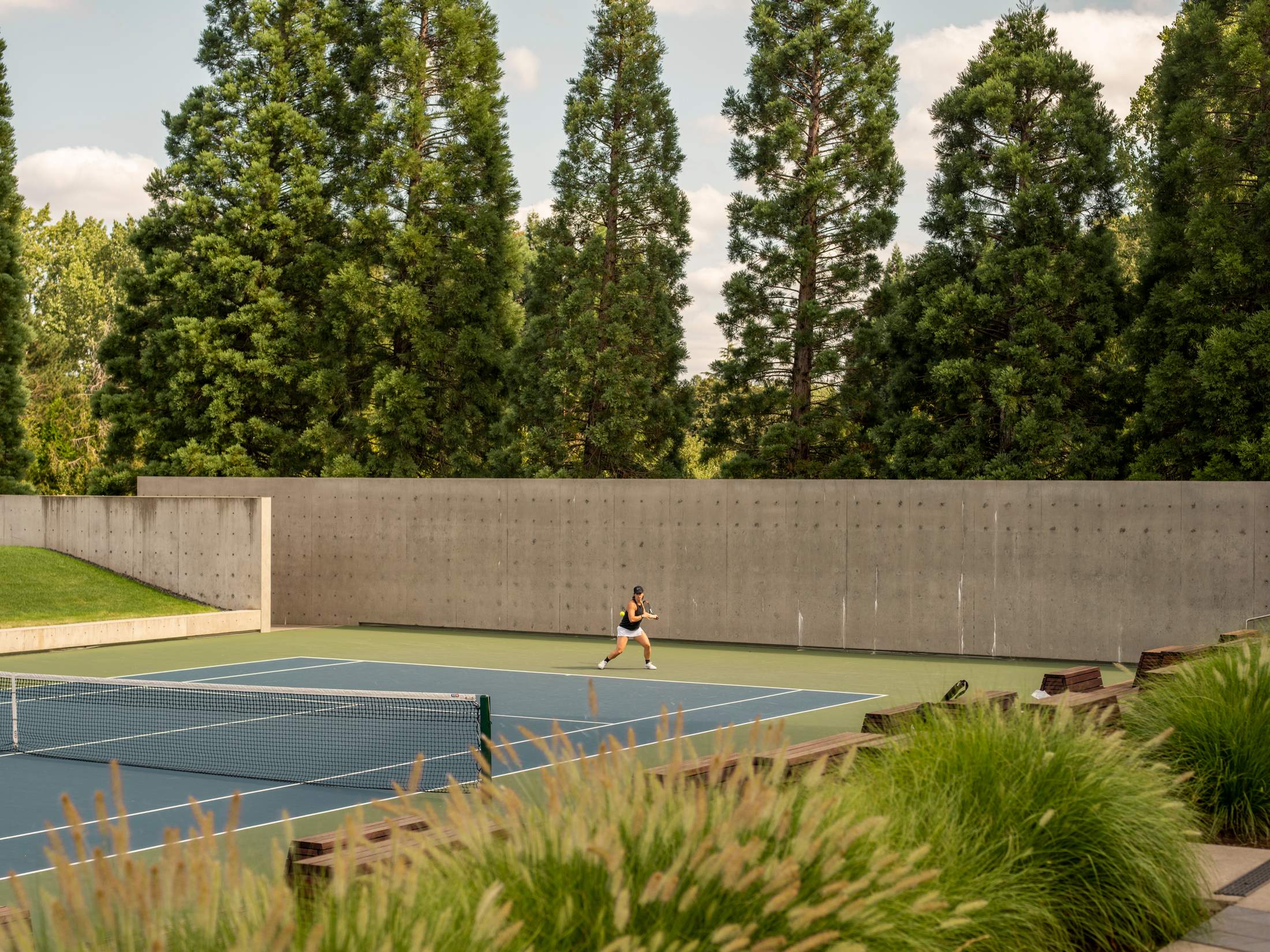 Nike is secretive about much of what goes on at its LeBron James Innovation Centre, another monumental building on the campus; monocle is not allowed past the lobby. Upstairs, 400 motion-capture cameras and an ultra-sensitive floor pump out data about the minutiae of how professional athletes move, while small workgroup-style teams are finding ways to fulfil Nike's Move to Zero mandate on emissions and waste. At Vitra's Design Museum in March, Nike debuted the ispa Link Axis, a shoe that can be taken apart piece by piece: adhesives make it difficult to reuse materials, so the four parts of the Axis are assembled without glue or cement and it's held together by geometry alone. The resulting shoe, however, looks more akin to a chunky moccasin than a trainer and certainly not the understated silhouette that almost everyone at Nike's HQ has on their feet, including Hoke. The Axis is still too much of a statement to be called an everyday shoe; the challenge is to broaden out these innovations from niche one-offs and into a mass-market trainer. Nike's Move to Zero collection is comprised of 20 per cent recycled materials, so it's a long way from a circular economy.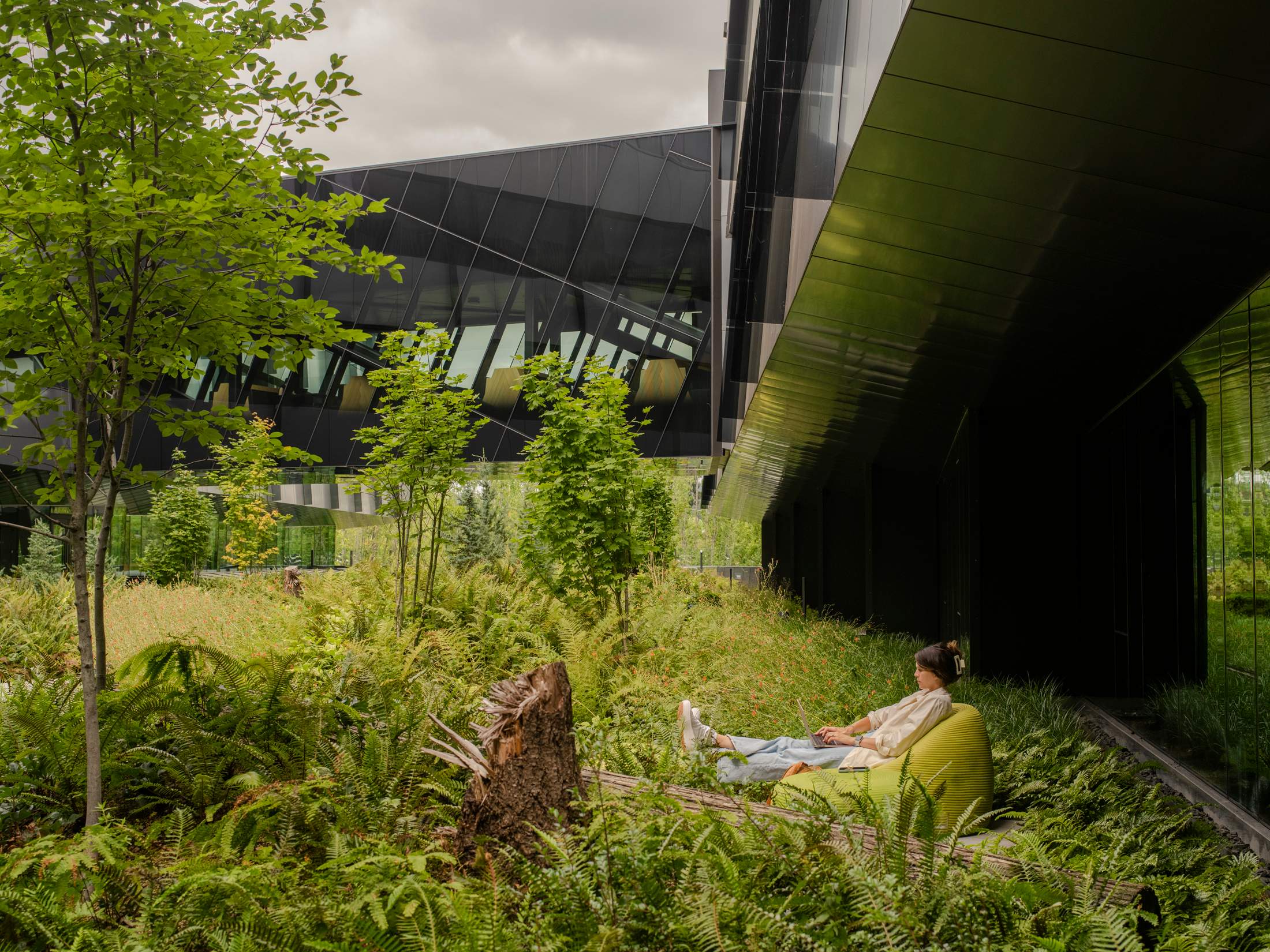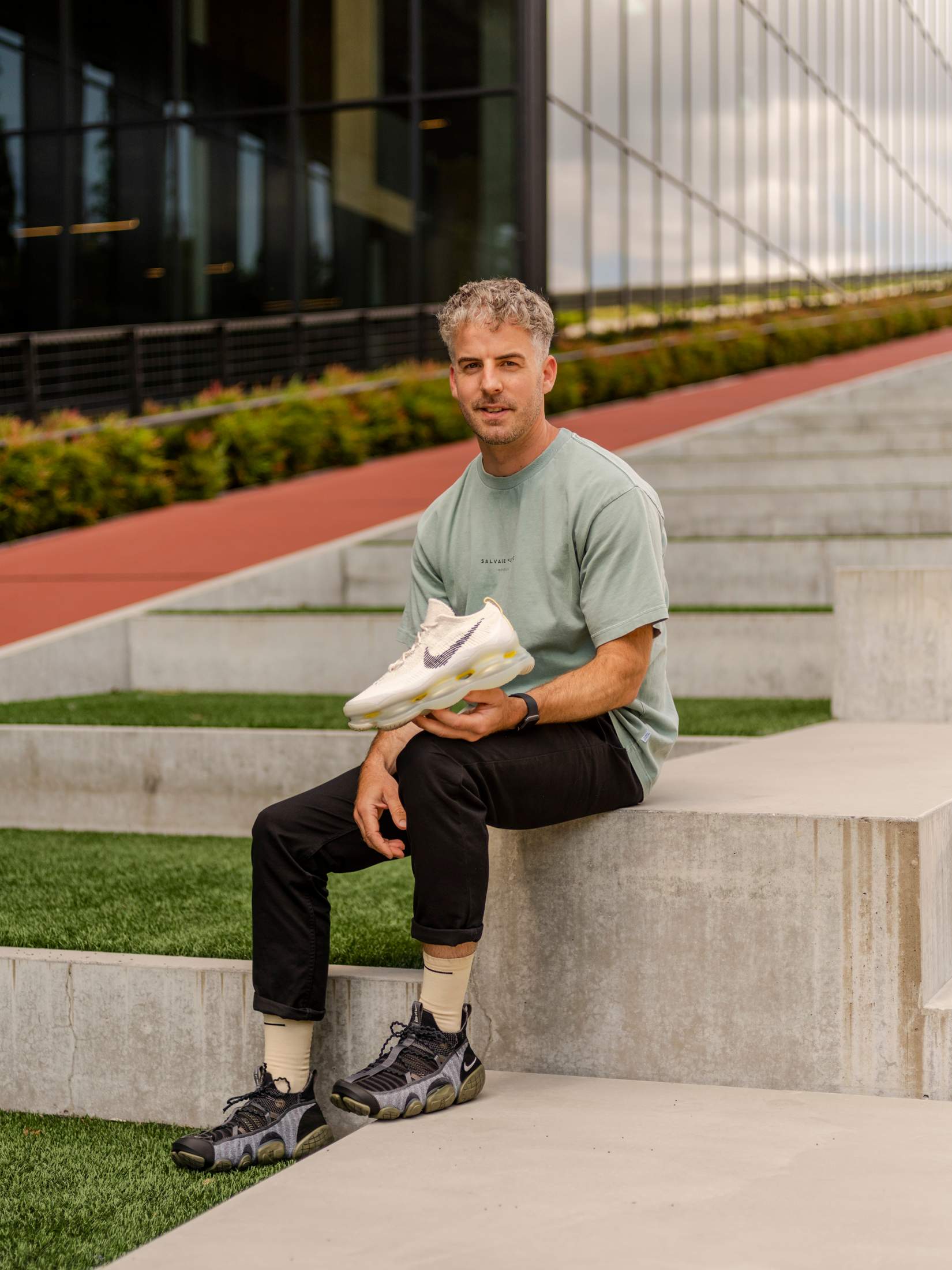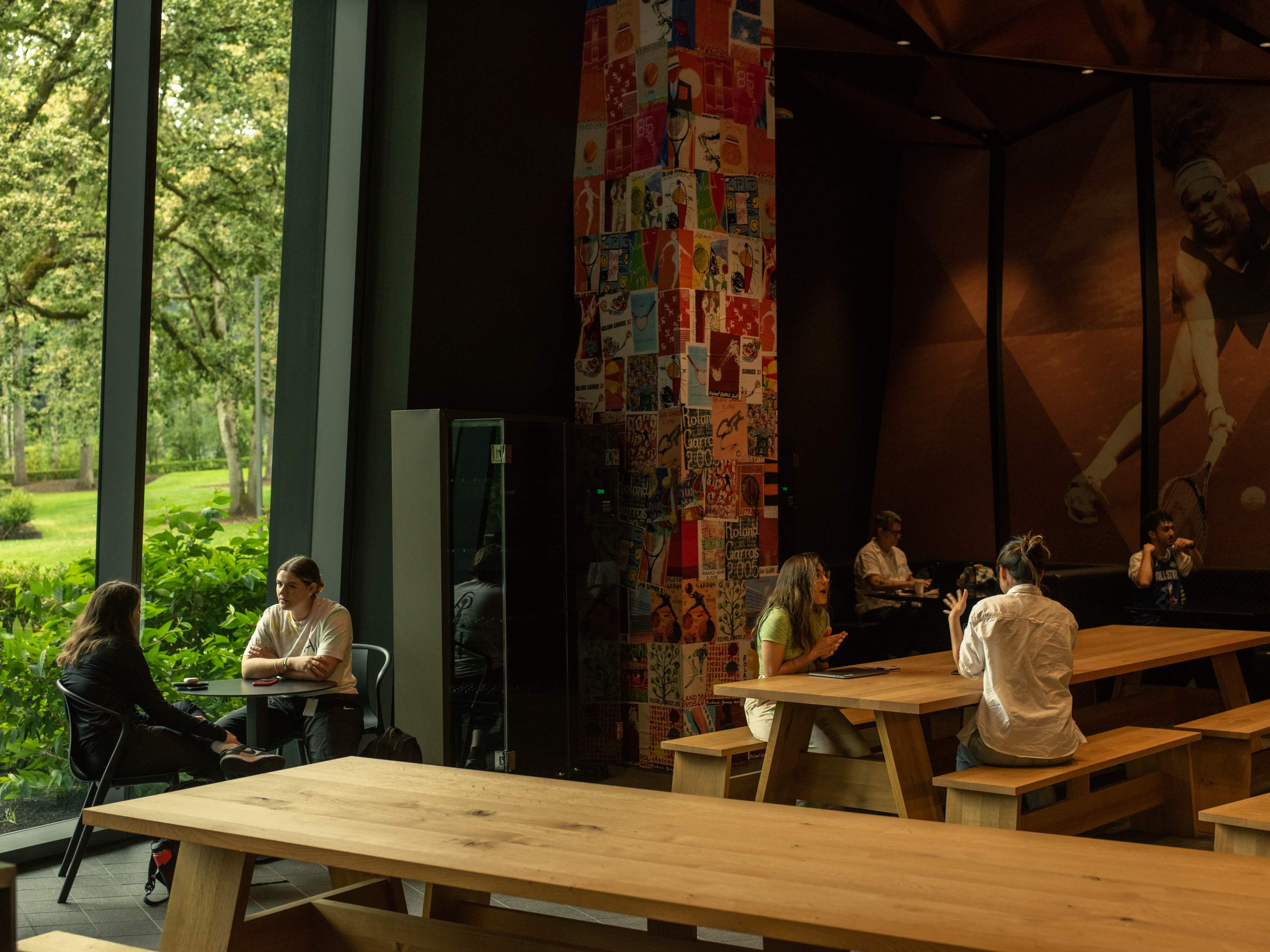 Outside these sustainability goals, an ever-more complex interplay of data and design informs how a shoe should feel underfoot. The latest creation to emerge is the Air Max Scorpion, which hits shelves in October, and a pair sits on the table in Hoke's office. He picks one up, running his finger along the bulbous sole that's packed an airbag and looks like the underside of a creature you might find on the seabed. "Widening the airbag, which we've tried to do with foam since the 1970s, gives another sensation: it spreads out the load and has a dampening effect." Walking in the Scorpions is like stepping onto a cloud but they look bizarre. Beyond the adherents of ugly-beautiful, or those looking to float through life on a cushion of air, it's hard to say who this shoe would appeal to. That's missing the point, in Hoke's view: he calls the Scorpion an "artifact of tomorrow". "People can say it's too much; love it, hate it," he says. "But it's there and it will keep evolving. There is a Darwinism to the way that we design. We learn, we adjust, we adapt." To follow Hoke's thinking, some evolution of the technology behind these airbags or the deconstructible shoes will someday figure in what we all slip on our feet.
With this data to hand, Hoke says that running shoes will become "hyper-personalised" and tuned to the wearer's gait and foot. "I also see a future where the designer is a creator, where my input and the output are tethered together," he says. "I just hit 'print' and I have complete control at the highest level of fidelity." The firm has already released trainers with 3D-printed fabric uppers and customisations but that is not a dent in how millions of its shoes are made every year.
It's ironic then that the new Forward range of athleisure that Nike debuted in September is pointedly old-school in how it's made. Taking cues from how clothing for other industries is created, Nike uses a needle-punching technique that it says cuts out a lot of the energy-intensive processes involved in knitting or weaving. The collection, in earthy grey tones, feels soft and a bit like felt but is as warm and malleable as thin fleece. Carmen Zolman, vice-president of clothing innovation design, says that Forward will start to supersede and phase out similar products currently on the racks. "It's our biggest innovation since Dri-Fit more than 20 years ago and we believe that it will rival that," she says.
Hoke pulls on one of the new Forward hoodies as we walk through the offices at Serena. A dizzying number of designs and collaborations leave this building every week and it is Hoke's job to conduct it all, to take the brand where it must go in terms of targets and science but, by his own admission, not compromise on beauty as materials and processes evolve.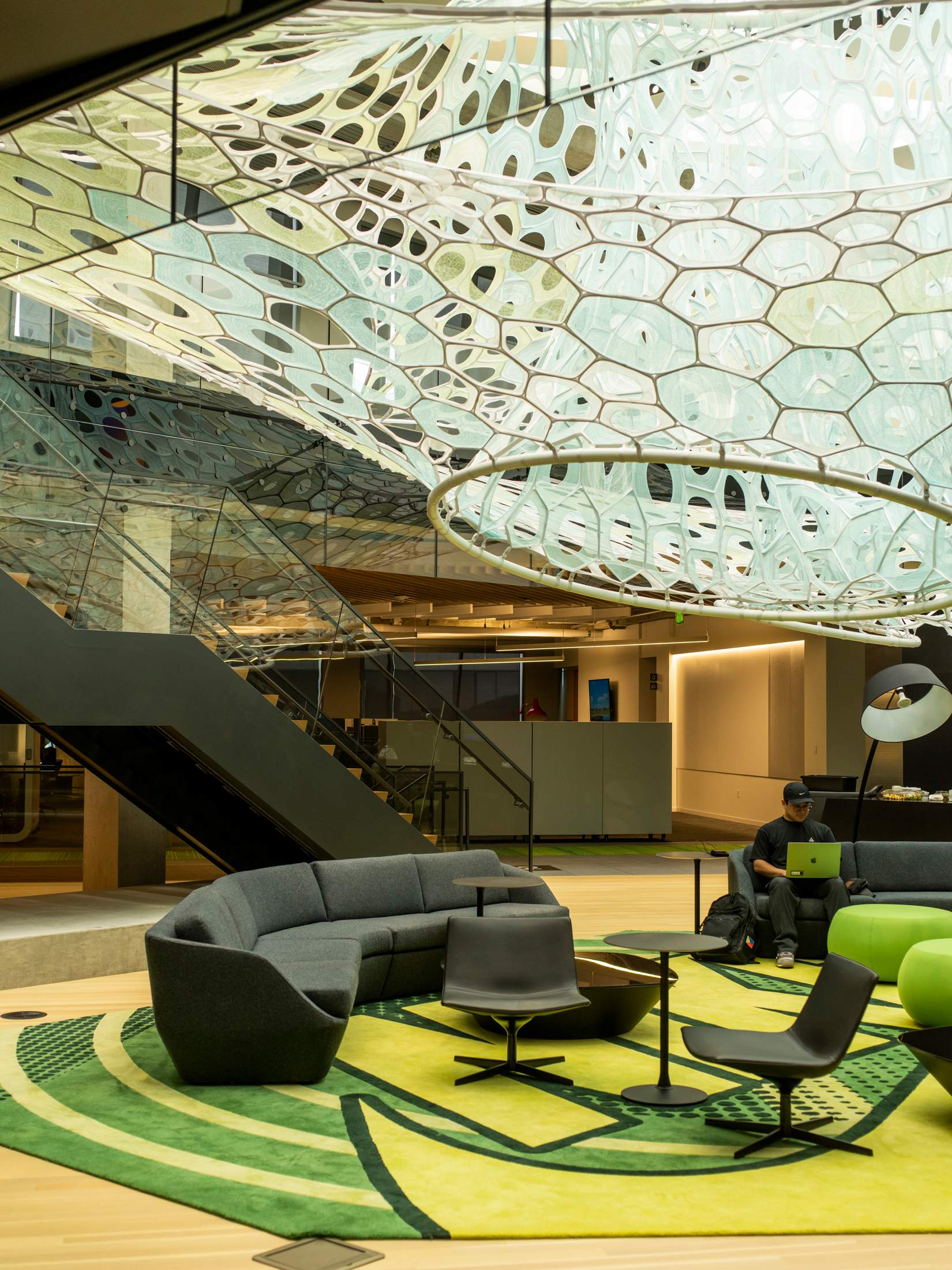 In his office, Hoke has framed the letter that Nike co-founder Phil Knight sent to him when he was a teenager submitting trainer sketches, telling him to come and work for the brand one day. But before he joined Nike, Hoke was an apprentice for the architect Michael Graves, who designed buildings at the height of postmodernism but was best known for his slick Alessi kettle. "There were 50 of us in that studio: architects, writers, painters, sculptors, furniture designers, graphic designers, urbanists," he says. "We all sat together in one room and mixed it up." In this vast new design building that pulls people together from various disciplines, Hoke sees some return to these origins.
With Graves, he says that he learnt to see what he was designing not as four walls on a plan but as a room with objects in it that someone, eventually, will live among – world-building, he calls it. That is what he has tried to do at Nike too. "I learnt an essential thing from Michael," says Hoke. "That the foundation of architecture, of design, is putting yourself in someone else's shoes."