Business: Mobility / Berlin
Back on track
The rail industry is abuzz with chatter of a golden age of trains. Monocle takes a prime seat at trade fair Innotrans to gauge the direction of travel.
Upstairs in Berlin's largest ballroom, at the back of the gallery, a waitress checks to see whether anybody's looking and then flings herself to the ground and twists into a cartwheel. Moments later she's downstairs on stage doing the same thing while her colleagues – similarly dressed waitresses and men wearing train conductors' uniforms – are ululating and springing up and down.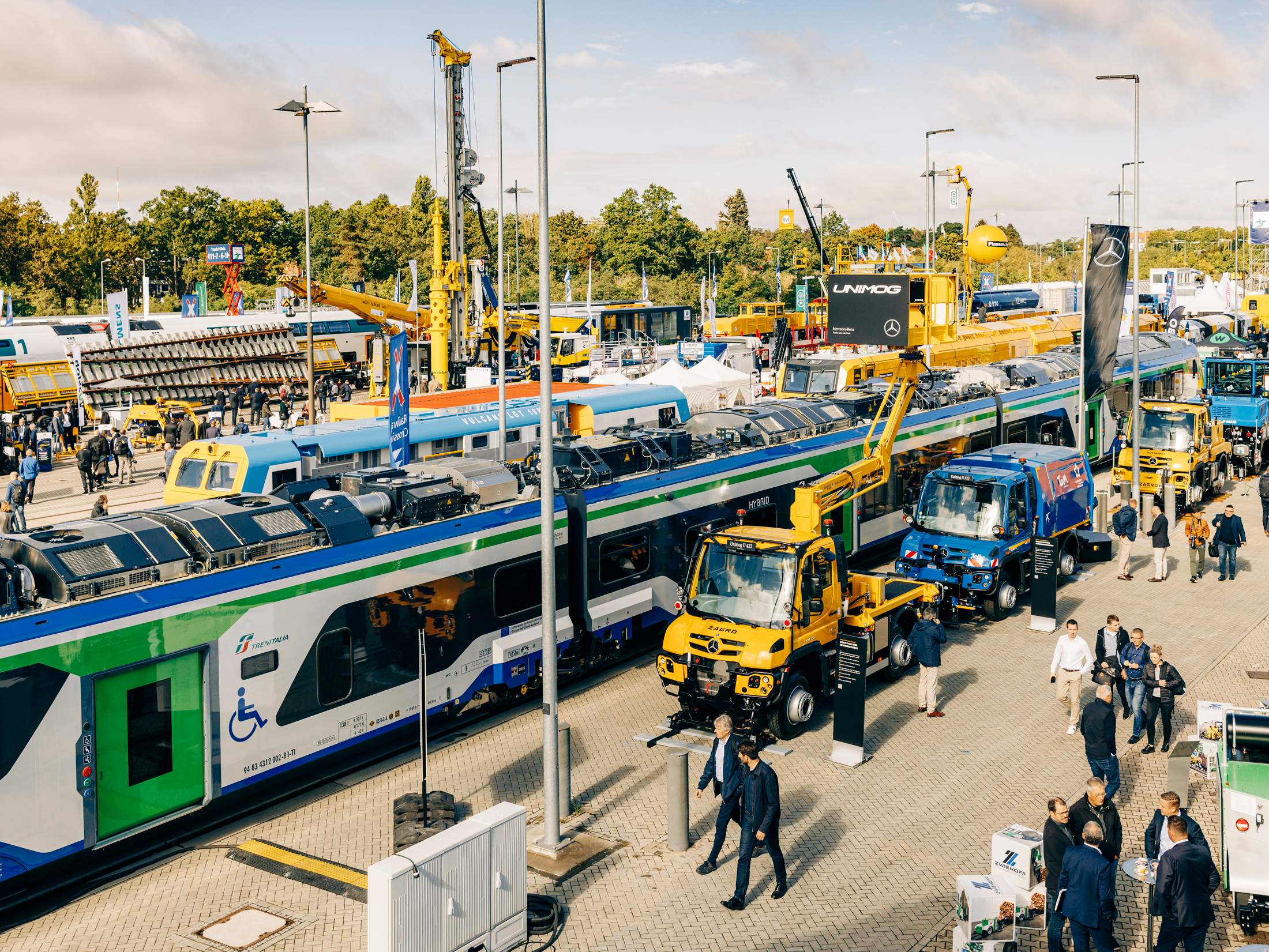 To stage left, an orchestra is performing Carl Orff's "Carmina Burana", a piece of music used to score TV talent shows, beer commercials and Hollywood films. It's unlikely that the cellist in any of those performances was wearing a high-vis jacket. This, naturally, is the opening ceremony to Innotrans, the world's largest rail transit trade fair, which usually takes place every two years at the Messe Berlin in Germany.
Like the first rain after a drought (and there's plenty of it here), the post-pandemic return of trade fairs to the calendar has provided welcome relief to any business that relies on face-to-face contact to smooth wrinkles from deals and forge new connections. That's the case for the rail industry at the first Innotrans in four years, according to Peter Jenelten, president of the Swissrail Industry Association. "Of course, you can organise video conferences but sometimes you need to be there in person," he says. "Everybody wants to see their colleagues again and find out what other companies are doing."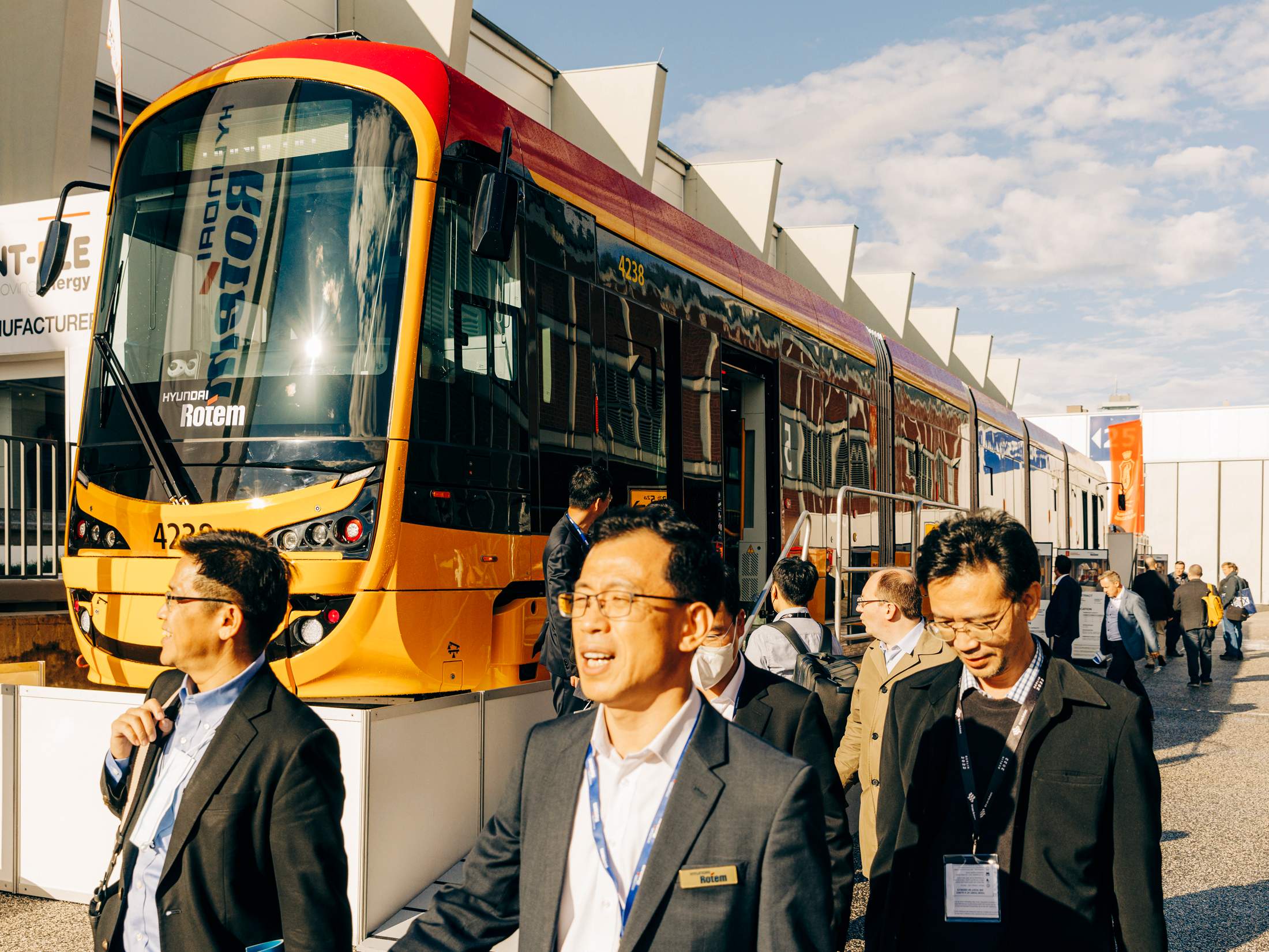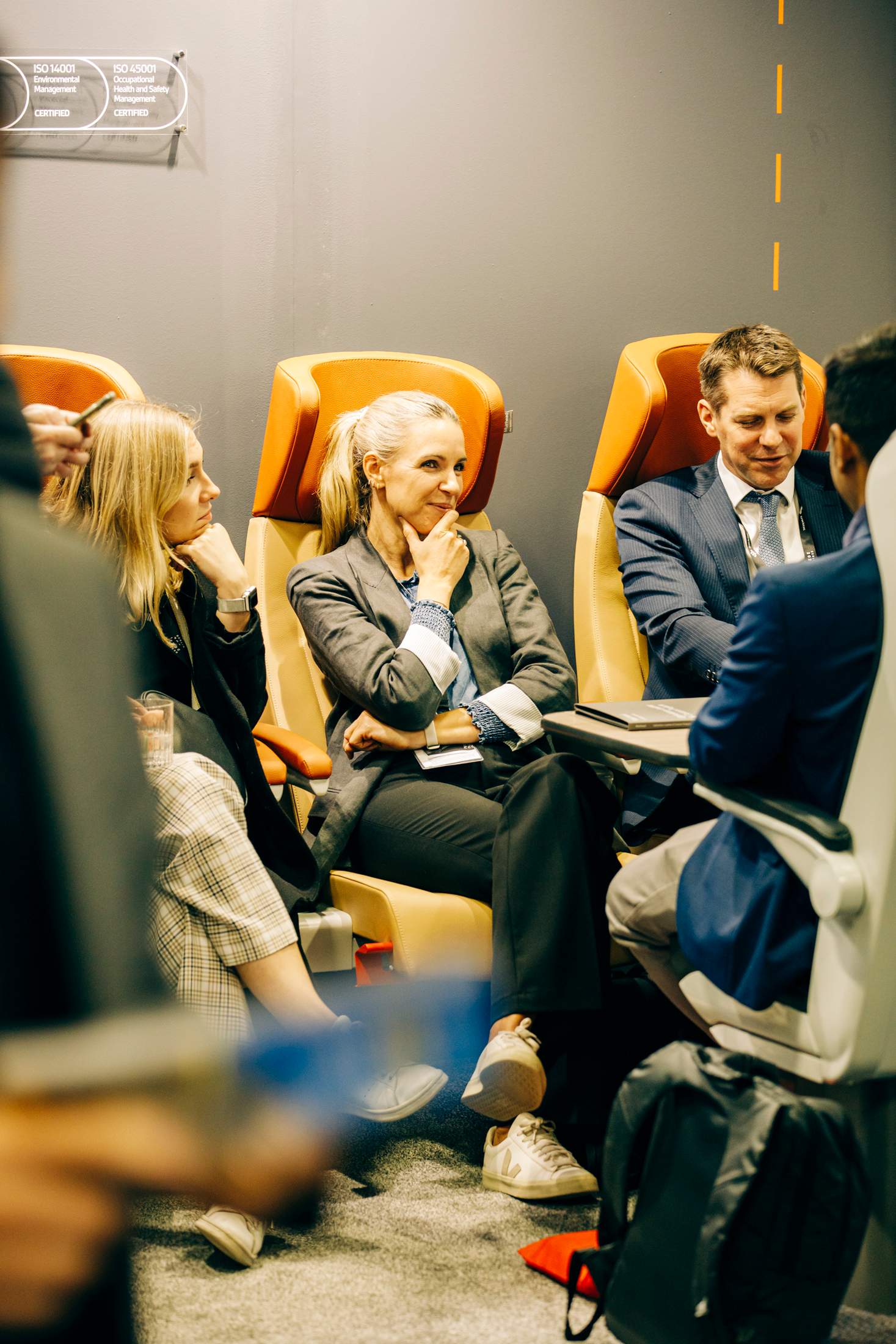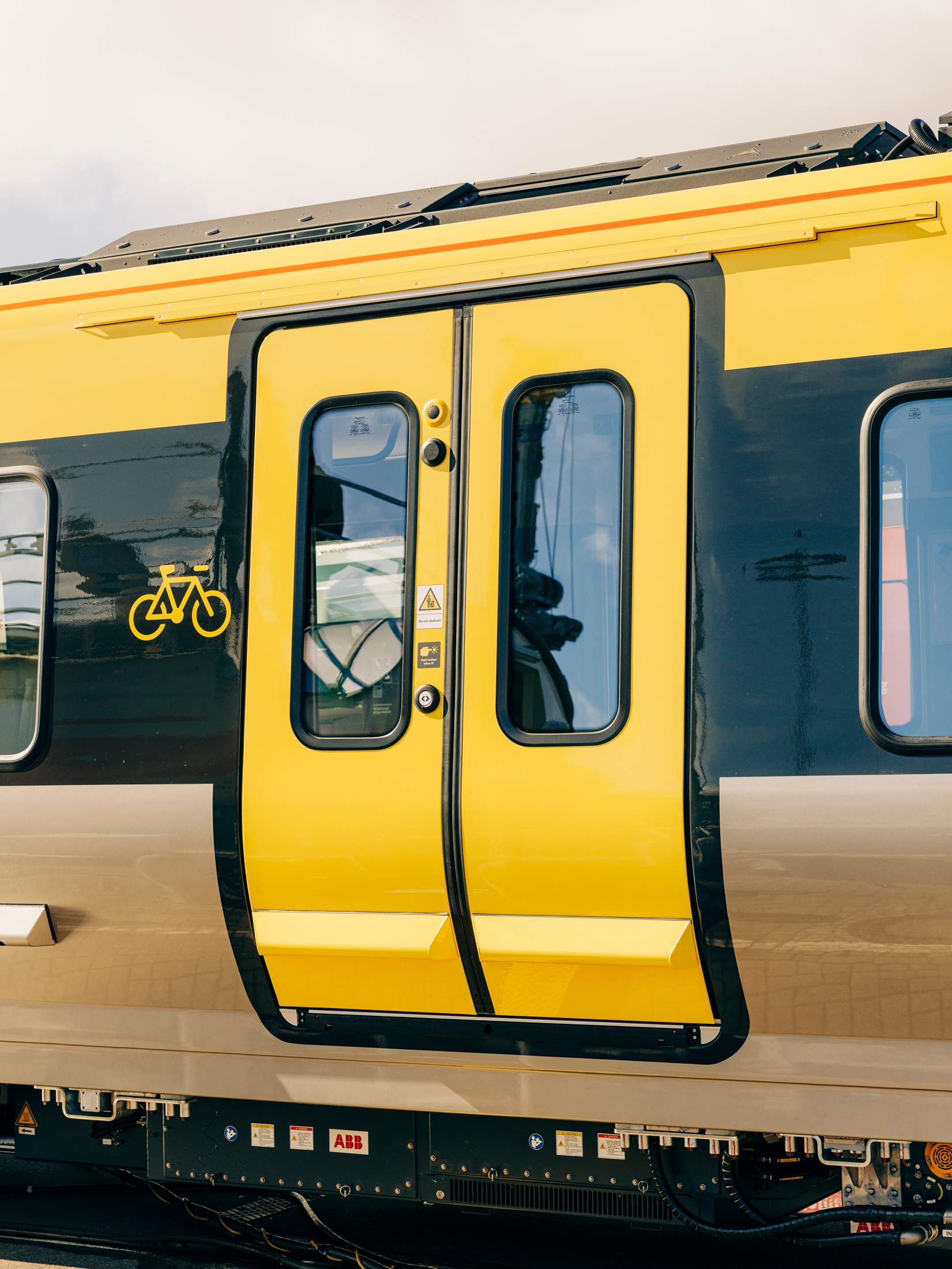 The context in which the rail sector is doing business has dramatically changed since the last Innotrans, in 2018. The pandemic has rocked global trade since then in ways that are still being felt. "Everyone we speak to has the same problem with electronic components: it's a supply-chain issue," says Jenelten. "That is the biggest concern."
This year alone the energy fallout from the war in Ukraine has pushed up input prices for the manufacturers who supply the transit industry. gmh Gruppe, Europe's largest supplier of forged-steel disc brakes for the railway industry, has certainly felt the effect. "We have insane energy costs, which do put certain steel producers out of production," says Anne-Marie Grossmann, gmh Gruppe's managing director. "But if we tackle these problems and have reliable green electricity, then we have a good base for sustainable mobility." Despite high inflation, global rail is still pushing to transition away from fossil fuels. Most of gmh's steel is made using electric furnaces, which are greener but can be more expensive to run. "On the one hand, there is the price," Grossmann says as she sips coffee. "But on the other, there is the cost."
Across the global economy, the collective focus of business leaders has shifted in response to the alarming rise in the frequency and severity of climate-change-related incidents. At the same time the global transit industry is practically buoyant at the chance to turn the lemons of the past few years into lemonade.
"This is a golden age when the train is the most attractive way for people and companies to move in Europe"
At Innotrans, almost 3,000 exhibitions sprawl over 200,000 sq m and 42 halls; 140,000 visitors from across the world have shown up – the second most ever. Though this is a trade fair in an industry focused on timetabling and navigation, there are last-minute cancellations and missed connections in the conference's first days. Confusing fairground maps mean that monocle ends up in off-limits freight elevators more than once.
The conference begins, as has become common at trade fairs, with a fêting of Ukraine's representatives, a move that's starting to feel a little tokenistic. Alexander Kamyshin, ceo of Ukrainian Railways, speaks about rail workers' efforts in shipping wheat after Adina Valean, Europe's commissioner for transport, spells out her big dreams for the continent's rail sector. "I'm trying to push everyone to offer us short-time, quality, high-speed rail connections," she later tells monocle. "And, by 2030, I want to increase the services of all the volumes of merchandise moved by rail by 50 per cent – and double it by 2050," she adds. "This is a golden age in which the train is again the most attractive way for people and companies to move in Europe."
is here to premiere its double-decker hydrogen Coradia iLint train and Marc Granger, Alstom's chief strategy officer, is optimistic about the future of the gas. The war in Ukraine, he says, has focused minds. "One positive aspect of what we're living through is that decision-makers are going to be more open-minded about needing to change the speed of deploying renewable energy," says Granger. "Yes, to be more sustainable but an even stronger motivation is to not remain in the fragile situation of dependency."
"We really need to accelerate the reduction of diesel and focus on new technologies, such as batteries"
Then there are batteries. Somewhere in the mess of display trains, Japan's Hitachi reveals its offering, built in partnership with Italian state operator Trenitalia. The companies say that the Blues Train, arrow-shaped and painted in cobalt, white and neon green, will be Europe's first three-way hybrid train, able to switch between the lithium batteries that sit on its roof, electric traction and diesel when necessary. Hitachi claims that the train releases half the emissions of previous models. "We need to really accelerate the reduction of diesel," says Andrew Barr, ceo of Hitachi Rail. "Our intention is to remove it quickly and focus on new technologies – in particular, batteries." 
A look inside the new train yields unobtrusive grey and navy leather seats with the occasional pop of green. Even though the models on show here have been specced up for display, it's pleasing to spend time in trains without gum on the floors or the waft of other passengers' fast food. The same goes for the sparkling clean outsides of carriages that are free from graffiti. Germany firm Christ Wash Systems focuses its efforts on cleaning trains (doing the Lord's work, if you will). "Just today I've had three or four meetings, every one discussing graffiti," says Mirco Völkl, Christ's head of sales for trucks, buses, trams and trains. "It isn't just one company that has the solution but Deutsche Bahn has a working group and Switzerland wants to solve this, so that will probably be the target for 2023."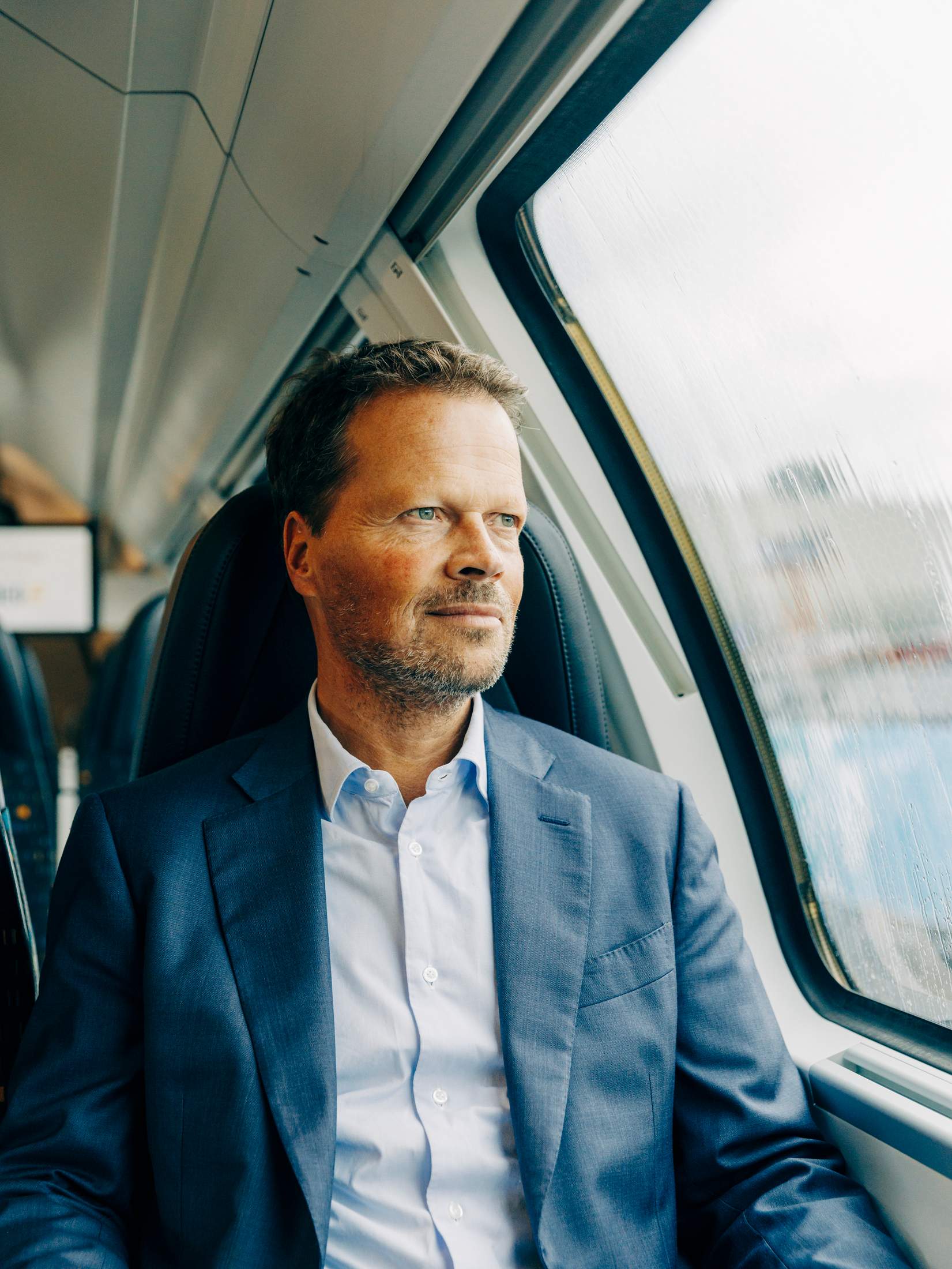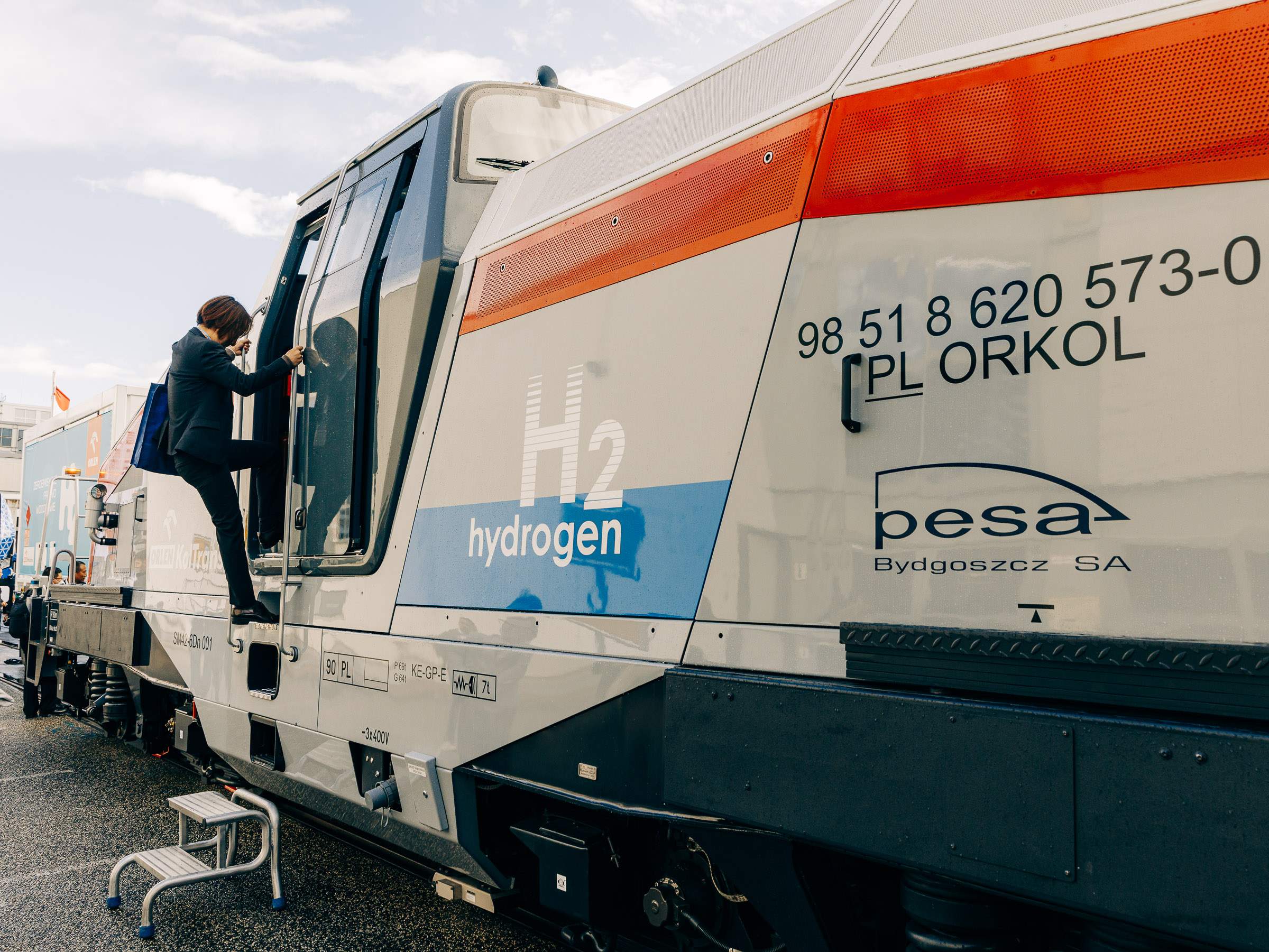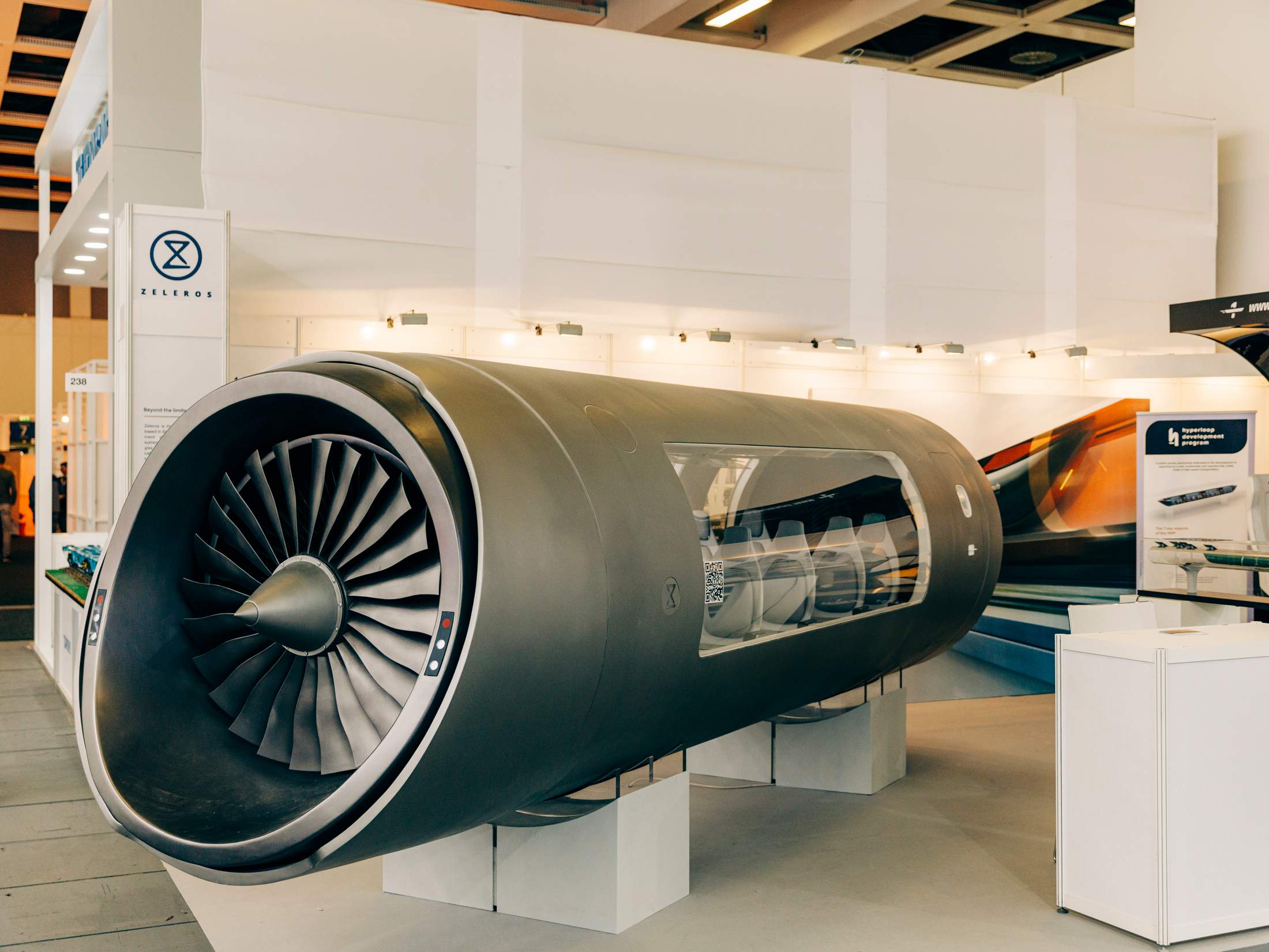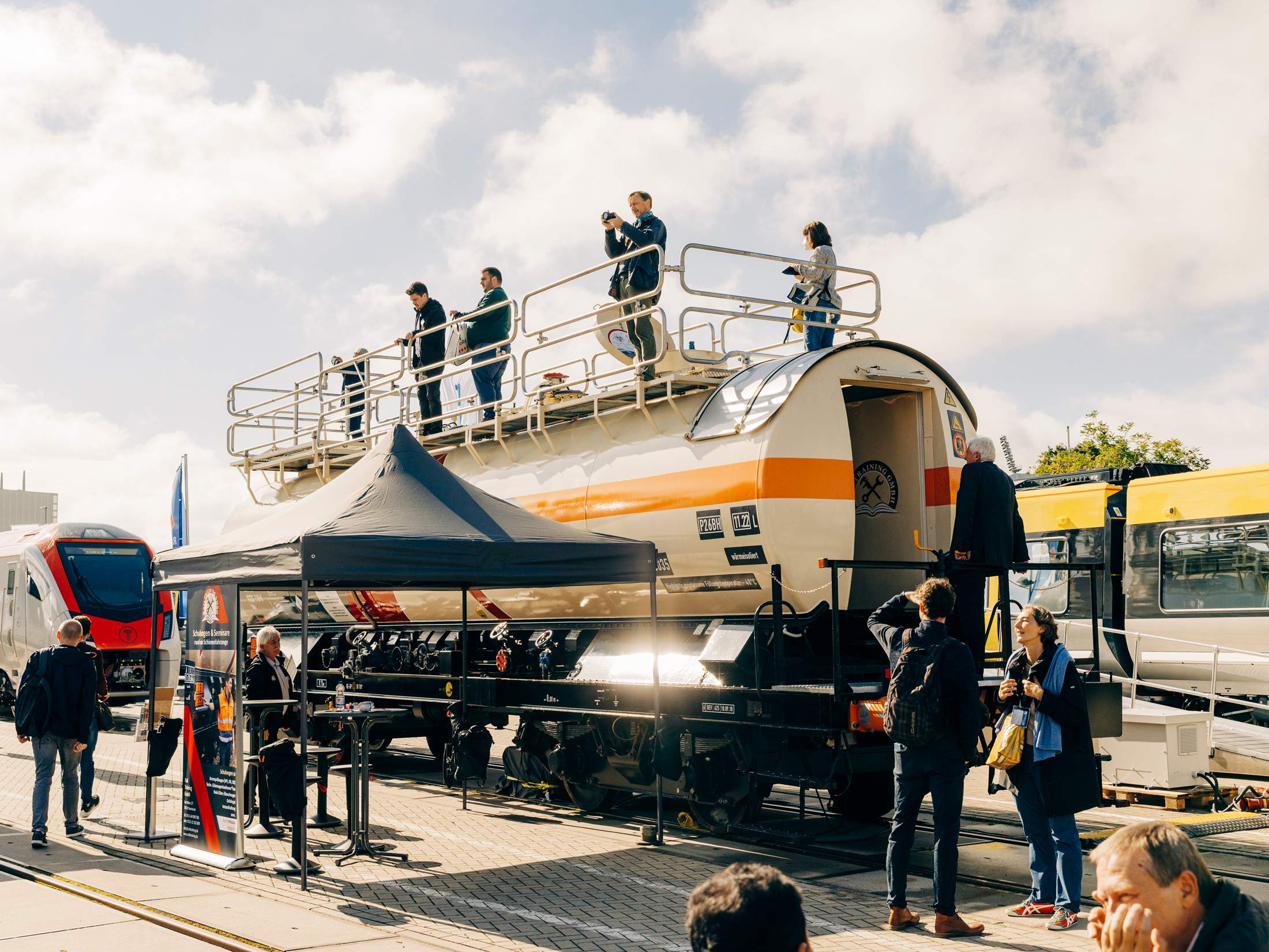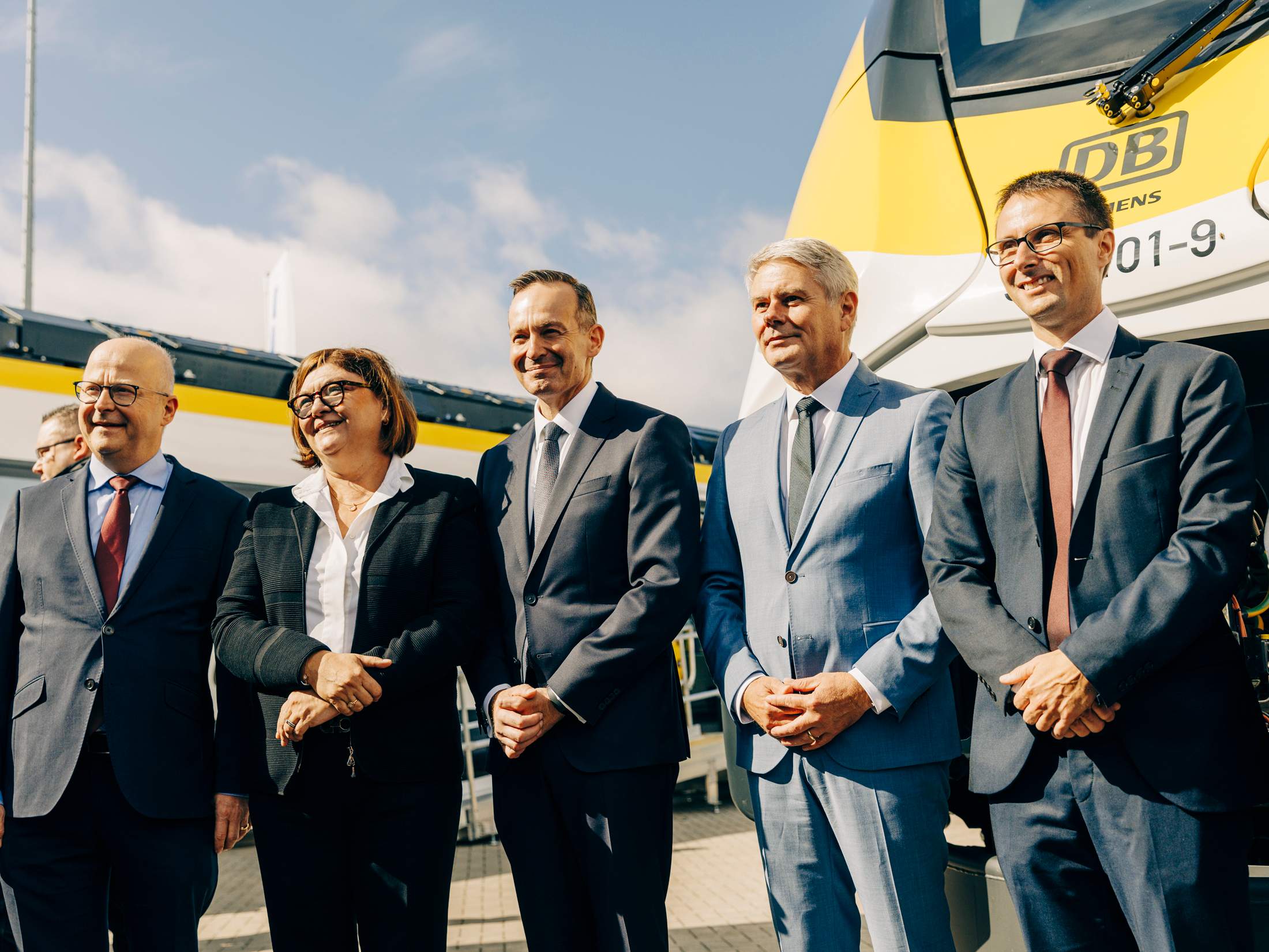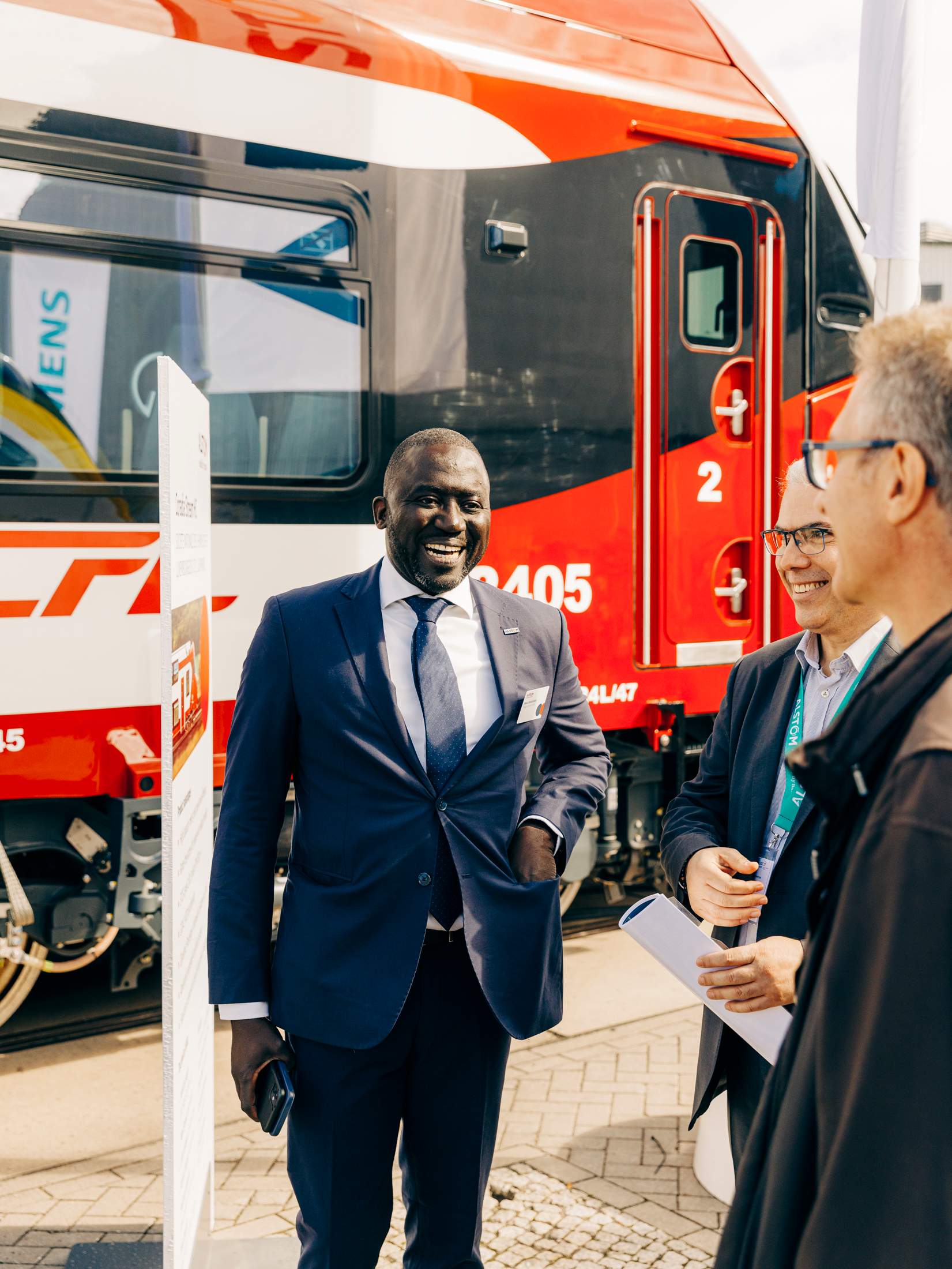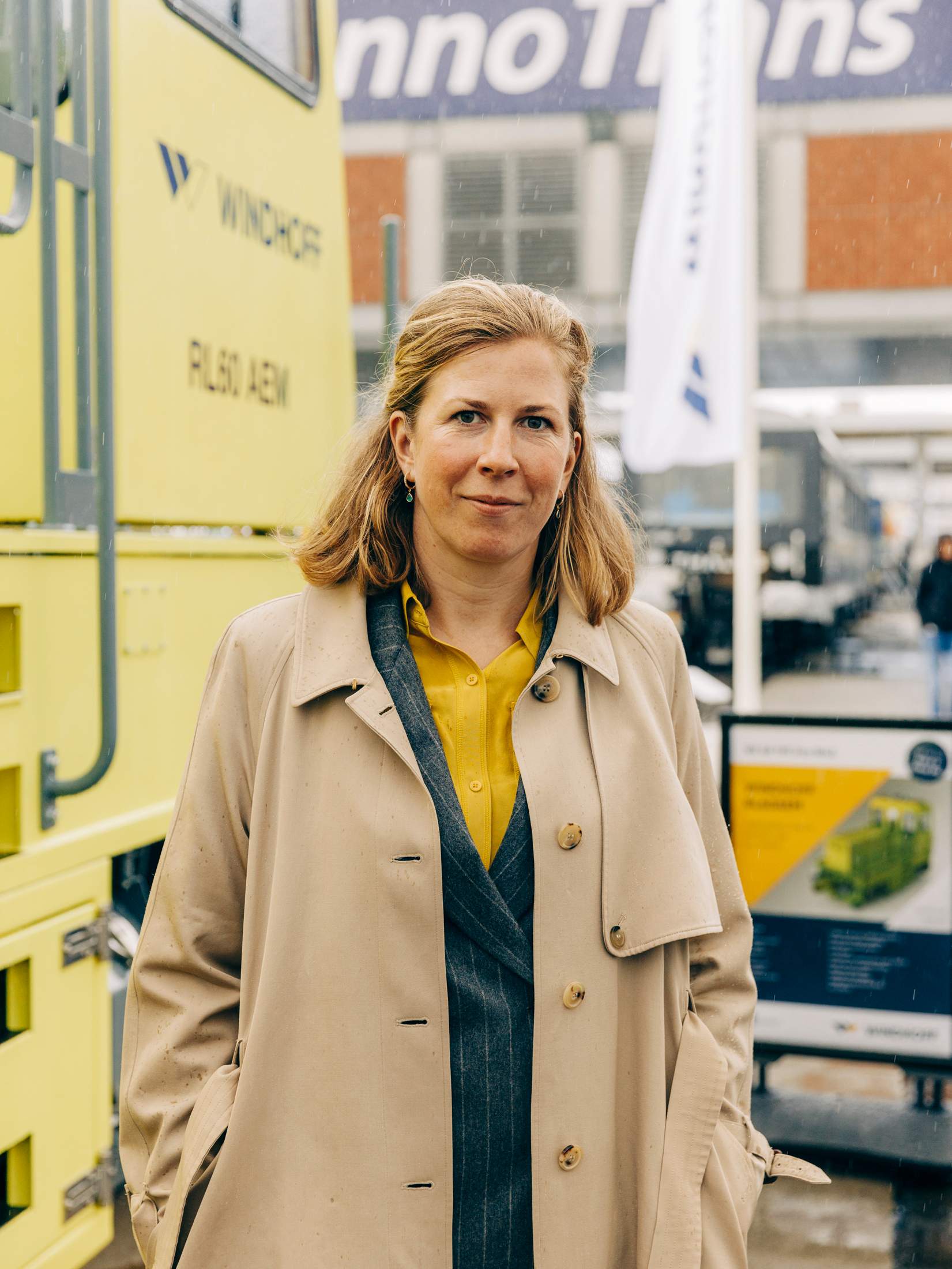 A drive for efficiency is the other part of rail's efforts to cut out pollution. One man hoping to reap the benefits of those endeavours is Marko Kroenke, president of the International Monorail Association (ima). Over some upsetting canapés in a dimly lit meeting room, he tells monocle that elevated monorails require less land than other projects. "The effect on the city is very little and you can put them in high-density areas," he says.
"You can even go through buildings." He adds that monorails glide extremely softly. "We have examples from Japan that go over graveyards because they are so silent," he says. With demand for quick-to-build monorail services rising in developing countries – Cairo is implementing two huge new lines and China several – the ima expects the world's monorail lines to double to 1,200km over the next five years. 
Elsewhere, the push for efficiency takes the form of the ever-mutating internet of things – in this case companies digitising rail travel to allow them to more effectively create timetables. Siemens Mobility, for example, is working with the Dutch and Spanish governments on fully integrating those countries' transit systems and creating apps for what it hopes will become a seamless experience to rival driving. The company is also rolling out software that measures the weight of carriages, allowing operators to deploy more trains at peak hours. Other Siemens Mobility software has allowed French rail upstart Ouigo (see issue 152) to fill, on average, 97 per cent of its seats and take on Renfe in Spain, according to Siemens Mobility Software ceo Michael Frankenberg. The software is lucrative too. "We are talking about annual recurring revenue when offering those solutions as a service," says Frankenberg from the monochrome seat of one of Siemens's latest trains as the rain lashes down outside.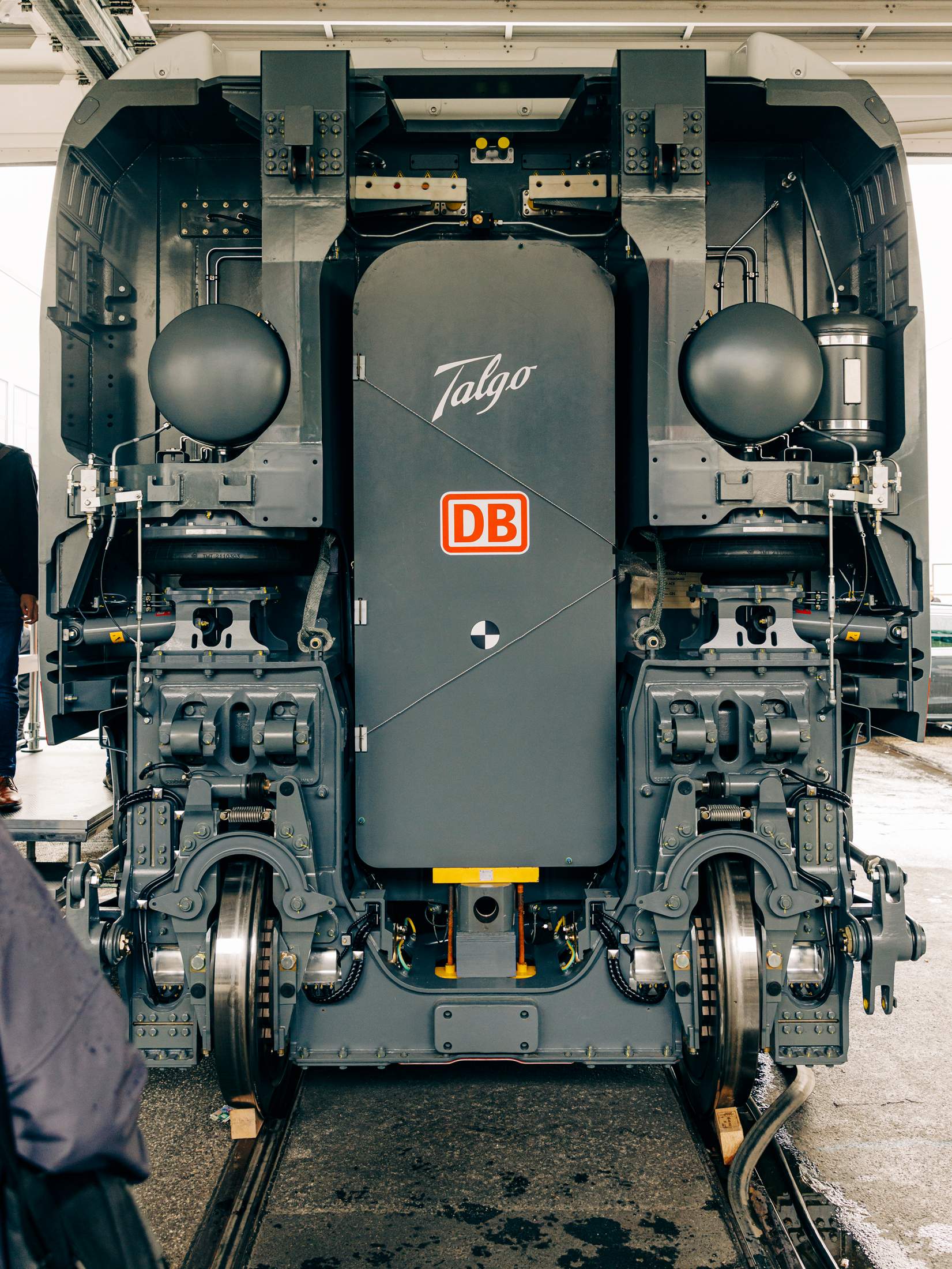 It might be wet and windy in Berlin but a few short weeks ago the nearby Tempelhof turned brown during an alarmingly hot summer that sparked wildfires across Europe. The prospect of worse to come could provide new opportunities for rail companies in warmer regions to share their expertise. "The uniqueness of Australia is its temperature range," says Caroline Wilkie, chief executive officer at the Australasian Railway Association. "We're introducing technology to some quite harsh environments and there will be interesting lessons for Europe as well."
This year's Innotrans feels like the beginning of a long journey to greener travel. Whether efforts to mitigate climate change take three years or 30, a new emphasis on the environment has given the rail industry a fresh sense of purpose. "Thirty or 40 years ago there was a perception that the railway was a dying industry, says Railway Gazette International's Kingsley. "I don't think you could say that now." 
Additional reporting by Markus Hippi and David Stevens