Design: Big interview / Paris
Basic instinct
Architecture practice Studio KO favours simple methods and materials, even when they're working with star clients.
Karl Fournier and Olivier Marty of Studio KO often wonder how solo architects do it. Partners in work and life, they met while studying at Paris's École des Beaux Arts in 1996 and have been largely inseparable since. "We always listen to the instinct of the other to bring us further in the creative process," says Marty. Instinct is a key term in defining how their architecture and interior-design practice operates. The pair tend to favour old craft methods and simple building materials that root projects in a specific context, whether that is the Moroccan Atlas mountains or the historic streets of London. 
Working across the globe, with 60 staff in Paris and Marrakech offices, Studio KO is gradually expanding globally. At the 2022 edition of the Design Miami Basel fair, the firm presented a design for a new contemporary arts centre in an abandoned power station in the Uzbek capital, Tashkent. Fournier and Marty are hoping that this will bring new artistic energy to the city, just like the firm's most famous project to date – the Musée Yves Saint Laurent – did when it opened in Marrakech in 2017.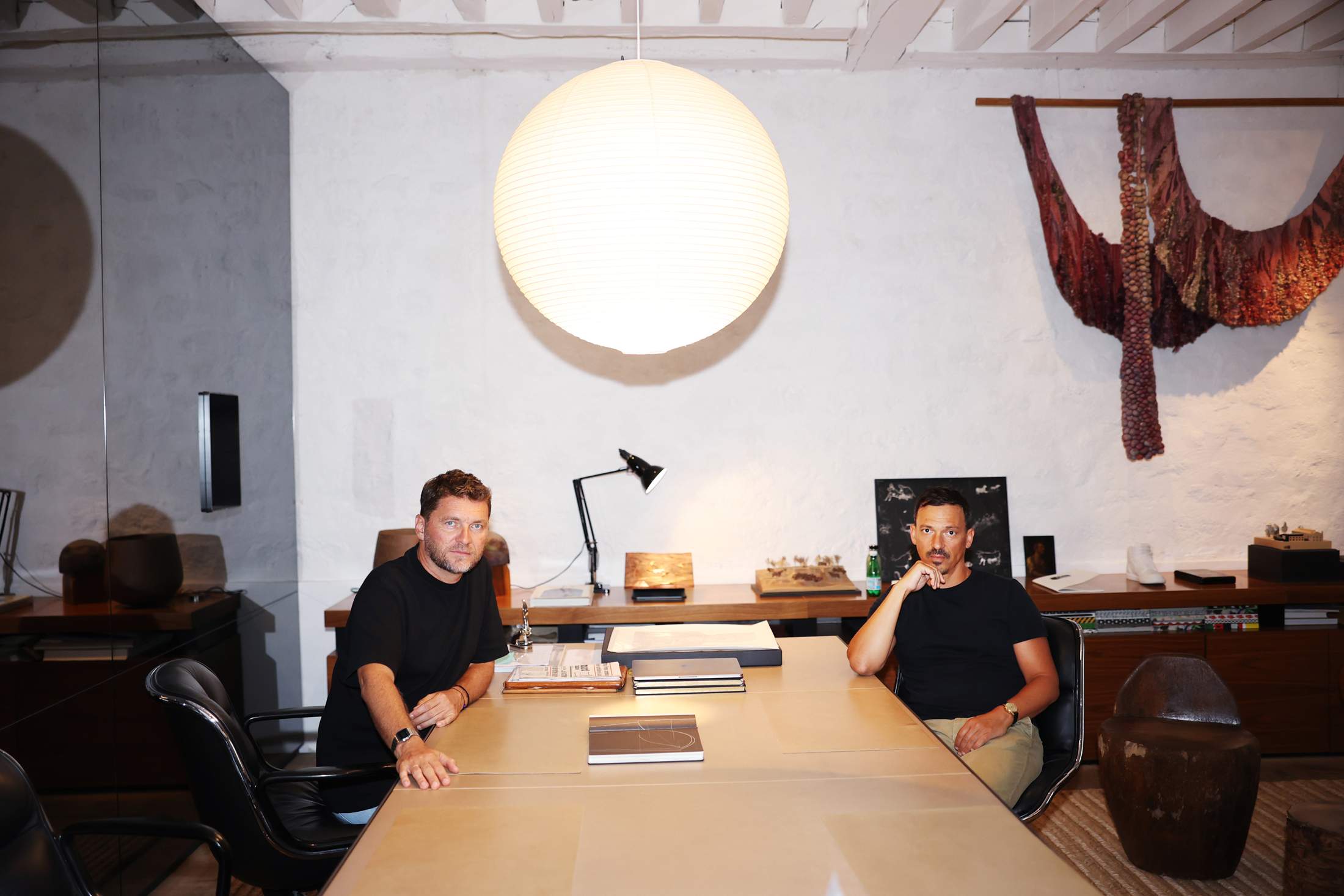 How do you work together? Do you approach everything as a unit or divide and conquer? 
olivier marty: We both work on all projects but we have very different modes of expression. Karl uses the written word to communicate his initial vision. He has a tendency to float in the air, whereas I'm more on the ground and closer to our teams. I start by doing sketches. I need to draw to give ideas a form, even if it's still abstract in the beginning. It's a very complementary way of working. 
karl fournier: Separately, we're only one half of an architect. Together, we form someone more complete.
Are things always as harmonious as it sounds? 
kf: Of course, we're not in agreement all the time and it almost becomes a game but that's part of our process. It's a stage we have to pass through to marry our two visions. Having that sort-of back and forth is more interesting than knowing exactly where a project is going. 
Does dialogue play an equally important role in your relationship with clients? 
om: At the start of a new project we ask lots of questions, observe and listen. We want to find out who our client is, what they like and don't like. We're interested in those tiny details that people think are too trivial to share. 
kf: That's why we like to meet our clients in an informal way. It's more intimate than seeing them at the office. Sometimes this phase even happens way before there's an actual project, which was the case with Pierre [Bergé, ysl's co-founder]. We've known him for years, long before he commissioned us to design the Musée Yves Saint Laurent. 
Do you believe that's what got you the commission? 
om: We needed those years with Pierre to understand what the museum in Marrakech should be. He didn't want to enclose the love of his life in a mausoleum. It helped that we knew that we could take some distance from the personage of Saint Laurent to create something contemporary; a living building that attracts young people and events. 
How did you turn this vision into reality? 
kf: From the beginning we imagined that the building's colours and materials would melt into the urban landscape. The night that Pierre told me about the project, I wrote down some key thoughts that remained relevant throughout. There was the idea of the brick and of it being an introverted and slightly mysterious building. Then we visited the archives and Olivier started drawing sketches based on a dress pattern we had come across. There was so much intelligence in the lines we saw: straight and curved, perfectly joining up rather than being in opposition. Until then our work had been hyper angular but at that moment, by looking at the architecture of the dress, we realised that a line could be a curve too. This became central to the design.
Is it the architect's job to look beyond the obvious? 
om: Yes. The best example of this is the renovation of Chiltern Firehouse's interiors. It's very ornamental from the outside but when we first walked around inside we found that it had the poverty of an industrial building. And so we were in there with our rulers, peeling off one, two, five layers of paint. We found late-19th-century mouldings that announced the arts and crafts movement; we looked at door frames, chamfers and ceiling frames. That became the basis of the project's architectural vocabulary – it was all there in front of us. 
Would you say that architecture is like archaeology?
om: Absolutely. We always spend a lot of time sur place before developing ideas. We watch the sun rise and listen to the wind. We scrape the ground and fill our pockets with stones. We explore the geography, the magic of the site, through our senses. It's very instinctive. 
kf:Everything starts from the site and comes back to the site. This way of working might look a bit diy to some but it allows us to create spaces that do their surroundings justice. We don't want to be prisoners of one style. You will never see us copy-and-paste a Chiltern Firehouse somewhere else, even if a client is asking for it. We want to work with people who are willing to take the risk of not knowing what will come out of our encounter. 
How do you know that a design has fulfilled its mission? 
kf:It might sound pretentious but it's when you feel that a building makes the landscape better than it was before. 
om: When it is in harmony with the site, not just from the outside but also from the inside. We believe in creating opaque structures with nicely framed nature views rather than glass houses in the middle of nowhere. Working in rural Morocco has made us appreciate ancestral building methods and materials, such as earth, Ourika stone and wooden lintels. We care about the trace that we leave behind us. 
You're working on an arts centre in Tashkent. What was it like immersing yourself in Uzbek culture? 
kf: A lot of what we do is about defending the traditional vernacular, about finding a way of being modern without denying what was there before but not being folkloric either. In Uzbekistan it's a race against time; the existing urban fabric is in danger of being destroyed. We're hoping that our project will create awareness around the value of Tashkent's architectural heritage. Nowadays people build too much and don't renovate enough. 
om:They also build too big, with too much energy pumped into heating and air conditioning, so our plan is to keep the arts centre on a smaller scale. We're wary of innovation; instead we want to build with common sense. 
Is there a project that you still dream of doing? 
om: A major sports facility or a church: public buildings that can bring value to a lot of people. 
studioko.fr