The view from: Naoto Fukasawa / Tokyo
Designed for life
One of Japan's most revered creatives explains why it's important to 'elevate the ordinary' by celebrating the beauty of everyday items.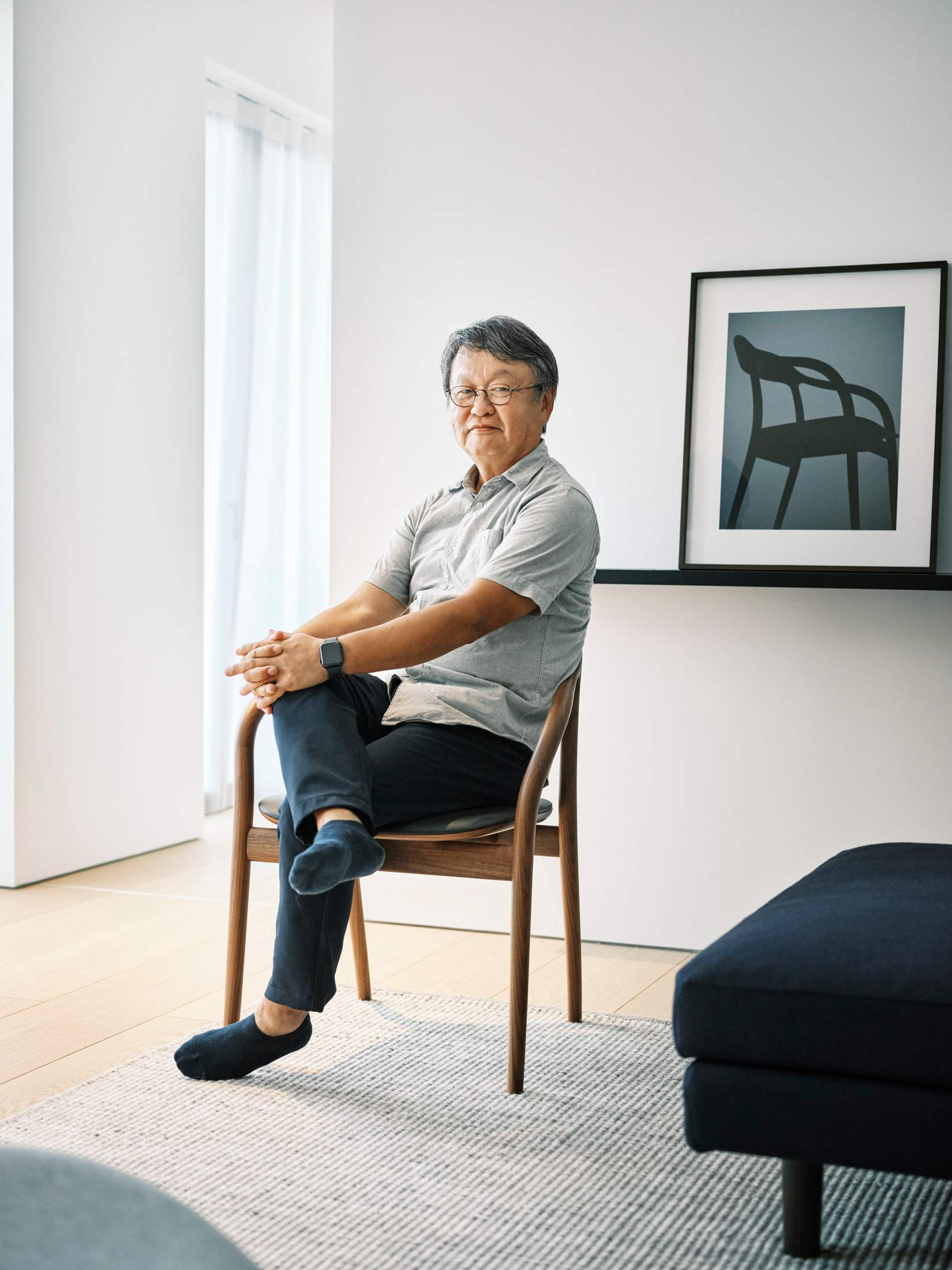 After decades as one of the world's top furniture and product designers, Naoto Fukasawa could be forgiven for taking it easy during the pandemic. Instead the Japanese creative has spent the past two years designing a new house-atelier in a residential neighbourhood of Tokyo that is now home to his 11-person studio. Fukasawa designed every aspect of the building, down to the window frames. The minimalist apartment upstairs is a full-on Fukasawa showcase, filled with work: his bed for b&b Italia, lamps for Hay, bathroom fittings for Boffi and a sofa for Maruni.
Fukasawa worked with construction giant Takenaka to realise the project. "We had to have about 70 meetings," he says, laughing. "As a person I'm not strict but when I'm doing something from a designer's point of view, I don't compromise. People who work with me know what I'm like. That's why I always make sure to say 'thank you' at the end of a project, because I know it wasn't easy."
It's hard to overstate Fukasawa's influence on modern Japanese design. His preoccupation has long been the unconscious sense that things work or don't work. "In Japanese we talk about iwakan, this feeling when something's not quite right. For me, a designer's job is less about inventing something from zero and more about fixing something when it's not right. I teach my students [at Tama Art University] that they have to feel the world around them and work out how to make things better." Luckily, many of today's Japanese design students seem to have absorbed Fukasawa's lessons, in particular the value of what are termed "micro-considerations": observations of human behaviour that can help to improve the design of the tools we use every day.
"One of the most important aspects of being a designer is making people happy," says Fukasawa. "People come to this house and they love it, even if they know nothing about design. I could point to the specific details that make it feel good but I don't need to tell them. In Japan, people are always asking me about my 'future vision' but I don't have one. My main ambition is to elevate the ordinary. Some designers might want to design a fancy wine glass to go with expensive wine; I'm more interested in a water glass," he adds, picking up one that he designed for Taiwan Glass.
"I feel that Japan is not a country of design; it's a country of craft," he adds. "But there is beauty in everyday life here." Fukasawa is director of the Nihon Mingeikan (Japan Folk Crafts Museum), which was founded by philosopher Soetsu Yanagi to collect and celebrate the anonymous crafts – pottery, baskets and textiles – used in daily life. "It was a revelation to me when I first went [in my thirties]," says Fukasawa. His work, through his design, teaching and writing, showed that while imported design had its place, so too did Japan's more functional point of view.
Resolutely humble, Fukasawa says that he's still surprised when the likes of Kanye West call on him in his studio. He delights in new design discoveries and is working on wooden sculptures, an early love, using walnut offcuts. He recently set up his Design Science Foundation, which will be a forum for exploring the intersection of science and design. "Everyone seems to think that design is abstract, while scientists analyse the world and find solutions," he says. "But the starting point is the same for both: curiosity." The new studio in Tokyo stands as a clear expression of Fukasawa's perspective on design. "When you walk along the street, you'll think, 'Oh, that must be Naoto's house: normal but special.'"
---
The CV
1956: Born in Yamanashi, Japan
1980: Graduates from Tama Art University and joined electronics company Seiko Epson
1989: Moves to San Francisco to work for pioneering product-design company ID Two (now ideo)
1996: Returns to Japan
1999: Designs Muji wall-mounted CD player
2003: Founds Naoto Fukasawa Design in Tokyo
2oo6: Becomes a director of 21_21 Design Sight, Japan's first design museum, which opens in 2007
2008: Designs Hiroshima Chair for Maruni
2014: Heads the Integrated Design department at Tama Art University
2018: Wins Isamu Noguchi Award, with work for the likes of Alessi, b&b Italia, Maruni, Muji, Magis and Danese Milano
2021: Completes new atelier and releases Ellipse watch for Issey Miyake/Seiko