Business: F&B / France
Glass half full
Despite pandemic woes and the loss of the Russian market, the CEO of Pernod Ricard is upbeat – it's all just part of business life, he says, and there's always another opportunity around the corner.
The bulletin boards aren't the first thing that you notice when disembarking at Île des Embiez (for that, take your pick from the marina, the well-dressed French families, the verdant, sloping hills). But when you register one, you'll soon realise that they're dotted all over the island. They hold information about the life of Marseilles pastis-maker Paul Ricard as well as his sun-faded photograph. After co-founding Pernod Ricard, which is now the world's second-largest wine and spirits company, Ricard bought the island in 1958.
You can see why. On a sultry August afternoon, the dinky white-and-navy ferries that sail to the island from Le Brusc and Bandol on the Mediterranean coast slip by little coves where young families and life-jacketed dogs caper in the sea. Older visitors play pétanque. Ricard's name is everywhere on Embiez and Bendor – the other outpost of Les Îles Paul Ricard and about a tenth the size of its neighbour.
On Bendor, where the Ricard family have its summer estate, Monocle meets Alexandre Ricard – the third-generation CEO of Pernod Ricard and Paul's grandson. The younger Ricard, who's now 50, leads us uphill through a shaded garden and out towards a pool that overlooks the glistening Mediterranean. Family and friends splash around while Ricard sits down to answer Monocle's questions. First, though, he shows us pictures of a dinner he recently hired Michelin-starred chef Mauro Colagreco to cook for 200 guests on the tarmac of Marseille's Circuit Paul Ricard (home to France's Grand Prix).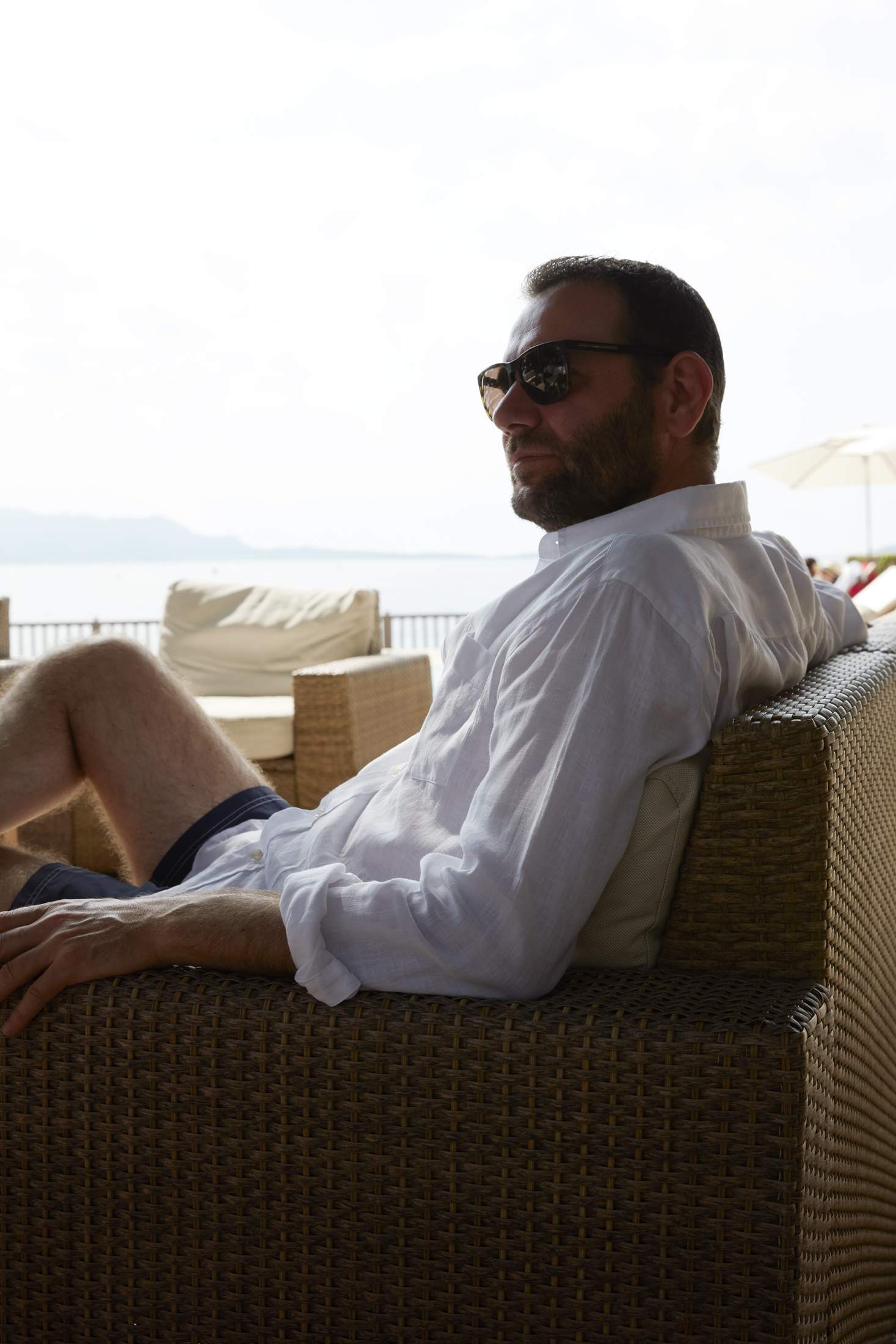 Reminders of his grandfather, who founded Ricard 90 years ago and merged it with fellow pastis-maker Pernod in 1975, are everywhere. Pernod Ricard now turns over almost €10.7bn a year and owns Absolut vodka, Chivas whiskey and Mumm champagne. Does that affect
how he runs the business? "Without a single doubt," says Ricard. "It's a job that requires huge discipline. Every single meeting is intense," he says. That sobriety doesn't stop on holiday. "Every summer I come here with family and friends but every day I invite one or two people who have a different perspective on the world – CEOs or researchers – and before aperitif time we'll chat and I'll write down a few notes to prepare for September."
Life-long learning (another inheritance, he says) is something that the younger Ricard enjoys pursuing. He's enrolled on a three-year executive-coaching programme and perhaps it's helping him too. A few weeks after he hosts Monocle, Pernod Ricard announced full-year sales that, for the first time, exceeded €10bn – allowing the company to increase its shareholders' dividend. Pernod Ricard's results suggest that increasing e-commerce sales and consumers' taste for drinking more at home aren't going away any time soon. Consumers also showed few signs of downgrading to cheaper alcohol despite rising inflation.
It might be sunny on Bendor but the backdrop for much of the business world is somewhat gloomy. Western economies have been badly hit by a rise in the cost of materials, so Ricard has been seeking advice. "I call very, very old people and ask them about when they were CEOs during inflationary times," he says. "If you don't know something but you know people who have lived through similar experiences, try to learn from them." Despite high inflation and its underlying geopolitics, September's results capped off the recovery from a pandemic that decimated duty-free sales and is still, in some places, suffocating hospitality.
Alexandre joined the company in 2003 after eight years in consulting and finance. Twelve years later he became the youngest person running a company listed on France's blue-chip cac 40 index (the family still controls a quarter of the company's board votes). Ricard was forced to act quickly to keep the wolf from the door. Three years after taking over, he had to explain to shareholders how he planned to stop Elliott Management, one of Wall Street's most aggressive activist investment firms with a reputation for forcing board changes, from waging an insurgency campaign in the pursuit of higher profits. How did the presence of Elliott, which has now divested its stake, shape the young CEO's early leadership?
"We were coming out of a two-year period of zero growth," says Ricard. "Elliott's key focus was margin and it turned out that my key focus was profitable growth, which was about improving margin. I made a speech to the whole organisation saying, 'Don't worry about this, it's my issue; just deliver on my plan.'" Even so, he bristles at the suggestion that he'd want to overtake London-based rival Diageo as the largest alcoholic-beverage producer in the West. "Do you want to be the biggest or the best?" he says. Why not both? "By being the biggest, you might not end up being the best," he says, adding that reputation is his priority. "Money cannot buy what people will remember us for."
Overall, Ricard has boosted Pernod Ricard's growth, partly by snapping up smaller companies – more than a dozen since he took over. The company is also investing in the Chinese market, which is a relatively untapped area for Western companies because consumers there have historically bought alcohol from local producers. Every year, some 30 million people reach legal drinking age there and international brands comprise just 1 per cent of the market. Consequently, Pernod is starting to sell more locally made drinks, such as wine it produces in China's northwest or whiskey from its Sichuan distillery.
And what if China invades Taiwan? Monocle stays for lunch and dines with Ricard, family and friends, a bishop (who occasionally visits to bless the island) and Patrick Castanier, VP Business Development of PR Asia. Castanier's experience shows how quickly a market's stability can falter. He was living in Myanmar during the 2021 coup and tells us about waking up one day with no phone service and eventually escaping as part of a French government airlift. It currently seems unlikely China will invade Taiwan but few thought that Russia would invade Ukraine or that companies doing business there would face sanctions. If the parallels have occurred to Ricard, he's reluctant to say so. Pernod Ricard followed scores of other Western companies in suspending its exports in Russia but an exit from China would be a major blow to the company's growth strategy.
Batting away a wasp, Ricard says that Russia, inflation and the pandemic and its effects are just part of doing business. "There's a whole generation who was brought up in a world where they thought that the norm was visibility, predictability and calm. The real norm is what we know today: uncertainty, a lack of visibility, volatility."
That said, on this bright day, the visibility is clear enough to see Embiez across the Baie de Sanary. At the larger island's highest point you'll find the graves of Paul Ricard and his son and successor, Patrick. Apparently, a bottle of Ricard aperitif is buried between them. With our interview done, Pernod Ricard's current custodian wanders downhill with his young family to the rocky outcrop where he played as a child to watch the boats drifting by.