Fashion: Interview / Paris
Embrace the chaos
Turbulent times call for bold decisions, says Pietro Beccari, the chairman and CEO of Christian Dior Couture, who has tripled the luxury firm's revenues.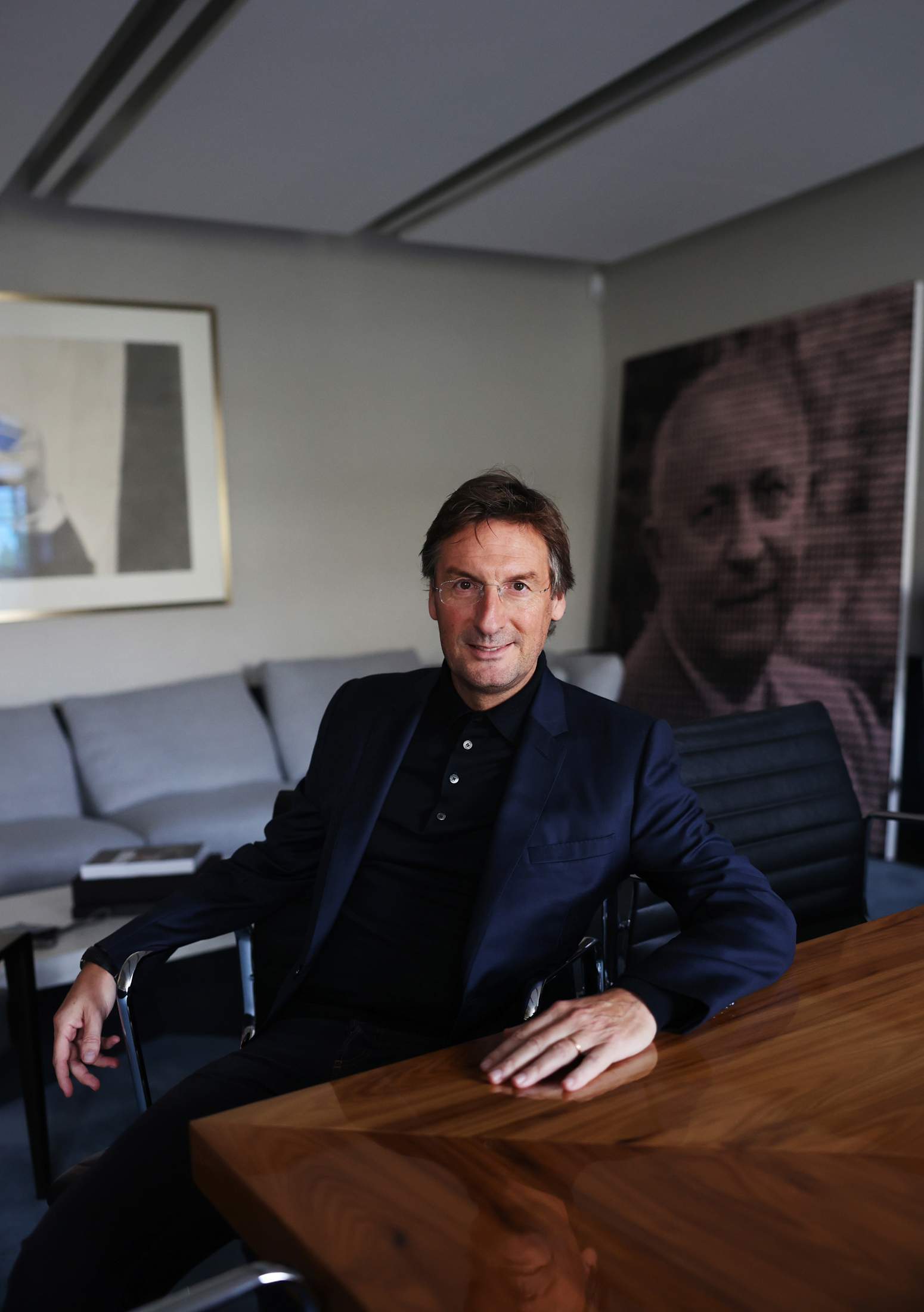 "That's chaos, that's chaos and that's also chaos," says Pietro Beccari, ceo of Christian Dior Couture, as he points to the art dotted around his Champs Élysées office. The works in question include a photograph by Bruce Weber scribbled over with black ink and depicting a classic white Lady Dior tote bag surrounded by stuffed animals. 
In many ways, the images reflect Beccari's philosophy as a ceo: to welcome chaos, humour and a multitude of perspectives into the lvmh-owned brand – even if these do sometimes clash. 
It is an approach that has helped him turn Dior into one of the highest-earning brands in the lvmh stable (according to estimates from hsbc, revenue roughly tripled from €2.2bn to €6.5bn since Beccari joined the company in 2018). He has achieved all of this while bringing
profile designers all under one roof, including the brand's womenswear creative director Maria Grazia Chiuri and Kim Jones, artistic director for Dior Men's. "Consistency can be boring and uninteresting," says Beccari, who was born in a small village in Italy's Parma area. "You have to always be ready to change your convictions." 
After a brief stint as a professional football player in Italy, Beccari worked for Henkel, the German manufacturer that specialises in cosmetics and home-care products. In 2012 he joined fashion's C-suite, first at Fendi and now Dior, where he gets to "think huge, not big". This often translates to destination shows held across the world, best-selling collaborations with everyone from up-and-coming South African designer Thebe Magugu to sports giant Nike, and larger-than-life shops. 
Beccari's approach to retail in particular has been turning heads this year. He reopened the doors of Dior's Paris flagship at 30 Avenue Montaigne following a renovation project lasting more than two years. This involved buying two adjacent buildings and transforming the space into a giant hub of luxury shopping and entertainment with a restaurant, a pâtisserie, indoor gardens, an exhibition space and a private suite that can be booked for an overnight stay for more than €20,000 a night. "At first, everyone was looking at me as though I was a weirdo for wanting to close down our number-one shop in the world for such a long renovation," he says of 30 Montaigne. "The artisans hadn't been moved from that location since 1946."
But Beccari's bet is paying off. Pass by 30 Montaigne today – the "beating heart of Dior", as he calls it – and you will see people lining up to enter the exhibition space, while inside the shop itself there is always a happy commotion: some customers can be found spritzing perfume at the beauty stands near the entrance, others are having private appointments at the upstairs ready-to-wear floors, while locals enjoy business lunches at the light-filled Monsieur Dior restaurant – an establishment in which every detail has been considered, from the Dior china to the butter served on the tables that comes marked with founder Christian Dior's lucky star. 
Beccari is now applying the same bold attitude in other markets, from Seoul, where Dior transformed a skate park into a pop-up shop, to London, where the brand has taken over Harrods for the holidays: window displays, an in-store exhibition, a café and exclusive Christmas collections are all coming together to tell the Dior story. "It's fitting to our status as a mega brand," says Beccari, who is set on doubling the company's revenues in the next five to six years. "The potential of Dior is infinite and we have embarked on a successful path that has no reason to stop." 
Here, he talks to monocle about some of the ingredients in his recipe for success and what lies on the road ahead. 
How did you develop your business style and learn to embrace values like risk and inconsistency?  
Having worked at Henkel, I experienced the mass market where repetitive messages were pushed onto customers. But then I came to the luxury sector and realised that this approach was wrong: incoherence can be healthy for business. If you have everything under control, it means that you're not going fast enough; you must question yourself and continuously change your direction. This breeds chaos but also creativity. If you stay too loyal to the ways of the past, you can become boring. There's a reason why you can light a fire by pushing two stones in opposite directions.  
How have you been rethinking physical retail in particular?
Today clients don't just want to come in, buy a bag and go away. We share a set of values – aesthetic ones in this case – that we can translate into experiences. It's more common for us to be incorporating in-store hospitality as these experiences are the ones that are building your brand's image these days. We brought Zuma to Palazzo Fendi in 2016 and it remains one of the most popular restaurants in Rome. Now we have got the Monsieur Dior restaurant, the private suite in 30 Montaigne and a lot more ideas for how to go beyond shopping in the next year. 
Is heritage and the story of Christian Dior a big part of the story that you are trying to tell on the shop floor? 
I always tell my team that we're not here to preserve history. Based on this powerful heritage, we need to build something new that speaks to people today. While history alone is not enough, it's been interesting to incorporate a museum next to 30 Montaigne and marry the modernity of the shop with the tradition of a museum. We've staged an exhibition on the history of Dior in Paris, Brooklyn and London, and this December we are taking it to Japan. 
Why is it still so important for Dior to partner with third-party retailers when you are investing in your own shops more than ever?
Department stores in the UK, the US and France have their own customers. They are a different type of person, one who wouldn't come to our standalone shops. That's why we wanted to partner with a global name like Harrods on something that is larger than life and has never been done before. 
Many colleagues talk about bricks-and-mortar shops being completely replaced by e-commerce. But I still belong to the school of thought that believes that physical retail and the department store remain important and that these are impossible to replace with online retailers. 
How have you been developing Dior's high jewellery business?
Dior made the move into jewellery 21 years ago but we have never been as successful as we are today. We have just acquired two jewellery manufacturers in Lyon and opened another high jewellery atelier in our headquarters. We want to develop this craft within our team as there's huge potential to speak to a certain type of premium client.
A lot of luxury businesses are increasingly focusing on that premium client, who is less likely to be affected by the current state of the economy. Are you heading in a similar direction or do you plan to continue investing across all levels of the market?
Part of being a global brand is speaking to different types of people: some might not be able to afford haute couture but they might want to buy a belt. I wouldn't change this strategy; it's not my way. In 2020, Dior saw a 20 per cent rise in revenues because we never stopped investing in our shops and in bold marketing at a time when everyone else went quiet. We gained a lot of market share during the pandemic because we were shouting in a desert and our voice was very much heard. We didn't slow down during the worst crisis of the century and we won't change paths now that we are inevitably going into a recession. Staying true to your values and strategy pays off in the long term. 
How have you been incorporating environmental goals into your strategy for the brand?
I see this pragmatically. People often make big statements and eventually have to admit defeat so we would rather acknowledge that we're not perfect and try to do better. Dior has a programme called "Dream in Green" in which every single employee is called to give suggestions and we then implement 10 to 15 of those ideas every year. Our swimwear collaboration with [non-profit environmental organisation] Parley for the Oceans, which was created using ocean waste, was a result of that project. 
It's also important for us to partner with local artisans when we host destination shows – we did this in Greece, Morocco and Spain. The aim is to integrate ourselves into these cultures and use our platform to tell the stories of the craftspeople. 
Do you foresee that Dior can sustain its momentum in 2023 and beyond?
I'm optimistic by nature and I see a lot of new opportunities across southeast Asia: Vietnam, Indonesia, Thailand and Singapore are all showing potential for growth. 
South Korea was completely underdeveloped for us and we have multiplied our market share by 9 in the past five years with a show and pop-up shop in the middle of a skate park. No one expected us to do that in such a far-flung location but we have now made it the place to be.
We can never fall to a level that we can't bounce back from – we've already demonstrated that in 2020. Knowing that Dior was founded right after the Second World War [in 1946] made me realise that the brand was made for situations such as this and we can head into any crisis with courage. 
We are in a time when we can certainly live without luxury but we need luxury to live better; it can offer us a moment of joy or self-reward that is much needed right now.
thefabulousworldofdior.com