Fashion: Outerwear / Reykjavík
Slow and steady
Iceland's gentler approach to life has resulted in a unique creative scene that moves with its own rhythms. As outerwear brand 66°North steps onto the global stage, we find out what can it teach the world about Nordic-style sustainability and prioritising quality over novelty.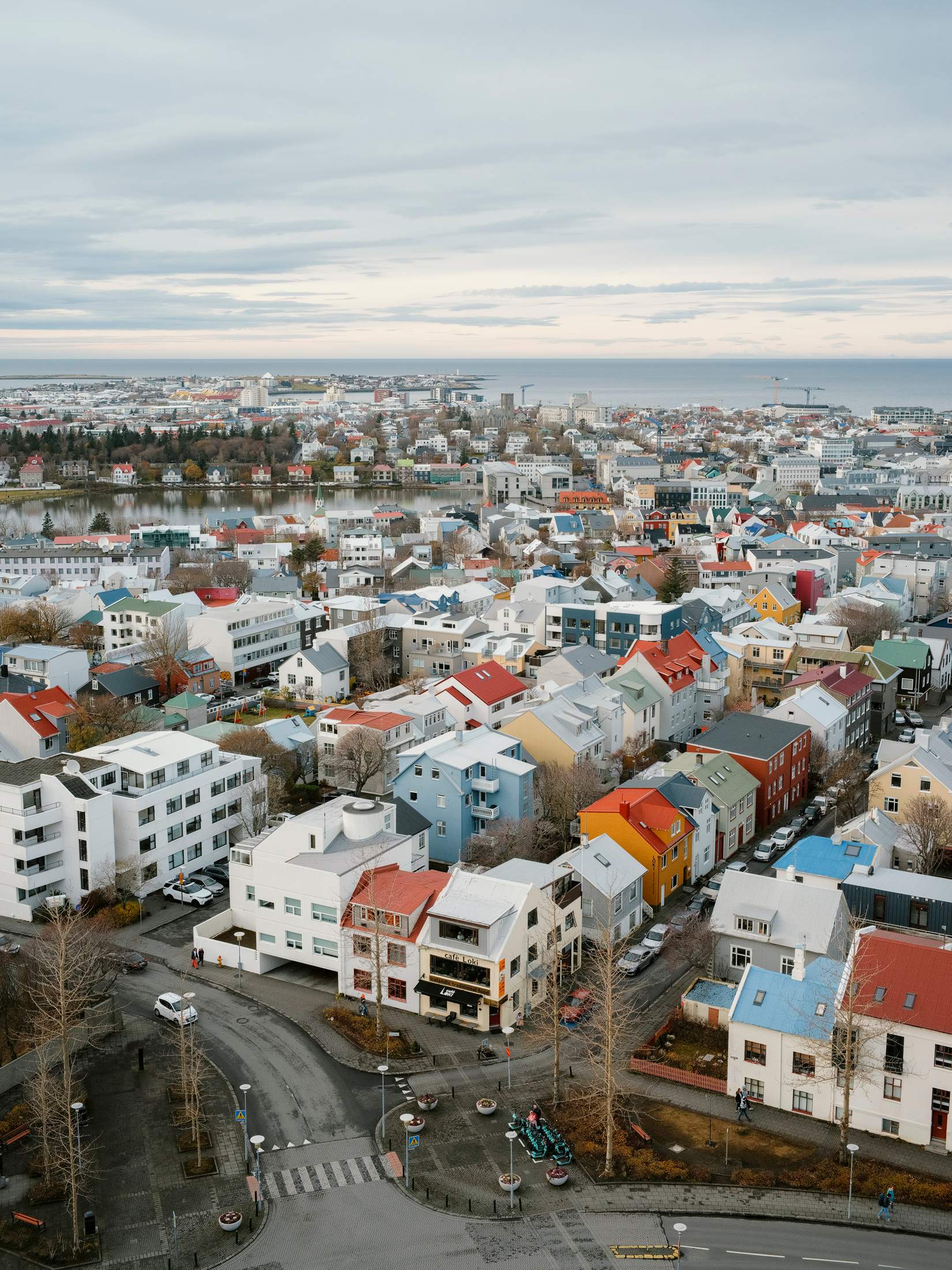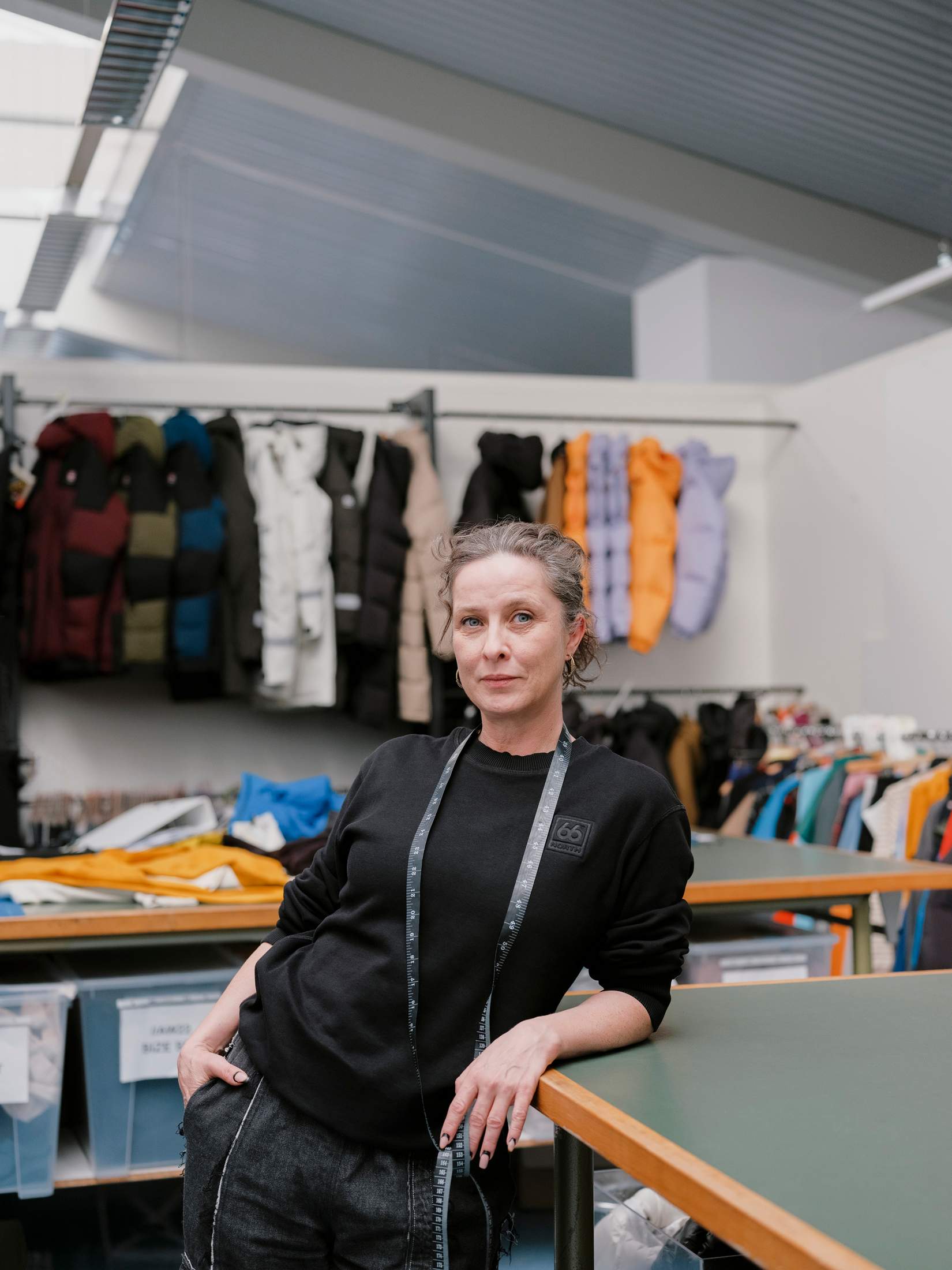 "Iceland is a planet of its own," says Reykjavík-based art director Arnar Ingi in his downtown studio, which occupies a traditional wooden-framed house that was once the city gas chief's residence. Ingi is talking about the country's volcanoes, glaciers and black-sand beaches but the same could be said of its creative scene. Reykjavík's fashion designers, photographers and material-innovation specialists keep a healthy distance from the global mainstream and work at their own pace, drawing inspiration from nature and life on an island defined by folklore, extreme weather and its close-knit community of about 400,000.
Icelanders' resourcefulness and flair for recycling are well known. "Not too long ago simply staying alive here was a struggle, so the idea of having finite resources and making use of everything has been instilled in us over many generations," says Ingi's partner, designer Valdis Steinarsdottir, who has developed new gelatin- and agar-based fabrics that she hopes will offer sustainable alternatives to materials such as polyester.
This kind of commitment to responsible design has earned Reykjavík a reputation as a hub of innovation that could show the international fashion industry how to reduce waste and run more ethical businesses. Though the city is compact, its talent pool is wide, encompassing graduates of the influential University of the Arts, young talents such as Ingi and Steinarsdottir, family businesses like perfumer Fischersund and progressive clothing boutiques including Húrra, which stocks the best of Scandinavian design. Leading the pack is outerwear specialist 66°North, which has been dressing the nation since the 1920s and is now expanding abroad. With New York-based investment firm Mousse Partners, which manages the wealth of Chanel's Wertheimer family, as a minority stakeholder and newly given a B Corp certification, the brand is already receiving international attention and helping to raise awareness of Iceland's fashion sector.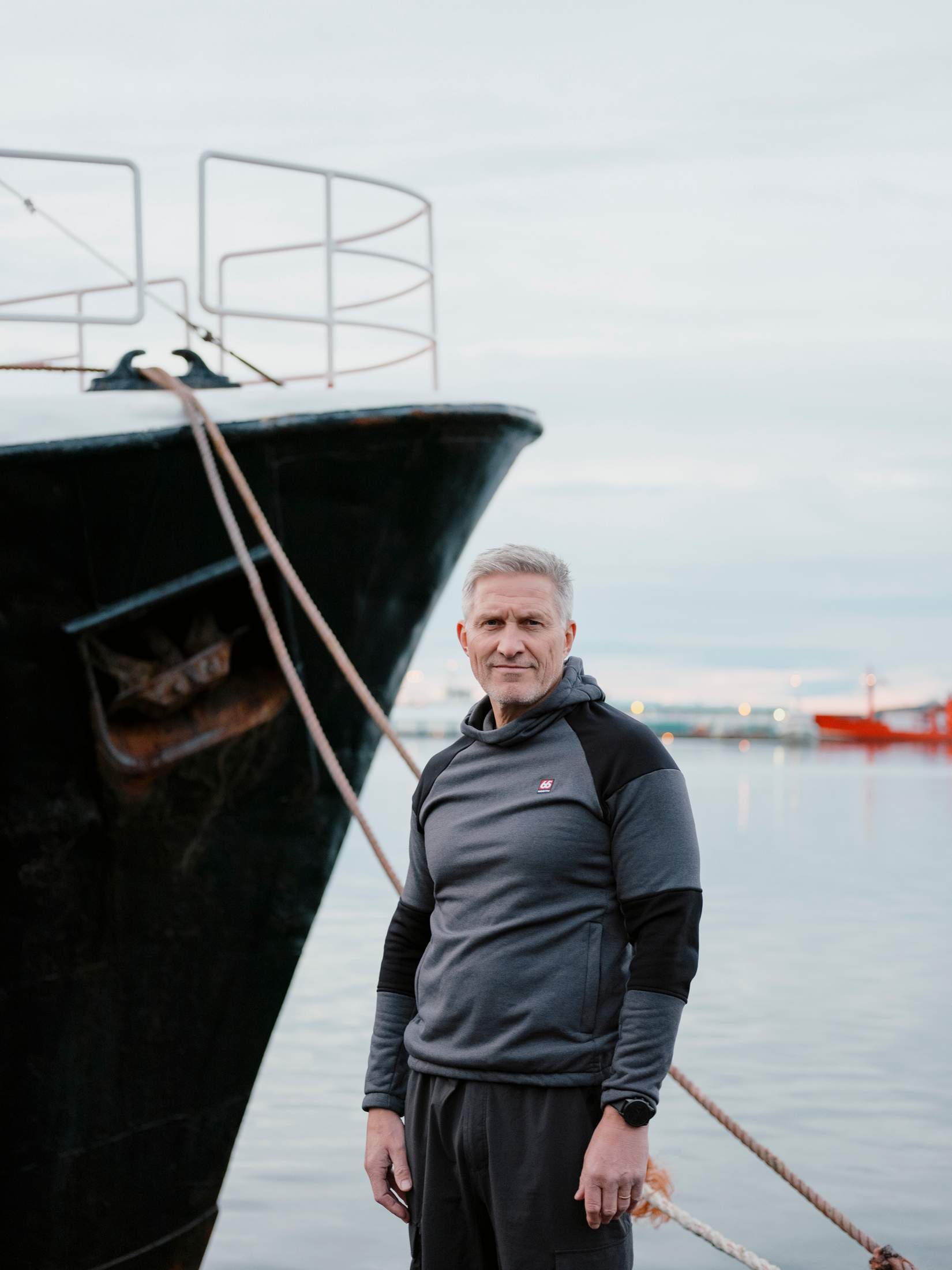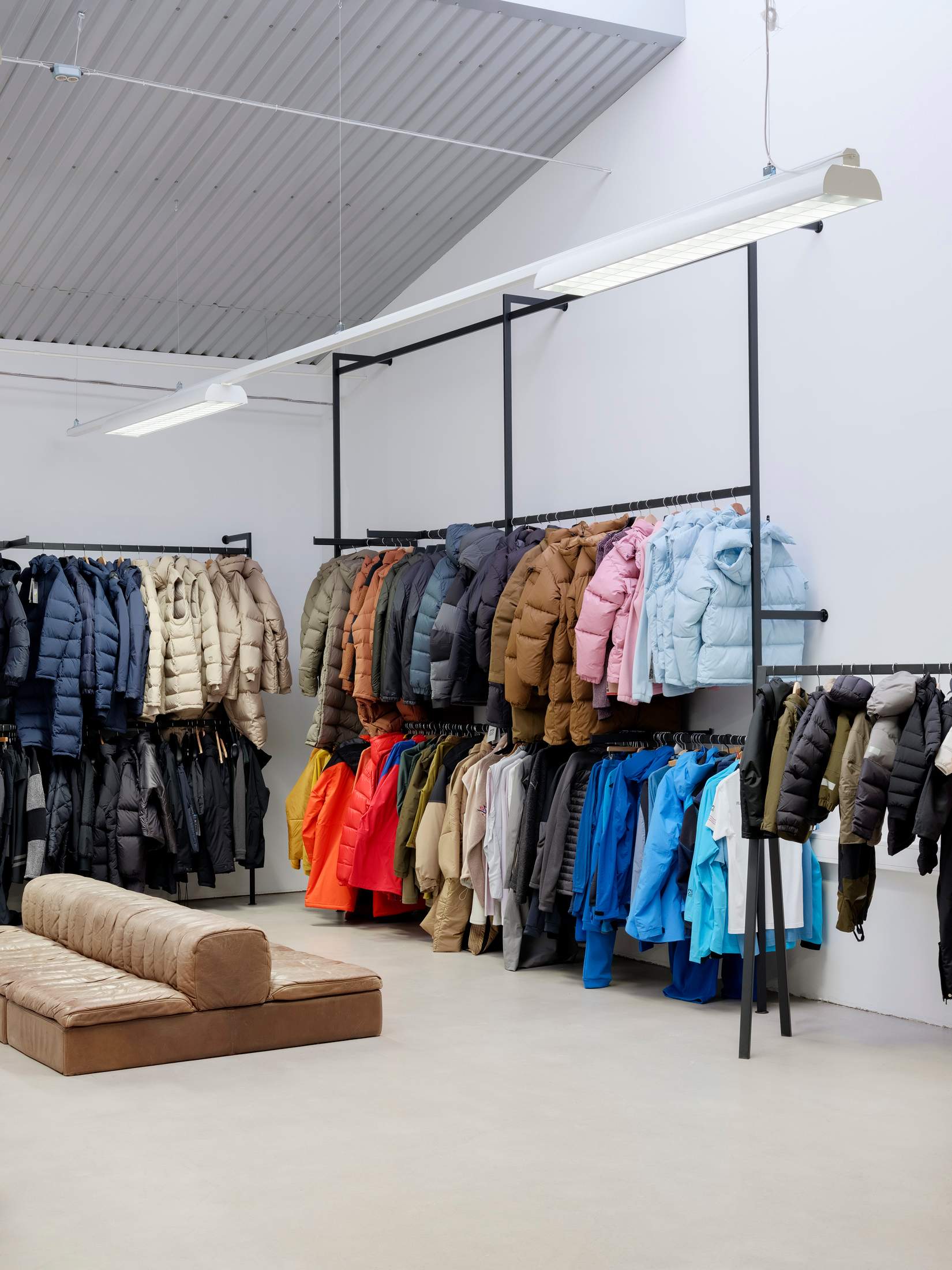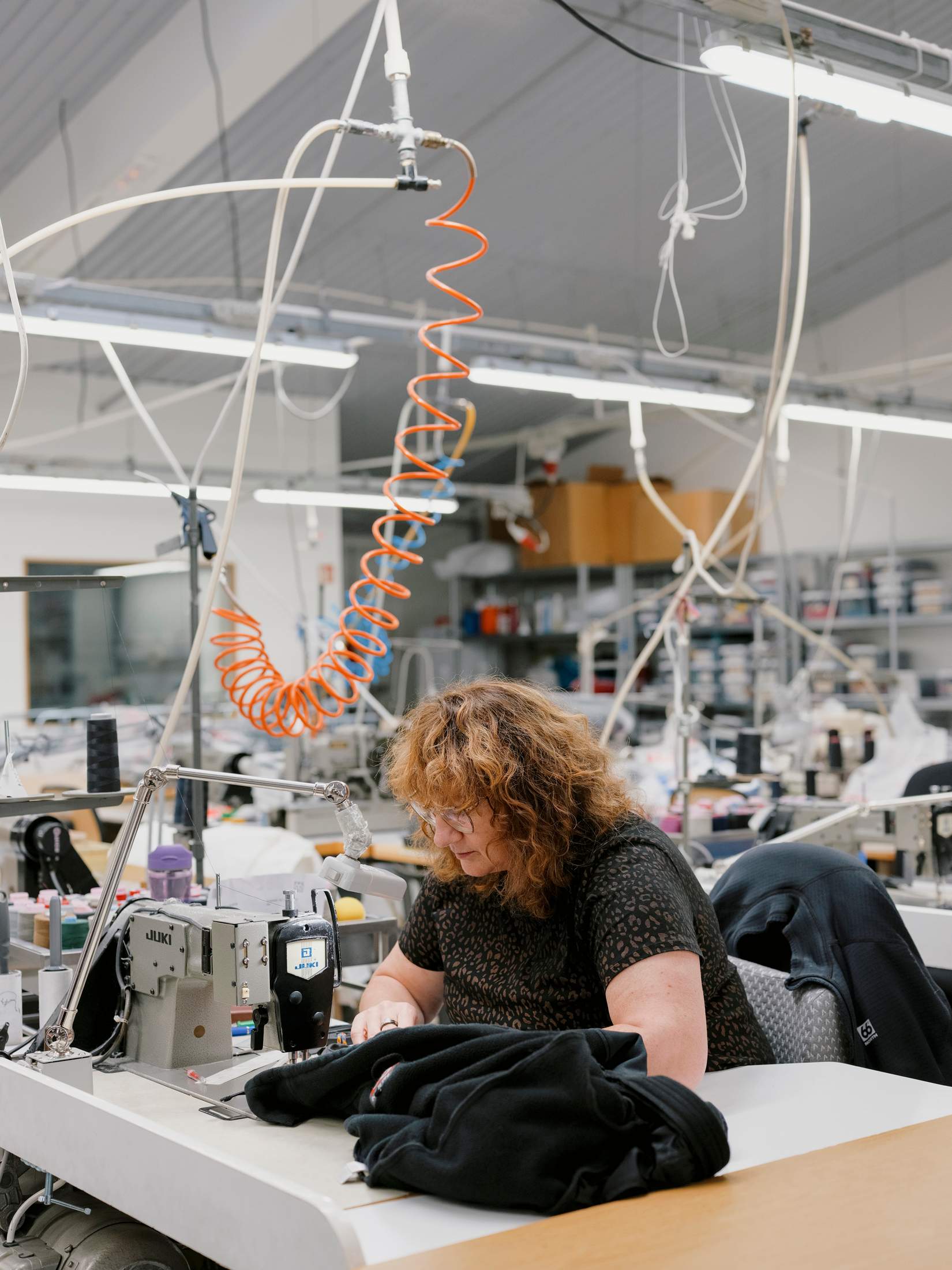 The country has historically nurtured creativity. "People had to use their imagination and make up tales about trolls, elves and so forth," says Helgi Oskarsson, 66°North's ceo. "What else can you do when it's dark all day and you're sitting at home without electricity?"
Iceland is now a wealthy country with abundant geothermal and hydroelectric energy. Its thriving tourism industry welcomed about two million people a year before the pandemic, with numbers now recovering; an extensive welfare system has resulted in extremely low inequality. As a result, the nation's creativity has been able to thrive far beyond narrating folk tales by candlelight. "People are handed opportunities to be creative here," says Saeunn Thordardottir, who began her fashion career in London, before moving to Iceland to lead 66°North's design team. "It's encouraged from early on in the school system. There have been lots of government initiatives funding creative after-school activities for children."
For Thordardottir, relocating to Reykjavík was a natural choice. "It meant that I could continue my career in fashion while starting a family," she says, pointing to the city's higher standards of living. Inside the offices of 66°North, the atmosphere is relaxed, employees are joined by their children for lunch and many of the sales and marketing executives have spent decades at the company, often working their way up from the shop floor.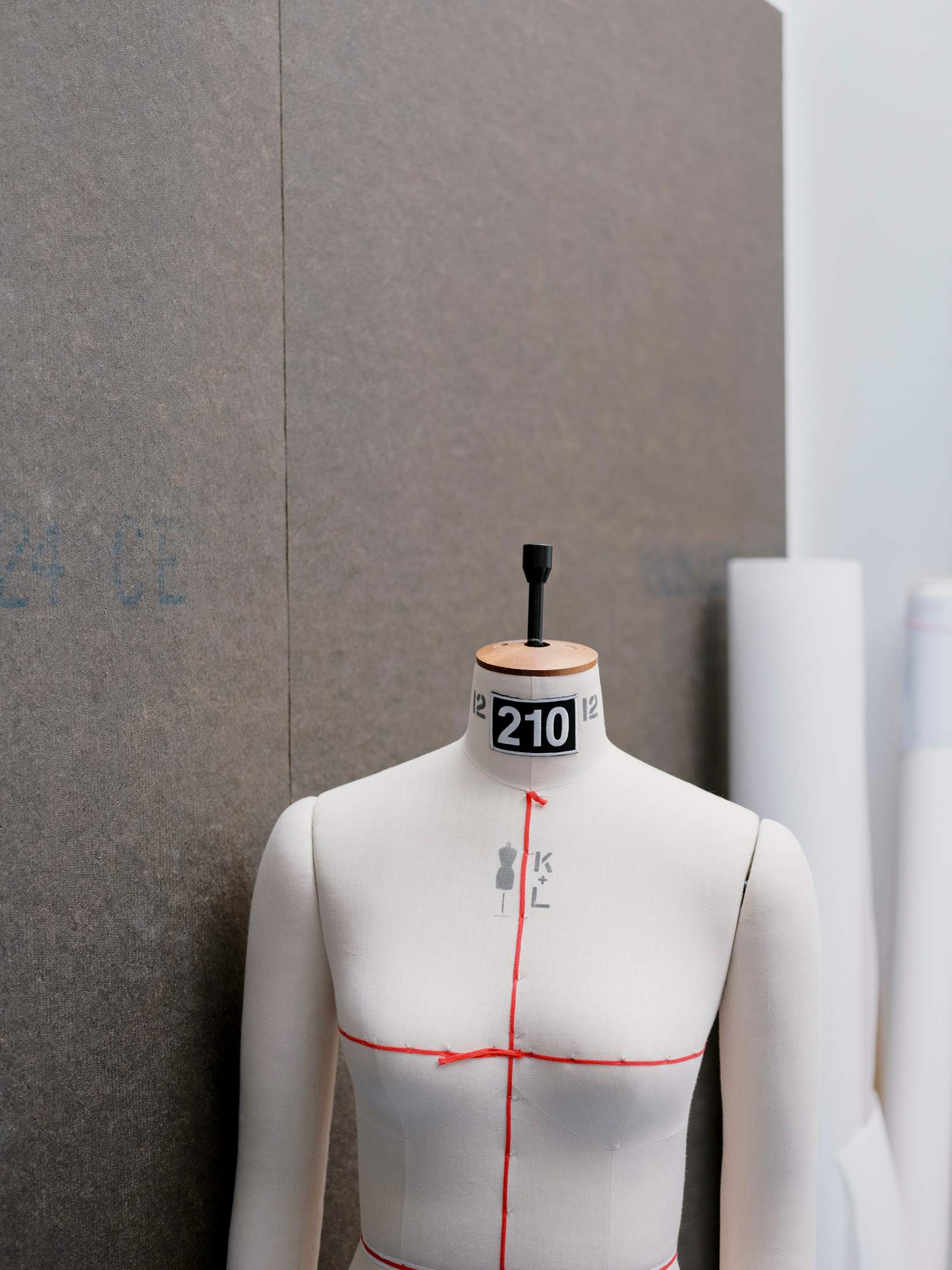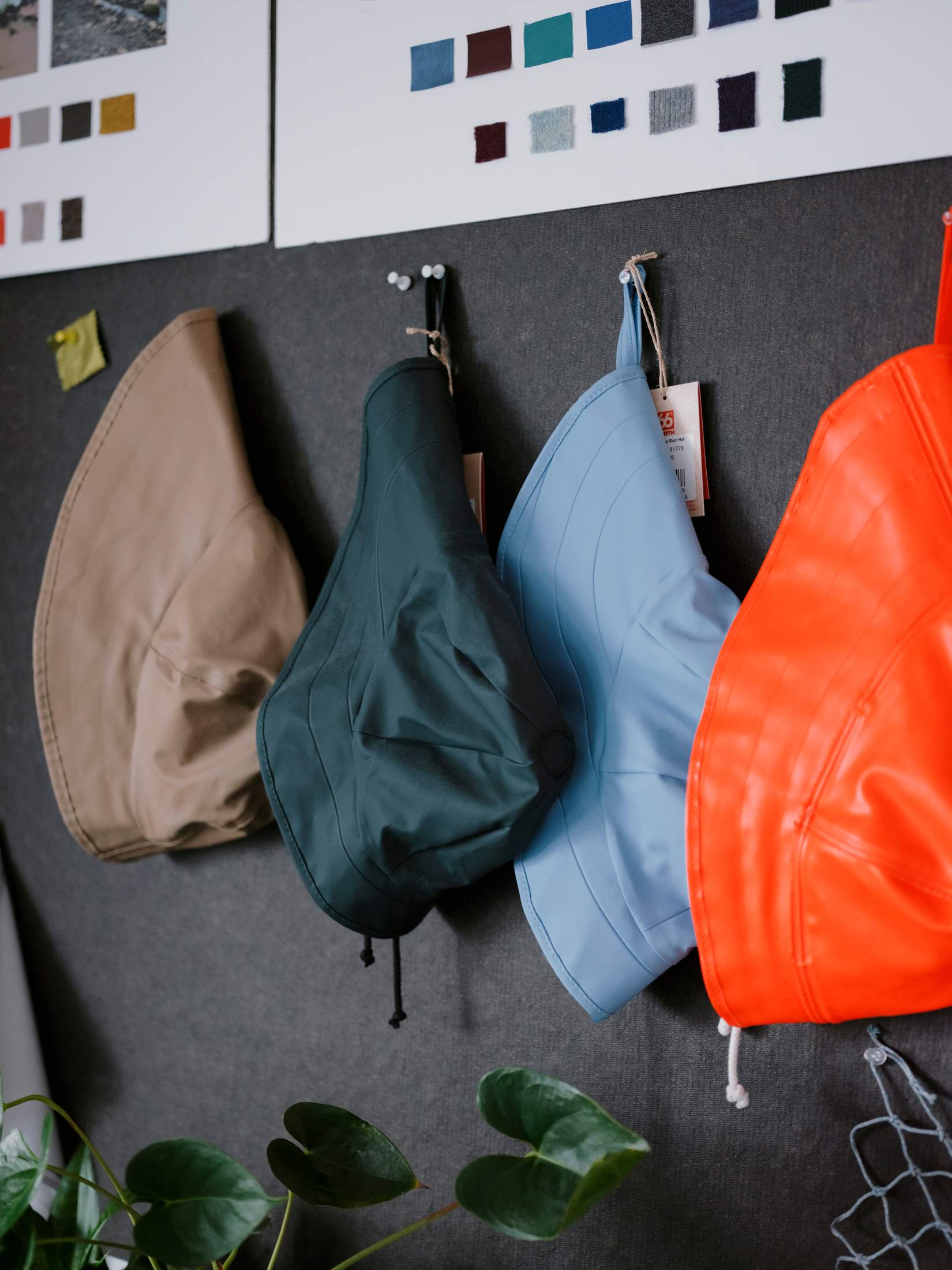 As the world increasingly begins to take note of Iceland's gentler approach to life – and dressing – more eyes are on the capital and 66°North is making the most of the momentum. After increasing its investment in its design team and renovating its 12 shops in its home market, the brand has recently opened a flagship shop on London's Regent Street. "For the company to be successful internationally, we had to ensure that it's the most appreciated brand in Iceland first," says Oskarsson, who bought 66°North in 2013 with his wife, Bjarney, and brought Mousse Partners onboard six years later. "Iceland currently has no global consumer brand, believe it or not, but 66°North, with its history and approach to sustainability, has all of the ingredients to become just that."
For Oskarsson, 66°North's origins in producing protective clothing for fishermen remain crucial to the company's identity and help it to stand out. "Our founder, Hans Kristjansson, wasn't just starting a clothing brand in 1926," says Oskarsson. "He was launching a company that would save lives. That would make you think about quality and durability in a certain way. Iceland was so poor at the time that you had to be frugal about how much fabric you were using, avoid waste and repair everything. All of this is now a big part of fashion's sustainability conversation but it has long been part of our history."
The warehouse aside, a repairs workshop takes up the largest space in the company's headquarters on the outskirts of Reykjavík, where seamstresses replace zippers or patch torn linings day in and day out. In essence, a 66°North puffer comes with a lifetime warranty. Meanwhile, most of the brand's new collections are produced in factories that it owns in Latvia, allowing the Oskarssons to have better control of the supply chain and ensure that the working practices are fair.
When products are beyond repair, the brand still makes a point of taking them back and is creative with how it reuses them; recently it invited Ingi and Steinarsdottir to create chairs out of the torn sleeves of puffer jackets. Studio Fletta's Birta Ros Brynjolfsdottir and Hrefna Sigurdardottir – up-and-coming product designers who are best known for turning old trophies into beautiful, art deco lamps – have also been using their expertise in up­cycling to patch together offcuts from 66°North jackets into new interiors objects.
Now Oskarsson wants to put these talents on the global stage with the brand's new European flagship in the UK capital, a strategic move that took several years of research and planning. "I visited London for about six or seven years to understand its dynamics and find the best location," says Oskarsson. He admits that the UK's recent political squabbles have raised some concerns but he remains convinced of London's enduring relevance as a trend-setting capital in both music and fashion. "We are an almost 100-year-old company with a strong history and a story to tell. So we aimed for a big, central location to house our full collection and express our ambitions."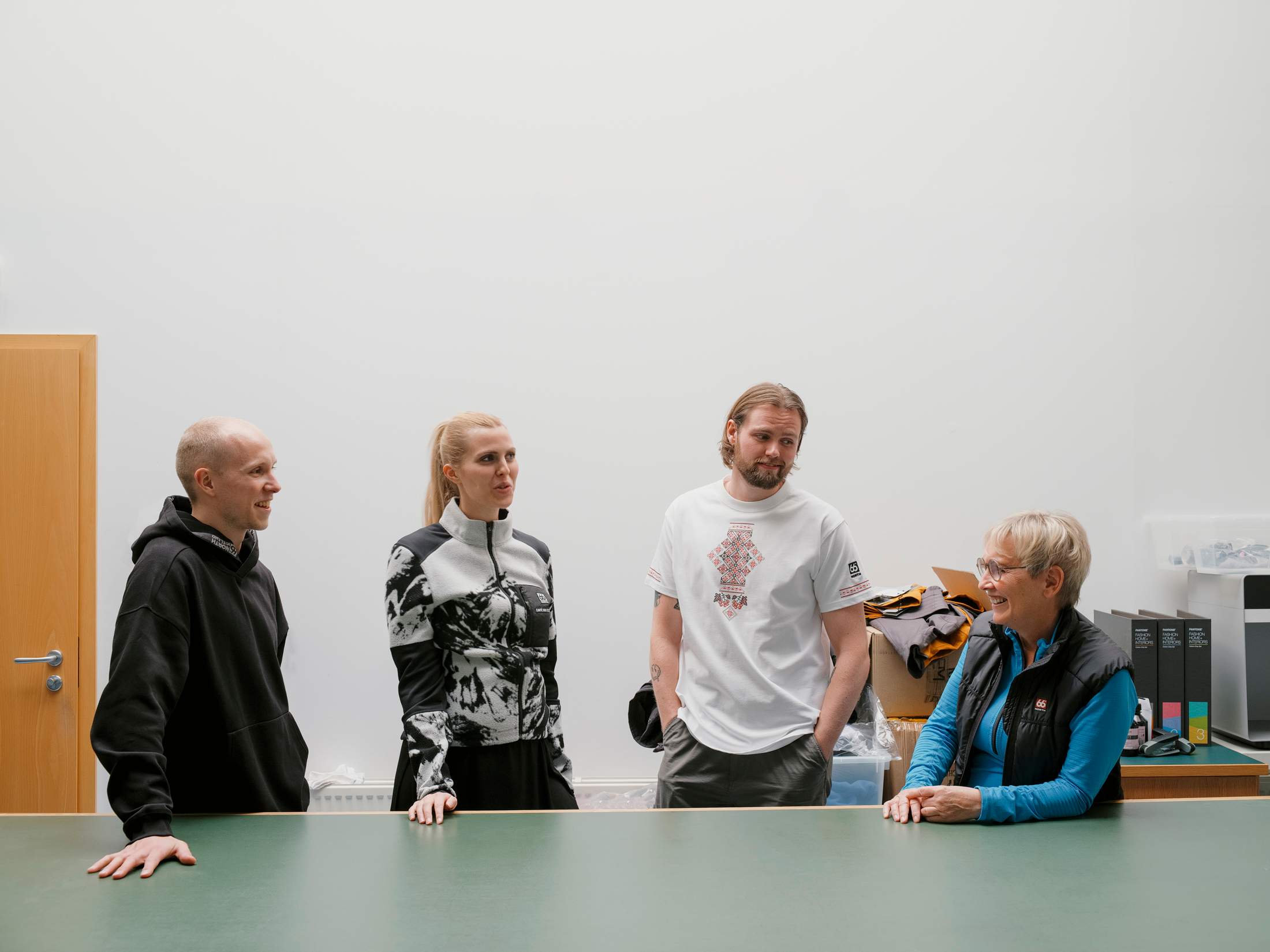 These ambitions include expansion to the US to capitalise on the brand's existing popularity among Americans visiting Iceland, partnerships with high-profile department stores and the addition of new categories. However, just as he took almost seven years to prepare the business for its Regent Street opening, Oskarsson wants to take his time executing the rest of his plans for the business. "I'm a big believer in forward thinking and have always admired people who sacrifice short-term gain for the longer-term view," he adds. "This company is about to turn a century old. We need to make sure that it's equipped to thrive for the next 100 years."
This ethos has informed the company's timelessly minimalist shop designs – exposed concrete, geometric shelves and plenty of empty space – as well as its collections, in which the same jacket made from Polartec Neoshell fabric has been a bestseller for more than a decade. The brand has also reduced the number of new styles it launches by 50 per cent since 2018, in an effort to achieve its environmental goals. "We are always asking ourselves whether something is needed and how we can create a new design that has a big effect on the customer and a small effect on the environment," says Thordardottir of the questions that dominate her discussions with members of her design team. "Time is a valuable asset and we want to think carefully about how we're spending it. We wouldn't want to spend our time making something that's unnecessary."
Communicating these values of long-term thinking and slow consumption is also what made going global worthwhile for the brand's owners. "It's true that the world doesn't need another fashion brand but I feel that we have something relevant to say in today's market," says Oskarsson's wife, Bjarney, who works as the company's head of sustainability and has also been behind a series of collaborations between 66°North, Copenhagen-based Ganni and Tokyo-based Facetasm. "Coming from Iceland with a brand that offers weather-protective clothing automatically gives you credibility," says Oskarsson, highlighting one of his label's competitive advantages. "If you can keep Icelanders warm and dry, you can do that for anyone in the world."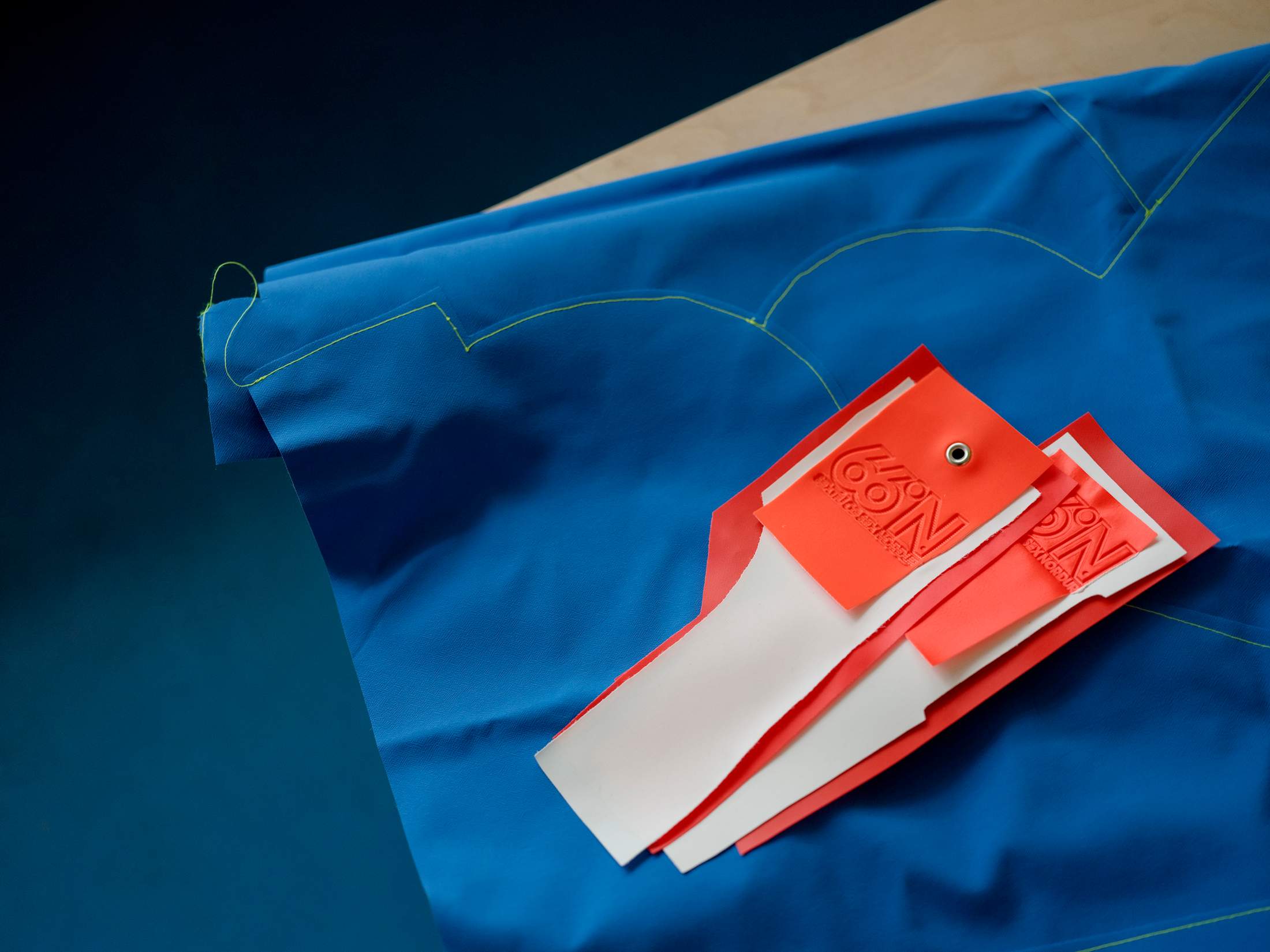 As 66°North gains market share, the Oskarssons also feel strongly about using the platform for more than just selling parkas. It's why they have been so keen to involve their hometown's emerging talents in upcycling projects and showcase Iceland's natural wonders in recent brand campaigns. "We want to inspire people to spend more time among nature," says Oskarsson. "It's when we distance ourselves too much from it that we lose our sense of environmental responsibility."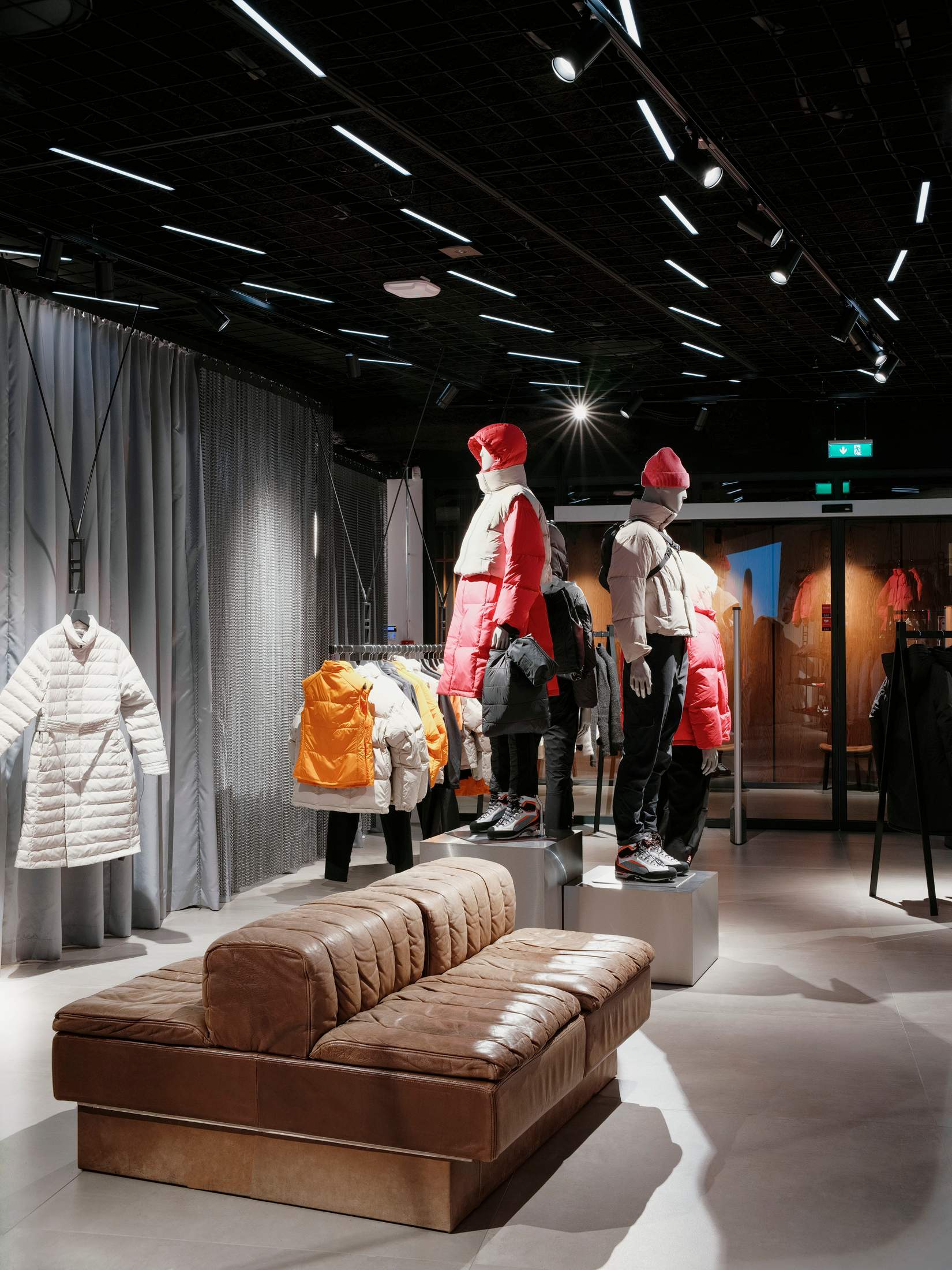 More recently the brand also created a campaign to tell the story of Carbfix, a two-year-old industrial start-up based outside Reykjavík. The company helps to offset carbon dioxide by capturing it, dissolving it in water and turning it into stone, a process that involves injecting the liquid gas into reactive basalts found across Carbfix's geothermal power plant in the Hengill region. "We've been with them since the beginning," says Bjarney. "Their work isn't related to clothing but we still want to help build awareness. We believe in what they do. It's a method that can scale and fix the carbon-dioxide issue." She is not alone: musician Björk recently wore a pair of custom-made shoes whose heels were made from mineralised carbon dioxide from Carbfix – another testament to Icelanders' flair for collaboration and supporting each other.
Oskarsson also believes that both Iceland and his company have a lot to contribute to the current conversation around working cultures. "By law we are required to have external auditors look at staff salaries and identify any pay gaps," he says. "At 66°North, women were earning 0.3 per cent more than men the last time that we were audited, which doesn't surprise me. It's one of the advantages of being in Iceland: if you can have a society and a business where there is no gender bias, you can bring the best out of people."
"We want to inspire people to spend more time among nature. It's when we distance ourselves too much from it that we lose our sense of environmental responsibility"
The younger generations are equally aware of these advantages that life in Iceland provides. As a result, increasing numbers of domestic design talent are now choosing to stay put and start their own brands, rather than pursuing jobs in cities such as Milan or Paris. "You are less aware of what the norm is in Reykjavík so you can just go with your gut," says Ingi, explaining the advantages of being a young artist here, whether you are starting a rock band or a fashion brand. "The communication loops are small, so what might seem impossible in other countries can happen in Reykjavík. You can approach anyone on the street with an idea, even people in high places. Hierarchies are pretty flat here."
While there are also inevitable shortcomings, including less awareness of the value of good design and limited funds, most residents seem happy to exist within those limitations. They create their own "bubbles", as Ingi puts it, and operate within them. Among them are Studio Fletta's Brynjolfsdottir and Sigurdardottir, who have mapped out the waste across Iceland and now spend their days sourcing waste materials from various places, including manufacturing companies and the Red Cross. They then redesign them into objects and sell them in design shops, a handful of online galleries or in their studio. "We're quite keen to keep the process slow and consider every piece individually," says Sigurdardottir.
It's a far cry from the fast rhythms that designers have to adopt in larger fashion capitals, where high volumes, novelty and making noise online usually come as prerequisites. But as Icelandic fashion brands and designers, along with the country's prominent musicians and green-energy entrepreneurs, are increasingly thrust into the international spotlight, there's an opportunity to share these perspectives beyond their bubbles and teach people across the globe how to slow down a little. "We probably can't change the world but we would definitely like to contribute," says Steinar.