My Cabinet: Maison Dandoy / Brussels
Take the biscuit
The CEO of the Belgian biscuit brand on why they are still guided by tradition.
Brussels-based bakery Maison Dandoy, whose biscuits are beloved across Flanders and Wallonia, is older than Belgium itself. Founded in 1829 – one year before the modern Belgian state was established – the biscuit-maker now boasts 11 shops in Belgium and one pop-up shop in France. Not much has changed since the 1800s. "Our biscuits were famous from the beginning – especially during the holidays," says Co-ceo Alexandre Helson, who is the seventh generation of his family to run the company and meets monocle at their Galerie du Roi shop in Brussels.
The team start preparing for the Christmas season long before temperatures fall. In Belgium and the Netherlands, children receive spiced sugar cookies (speculoos) in the shape of a Sinterklaas, a Dutch holiday figure, every year on 6 December – and Maison Dandoy provides a trusty supply. Skilled employees roll out sheets of dough, then shape them into figures.
Helson stresses that Maison Dandoy's focus on artisanal, handmade methods is what sets his products apart. "When you dip our biscuits in coffee or tea, they don't break," says the ceo. This is also why he's wary of letting the brand become too big. "We received this dna from my grandfather, who always said that he wasn't interested in industrialisation."
He's happy for Maison Dandoy to change in other ways. Collaborating with artists, creatives and other entrepreneurs in the community has been a key focus for the brand in recent years. "Brasserie de la Senne uses our broken speculoos to make beer," says Helson. "And in turn, we sometimes use residue from the brewing process in our flour."
Helson relies on all his teams, from marketing to recipe creation, to keep things ticking. "Here, we consider everyone family."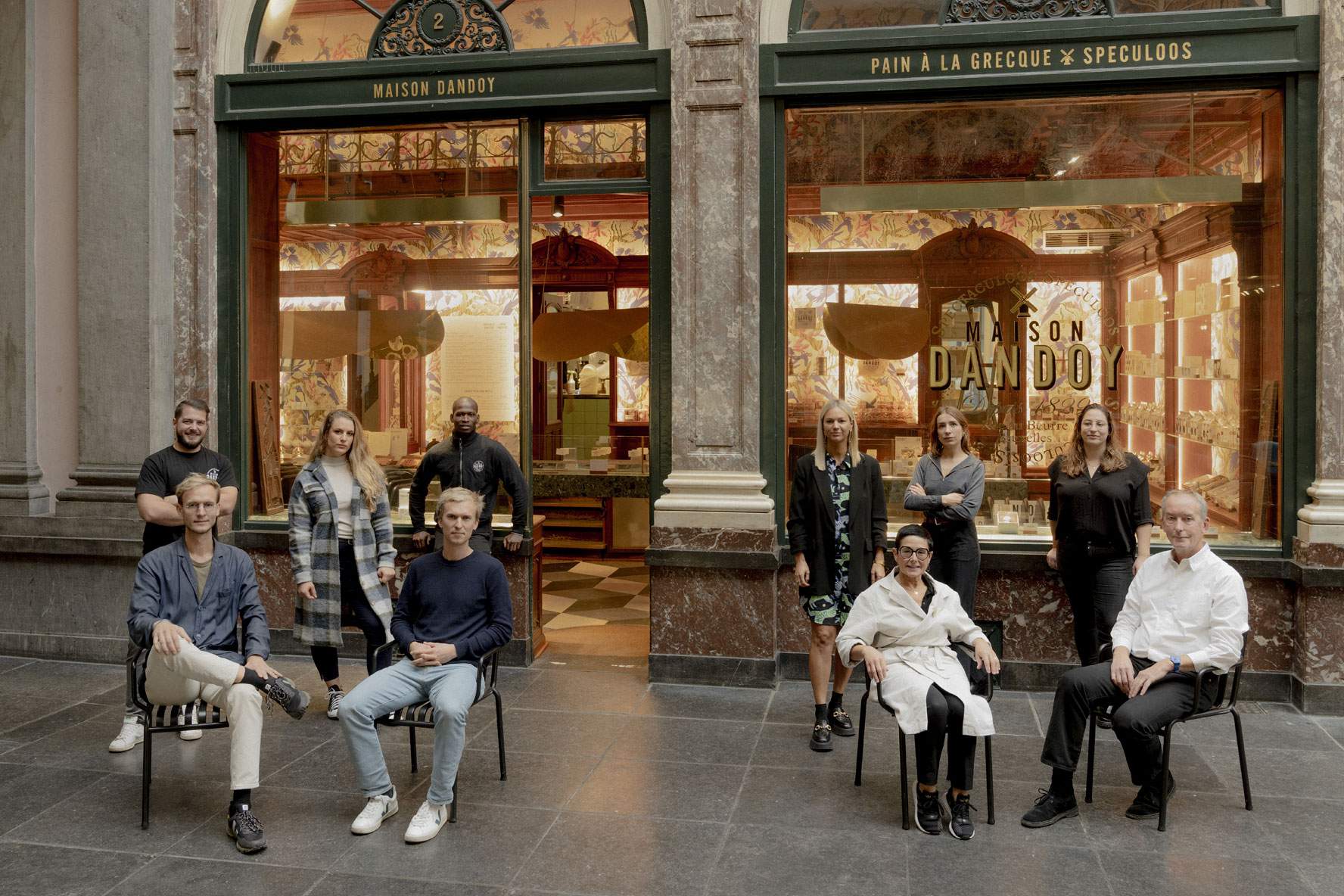 The Cabinet (From left to right)
Guillaume Niser Production manager "In charge of the manufacturing process."
Alexandre Helson
Co-CEO
For Helson, who studied economics and management at the Université Libre de Bruxelles, working at Maison Dandoy wasn't always the plan. But after he wrote his thesis on the company, it became clear that he should join the business. "That was a turning point for me," he says. As co-ceo, he oversees the sales, commercial, marketing and communication departments.
Sarah Schoentgen r&d and quality manager "Creates new biscuit recipes."
Antoine Helson Co-ceo "Alexandre's brother, who oversees the operations, human resources and production departments."
Morel Keh Stock and delivery manager "Ensures everything gets here and leaves at the right time."
Rosalie Romedenne Senior sales manager "Sets up all of Maison Dandoy's brand partnerships and overseas sales."
Maria Texera Store manager "Keeps everything running smoothly at the Place Brugmann shop."
Léa Dupuis Brand manager "Manages all aspects of the brand."
Gabriela Barthez People and culture lead "Takes care of the human relationships inside the house."
Bernard Helson Former director "Has worked for the company for 37 years."