Inventory: Recipes / Global
Time to feast
There's nothing like a hearty meal made up of several delicious courses to keep you warm this winter. Chef Ralph Schelling offers up a tasty selection of treats that are simple to make – and just as easy to wolf down.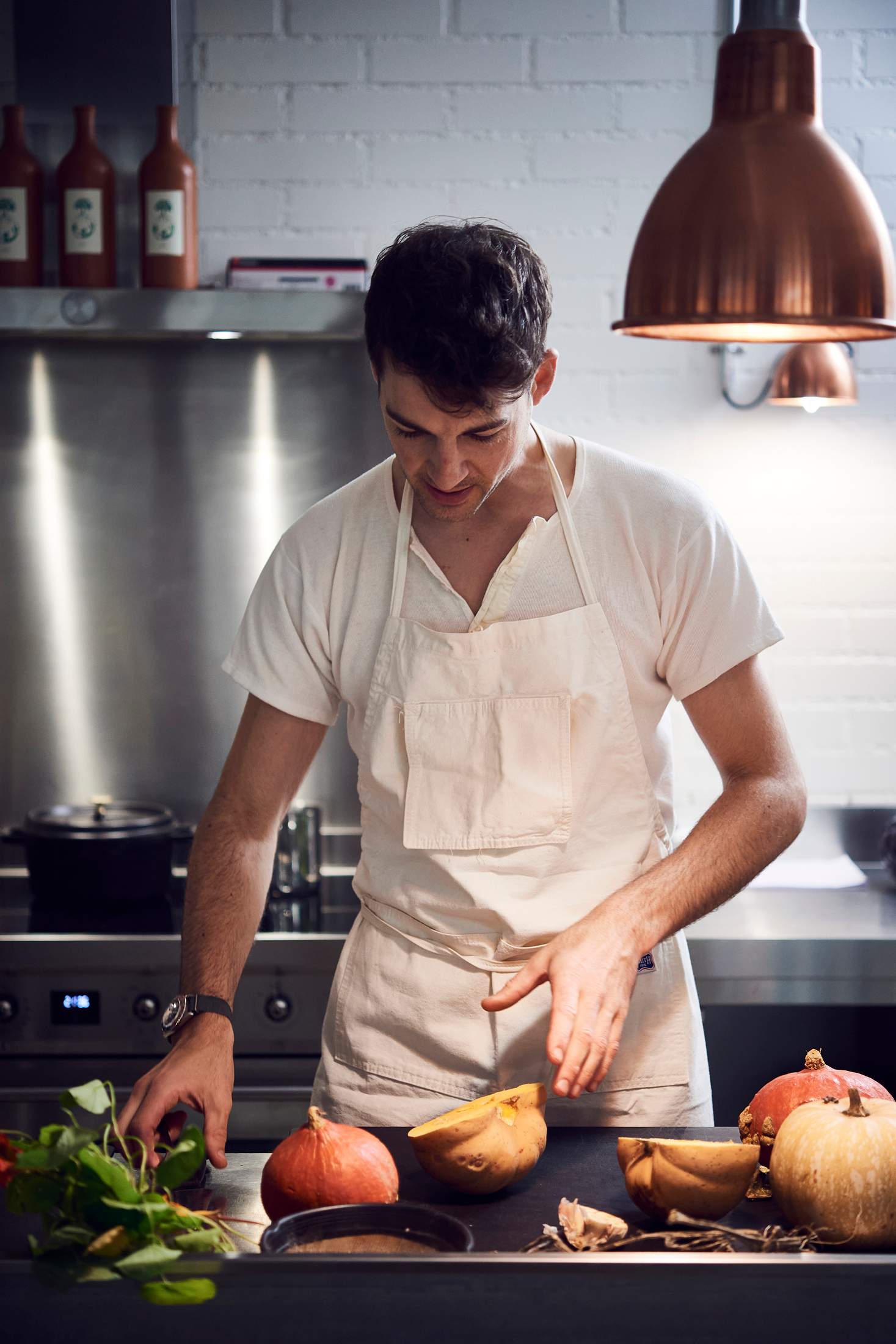 For a wintry feast that makes the most of seasonal ingredients, we knew just who to call. Ralph Schelling is a Swiss chef who cut his teeth with top chefs from Ferran Adrià to Heston Blumenthal, including stints at kitchens from Zürich to Tokyo. Here he whips up an easy-to-imitate feast including a punchy cocktail, slow-cooked stew, zingy soup and indulgent dessert. It's time to tuck in.
ralphschelling.com
Beetroot soup with pumpernickel crunch
Serves 4
This borscht-like creation can be served hot or cold – and using pre-cooked beetroots will allow you to cut the final simmering time of an hour in half. If you're feeling indulgent, add a dollop of caviar on top of the sour cream before serving. Enjoy.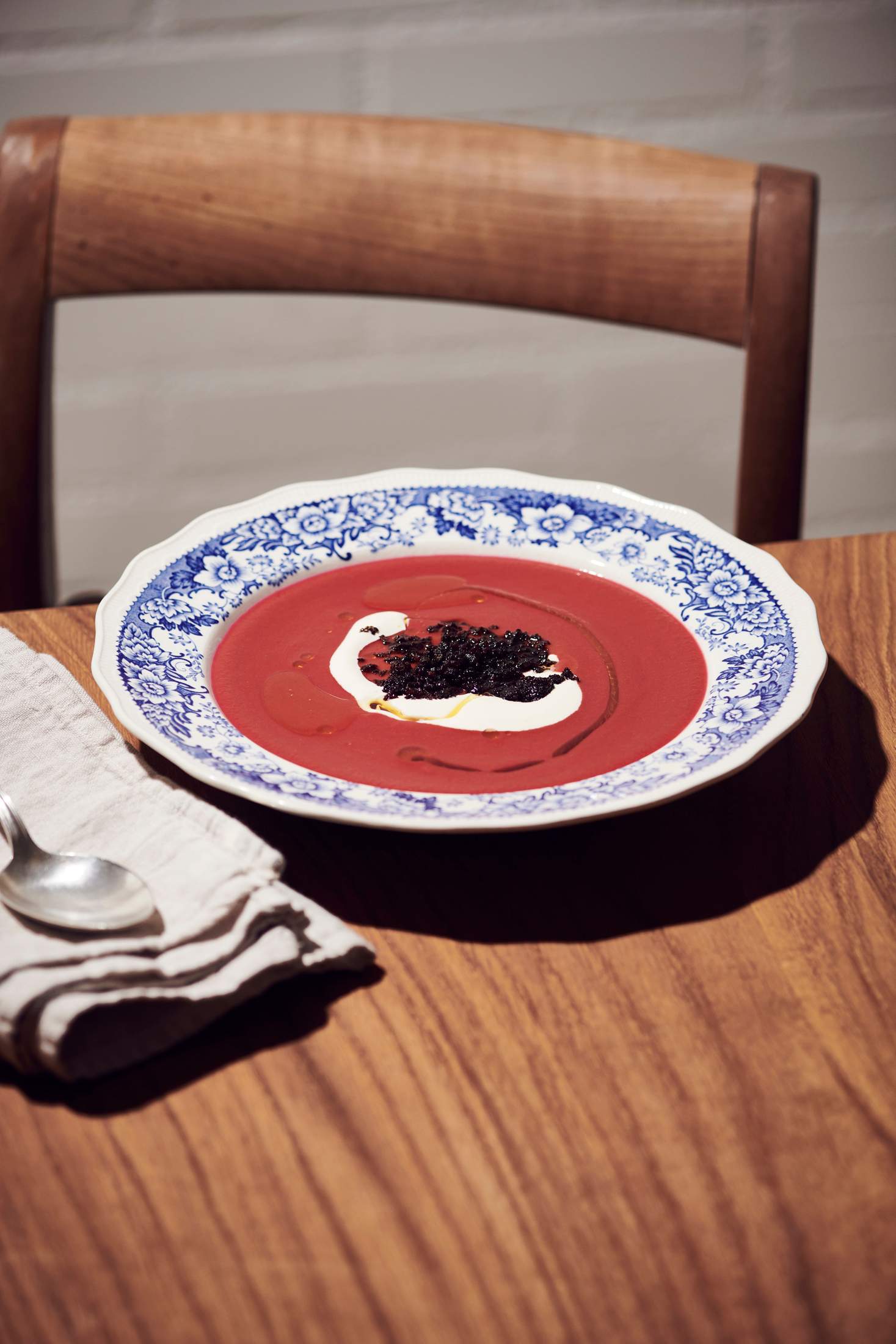 Ingredients:
2 onions
1 clove of garlic
6-8 tbsps olive oil
1 pinch of salt
1 small green apple
200g white cabbage
200g beetroot 
1 tsp paprika powder
1 tbsp tomato paste
100ml red wine
1 litre vegetable stock
1 bay leaf
Black pepper to taste
1 tbsp apple cider vinegar
To add:
150g sour cream
Pumpernickel bread, a few slices
Linseed oil, a glug
Method:
1. Peel onions and garlic. Peel beetroot and cut finely. Cut remaining vegetables and apple (including skin and core but minus the seeds) into smallish, coarse pieces. 
2. Sauté the onions and garlic in half of the oil in a saucepan on a low heat until translucent, then remaining vegetables and apple pieces. Sauté lightly for about 5 minutes. Dust with paprika powder, add tomato paste and deglaze with wine before adding the stock. Add bay leaf and season with pepper.
3. Cover and simmer for at least 1 hour (or 30 minutes if using pre-cooked beetroots). 
4. Remove the bay leaf and finely purée the soup with a hand blender or in a food processor, adding the remaining oil. Season with a little apple cider vinegar and taste. Add a little more if necessary. 
5. To serve, split the soup into bowls and garnish each with a dollop of sour cream, a glug of linseed oil and crumbled, dried pumpernickel bread for some crunch. 
"On Calabash at Jumby Bay in Antigua I made something similar, but added fresh mace – the blossom of nutmeg," says Schelling, who prefers larger, spherical ice cubes which melt slowly and can be made in moulds. "In the past, I also always added herbs and spices – or rose petals – into my ice cubes. But that is so yesterday."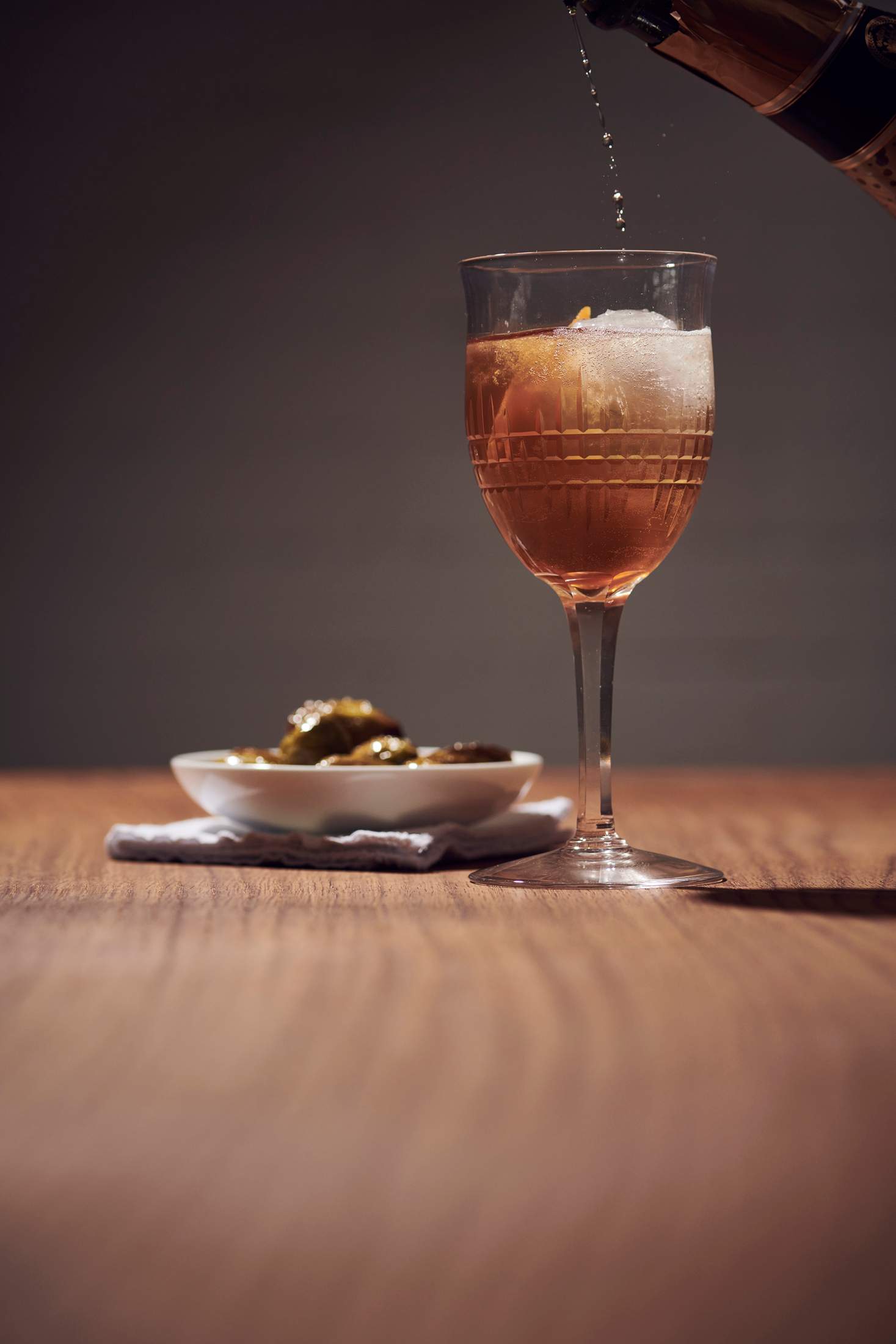 Ingredients:
20ml Oloroso sherry
1 pinch of finely ground cardamom
10ml Amaro (Italian herbal liqueur)
2 dashes of Angostura bitters
100ml champagne 
Ice cube (large and spherical)
Orange zest
Method:
1. Easy. Put an ice cube or two into a highball and add the sherry, cardamom, amaro and bitters. 
2. Add champagne and garnish with the orange zest.
Barley risotto with roasted pumpkin
Serves 4
"I like to use wild quince with this dish; it tastes fantastic they can be used whole. The seeds smell like marzipan and are sour, which gives the dish a fresh kick," says Schelling, who's also partial to topping the dish with white Alba truffle when it's to hand. "Barley needs a bit more cooking than risotto rice," he adds. "I usually use a wholegrain barley from Grison."
Ingredients:
500g pumpkin
1 whole head of garlic 
1 bunch of sage 
6 tbsps olive oil
1 handful of wild quinces (optional)
2 shallots
120g barley
Black pepper from the mill
10ml white wine or sherry 
1.5 litre stock, warm
1 tbsp butter, cold
1 tbsp grated hard cheese (Swiss mountain varieties are Ralph's favourite)
Method:
1. Preheat oven to 220C.
2. Peel the pumpkin, remove the seeds and cut roughly. Cut the head of garlic in half. Massage the pumpkin pieces with the sage and half of the olive oil.  Place it alongside the garlic and quince on a baking sheet in the oven for about 50 minutes. 
3. Finely chop and sauté the shallots. Add the barley and sauté for 30 seconds, stirring. Season with pepper, deglaze with wine and add the stock. 
4. Simmer on a low heat, stirring occasionally, for 20 minutes (or according to packet instructions). If it gets a little thick, add a bit more stock or a few drops of water. 
5. Remove the pumpkin from the oven and add to the barley mix. Simmer for another 5 minutes. 
6. Remove from heat and add the butter and cheese with a ladle and stir. Serve warm.
Braised veal in marsala jus
Serves 4
If you don't like veal you could try Pata Negra cheeks from acorn-fed pigs," says Schelling. "You can also prepare the dish the day before by letting the veal cool in the liquid before straining the stock. The next day, reheat it, then thicken with butter. It becomes more aromatic if you let it steep in the stock." Using corn starch also keeps the dish gluten-free. Serve with creamy polenta and a bitter-leaf salad.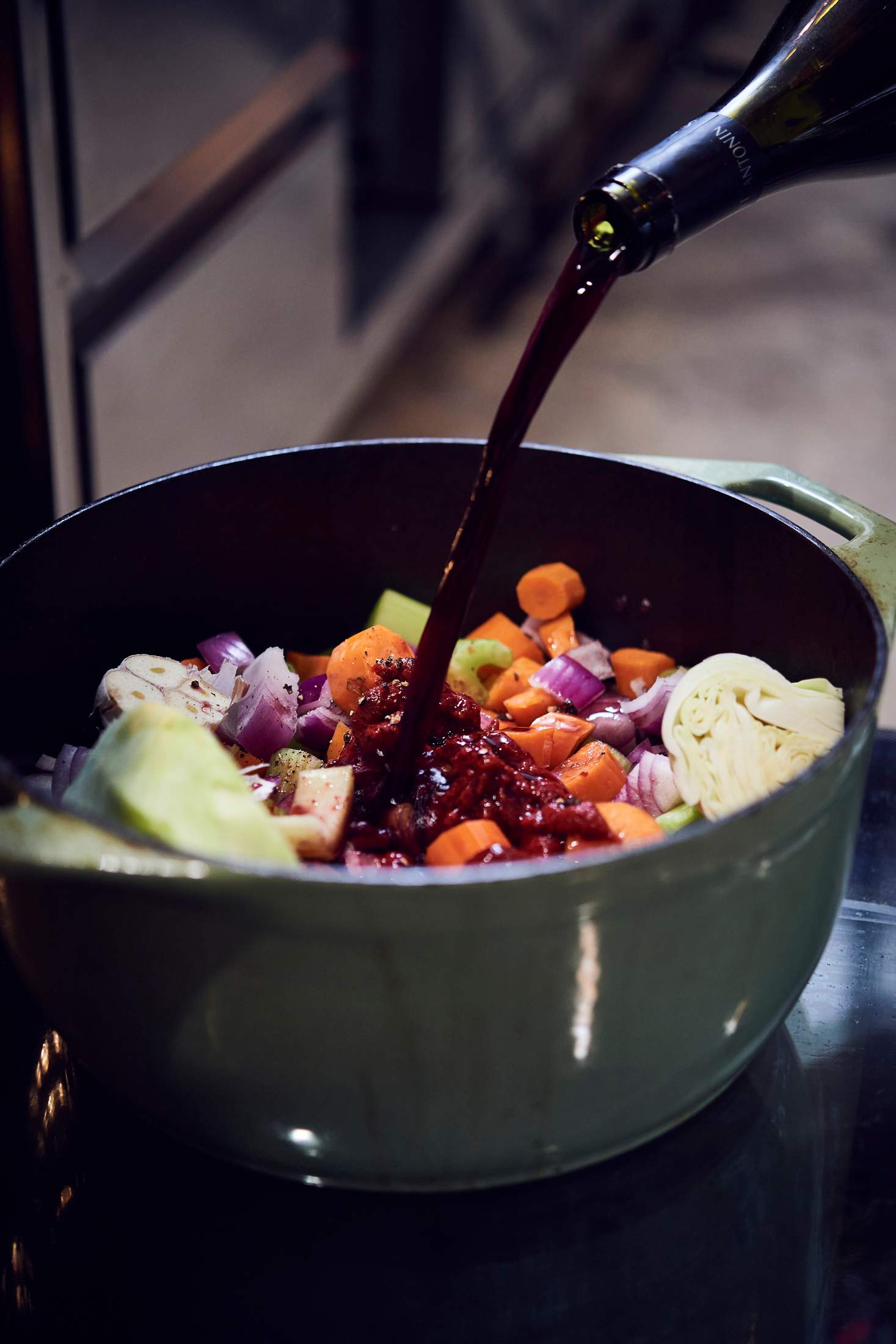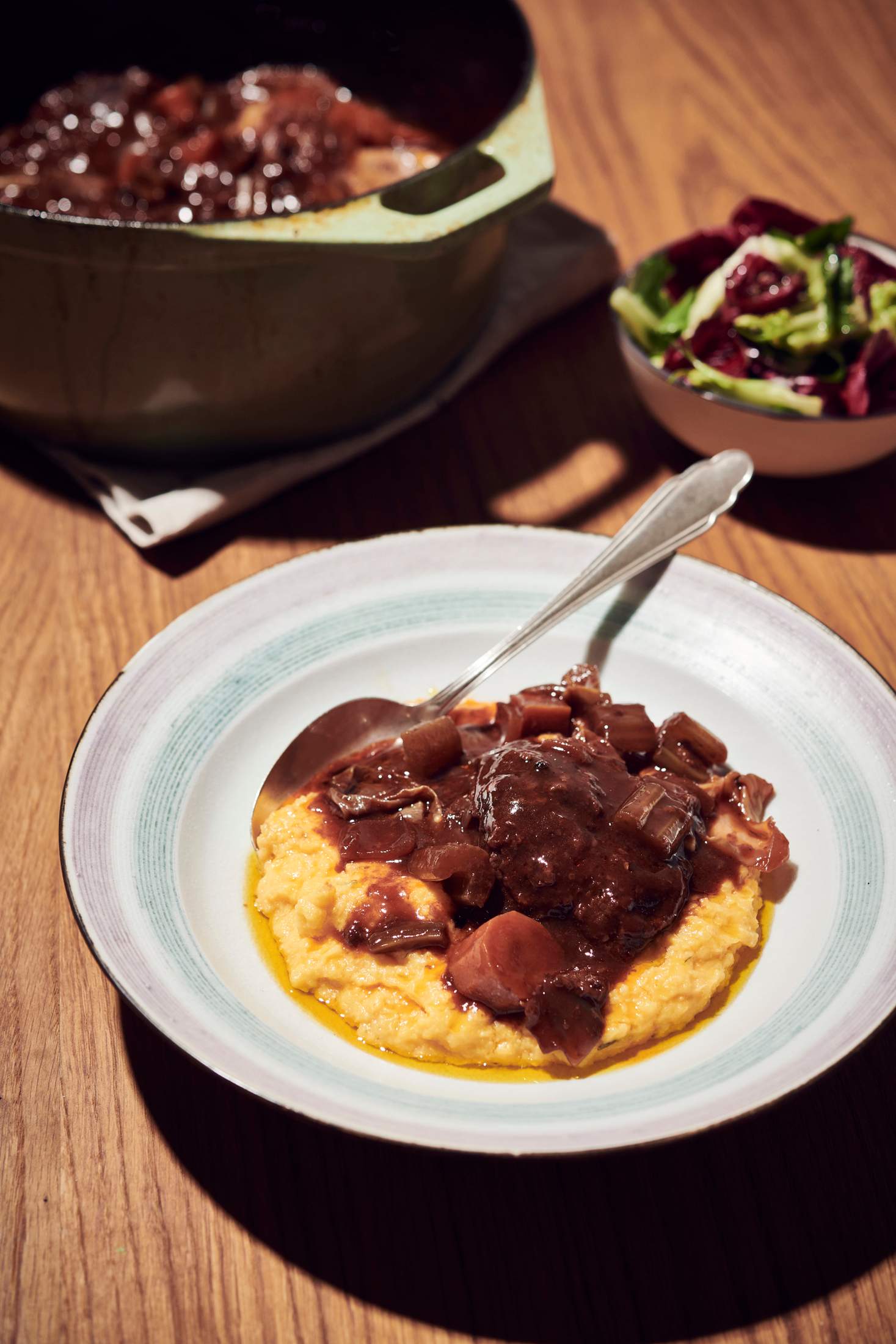 Ingredients:
150g carrots
1 large white onion
100g white cabbage
2 stalks of celery
4 veal cheeks, 250 grams
1 tbsp corn starch 
2 tbsps olive oil
1 tbsp tomato purée
250ml red wine
150ml port wine
400ml beef broth
2 cloves of garlic
2 bay leaves
4 sprigs thyme
1 tbsp butter, cold
Salad leaves, bitter
Method:
1. Cut carrots, onion, white cabbage and celery into small pieces.
2. Heat oil in a roasting pan. Season veal with salt, pepper and corn starch. Fry meat on a medium heat for 2 to 3 minutes on each side until golden brown. Remove from pan and leave to rest. 
3. Now sauté carrot and onion in the dripping for about 5 minutes. Add tomato purée and stir to combine, then deglaze with red wine and port.
4. Add stock, leek, celery, garlic, bay leaves, thyme and veal. Bring everything to a boil, then reduce the heat. 
5. Cover and simmer over a low heat for 2 hours until tender. If it gets dry, add a little stock.
6. After this, remove the cheeks from the liquid. Pour the liquid through a fine sieve into a new pan. 
7. Put the strained liquid in a pan on a medium heat to simmer while you cut the butter into small pieces. Now stir it into the sauce with a whisk. Season the sauce with salt and pepper. Arrange cheeks with some braised vegetables on plates and pour sauce over them. Serve with buttery polenta and a lightly dressed bitter- leaf salad. 
Panettone French toast with orange and persimmon 
Serves 4
The egg and milk mixture needn't be sweetened: the panettone will do that," says Schelling. "I also use the sauce for crêpes. I simmer it in a pan and warm it up, then flambé with orange liqueur for some theatre."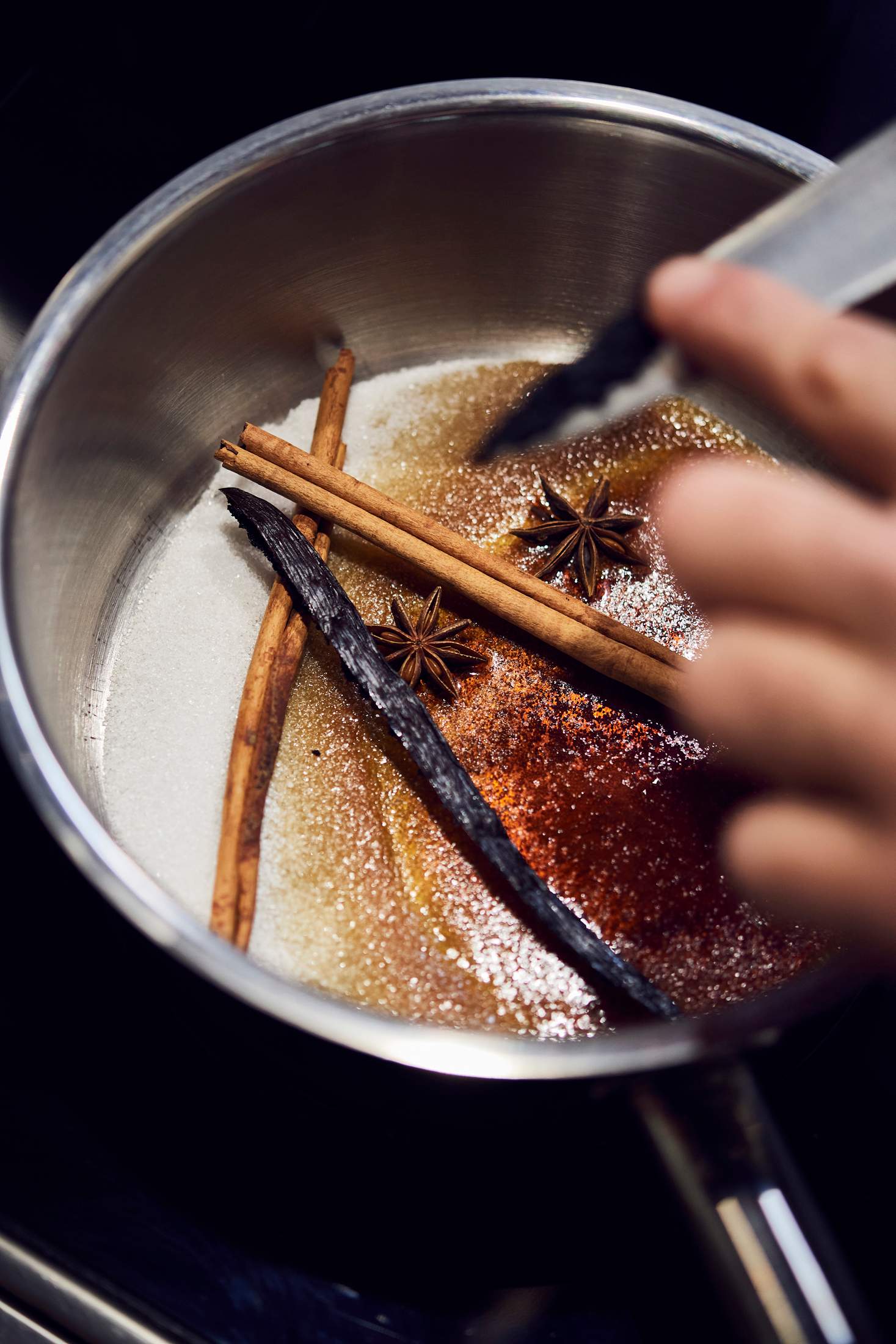 For the oranges and sauce
Ingredients:
15 oranges (or clementines)
4 tbsps cane sugar
1 star anise
1 cinnamon stick
1 scraped vanilla
2 persimmons, peeled and cored
50ml olive oil
Sea salt
Method:
1. Peel 8 oranges and set aside. 
2. Squeeze the juice from the remaining oranges. 
3. In a saucepan, cook the sugar to very dark caramel. Add spices and deglaze with some orange juice. 
4. Reduce liquid to about a third of what you started with. 
5. Remove the spices and pour liquid into a tall container. Add the persimmon and blend in the olive oil with a hand blender. Season with salt to taste.
6. Set aside with the peeled oranges to be assembled later.
For the French toast
Ingredients:
2 eggs
100ml milk (or full fat cream) 
3 tbsps cherry liquor
3 tbsps butter
400g of dried panettone 
Crème fraîche (optional)
Method:
1. Whisk the ingredients for the egg mixture together. 
2. Break or cut the panettone into pieces; more chunks than slices. Dip in the egg mixture. Wipe off excess and fry in the hot clarified butter for about 2 minutes each side. 
3. To serve: arrange the oranges on plates, 2 per portion, then cover with the persimmon sauce. Add the panettone. 
4. Finish with a dollop of crème fraîche, if desired.
Ralph Schelling is a private chef whose recipes are featured in The Monocle Weekend Edition on Sunday. You can get his tips, recipes and ideas for free and straight to your inbox every week. For that, hospitality updates, top tables and Tyler Brûlé's weekly column, sign up to The Monocle Minute today at monocle.com/minute.