Property prospectus / Seoul
Apgujeong
The South Korean capital is shaking off its reputation as an architectural eyesore – and the southern district of Apgujeong is leading the charge. Its open-air cafés, boutiques and proximity to Dosan Park mean it is one of the best places to buy an apartment in the city.
Even its greatest admirers would hesitate to describe Seoul as a beautiful city. The South Korean capital was left in ruins by the Korean War and the country then spent the next few decades focused firmly on industrialisation, hauling itself from a largely agricultural economy to a tech-led powerhouse. Aesthetics were hardly a priority and it shows – the Seoul skyline is dotted with concrete tower blocks, and tree-lined streets are few and far between.
In recent years, however, Seoul mayors Lee Myung-bak (now the South Korean president) and his successor Oh Se-hoon have embarked on a series of projects designed to soften Seoul's brutal face: the Cheonggyecheon stream, a 6km stretch of water running through the centre of the city has been uncovered; the traffic-choked interchange in front of City Hall has been grassed over; historic palaces have been restored, and new museums opened. Mayor Oh is now working his way through an ambitious master plan to make Seoul a cleaner, greener, better-looking city.
Neighbourhoods are coming into their own: Bukchon's traditional hanok houses have been spruced up, the pedestrian streets of Insadong are thronging with tourists and Hongdae is the up-and-coming student quarter.
We've turned our attention to an area south of the Han River, Apgujeong, and its increasingly popular neighbour, Shinsa-dong. This is where the softer side of Seoul is much in evidence. Dosan Park – a welcome green space – is fringed with open-air cafés and much sought-after apartments. Nearby is the sloping street of Garosu-gil which is lined with cafés, bars and boutiques. Apgujeongno has enough labels to keep the most enthusiastic ­shopper happy (plus an excellent, recently designed food hall in the basement of the Galleria department store).
Houses aren't cheap here – and Seoul continues to rank high on expense if not on quality of life indexes. But there are examples of interesting small-scale contemporary architecture, side streets worth exploring and proof that those concrete apartment blocks can be transformed into stylish, modern residences.
Flights to Seoul:
From Tokyo
ANA – four flights daily
From London
Korean Air – one flight daily
From Los Angeles
Korean Air – up to four flights daily
Supermarket
Gourmet Emporium
Apgujeongno
+ 82 2 344 94114 (info)
The food hall and supermarket underneath the Galleria department store has everything from fruit and veg to sushi, plus a wine shop, deli, bakery and florist. We're fond of the bi-bim bap stand for a quick dinner.
Fashion
talk/service
520-9 Shinsa-dong
+ 82 2 541 0208
South Korea's luxury market is catching up with Japan — there are 12 branches of Louis Vuitton in Seoul alone. For homegrown fashion we recommend this new store.
Fashion/furniture
Papergarden
653-11 Shinsa-dong
+ 82 2 3443 8880
This eclectic café/shop is described as "art, objects, textiles, furniture, fashion… and some junk". Labels include Indress and Preen with fragrances from Comme des Garçons (including Monocle's Hinoki).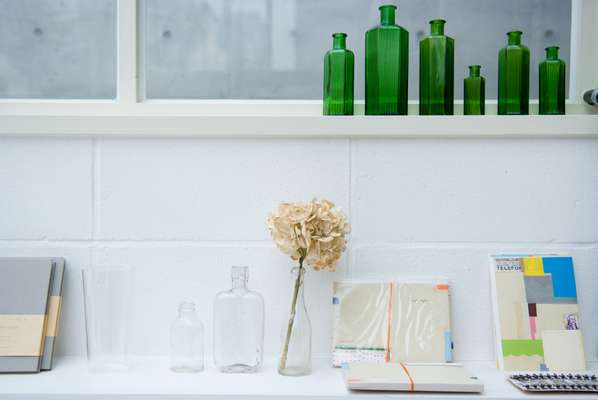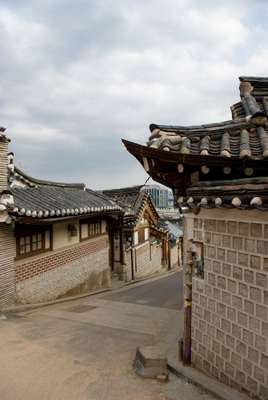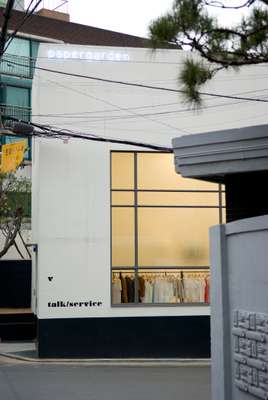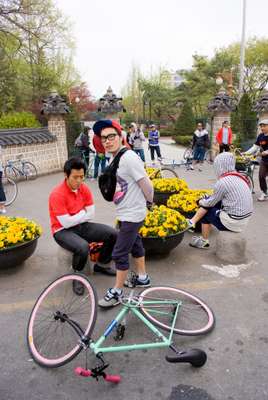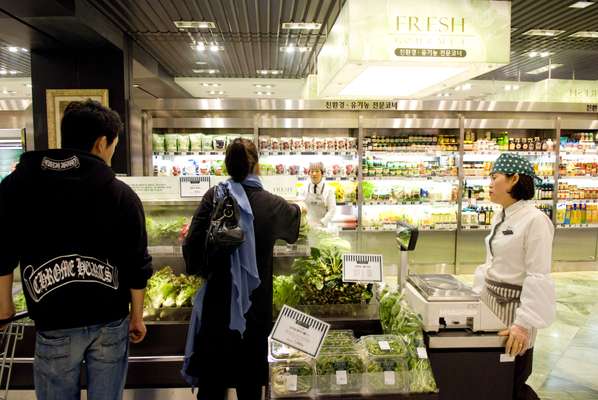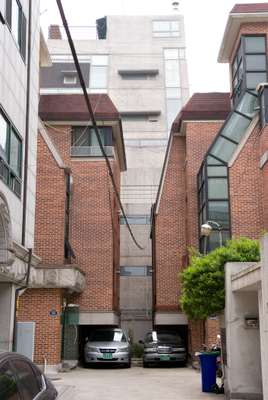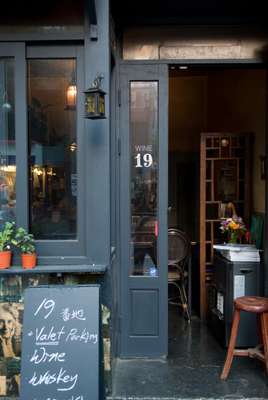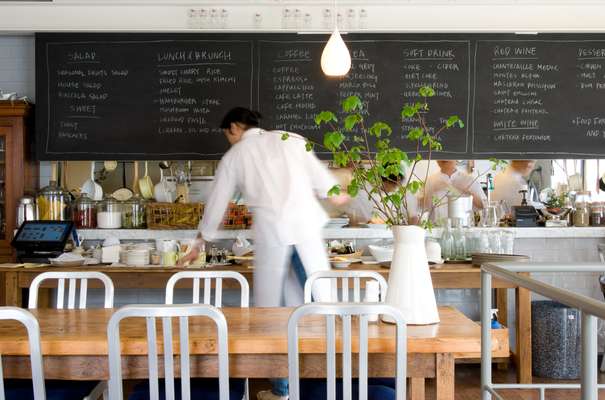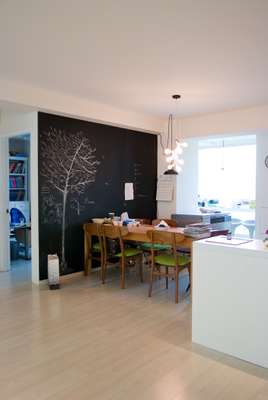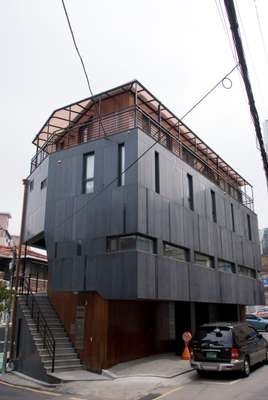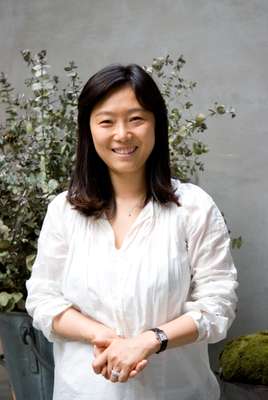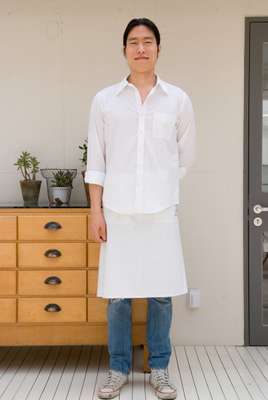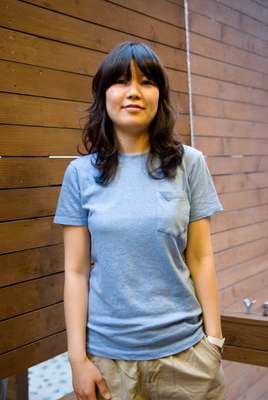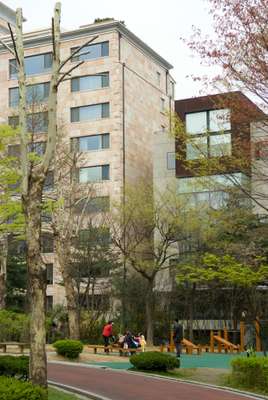 Architect
Doojin Hwang
Magnolia Court, 17 Baeksongbuk-gil, Tongeui-dong, Jongno-gu
+ 82 2 725 9575
djharch.com
Even if you don't have a hanok of your own, Doojin Hwang has worked on a number of old house revivals in Bukchon and knows how to reference traditional Korea in a contemporary way.
Interior Designer
F-Room
+ 82 2-3446 5113
froom.co.kr
Don't dismiss the idea of buying an apartment in one of Seoul's many numbered blocks — the Hanyang Apartments in Apgujeong have great views. Once you've bought one, call F-Room to transform it.
Modern Seoul was thrown up at breakneck pace after the near-complete devastation of the Korean War, which ended in 1953. Traditional courtyard houses — which were designed to cope with Seoul's icy winters and stifling summers — gave way to swathes of faceless apartment blocks.
These days, Seoul is redefining itself and looking to focus more on design (Seoul will be World Design Capital in 2010). Korean architecture is also finding its own identity. The belief that skyscrapers represent modernity persists (as shown in the futuristic plans for the new Yongsan business district) but some architects are keen to preserve the best of the old.
Architect Doojin Hwang has been at the forefront of saving the traditional hanok from extinction, breathing new life into these handsome houses and adapting them for modern life. Young practices such as Mass Studies, which was started by Minsuk Cho and Kisu Park in 2003, are moving in another, resolutely contemporary direction. Their best-known work to date is the grass-covered shop they built in Seoul for Belgian designer Ann Demeulemeester.
Korean restaurant
Gaehwaok
#107, 661-18 Jungdong Store, Shinsa-dong
+ 82 2 549 1459
Korean restaurants have a hearty, strip-lit charm of their own but if you prefer your beef bulgogi with a warmer ambience, then this cosy Apgujeong favourite is a must. Korean staples made with prime meat and organic vegetables.
Lunch venue
Allô
520-9 Shinsa-dong
+ 82 2 541 6933
This light, airy building is the sister café/restaurant to Papergarden. It has white painted brick walls and vintage furniture, with outdoor seating and a light menu of salads, omelettes and pasta. It opened this spring and is already a popular addition to the area.
Café
P.532
532 Shinsa-dong
+ 82 2 516 5320
Quieter than some of the see-and-be-seen cafés in the area, this one on a side street off Garosu-gil is popular with studious types who nurse their multi-grain ogok smoothies while browsing the stock of books and magazines.
Bar
Bar 19545-19 Shinsa-dong
+ 82 2 543 4319
One of dozens of bars around Shinsa-dong, Bar 19 is on tree-lined Garosu-gil. Opens in the early evening and is good for a post-shopping drink before the dinner crowd fills the place up. Comfortably low-lit.
Bistro
Han Jan-ui Chu-eok
549-9 Shinsa-dong
+ 82 2 541-0969
Cheek by jowl dining and drinking with a diverse but talkative clientele from students to pensioners. Earthy place serving everyday food and beer. There's nothing designer about it and it's all the better for it.
Bakery
Buccella
534-22, Shinsa-dong
+ 82 2 517 7339
The owner's patisserie school credentials are pinned to the wall of this tiny bakery and sandwich shop. The cakes are good and there are seats inside if you can squeeze in.
Hotel to stay in while house hunting
Park Hyatt
995-14 Daechi 3 - dong Gangnam - gu + 82 2 2016 1234
seoul.park.hyatt.com
A reliable choice if you're staying in Gangnam, on the south side of the Han. It's a 24-storey building minimally designed by Japanese team Super Potato. Survey the city from the vertiginous indoor swimming pool on the top floor.
Joo Eun-ju
Fashion designer, boutique and café owner
There are 10 million people here but Seoul feels like a small city. It's very convenient. I live in an old apartment block on the Han river in Apgujeong with my husband and son. It's difficult to get an apartment there — when they become available they're snapped up immediately, even though they're very expensive. Some of them are still very old-fashioned inside, but we remodelled our place. Home is important to me. I can do food shopping in Galleria and my son's school is very close by. I often go to Tokyo — the shops there are beautiful. It might take time, but I think that Seoul will become more like that. Koreans are very sociable. There's a bar I like near here — it's nothing special really, but it's crowded at night and everyone's talking and eating. That's what Seoul is about. I had visitors from Paris and they loved the nightlife here.
Oh Hwang-ryul
Waiter
I think of myself as a country boy because I come from the suburbs. I don't really like big cities — there are too many people, too much pollution and too few parks — but this restaurant where I work [Allô] has a special atmosphere — it's very light and open, not like the city at all. I'm interested in fashion and Apgujeong is the place to be.
Lee Ahreum
Book café manager
I wanted to live abroad so I went to Argentina for a year but I was born here and my family and friends are in Seoul, so I came back. I missed it — this is home. Seoul is a good city to live in — apart from the traffic, which is terrible. The trains are very good though, and it's easy to go out for a beer with friends. I tend to go to places around here [Garosu-gil] after work or around Hongdae.
Prices for apartments
One bedroom: €82,000
Two bedroom: €113,000
Three bedroom: €233,000
For assistance in English, call the Seoul Help Centre for Foreigners, + 82 2 731 6800
The process
Foreigners can buy homes in South Korea but it can be a complicated process and a good property agent is essential. They can check the property title and transfer and register the new ownership with the local authorities — a legal necessity within 60 days — once the sale is complete. Under Korean law, buildings and land are owned separately and have separate registries. Onnuri Real Estate is an English-speaking agent (realtorseoul.com).
Fees
The transaction costs in a sale are usually between 20 per cent and 22 per cent of the purchase price. The seller pays the VAT and the buyer pays the rest. VAT 10 per cent; housing bonds 5 per cent; legal fees 0.25-1 per cent; registration tax 3 per cent; acquisition tax 2 per cent; estate agent's commission 0.4–0.6 per cent; education tax 0.6 per cent; stamp duty 0.2 per cent.