Andersen / Copenhagen
Bread winner
After 40 years of selling Danish pastries in Japan, Andersen has opened in Denmark. The firm is giving rivals (there are 975 bakeries in the country) a run for their money by using only the best natural ingredients.
Andersen looks like most Danish bakeries – it even has the standard giant red neon pretzel-shaped light above the door. When you walk in, the sweet smell of buttery pastry fills the air. Staff in crisp white uniforms carefully arrange rye bread used for smørrebrød (open sandwiches) and the small, perfectly formed pastries. But there is one thing that is ­different about Andersen: it is Japanese.
The shop opened in Copenhagen this summer and is the first venture on Danish soil for a company that has thrived in Japan since it started selling Danish pastries 40 years ago.
Andersen was founded by Second World War veteran Shunsuke Takaki. ­Inspired by a book on how Denmark ­rebuilt itself, after losing a war to Germany in 1864, by focusing on agriculture, Takaki visited Denmark in 1959 and fell for the Danish lifestyle – and the cakes.
In 1962 he is said to have been the first person to sell Danish pastries in Japan. And in 1967, he opened the first Andersen store in Hiroshima. Andersen – which is named after Hans Christian Andersen – now has 75 shops in Japan, and franchise stores with equally Danish names such as Little Mermaid and Café Danmark.
The new Copenhagen shop is small and the décor is Scandinavian-inspired and minimalist. Customers sit on tall stools and tuck into spandauer (round pastries with a filling in the middle) or snegl (coiled pastries known as snails). Flavours used in the pastries include raspberry, strawberry, walnut and blueberry.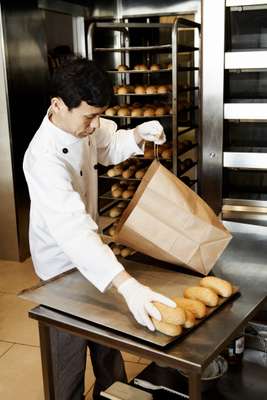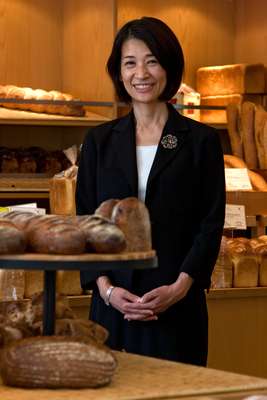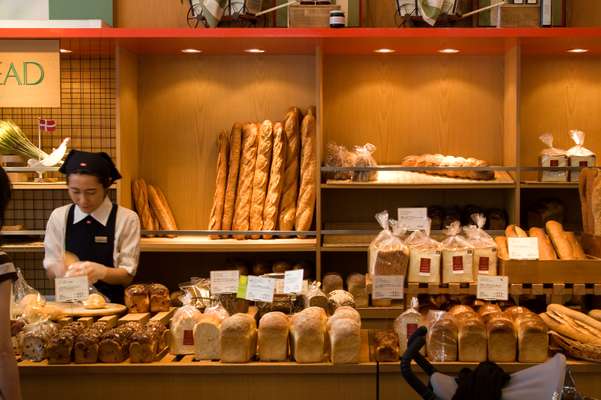 When Monocle visits on a busy Friday afternoon, the young chief baker, Keisuke Hotta, is finishing his shift. Hotta moved here from Osaka in ­December 2007 after training at the main Andersen shop in Tokyo. Managing director Takanori Teshima is still in his smart baker's uniform. He moved to Denmark in March 2007 and has hired four bakers (two Japanese, one Danish one Jordanian), plus one confectioner (Danish) and several Danish waitresses.
At Copenhagen's new high-end hotel, Nimb, the roll you butter for breakfast and the pastries are supplied by ­Andersen. The hotel, which uses the best Nordic designs, believes the Japanese company is a cut above the rest.
Head of the kitchen, Thomas Herman, says he chose Andersen without hesitation. "You can taste it immediately: they use real butter at Andersen. Also they use fresh berries in the middle of the pastries before baking them, which makes a wonderful compote – most Danish bakers place a spoonful of cheap marmalade. At Andersen you can sense that they take pride in craftsmanship."
Andersen is in many ways more Danish than the Danish. It still uses traditional bread-making methods, working only with natural ingredients, leaving ample time for fermentation and baking in brick ovens. When the Danish royal family goes to Japan, they often visit an Andersen bakery. Over the years, the company has also developed a stronger emphasis on ­organic ingredients and now offers, along with more traditional products, something it calls "Green Bread".
Teshima hopes to roll out more ­Andersen shops across Denmark. But he can expect a battle of the bakeries with Copenhagen rivals, including Lagkagehuset, Reinh van Hauen, and Emmerys, who will be watching carefully.
Best buns: Andersen's winning recipes
Solsikkebrød (holzfaller)
German bread with soybeans, sunflower seeds and almonds

Andersen marzipan cupcake
Invented in Japan and introduced to Denmark. A firm favourite

Chocolate marzipan cupcake
A cupcake variation made with Belgian chocolate

Spandauer
Traditional Danish pastry, with marzipan and custard cream
Our correspondent in Tokyo writes:
Andersen has done so much to promote Denmark in Japan that Seiichi Takaki, the current president and son of the company's founder, has been made Denmark's honorary consul in Hiroshima. With his sister, Masako Yoshida, he runs the company's 75 bakeries and cafés in Japan.
The Hiroshima HQ, a pre-war bank building, is the firm's biggest shop – a bakery, deli, cookery school and café rolled into one.
Andersen even has its own model farm, complete with wheat field, near Hiroshima. Yoshida says it is a good way for trainee chefs to see "the whole process of making bread from the earth to the table". Some of the items that fly off Japanese shelves, such as the bean paste buns and the curry doughnuts, have not made it to Copenhagen though.
"Japanese customers like new products and seasonal changes; Denmark is a more mature market," says Yoshida. He says the Copenhagen opening is "like a homecoming".