Culture / Global
Culture
Briefing
A news kiosk on Pushkin Square in Moscow, and this month's new music, film, art and music.
Every day for the past seven years, Larisa Petrova has sold newspapers and magazines from a kiosk on Pushkin Square in the heart of Moscow. She sells more than 25 Russian daily papers, ranging from tabloids to radical opposition papers, and more than 200 magazines covering everything from death metal to gardening. "There's so much more on sale now than there was a few years back," she says.
Petrova's kiosk is one of hundreds dotted around the capital. Newspaper subscriptions are unusual, so it's at these booths, as well as the stands in metro ­underpasses, where Muscovites get their news fix. As is traditional for retail culture in Russia, Petrova's contact with her readers is limited to a small glass window at shoulder level through which money and magazines change hands.
She also offers around 40 European magazines, mostly trashy British glossies but also The Economist, Der Spiegel and Paris Match. Most of them are on the ­expensive side (you'd need to be really hungry for celebrity gossip to shell out €12 for British Hello!), and Petrova says that around half are bought by worldly Russians, half by foreigners.
A recent addition, symbolic of ­Russians' new spending power, is a series of sleek travel guides to cities including London, New York and Prague, produced by the magazine Afisha and retailing for around €14. The only foreign newspaper is the IHT, which comes with a one-day delay and goes for €3. Petrova says she sells just two or three a day.
Pushkin Square's five selections:
Argumenty i Fakty — Weekly news and gossip. Sells 2.9 million copies
Novaya Gazeta — Opposition paper where murdered journalist Anna Politkovskaya worked. 171,000
Kommersant — Daily paper renowned for good sources and independent editorial line. 117,000
Komsomolskaya Pravda — Soviet paper revamped as tabloid. 745,000
Izvestia — Another Soviet era revamp. Was daring and independent during 1990s but has become more pro-government. 371,000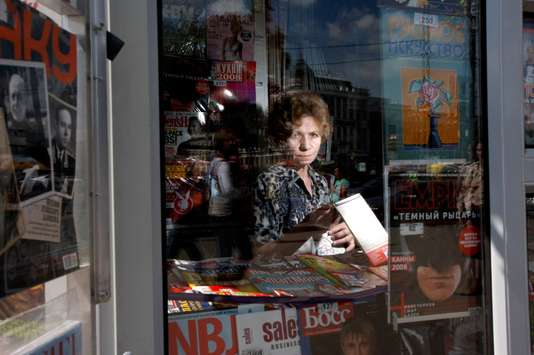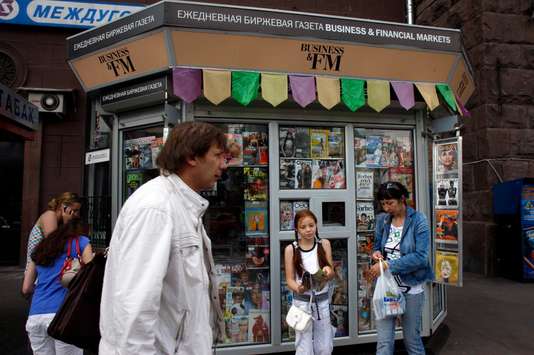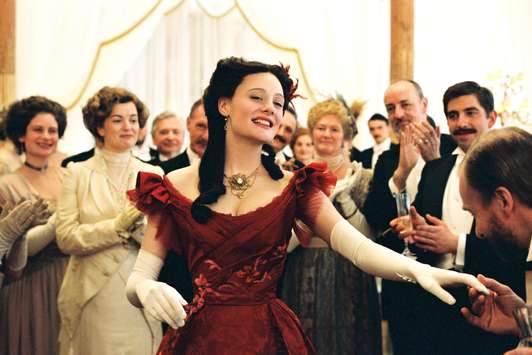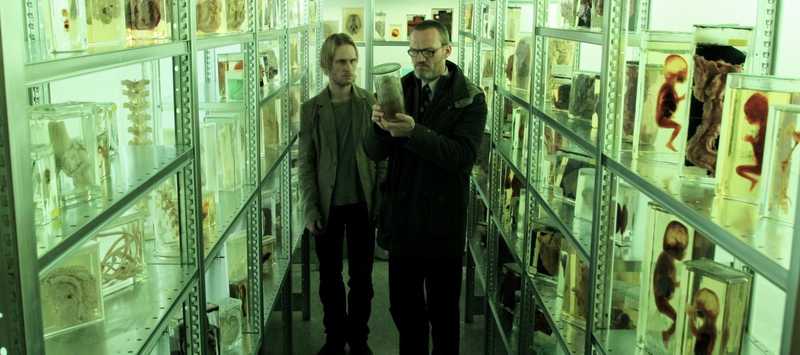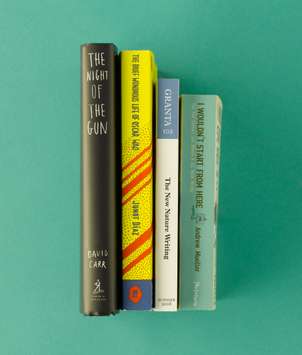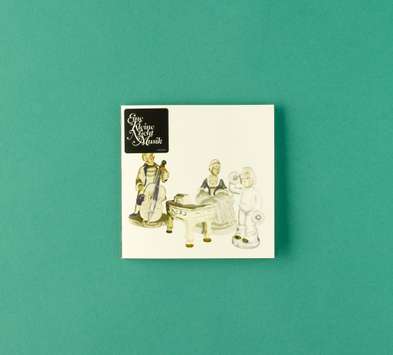 Drama
Angel (Cinema release)
Directed by François Ozon
François "Swimming Pool" Ozon eloquently pulls off another deep film delving into the inner and outer space of a writer. Angel Deverell (a feisty Romola Garai, below, top picture) is on a (war)path from promising (and very cocky) writer to established novelist in England at the turn of the 20th century. The stormy passion that fires Angel's exhilarating success is the engine of her eventual wintery grief.
Thriller
Jar City (Cinema release)
Directed by Baltasar Kormákur
Kormákur's film is just as frostbitten, chapped-lipped and chilling as the Arnaldur Indridason novel on which it is based. After a man is murdered for crimes of his past and a young girl dies a seemingly blameless death, the gruff chain-smoking Inspector Erlendur (a tinder-dry Ingvar Sigurdsson) joins the gruesome dots. From dingy basements, wind-blasted cemeteries and the unsettling research laboratories of the title, Jar City is an otherworldly and gripping thriller.
Memoir
The Night of the Gun
David Carr
Carr's book elegantly steers clear of the current vogue in memoir for bullshit-brimming truth-lite, and instead enlists the help of 60 friends to piece together his colourful homecoming from crack-house aficionado to NYT luminary. Anything to avoid an unreliable narrator.
Fiction
The Brief Wondrous Life of Oscar Wao
Junot Díaz
Oscar is a fat nerd but he's also a Dominican-American and bemused that his presumed Latino birthright – sleeping with as many girls as he likes – is denied him by jamjar glasses and lard. Supported by a dysfunctional cast of family and (with) friends (like these), Oscar is a Hispanic Napoleon Dynamite made literary by Diaz's crackling prose that zigzags between Zadie Smith and Jay-Z.
Contemporary comment
Granta 102: The New Nature Writing
Various
The changing definition of nature is the thematic crux of this collection of new writing. The pastoral has been superseded by an account of nature's noble, clenched-fisted survival against man's best efforts. There's plenty of poignant urbanity: cherry trees in the Bronx, buzzards over Ben Gurion airport; it's like re-locating an Ode to a Nightingale to a shopping mall carpark, but gracefully.
Collected writings
I Wouldn't Start From Here
Andrew Mueller
Monocle regular Mueller insists that he's just a jaded rock journalist who accepts assignments to interview Hezbollah in Beirut bunkers and dodge bullets in Gaza. The chapters, culled from the UK's Independent to The Face over the years from 2001, are personal, poignant and funny primers on failing states and flawed egos as well as cautionary tales about religious rigidity and low-quality pop.
Korean contemporary festival
Gwangju Biennale
Gwangju, South Korea, 5 September – 9 November
After putting Shanghai and Sharjah on the biennale map, Gwangju is hoping Okwui Enwezor can wave his magic curatorial wand in their fair(ish) city. South Korea's seventh biennale stars Thomas Demand, Taryn Simon and Bruce Yonemoto's witty, heartfelt take on American Civil War photography.
New Moscow space
Garage Centre for Contemporary Culture
Moscow, from 17 September
A converted bus garage cries "all-aboard" with an inaugural show from Ilya and Emilia Kabakov. The non-profit brainchild of Daria Zhukova, the GCCC will house contemporary Russian and international shows backed by ex-Gagosian director Mollie Dent-Brocklehurst and Nicholas Serota.
International contemporary
Academia: Qui es-tu?
L'Ecole Nationale Supérieure des Beaux-Arts, Paris, 10 September – 23 November
"Academia" hangs high-minded works by Christian Boltanski, Louise Bourgeois and Gabriel Orozco from Belgian collector/ dealer Axel Vervoordt.
Krautrock
Eine Kleine Nacht Musik
Eine Kleine Nacht Musik
Like scribbling "Middle-march" on an old VHS of Blue Velvet, namechecking Mozart's sweet serenade to title this enigmatic electronic meisterwerk is a nice, cheap joke. For his little spot of night music, London-based Henry "Riton" Smithson has channelled Kraftwerk, Can and Bowie-in-Berlin to produce a thrilling krautrock joyride down a 1970s autobahn, where floor-filling beats are leavened by dreamy analogue synths and serpentine sitar solos. It's heavenly, but beware: this is "a little dusk-'til-dawn music", really.
Soul/R&B
Eli "Paperboy" Reed & The True Loves
Roll With You
Blue-eyed soul has always had trouble confirming its credentials compared to the real (raw) deal. "What's the matter, white boy? Thunderbird got a flat? Try walkin'." But this handsome 24-year-old from Massachusetts could sing about a glitchy iPhone and move a hall to dance or cry with his raw talent, unseemly passion and neat take on the muscle and falsetto of Sam Cooke. A load of soul men polished their pipes singing in church; this boy deserves a damn cathedral.
Electronica
Fujiya & Miyagi
Lightbulbs
Last year's Transparent Things was a wittily musical mission statement from the beat-ific Brighton trio and luckily that mission was all about building on firm foundations. F&M's valve amp view of the world remains – lo-fi synths, hushed vocals, battered sofa electronica. But Lightbulbs adds to this fireside trance with thick lashings of groove, doorstep slices of bass and piano and fretwork detail. Ears of the world rejoice! Lightbulbs is a back to the future classic.