Europe / Global
Europe
Briefing
Turkish Military Academy, rebranding Italy and Angela Merkel's official transport of choice.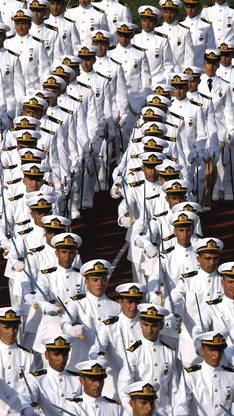 Military intelligence
Turkey
The Turkish military is fighting a war with Kurdish militants outside the country and the ruling AK Party (AKP) within it – in July senior military figures were charged with trying to stage what would have been the country's fourth coup. But who are these military figures?
The Turkish Military Academy, where officers of high rank train, offers some vital clues. Founded in Istanbul in 1795, the academy is now located at a ­bucolic campus in Ankara. Male and female students can join the folk dance group, learn horsemanship, or take classes in sociology and computer engineering. After four years, they graduate with the rank of second lieutenant and a bachelors in systems engineering. They will be fluent in several languages, experts in defence, and have a knowledge of world affairs.
"Being an officer in Turkey is like being a high state official," says Kuntay Alpman, a Turk who comes from a top military family. "And because of the ­history of military coups, their every step is being watched by the government."
While Istanbul's secular elite prefer civilian life, for the middle class the academy offers a good career track. "Most of the middle class are conservative," says Turkish journalist Mustafa Akyol, "but the military transforms them into sharing the values of the secular elite."
Back to school — 02
Finnishing school
Finland
Finland's standard education is held up as an international benchmark of quality, but its universities rarely make it to the top of global rankings.
The state hopes this might change with the creation of a new "super school", to be called the Aalto University. The university, which will start operating in August 2009, amalgamates three Finnish top colleges: the Helsinki School of Economics, the University of Art & Design, and the Helsinki University of Technology.
"The aim is to strengthen each school's specialities and increase collaboration between them. Hopefully, working across disciplines will bring us to the forefront of education – even internationally," says project director Jari Jokinen.
Until now, the state education budget has been divided between many regional universities, meaning they lack top-class staff and facilities. By merging, the three universities will pool their budget allocations (€180m for 2009-2012). The Aalto University has secured a further €700m from various sources, including the government.
The project was initiated two years ago by Yrjö Sotamaa, head of the University of Art & Design, but almost collapsed when the schools failed to agree on the terms. Rival universities also voiced concerns over the cost, but the Ministry of Education managed to push the project through.
Next year, all Finnish universities will become independent foundations, free to raise funds from private investors.
Italy's appeal as a travel destination has taken a hit of late thanks to images of uncollected rubbish in Naples. A strong euro and the woeful state of Alitalia have also not helped. According to the Italian hoteliers' association, already this year the country has seen a 5 per cent drop in foreign visitors.
While these problems are not new, politicians have offered little more than sticking plasters to set things right. One effort to repackage Italy as a brand ended in tears when the public panned a new logo, which was supposed to represent the iconic boot shape but looked like a warped cucumber – the old symbol of a multi-coloured "Italia" was duly reinstated.
Help is now being sought from Matteo Marzotto, the former chairman of Valentino, who has been made president of the tourism agency. It is hoped that he will give Italy's image a makeover, playing to the country's strengths while also campaigning to improve infrastructure to make travellers' journeys more pleasant.
The competition is not standing idly by. Croatia's tourism office has been promoting its pristine, and decidedly cheaper, seaside resorts with the enviable slogan: "The Mediterranean as it once was."
Back to school — 03
University challenge
Hungary
Budapest was chosen this summer as the headquarters of the new European Institute of Innovation and Technology (EIT), Europe's answer to America's MIT.
EIT, which has been allocated €309m for the first five years, will not have a campus. Instead, a small central governing body will have to coordinate a series of Knowledge and Innovation Communities (KICs – partnerships between universities, research units and companies) to focus in particularly on climate change, renewable energy and IT.
Brainy days in Georgia
Georgia, Ukraine, Tajikistan
Few would choose to head to Georgia, Tajikistan or Ukraine in search of a good education. But the countries are catching up with western Europe. All three increased their education expenditure by more than 80 per cent between 1999 and 2005.
Me and my motorcade: no. 01
Driven ambition
Germany
Preface
Monocle brings you a new series on how world leaders travel, from their choice of car to their fleet of private aircraft. First off is German chancellor Angela Merkel, who, like her predecessors, opts for practicality over showiness.
Germany may have the world's fifth largest economy but its leaders recoil from displaying their nation's wealth. So when Chancellor Angela Merkel heads off on an international mission, she finds herself walking up the stairs of some rather old planes, several of which were snapped up second-hand.
And despite coming from one of the world's greatest car-producing nations, German chancellors tend to choose high-quality yet modest German-made cars for personal use and only appear in the flashiest limousines when abroad.
On a US visit, the chancellor Helmut Kohl even turned down the chance to ride in a Cadillac Northstar V8, preferring to walk from his accommodation to the White House, thus earning himself the nickname "Johnny Walker".
The understated travel arrangements of German leaders are a consequence of the Second World War – in its aftermath, chancellors thought it wise to avoid any whiff of megalomania. In 2003, the word Luftwaffe painted on the chancellor's ­aircraft was replaced by the less military sounding Bundesrepublik Deutschland.
The interior of the Airbus A310 VIP, in which Merkel usually travels, is also suitably bland. Redesigned in 1990 with ­conflicting advice from the wives of both the then chancellor and federal president, it is a palette of grey and blue, with laminate panelling and pear-wood features.
Merkel is known for her modest personal style. But on major trips she travels with an entourage. Her husband is usually left at home, while her make-up artist gets a seat. There are limits to this modesty lark.
Aircraft
Merkel has to share the planes and helicopters of the Flugbereitschaft, the air force's Special Air Mission section, with the federal president and various other politicians. This can be troublesome as the planes often need to be repaired.
The Airbuses are fitted with showers and a bed for the chancellor, a meeting room and telecoms unit. Today there is only one exemption from the strict no-smoking rule: when foreign minister Frank-Walter Steinmeier lights up on board, that is a signal that others can too.
By 2011 the fleet will be replaced. The acquisition of two second-hand Lufthansa Airbus 340-300s will mean fewer fuel stops, and room for 140 passengers. The smaller jets will be replaced by two Airbus corporate jets and four ultra-long-range Global Expresses from Bombardier.
Cars
For many years a Mercedes-Benz was the preferred mode of transport for anyone in government. Konrad Adenauer, the first head of government after the Second World War, once tried a BMW instead. But the politician's hat toppled off as he climbed in, so it was back to Mercedes for his successors until Gerhard Schröder took over in 1998. He added the VW Phaeton, Audi A8 and BMW 7, but kept the Mercedes S-Class. When expanding the fleet, Schröder joked, in reference to his four marriages, that "Audi is the only brand with four rings in the logo."
Trains
Today, Merkel's office says she "does not use trains to get from A to B". When she opened the spectacular new central station in Berlin in 2006 she started by saying: "When I approached the station via helicopter…"