My last meal / Limfjorden
Jacob Jensen
Jacob Jensen's products for Bang & Olufsen made design history in the 1960s and 1970s, but his design philosophy is perhaps more relevant today than ever. For an imaginary final lunch he chooses the "incredibly well-designed" garfish, a meal that his mother cooked in the late 1930s.
"I grew up in Northern Zealand [Denmark]. People were very poor back then, especially the fishermen. All the fish you were able to sell, you sold. Garfish were considered trash fish and you brought them home for yourself. But my mother didn't want it to be too depressing, so she turned the meal into a feast. We're having garfish for my last meal! How wonderful. From an early age I learnt that garfish is something special. A true luxury. We'd cut it into simple pieces and eat it with potatoes and parsley from our garden. And we would play with the bones – they are green, you know.
Garfish is a very beautiful fish, incredibly well-designed with an aerodynamic body and a long nose. It's like one big muscle and it's very strong, especially when you catch it. We've caught garfish around here. I bought this house in 1965 and I did all my design here while staring at the fjord. I would definitely eat my last meal here with that guy over there [smiles at his son, Timothy] and my lovely wife. I've known her for 40 years, and we married three years ago.
I bought the place from my teacher at the School of Arts and Crafts in Copenhagen, Jacob Hermann. He made models for furniture designer Ole Wanscher and besides that he was a madman and became a dear friend of mine. He would say the funniest things. To woo a girl he'd say, "Oh, you're so pretty, you're fantastic, you look like a delicious full-grown pigeon!" All those years ago he drove by on his motorbike and stopped to do a sketch of the fjord. An old farmer came up to him and soon he had purchased the land for 400 kroner [€54] and his sketch.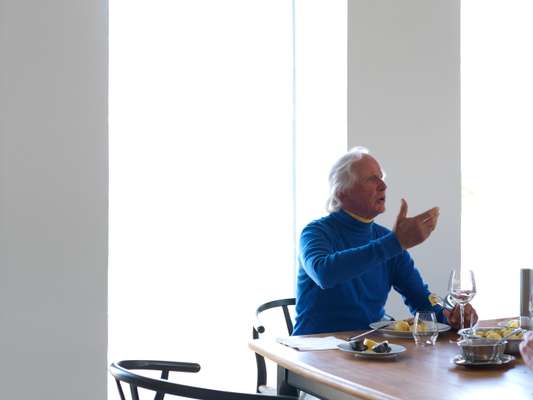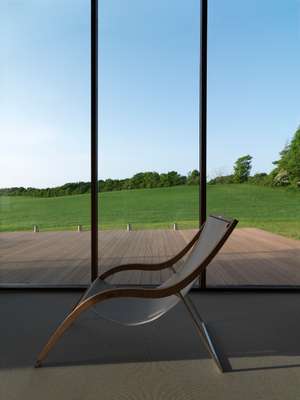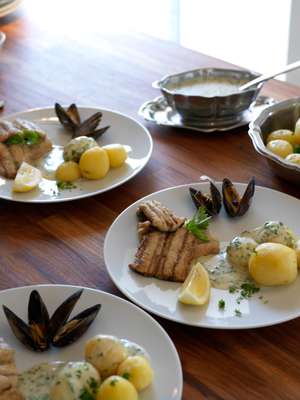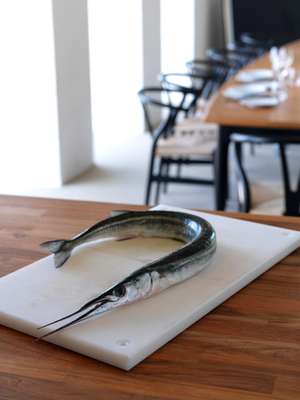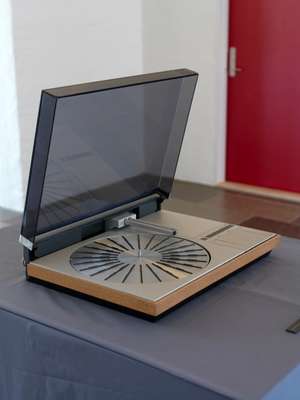 I helped him build this house step by step, and we ended up with 750 sq m and more than 30 rooms and several subterranean corridors. He promised me I could buy it if he was ever to sell, and eventually he did. Today it's even bigger and I call it my brilliant mix of plywood and marble!
When I moved here, Bang & Olufsen was a small company with fewer than 100 employees. It was located in the dunes on the west coast of Jutland. Every Wednesday I drove to its HQ in Struer 50km away from here, and presented models of my design. We had no focus groups or market analysis – and they were too polite to say no to the designs. They were farmers and didn't want to offend anyone, so it was always yes, yes, yes. Later on I discovered, that we'd created a unique work form. I presented my design and then we told the engineers to make it happen, instead of the other way around.
The secret for a successful design company is to make things that people fall in love with. To make people go: 'I want one!' The other day a fellow stopped me on the street and told me he had 70 of my designs. I once met a guy in the Caribbean who had collected 60 of the transistor radios that I designed for Bang & Olufsen.
At our meetings it was crucial for my ideas to speak for themselves. If you have to explain your idea, then there is no idea, goddamn it! On one occasion we did hesitate. It was the BeoGram 4000 record player that looked like nothing ever made before. It would cost 4,000 kroner, which was a lot of money at that time. According to the retailers we could sell five pieces in Denmark and perhaps 50 worldwide. We ended up following our gut feeling, because we could see the product was right. It became a huge success and paved the way for all their future record players.
It's a lesson learnt: if you give people what they want, you're already outdated and lagging behind. Bang & Olufsen didn't do that and that's probably why it exists today, while the other 50 or 60 Scandinavian companies in that field are all out of business. Good design, like the garfish, is timeless."
The design studio of Jacob Jensen Design, with its newly inaugurated showroom, which, like the family's homes, is located on a peninsula in Limfjorden, western Jutland.
Main course
Panfried garfish with new potatoes and parsley gravy
Drink
Dry white wine
Jacob Jensen, born 1926.Studied industrial design at the School of Arts and Crafts in Copenhagen, where his teachers included Kaare Klint, Jørn Utzon and Hans J Wegner. From 1952 to 1958 he worked for Sigvard Bernadotte, then set up his own studio, Jacob Jensen Design, which produced highly acclaimed designs for Bang & Olufsen. His son, Timothy, now runs the firm, designing everything from watches to smoke alarms and eyewear. In 1991–1998 Timothy was chief designer for German kitchen manufacturer Gaggenau. Current clients include Vertu and Lifa.