Hannu Pentilla / Helsinki
Stock in trade
With a presence in Russia since 1989, Finnish retailer Stockmann faces its biggest setback there yet after its Moscow department store was forced to close. The unfazed CEO Hannu Penttilä explains why he is sticking to his eastern expansion plans.
When it comes to the Russian retail market, Hannu Penttilä is something of an expert. He first visited the country in 1986, as director of Stockmann's Helsinki department store, in order to familiarise himself with the company's export ­service. Stockmann had been delivering western consumer goods to diplomats and affluent Russians since the Second World War, sending over everything from milk to communist leaders' funeral wreaths.
Since then, visits to Russia have become a regular part of Penttilä's life. Encouraged by growing demand, Stockmann set up four small shops in Moscow in 1989, and in 1998, the first department store was opened in Moscow's Smolensky Passage shopping centre.
The business has never been without its problems. But in May, things came to a head when Mostroiekonombank, the owner of the Smolensky Passage shopping centre, cut off all electricity in Stockmann's premises. Although Moscow's International Commercial Arbitration Court had ruled in Stockmann's favour in a 10-year long dispute over the Finnish company's right to extend its lease, Mostroiekonombank disagreed and decided turning the lights off was the best solution. But Penttilä still sees a bright future for Stockmann in Russia – and elsewhere in eastern Europe.
Monocle: What exactly is going on with the Smolensky Passage department store?
Hannu Penttilä: A few years ago, the owners of the premises changed. For years they've tried to force us to sign an agreement multiplying the rent. Three years ago, they threatened to cut off the electricity unless we signed, and one day, bullets had been left on the cashier's table. Mostroiekonombank owns the premises, but the only person we can negotiate with is the owner's representative, who knows no other means of negotiation than by making threats. We have now sued them for over €47m for lost income and costs for closing down the store.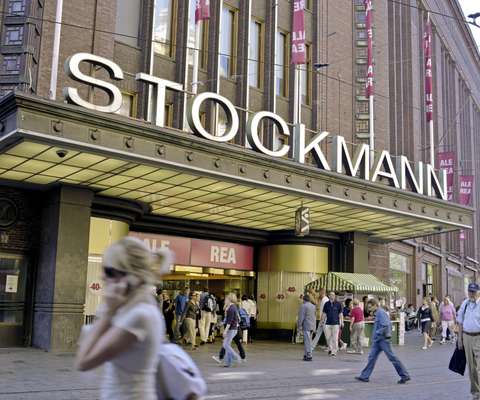 M: Are these types of problems common in Russia?
HP: I've been dealing with Russia for over 20 years. Our operative problems have previously been discussed on top levels, involving presidents, and we have always received help. Right from the start, our policy has been to pay our taxes and customs and never pay for anything under the table. In the long run, that has been a good solution, but this particular situation has just totally got out of hand.
M: Have you considered leaving Russia ­because of this?
HP: Absolutely not. Out of 60 shops in Russia, this is the only one with problems. Our strategic direction is clear: we're expanding rapidly. In October, we're opening a new department store in Moscow, and in 2009, another one. In St Petersburg we've bought land for the first time – a prime plot on Nevsky Prospekt – where we're going to open a flagship store. We received the building permit in March, having gone through an 18-month bureaucratic nightmare involving 60 different authorities.
M: Stockmann set up its first branch in what was then the Soviet Union in 1989. How has the country changed since then?
HP: When we began, we were still dealing with a totalitarian state. With Mikhail Gorbachev, the country started to open up. Our first food shop there was 500 sq m and we sold that for €20m in 1990, which must still be a record per square metre. The first problems came in 1994, when we started making losses. One big reason was that we had built our organisation around Finnish expats and the costs got too high. We had a decision to make: to stay or to go. We decided to "Russify" our organisation, which turned out to be one of our best decisions ever.
M: What other difficulties have you had?
HP: The high customs are a problem – 20 per cent on most imported goods. And international brands are smuggled in, which means that you face unfair competition. If Russia joined the WTO, the customs would gradually disappear – but I've started losing faith that they ever will.
M: Is the global economic downturn affecting Russia?
HP: There are no signs of it in Russia. It's been isolated, because the middle class is growing.
M: Do Russian tastes differ from those in the West?
HP: The Russian consumer is very fashionable and bold. Heels are higher and skirts are shorter, to put it simply. The Russian consumer wants to make an ­impression, and doesn't think about the price.
M: You have operations in Scandinavia, Russia and the Baltic countries. What other markets are you looking at?
HP: We're now testing Ukraine with our Seppälä fashion chain. Our other fashion chain, Lindex, is also starting franchise operations in the Middle East. We're opening five in Saudi Arabia this autumn and over the next five years our aim is to open 50 branches.
Finland's leading department store chain also operates in Sweden, Norway, the Baltic states, Russia, Czech Republic and Ukraine. Fifty per cent of sales come from Finland and 15 per cent from Russia, where the company has four department stores and 56 other shops.
Sales in 2007: €1.7bn
Estimated sales in 2008: €2.4bn (including Lindex)
Pre-tax profit in 2007: €120m
Main brands: Stockmann department stores, fashion chains Lindex and Seppälä and mail order/online shop Hobby Hall.