Beirut diary / Beirut
Summer of the siege
Two years after the war with Israel, another battle was raging in Lebanon among its own people. But as the bullets flew, there was still time for mojitos – the Lebanese are used to surviving crises. Our correspondent records the rollercoaster of events.
Beirut's politics are split between the supporters of the ruling, pro-western March 14 Alliance on one side and, on the other, the pro-Syrian opposition dominated by Hezbollah.
The war with Israel in the summer of 2006, dubbed "the Divine Victory" by Hezbollah, gave it enough clout to declare the government unconstitutional. Hezbollah staged a sit-in surrounding the government's HQ and suffocated central Beirut, forcing many businesses to close.
Add to that threats from Syria and Israel, growing tensions between Sunnis and Shiites, and the failure to elect a new president, and Lebanon was once again edging towards civil war as the summer began. Eventually 80 people would pay with their lives.
Wednesday 7 May
Strike one
Many feared that today's strike, led by one of the main unions, might turn ugly. These days anything, including inflation, is used to try and spark a civil war. Perhaps that is why the army stopped the protesters before they made it to the rallying point at the Banque du Liban and also why the government raised the minimum wage. Tonight, shooting erupted in town and the road to Lebanon's sole international airport was shut by Hezbollah supporters.
Thursday 8 May
Cocktails and coups-d'état
Turns out that the opposition is not as upset with inflation as it is with two government decisions. The first calls for investigating Hezbollah's private telephone network – "Iran Telecom" – which the Party of God claims is the only network untapped by the "Zionist enemy". The second decision relates to the sacking of Beirut airport's security chief, accused by the government of placing cameras around the airport for Hezbollah. Sheikh Hassan Nasrallah, Hezbollah's leader, justifies the cameras as necessary to keep an eye on spies.
At 16.00, the country held its breath as Nasrallah was about to give a speech on Lebanese and Arab TV stations. The government has two options, Nasrallah explained: either back down from its decisions or prepare for retaliation. He hadn't even finished speaking when firing erupted across the city, audible from my house in Gemayzeh.
Everyone is convinced there is going to be a coup-d'état. My cousin, who lives near the Grand Serail (the prime minister's offices in downtown Beirut), decided it would be wiser to stay with me. Hoping to get away from the sound of RPGs, we decided to visit friends who live nearby. On our way back we stopped at Torino Express, the bar that never seems to close. The arty crowd inside seemed unfazed by the sound of gunfire. A man came in, proud to have made it from beseiged Hamra in west Beirut. Was it really worth crossing the city for a mojito?
Friday 9 May
Nowhere is safe… from 'Pop Idol'
My friend Rouba, who lives next to the American University in west Beirut, phoned me early this morning. Armed militiamen were on the staircase across from her building. As we were speaking, the Hariri-owned Future News outlets were being looted by pro-opposition militiamen, who accuse the network of broadcasting anti-Hezbollah propaganda. The area close to Nabih Berri's house, Ain Tineh, the frontier between Beirut's Sunni and Shiite neighbourhoods, is one large battlefield. One friend who lives there spent the night in the bathroom while her building's entrance was pitted with bullet holes. In Hamra, pictures of the Hariris – father and son – were replaced by those of Bashar al-Assad, the Syrian president. At 21.30, LBC, one of the big channels here, aired Star Academy, a kind of Pop Idol for the Middle East. The country might be blowing up, but let us find out who gets eliminated – the Egyptian or the Saudi contestant!
Saturday 10 May
Ghost town
In the morning, hundreds of journalists stood on the Ring, the main road linking east and west Beirut, to protest against the attack by Hezbollah on Future News. Apart from the journalists, Beirut felt like a ghost city. So far 11 people have died. Many have fled to the mountains or cities north of the city. This afternoon, my cousin went to a country club in the hills, only to find our ex-president, Emile Lahoud, at the pool (someone should write about his Speedos).
As more fighting was reported in the northern city of Tripoli and in the Druze mountains, Prime Minister Fouad Siniora made a speech on TV. He drew a picture of a liberal Beirut besieged by forces of evil.
Later in the day, the army, which had been complacent until now, mainly because it feared it might divide along religious lines if it intervened, decided to revoke the two decisions taken by the government against Hezbollah and ask the opposition's militiamen to hand over their positions in the city.
The government was giving in, pushed by the army. Walid Jumblatt, the Druze leader, looking tired in his staple leather jacket and jeans, told a stunned press corp that this was not a humiliating move if it can save us from civil war.
Sunday 11 May
Fast boat to Cyprus
With the airport shut and roads to Syria barred by pro-government forces hoping to hinder Hezbollah, people are trying to leave through the only route still open: by boat to Cyprus. According to a friend, it costs $8,000 (€5,000) to charter a yacht to Larnaca.
Monday 12 May
In the event of an emergency…
More than 60 people have been killed so far in the fighting. A Lebanese-Canadian forwarded me an email sent by the Canadian Embassy – never before have they been so specific in their recommendations:
Subject: Message to Canadians in Lebanon, dated Monday 12 May 2008, 11:06:24.
In the event of fighting, including gunfire: If you are in your living quarters: if fire is direct (rifles, machine guns, rocket launchers or tanks) and you are below the fourth floor, try to go up to at least beyond the fifth floor; and if fire is indirect (artillery or mortars) and you are higher than the fourth or fifth floor, attempt to go downstairs to the lowest level. If you are on the street on foot: get down – roll or crawl to the side of a building, try to get inside or at least get into a doorway or other shelter.
Wednesday 14 May
Victory for Hezbollah
The Arab League showed up today with a Qatari delegation considered to have some pull with the opposition. Brokering a peace deal would be a victory for the Qatari government, which is eager to be on the diplomatic stage. It would also be a slap in the face of Saudi Arabia, which wants to broker a resolution but whose ambassador left for Cyprus on a private yacht after his embassy was attacked.
Late evening, the government conceded victory to Hezbollah by confirming the army's decision: there will be no investigation into Hezbollah's telephone network and the head of Beirut's airport security will resume his work. We are relieved; the worst has been averted but we are also wondering why this happened. Why did the government rock the boat when it could not measure up to Hezbollah?
Friday 16 May
Cleaning up their act
Our politicians are going to Qatar to continue negotiations. The association of Lebanon's handicapped people made it to Beirut's international airport to see them off. "If you don't agree, don't bother coming back," read their placards. Tonight, White, a chic roof-top bar, celebrated its summer opening. The party's theme was the launderette. Guests sat on washing machines while girls in white mini-dresses danced around. It is time to come clean, seemed to be the message du jour.
Thursday 22 May
The big deal
At 02.00 the opposition's heavyweights agreed with the leaders of the majority to form a national unity government with vetoing power for the opposition, to amend the electoral law in time for next year's parliamentary elections and appoint Michel Suleiman as Lebanon's new president. Some say the Emir of Qatar paid millions of dollars to convince the various parties to agree in a couple of days on issues they had been arguing on for months. Once the accord was signed, the opposition called for an end to the staged protest on Martyrs' Square that put the city centre on its knees for 18 months, as a way to get the government to resign. In a second, all the tents were dismantled and the road blocks strangling Beirut's centre were opened. To put things in perspective, imagine Piccadilly Circus blocked by protesters for over a year. More drama unfolded as Turkey declared it was mediating talks between Syria and Israel. According to informed sources, Hezbollah and Israel are also negotiating prisoner exchanges.
Friday 23 May
Flowers and ice-cream
I watched on TV, in awe, as Hezbollah's ad hoc landscaping arm planted flowers in the very place they were occupying yesterday. Perhaps this is a way to regain a bit of popularity. Since Hezbollah used its weapons on fellow Lebanese – something they vowed they would never do – there is less support for the party. The Häagen-Dazs branch was quick to react with its "Taste the Reconciliation" Doha cone.
Monday 26 May
Celebration time
The Hariri-backed company Solidere, which rebuilt the area after the Lebanese civil war, is organising week-long celebrations to mark the reopening of Beirut's centre. Haifa Wehbe, one of Lebanon's most famous pop singers and national sex bomb, sang at Martyrs' Square wearing a military print T-shirt decorated with the image of Michel Suleiman, who was sworn in as president yesterday.
Tuesday 27 May
Down to business
Suleiman has asked people to refrain from sending congratulations as there is much to be done. He has also requested people to remove his portrait, which is plastered across the country. Promising moves from our new president, of whom we know little, aside from the fact that he is the former army commander in chief, and a Christian Maronite, as the constitution requires. People are still trying to probe his allegiances.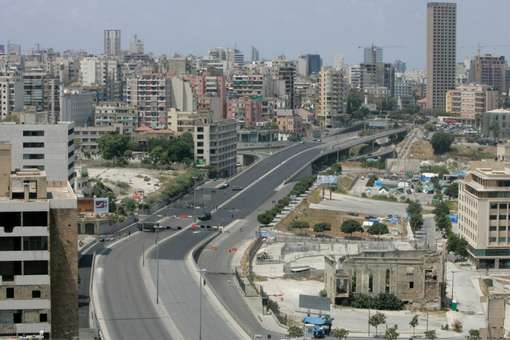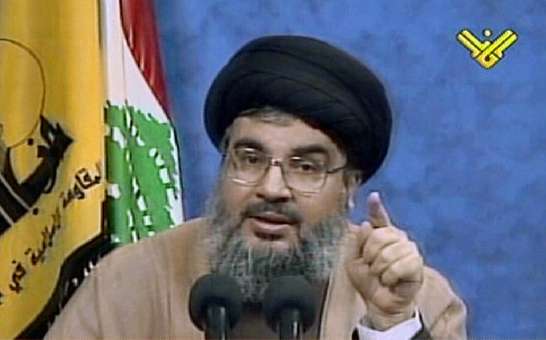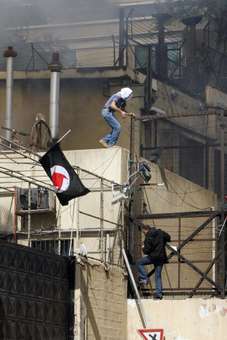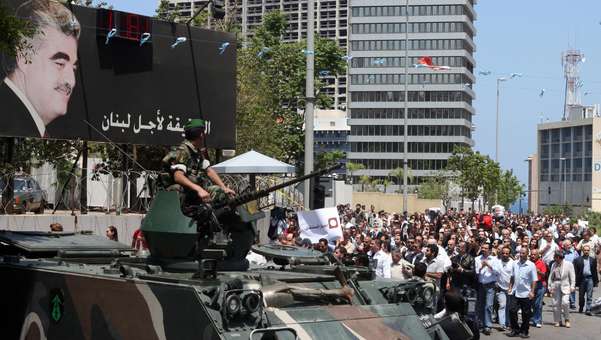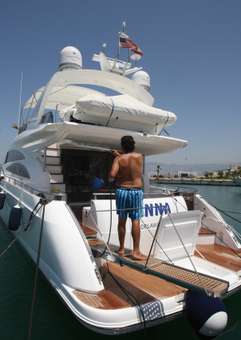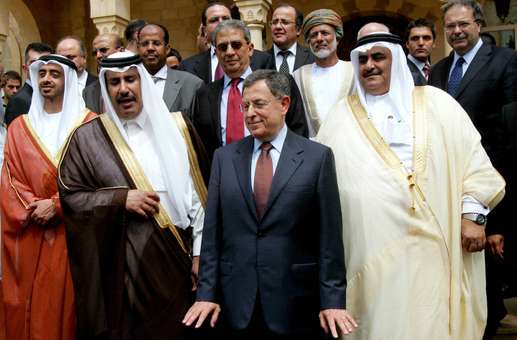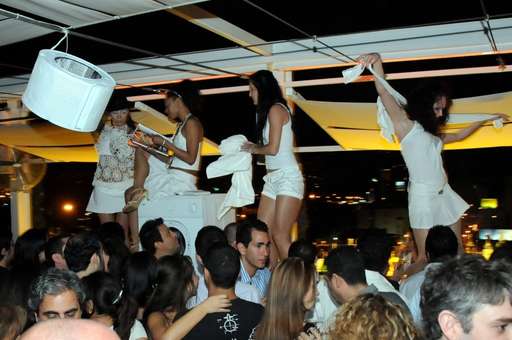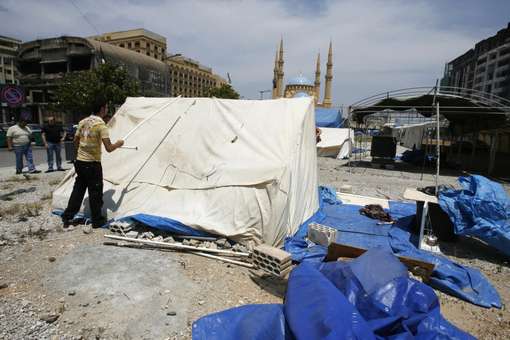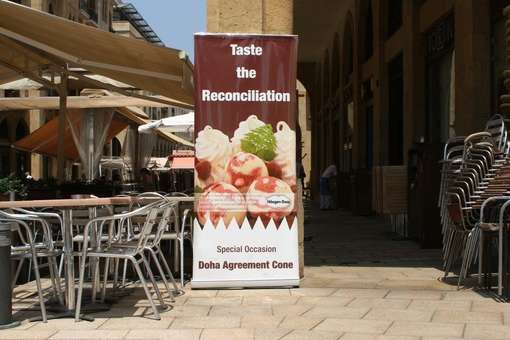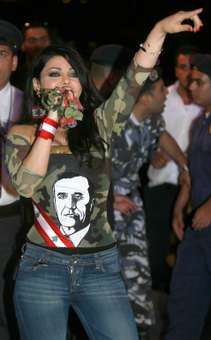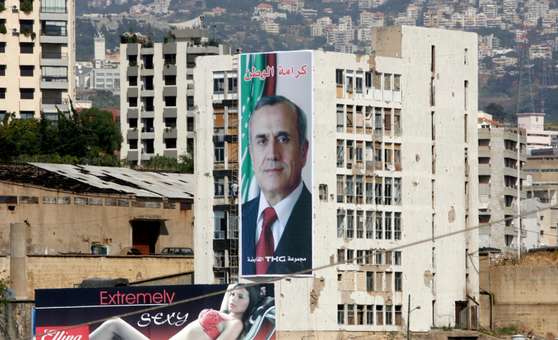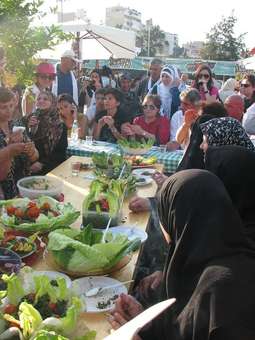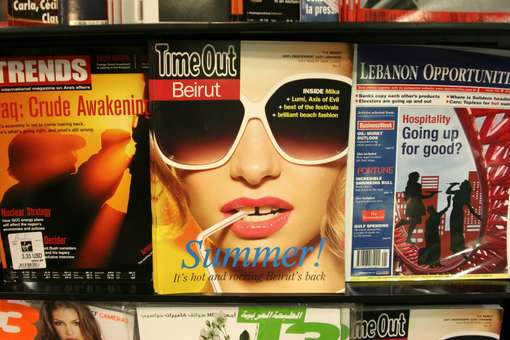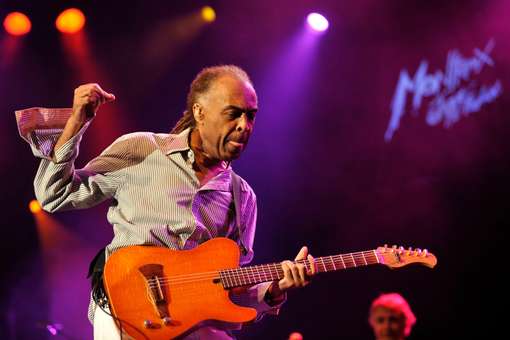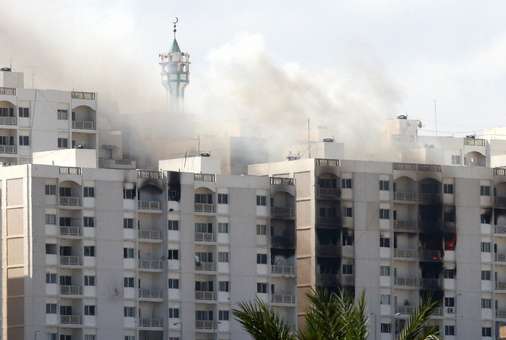 Saturday 7 June
Singing to a different tune
A qualification for the World Cup would have been the icing on the cake for Lebanon's football team. Surely, had the Saudi organisers played the Lebanese anthem tonight rather than the Syrian one, the players would have been in a better disposition to win the match.
Tuesday 10 June
Suicide threats
Lebanon has not quite finished putting its house in order. Today, Shaker Youssef al-Abssi, the leader of the al-Qaeda-­inspired Fatah al-Islam, who mysteriously escaped when the army was closing on him last year, threatened the state with suicide bomb attacks.
Friday 13 June
Beach life
Now that we have a president, our politicians, who need to form a new cabinet, are squabbling over ministerial appointments. This hasn't stopped Lebanon's electro band Lumi from giving a concert at Ajram, a women-only beach. Rather than being a bastion of religious conservatism, Ajram is a popular place for women to complete their pre-summer bronzage.
Saturday 14 June
It is written in the tabbouleh
The Martha Stewarts of Lebanon converged on the annual Garden Show at Beirut's hippodrome this morning. Here Kamal Mouzawak, founder of Lebanon's first farmers' market, was celebrating his self-proclaimed national Tabbouleh Day. "Tabbouleh is symbolic of the Lebanese flag, comprising the colours of red, white and green. It's a unifying element for all citizens," he says.
Tuesday 24 June
Wish they were here
Though the political situation is stalling, everyone is hoping that more than a million tourists, mainly returning Lebanese or Gulf Arabs, will spend their summer here. But spates of violence are plaguing relations between Sunnis and Shiites, and many people have been killed in the north and the Bekaa valley.
Wednesday 25 June
Nuclear Syria
IAEA (International Atomic Energy Agency) inspectors were sent to Syria to check out allegations that the Syrians were building a nuclear facility with the help of North Korea. Feels like we're back in the Cold War. Interestingly, the Syrian media did not cover the visit.
Thursday 26 June
Unwelcome accolade
There is new impetus to try and form a cabinet, but our politicians are the only thing holding us back. I saw in the paper that Lebanon was named the 18th most unstable country in the world by the US think-tank, the Fund for Peace.
Saturday 28 June
More clashes
Despite repeated calls by the sheikhs and muftis (Shiite and Sunni religious leaders), as well as the "Godfathers" of Tripoli, the two opposing sides can't stop killing each other. Today, a bomb exploded in a Sunni apartment block.
Tuesday 1 July
Rumblings on the horizon
Political trouble is not the only instability we have to reckon with. Israeli seismographs have warned that a major earthquake could shake northern Israel and Lebanon. Historically, the last massive earthquake was in 1927. Naturally, the Lebanese seismographers had to contradict the report, saying there was no way the Israelis could predict such catastrophes.
Thursday 3 July
The latest peaces
A text message from a clothes shop: "Deviations welcomes you to take advantage of its first private sale. Up to 70 per cent off. Dress in peace, practise peace." I remember the same store sending a similar note, when we still didn't have a president: "Until a president is elected, 50 per cent off."
Monday 7 July
Time Out's time out
Two years after its abrupt interruption, Time Out Beirut returns to the kiosks with its enthusiastic headline: "It's hot and rocking – Beirut's back." Having worked on the initial four issues in 2006, before the summer war forced us to close down, it's endearing to see the magazine give it another go. At the time, I remember the Tel Aviv and Beirut editors sending each other emails trying to defend their country's position.
Friday 11 July
Political haggling
Alhamdulillah, as we say! Politicians have finally agreed on forming a unity cabinet. The portfolio distribution took a lot of haggling: "you give me telecommunication, I'll give you finance…" And the results are finally out, 30 new ministers, including three ministers hand-picked by the president, 16 ministers to the pro-western majority and 11 ministers to the opposition with veto power. Let's hope the latest Byzantine recipe concocted by our politicians will work.
Sunday 13 July
A Syrian olive branch
The Mediterranean summit in Paris ended with Syria announcing it would open an embassy in Lebanon, a huge step in the relations between the two countries. Syria never really recognised Lebanon, that's why they never bothered opening an embassy here.
Monday 14 July
Avoidance tactics
Today, it was amusing to watch Bashar al-Assad, Syria's president, avoid Ehud Olmert, the Israeli prime minister, at the Bastille Day military parade in Paris, to which they were both invited, following the Mediterranean summit. I guess the time for direct negotiations hasn't quite come, though Olmert looked eager to shake hands with his Syrian counterpart.
Wednesday 16 July
Prisoner swap
With each new week comes a major event. Today, we witnessed the surreal and rather macabre barter between Israel and Hezbollah when the remains of two Israeli soldiers were exchanged for those of Palestinian and Lebanese fighters as well as five Lebanese prisoners – courtesy of the German secret services (credited with orchestrating the negotiations). Among the prisoners is Samir Qantar, charged with killing an Israeli family in 1979. Hezbollah greeted the prisoners as heroes and dressed them in guerrilla outfits after they were welcomed by the government at Beirut's airport. It must have felt weird to return after almost 30 years spent in Israeli jails. The Cold War may be over, and Hezbollah might have been created, but nothing has really changed in the Middle East.
Thursday 17 July
'Israel calling'
As if there weren't enough parties and religious groups to influence people's political choices here, now Israel has joined the fray by sending automated messages to ordinary Lebanese. The message, which is signed off "The State of Israel", is meant to dissuade people from siding with Hezbollah, warning there will be harsh retaliation if they do. A friend's grandmother received one of these calls and she just hung up. What kind of tactic is this anyway?
Saturday 19 July
Bickering and Brazilian beats
While the new ministers in Beirut were working on the ministerial statement – a kind of policy declaration for the new cabinet to effectively take power (and an opportunity for more bickering) – the Beiteddine festival was taking place. It was hosted by the great Brazilian musician (and ex Brazilian culture minister) Gilberto Gil. After a few songs, everyone was on their feet dancing, including a handful of ambassadors and ex-ministers.
Monday 21 July
The missing Lebanese
"They have waited 30 years, they can wait a few more weeks..." These were the cynical words of the Syrian foreign minister, Walid Moallem, on his quick trip to Beirut, regarding the hundreds of missing Lebanese, presumed by many to be rotting in Syrian jails. President Suleiman is supposed to go to Syria in the near future to set up bilateral relations between the two states. As of now, the Lebanese Syrian border still needs to be defined, the fate of the missing Lebanese is unresolved and no one seems to want to mention the assassination of Rafik Hariri. (As an op-ed in L'Orient Le Jour put it: "We know, they know we know, but we all behave as if no one knew.")
Saturday 26 July
Mika comes to town
Singer Mika flew in to Beirut today. The press conference this afternoon was quite amusing. Held at the iconic Phoenicia Hotel, unfortunately Saudified in recent years, Mika was overwhelmed by photographers and cameramen, before the unruly press asked him from what town his Lebanese mother came from (Tyre), whether he's proud of being Lebanese (yes) and whether there would be a surprise for tomorrow's concert in Martyrs' Square (it wouldn't be a surprise if I told you). Meanwhile up north, more skirmishes between Sunnis and Shiites in Tripoli have cost the lives of nine people since only yesterday.
Sunday 27 July
'Relax, take it easy'
At about the time the clashes in Tripoli stopped last night, I was on my way to a beach party about 20km away from the fighting organised by Lebanon's capoeira buffs. On my way there, I realised I wasn't the only one making the most of my Saturday night, as the whole country seemed to be in their car, driving recklessly on the unlit highway. But this was nothing, compared to the long-awaited Mika concert Sunday night. Almost 15,000 people gathered in Beirut's main square, including 600 children from across the country, invited by Mika himself with the help of local NGOs. It was a moment of collective euphoria, which for once, had nothing to do with politics.
Monday 28 July
Arab cinema mourns
The entire Middle East is mourning Youssef Chahine, the great Egyptian filmmaker who passed away last night in Cairo. Chahine was the emblem of Arab cinema, credited with launching the career of Omar Sharif, who raised his voice against all kinds of extremism.
Tuesday 29 July
Breakthrough
I was summoned to the police station today over a minor bureaucratic issue. While the soldiers filled one form after the other (with carbon copies please) I wondered whether the Lebanese state was so backward it couldn't afford to computerise the police stations. Sitting next to me was a boy, not more than eight years old, caught for begging on the street. While I waited, I watched the news on the old TV, one of the soldiers flicked to NBN (the Parliament speaker's network) before changing to Al-Manar (Hezbollah's network). It seems a breakthrough on the ministerial statement is about to be declared.
"If they agree, the government might start working and who knows, they might even get us computers," one of the soldiers threw back at me. That is, if they have enough time. The long awaited national unity government is only staying for a few months, until parliamentary elections next spring decide the real fate of Lebanon.
Friday 1 August
Beirut's 'Bastille Day'
President Suleiman, dressed in an all-white suit, the official summer uniform for government officials, commended the army for staying united on Lebanon's official "army day". It was not quite the military show put on in Paris for Bastille Day, but it was good enough for us.
1. Wednesday 7 May
Barricades set up by Hezbollah supporters on Ring bridge, a road between east and west Beirut
2. Thursday 8 May
Sheikh Hassan Nasrallah, Hezbollah's leader, adds to the tensions with his speech aired live on TV
3. Friday 9 May
Members of the Syrian Social Nationalist Party loot the building of the pro-government Future TV
4. Saturday 10 May
Future TV, owned by the family of tycoon Saad Hariri, reopens as journalists protest against the attacks
5. Sunday 11 May
With the road to Beirut international airport shut and a border crossing into Syria blocked, people flee on yachts to Cyprus
6. Wednesday 14 May
Prime Minister Fouad Siniora and rival leaders are brought together in Beirut by the Arab League
7. Friday 16 May Beirut may be on the verge of civil war, but White bar still goes ahead with its summer 'launderette' party
8. Thursday 22 May
Lebanon's Hezbollah-led opposition dismantles its city centre camp now that it has won its demands
9. Friday 23 May
The ice-cream cone that is brought out by Häagen-Dazs to celebrate Michel Suleiman's presidency
10. Monday 26 May
Lebanese pop star Haifa Wehbe performs during celebrations to mark the election of Michel Suleiman as Lebanon's president
11. Tuesday 27 May
Suleiman is credited with keeping the army unified.
12. Saturday 14 June
Make food not war, chant foodies who are in celebratory mood for Tabbouleh Day
13. Monday 7 July
Time Out Beirut bounces back after being closed down for two years
14. Monday 14 July
Bastille Day in Paris.
15. Wednesday 16 July
Released prisoner Samir Qantar raises a salute during celebrations at Naqoura, a town near the Israeli border
16. Saturday 19 July
Brazilian musician Gilberto Gil livens everyone's spirits by playing at Beiteddine festival
17. Saturday 26 July
Apartments burn in Bab al-Tebbaneh, Tripoli, during clashes between Sunni Muslim and Alawite fighters
18. Sunday 27 July
Singer Mika performs during a concert organised by the Beiteddine and Baalbeck International Festival
Five key players in Lebanon's complex political make-up: from pro-western Hariri, to hardline Hezbollah
Saad Hariri: son of former PM Rafik Hariri, killed in 2005. Leader of the largest bloc in parliament, known as the March 14 Alliance.
Michel Suleiman: former army commander-in-chief. Seen by many as a consensus figure in politics; elected as president in May.
Nabih Berri: speaker of parliament and leader of Amal, a Shiite party close to Hezbollah. Effectively shut parliament for 18 months.
Fouad Siniora: pro-western prime minister of Lebanon. Reappointed to his post – until the next parliamentary elections in June 2009.
Sheikh Hassan Nasrallah: leader of powerful Shiite party Hezbollah, the only political group not to have de-armed after the civil war.