Inventory: Food & Drink / Global
On the table
A true winter warmer with an umami punch, the return of a storied Milanese restaurant to its home turf and much more: sink your teeth into this month's culinary highlights from around the world.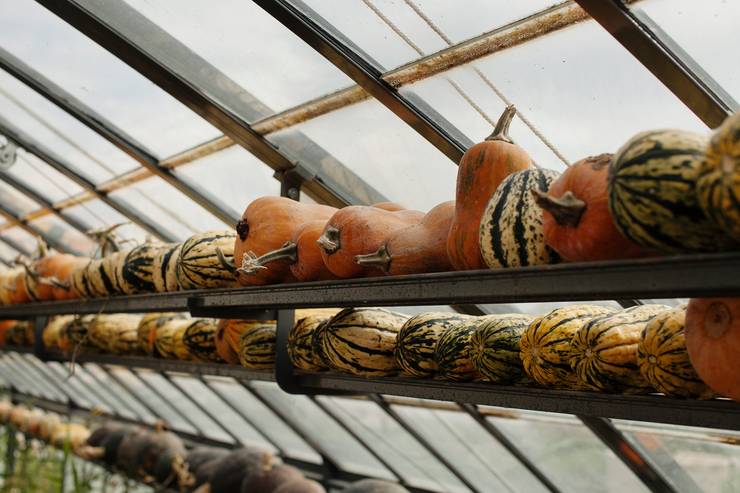 Le Doyenné
Saint-Vrain, France
An hour south of Paris is the Gâtinais Français Natural Regional Park and you'll reach Saint-Vrain, a honey-hued village with a population of about 3,000 and pretty stone houses along narrow streets. Follow the signs past the wooden gates that open onto the grounds of a chateau and you'll find Le Doyenné, a new farm and restaurant from chefs James Henry and Shaun Kell of Paris restaurant Bones (along with their associates and owners of the estate, the Mortemart family). 
For Australian-born Henry, it was time to work closer to nature. "At Bones, we'd be creating dishes with seasonal produce but still be receiving it in Styrofoam," he says. He and Kelly began their journey in 2017 and supplied top kitchens with produce before opening the doors of Le Doyenné in late 2022. Inside the restaurant, gabled ceilings are held up by timber beams that tower above glass-paned walls with views of the surrounding farm. There's a stone fireplace and eclectic touches such as a train station bench that Henry and Kelly found at a flea market in Lille, which curves around a coffee table made from an old cider press. Kelly runs the farming business while Henry heads up the kitchen. They say that a huge part of Saint-Vrain's appeal was its proximity to Paris but also that there used to be a vegetable garden here until the 1950s before tigers, giraffes and elephants roamed the grounds in a private safari park, which closed in the late 1990s. "The soil hasn't been treated with pesticides," says Henry. "It is good quality."
He is happy with how the restaurant has turned out so far, even if this new way of working has been a steep learning curve. "With a project like this, you realise just how much you're at the mercy of the farm," he says. "You don't get to rely on produce because nothing lasts long enough; what works one week won't work the next. But that's what we came here for: to be self-reliant and choose what we want to express." 
ledoyennerestaurant.com
---
Recipe
Soy milk and miso clam chowder 
Warm yourself from the inside with this umami-rich, Japanese-inspired chowder. Subscribe to The Monocle Weekend Edition at monocle.com/minute for weekly recipes.
Serves 2 
Ingredients
500g fresh clams 
¼ tsp vegetable oil 
3 slices streaky bacon, cut into small strips 
½ medium onion, cut in half and sliced thinly
1 carrot, cut into 4cm strips
2 tbsps saké 
250ml unsweetened soy milk
1 tbsp white miso paste
10g unsalted butter 
Black pepper, crushed
5g flat-leaf parsley, chopped
Method
1. First, wash the clam shells and place in a shallow tray. Mix 500ml water with 15g of sea salt in a bowl and stir until dissolved. Pour over the clams. Cover with a tea towel and leave for at least an hour. This will make the clams release their sand.
2. Heat the oil in a medium pot, add the bacon and cook until the edges become crispy. Add the onion and carrot, and cook until slightly softened. Now add the clams, saké and 220ml of water. Cover with a lid and bring to a boil. When the shells open, remove the clams and set aside.
3. Add the soy milk to the mixture in the pot and bring to just below a simmer. Scoop out a ladle of the milk, then combine with the miso and butter in a bowl. Mix with a whisk and pour back into the pot and stir. Tip in the cooked clams.
4. Divide into two soup bowls. Sprinkle on the parsley and some black pepper. Serve with crusty bread. 
ayanishimura.com
---
After the success of his first solo project, Plano restaurant, which opened in 2019, chef  Vítor Adão is back with Planto, a more casual offering in Lisbon's Cais do Sodré neighbourhood that emphasises ingredients from his native Trás-os-Montes region. Adão, who cut his teeth as executive chef at Lisbon's beloved 100 Maneiras, has pulled together an appealing all-day menu from which patrons can opt for breakfast treats such as fluffy pancakes and eggs royale, or tuck into a tasty burger made from premium Barrosã beef and topped with Azorean cheese. Creative dishes include his katsu sando with Iberian pork and a ceviche made with corvina. Go for Sunday brunch and don't miss the cocktails by Ukrainian barman Hutnyk Kostiantyn.
welcometoplanto.com
---
Sant Ambroeus restaurant was a Milan institution until it was sold in the 1980s. Years later, the Sant Ambroeus brand found new success in the US, where its blend of thoughtfully designed interiors and modern, northern-Italian dishes quickly found a cult following in neighbourhoods including New York's West Village. Now the family-run group has returned to the original Milan building, which was first opened in 1936. The recently refurbished space bears US influences, with pendant lights and marble, alongside white tablecloths and classic wood panelling overseen by designer Fabrizio Casiraghi. The menu runs from breakfast to dinner and spans eggs with apple-wood bacon in the morning to king crab paccheri for two in the evening. Sant Ambroeus is finally back where it belongs.
sahospitalitygroup.com
---
Opened by The Cicheti Group in Singapore's Joo Chiat neighbourhood, Forma serves fresh pasta that's handmade on-site. Interior design studio Takenouchi Webb placed the glass kitchen at the front of the shop, allowing passers-by and diners to watch resident pasta artisan Lee Yum Hwa and his apprentice Denise Tsi knead, roll and work dough into strands, sheets, ribbons and shapely parcels. Forma's Italian menu offers antipasti, primi, secondi and dolci but pasta is the star of the show. "We share the craft and history of pasta through a seasonal menu," says Lee, who travelled to Italy to learn traditional techniques. His motto? "More pasta, less sauce." 
formasg.com
---
Sant Ambroeus restaurant was a Milan institution until it was sold in the 1980s. Years later, the Sant Ambroeus brand found new success in the US, where its blend of thoughtfully designed interiors and modern, northern-Italian dishes quickly found a cult following in neighbourhoods including New York's West Village. Now the family-run group has returned to the original Milan building, which was first opened in 1936. The recently refurbished space bears US influences, with pendant lights and marble, alongside white tablecloths and classic wood panelling overseen by designer Fabrizio Casiraghi. The menu runs from breakfast to dinner and spans eggs with apple-wood bacon in the morning to king crab paccheri for two in the evening. Sant Ambroeus is finally back where it belongs. 
sahospitalitygroup.com