Inventory: New openings / Charleston
Southern comfort
For decades, Charleston has been known for its booming food scene and historic, mansion-lined downtown. But it's only recently that the South Carolina city has received a fresh wave of spruced-up new hotel openings offering a platform from which to explore the low country in high comfort. Here's our round-up of new and notable openings.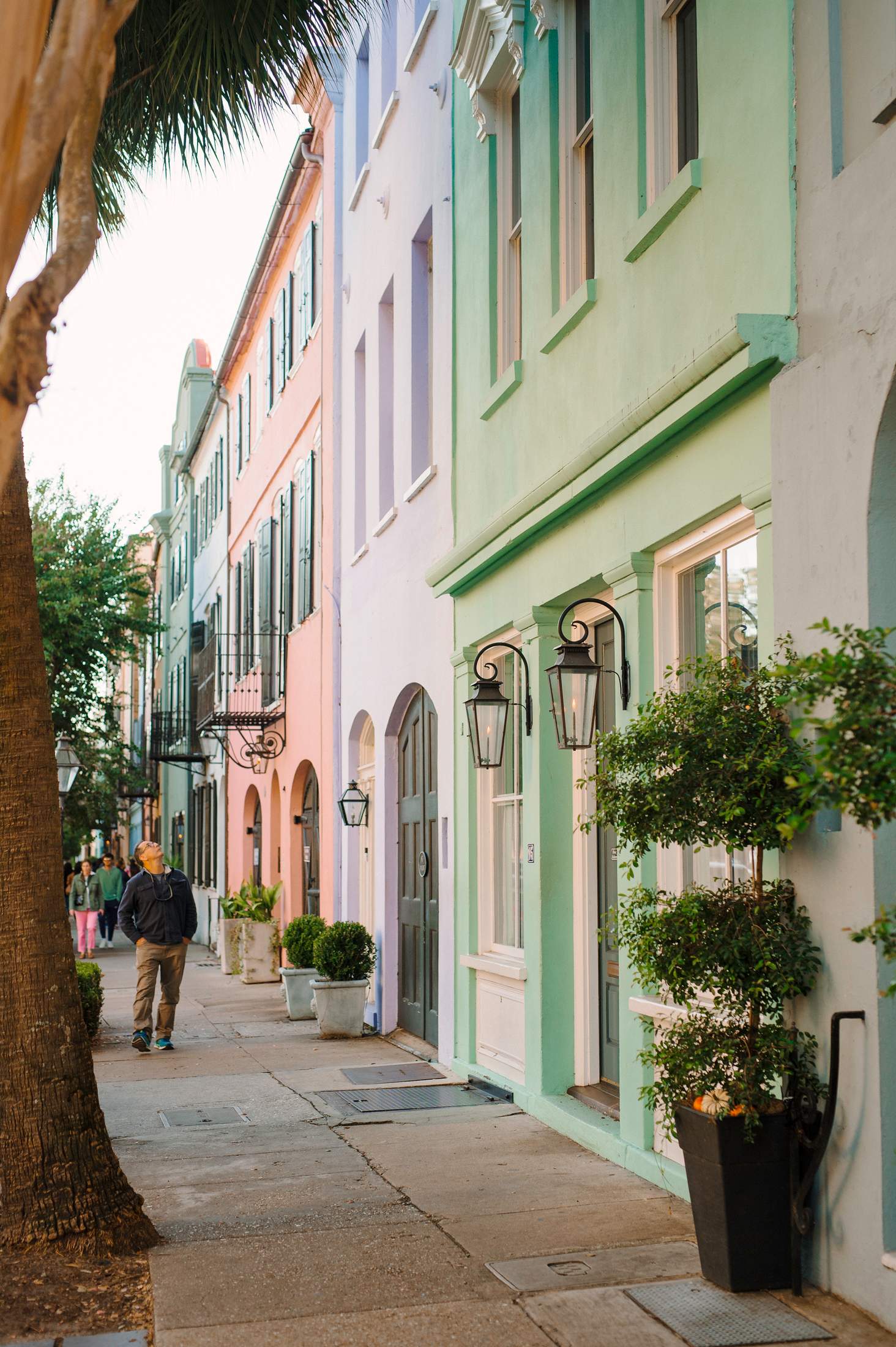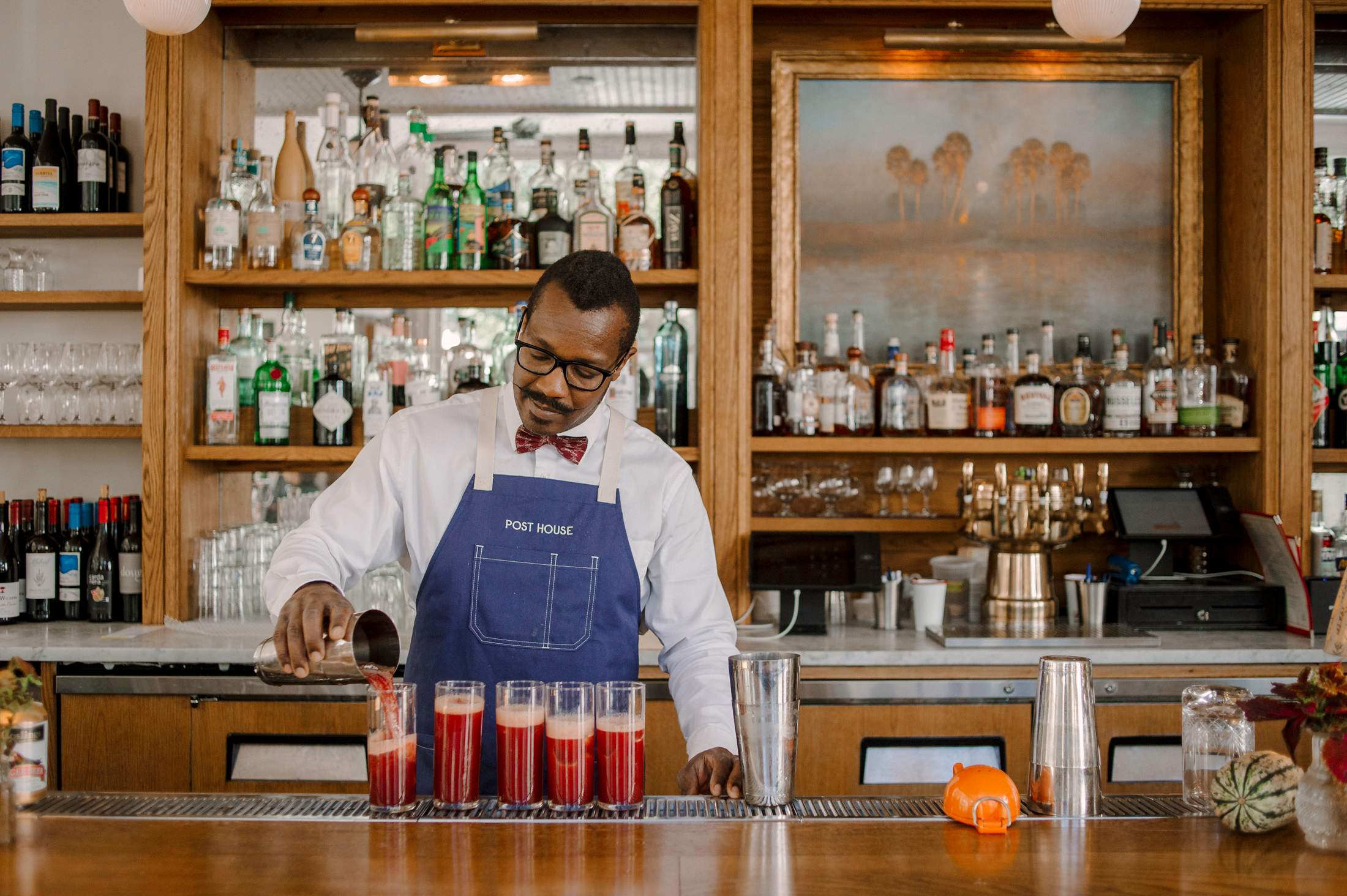 ---
Emeline and The Ryder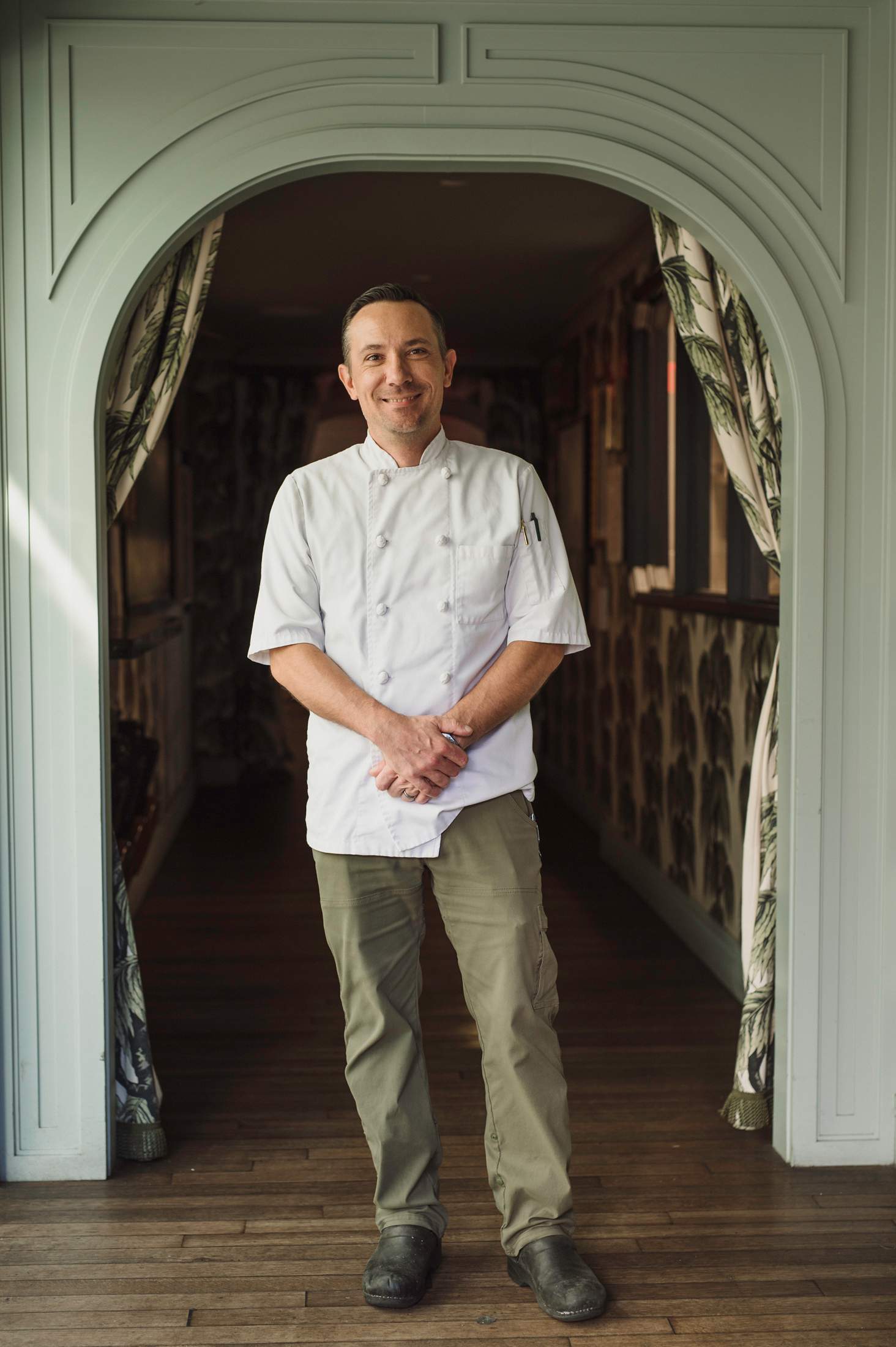 Since Emeline and The Ryder hotels were acquired by Rockbridge – a developer with sites in Dallas, Maine, Denver and more – both sites have been significantly spruced up. While the hotels share an owner and are nearish neighbours in the old town, their styles are different. Emeline is possibly one of the buzziest spots here, with a modern, uncluttered lobby and a seemingly perpetual queue of guests waiting patiently to check in. 
"Charleston's seasonality is diminishing because it's in such high demand," says Shannon Hartman, director of sales and marketing at Rockbridge. The crowd is a mixture of holiday-makers and business travellers, who book into one of the 212 spacious rooms that have duck-egg blue walls, plush green headboards, mustard-coloured curtains and Crosley record players. In the shop on the ground floor, guests can snap up local goods, such as pieces by ceramicist Susan Gregory and tea from Oliver Pluff and Company. 
Although the original building has evolved over time (it's come a long way since being a Hilton DoubleTree and before that a grocery and a bank), this is a historic site that dates back to 1852. The main restaurant, Frannie and The Fox, has a glass atrium and spills out onto a vast courtyard. With rounded green booths and glossy cheese plants, it feels as Californian as it does South Carolina. The menu, however, takes its cues from Italy. "Why not?" says chef Tim Morton. "Everyone loves Italian." The crowd seems to agree. The wood-fire oven churns out sharing plates including oysters with 'nduja butter and charred octopus, alongside Neapolitan-style pizzas. Cocktails such as an aged- coffee negroni are shaken at the bar and sometimes served through a cocktail hatch behind it.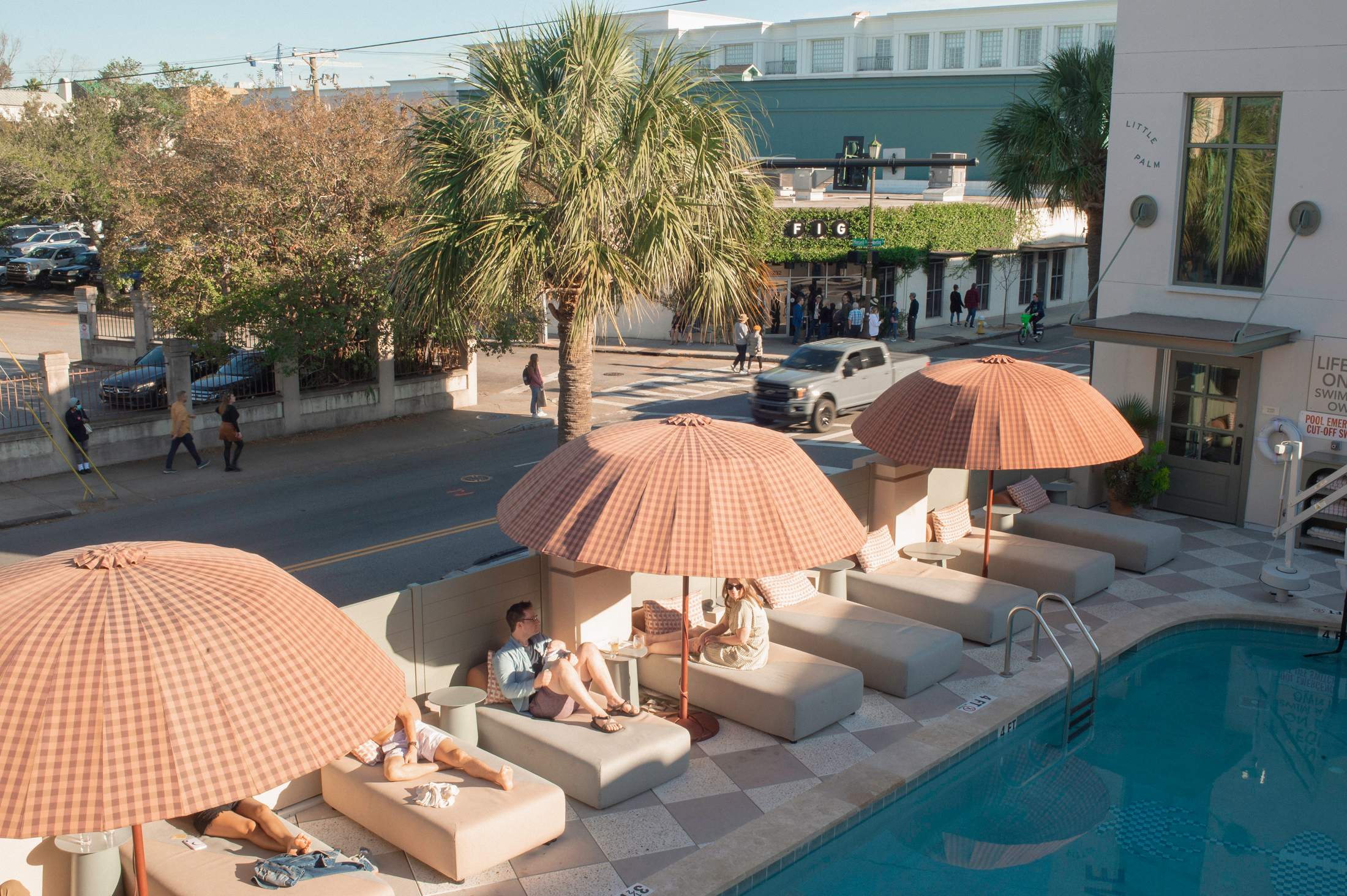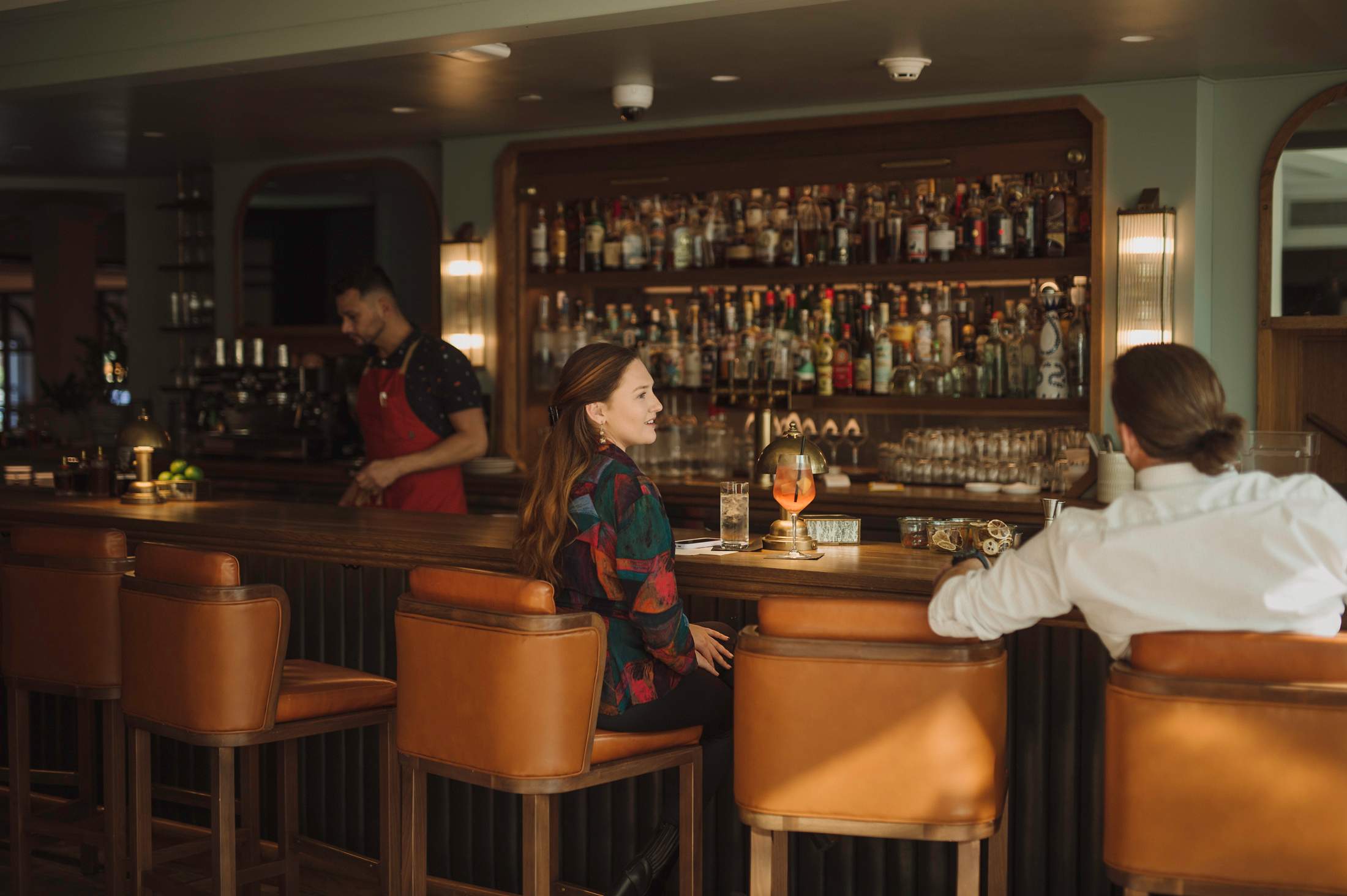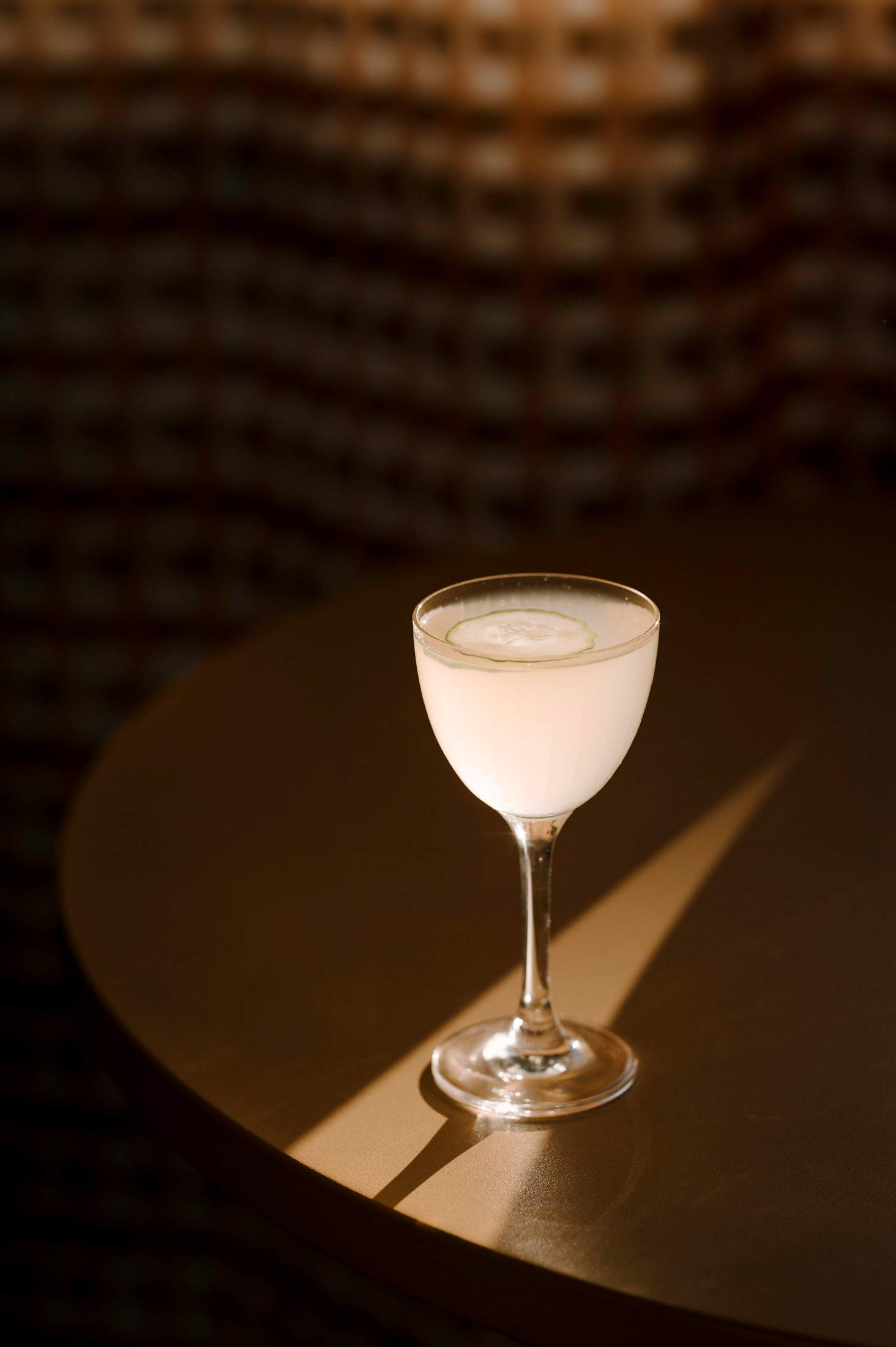 Down the road, the hotel's sister property, The Ryder, is located on a busy thoroughfare and feels like something out of Palm Springs. The 91 guest rooms have a retro colour palette: light wooden floors, chairs and cabinets come in shades of dusty pink and pistachio green. On a sunny day, guests lounge under crimson umbrellas around the pool – a luxury that's not easy to come by in Charleston. The bar and restaurant, which tumbles out onto the pool terrace, pops with pink and green wallpaper, and fringed lights over booths in a nod to the humble diner. The influences might be many but the effect is pure Charelston.
hotelemeline.com; theryderhotel.com
---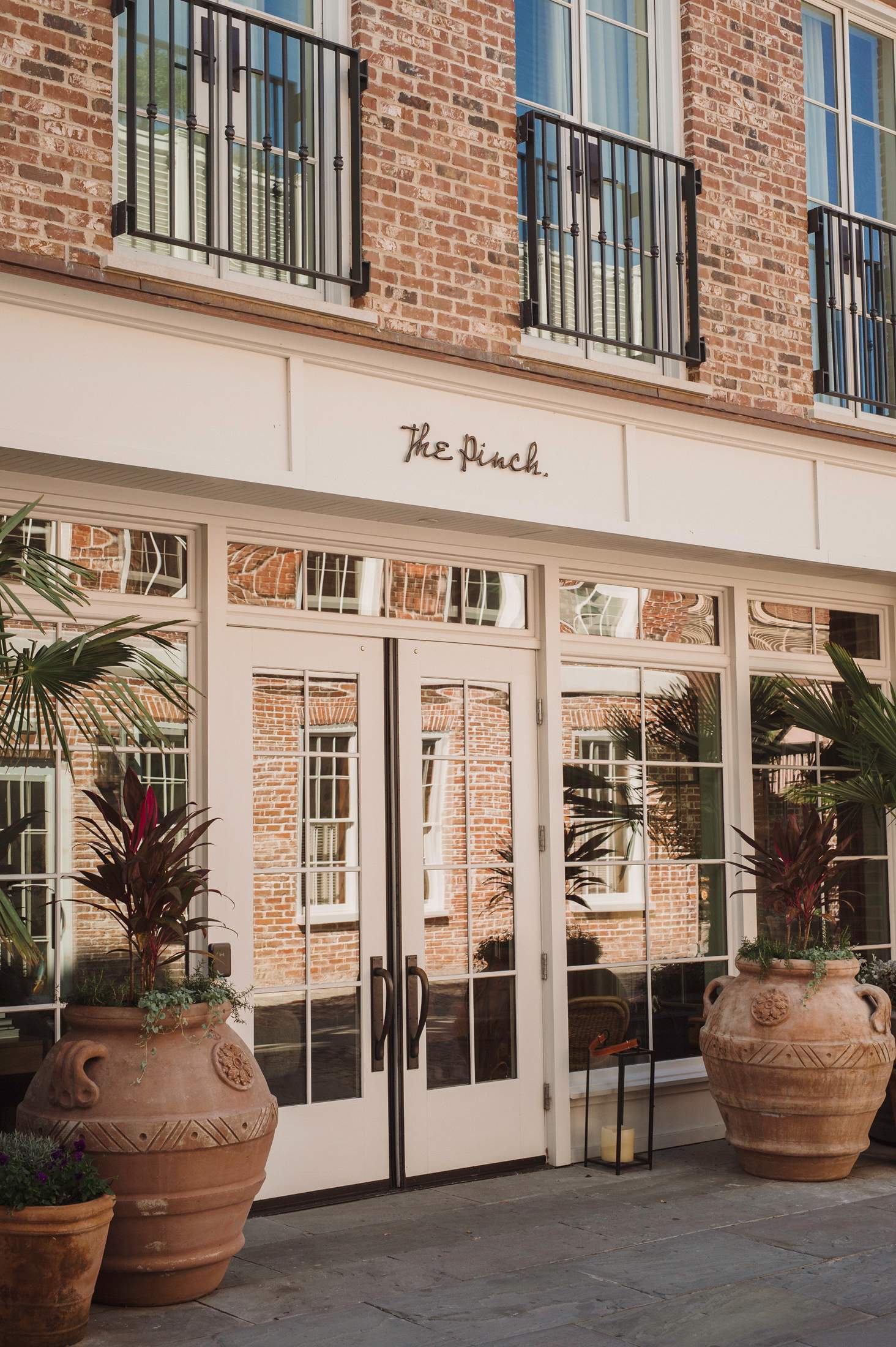 It was Charleston's considerable charm that convinced Randall Cook, CEO and co-founder of Philadelphia-based developer Method Co, to open his latest hospitality venture here. "The city is pretty much unmatched in the US," he tells Monocle with some excitement. 
His company owns and operates several hospitality projects around the country, including The Roost in Philadelphia and The Quoin in Delaware. The Pinch is the group's first property in Charleston. Located in the historic centre but tucked down a cobblestone alleyway off King Street, the hotel has a mixture of luxury rooms and residences intended for long-term stays. "We added kitchens [to some rooms] so our guests can enjoy the comforts that they would normally have at home," says Cook, adding that he wanted to offer travellers the freedom to brew a pot of coffee in the morning or pop open a bottle of wine in the evening if they chose to. 
The hotel is an assemblage of a new construction with a stucco façade by New York's Morris Adjmi Architects and two original Victorian-style buildings. With wooden windows and French doors and an exposed-brick exterior, the new build is perfectly in keeping with the old-world feel of the place but adds a few contemporary pieces into the mix with marble and black walnut countertops and vegetable-dyed rugs. The hand-painted clay floor tiles and a Snoopy table lamp also caught Monocle's eye. Leading off the small lobby, there's a snug plant-filled courtyard with a giant fireplace and comfy couches.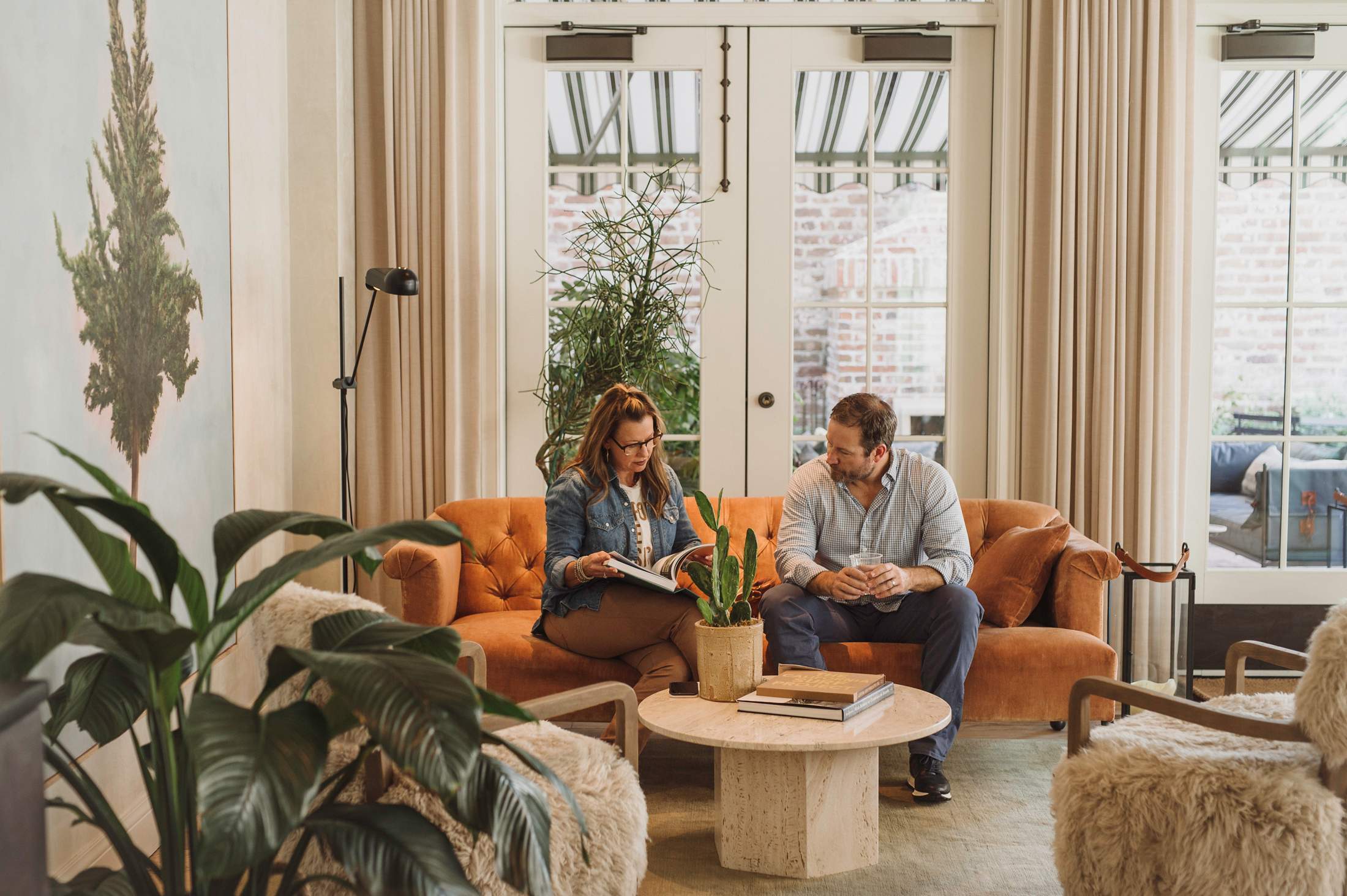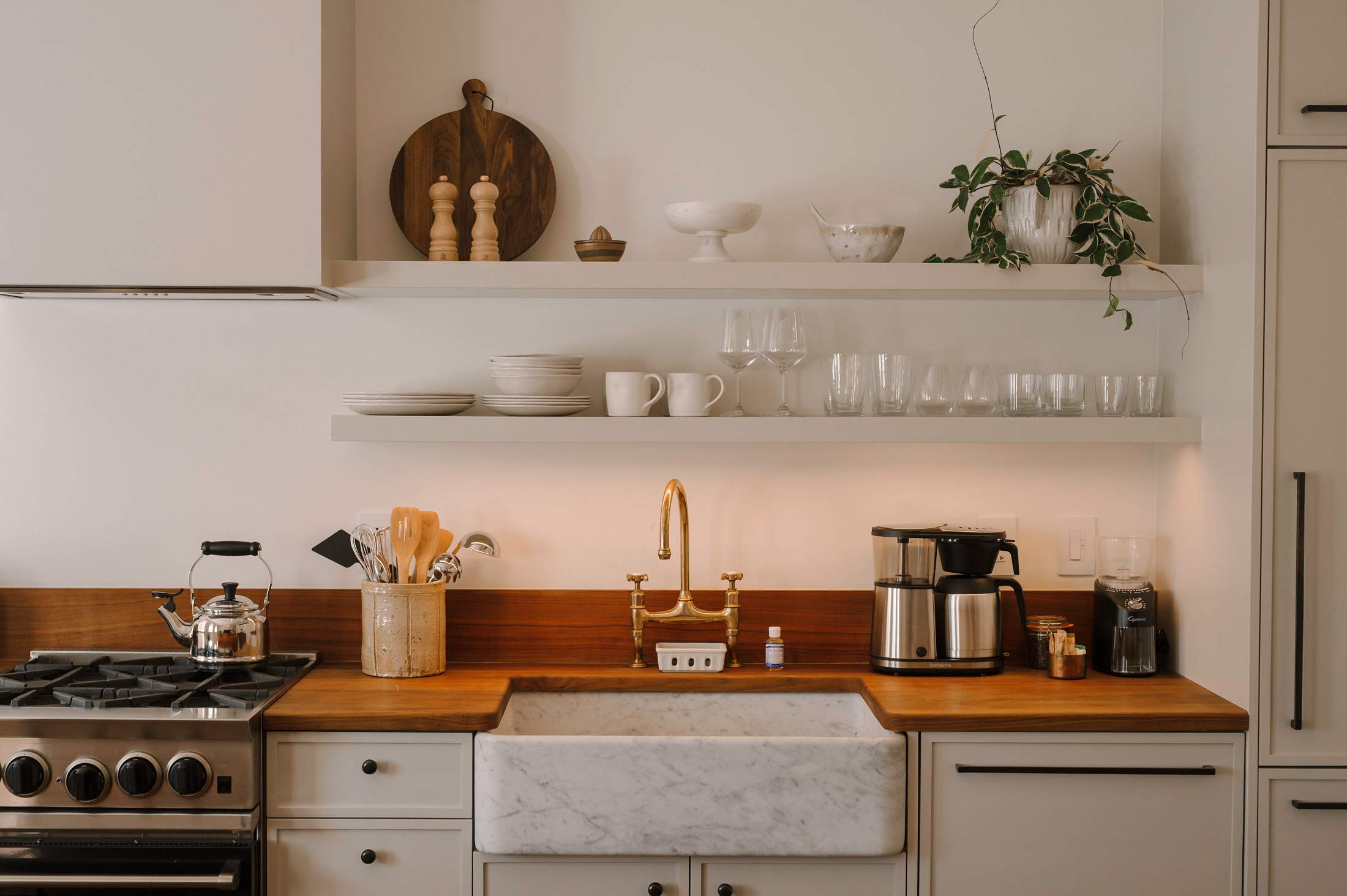 Method Co's investment in no fewer than seven retail spaces along King Street shows the company's commitment to livening up an area that suffered during the pandemic but is already feeling more lively. "We're looking to bring vibrancy back to the neighbourhood," says Cook. So far the efforts are succeeding. 
thepinch.com
---
Home comforts
The Post House Inn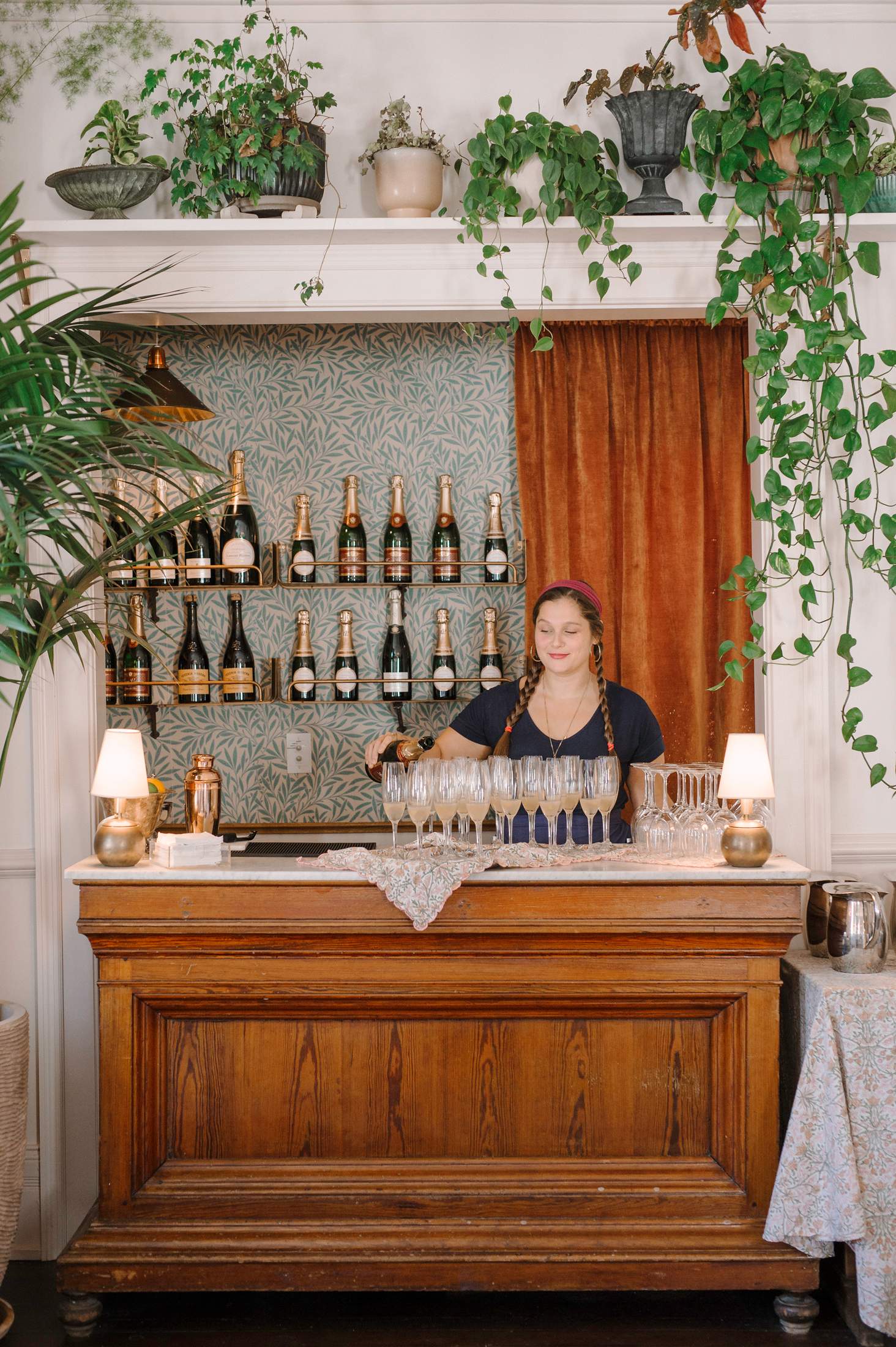 What was once a tired and unremarkable hotel has become a sparkling example of southern comfort. It was purchased by former New Yorkers Kate and Ben Towill, the couple behind design and hospitality firm Basic Projects, in 2019. They hoped to expand their footprint in Charleston following the success of their central restaurant, Basic Kitchen, which offers much more than the humble name suggests. 
Across the bridge and a 10-minute drive from downtown in Mount Pleasant, The Post House Inn feels a million miles away from a busy city stop-off. The couple were true to the South Carolina vernacular but wanted to bring in the vitality of a village pub – Ben is an Englishman and was the chef and co-owner the fondly remembered New York staple The Fat Radish. "We decided to have a restaurant as the heart of the space," says Kate. "The rooms are just complementary." 
She is, of course, being modest about what the pair have achieved. Her background in film-set design clearly helped when it came to creating the evocative interiors here. What is true is that many locals and visitors come to The Post House Inn for the food. In the downstairs tavern, where light floods in through the street-facing windows, wooden tables are lined with unassuming pub-style chairs and inviting booths line the white, wood-panelled walls. On any given day, including when Monocle visits, the tavern heaves with diners enjoying the homely charm and elevated take on cocktails (one lively table takes to the pineapple-turmeric margaritas with gusto over lunch). The menu is filled with fresh coastal fare such as oysters, blue crab served on toast and fish curry with heirloom Charleston Gold Rice (a culinary discovery in its own right). There's a burger, of course, as well as lighter options, including crispy salads with coriander and shallots.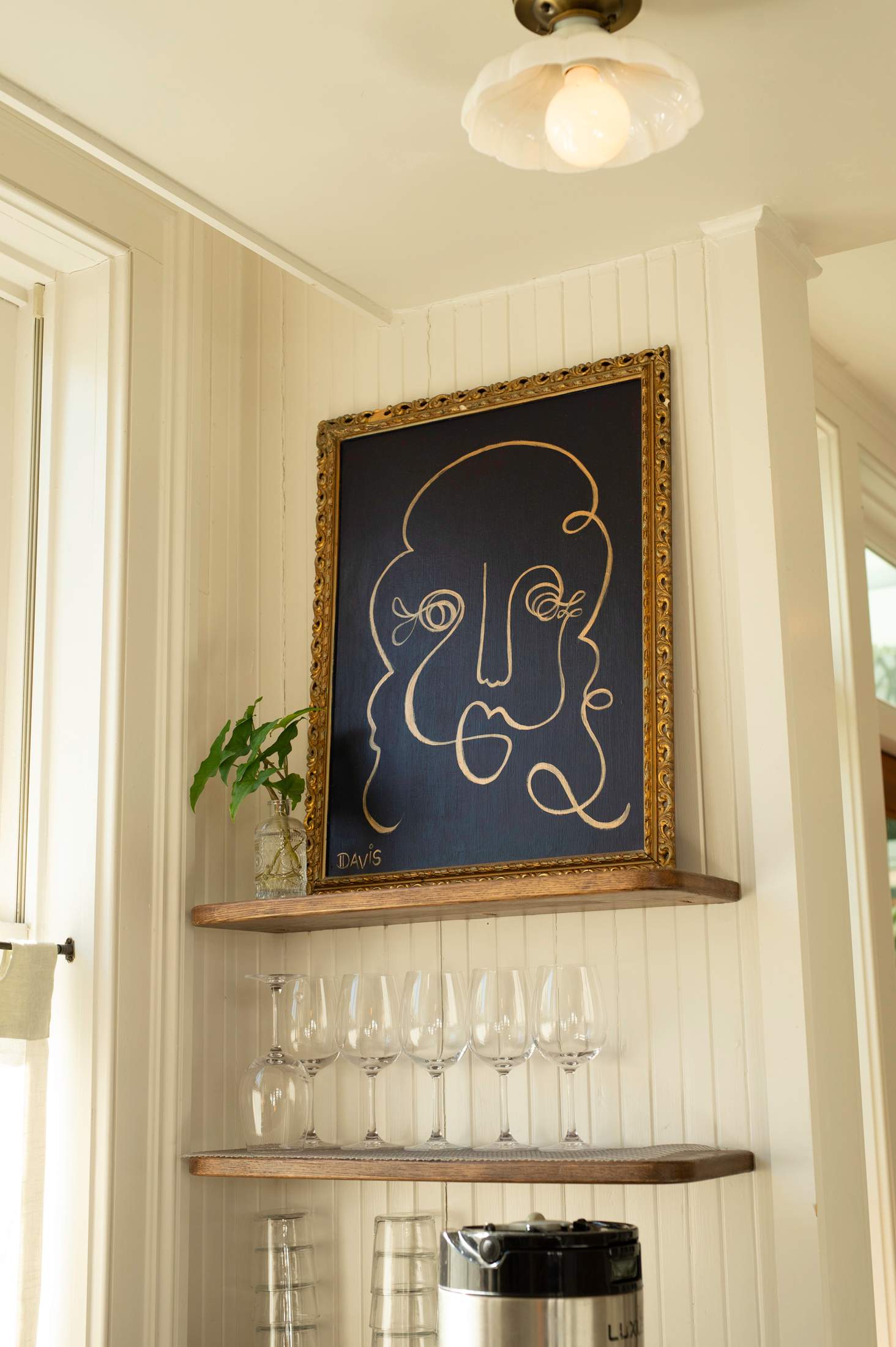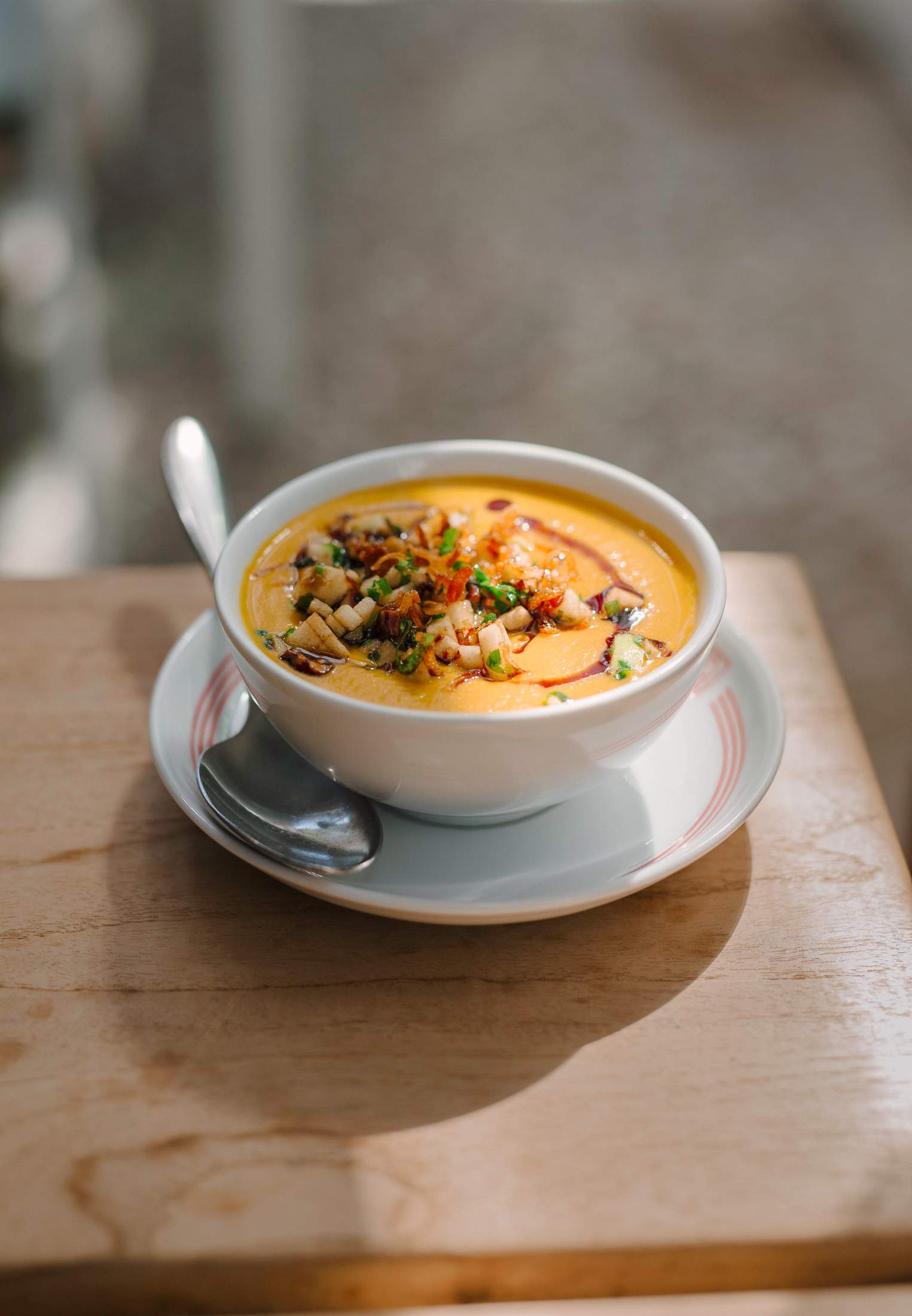 Despite the extensive and tasteful refurbishment, the three-storey clapboard structure has kept its old-school, homely, meant-to-be-here feel. Up the ornate wooden staircase, there are seven comfy guest rooms spread over two floors and trimmed with dove-grey hallways and antique rugs. Some have William Morris wallpaper, vintage lamps and wooden cabinets, which Kate snapped up from the Original Round Top Texas Antiques Fair. "I hate it when everything matches," she says. In the nearby town of Sullivan's Island, the couple also opened Sullivan's Fish Camp, a seafood restaurant serving gumbo and fish and chips. People come to dine here from all corners but, says Kate, it's the residents of Charleston, who have embraced it and kept the place going. "The community here is so great," she says with a smile. 
theposthouseinn.com