Business: Transport / Vienna
Train of thought
The trains soon to be arriving at Vienna's U-Bahn stations are defined by a consideration of every detail in a passenger's journey. Quite right too – they'll be on the rails for decades.
That's our headquarters, this is our main U-Bahn maintenance facility, and over there is a tunnel running under the Danube Canal before it cuts through the Prater park to the main stadium," says Markus Rubner, gesturing this way and that as he takes monocle down a staircase at the back of the Wiener Linien maintenance depot Erdberg in Eastern Vienna. The underground, or U-Bahn, didn't come to Vienna until the 1970s, though an urban rail system had existed in the city since the 1890s. Today its ornate Jugendstil station pavilions, designed by Otto Wagner, serve two of Vienna's five U-Bahn lines.
The staircase becomes a concrete path running alongside a row of hangars. At the end of it, on a narrow side platform, is what we have come to see: a glistening new X-Wagen train by Siemens. By 2030, 34 of these will be delivered to Wiener Linien, Vienna's transit authority. The one before us is number six. Rubner, who is project manager of the X-Wagen programme at Wiener Linien, explains that there's an option to order a further 11, which would bring the total cost, including maintenance,  up to €550m. The X-Wagen team is comprised of some 15 people and works in co-operation with Siemens, which produces rolling stock for both Wiener Linien and Austria's state railway operator, öbb, and whose sprawling factory is conveniently close, making it easy to transport vehicles and parts to the Erdberg depot. "It's a unique situation: not many cities in Europe have their own train manufacturer within their borders," adds Rubner as the automatic doors swoosh open. "These trains are manufactured in Vienna, delivered to Vienna and will be used in Vienna."
Railway technology evolves constantly but new models don't come about often; development and manufacturing can take years and trains are consequently built to last. The first generation of Vienna's U-Bahn – the U-Wagen, also known affectionately as the Silver Arrow – is still in use and remains the only public transport vehicle to win, in 1981, the Austrian State Design Prize. (By the same token, Vienna's iconic E1 tram had been in operation for more than 50 years before it was retired last summer.) As a firstborn, the Silver Arrow's futuristic all-aluminium design provided a template for both the second generation, the V-Wagen, made by Siemens between 2000 and 2017, and the X-Wagen, whose development began in 2019. 
"Aesthetic continuity always plays a part when introducing new rolling stock," says Rubner. "The front and back of the X-Wagen are black, in reference to the V-Wagen, which has a tinted windscreen. And if you look at the windows from outside, they are very similar to those on the Silver Arrow, so all these things work together to incorporate this new train into the existing fleet." For that reason, all X-Wagen trains will be painted a silvery grey in order to complement the existing colour palette.
Inside, the X-Wagen will be instantly familiar to anyone who has been on the Vienna U-Bahn before, from the same reassuring voice on the tannoy to the seating and yellow railings. Yet some re-adjustment will be necessary. As Rubner explains future changes to the network maps over the doors, emergency workers get on to learn about the train, guided by a Wiener Linien instructor. They listen attentively as she describes where and how the X-Wagen is different from other trains before alighting, satisfied. "For emergency services, it's always a challenge to have new rolling stock," says Rubner. There are other changes too – some subtle, such as the rainbow-coloured rubber hand grips; others more noticeable, such as the difference in the number of seats. Wiener Linien's experience has shown that people tend to congest around the exits, so in order to encourage passenger movement throughout the train, seating per car has been reduced from 250 to 200, compared to the previous generation. There will also be a redesigned passenger guidance system including pointers to connections and the best barrier-free travel routes.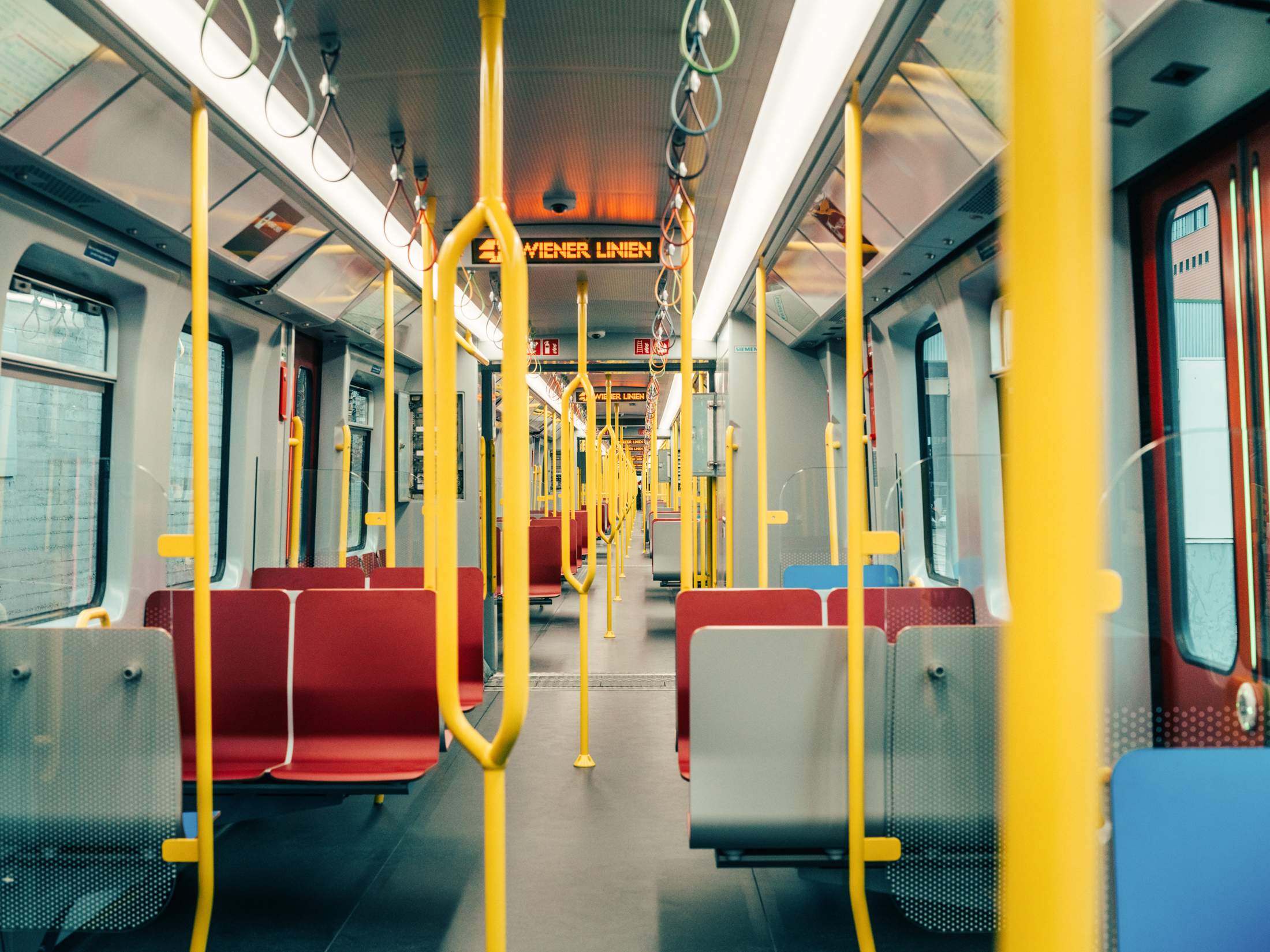 The X-Wagen's main difference to its predecessors is its use of driverless technology – though when the first of the X-Wagen begins service later this year, it'll be in a hybrid mode. Gradually, drivers will be phased out, especially when Wiener Linien launches the first section of its much-awaited U5 line in 2026, designed to be fully automatic. 
"Driverless technology is exciting but at the same time it's nothing new in Europe," says Rubner, citing Nuremberg, Milan, Barcelona, Copenhagen and Paris, all of which have driverless public transport systems. "The creation of this new train was not simply a technology-driven decision. Rather, we realised that you just can't retrofit a 1980s train to fit modern needs. We knew that there would be demand for more trains with more comfort for our passengers – and that's exactly what we've created." 
Why it works:
There are a lot of competing factors that go into commissioning public transport systems. It is rare to build and execute such a slick project.