The Agenda / Global
Culture
The Islamic Arts Biennale's artistic director, a dedicated women's sports TV network and the orchestra bringing harmony to Mosul.
music ––– mosul
Out of the ashes
Leila Molana-Allen on how Mosul's musicians are coming together to restore harmony to a city scarred by occupation.
---
Hakam Anas Zarari walks down a street in ruins, his feet kicking up thick dust. The old Iraqi city of Mosul, much of it destroyed in the 2017 assault that freed it from a three-year occupation by Islamic State (IS), bears many scars. The 33-year-old musician sweeps his hair from his forehead as he takes his guitar from its case. It has endured nearly as much as its owner.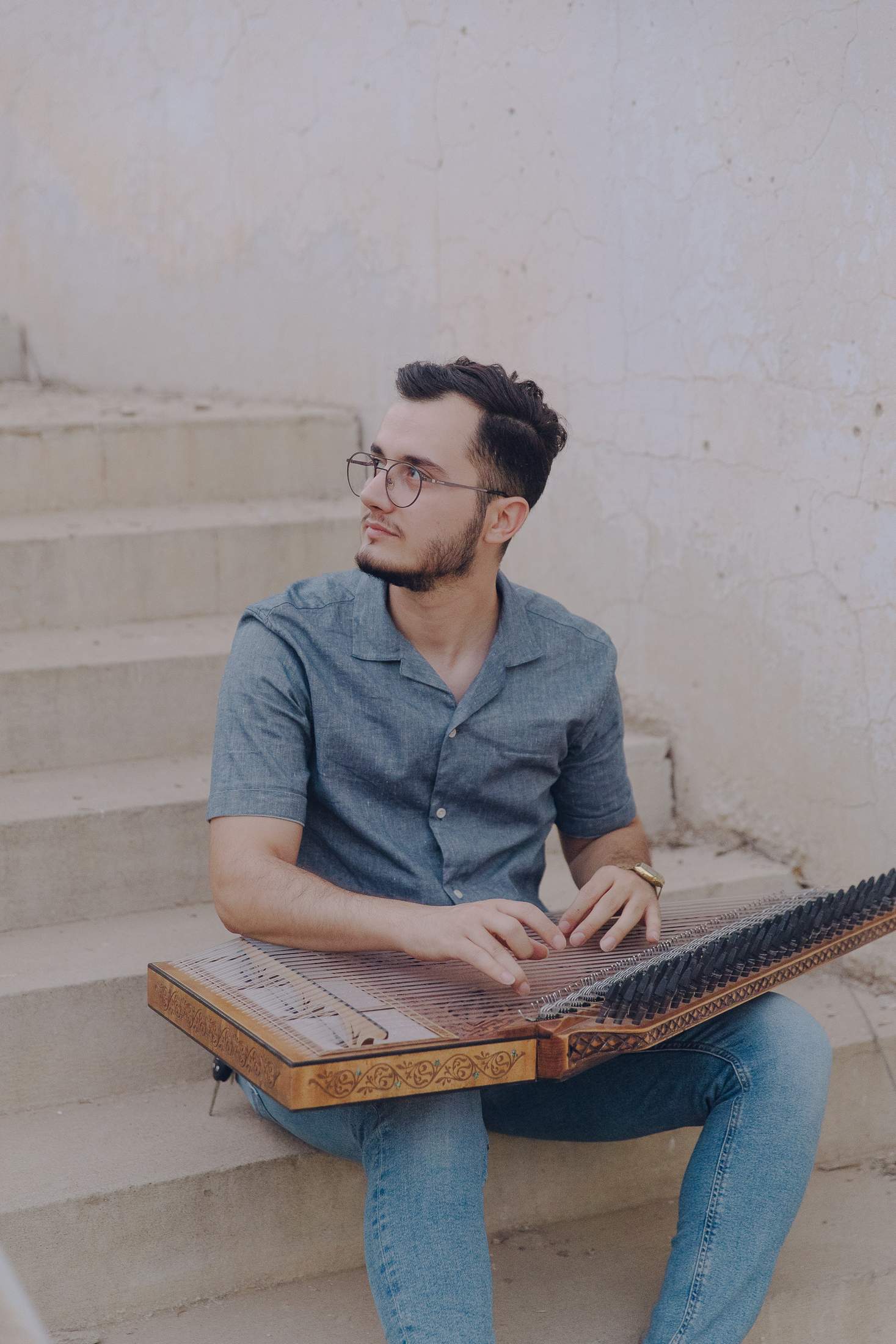 When the occupation began in 2014, Zarari and his friends could still play secretly in their homes. Then the militants started to conduct searches; with music banned by the extremist group, owning an instrument could get you killed. "My friend Mohammad buried his violin in his garden and told no one – but it was destroyed when his father watered it," he says. "I was smarter and hid mine in the ceiling."
After IS was driven out of the city, following a months-long siege, the first thing that Zarari and his friends did was bring out their instruments. "We went to the most destroyed places, the places where they used to torture people, and we played," he says. "People thought that we were crazy; there was no electricity or water and the buildings needed to be rebuilt. But, for us, this was revenge against IS. When people walked past those sites they would have flashbacks. We wanted to erase those memories and heal the soul of our city."
Their determination helped to create a community of musicians. Three years ago this blossomed into the Watar Orchestra, with Zarari as one of its founding members. Dina Muqlus travels several times a week from the town of Bartella to play in the orchestra. "I was 12 when IS came and didn't realise until I had these new opportunities how much that time had affected me," she says. "I used to have to play by myself. I was so happy when I heard about a group."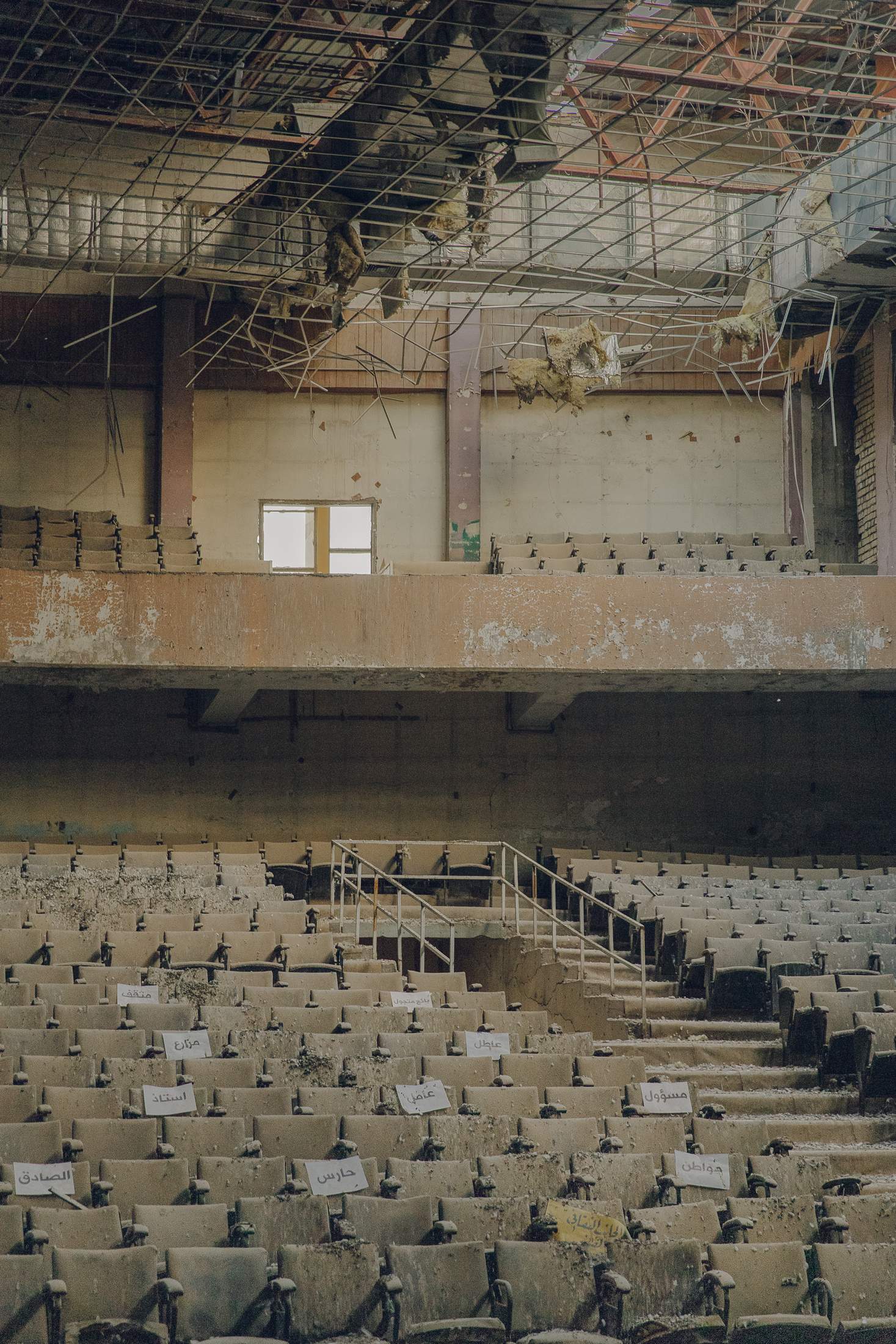 The orchestra and its founders are now taking steps to open up those opportunities to all of the area's young people. Last year they founded a music school, the Watar Academy. Here, music teacher Hala Badran is instructing the school's youngest student, eight-year-old Rahaf, in piano. For Badran, it's a dream to be able to pass her love of music on to the next generation.
All of this comes at a time of hope and growth for Mosul. Life is returning to the streets. New cafés and restaurants are popping up, artisans have set up shop in the old centre and a plush hotel has just opened on the eastern side. Meanwhile, an ambitious international project to transform part of the Great Mosque of al-Nouri, where IS first proclaimed its dominance and which was later severely damaged, into a visitor complex will get under way this year. The city hopes to reopen its airport in 2024.
The orchestra is also eager to broaden its horizons. Last year, Zarari and his fellow musicians travelled to the uae to play at the Dubai Expo as ambassadors for their city. It was the first time that many of them had left Iraq. "We want people to see the greater face of Mosul," says Zarari. "We have artists and musicians, doctors and engineers. It's not just war and destruction here."
But what the musicians really want is a space of their own. In 2021 they held a concert in Mosul's ruined Al Rabea Theatre, hoping to attract enough attention to get the venue fully restored. Two years later it still stands abandoned. "Mosul was once a city of civilisation, art and culture," says Mohammad Al Mahdi, deputy head of Mosul's Arts Syndicate, who played on the theatre's stage for the first time aged 10. "The war took our only space from us."
Last summer more than 300 artists crowded the theatre, performing to urge the government to allocate a budget to rebuild the theatre, as it had long promised. It seems that their voices were heard: the project will finally go ahead, with the reconstruction slated to start this spring. At last, Mosul's creative community will once again have a home.
---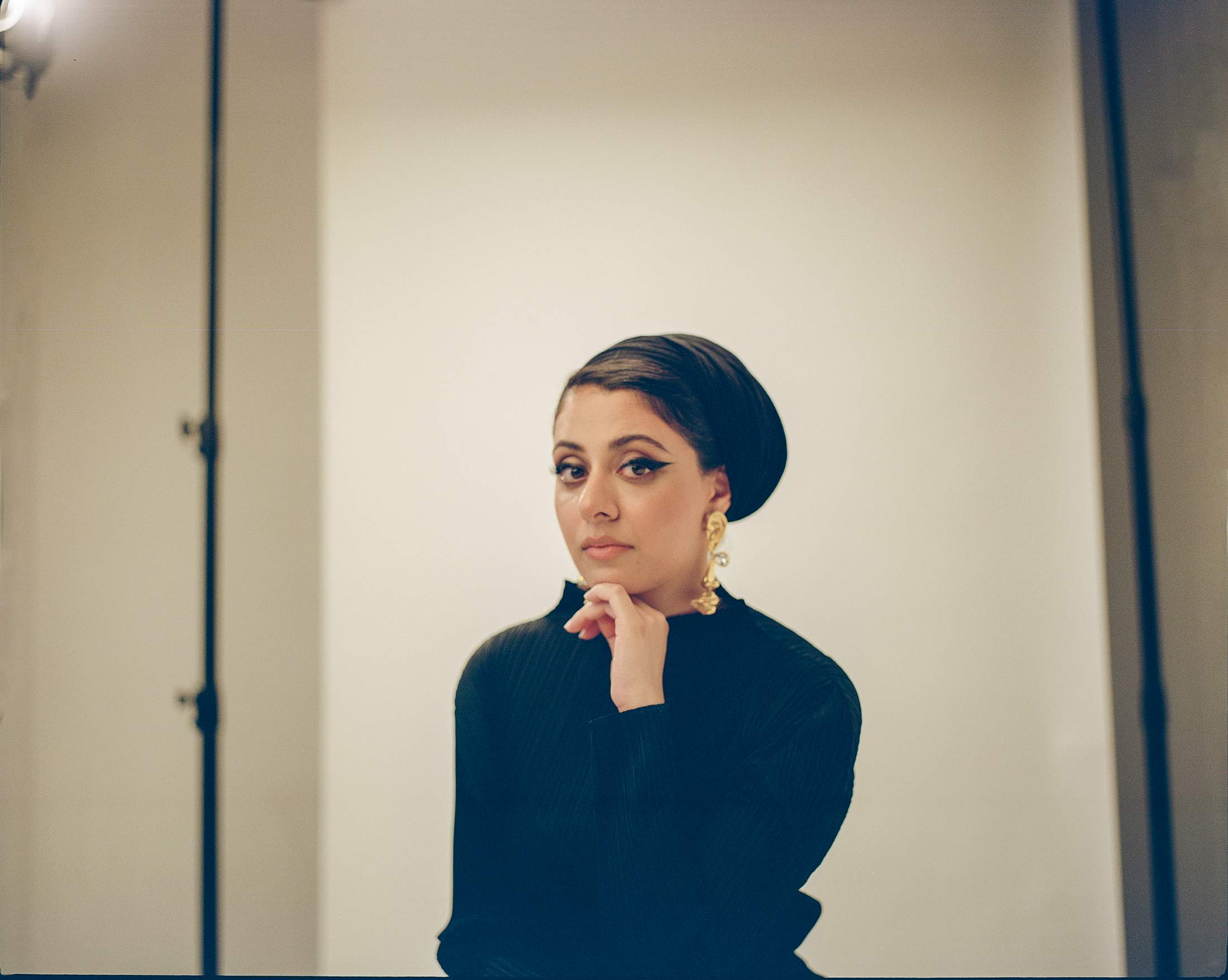 Sumayya Vally
Artistic director of Islamic Arts Biennale, Jeddah 
Jeddah's inaugural Islamic Arts Biennale has opened in an airport terminal and is overseen by Johannesburg and London-based architect Sumayya Vally.
Most of the curatorial team doesn't have a background in visual arts. Why?
We also have people who are experts in the traditional [art] canon but it's important that the way we define Islamic arts is freed from its existing definition. The contemporary works are tied to the daily life of being a Muslim. Beyond just aesthetics, calligraphy or geometry, it's about thinking about how these things connect with people's lives. 
In the works that you commissioned, were there any artistic limitations? 
It has been important to honour my background as a Muslim. This is an opportunity to focus on different perspectives and to use platforms such as this as a place for criticality against the definitions we have inherited from the West. 
What is your response to claims that the Saudi Arabian regime is using investment in the arts to culture-wash its reputation?  
I have had the privilege to work with extraordinary Saudi artists. Exhibitions like this are helpful in nurturing and promoting understanding.
biennale.org.sa
---
tv ––– los angeles
Sharing the spoils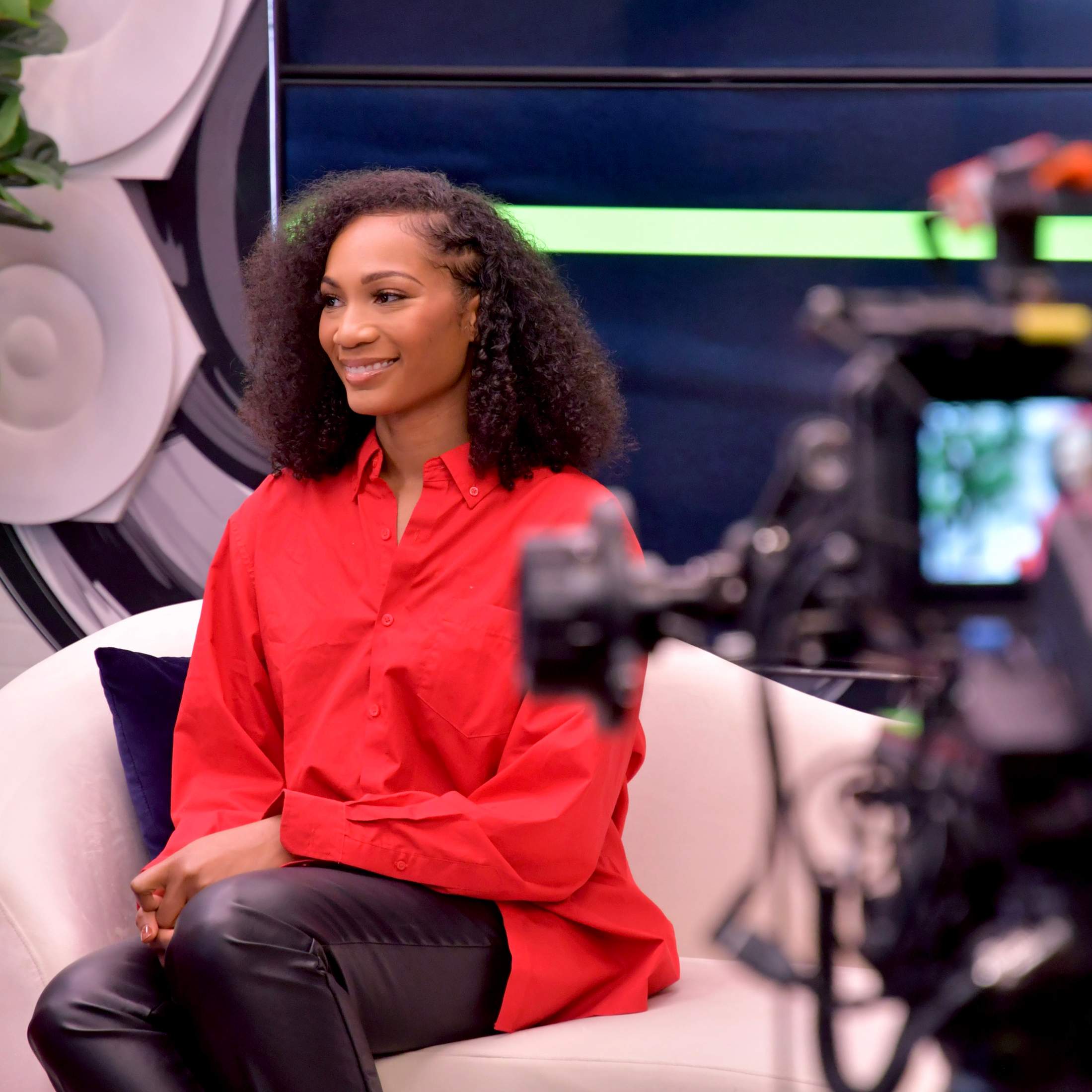 Frustration doesn't always help on the pitch but it provided ample motivation for Los Angeles-based Fast Studios to launch its Women's Sports Network last November. Despite the US having a robust women's sports scene, it receives only 4 per cent of national media coverage. Yet Deloitte estimated in 2021 that the global women's sports industry would soon reach a value of $1bn (€924m). The 2022 Women's nba season was the most watched since 2008, while last year's Women's Euro football tournament set viewership records. "We found a gap in the marketplace around women's sports programming overall and certainly around news and information," says Fast Studios ceo Stuart McLean. 
The company has launched with 1,000 hours of original programming and has signed up 16 professional women's sports leagues and federations. In February, the network aired its first live broadcasts of basketball games. But the channel's emphasis is on storytelling and in-depth shows. "We're the voice of the athlete and we want to unlock these stories," says McLean. "Fans are telling us that they want to see athletes off the field as much as on it."
Standout shows so far include The World According to Sage, hosted by pro surfer Sage Erickson, who takes viewers to the waves from Brazil to the South Pacific. Similar programmes about skiing and golf are forth-coming. The network also runs a nightly in-studio show, Game On (pictured). 
With the Fifa Women's World Cup kicking off in Australia and New Zealand in July, pundits will be busy. Ahead of that, the network hopes to expand into Europe and Latin America – where it has all the potential to score big.
---
PHOTOGRAPHER: Maria Klenner. 
Images: Lou Jasmine, Fast Studios